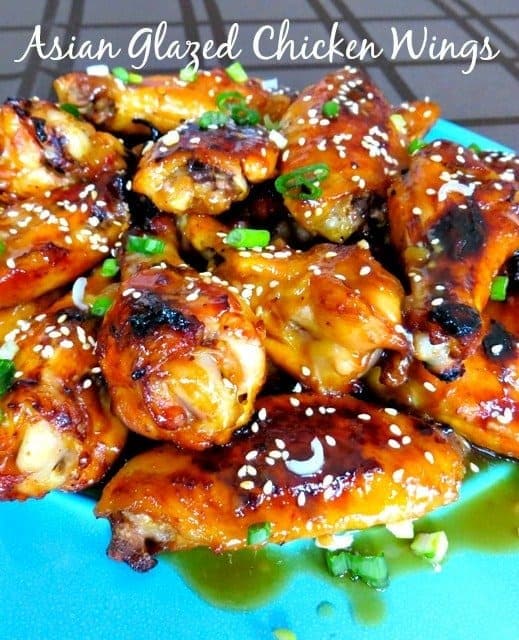 Asian Glazed Chicken Wings
These Asian Glazed Chicken Wings are perfect for parties or dinner any night of the week! These baked chicken wings have the most addicting glaze!
If you love chicken wing recipes as much as we do, try our copycat Garlic Parmesan Chicken Wings or these super easy SLOW COOKER SWEET CHILI CHICKEN WINGS!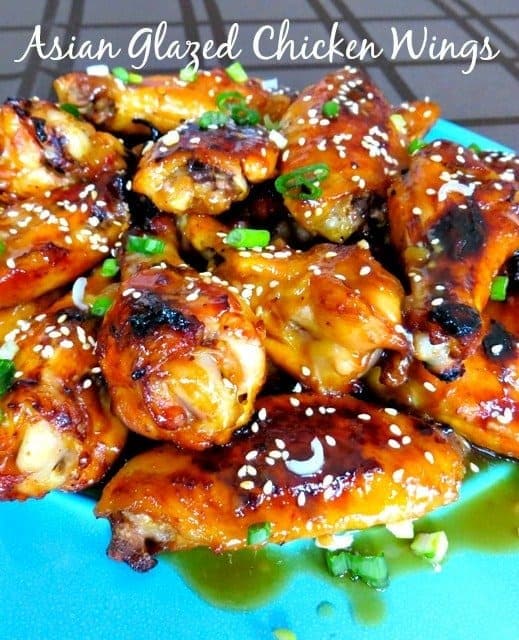 I love wings, pretty much any way I can get them. A bunch of friends and our kids go often – ok a lot – to Buffalo Wild Wings and get our wing fix. The kids love going too, they can have wings and play the games while the adults dive into our baskets upon baskets of wings. Good stuff.
But for Super Bowl Sunday, you're going to want to be at home, having a beverage (those will be coming up be tomorrow) and watching the game. One of my favorite wings at Buffalo Wild Wings are the Asian Zing® flavor. These asian glazed chicken wings taste pretty similar to the Asian Zing®, but I think they're even better.
And these wings are also baked, not fried. Thought I've been hitting you guys with a lot of fried apps…so these are nice and healthy for you. The taste does not suffer, I swear.
Get your wings on a baking sheet sprayed with cooking spray.
Then season pretty heavily with salt, pepper and garlic powder. Then drizzle with a little olive oil.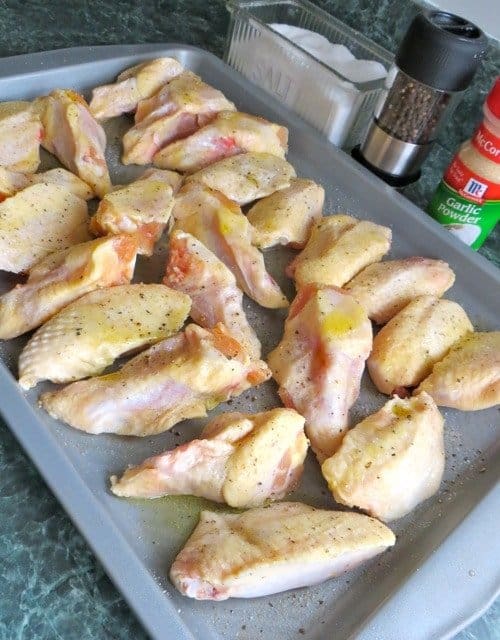 Throw in the oven at 425 degrees and roast, turning once halfway through cooking, for 35 minutes.
While the wings are cooking, make up the glaze in a saucepan. This glaze uses Mirin, which is a sweet rice Japanese cooking wine, it can be found in most any grocery store in the asian food isle. Try to pick some up if you can, it's not expensive and it's definitely worth the flavor it brings to the glaze.
Bring the glaze to a simmer, then let reduce for 30 minutes until it has thickened. I have cheated with this step and also used some Wondra® flour at the end if I still want it even thicker… I love Wondra® because you can just shake it right into your sauce and whisk- no lumps. Just make sure you have a nice, thick glaze when you're finished so it coats the wings well.
Remove the wings from the oven and reduce the temperature to 350 degrees.
Place the wings in a large bowl and pour half the glaze on the wings and toss.
Put the glazed wings on a clean baking sheet sprayed with cooking spray and bake for 20 minutes. Turn the wings a brush more glaze on the second side, cook for another 10 minutes and they're done!
You can drizzle more glaze over the wings or just serve the sauce on the side.
Then garnish with sesame seeds and scallions.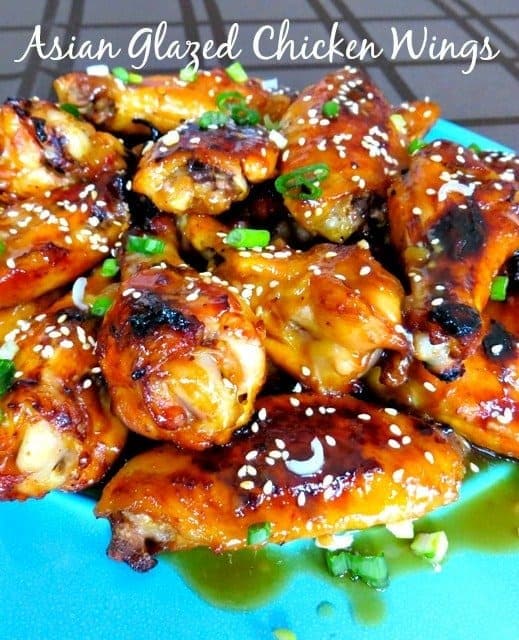 Want More Chicken Wings Recipes?
SALT AND VINEGAR CHICKEN WINGS
Print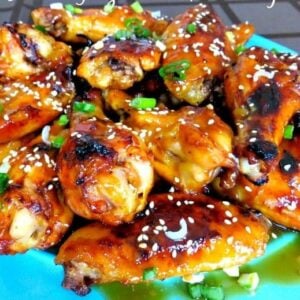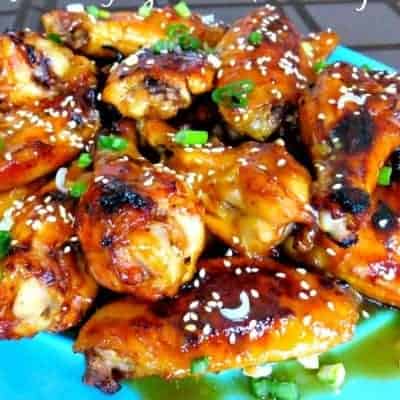 ---
Description
This baked chicken wing recipe uses the most addicting Asian glaze!
---
Ingredients
5

lbs. fresh chicken wings
Olive oil for coating the wings before baking

2 tablespoon

s kosher salt

1 tablespoon

black pepper

2 tablespoon

s garlic powder

2 cup

s orange juice

1 cup

pineapple juice

1/2 cup

sugar

1/2 cup

soy sauce

2 tablespoon

s minced garlic

2 tablespoon

s fresh ginger, grated

1 tablespoon

sesame oil

1/2 teaspoon

crushed red pepper

1/2 teaspoon

cayenne pepper

1 tablespoon

cornstarch mixed with 1 tablespoon of water

2 tablespoon

s chopped scallions (for garnish)

2 tablespoon

s sesame seeds (for garnish)
---
Instructions
Preheat the oven to 425 degrees.
Brush the wings with the olive oil, then season them with salt, pepper and garlic powder.
Place wings on a wire rack placed over a baking sheet sprayed with cooking spray.
Roast in the oven for 35 minutes, turning half-way through cooking time.
In a small saucepan combine the orange juice, pineapple juice, sugar, soy sauce, garlic, ginger, sesame oil, crushed red pepper and cayenne. Bring to a simmer and let reduce for 20 minutes.
Whisk in the cornstarch mixture, bring to a boil to thicken then remove from the heat.
Add the baked wings to a large bowl and pour the glaze over the wings, tossing to coat.
Using a pair of tongs, add the wings back to the rack (leaving the excess glaze behind) and cook for another 10 minutes.
Remove the wings from the oven, baste with more glaze and garnish with sesame seeds and scallions.
Keywords: baked chicken wings, chicken wing recipe, chicken recipes, dinner ideas, appetizers