We'll show you the How to Steam Broccoli in the Microwave to eat as a side dish or to use in many different recipes! If you eat broccoli as much as we do, this is the easiest way to make it!
Broccoli can be used in so many different recipes like a delicious Broccoli Salad or these popular Salmon Rice Bowls. Of course, steamed broccoli is super tasty all on it's own as a side to dinner or lunch, too!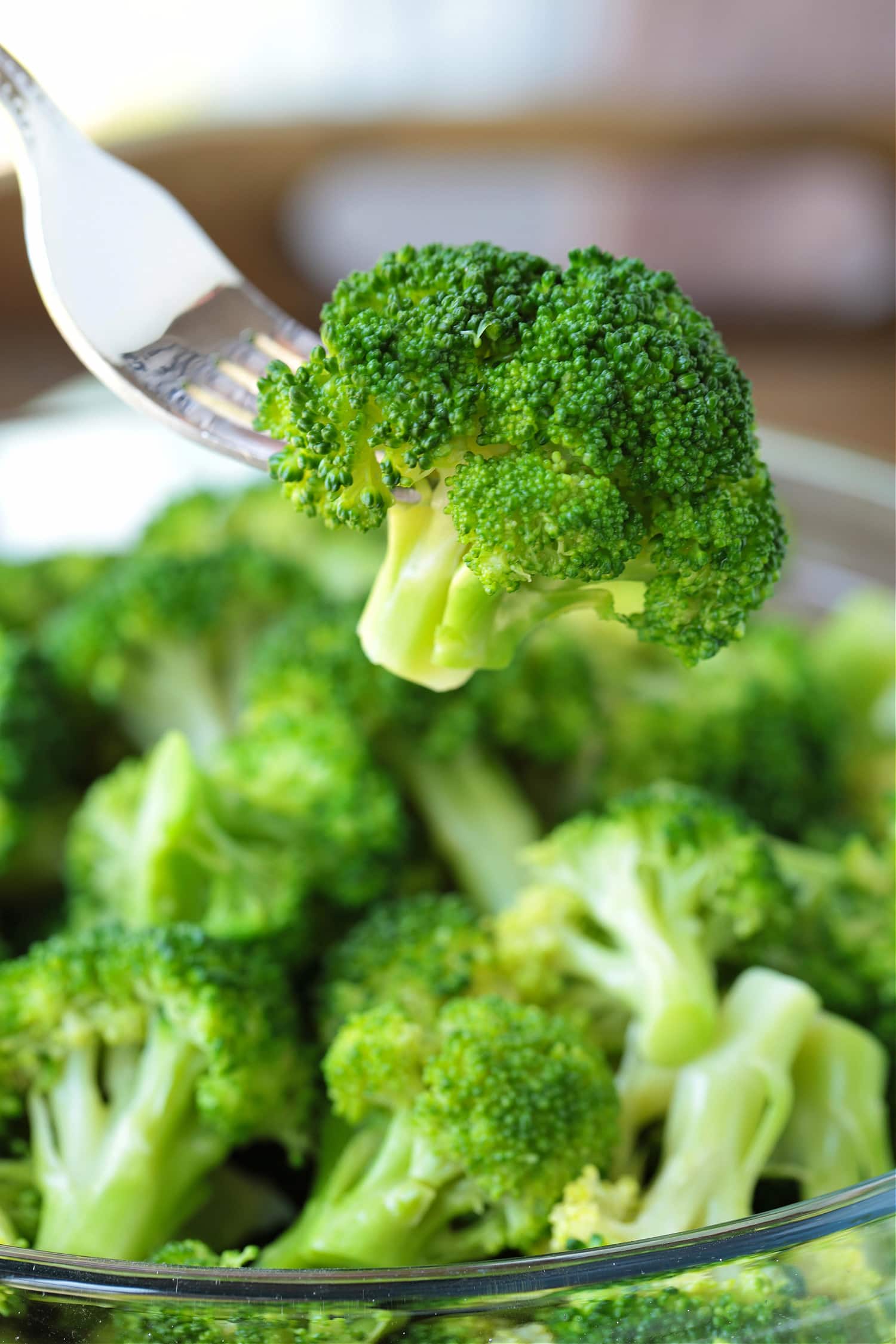 How To Make Broccoli In The Microwave
This method for steaming broccoli is so easy, you'll never boil water again. Literally done in just 5 minutes and perfectly cooked every time.
Heads Of Broccoli
You can use this recipe to cook up to 4 heads of broccoli, but it really depends on how large your bowl is. You'll want the broccoli florets to fit nicely in the bowl with a little room so that it steams properly.
When buying the broccoli, try and look for tights heads that are mostly green in color. The stalks should be very hard and firm without any give to them.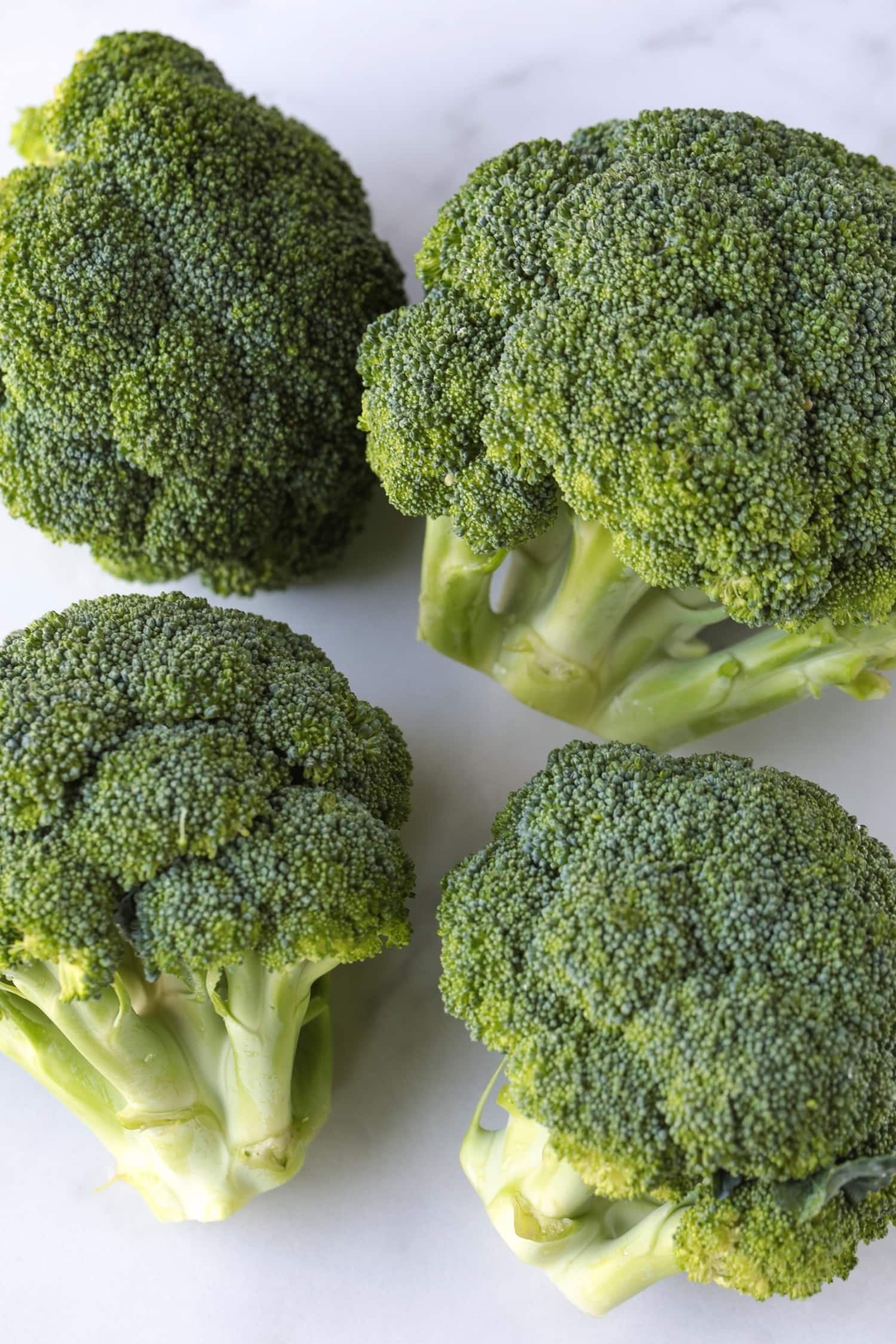 Cut into Florets
Using a knife, cut the broccoli heads into florets roughly the same size. Start by cutting the stalk off the head of broccoli and then using a knife to trim out smaller florets.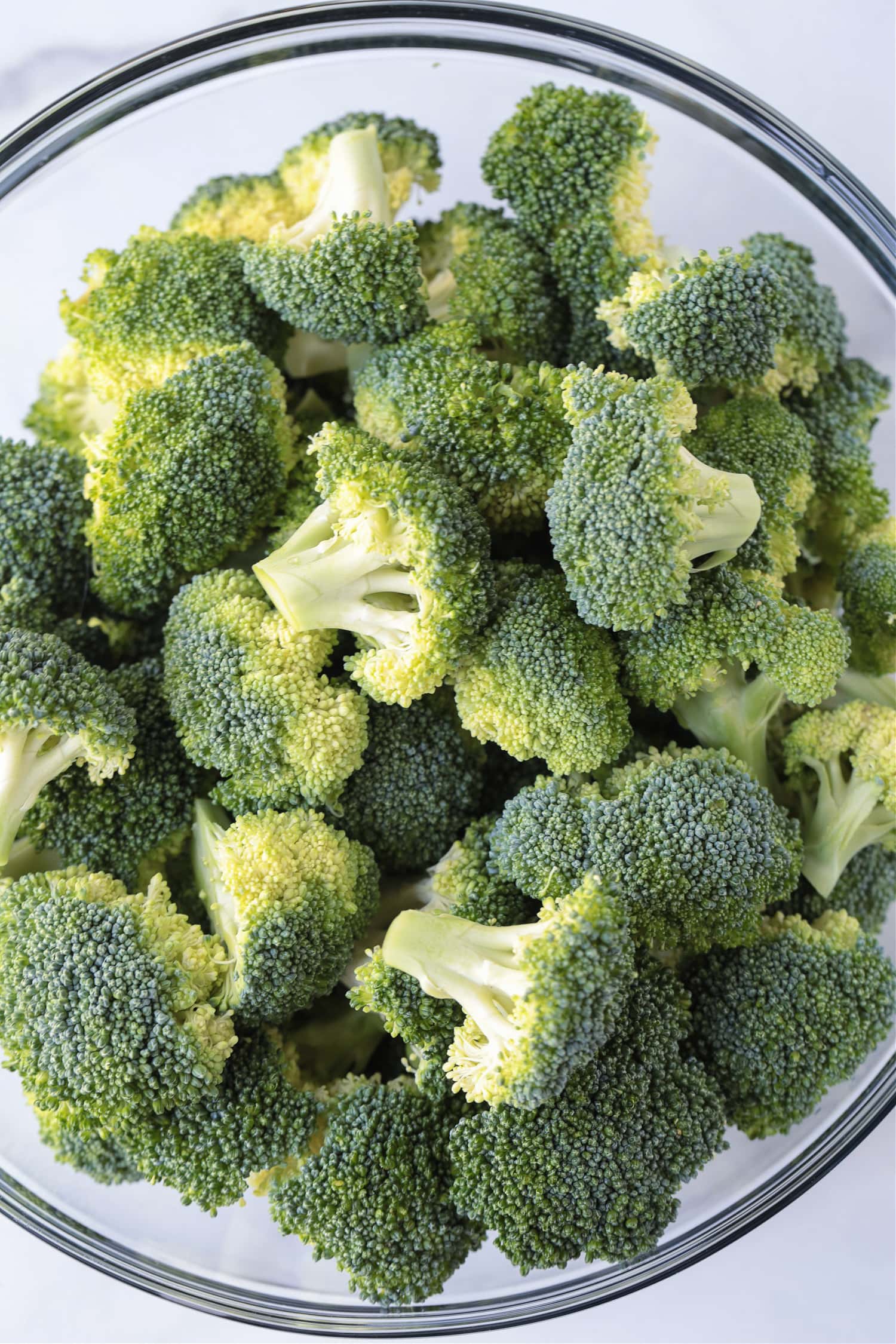 Add Water, Cover and Place in Microwave
This bowl holds about 6 heaping cups of broccoli florets. For this amount of broccoli, you'll need 1/2 cup of water. Pour the water into the bowl, cover with plastic wrap (make sure it's BPA free) and place into the microwave.
Cook the broccoli for 5 minutes for a cooked through but still al dente. If you like your broccoli a little softer, add another minute or two to the cooking time.
Let the broccoli steam in the bowl, covered, for 1-2 minutes after removing from the microwave.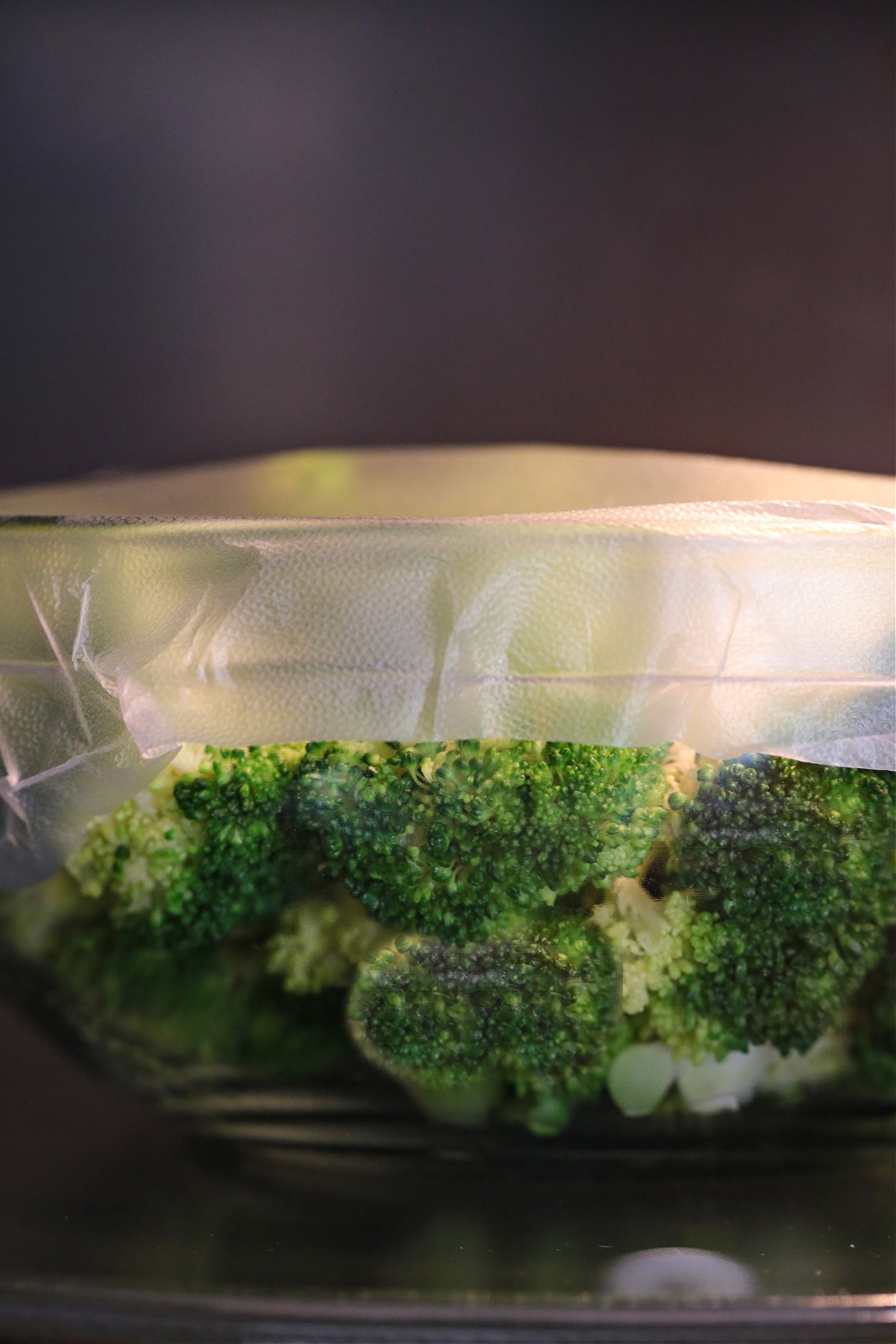 How Do You Steam Broccoli Without A Steamer?
It's so easy to steam broccoli right in the microwave without a steamer! Using this method there's no need for a steamer basket.
All you need to do is add the broccoli to a microwave safe bowl and cook for 5 minutes until tender.
How Do You Know When Broccoli Is Cooked?
Broccoli can be cooked to varying degrees of doneness. Maybe you're making some fresh broccoli for your toddler, then you want it softer so you'll need to cook it longer.
If you're a fan of al dente vegetables, cooked through but still slightly crisp, then the first thing that you want to look for a bright green color of the broccoli.
To test the broccoli for doneness, pierce a stalk or steam of broccoli with a fork to see if it easily slides through. Again, how tender you want your broccoli to be will depend on what you're using it for.
What Recipe Can I Use Steamed Broccoli In?
There's so many recipes that we use this broccoli for, but we like it steamed as is, too. A little salt and pepper, butter and even a squeeze of lemon are tasty ways to enjoy steamed broccoli.
One of our favorite recipes to make using this broccoli is our No-Mayo Broccoli Salad!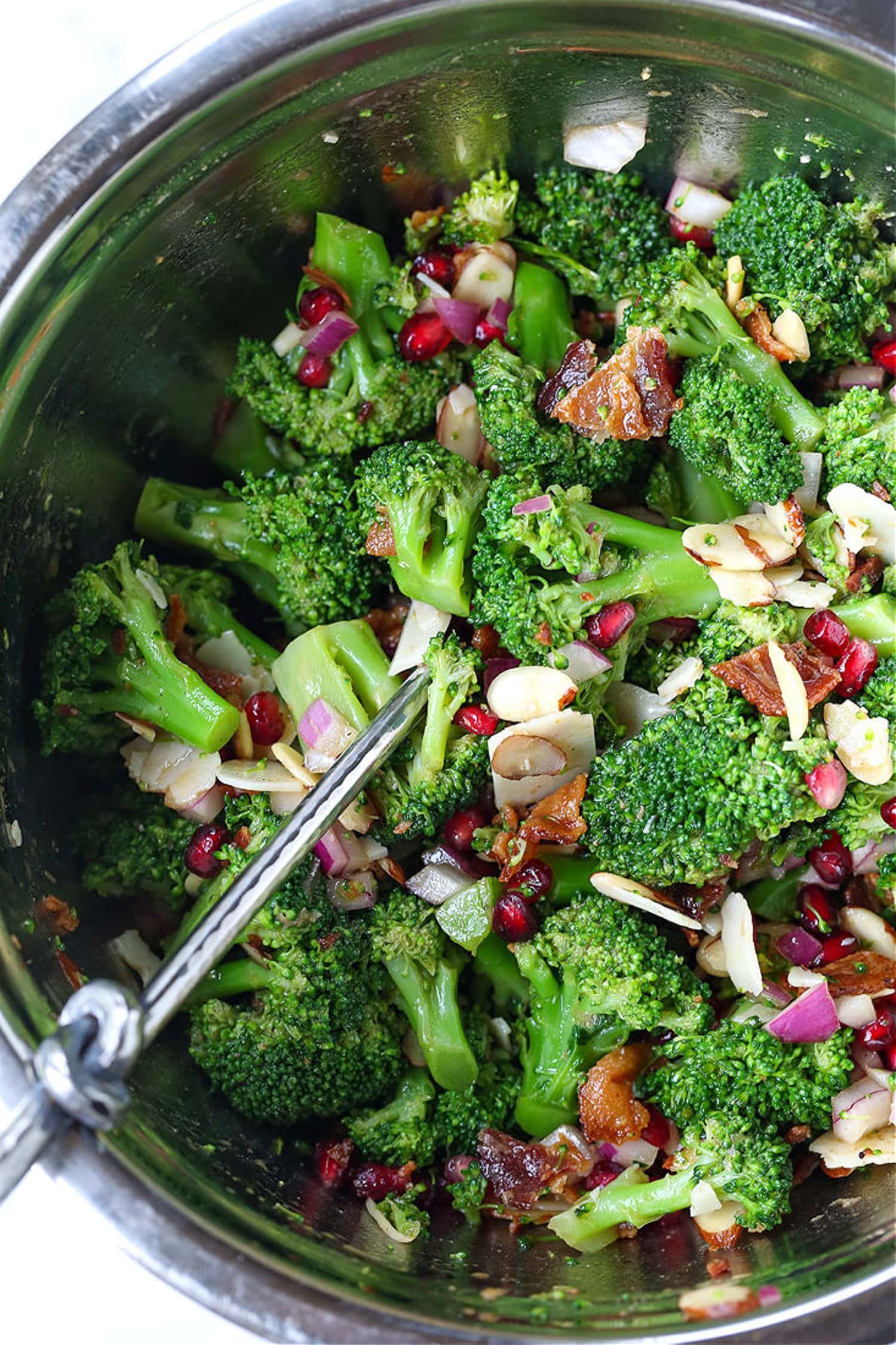 Another way that we enjoy this steamed broccoli is in all sorts of rice bowls like this Salmon Rice Bowl. Our kids love eating rice bowls like these.
We often prep ingredients like this broccoli along with other vegetables, either raw or cooked to have ready in the fridge.
That way everyone can grab what they like, assemble a bowl and enjoy a healthy meal.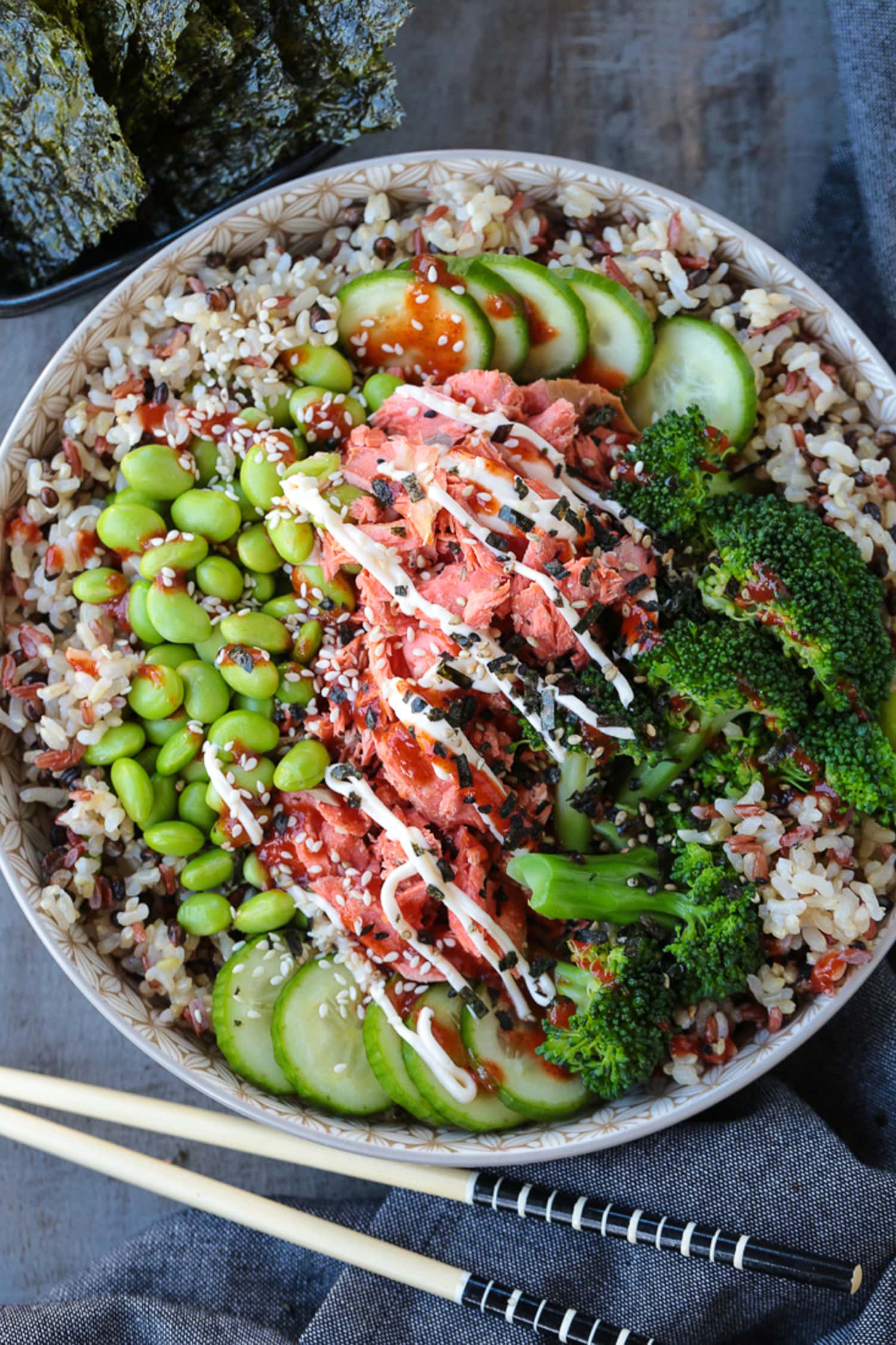 What Main Courses Go Well With Broccoli?
There's all sorts of main course recipes that go wonderfully with broccoli. Any protein like steak, chicken, pork or fish all work well.
If you're not adding this broccoli to pasta dishes already, you can enjoy it on the side of many pasta recipes like Baked Ziti or this One Pot Spaghetti.
Here's Some More Recipes To Enjoy With Broccoli:
Can You Freeze Broccoli?
You can easily freeze cooked broccoli for easy recipes preparation. First, let the broccoli cool down completely.
Lay the broccoli out on a sheet pan in a single layer and freeze for 30 minutes. Now add the broccoli to a freezer bag, pressing out as much air from the bag as possible.
Freeze the broccoli for up to 4 months to enjoy in all your favorite recipes!
Looking For More Easy Vegetable Recipes?
Print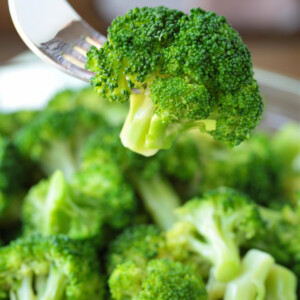 How To Steam Broccoli In The Microwave
Author:

Prep Time:

5 minutes

Cook Time:

5 minutes

Total Time:

10 minutes

Yield:

6

Servings

1

x
We'll show you how to make steamed broccoli in the microwave! Perfectly cooked broccoli that's tender but still crisp, ready to go in just 5 minutes!
Scale
Ingredients
6

heaping cups of broccoli florets (from about

3

large heads of broccoli)

1/2 cup

water
Salt to taste
Instructions
Add the broccoli florets to a large, microwave safe bowl. You'll want the broccoli to come just up to the rim of the bowl.
Add 1/2 cup of water and salt if desired.
Cover with BPA free plastic wrap (or a plate large enough to cover the entire rim of the bowl) and microwave for 5 minutes. Let the broccoli steam in the bowl, covered, for 1-2 minutes after cooking.
Enjoy as is or with salt and pepper, butter and a squeeze of fresh lemon!
Recipe Notes
Store: Cover the broccoli tightly with plastic wrap, or store in a container. Steamed broccoli will last 3-4 days in the refrigerator.
Freeze: Let the steamed broccoli cool down completely and then place onto a baking sheet in a single layer. Freeze for 30 minutes, then place in a freezer bag pressing out as much air as possible. Freeze for up to 4 months.
Category:

Side Dish

Method:

Microwave

Cuisine:

American
Keywords: mantitlement, broccoli, how to steam broccoli in the microwave, steamed broccoli