Salt and Vinegar Chicken Wings are totally addicting! This crispy, fried chicken wing recipe is always a hit for parties and game days!
If you can't get enough chicken wing recipes, be sure and check out our popular Garlic Parmesan Chicken Wings recipe and this classic Crispy Baked Buffalo Chicken Wings recipe!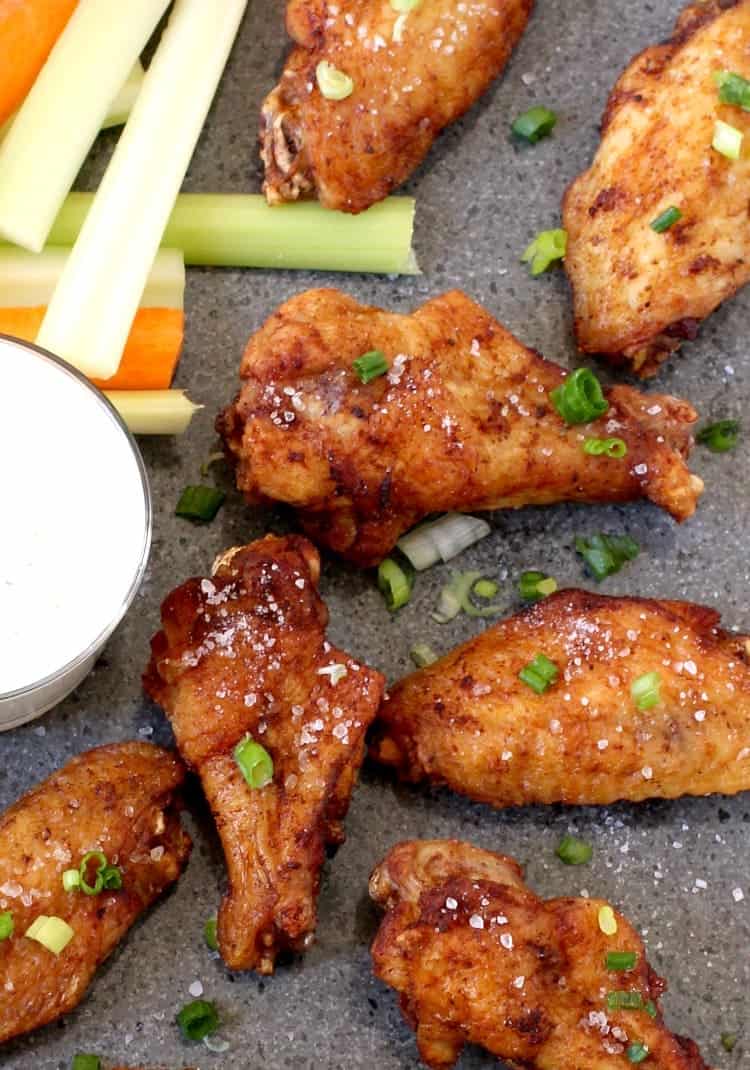 Salt and Vinegar Wings Recipe
There's no telling how many of these Salt and Vinegar Wings I could put down. And that's not even including my boys, so let's just say – A LOT.
Chicken wings are so addicting, they're worse than potato chips. You really can't stop at 1. Dozen. When we make this chicken wing recipe we buy an alarming amount of chicken wings.
Because whether you're making these wings for a party or just for dinner, you want to make sure you have enough to go around.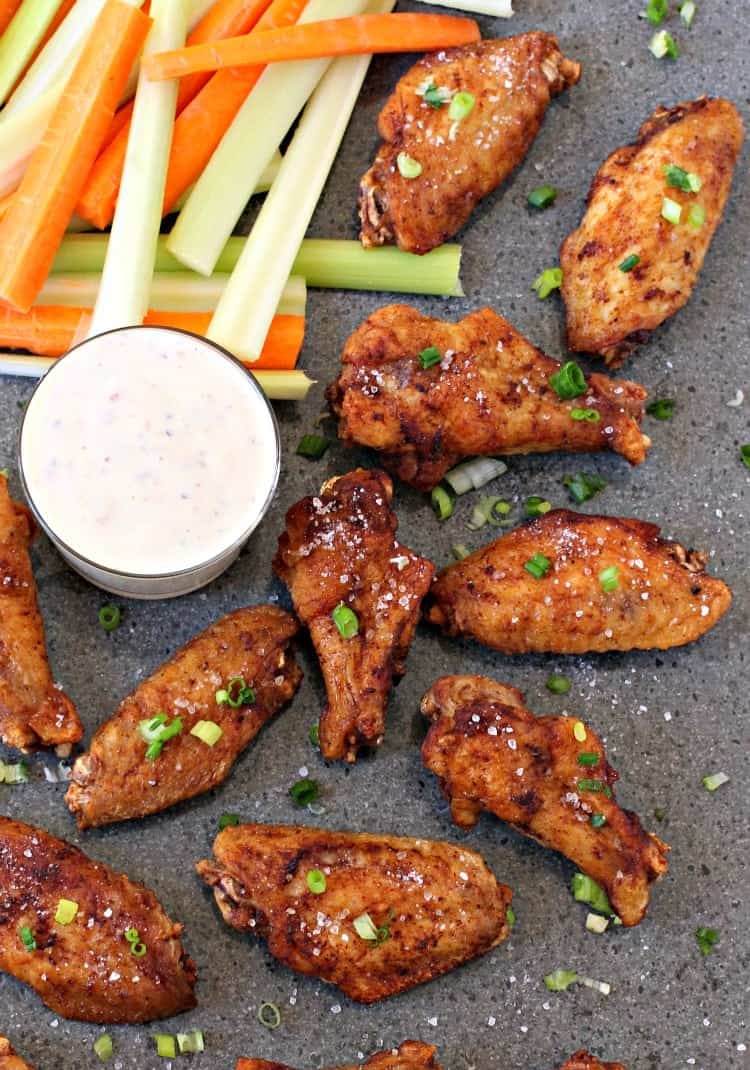 Can You Bake These Chicken Wings Or Use An Air Fryer?
There is something to be said about a fried chicken wing. Am I Right? That's the kind of chicken wing that you're going to get when you go out or order from a restaurant – fried. That's why they tastes so damn delicious.
So you can bake these Salt and Vinegar Chicken Wings! Follow some tips from our baked garlic parmesan chicken wings recipe, and they will definitely be delicious.
How about an air fryer? Yep, an air fryer will give you the best results if you really don't want to break out the oil for a deep fry! But don't be afraid to deep fry at home, there's just a few tips you need to follow to be safe and effective!
Tips For Frying Chicken Wings:
Only fill your pot halfway with oil, or even slightly less than half so the oil won't boil over when you add the chicken wings
Get a fry thermometer to make sure the oil is at the right temperature for frying. Too hot will burn the outside before the inside is cooked and too low will result in soggy, not crispy skin
After the chicken wings are cooked remove them to a paper towel lined plate of baking sheet in a single layer so they drain properly and don't get soggy
Season the chicken wings with salt (or whatever seasoning you're using) immediately after they come out of the oil so the salt sticks to the chicken
Make sure before turning your oven on this high that you don't have any giant spills or messes in your oven because it will smoke up on you!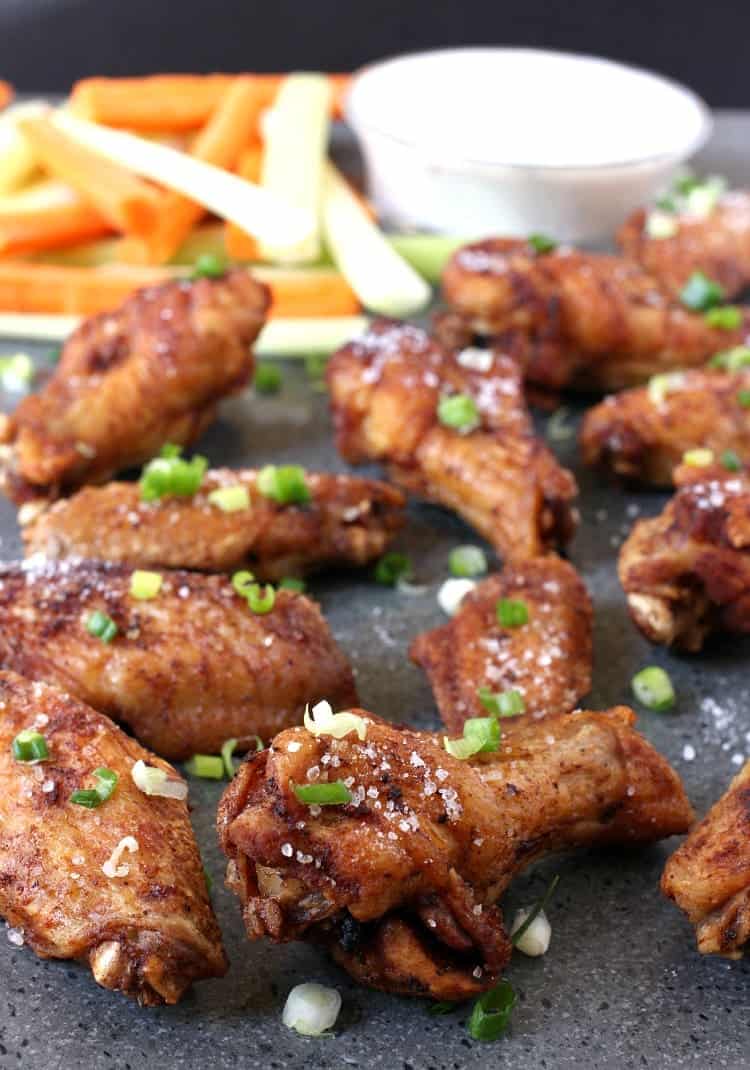 Looking For More Chicken Wing Recipes?
Print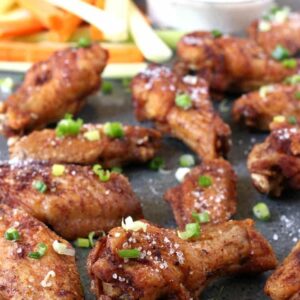 Salt and Vinegar Wings
Author:

Prep Time:

5 minutes

Cook Time:

15 minutes

Total Time:

20 minutes

Yield:

6

Servings

1

x
These Salt and Vinegar Chicken Wings are totally addicting! This crispy, fried chicken wing recipe is always a hit for parties and game days!
Scale
Ingredients
1

(48 oz. package) chicken wings, separated at joints

1 teaspoon

salt

1 teaspoon

garlic powder

1 teaspoon

sugar

1/2 teaspoon

paprika
Vegetable or canola oil for frying
toppings
Malt vinegar
Sea salt or kosher salt
Ranch or blue cheese dressing for dipping
Instructions
Fill a large pot filled halfway with vegetable oil over medium heat and heat until a thermometer reaches 375 degrees.
While the oil is heating up, toss the wings in the salt, garlic powder, paprika and sugar.
Fry the wings in batches to not overcrowd the pot and cook for 10-12 minutes until crispy and brown and cooked through.
Place the wings on a plate lined with paper towels and season them immediately with more salt and pepper. Add the malt vinegar to the wings, just a drizzle over the wings, not too much so they are wet with vinegar.
Repeat cooking and seasoning the wings until all are cooked.
Serve with ranch or blue cheese dressing on the side for dipping.
Recipe Notes
Alternately, you can bake the wings in a 450 degree oven for 30 minutes until crispy. Spray the tops of the wings with cooking oil or baking spray before baking. For extra crispiness, you can broil the wings for 2-3 minutes after baking.
You can also use rice wine vinegar, apple cider vinegar or champagne vinegar to flavor the wings.
Category:

Appetizers

Method:

Fry/Oven Bake

Cuisine:

American
Keywords: chicken wing recipes, chicken wings, salt and vinegar wings, appetizer recipes, dinner ideas, crispy chicken wings, chicken recipes