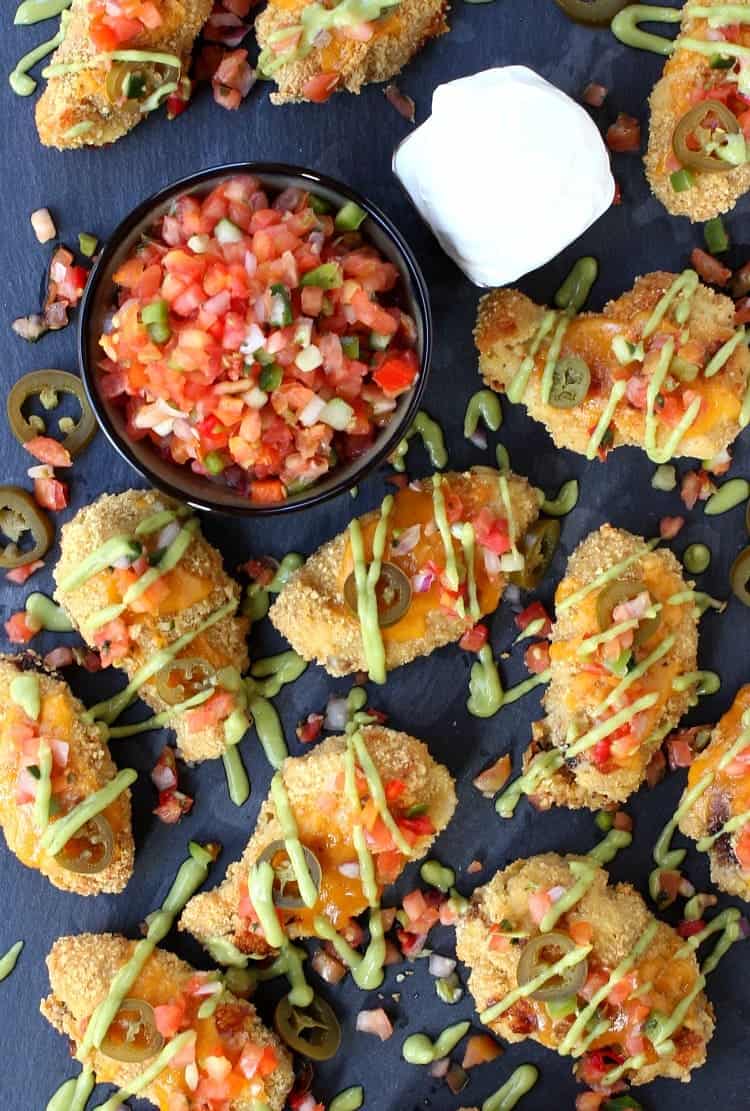 Nacho Chicken Wings are hitting your table tonight for dinner! When you can't decide between nachos or wings…have them both!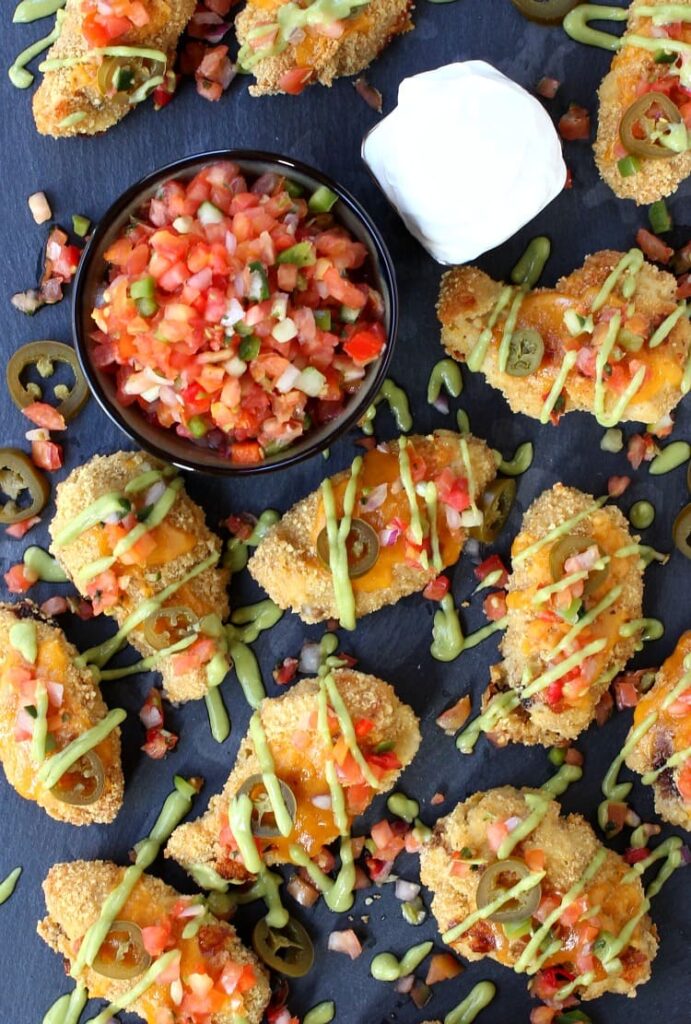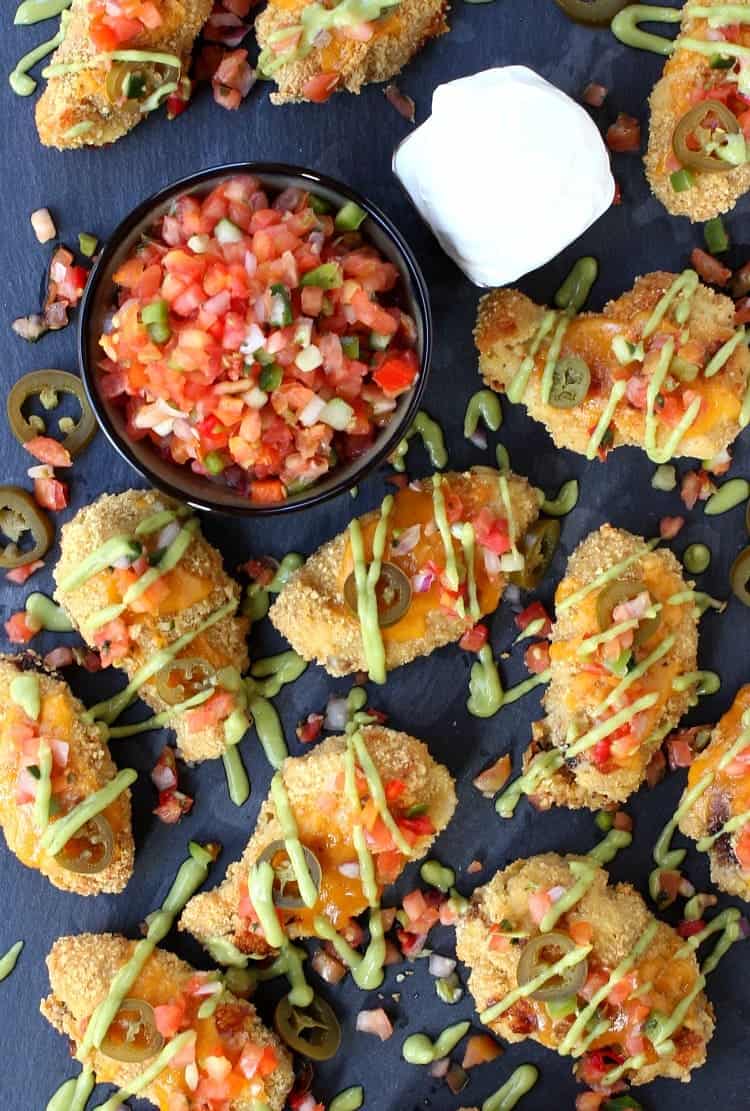 I'm actually thinking of making wings a whole category here on site here..one whole menu just for wings. I can think of about 1,000 ways to make them and I would definitely love taste testing all those wing recipes.
So let's talk for a second about these wings. Tortilla crusted wings covered with cheese and then topped with guacamole and fresh salsa. Don't worry about all the toppings either, pile them on because these wings and BAKED not fried!
Bonus right? I couldn't believe how good these turned out just by baking them in the oven.
Grab your chicken wings and let's start breading them. Throw a bunch of tortilla chips into your blender or food processor and crush them up until they look like breadcrumbs. This is where you could go a little crazy with your wings here – lime flavored tortilla chips, blue tortilla chips, nacho flavored tortilla chips…like Doritos?? I used Tostitos® plain salted tortilla chips to keep the flavor classic, but I might have to go back and check out some of the other flavor options!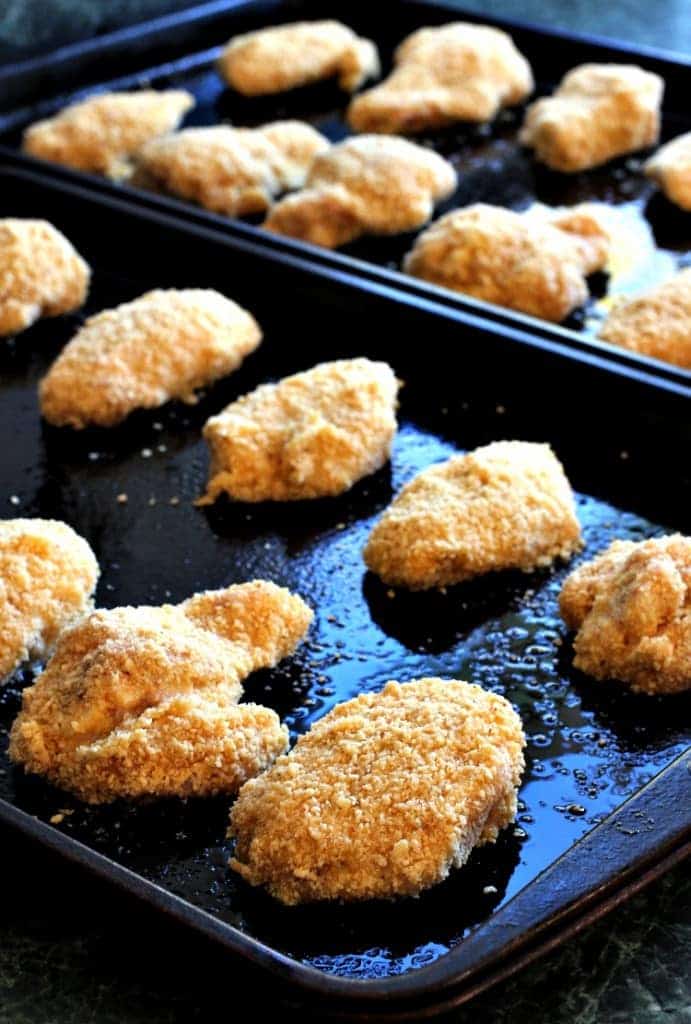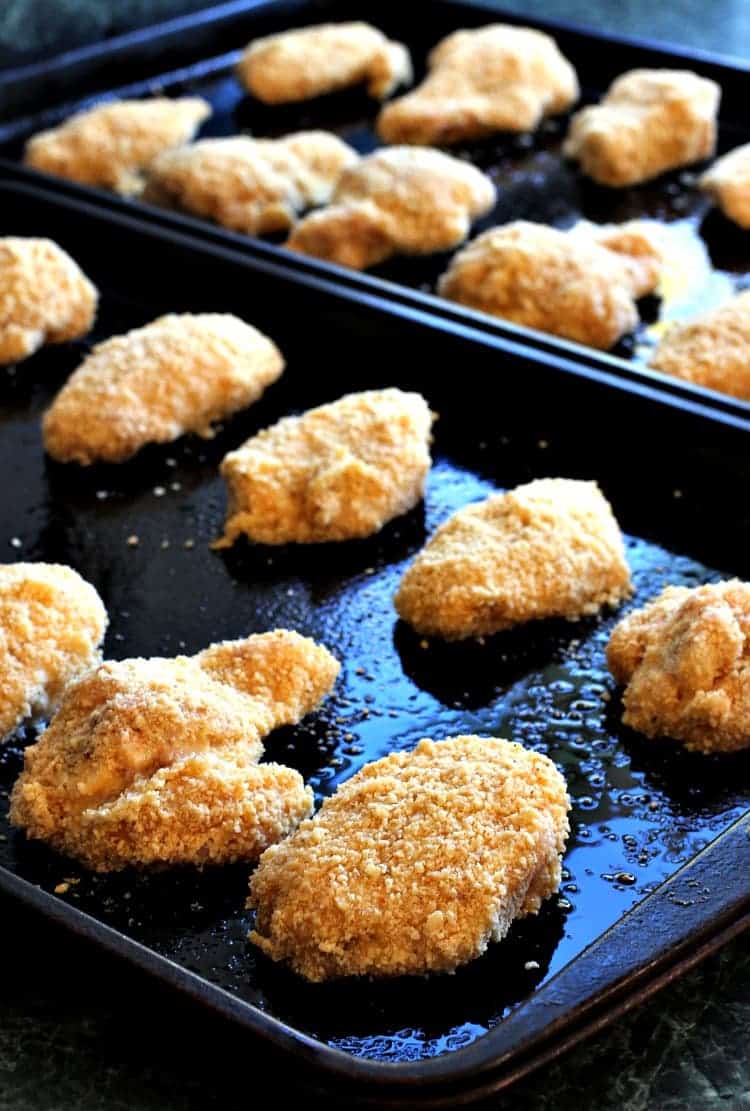 Get them on a baking sheet and bake them for 35 minutes. You're going to need your oven turned up high to 450 to get these guys nice and crispy.
Take the wings out of the oven and cover them in some grated cheese. Use as much or as little as you want here…I'll leave that part up to you.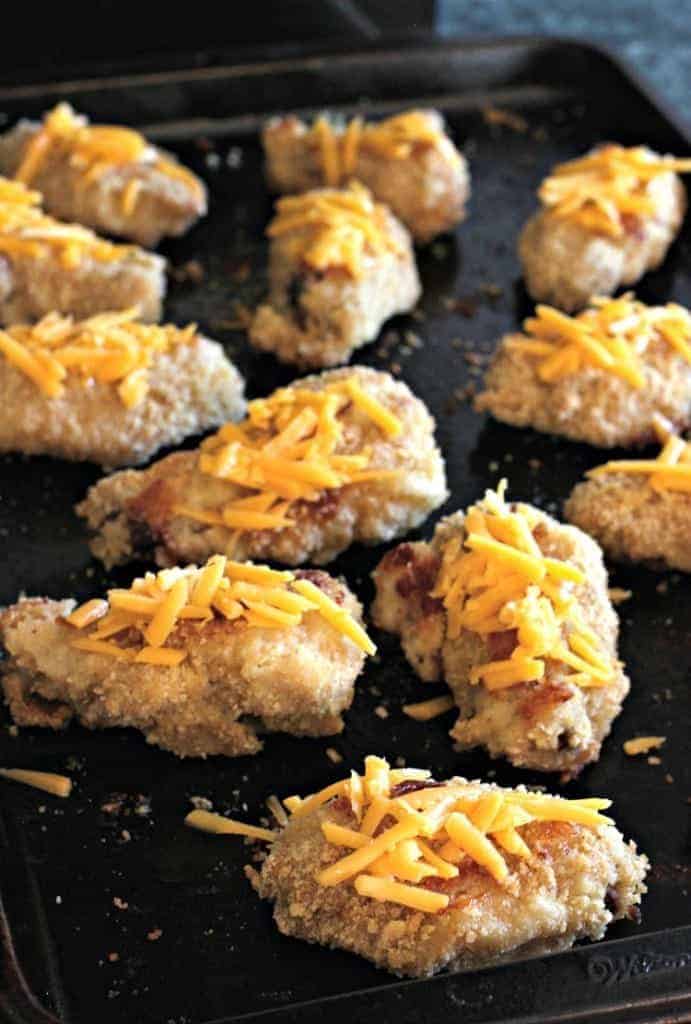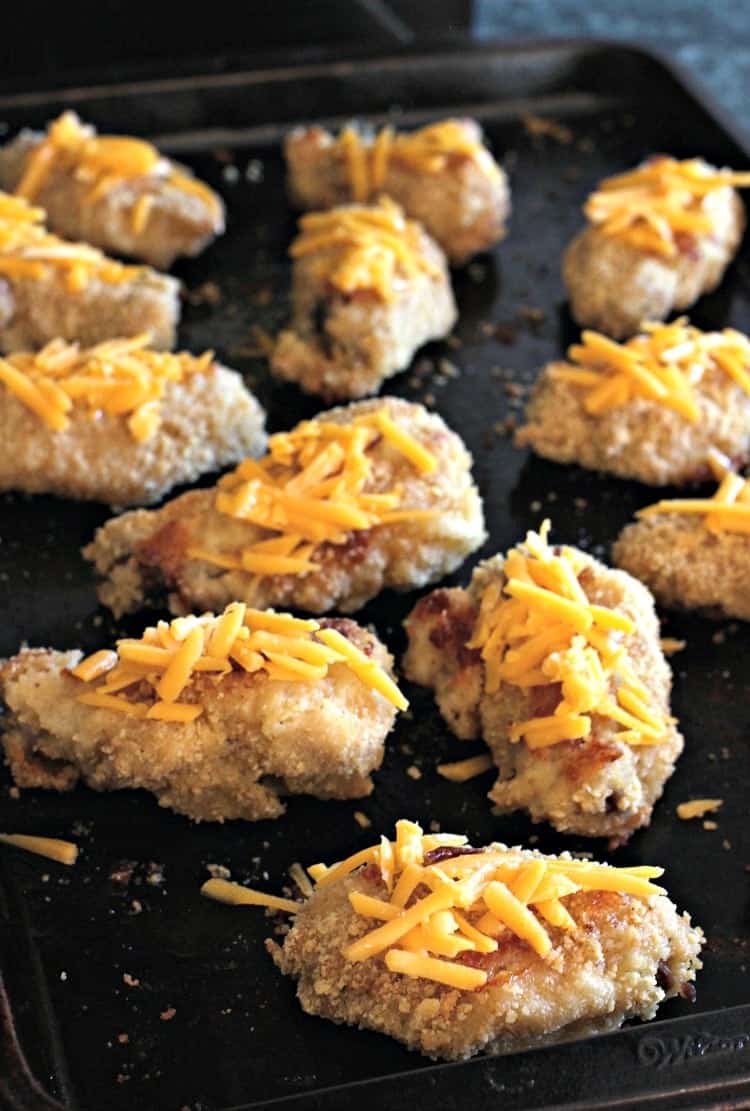 Back in the oven for 5 more minutes to melt the cheese and then it's time for the toppings.
You can put literally anything you'd put on nachos on these wings. We went with a guacamole cream, pickled jalapénos and fresh salsa. But feel free to keep piling on the toppings, black olives, sour cream, beans.
The more toppings the better!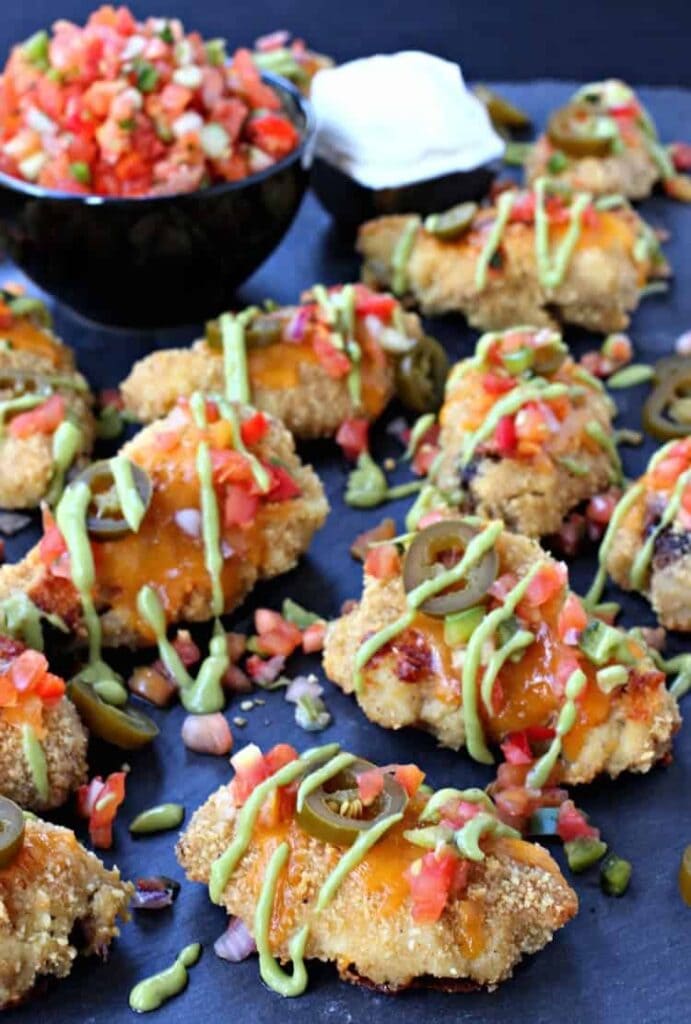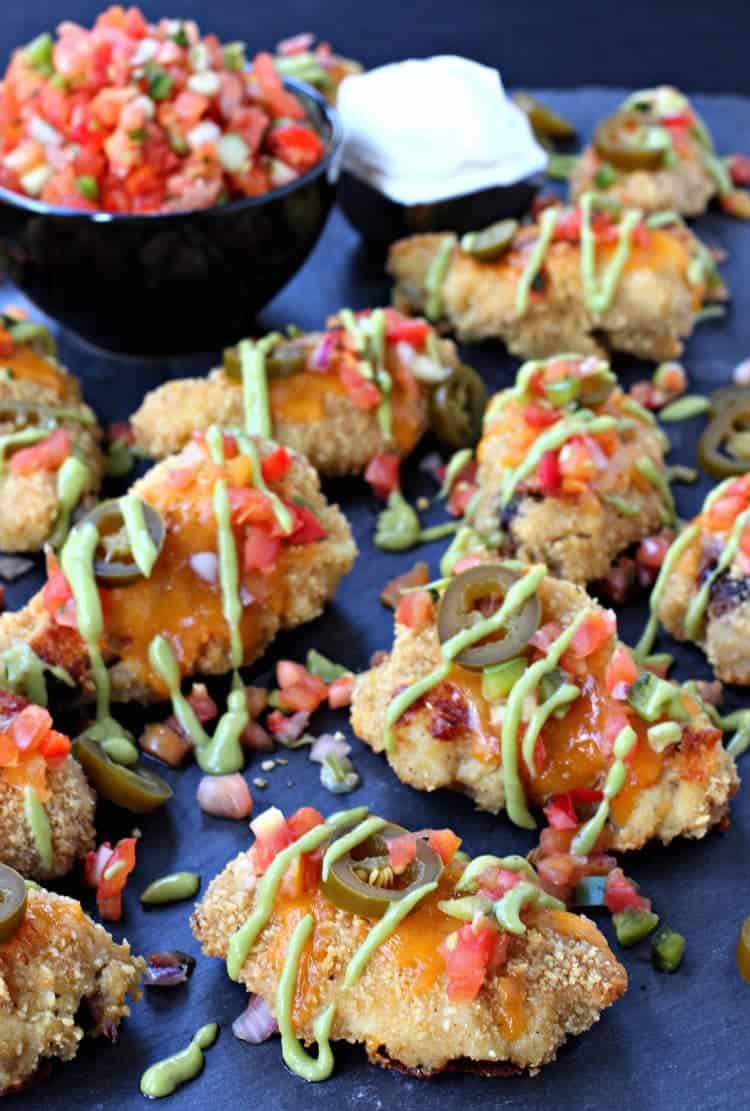 Print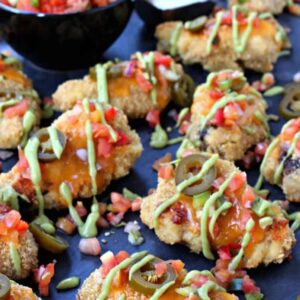 ---
Description
A crispy, baked, tortilla crusted chicken wings with all the nacho toppings you want!
---
Ingredients
I

48 oz

. package of chicken wings (about

20

wings)

3

eggs beaten

1 cup

flour

2 cup

s ground tortilla chips, like Tostitos® Original (I crushed the chips with my hand and filled my blender up to the

5 cup

s line)

1 teaspoon

cumin

2 teaspoon

s salt

1/2 teaspoon

ground black pepper

1/2 cup

grated cheddar cheese
For the toppings
pickled jalapénos
fresh salsa or diced tomatoes
store bought guacamole
---
Instructions
Preheat the oven to 450 degrees.
Set up three bowls for a breading station, the flour in one, the crushed tortilla chips in another and the eggs in the third.
Combine the cumin, salt and pepper in a small dish and then use it to season the wings on both sides.
Dip each wing in the flour first, then the eggs and then finally the ground tortilla chips.
Place onto a baking sheet sprayed with cooking spray and repeat with the remaining wings.
Spray the wings with cooking spray (or you can use and olive oil mister) and put them in the oven.
Bake for 20 minutes and then turn the wings over and bake another 15.
Take the wings out of the oven and cover each wing with the grated cheese, then place back in the oven for another 5 minutes to melt the cheese.
Top the wings with the guacamole, salsa and pickled jalapénos and serve.
---
Notes
Makes 20 wings, Recipe adapted from Food Network Magazine