These 55 Tested Kid Friendly Recipes are guaranteed to make your kids come running to the dinner table! There's a recipe here for everyone so dive on in!
We know, sometimes cooking for kids can be hard. You definitely don't want to be making macaroni and cheese and chicken fingers every single night of the week, although both of those recipes are on this list, at least you can serve them up made from scratch!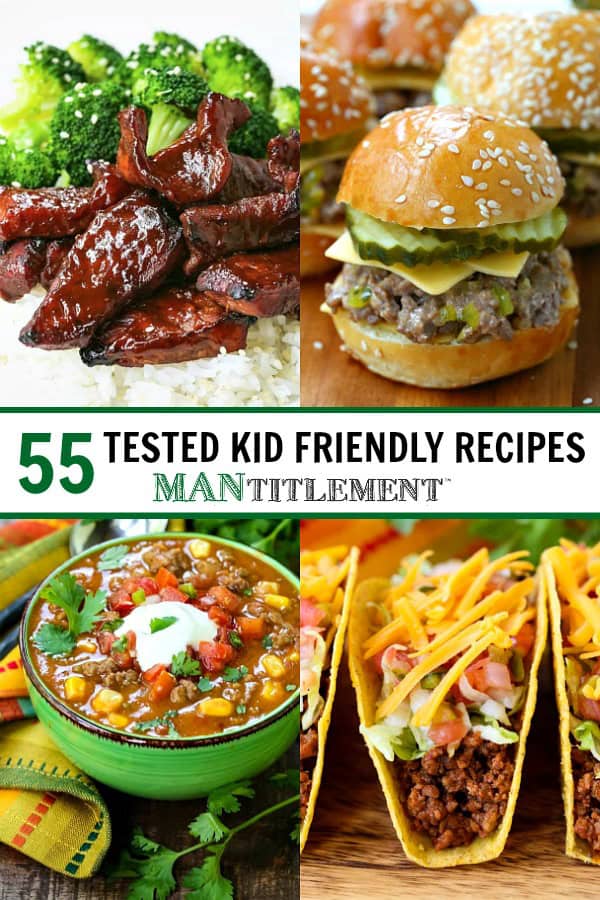 Get Your Kids To Devour Their Dinner With These 55 Tested Kid Friendly Recipes!
I really do believe that picky eaters are made, not born. Sometimes parents themselves can be picky eaters so they assume that their kid won't like something that they don't like and they don't give it to them. Or you truly have stubborn kid that just gives you a hard time every time dinner is served.
We feel you. We're here to help. That's why we made this list of 55 Tested Kid Friendly Recipes, because there's really something here for everyone.
My advice is not to give in the demands of your little ones…make them at least try what you're serving. When they are hungry, they will eat. Promise. And we're not telling you to serve up foie gras or raw fish, just very simple recipes that most kids (and adults) will love. The best feeling ever is when your family is excited about what you're serving and eagerly dives right in.
Not that we get those nights all the time here, but our kids do eat whatever we put on the dinner table and I consider that a win! So let's dive into these these 55 Tested Kid Friendly Recipes and see which ones will end up on your dinner table!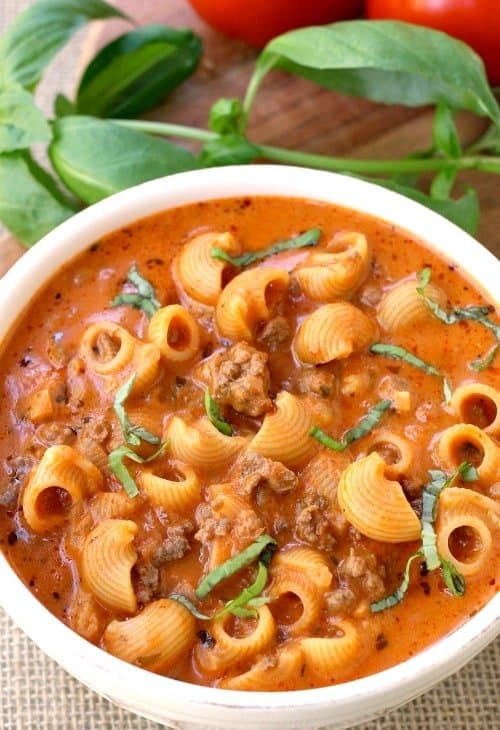 Our #1 soup recipe of all time on the site here, it's actually in the top 3 of our all time most popular recipes, Beefy Tomato Soup. Everyone I know that's tried this soup recipe loves it because it's super delicious and comforting and also super easy to make.
You can use ground beef, per the recipe, or swap out ground pork or even Italian Sausage if you have it. This tomato soup is so addicting, you'd better double the recipe!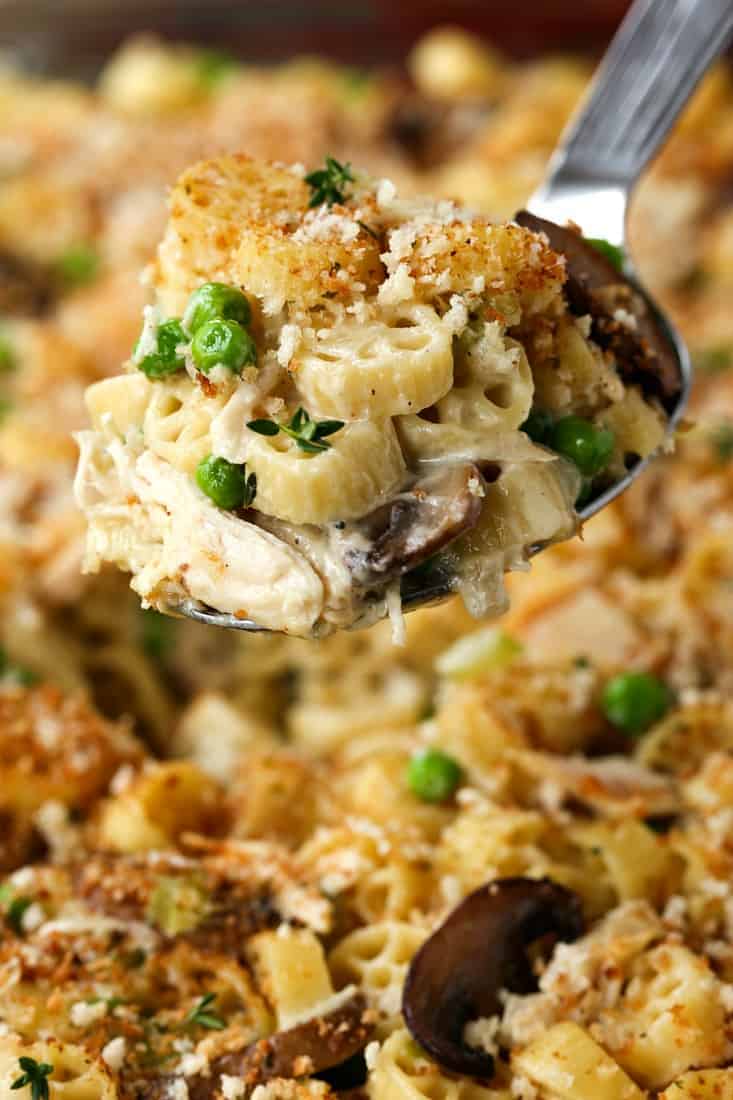 How can you go wrong with these fun wagon wheel pasta shapes, covered in a thick and creamy sauce? No one in our house could resist this turkey and pasta casserole, I can promise you that. If you don't have leftover turkey, grab a rotisserie chicken from the store instead.
Kids don't like mushrooms? Leave them out, you can add frozen peas and carrots or chopped broccoli instead. This casserole recipe is really adaptable to what your family likes, so don't pass it up just because you see an ingredient that doesn't work for you!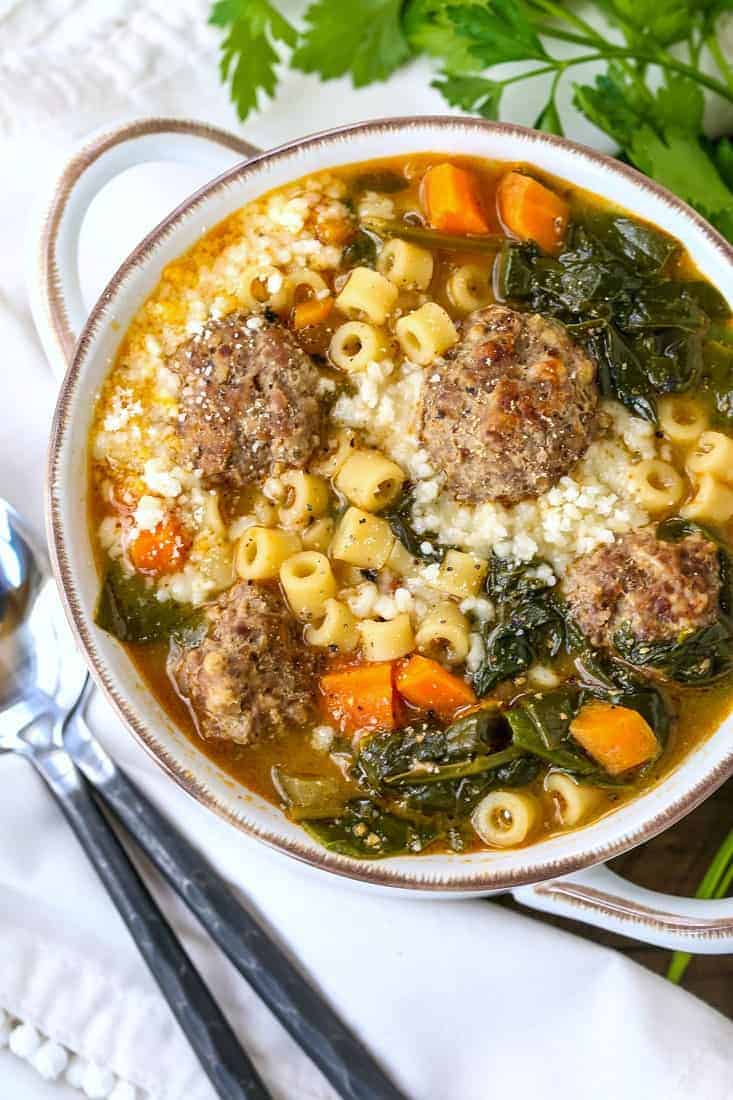 Extra large meatballs simmered in a delicious chicken stock (store bought, no worries) with kid friendly ditalini pasta, carrots and spinach. Again, if spinach is a problem, leave it out, or swap with another vegetable.
Still make this soup recipe because it's going to be a family favorite. The other trick we used to do when our kids were younger is to chop ingredients like spinach up small so that they don't notice it as much.
Spinach does add a great flavor to this meatball soup so if you can sneak it in, do try to. Your kids will be so distracted by the tender, tasty meatballs they won't even notice!
Ground Beef Tater Tot Casserole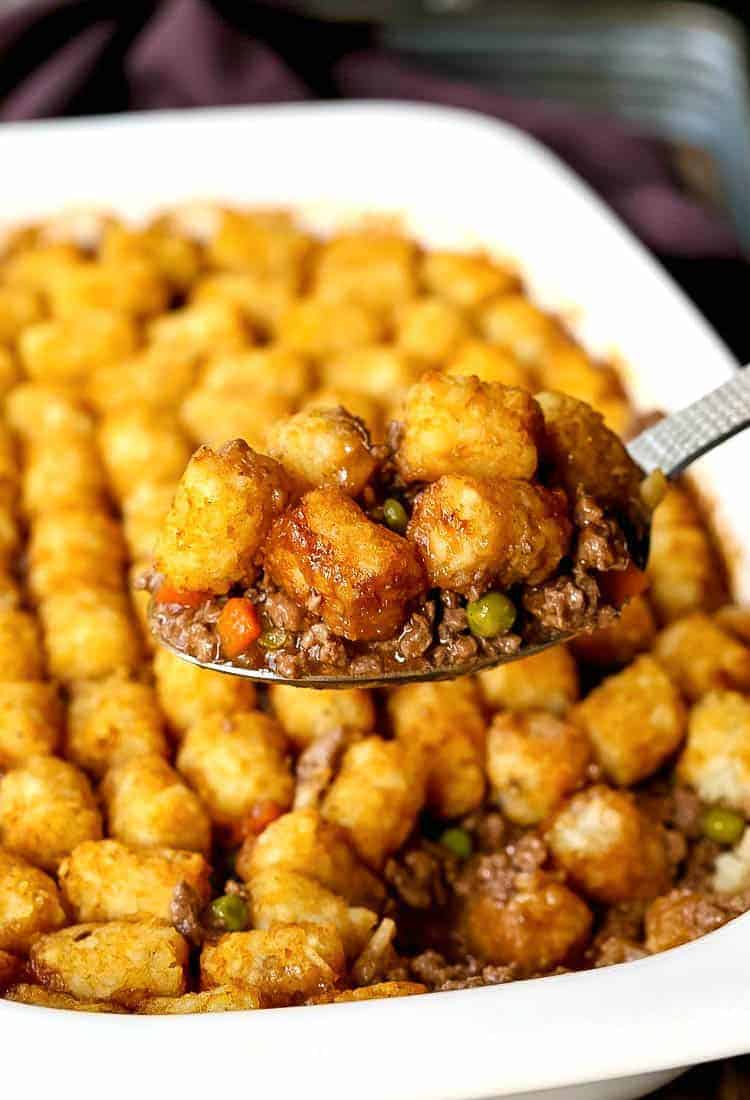 Talk about kid tested, family approved! This tater tot casserole is a comfort food slam dunk on the list for 55 Tested Kid Friendly Recipes! Ground beef, peas and gravy make the base for this casserole recipe that's toped with frozen tater tots. The tater tots seal in the beef filling making it thick and creamy while it bakes.
When you pull this tater tot casserole our of the oven the tots will be crazy crispy and perfectly cooked, no one will be able to resist it! An all in one dinner recipe, no need to serve anything else on the side!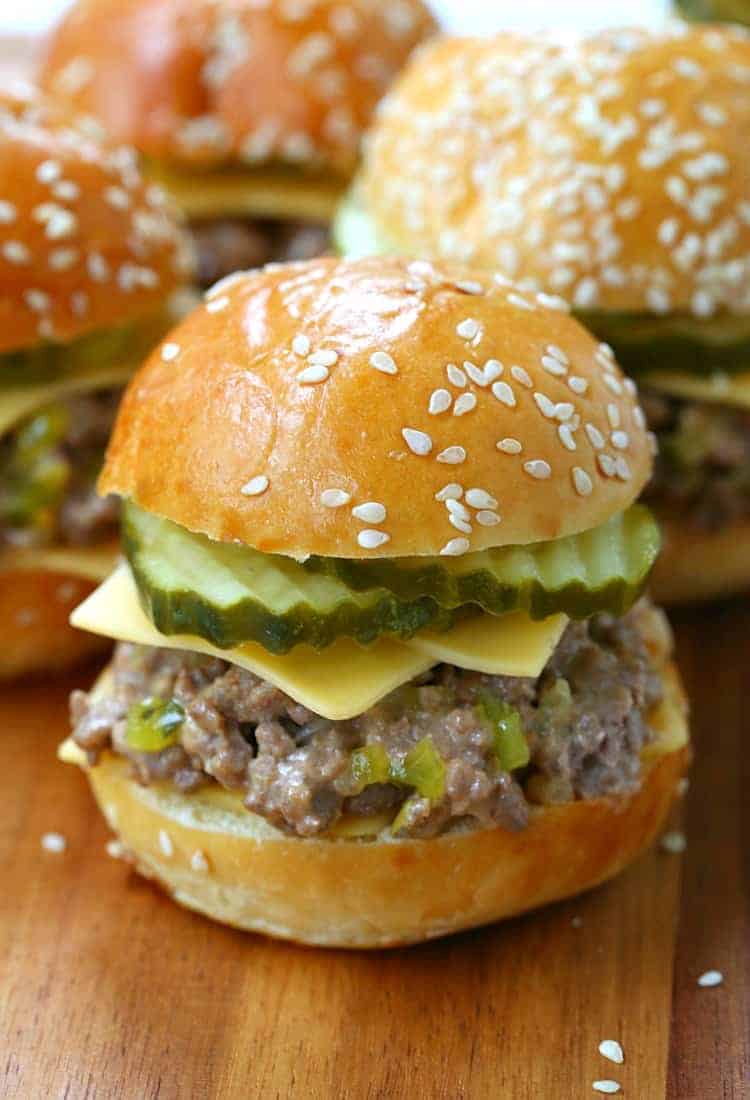 Got a kid that loves McDonalds? I'm pretty sure we all do, big kids included. These sliders have all the flavor of a McDonalds hamburger made into kid sized sliders! We love serving these beef sliders for dinner but also they are a really fun appetizer to serve at parties!
Grab these mini sesame seed buns at your local Trader Joe's, or you can use a plain slider bun too, really whatever you can find at your grocery store. Or grab full size sesame seed buns and make these Mini Mac Sliders more like a Big Mac!
Our older son loves penne vodka so much we got tired of making it for him. One night he had a friend over and guess what? They wanted penne vodka for dinner…so we told them to make it themselves.
And they did.
This penne vodka recipe turned out so good that we decided to put it on the web site. Now he can make this pasta without even looking at the recipe, that's how often he makes it! Don't worry about the actual vodka in this pasta recipe, it does cook off. No kid has ever gotten buzzed from penne a la vodka!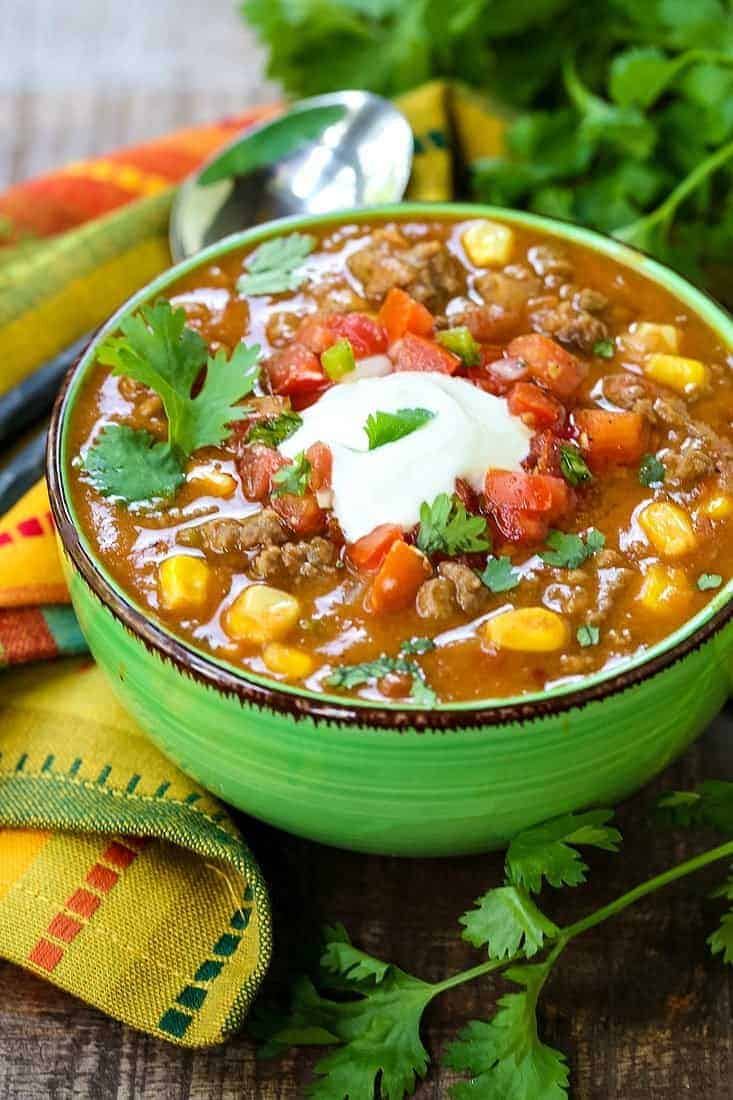 The fun, Tex-Mex cousin to our Beefy Tomato Soup! Taco anything is always a hit at our house for dinner, and this taco soup is no exception. Ground beef is the protein in this soup recipe but feel free to swap out ground turkey or ground pork, too.
The fun part about this soup recipe is all the toppings that you can put on! Keep it plain for the kids if that's how they like it or pile on all the taco topping you can think of!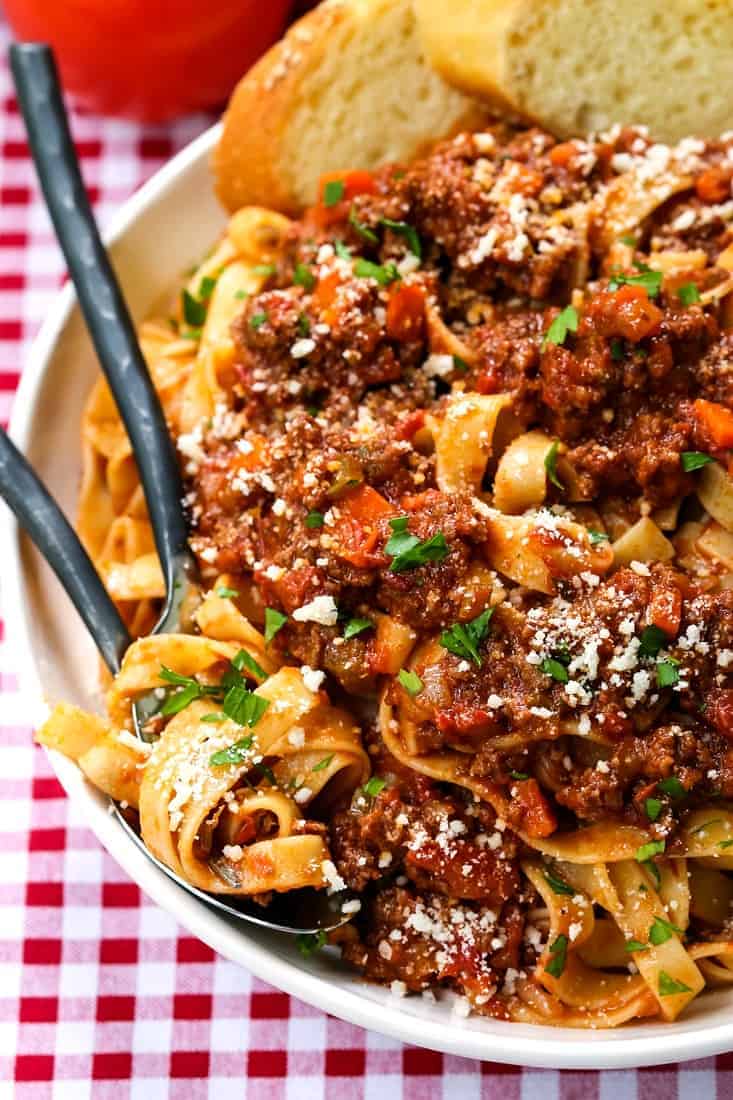 This meat sauce recipe is SO crazy good, it's guaranteed to be on your dinner rotation at least once a month. This sauce does take a couple of hours to simmer, but you can do that on the weekend if you don't have time during the week.
Then all you need to do is warm it up and serve it over pasta, baked potatoes, spaghetti squash (for you low carbers), or use it in your favorite pasta recipes like lasagna or stuffed shells. Bolognese sauce is really so versatile, but spooned over pasta with good parmesan cheese is always a winner dinner.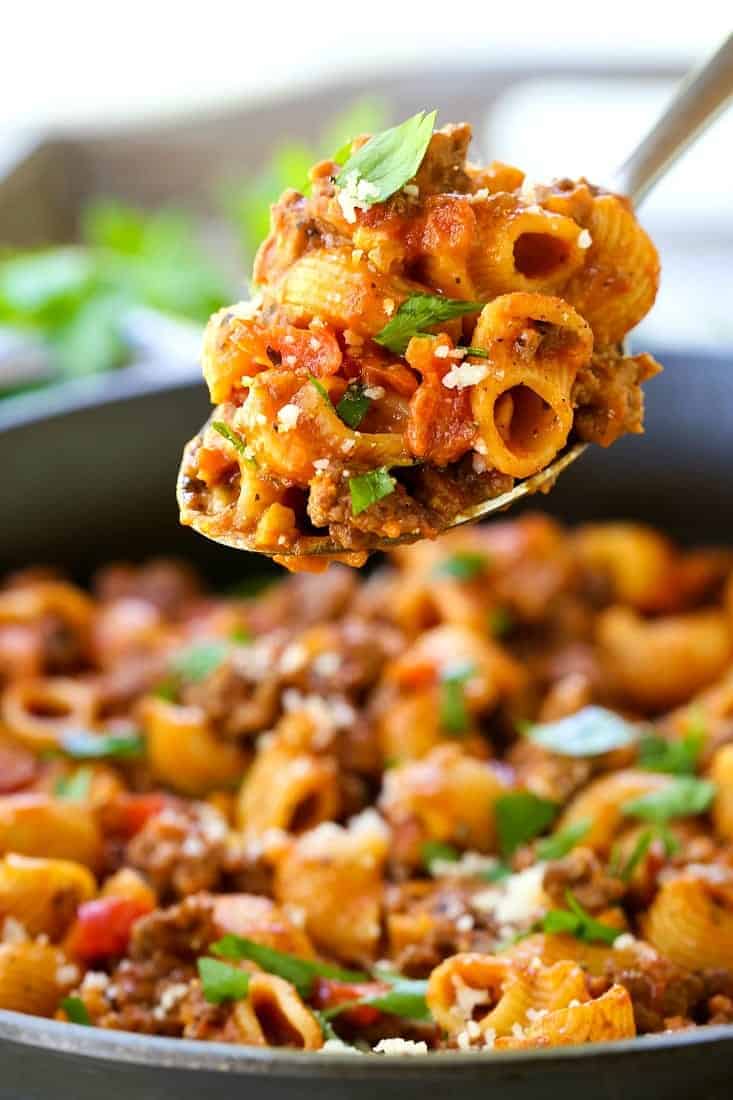 Creamy, beefy noodles with a few veggies snuck in make this one pot dinner tough to leave off our 55 Tested Kid Friendly Recipes! Again, you can swap out the beef with ground turkey or pork but ground beef is the sure bet for this goulash recipe.
The pasta cooks all in one skillet, you don't have to boil it ahead of time messing up another pot. And because the pasta cooks in the skillet with the beef and vegetables it soaks up the sauce as it cooks so it's pretty much the best tasting pasta ever.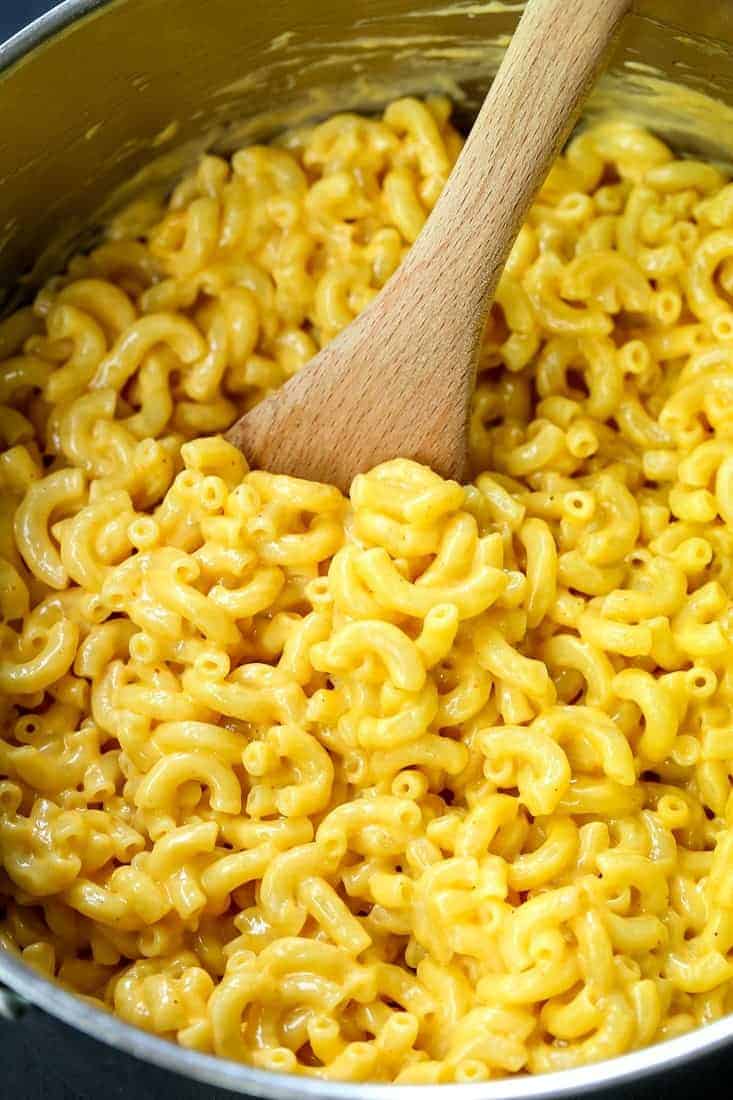 Ok here we go. We've got your Mac & Cheese! I'm telling you guys, if you're looking for a homemade macaroni and cheese recipe that your kids will actually EAT – this is the one. This macaroni and cheese taste so close to the blue box favorite, you might not need to even buy it anymore.
BONUS is that this mac and cheese recipe literally takes 15 minutes from start to finish! So we're talking just a few more minutes than it takes to make the stuff from the box. Also, if you're looking to make this recipe for a party you can double the sauce and keep it warm in a slow cooker for hours!
Bacon Cheeseburger Quesadillas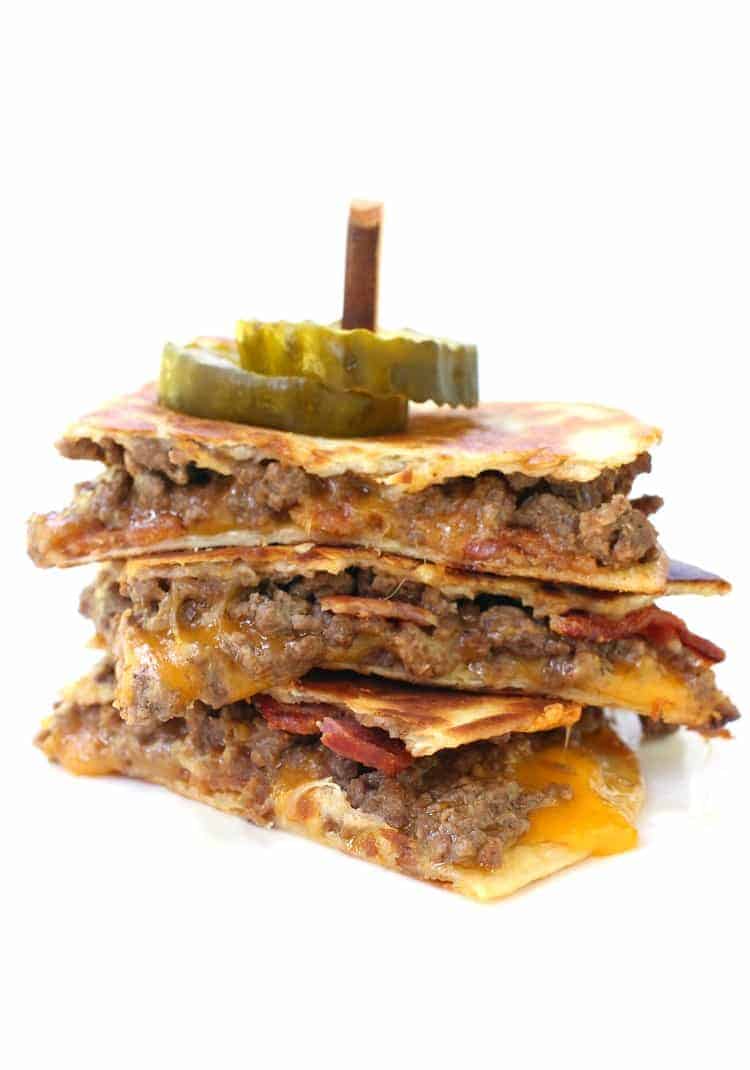 These quesadillas are another family favorite. While they are delicious for dinner, they are also really fun to serve at parties for appetizers! Oozing with cheese, seasoned ground beef and bacon, not many people can resist this quesadilla recipe!
You can sneak some vegetables inside these quesadillas, too if you're trying to get more nutrients into your kids. Try cooked mushrooms, spinach or even chopped broccoli. Just because these quesadillas have bacon in them doesn't mean we can make them good to eat too!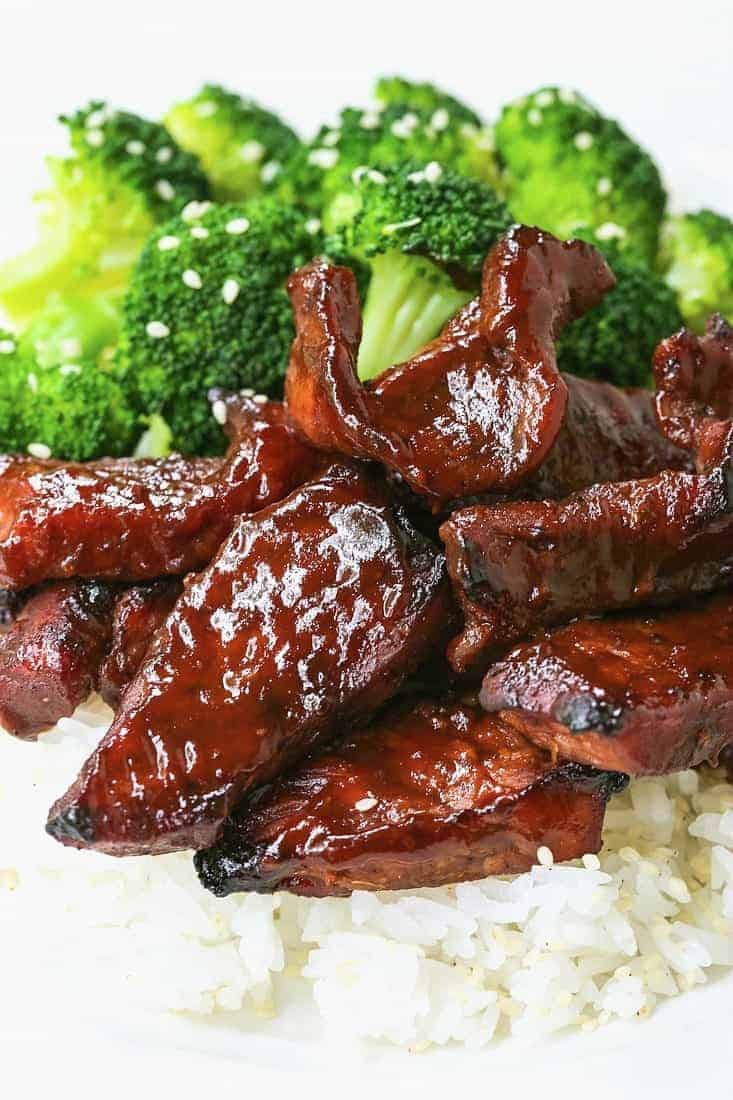 These boneless spare ribs are actually better than the take out version, and better for you too. Bonus is that besides the time for marinating, this recipe can be on the table in ten minutes!
You can make these bbq spare ribs in the air fryer (fastest way), oven or even a slow cooker. The slow cooker method will produce the most tender pork, but obviously has a longer cooking time. Oven baked or the air fryer method are my choices for this recipe, especially when dinner needs to get on the table in a flash!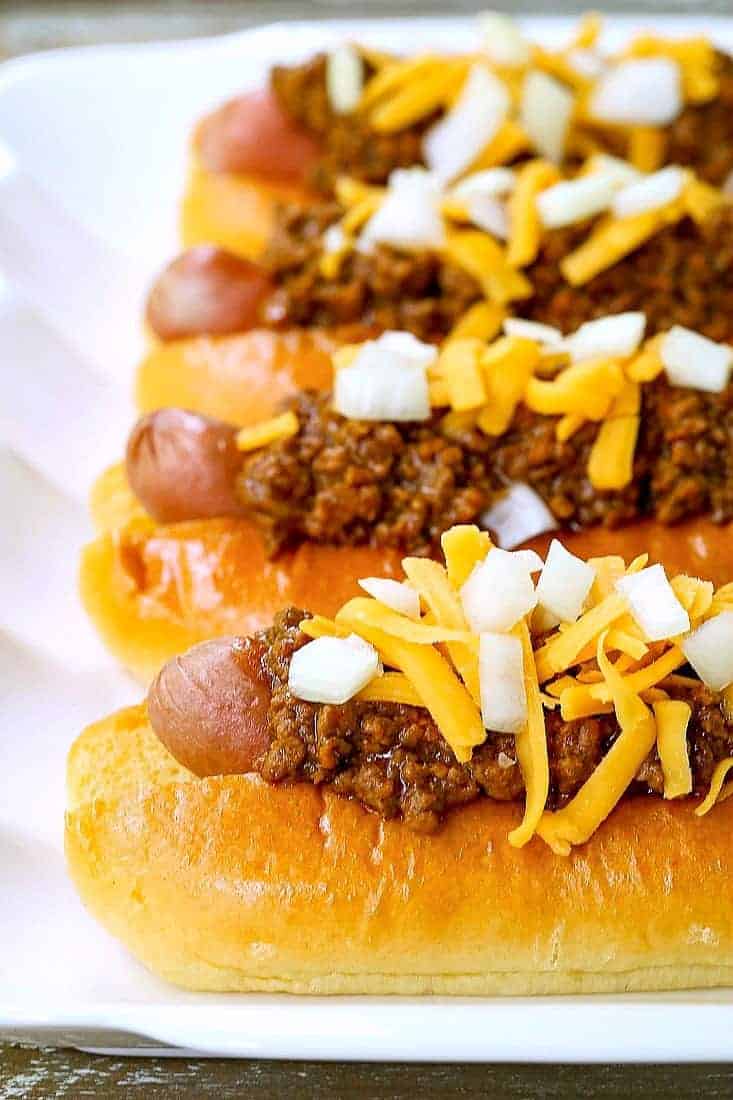 While this beanless beef chili is perfect for making chili dogs, it's so much more than that! We make this chili in batches on the weekend and use it during the week for making nachos, big bowls of chili mac, spooned over baked potatoes and yes, hot dogs.
Swap out ground turkey in this chili recipe if you like, too. And if you are a fan of beans, go ahead and throw them in! The more beans the better in our house, but if you have kids that don't "like" chili this might be the recipe to try.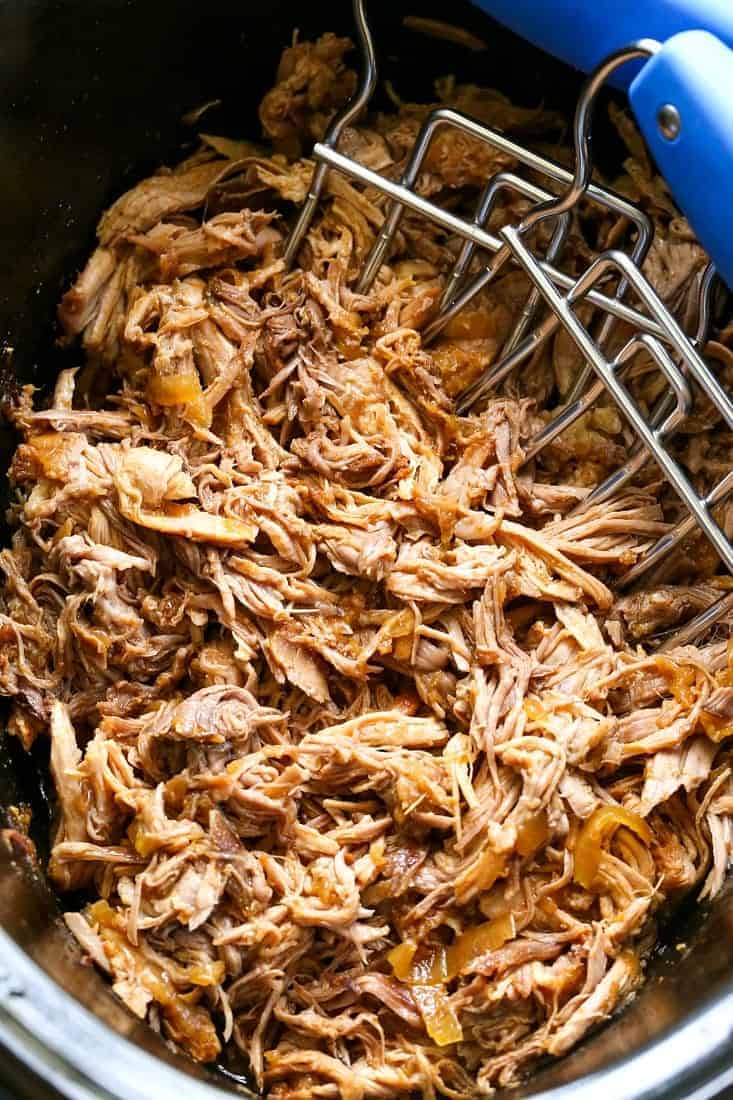 I mean, talk about meal prepping…
This is our FAVORITE pulled pork recipe because it's perfectly seasoned and it please everyone. Kids don't like BBQ sauce? Totally fine, this pulled pork recipe doesn't use any. BUT you can add BBQ sauce on at the end for those that do.
Make this pulled pork on the weekend or while you're at work for many different meals during the week! Pulled pork sandwiches are always a hit – be sure and check out our Cheesy Pulled Pork Sandwich Recipe, too! Another recipe we make with this pulled pork is our Honey Mustard Pork Taquitos, always fun for dinner and parties.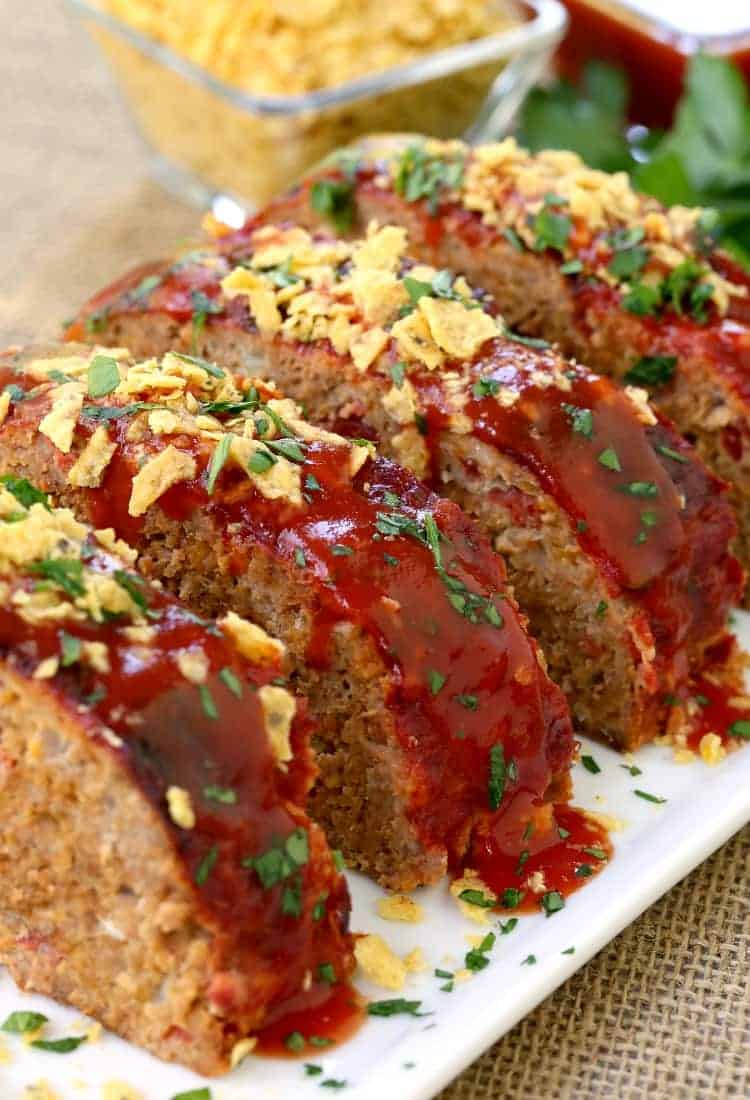 Because kids seem to love taco everything, we know they're going to love this turkey meatloaf too! All the flavors of tacos that kids love, baked into a juicy turkey meatloaf.
People either seem to love meatloaf or have strong opinions against meatloaf, so we weren't sure if we were going to add it to this list of 55 Tested Kid Friendly Recipes but we did anyway. There's also our Classic Meatloaf Recipe and our crazy popular Meatloaf with Brown Gravy Recipe, so there's a meatloaf recipe for everyone here!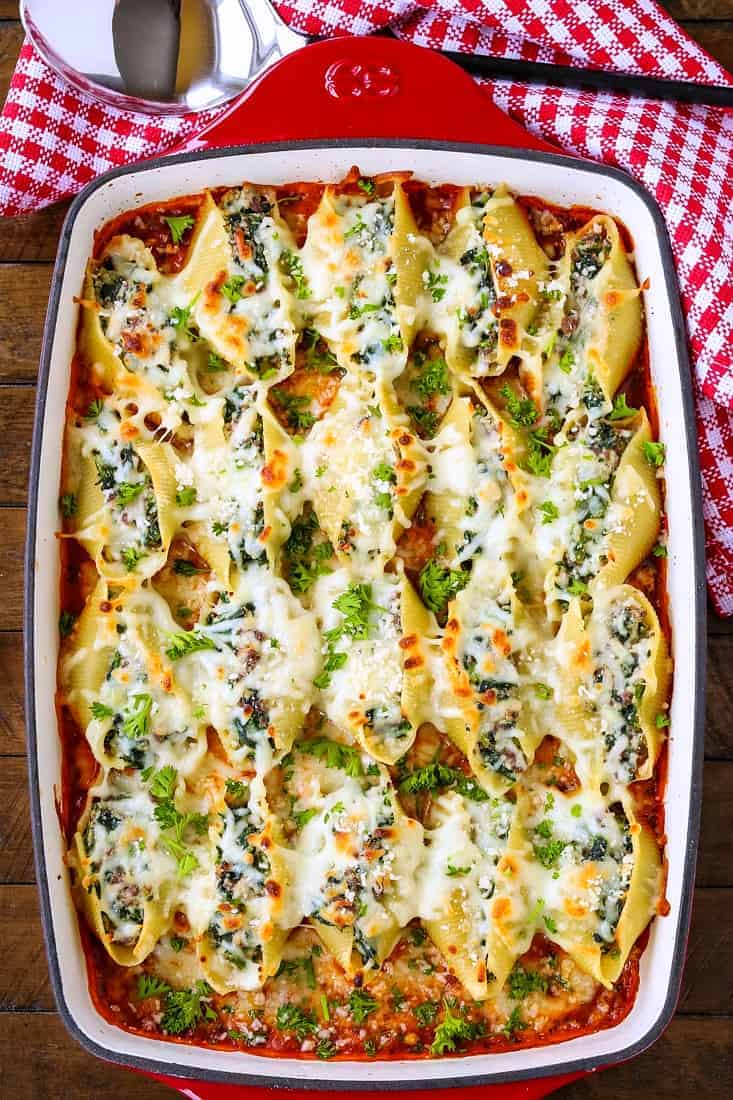 This stuffed shell recipe is simple, comforting and can feed a crowd! Make these shells for your Sunday dinner or for a weeknight dinner with leftovers! Because no one needs to be cooking dinner every single night of the week.
These stuffed shells have a ground beef filling that can easily be substituted for ground turkey, pork or sausage! There's also spinach hidden in the filling, which can easily be mistaken for chopped parsley:) But you can also add finely chopped broccoli in here too, or leave out the veg altogether.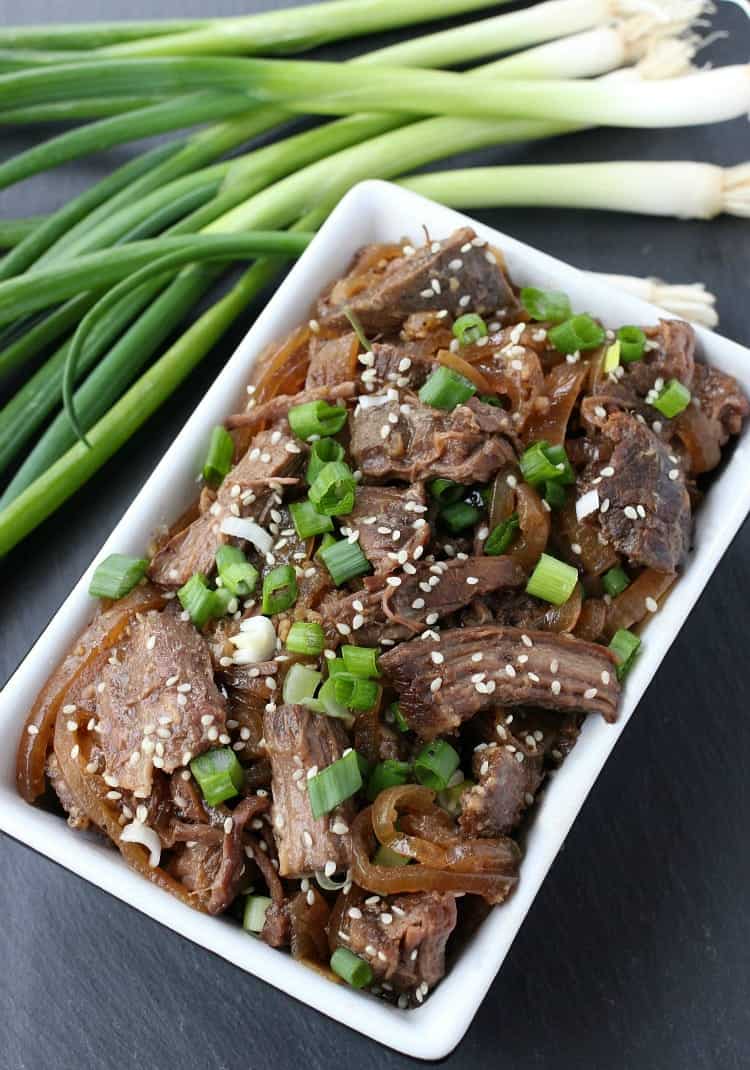 Have you ever made Shaking Beef? It's typically a fast cooking recipe that's made with filet mignon, but honestly we're not on a filet budget over here. So we took the same flavors and turned this beef into a crock pot recipe! This way you can use a much less expensive cut of meat and it comes out super tender.
Our kids love this slow cooker beef served over rice or noodles, even ramen noodles! Anything Asian inspired is always a hit at our house so this Shaking Beef is no exception!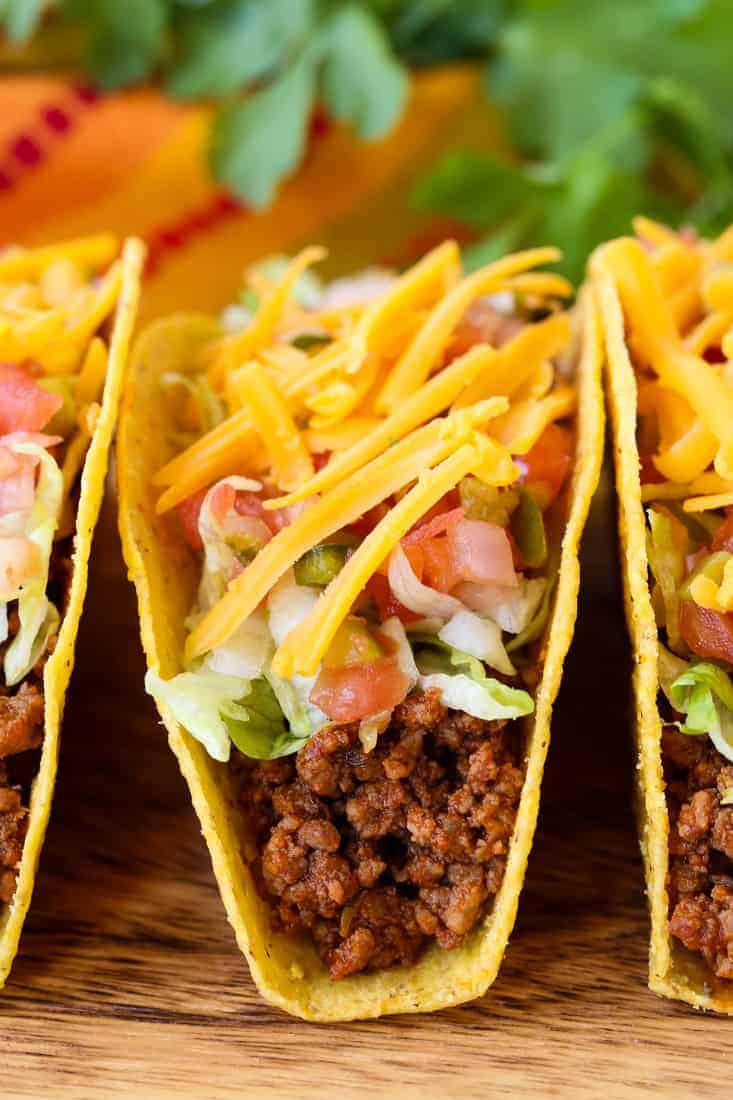 Making taco meat really isn't brain surgery, I know. But sometimes you just don't have that seasoning packet on hand…and what does that mean? No tacos tonight? Try telling that to your 5 year old that's been promised tacos for dinner.
That usually doesn't go over well.
So grab a few seasonings from your cabinet and taco night is still on! Plus this homemade taco meat does actually taste better than the seasoning packet. We make this taco meat in big batches and use it for lots of meals during the week! It's great on salads, nachos, as a filling for quesadillas or making low carb taco bowls!
Air Fryer Ranch Chicken Nuggets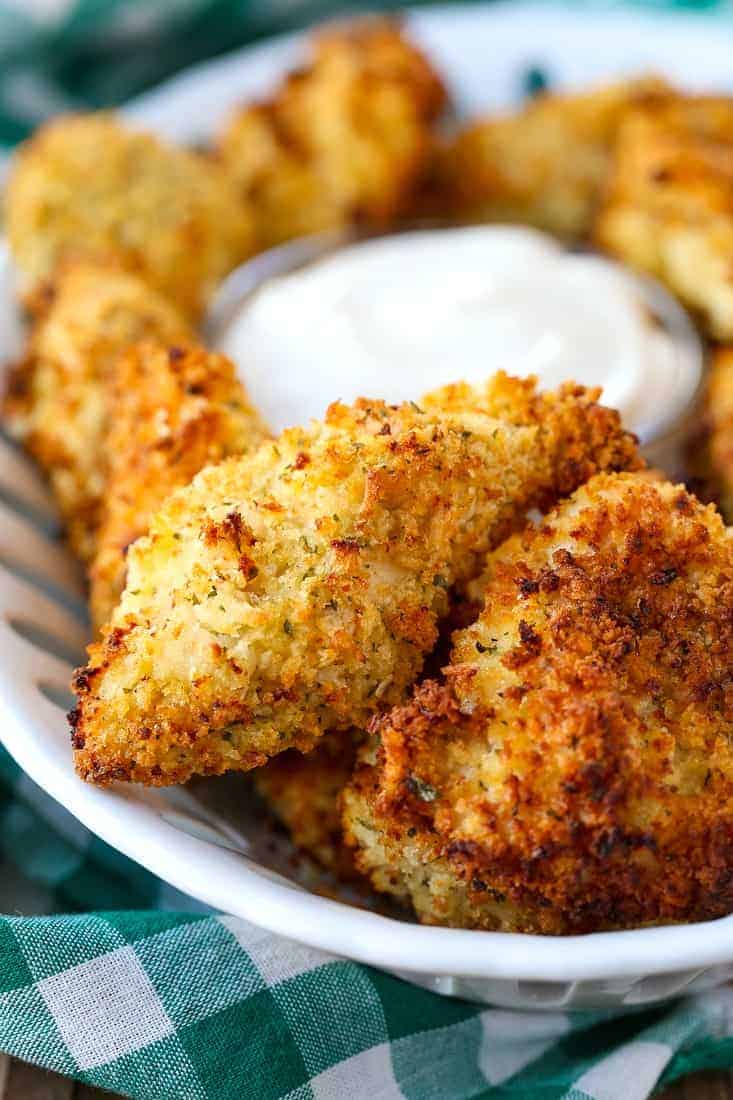 So do you guys have an air fryer? We do and I have to tell you, we love it! These chicken nuggets are so crispy you'd swear they were fried. Ranch seasoning goes right into the breadcrumb coating on these nuggets, a flavor universally loved by kids and adults.
Another great thing about these air fryer chicken nuggets is that they only take minutes to make in an air fryer. Add some crispy french fries and a salad and dinner is done in no time!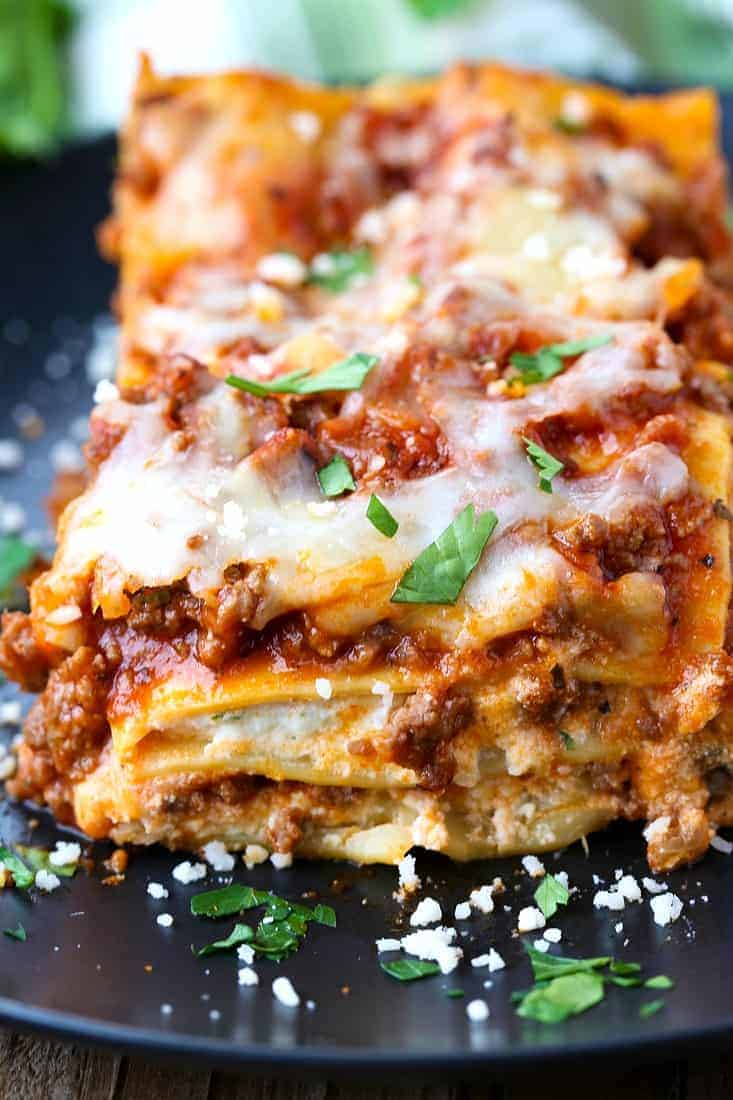 Lasagna is such a comfort food recipe to me. Layers of noodles stacked in between ricotta cheese, mozzarella cheese and a seasoned beef filling. It doesn't get much better than that!
The biggest struggle that I've heard with people making lasagna is that it falls apart when they cut into it. there's a few reason for that, which I tell you all about in this lasagna recipe so head over and check it out.
Because we do eat with our eyes, so if there's a beautiful nicely cut piece of lasagna on a plater as opposed to a sloppy mess…guess which one is going to be eaten.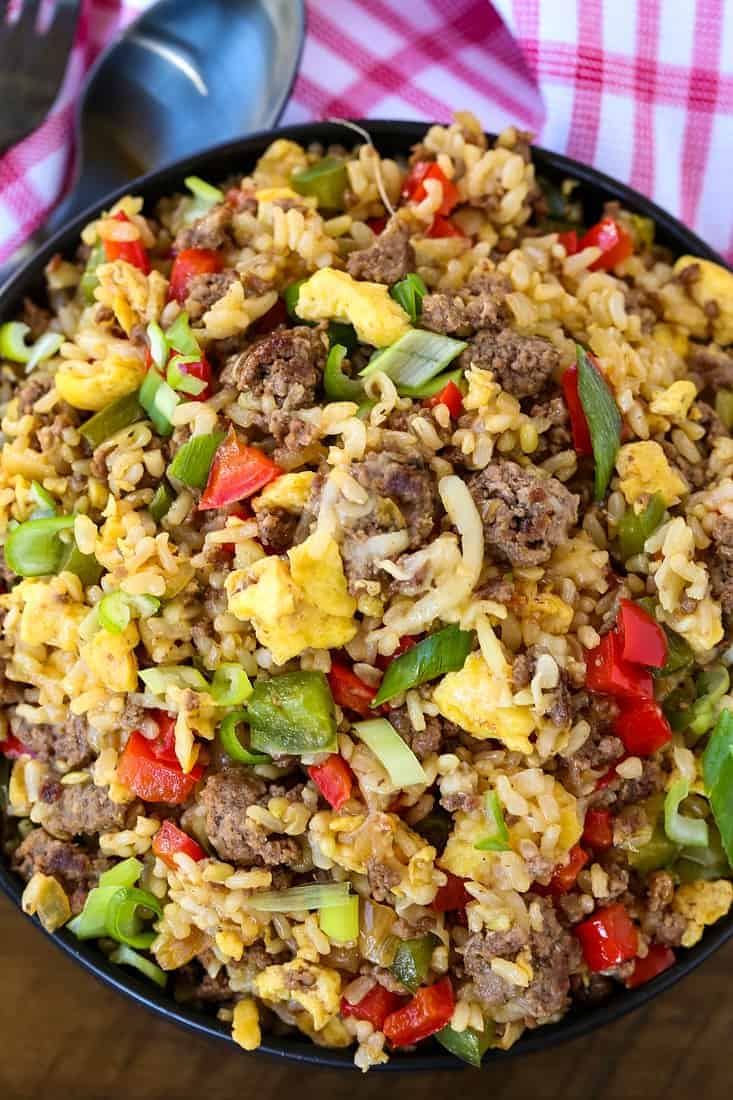 Oh you guys…this fried rice recipe.
Definitely one of those recipes that doesn't look half as good as it tastes, so you're going to have to make it and see for yourself. This fried rice has ground beef, peppers, onions and – CHEESE. Yep, cheese in fried rice, can you imagine?
Bonus is that there's a lot of vegetables going on in this fried rice, too so when you're kids are eagerly diving into this cheesy fried rice you can still feel good about it.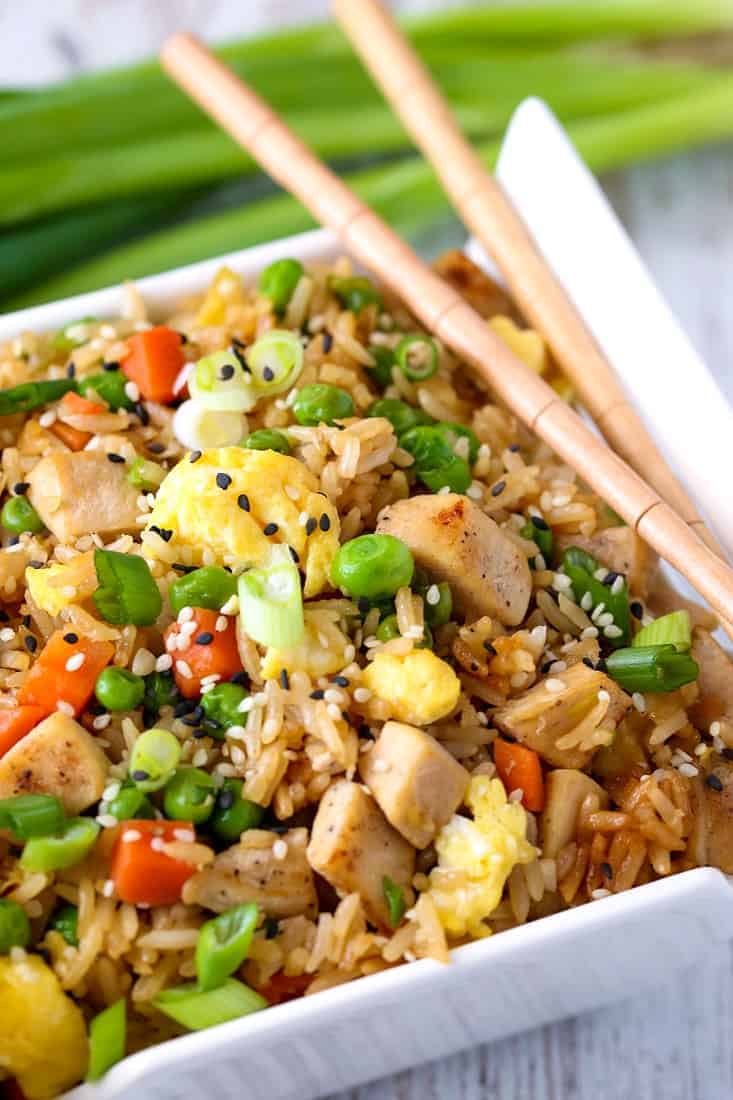 BUT if you're family likes to keep things simple, check out our basic Chicken Fried Rice recipe. We make this all the time, you guys. Like ALL the time. Whenever I have a little leftover chicken I want to use up, or leftover rice form the night before, we make fried rice.
You can really use he base for this recipe and clean out your fridge, whatever vegetables you can chop up and get in here go right ahead. Maybe you have sausage or beef instead of chicken? Add it in.
We even make this fried rice with a cut up rotisserie chicken from the store! Talk about a fast, healthy dinner!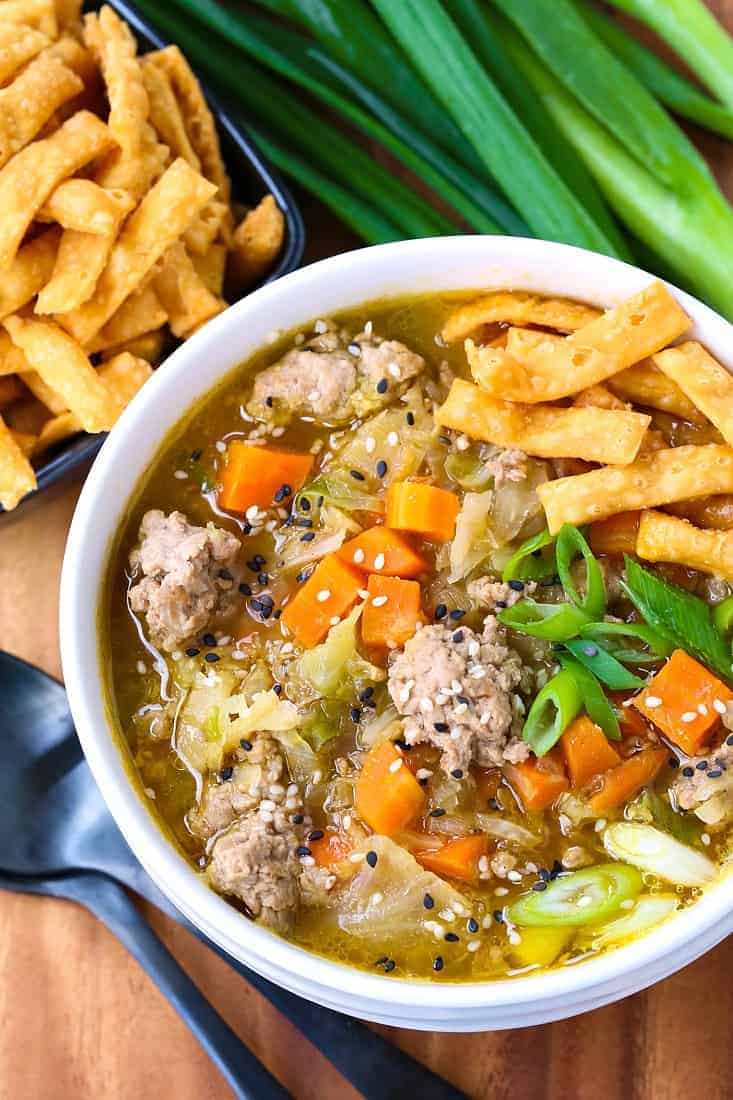 Keeping with the Chinese theme, this Pork Egg Roll Soup is so good you guys, your kids are going to flip for it! Even though this soup recipe uses a store bought chicken stock, the broth is so flavorful it tastes like it came from a restaurant.
Small, super tender pork meatballs, carrots, cabbage and scallions make up the body of this soup, I promise you that your kids will not care about any vegetable (even the cabbage) going on in here because it's SO darn delicious.
Add some crispy wontons on the side for dipping or serve them right on top so they get soft in the soup!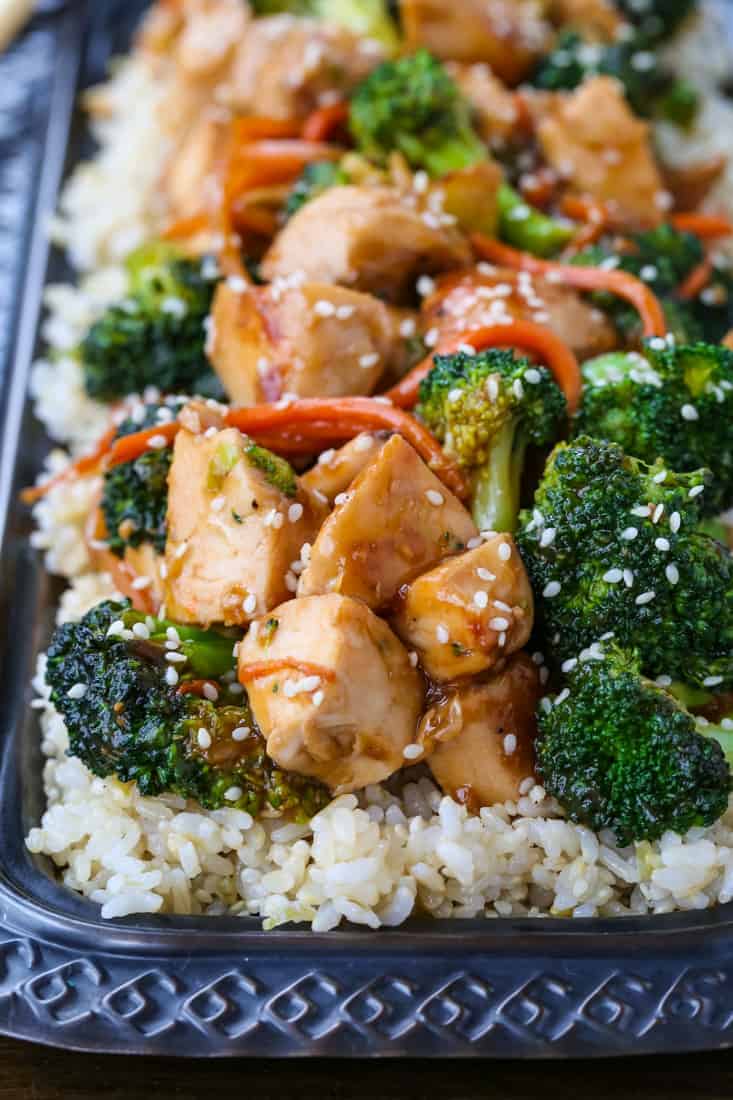 Here's another great rotisserie chicken recipe, chicken and broccoli. It's really the perfect use for rotisserie chicken if you ask me, all you need to do is toss it in our quick, 5 minute homemade stir fry sauce and dinner is done in 15 minutes.
Again you can add whatever vegetable your kids like in this stir fry recipe. Broccoli seems to be pretty well liked among kids but if yours don't you can try green beans, shaved carrots or really whatever they like!
Pro tip: Have you ever tried frozen, cooked rice? We buy it from Trader Joe's all the time and it's a lifesaver! all you do is pop it into your microwave for a few minutes and you have perfectly cooked rice for dinner! Most grocery stores do sell frozen rice, too right in the frozen vegetable aisle.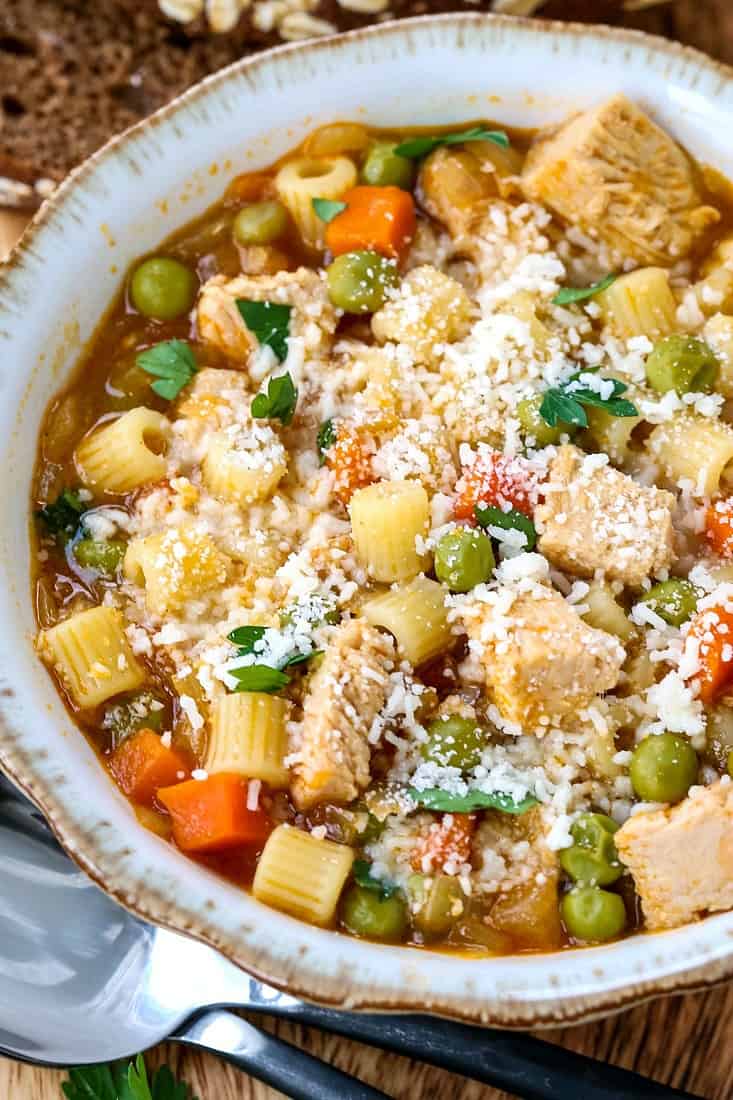 As you might be able to tell by now, soup is a big part of our dinner time menu. Soup can be a quick dinner or a longer cook meal depending on the recipe, but either way we love to make it.
You can also sneak a lot of vegetables into soup recipes that your kids might not normally eat. For instance, our youngest doesn't love peas but he'll eat peas in this turkey soup and a few other recipes we make. Not sure why, but sometimes peas just don't offend him and sometimes they do.
I think the mistake a lot of parents make though is to not serve their kids that vegetable then. Or pick them out before handing them their dinner plate (or bowl). Here's the thing, one day they might just eat it. Dive right into those peas and not care.
But if you keep avoiding the things that they say they don't like eating then they probably never will like them. Our motto is that you can always pick around something on your dinner plate, that doesn't bother me at all.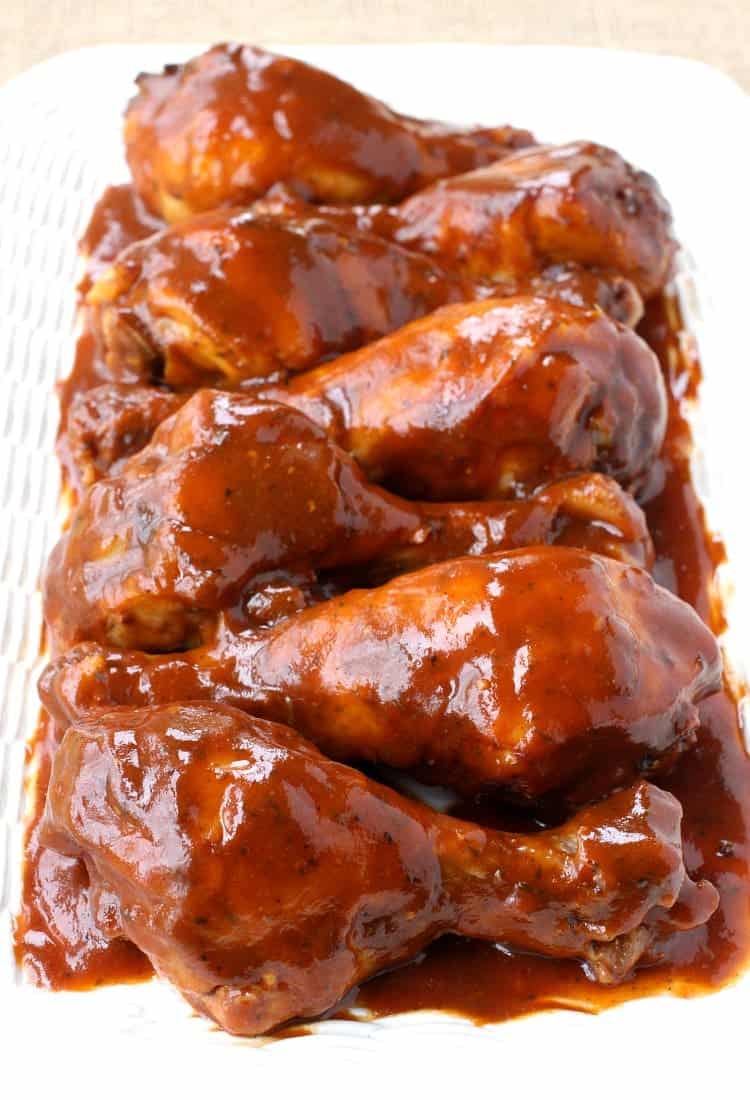 This crock pot chicken leg recipe is really so simple, your kids can even make it for you! All we're doing here is adding chicken legs to a slow cooker with a jazzed up BBQ sauce and letting it cook on low for a few hours.
The chicken legs get so tender they almost fall apart, but you can still pick them up and eat them which is a big bonus for our kids at dinner time. Eating with their hands and getting messy is usually a fun draw.
Throw in chicken thighs if you have them or even chicken wings!
Philly Cheesesteak Stuffed Shells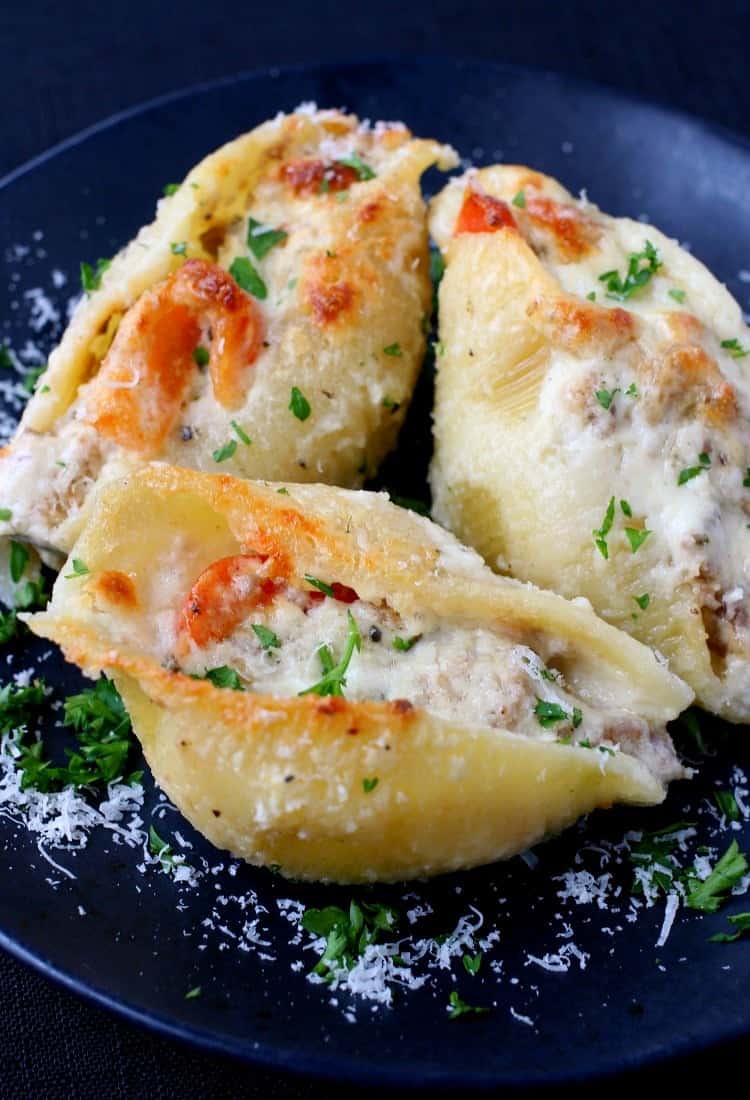 Philly cheesesteak is a big flavor profile at our house if you haven't noticed by now. We love the shaved beef that's used in this stuffed shell recipe! Most stores sell shaved beef right in the meat department but if you can't find it you can substitute ground beef instead.
Chop up the peppers and onions pretty small for the filling so you don't have a giant pepper sticking out at you, a lot of kids would pick around that. So by cutting up the vegetables small you've got more of a chance that they just get scooped up and eaten!
Chicken and Broccoli Meatballs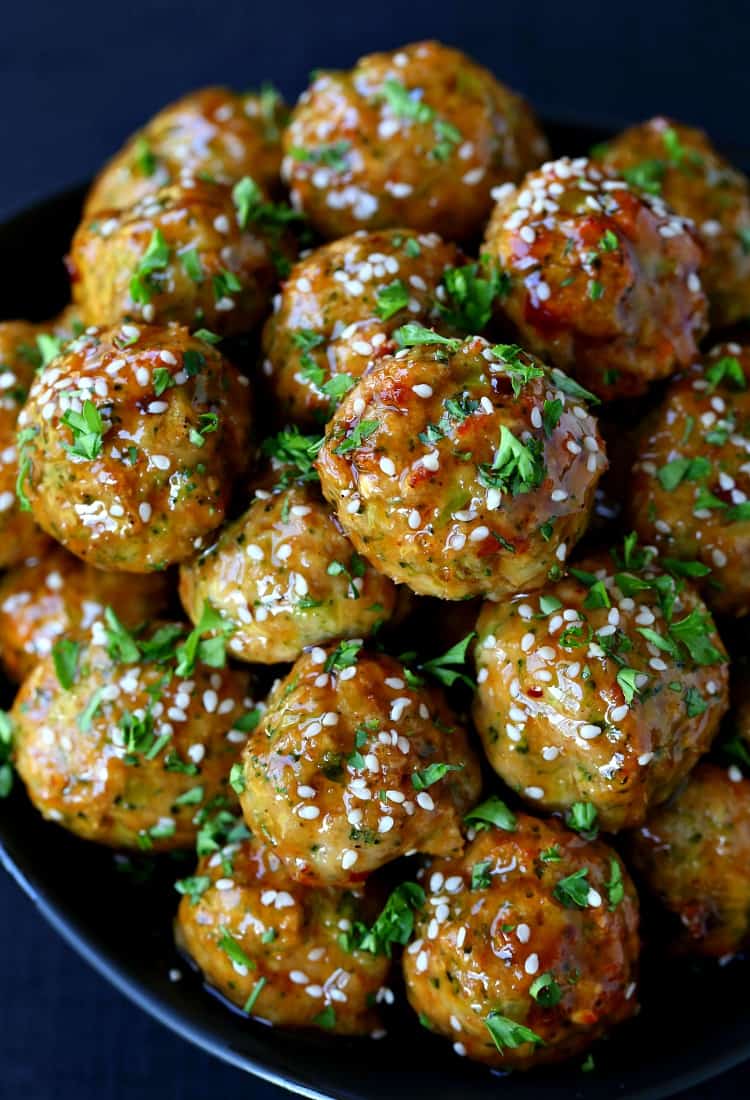 I love, love love this meatball recipe! And so do our kids so that a win. You can serve these meatballs as is or over rice or ramen noodles! This meatball recipe is even perfect for appetizers if you're having a party, everyone loves them.
The broccoli is chopped up really fine inside these meatballs so there isn't an option to pick it out! And no one will want to anyway, these glazed meatballs are so tasty you just better make sure you have enough!
Chicken Parmesan Chicken Wings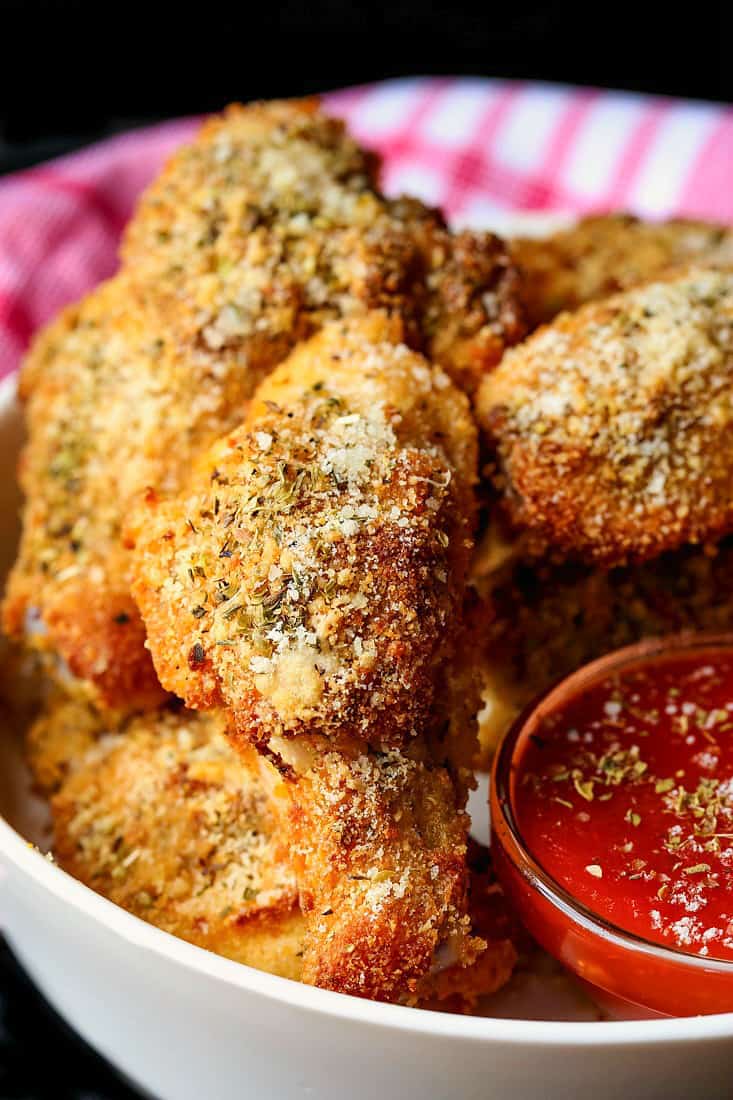 A play on the beloved chicken parmesan recipe, these crispy wings are literally bursting with flavor! These wings are baked, not fried but amazingly crispy. Coated with breadcrumbs, parmesan cheese and a few seasonings these wings taste just like chicken parmesan!
Use marinara sauce for dipping and let the party begin. A baked, healthy chicken wing recipe is not only crazy delicious but can make dinner time more fun. Healthy recipes don't have to be boring you guys!
Italian Wedding Meatball Baked Ziti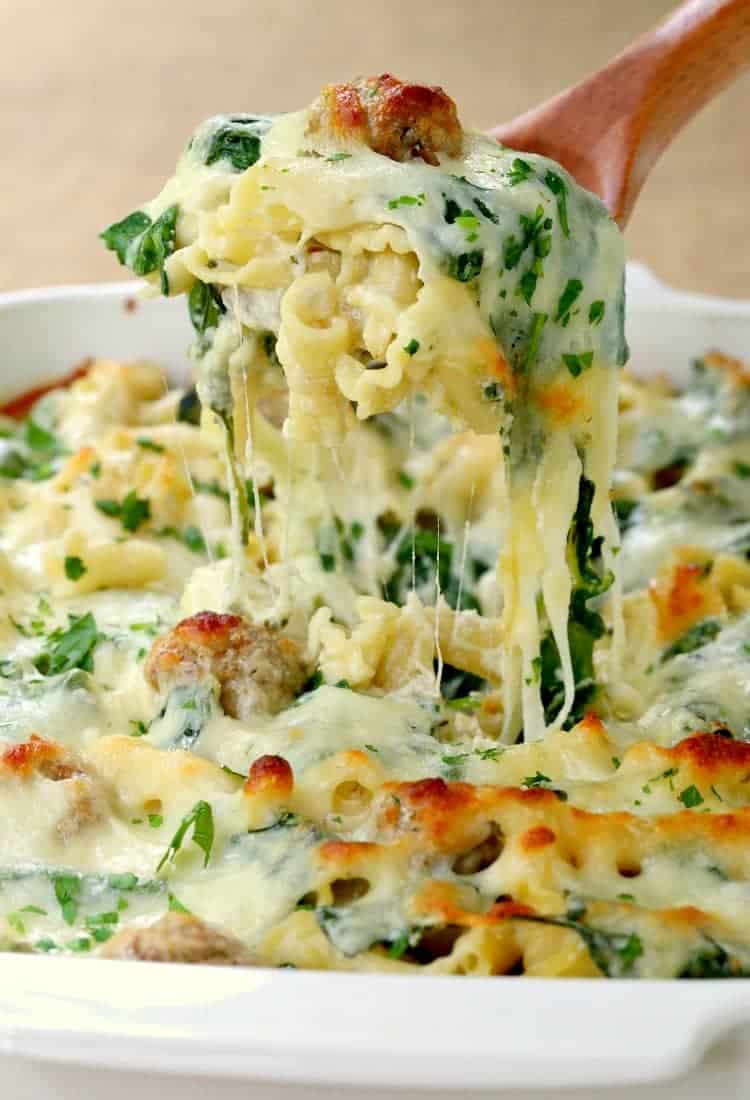 Ok. So this baked ziti recipe isn't so much on the healthy side but that's not what this post is about, really. We've thrown in some healthier recipe and also some downright comfort food recipes to mix things up a bit.
There is some fresh spinach going on in this creamy baked ziti so you can feel good about that! And to keep things easier at dinner time we used store bought meatballs so that you don't have to make your own.
Simple, creamy, comfort food goodness. This baked ziti recipe is going to be on your Sunday dinner menu pretty often, we can feel it.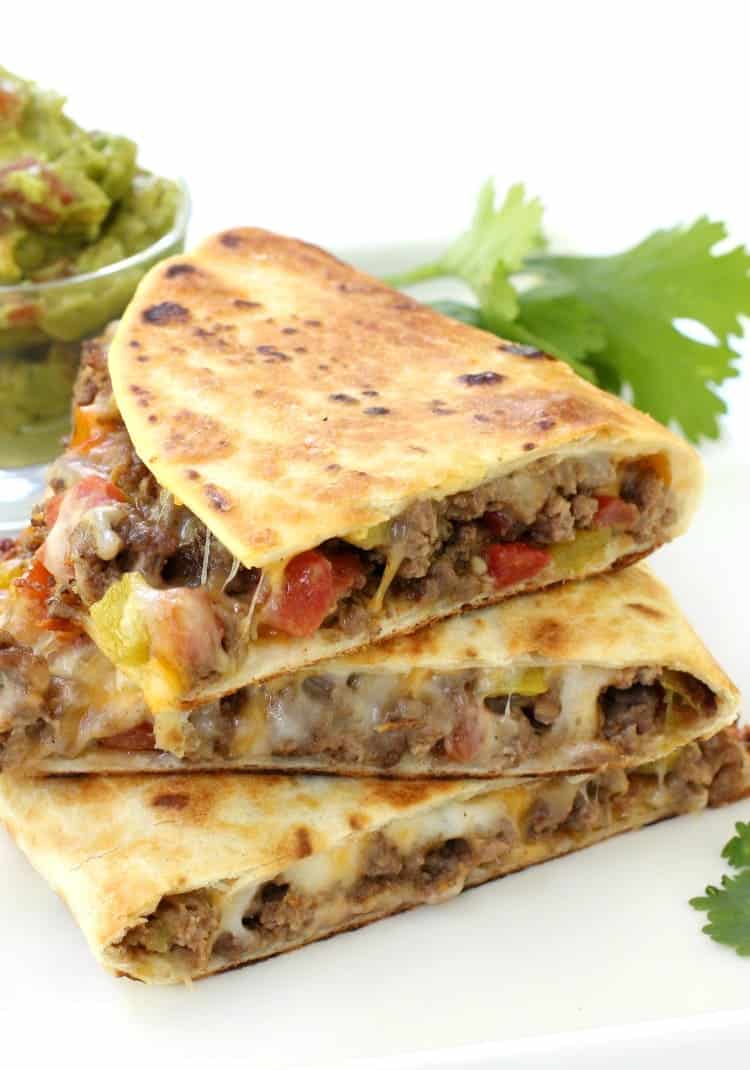 Taco night is king at our house and these pan fried tacos are always a hit! These tacos were invented (by yours truly) because we were out of crispy taco shells one night. Imagine, being out of taco shells.
Not something that normally happens around our house but hey, we aren't perfect!
So to save taco night I filled flour tortillas (whole wheat works great too) with a cheesy, beefy filling and fried them in a skillet until they were super crispy. Now even when we have crispy tacos our kids sometimes ask for these instead!
Totally switch up the filling to include vegetables that your kids will like, but I find that these cheesy, fried tacos are so delicious they won't even know what you've snuck inside!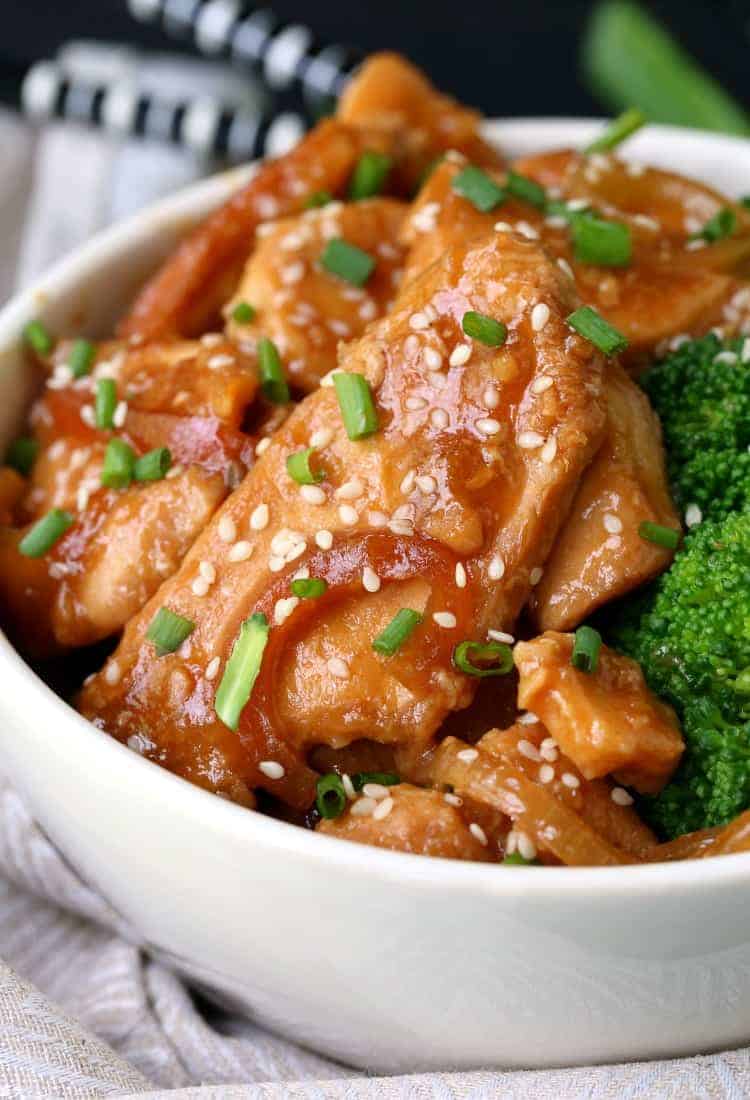 This slow cooker chicken recipe is really the easiest! I know we say that all the time, the easiest, the best…but this chicken recipe is really both.
All you do is add all the ingredients to your slow cooker and walk away. This slow cooker recipe also isn't a long cooking one either, just about 4 hours. So you can definitely still get this chicken dinner together by lunchtime if you haven't started anything yet.
Add steamed broccoli on the side and rice for a healthy, crazy easy dinner!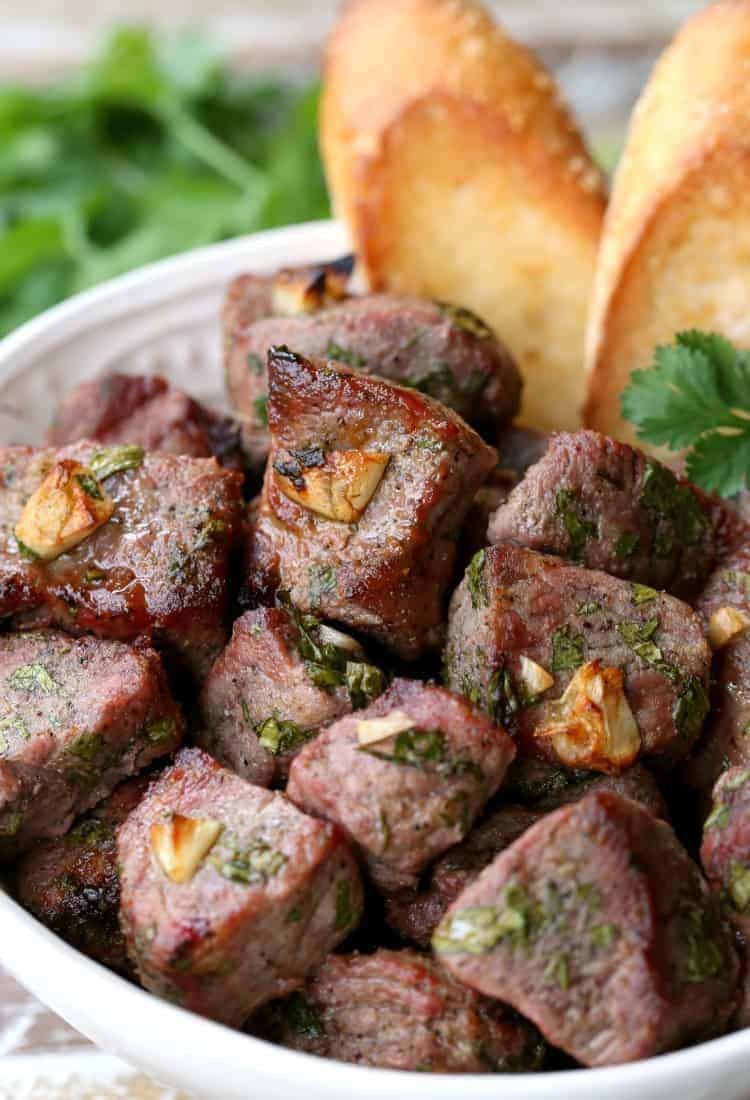 Got kids that love steak? These beef tips are going to be a hit for dinner! Marinade beef tips and then quickly cook them in the oven. Talk about dinner in a flash, these steak tips are so easy you'll be making them all the time.
Maybe you're following a low carb diet like half of the world? This steak recipe is perfect for your family then! Serve with vegetables and potatoes or rice for the kids and keep it low carb with just the steak and veggies for you.
A perfect steak dinner for the whole family!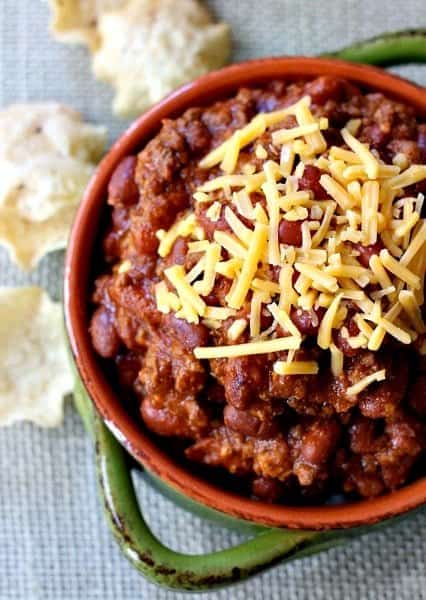 Looking for that perfect chili recipe that your kids will eat, too? This one is it. This chili has a very mild, almost sweet flavor that most kids go crazy for. Top it with cheese and sour cream or keep it plain, totally up to you!
And if you like it hot? Just add hot sauce or sriracha to your own bowl and everyone is happy. We like to serve chili with tortilla chips for dipping into, or just using as a spoon!
Philly Cheesesteak Crescent Rolls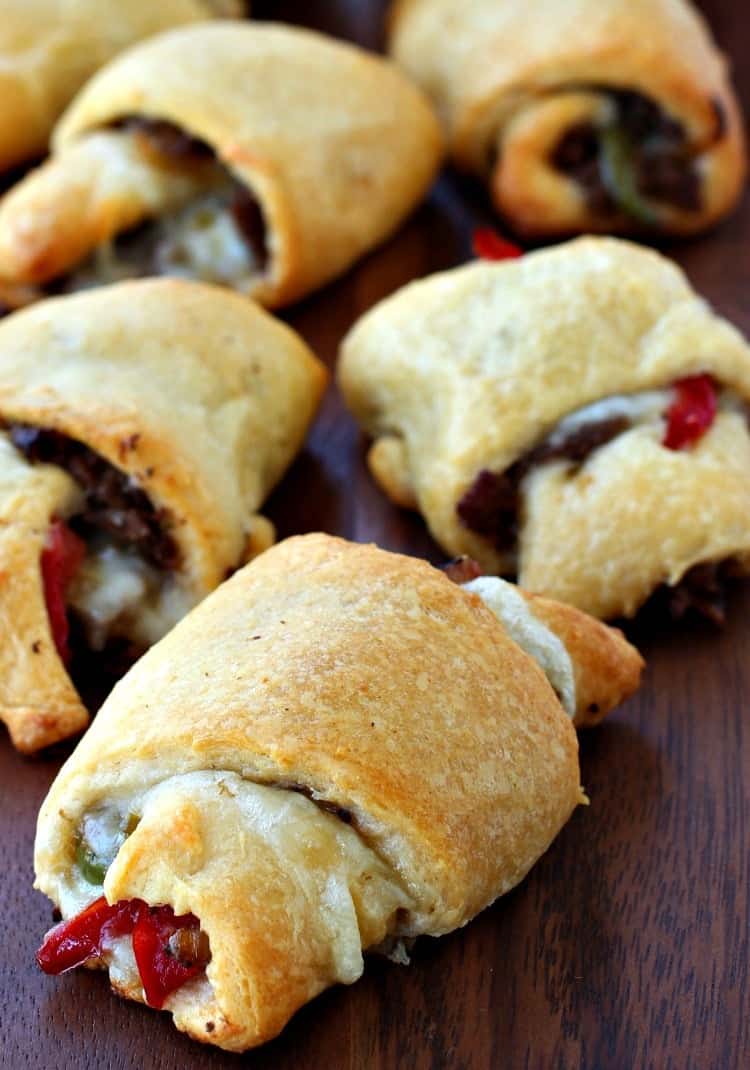 Another Philly Cheesesteak inspired recipe, these crescent rolls are a fan favorite! Not many people can resist a buttery, flakey crescent roll especially when it's filled with beef and cheese!
Serve these stuffed crescent rolls for dinner or appetizers, kids and adults love them!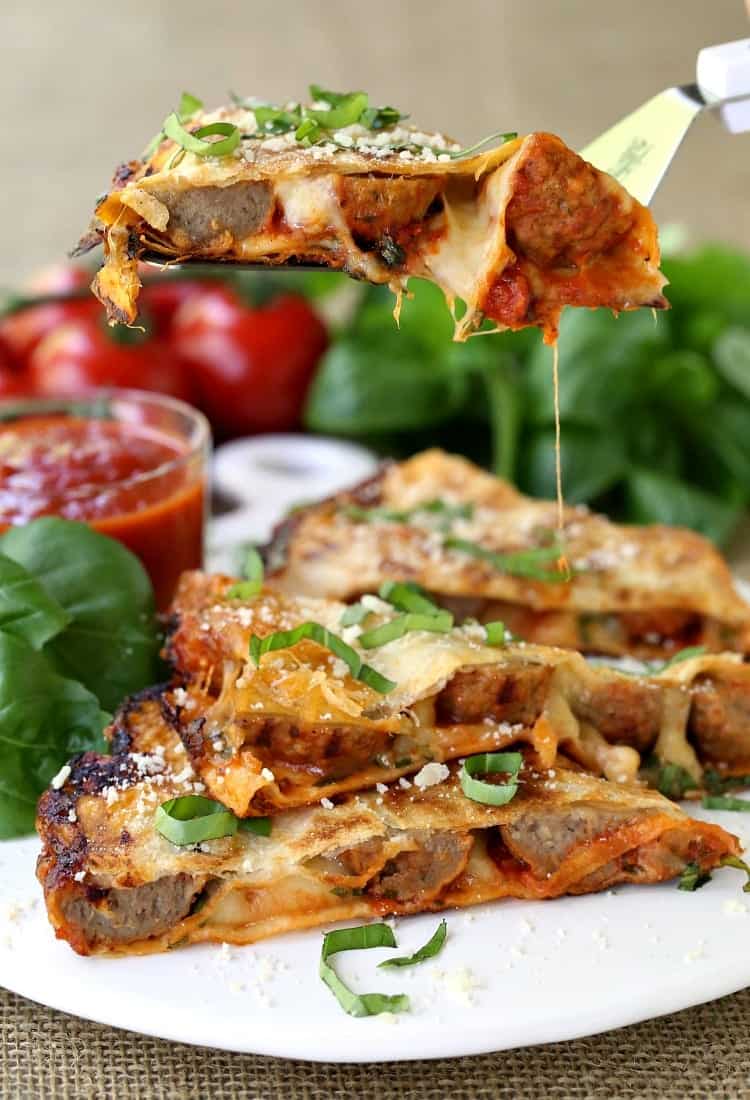 Store bought meatballs shine in these pizza quesadillas. If you have leftover meatballs you can absolutely use them in this quesadillas recipe! Make these quesadillas instead of having pizza delivered, it's way more fun.
Get the kids involved in making these quesadillas, too! Everyone can add their own ingredients to their filling like spinach or chopped broccoli and different kinds of cheeses. Getting kids involved in the cooking process definitely helps them try new foods!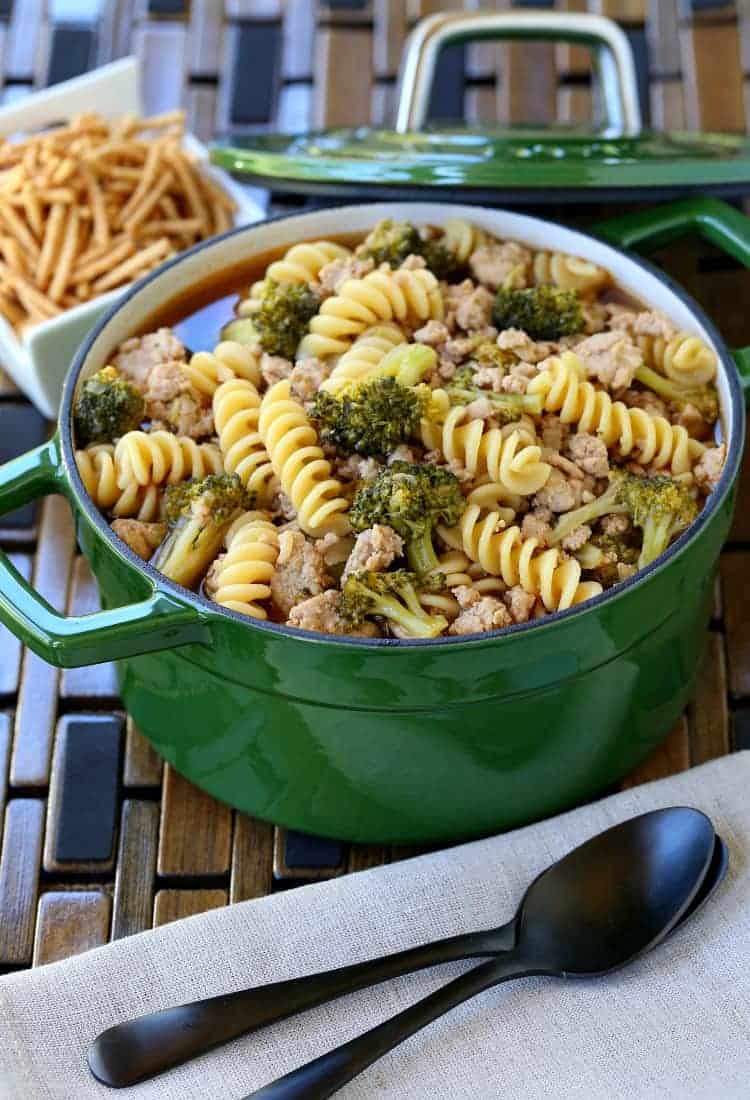 If you're little ones love chicken and broccoli you should definitely try this chicken and broccoli soup! The broth is flavored with soy sauce and other asian flavors making it taste just like the take out version, but a lot healthier!
This soup recipe was a sure thing for our 55 Tested Kid Friendly Recipes because we've made it so many times we don't even have to look at the recipe anymore! Serve this soup with crispy wontons or crunchy noodles on the side or on top!
Baked Sticky Hoisin Chicken Wings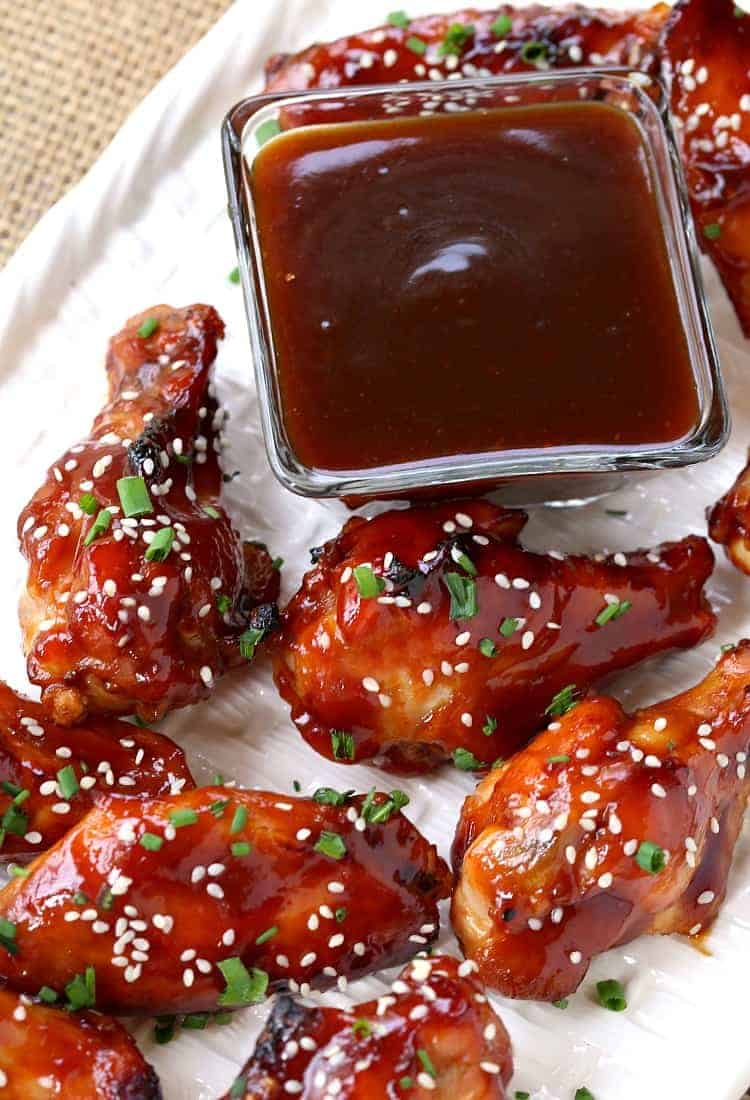 Another delicious, messy chicken wing recipe that kids adore. The sweet, sticky sauce on these chicken wings is so addicting – literally finger licking good. Don't get crazy about your kids getting messy at the dinner table, as long as they're eating!
When our kids were younger we use to take their shirts right off at dinner if we were eating something messy like these wings. Let them dive in and hose 'em down after. It's really easier and less annoying that begging your kids to eat their food, am I right?
Slow Cooker Crispy Chicken Carnitas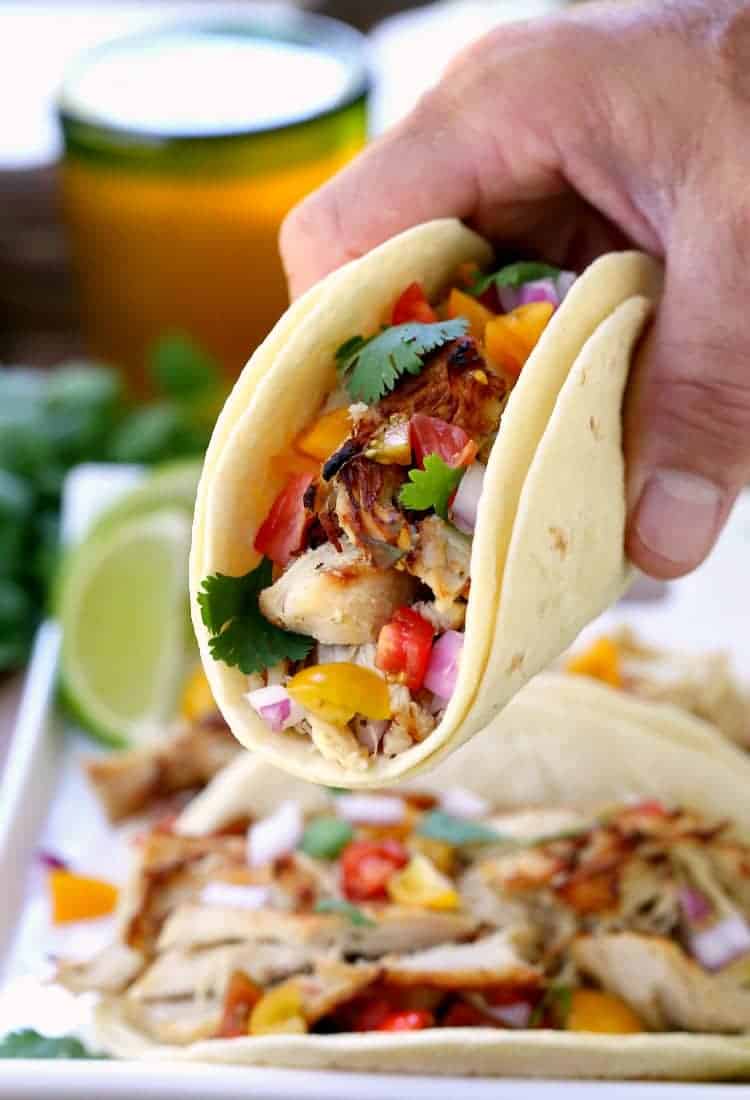 These chicken carnitas are another recipe that we make really often. They are perfect for parties because this recipe feeds a crowd, and also great for meal prepping on a weekend.
This chicken recipe can be sued as a taco filling, on salads, in sandwiches or in lettuce wraps if you're on a low carb plan. For taco night or parties we like to set out a ton of different toppings and keep the chicken on warm in a slow cooker so family or your guests can serve themselves!
Bacon Ranch Skillet Chicken Rolls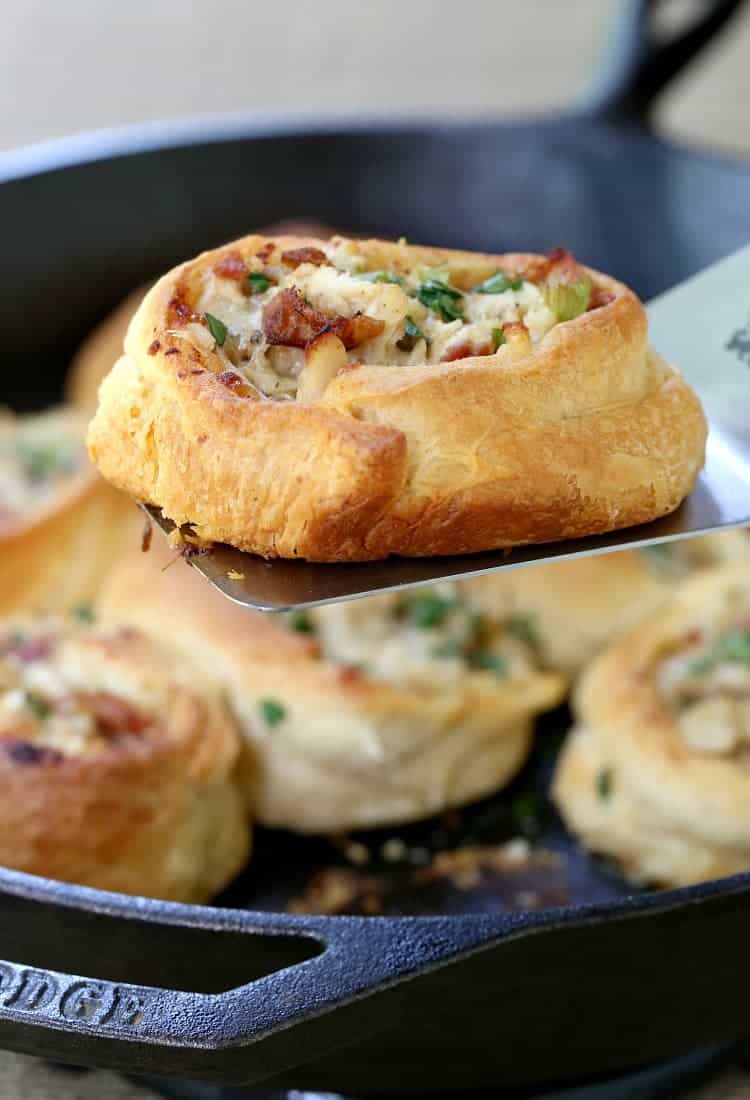 Who loves chicken rolls??? These chicken, bacon and ranch skillet rolls are bursting with flavor! Talk about a comfort food win here, not too many people are going to turn own these chicken stuffed rolls cooked up in butter.
Crispy on the bottom, soft on the top and a cheesy, bacon and ranch filling. It doesn't get much better than that!
Slow Cooker Cheesy Beef Stroganoff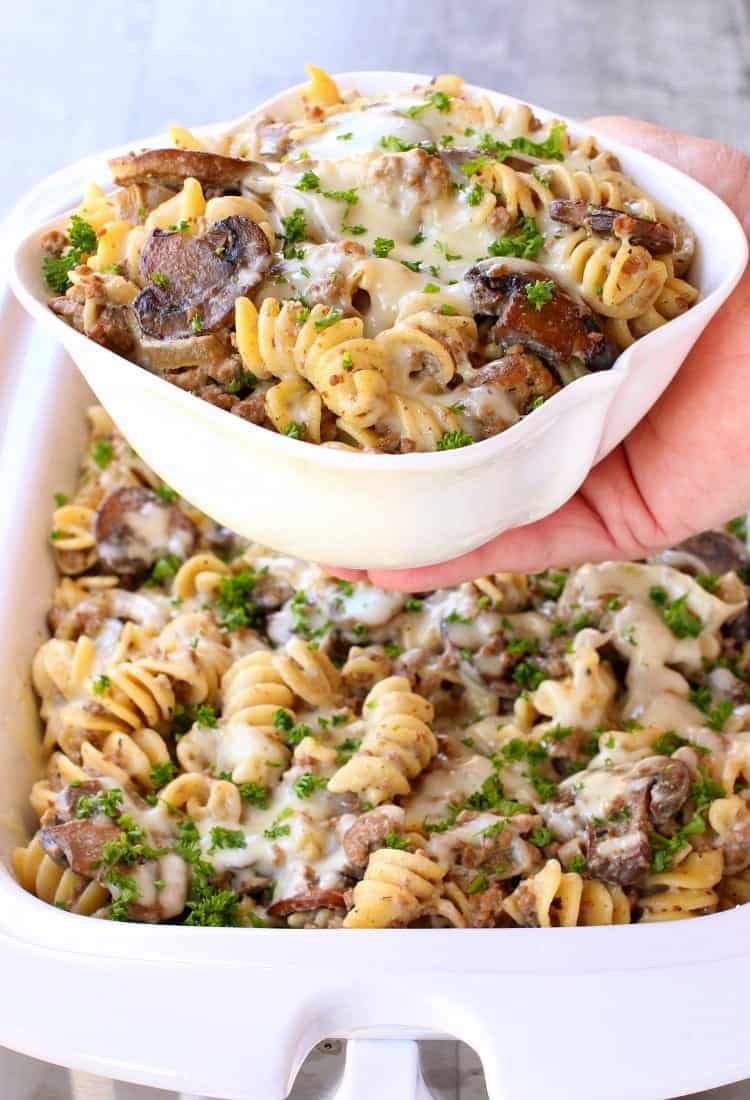 Slow cooker pasta done right! Comfort food 101 here, people. If you're going to serve beef stroganoff to kids, this recipe would be my go to.
You've still got all the vegetables going on in here but they are disguised by cheesy pasta and ground beef simmered in a beef gravy. Yes, there's real marsala wine in this recipe because that's a must.
Please don't go and buy that cooking wine at the grocery store, marsala wine is less than 10 dollars at the liquor store and a bottle will last you a really, really, long time!
Chicken Philly Cheesesteak Spaghetti Casserole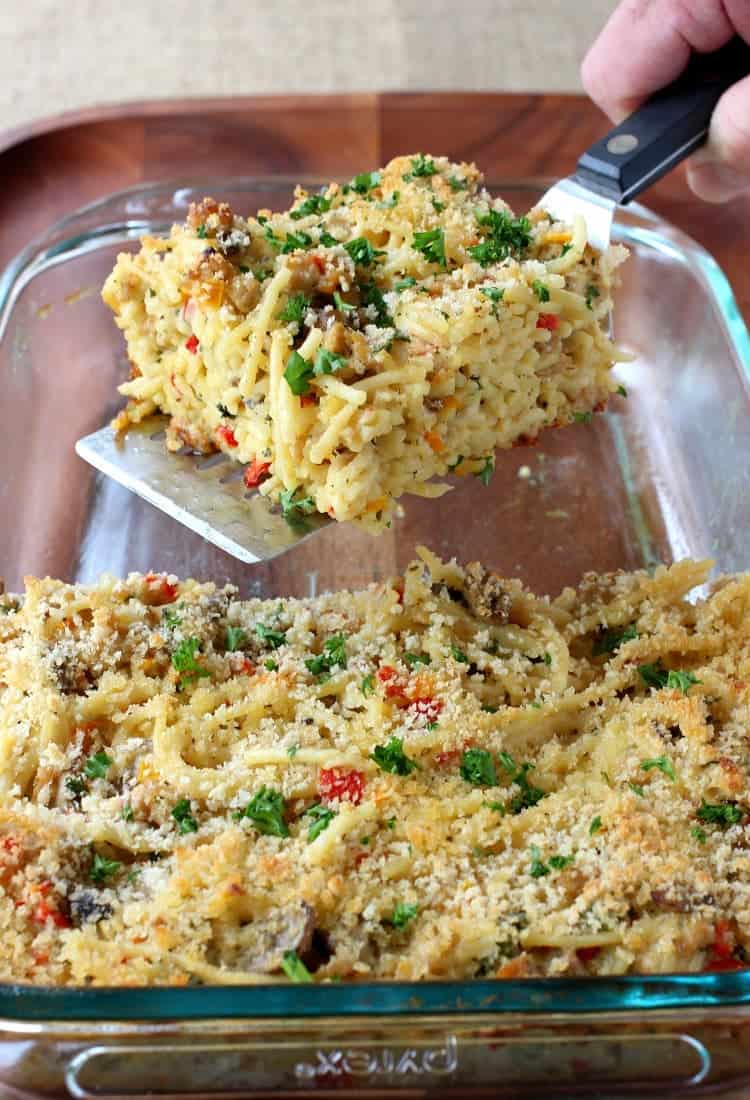 What's that now? Another Philly Cheesesteak flavored recipe? Sorry, but it is. We're really driving home our obsession with philly cheesesteaks, but the funny thing is that we don't eat the actual sandwiches as much as we eat all these other "inspired" recipes!
This spaghetti casserole is so comforting, even with the use of ground chicken instead of beef. Slicing into layers and layers of spaghetti just like a lasagna is so fun to serve and eat, one bite and your family will be hooked!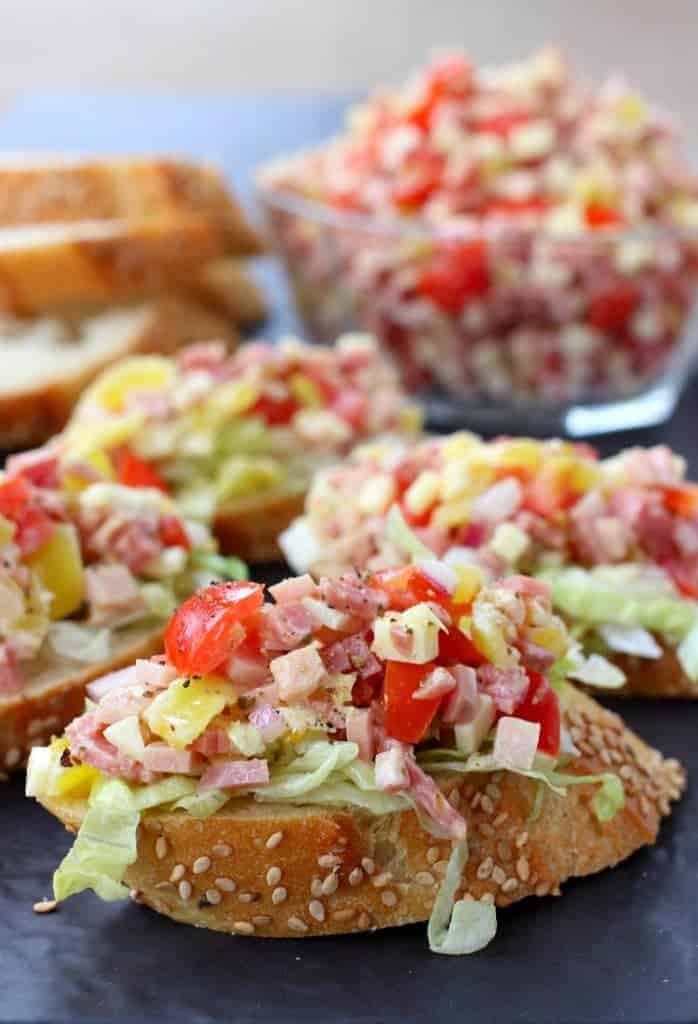 So this recipe may look more like an appetizer, and it definitely is…but it's also a really fun to serve for dinner!
Kids seem to love Italian subs, most of them that I know do anyway and this bruschetta recipe is just a fun way to serve them. The topping can be made ahead of time and you can toast the bread slices or not, and kids can top the bread themselves at the diner table!
Add crunchy lettuce and you've got an Italian sub in one bite!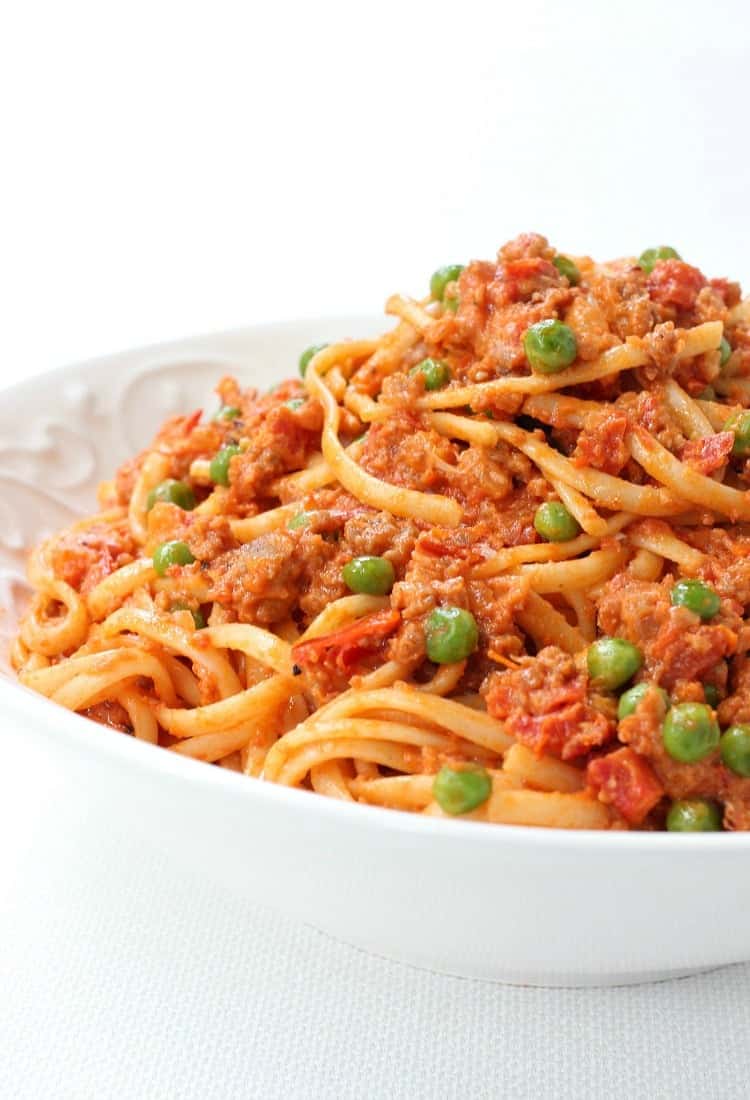 Talk about a super comforting, addicting spaghetti recipe! There's a fun trick for getting the sausage very fine so that you get sausage in every bite of pasta. We used this technique a lot when our kids were smaller, but somehow it seemed to stick with this creamy pasta recipe!
So the sauce is more like a meat sauce, made with sausage instead of a pasta recipe with larger chunks of sausage going on…not that that's bad either but there is something very satisfying about this spaghetti recipe!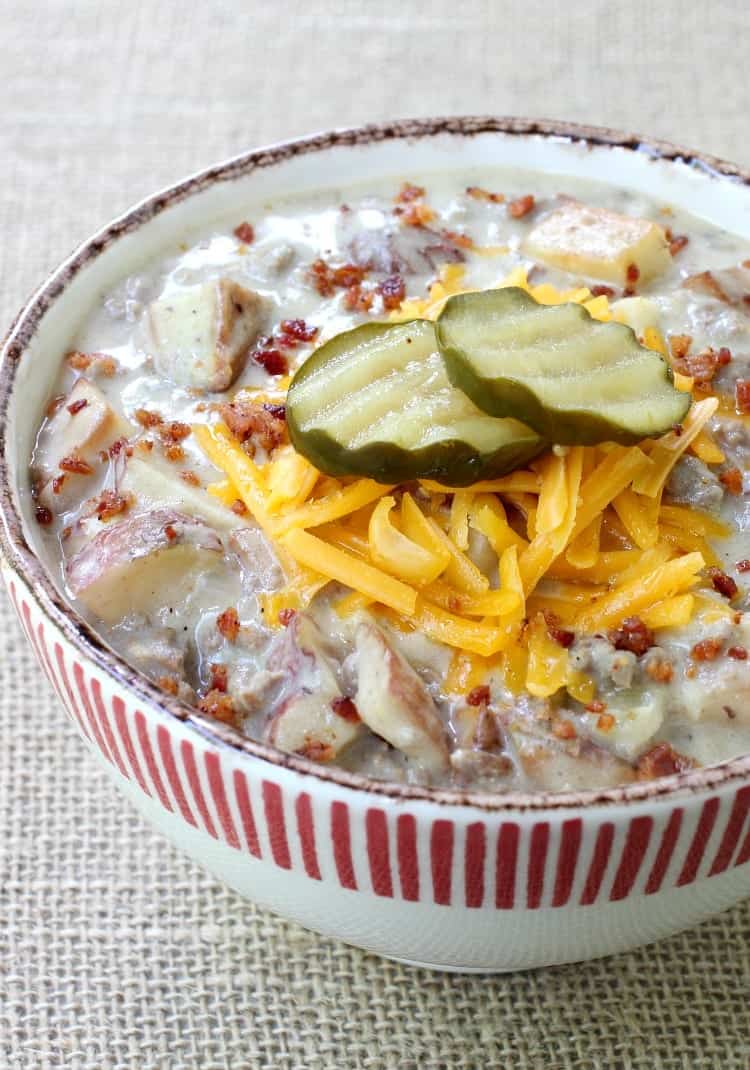 This thick and hearty chowder recipe is a kids dinner dream come true! Tons of ground beef, potatoes and cheese and of course – bacon.
We use real bacon bits, not the kind in the bottle, to make this dinner a lot easier. Of course, you can use real bacon too if you feel like cooking that up but real bacon bits are actually pretty tasty and a great time saver!
Top this chowder with crisp pickle slices and more cheese and just wait for the applause…
Ginger Beef & Green Bean Stir Fry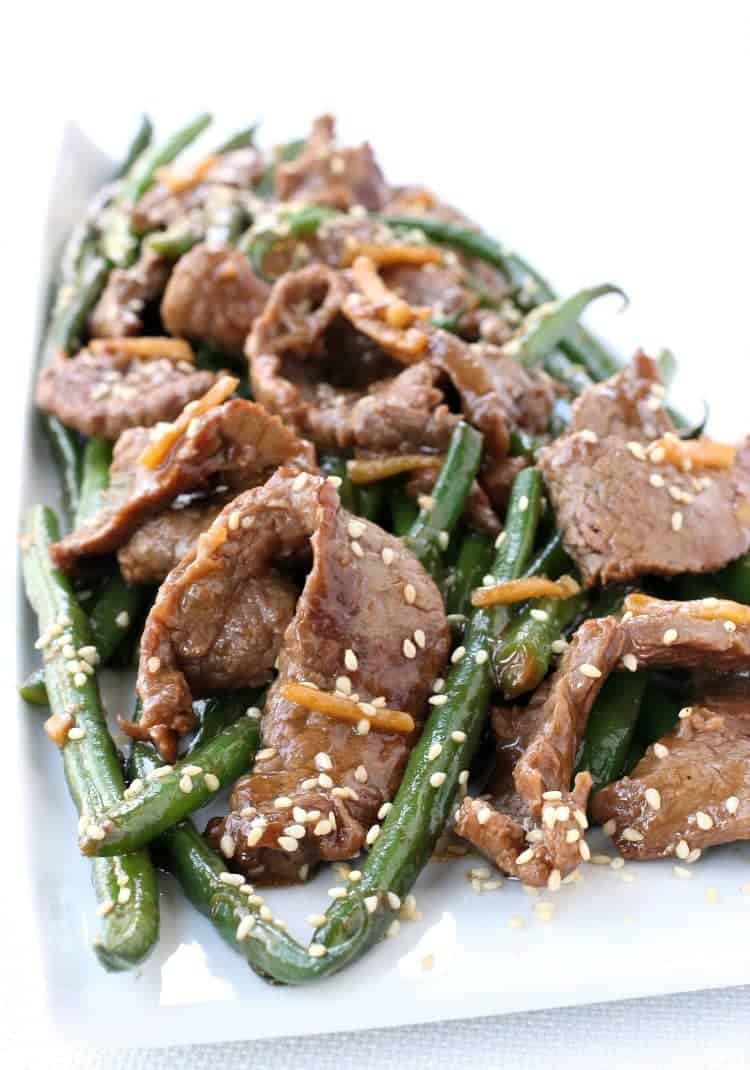 Although this stir fry recipe might look like it's on the fancier side, I guarantee your kids are going to love it. The beef is really tender and lightly seasoned, so there's no strong flavors here.
Perfectly crisp, tender green beans go perfectly in this stir fry recipe. It's turned out to be one of our boys favorite dinners!
Copycat Campbell's Tomato Soup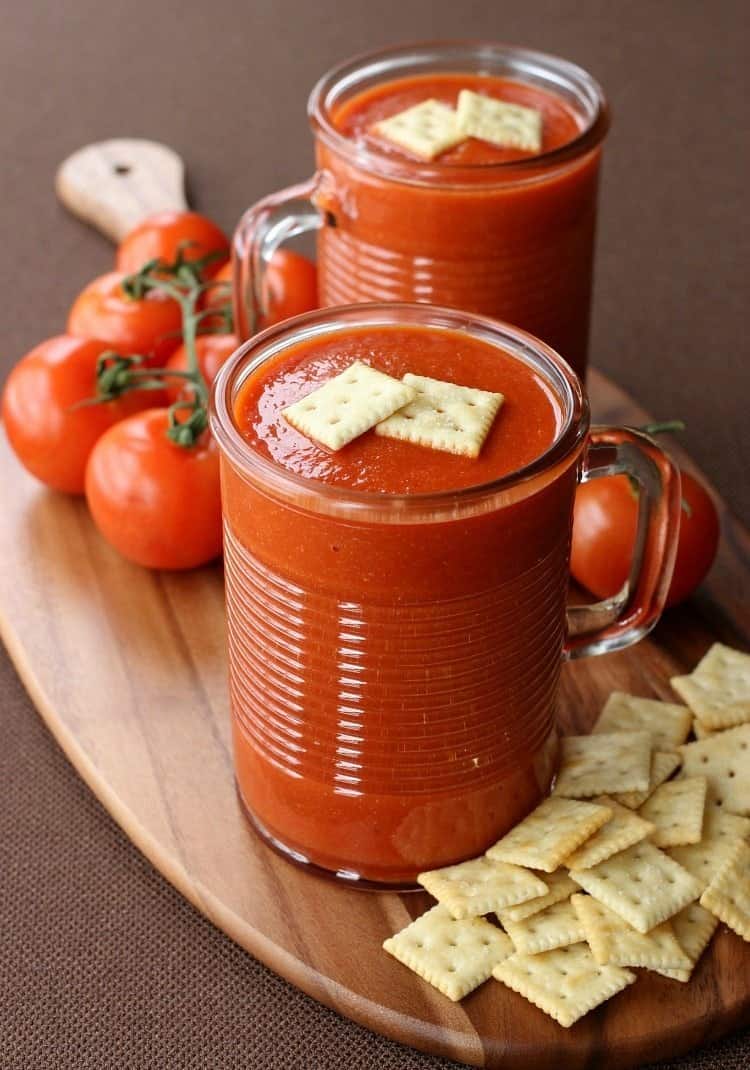 Got tomato soup fans? We sure do, and he loves this tomato soup recipe! This soup is really easy to make and you can make it in big batches to freeze and pull out when you need it.
Way better for you than opening up the can and honestly the homemade version taste so much better you might ditch the can for good!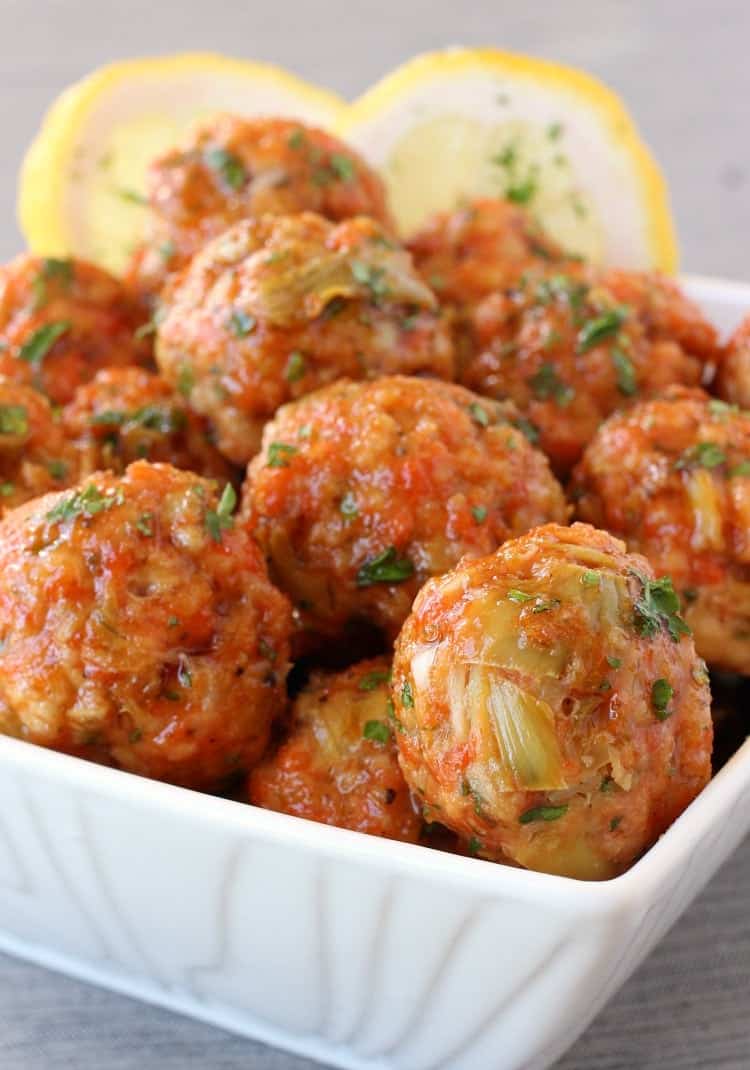 Salmon meatballs on a kids dinner list? Yep, here they are on our 55 Tested Kid Friendly Recipes list.
Our boys do like fish and they love salmon, but if you are still trying to introduce your kids to fish this is the recipe for you! This meatball recipe has a sweet honey glaze that makes them not taste very salmon like or fishy.
The mild flavor these salmon meatballs have will help get your kids to try them, and hopefully they love them like our boys do!
Sausage and Pepper Quesadillas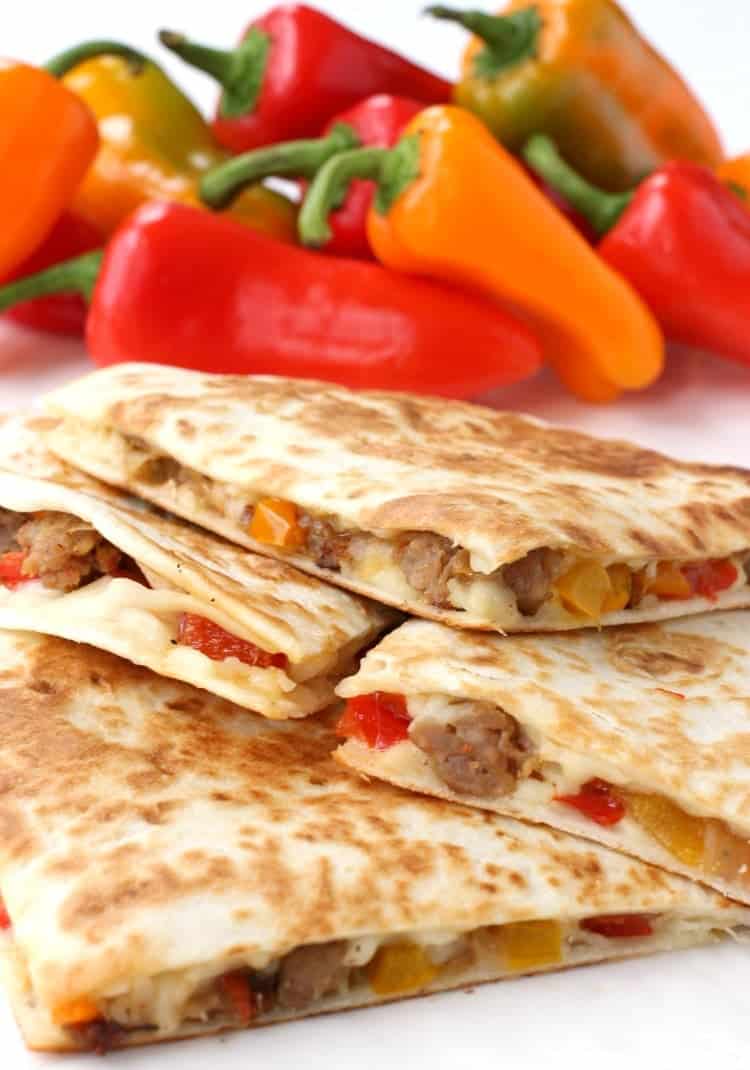 Quesadillas FTW. We can pretty much stuff anything inside a quesadilla recipe and our boys will go to town. Sausage, peppers and cheese make up the filling for this quesadilla recipe but you can swap out any vegetable you like!
We make these quesadillas with ground beef too if we're out of sausage or even shredded, cooked chicken!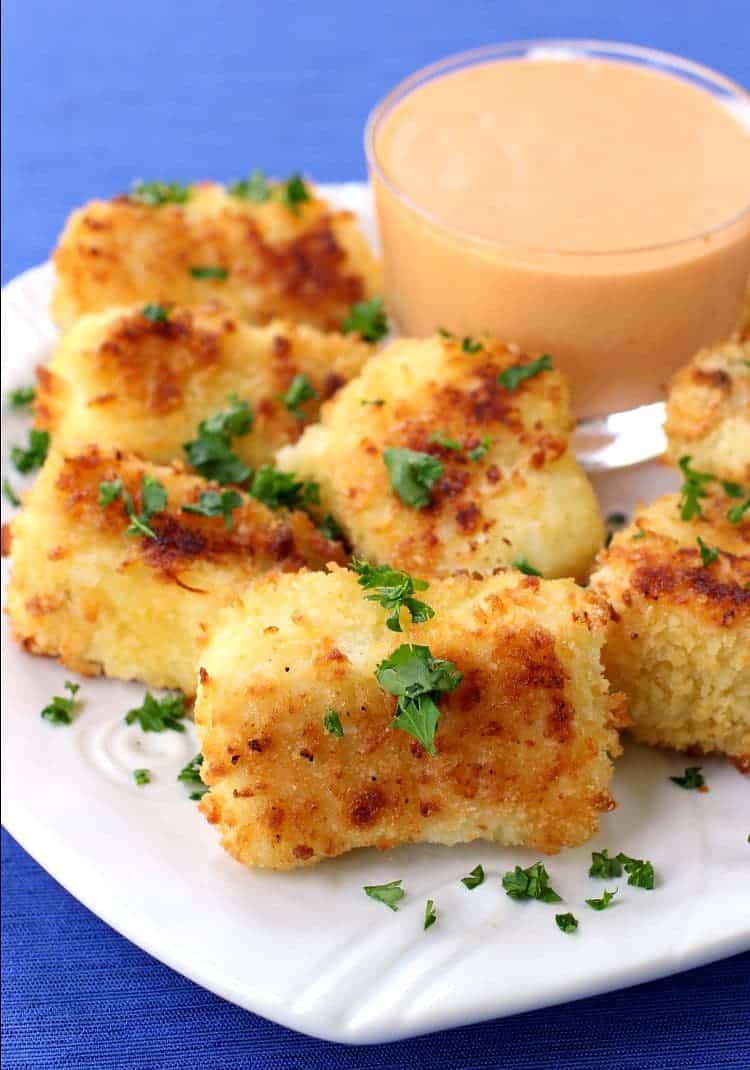 Another great fish recipe for your kids to try, the fish nuggets are super delicious! Use a firm fish like cod or halibut that's mild in flavor for this fish nugget recipe. You can serve these baked fish nuggets as is or with a Bang Bang dipping sauce, included in the recipe.
Tarter sauce or Ranch works well, too. Whatever your crew likes!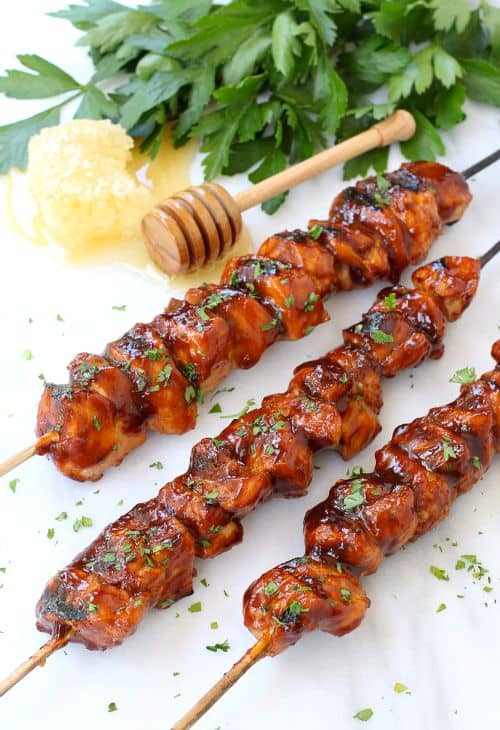 Kabobs are an easy addition to our 55 Tested Kid Friendly Recipes because they are just fun to eat, so most kids are going to like them! These chicken kabobs have a sweet honey BBQ sauce that's simple to put together. Also, you can use a grill pan in the colder months if you don't feel like going outside to grill.
Serve these kabobs with a salad, vegetable side and or some sort of rice or potatoes for a complete meal!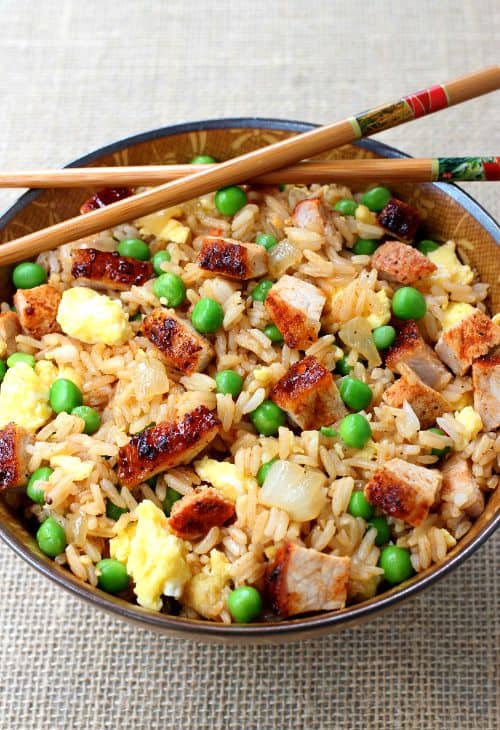 Make this BBQ Pork Fried Rice for a take out at home dinner! Fried rice is so versatile, as we've mentioned before. Add different vegetables or load up on the vegetables in this recipe, your kids will be too busy eating to notice!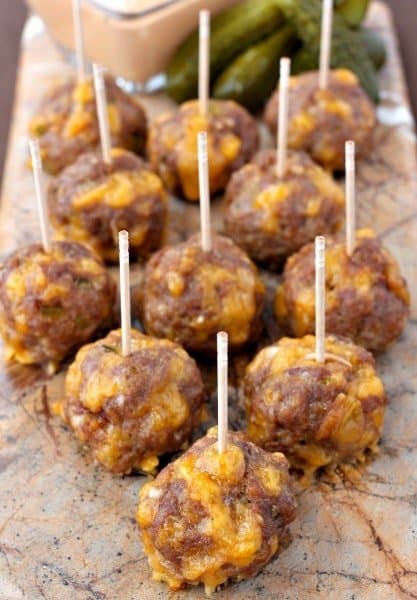 This meatball recipe has been on our site for a really long time, and it's always a favorite! Either for appetizers or dinner, these cheeseburger meatballs are so full of flavor, it's like a bite sized version of a cheeseburger!
You can dip these meatballs in thousand island dressing, Ranch or just eat them as is. You can even pile them on hot dog buns and eat them like a sub!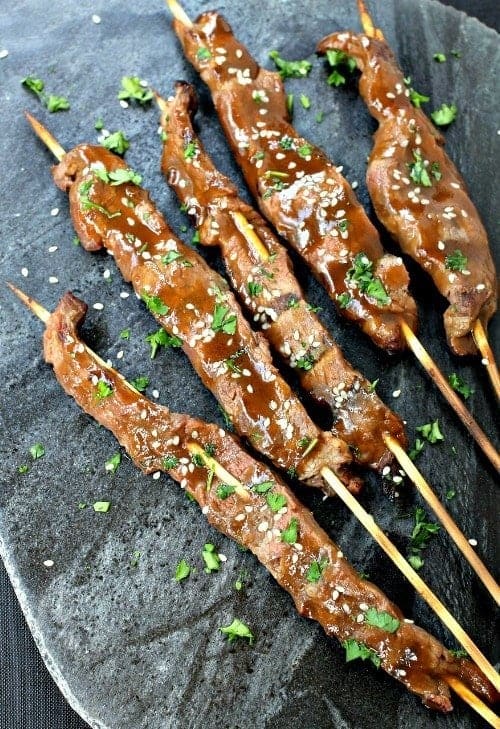 Another fun kabob recipe, these flavorful steak kabobs have our kids running to the dinner table. TBH, our oldest son is 16 so he's always running to the dinner table…he starts asking if dinner is ready around 4:00.
He eats a LOT.
So that's another thing to keep in mind, this to shall pass as my Dad always said. One day you'll be pleading with your kids to "take a bite" until you want to pull your hair out and the next day you won't be able to keep enough groceries in your refrigerator to keep them full.
Truth.
Pin, save, bookmark this post because you will be coming back to it over and over These 55 Tested Kid Friendly Recipes is going to keep you cooking for a long, long time!