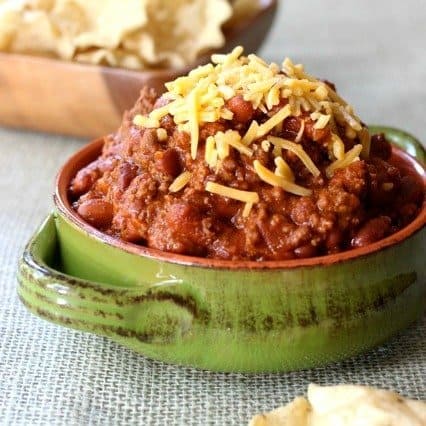 This Everyday Chili Recipe is called "everyday" not because it's ordinary, but because it's a chili recipe that everyone will love – even the kids!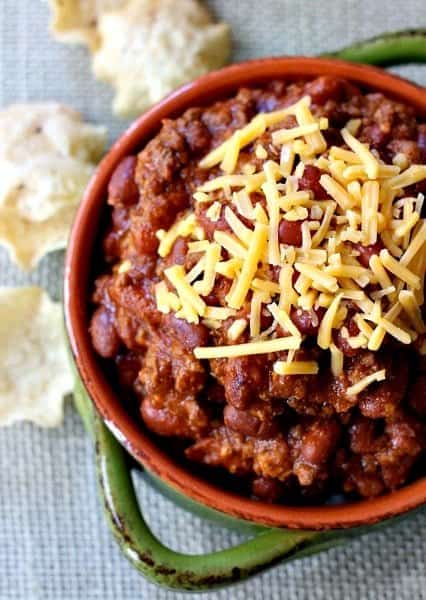 It's not that I have anything against chili – it's just never been one of my "have to have" dinners or anything that I crave. But the wife and the boys love chili, so it used to be another one of those dinners where I was on my own. Until like a lot of my stories go…I actually tried it.
Surprise, surprise, it was good. Really good.
My wife actually got this recipe from her sister, who got it from a friend of hers and she's been making it ever since. She loves it because you can do so many things with it because it's basic and doesn't have a ton of crazy ingredients. No ancho chili whatever to buy or some weird spice that we'll never use again. Hence the name Everyday Chili Recipe.
You can make it everyday – no fancy ingredients to run out and buy.
The night I first tried it the boys were using tortilla chips as spoons and scooping it out of their bowls. We've also mixed it together with elbow noodles to make chili mac, or my favorite way – pile it on tortilla chips and cover with cheese to make the best nachos.
"The Best" next to my favorite chicken nachos with a recipe I use called fiesta chicken. I think I made this about 15 times this year. Every party we had was fiesta chicken nachos for a while. Hey, add a bucket of coronas and you've got a party!
This Everyday Chili Recipe will only take you about 15 minutes to put together. Then it does have to cook on the stove for a couple of hours…but just grab a few beers and turn on the game. You only need to stir it every once in a while and you're good.
Or you could put it all in your slow cooker and let it go for a few hours and then you don't have to worry about it at all.
You can still grab a few beers and watch the game and pretend your very busy.
Print
---
Ingredients
2 T. olive oil
2 1/2 lbs. lean ground beef
2 15 oz. cans of kidney beans
2 onions, chopped
4 cloves of garlic, chopped
4 T. chili powder
2 T. cumin
2 T. flour
2 T. brown sugar
1 T. hot sauce
1 T. worcestershire sauce
1 t. salt
1 t. fresh ground black pepper
2 28 oz. cans of tomato sauce
---
Instructions
Start by browning the ground beef in a large pot with the olive oil.
Once the beef is almost browned, add in the chopped onion and garlic, cook for 5 minutes.
Add in the chili powder, cumin, salt and pepper and stir to combine.
Add in the beans, flour and brown sugar and cook for 1 minute, stirring.
Pour in the tomato sauce, stir and test for seasonings.
Adjust with salt and more hot sauce if needed.
Let simmer for 1 1/2 – 2 hours with the lid halfway on.
Or you can pour the chili mixture into your slow cooker and set on high for 2 hours, or low for 4-6 hours.