This Ground Beef Chili Recipe is our everyday, all the time, everyone loves it chili recipe! A mild ground beef chili that you can spice up as much as you like! We like to keep this chili on the mild side so that everyone can enjoy it, then put out our favorite hot sauces for those who like it spicier!
Easy, Hearty Ground Beef Chili
This Ground Beef Chili Recipe is so easy to make, we like to call it our "everyday" chili! Everyday, meaning that you most likely have the ingredients stashed in your cabinets or in the refrigerator, so you can make it any day that you get a chili craving.
Our kids actually like spicy foods now that they're older, but when we first started making this chili recipe they were just little guys so we kept it on the mild side.
Set out hot sauce or sriracha for anyone who wants to spice it up, along with all of your favorite chili toppings!
Ingredients To Make Chili
Since this is a ground beef chili recipe, the main ingredient is lean ground beef. Make sure to drain your ground beef after browning, especially if you use a fattier blend of beef.
See the recipe card for a full list of ingredients and quantities.
Ground Beef: Choose a leaner ground beef so that the chili isn't greasy. We like at least an 85% lean, but prefer using 90% lean.
Onions
Garlic
Tomato Sauce
Kidney Beans
Chili Powder
Cumin
Flour: Used to thicken the chili
Brown Sugar: A little bit of sweetness, not too much
Hot Sauce: Any brand that you like, choose a more mild hot sauce if you're trying to keep the heat down
Worcestershire Sauce
How To Make A Ground Beef Chili
Start by cooking down a lot of diced yellow onions in a dutch oven or soup pot. We're going to let these onions cook for a good ten minutes to let them soften and caramelize.
Next add in the ground beef, browning and breaking up as it cooks. Don't break down the crumbles too small, we like to have some beefy pieces in this chili.
Season the ground beef and onions with salt, pepper, chili powder, cumin and a touch of brown sugar. Sprinkle in flour to help thicken the chili and then pour in the tomato sauce and beans.
Let the chili simmer for an hour or up to 3 hours for maximum flavor. You can also transfer this chili to a slow cooker to continue cooking or to keep warm for a party.
What Is The Secret To Good Chili?
Again, we are keeping this ground beef chili recipe very basic. It's not one of those chili recipes that you're going to need 10 different kinds of roasted or smoked chilis, or a ton of other ingredients.
We wanted to create a basic but show-stopping chili recipe that will become your families favorite for years to come. But even with basic ingredients, we do have some tips for making the best chili ever!
Do You Drain The Ground Beef For Chili?
For this chili recipe, the answer is yes. Greasy chili just isn't my thing, so we do recommend that you drain the grease off the ground beef before proceeding with this chili recipe.
As we mentioned before, this is especially important when you're starting off with a fattier blend of ground beef, but even the leaner beef usually needs to be drained off.
What Gives Chili The Best Flavor?
Some people like putting cinnamon into their chili recipes, or even coffee or chocolate. Since we're keeping this recipe simple, those ingredients aren't on our ingredient list but you can certainly add them.
We think the best flavoring for this chili recipe comes from the blend of spices and sauce that we use, and of course, starting with good quality ground beef.
Does Chili Get Better The Longer It Cooks?
100% yes. This recipe simmers for about an hour, but you can go even longer if you like. Alternately, you can transfer this chili into a slow cooker and let it cook even longer, or keep it warm during a party.
For even better results, make this ground beef chili the day before to let the flavors blend in the refrigerator before serving.
Which Ground Beef Is Better For Chili?
So like we mentioned, we like using a leaner blend of ground beef. Anything 85% or higher will work best for making chili. Some will argue that you don't want a blend that too lean like a 95% but we beg to differ.
Since the chili simmers for and hour, the flavors and spices will blend into the meat wonderfully. Conversely, turkey chili is a whole thing that people love and ground turkey is even leaner!
Can I Use Ground Turkey For This Chili?
Of course! We love swapping our ground turkey to make turkey chili, too! So like we discussed, ground turkey is even leaner than the leanest ground beef, you can buy 99% fat free ground turkey, as opposed to the leanest ground beef which is usually 95% lean.
That means you definitely need to simmer the chili for a solid hour, or longer, the let the flavors meld together. When making turkey chili, we usually opt for the 92% or 93% lean ground turkey.
Topping Ideas For Chili
What's even better than the most delicious chili recipe ever sitting in your bowl??? Topping it with tons of delicious chili toppings! Some of our favorites are listed here…
Sour cream
Cheese
More hot sauce or sriracha
Tortilla chips, Fritos, Doritos – crushed on top or for dipping
Avocado
Lime
Pico de gallo or salsa
Pickled jalapeño peppers
Looking For More Chili Recipes?
Print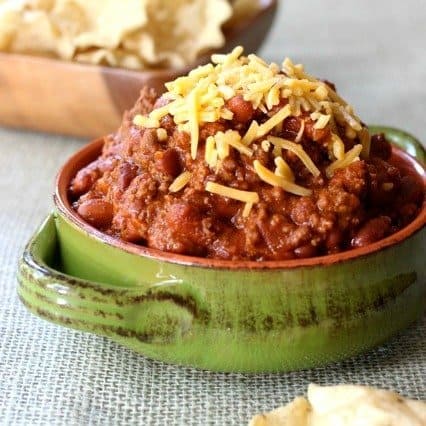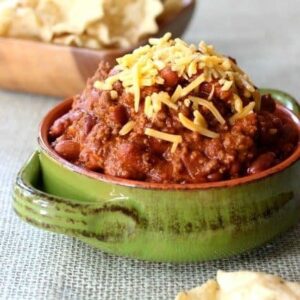 Ground Beef Chili Recipe
Author:

Prep Time:

5 minutes

Cook Time:

1 hour 30 minutes

Total Time:

1 hour 35 minutes

Yield:

12

servings

1

x
This Ground Beef Chili Recipe is our everyday, all the time, everyone loves it chili recipe! A mild ground beef chili that you can spice up as much as you like! We like to keep this chili on the mild side so that everyone can enjoy it, then put out our favorite hot sauces for those who like it spicier!
Scale
Ingredients
2 tablespoons

olive oil

1 1/2 cups

chopped onions

4

cloves of garlic, chopped

2 1/2

pounds lean ground beef

1 teaspoon

kosher salt

1 teaspoon

fresh ground black pepper

4 tablespoons

chili powder

2 tablespoons

cumin

2 tablespoons

brown sugar

2 tablespoons

flour

2

(28 oz. cans) of tomato sauce

2

(15 oz. cans) of kidney beans

1 tablespoon

hot sauce

1 tablespoon

Worcestershire sauce
Instructions
Add the oil to a large, heavy bottomed pot over medium heat.
Add the onion and cook for 10 minutes until the onion has softened, then add the ground beef and garlic to the pot.
Break up the ground beef and cook until the beef is no longer pink inside. Drain the grease from the pot.
Season the beef with the salt, pepper, chili powder, cumin and brown sugar, stirring to mix together with the beef.
Sprinkle in the flour, stir and let the flour cook out for 1 minute. Pour in the tomato sauce, kidney beans, hot sauce and Worcestershire sauce and stir to combine.
Let the chili simmer for 1 – 1/2 hours (can go longer if desired) partially covered, stirring often. Alternately, you can pour the chili into your slow cooker and set on high for 2 hours, or low for 4-6 hours.
Category:

Dinner

Method:

Stove Top

Cuisine:

American
Keywords: ground beef chili, chili recipe, recipes with ground beef, easy recipes, easy chili recipe, best chili recipe