These Holiday Dinner Ideas From Casual To Elegant are main course ideas for almost any holiday or occasion, whether it's a fancy party or a backyard BBQ!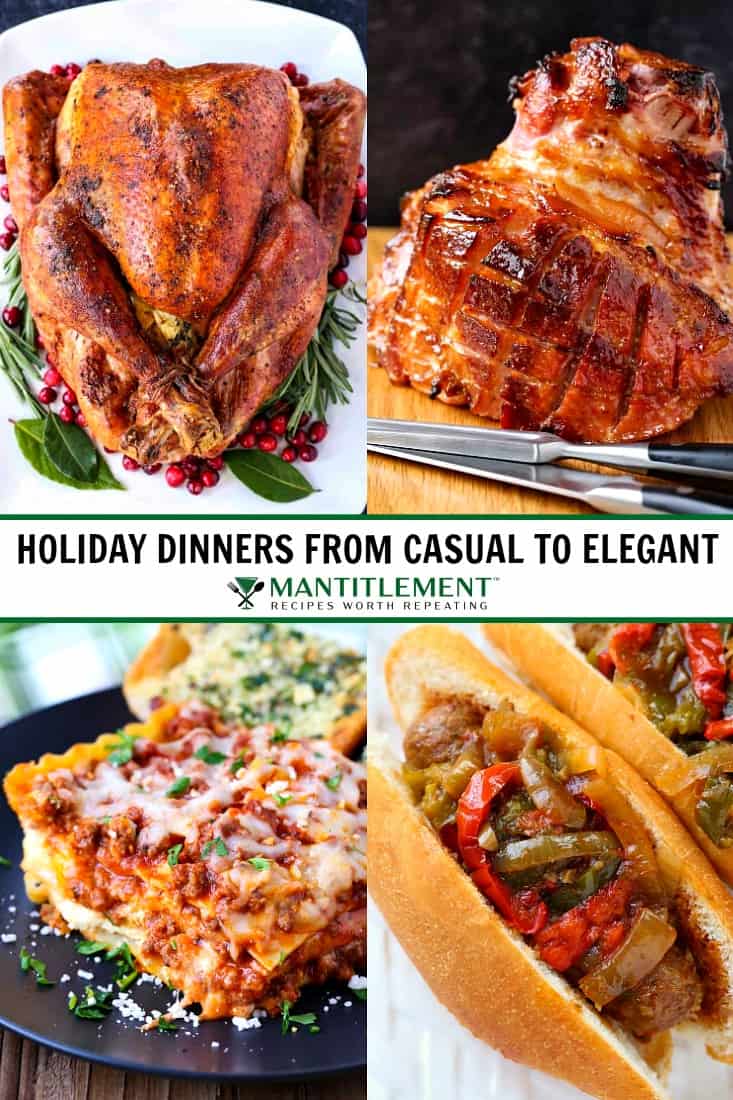 Everyone's holidays look a little different. Christmas Eve in my family looks different that Christmas Eve at another house. Ranging from fancy beef dinners to comforting pasta dishes covered with cheese.
Both are amazing, there's no wrong answers here. It's all about your families traditions and what you like serving at your special occasion. But we're covering ALL big parties here – from Christmas, New Years and Thanksgiving to Fourth of July, birthdays, Anniversaries and backyard BBQ's.
There's a main course on here for all of them! We're going to list them in order of the type of meat, and then we'll go into descriptions of the recipes after the picture. You can decide which dinner recipes work best for your holiday or party!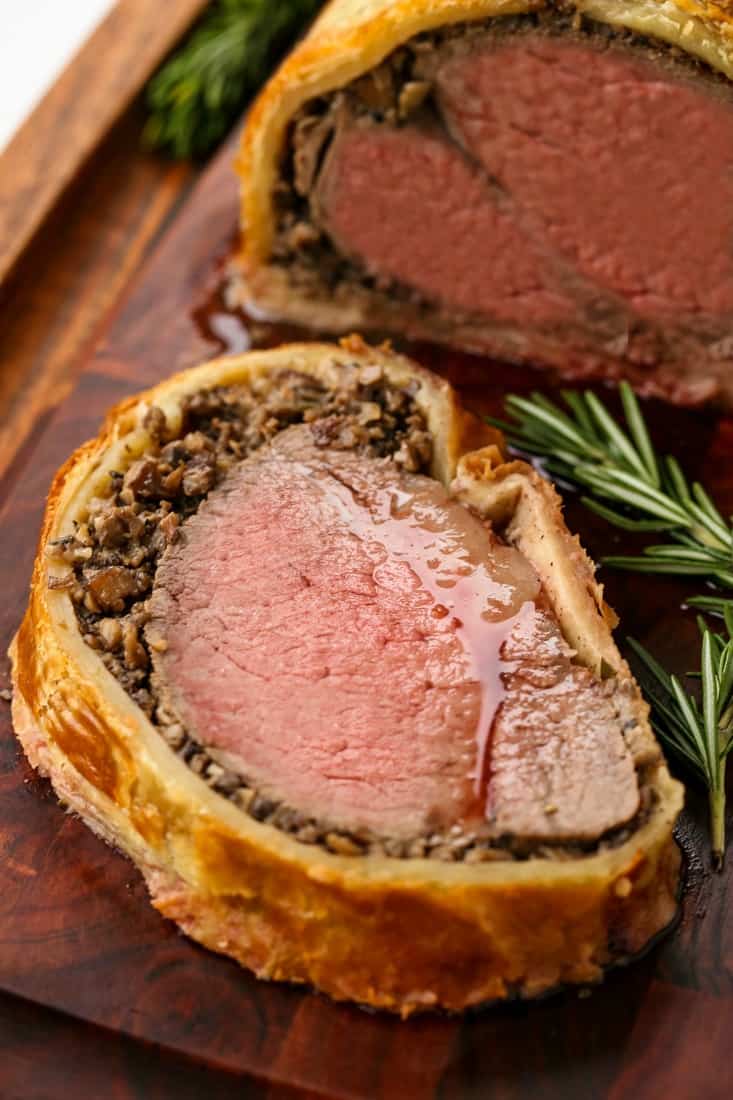 We always had Beef Wellington at my house on Christmas Eve. It was our tradition for years, and my mom made it really, really well. We used to have these huge parties with all of our extended family and even a bunch of the neighbors thrown in. And YEP. It was Beef Wellington for all. This is one of those recipes that looks super fancy (and it is) but it really isn't that hard to make.
Just a few basic tips and tricks and you'll be on your way! Bonus is that you can make this all ahead of time and then cook it right before dinner time.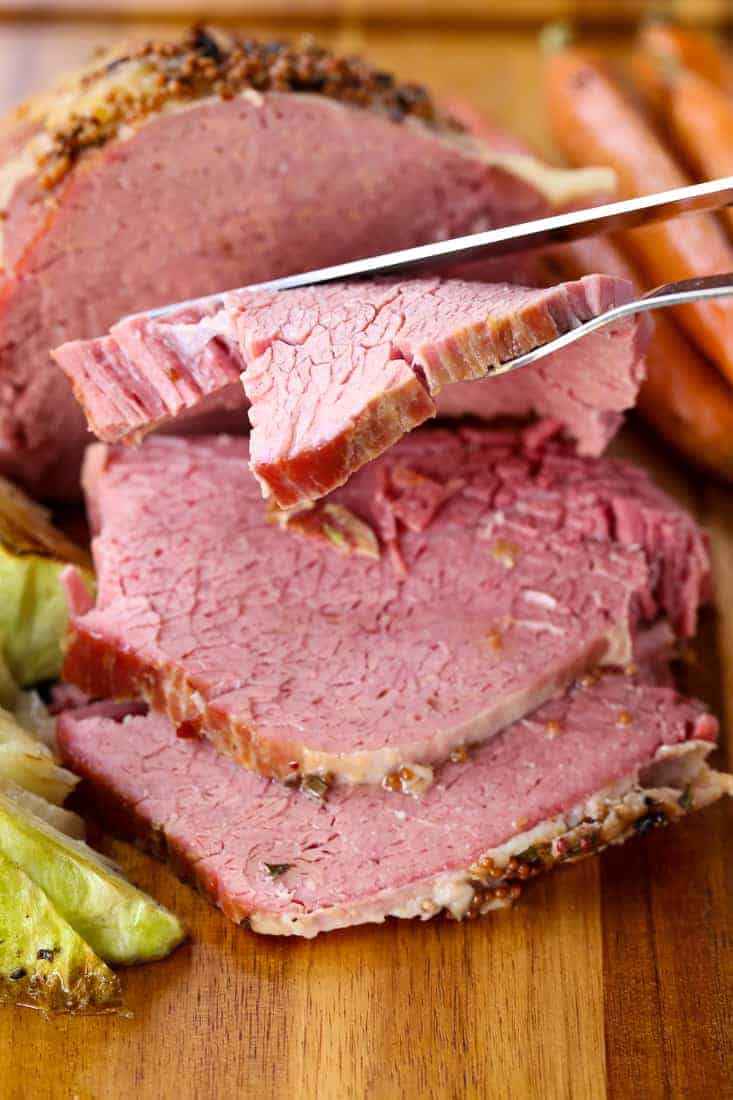 We always think of Corned Beef around St. Patrick's Day but why don't we make it more often? Our boys love corned beef and they love using it for leftovers like Corned Beef Hash, so in our house we do make Corned Beef more than once a year.
Especially when you have an easy crock pot recipe like this one, dinner is a no brainer.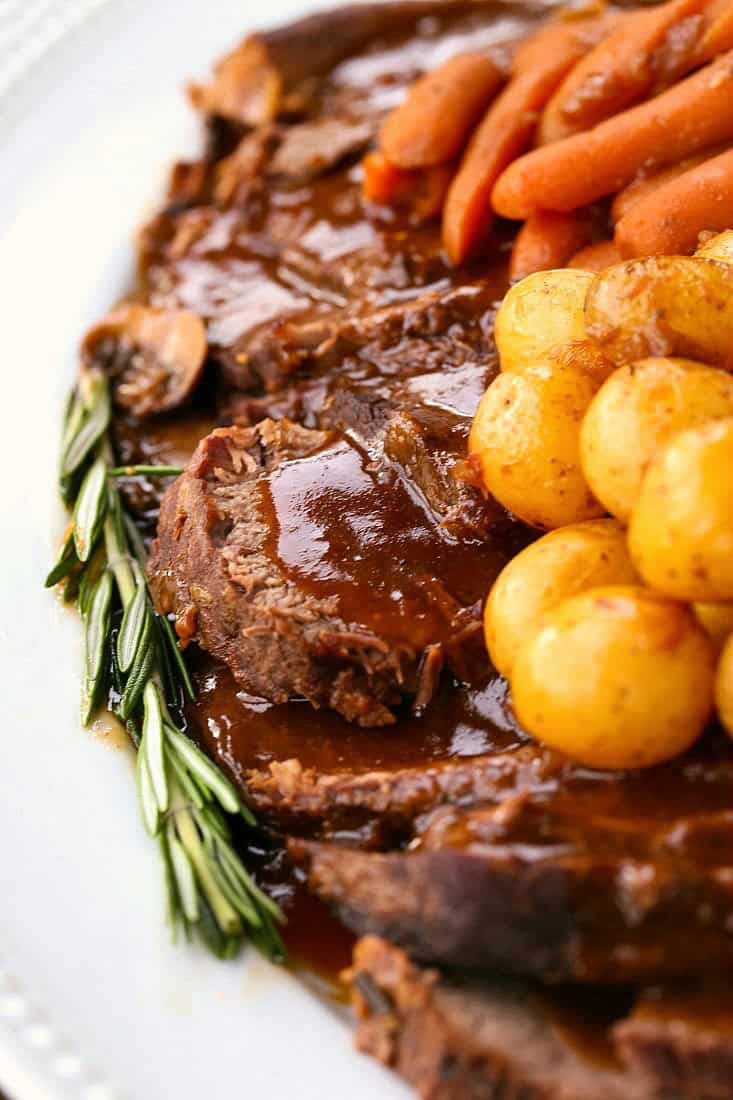 Oh man, I used to love walking into my Grandma's house and smelling this pot roast cooking away. This pot roast is a one and done recipe, everything cooks at the same time so it's another one of those meals that makes you look like a rock star in the kitchen, when it was totally easy.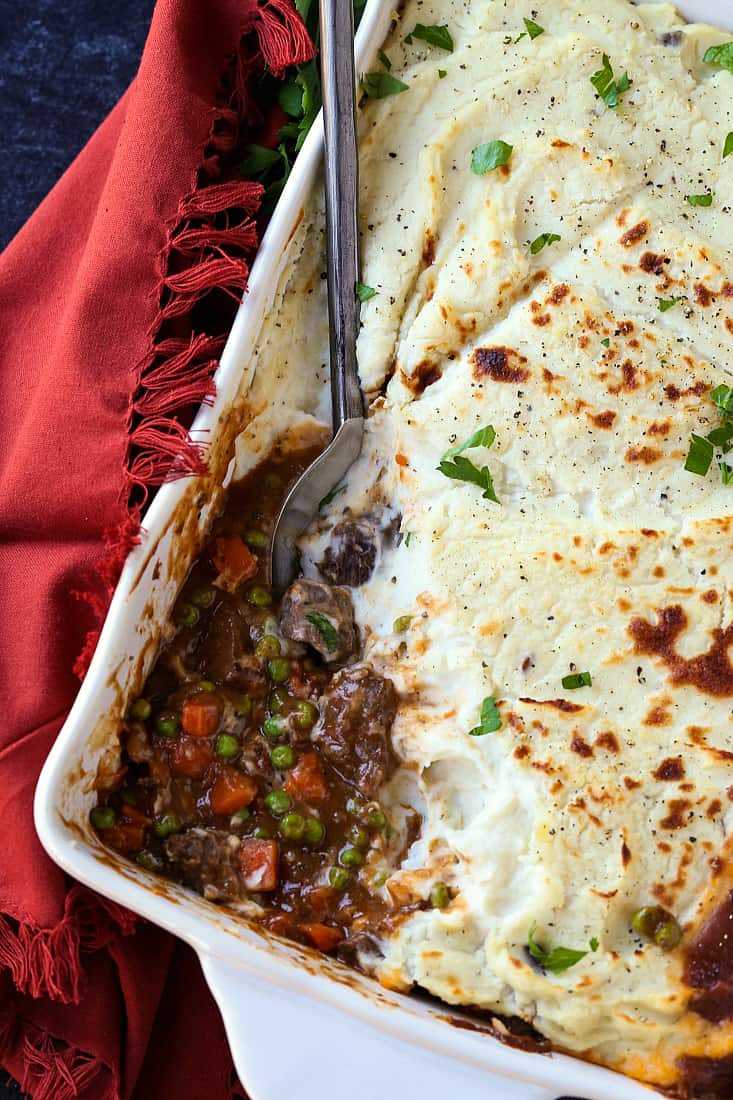 This Shepherd's Pie is kicked up with Guinness Beer for extra flavor. Shepherd's Pie is ultimate comfort food, perfect for those cold weather holidays or parties. This is also a make ahead recipe that can all be done ahead of time so that you can actually enjoy your party with your guests.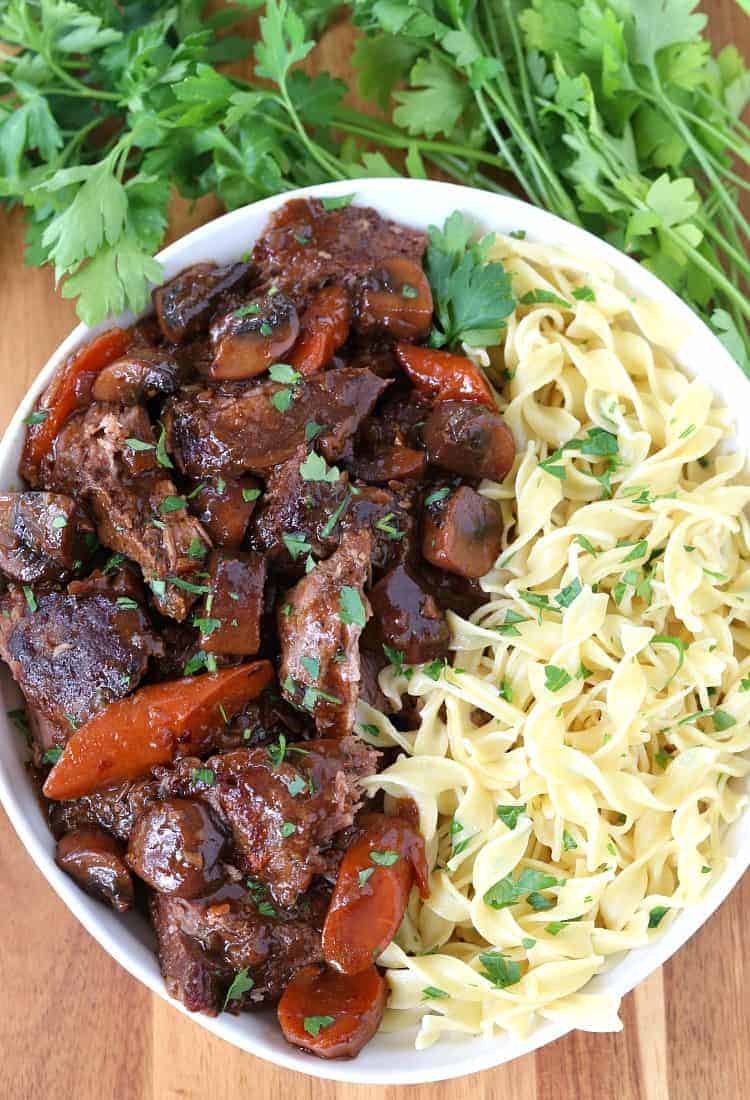 Beef Stew is always a classic! Besides the fancy name, this stew is really a down home, comforting meal that can be served at any holiday or party. All you need to do is add a side of mashed potatoes or egg noodles like we have here and dinner is done.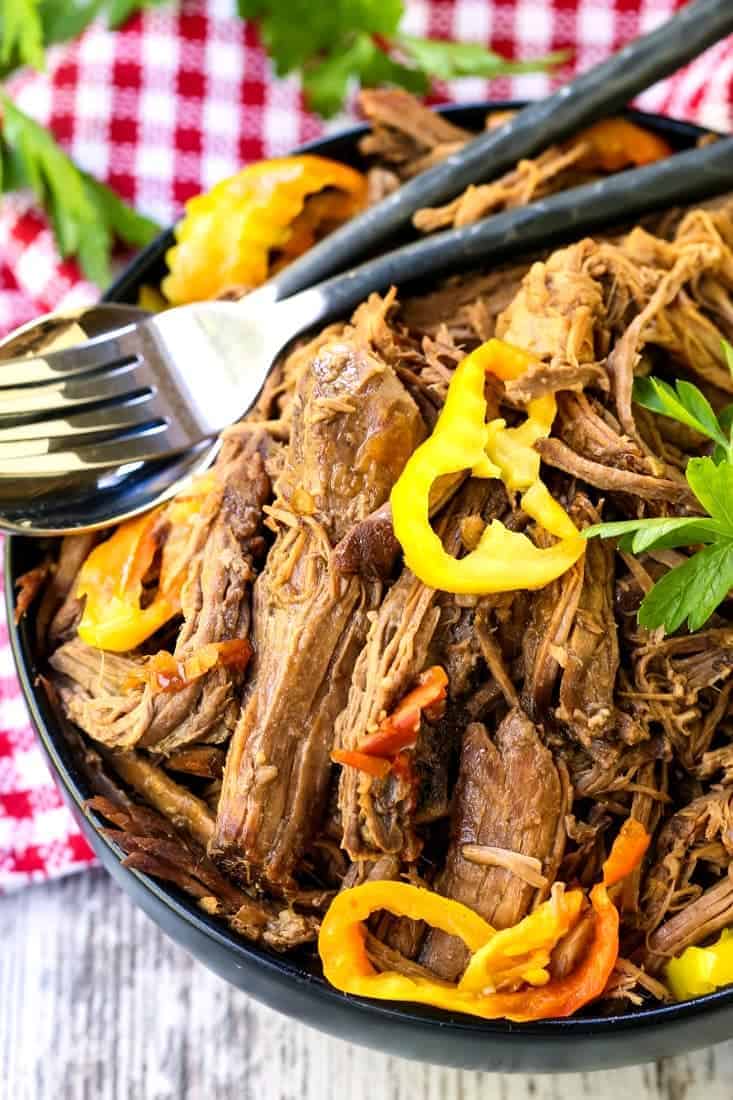 This beef reminds me of my hometown in Chicago. Slightly spicy from the peppers but sweet at the same time. This Italian Beef is perfect for holidays and parties because it cooks all on its own in your slow cooker. Shred the beef, return it to the juices in the slow cooker and throw out some rolls. Dinner is done.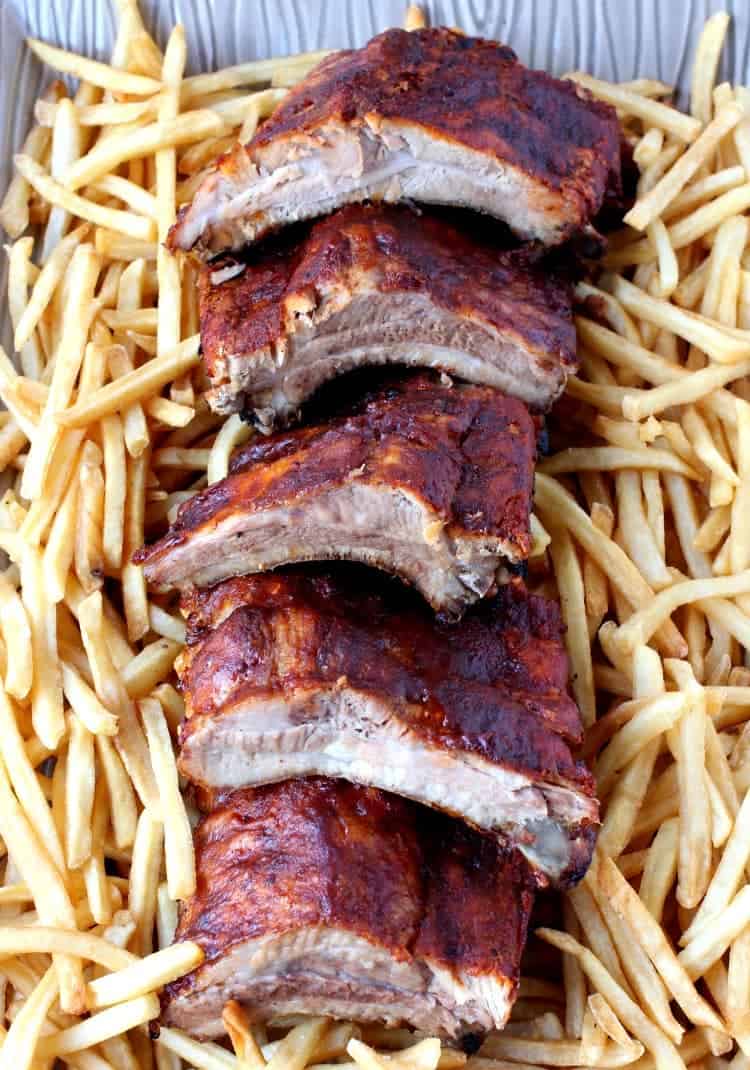 These ribs cook overnight in your slow cooker so theres literally nothing to do for your party the next day as far as dinner is concerned. These ribs would be perfect for a party that you're having earlier in the day so that you don't have to get up at the crack of dawn to start cooking.
You can also start this slow cooker rib recipe first thing in the morning so they'll be ready for dinner that night.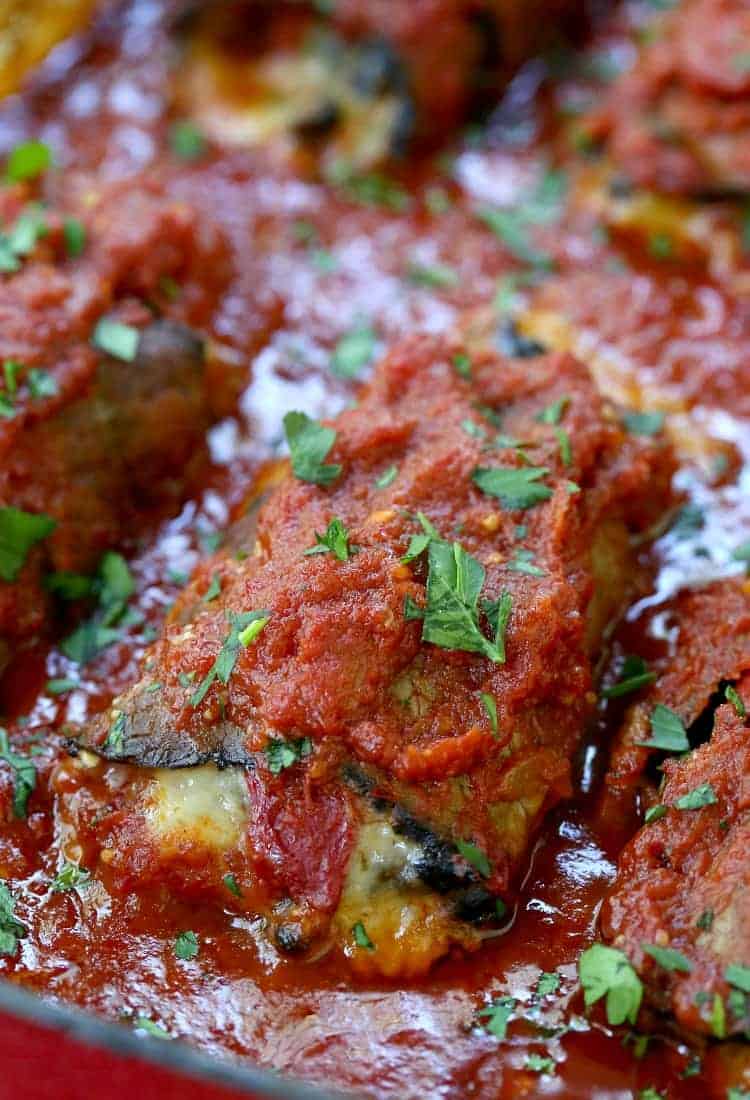 So what do we mean by Short Cut? This braciole recipe uses thicker sliced roast beef right from the deli counter. Yep, and it totally works. This dinner recipe is a true fake out meal, it looks like it took you hours in the kitchen, slaving away. But really it only takes about 30 minutes, start to finish.
Also this braciole can be made ahead of time and cooked right before dinner.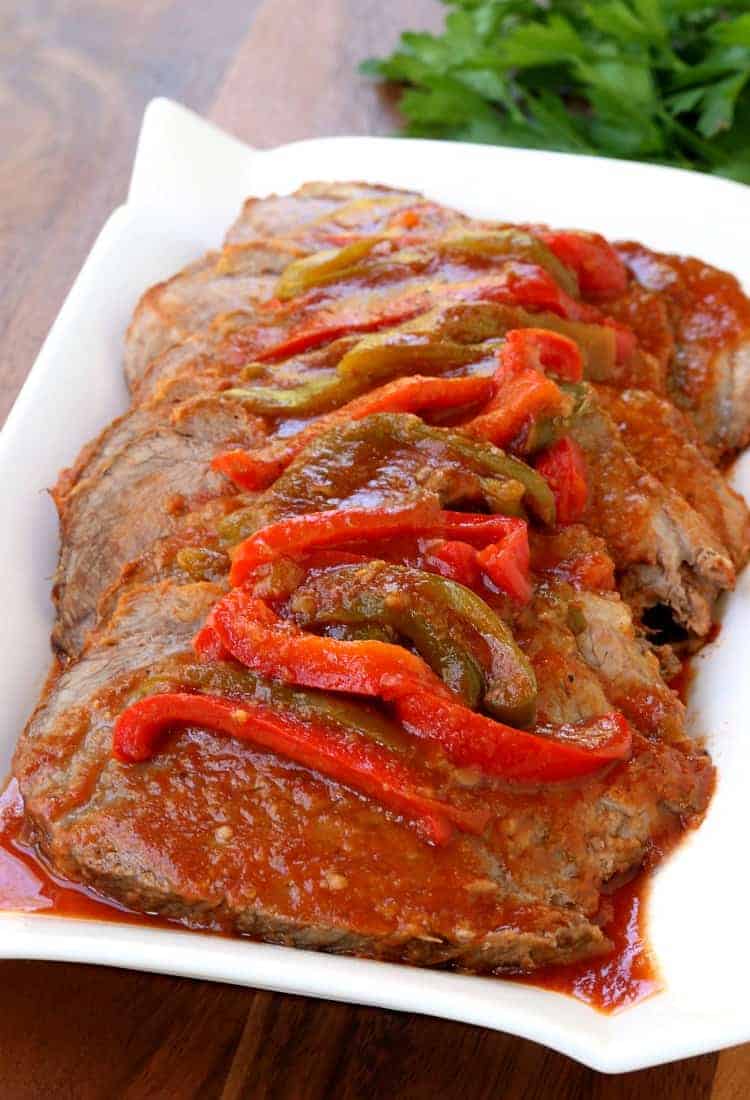 When we talk about Holiday Dinner Ideas From Casual To Elegant, this pot roast sort of falls in the middle for us. You can serve this tender pot roast recipe with mashed potatoes and roasted vegetables for a more elegant dinner, or with potato salad and corn for a more casual meal.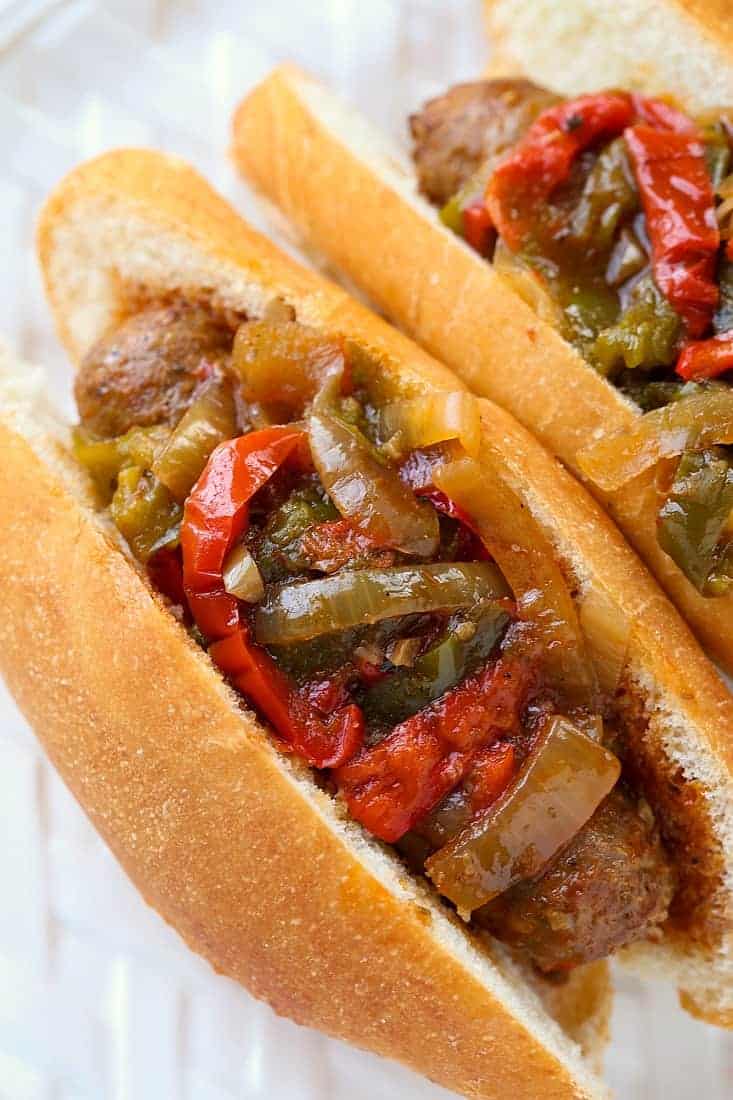 There's nothing not to love about this sausage and peppers recipe! It's totally a make ahead meal, and the flavor is out of this world. We use a sweet marsala wine for the sauce on this Italian sausage and just a hint of tomato sauce. Grab a few hoagie rolls and a couple of make ahead side dishes and you've got a dinner that will be raved about.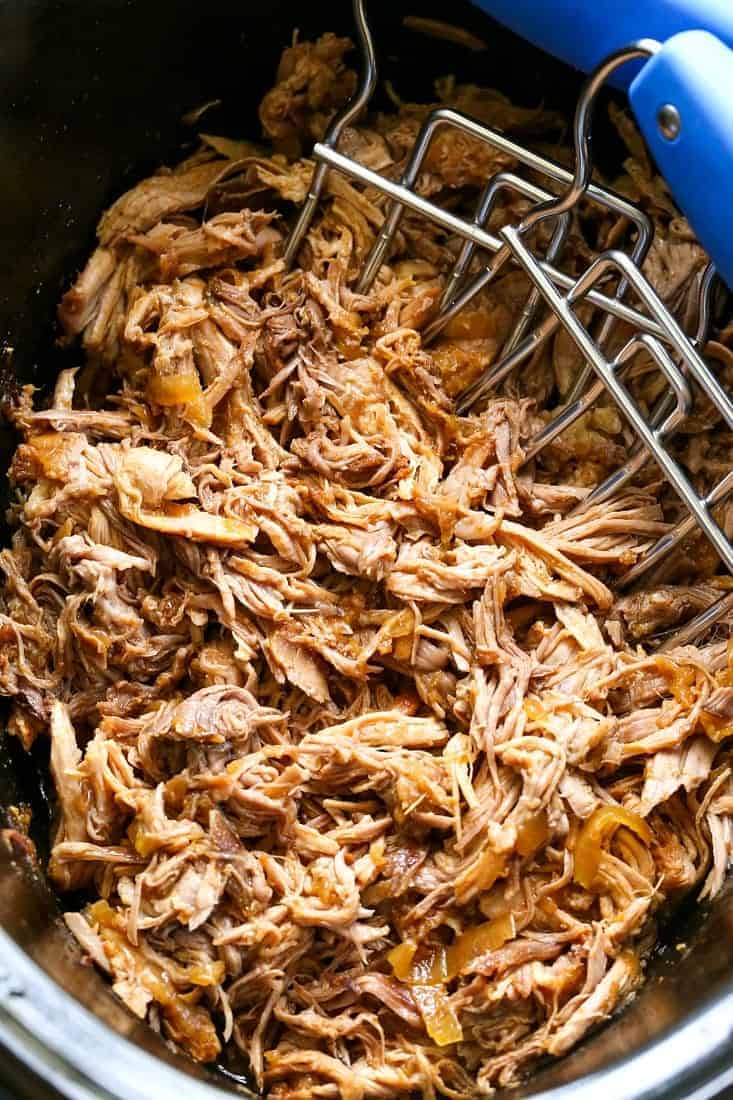 Pulled Pork is a pretty common dinner to serve at BBQ's or warm weather parties. But we do like serving pulled pork during the colder months, too. Especially when you're making this recipe that doesn't have BBQ sauce stirred in, just a seasoned dry rub and sweet onions. You can drizzle some of your favorite BBQ sauce on top or your sandwich or eat it as is.
We all think or a big turkey for Thanksgiving, but it's another one of those things that we don't know why we don't make more often. I mean, leftover turkey recipes are worth making a big turkey for alone. Besides that fact that once you get that big bird into the oven there's really not much else to do but wait for it to be done!
OR For Smaller Crowds…A Roasted Turkey Breast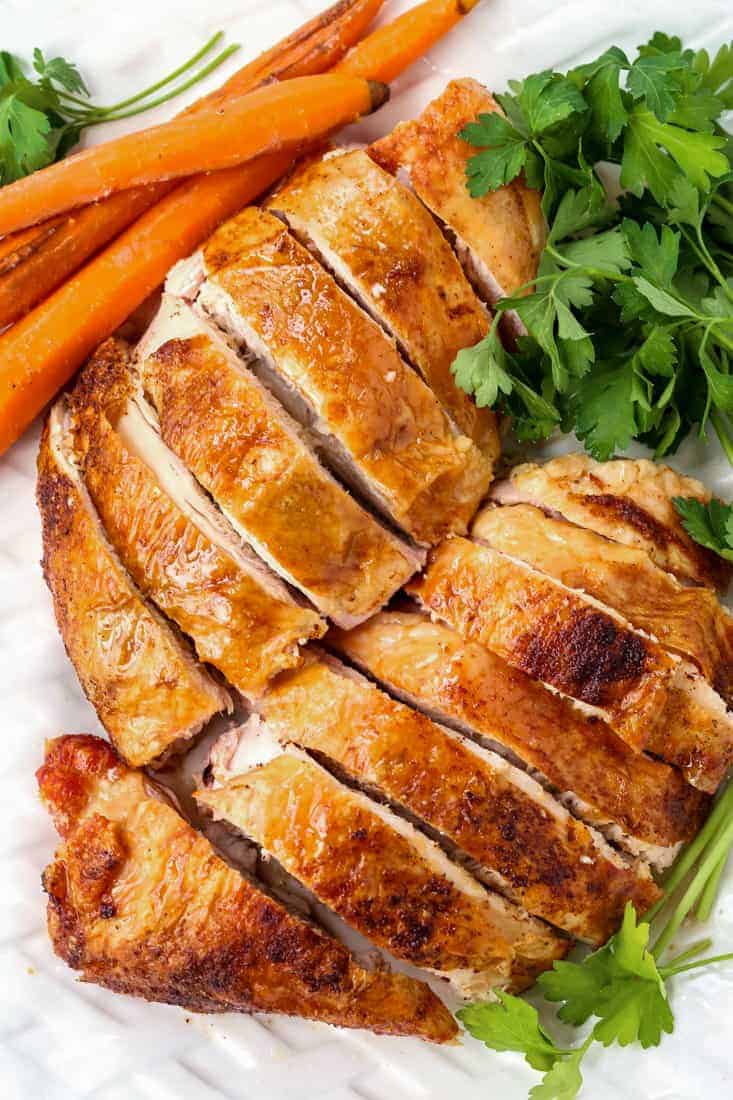 BUT if you're having a smaller crowd, you can make this roasted turkey breast instead! Same flavors as the big bird, just no wings or legs. You can also buy those separately and roast them right in the same pan!
Our Brown Butter Baked Ham has become a family favorite. Everyone asks for this ham around the holidays, and even one of our boys requests it for his birthday dinner. The brown butter, brown sugar glaze is what makes this ham so addicting, it's even turned a few people in our family into ham lovers!
OR A Slow Cooker Captain & Coke Spiral Ham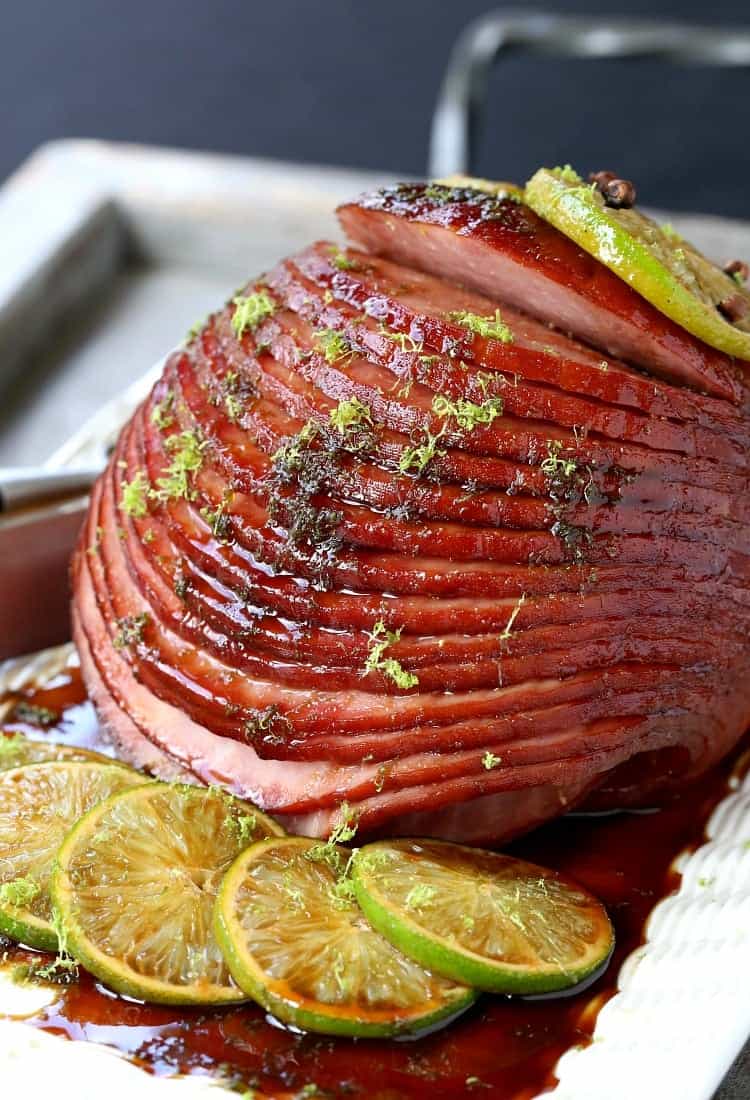 Maybe you want to bring a little fun into your party or holiday? Try this boozy, rum spiral sliced ham! This ham cooks in the crock pot so it couldn't be easier to make. Serve a few rum and cokes on the side and you've got yourself a party!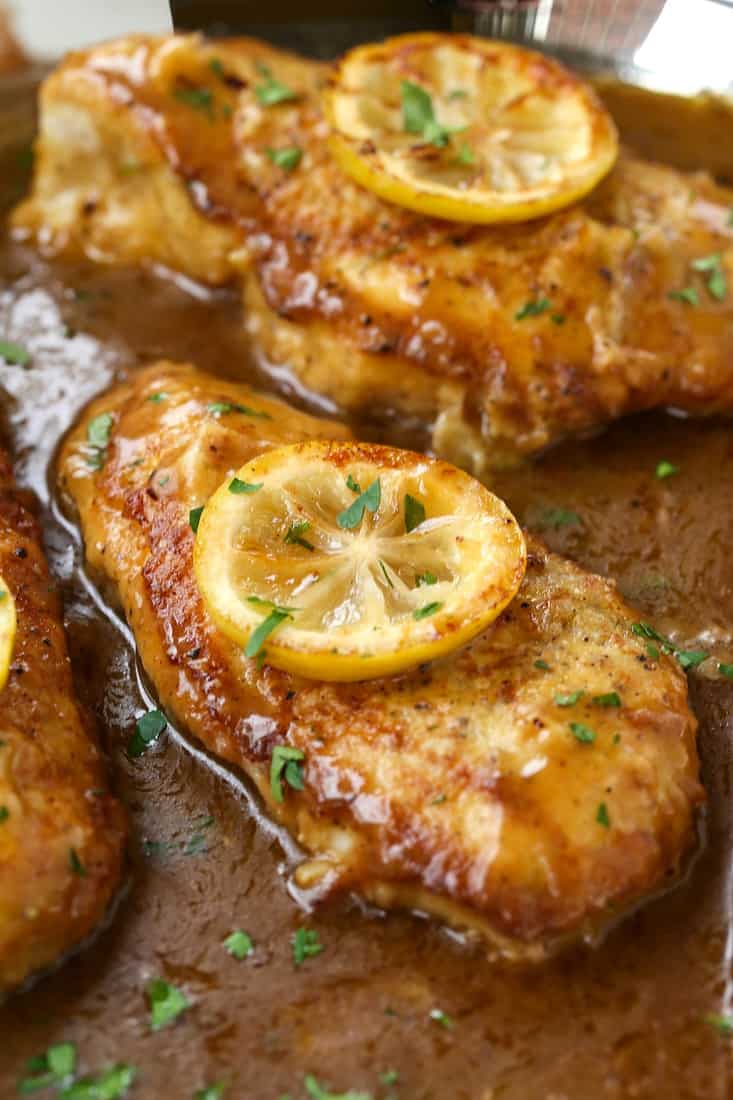 Chicken Francese is another toss up on our Holiday Dinner Ideas From Casual To Elegant list, in our house it really can be either. For some, you only order this chicken dinner at a restaurant so it would seem fancy to make at home and serve at a party. For others (like us) it's an easy, casual chicken recipe that we make often, and we all love it so much that it's going to be a hit for any special meal.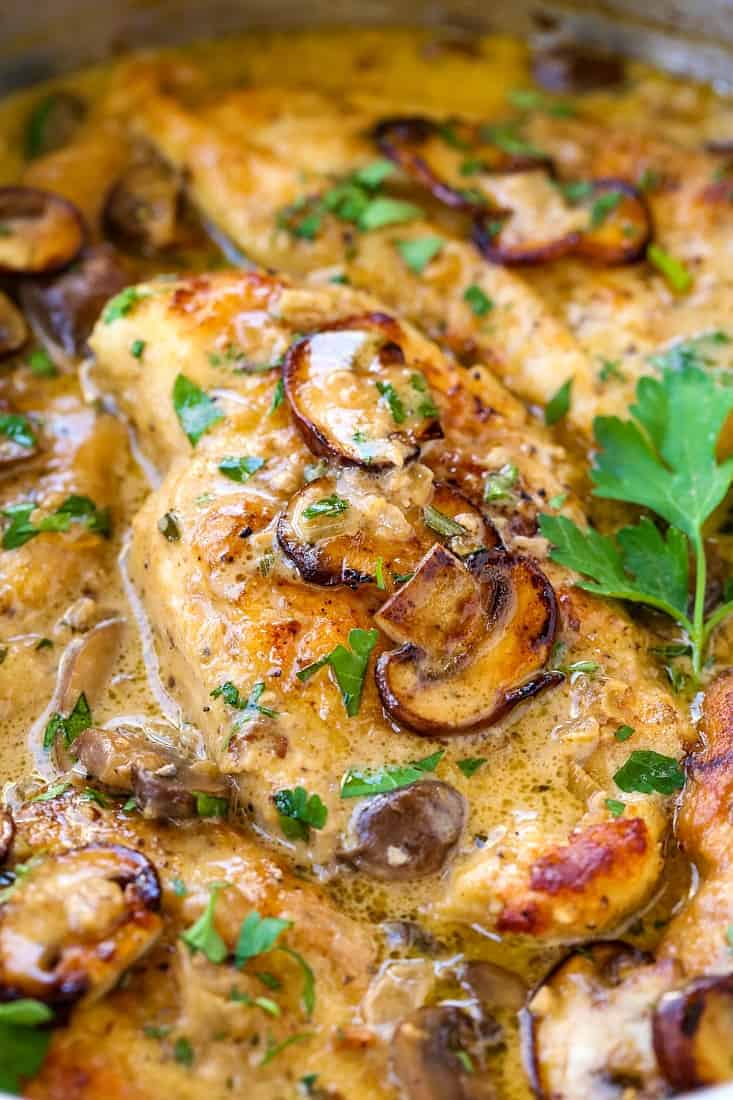 Same as Chicken Francese, Chicken Marsala is great to serve for a crowd! Double or triple the recipe, cook it through and warm it up right before dinner.
Sausage Stuffed Chicken Rollatini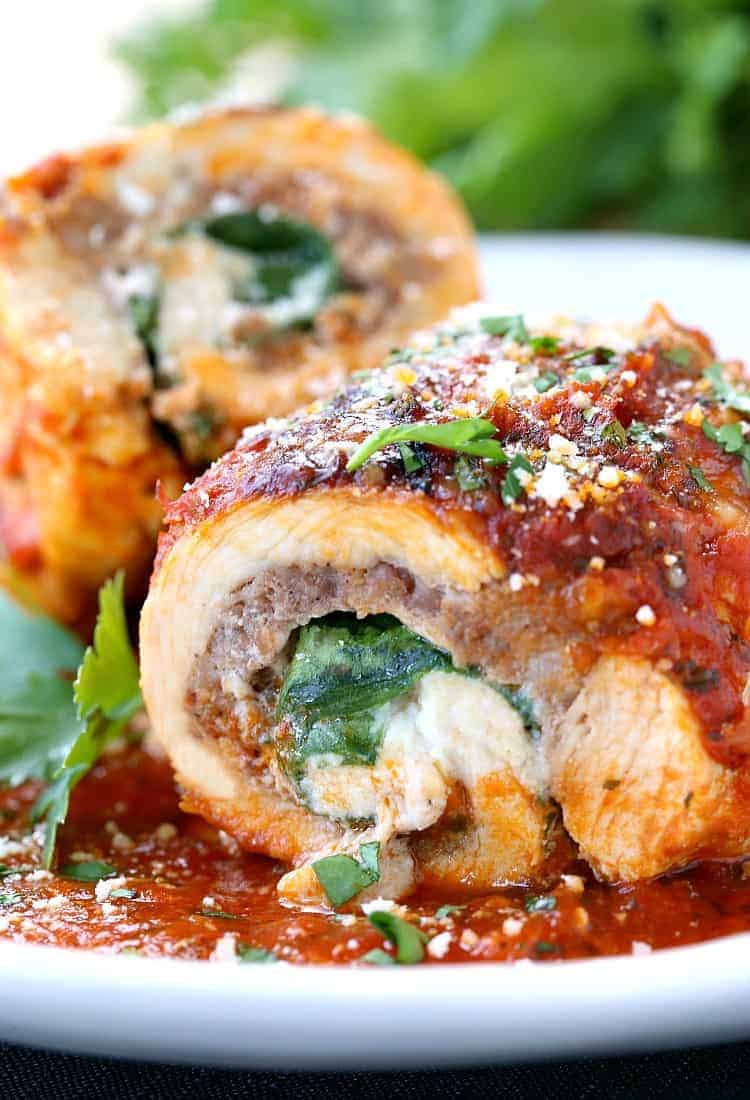 Now this is a show stopping chicken dinner! Chicken Rollatini stuffed with Italian Sausage and spinach is SUPAH fancy…and can be made all ahead of time.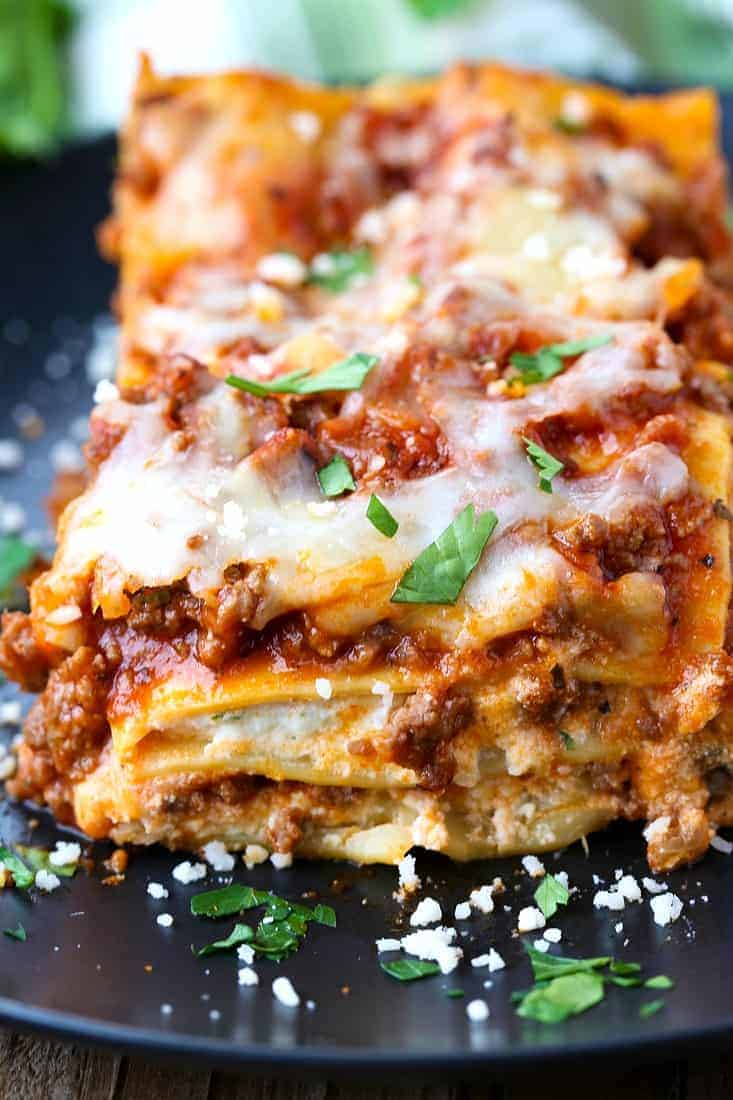 What's there to say about a comforting, cheesy beef lasagna recipe that comes out perfectly every time? Follow just a few tips in this recipe to get the perfect sauce to pasta ratio that slices neatly every time. No more sloppy lasagna!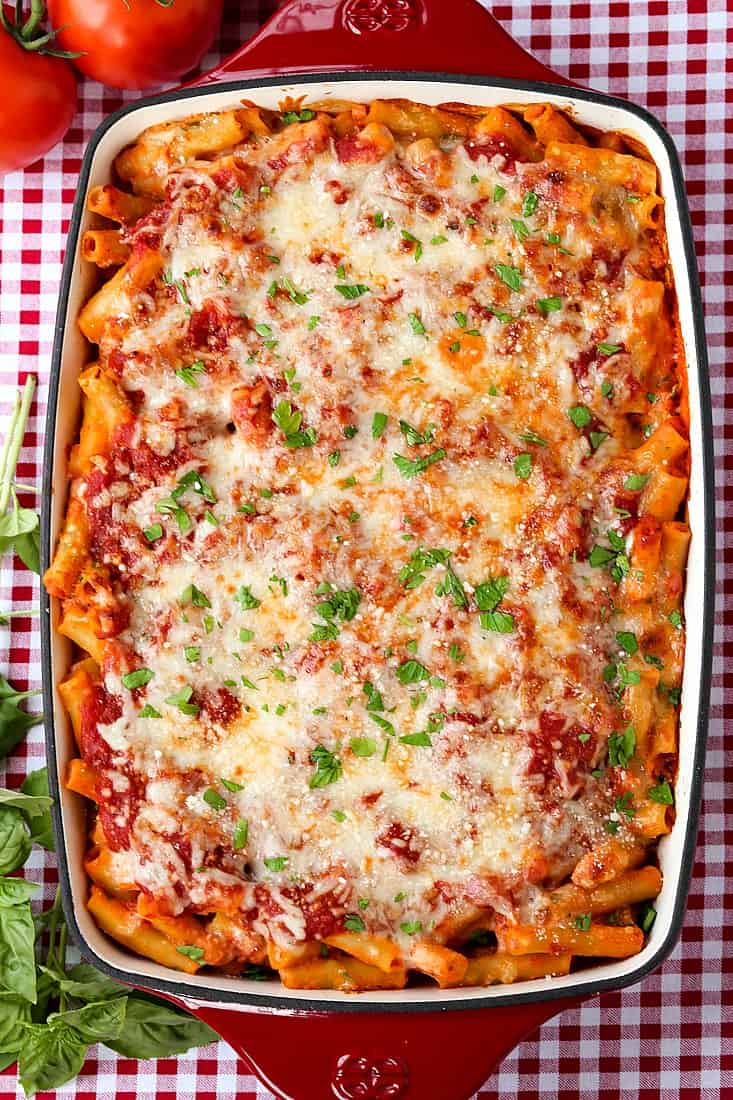 Baked Ziti can be really bland and boring…if you don't make it right. I'm telling you there are people that think you just mix ziti with sauce and add a big fat layer of mozzarella cheese on top.
I guess that's fine, maybe if that's what you're used to but make this baked ziti recipe and tell me that you'll ever go back.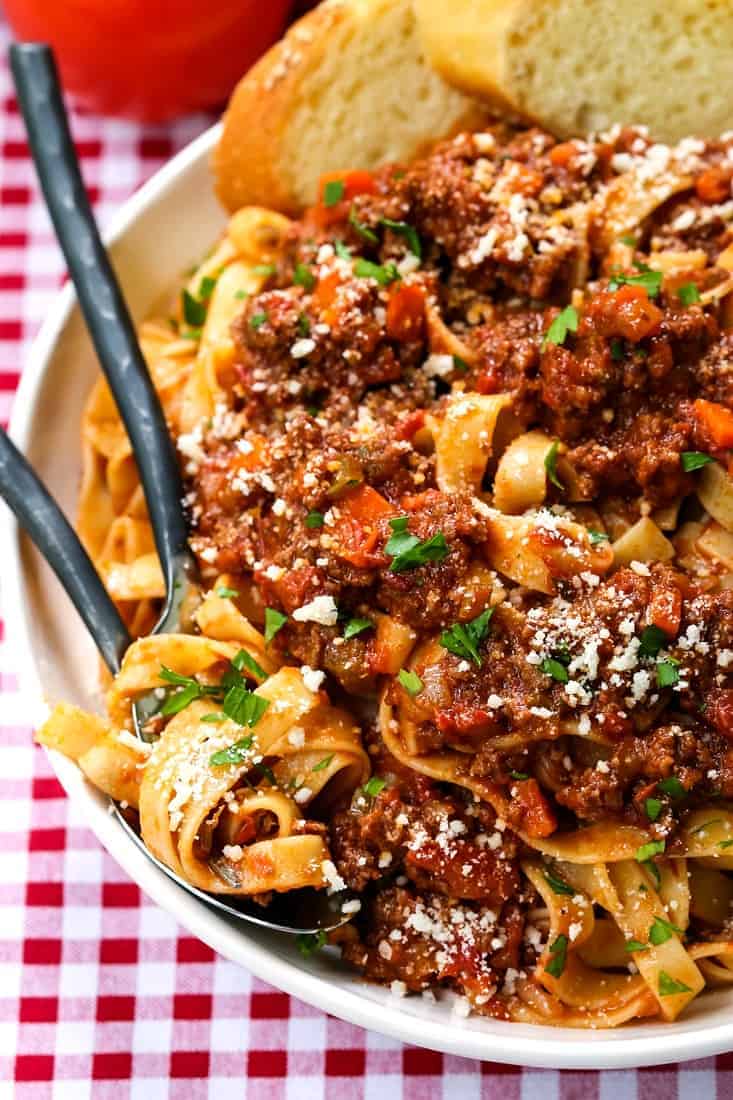 A bog pot of bolognese sauce simmering on the stove not only makes your house smell amazing, but it's a dinner that's done before your guests even arrive. Just boil some pasta, add a side of garlic bread then sit back and enjoy your party!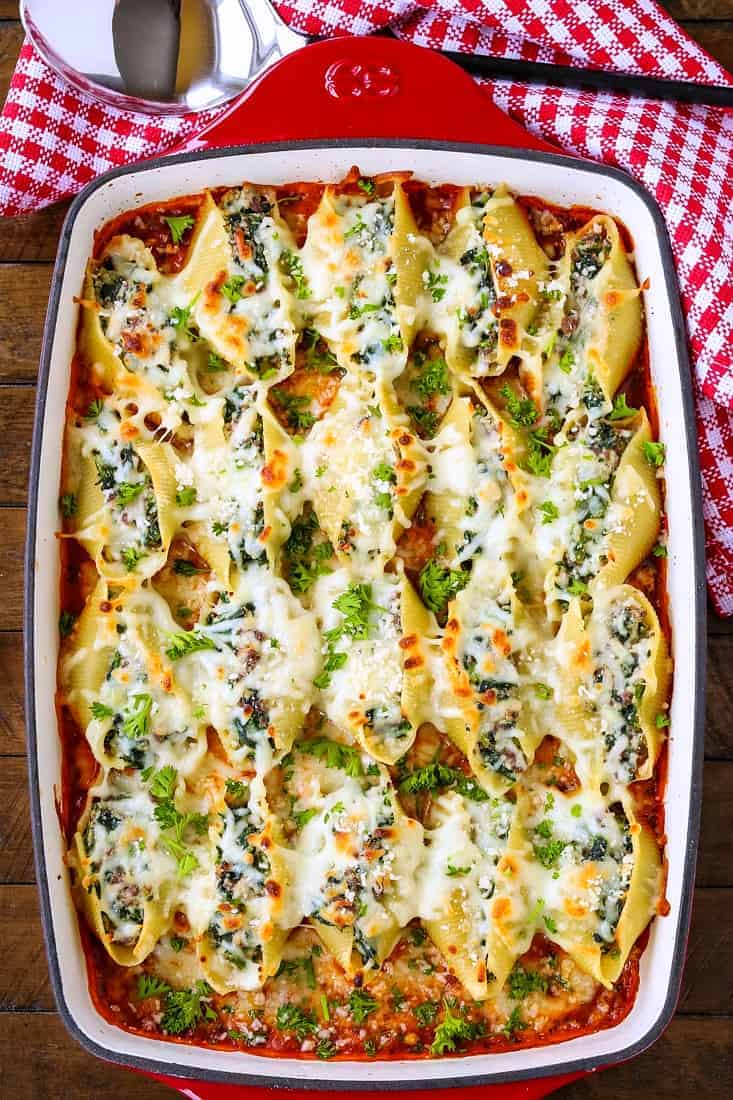 Stuffed Shells are perfect for holidays and parties! You can make them in the morning and bake them right before dinner. These shells and a beef and spinach filling, but you can switch that up to use ground pork or turkey, even chopped broccoli!
Tuscan Spaghetti With Jumbo Scallops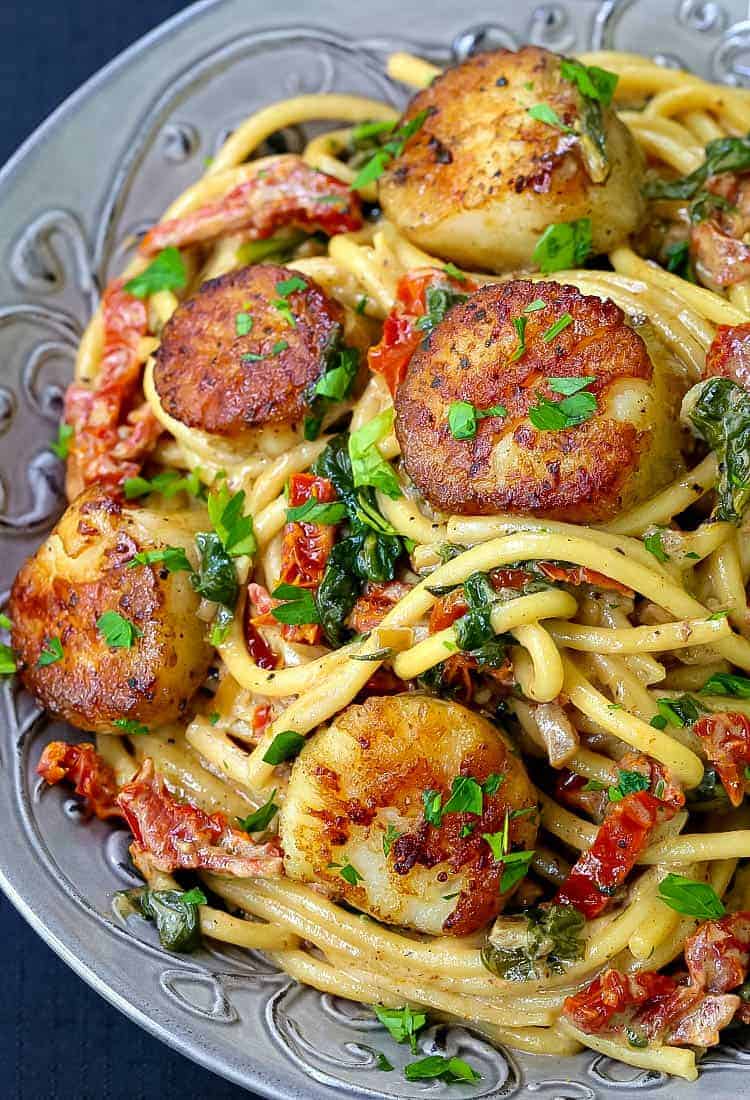 Now we're talking fancy with this scallop and spaghetti recipe…if you've never tried making scallops at home this is the recipe for you. Super elegant, super delicious and perfect for any special occasion.
Grandma's Sunday Meatballs & Sauce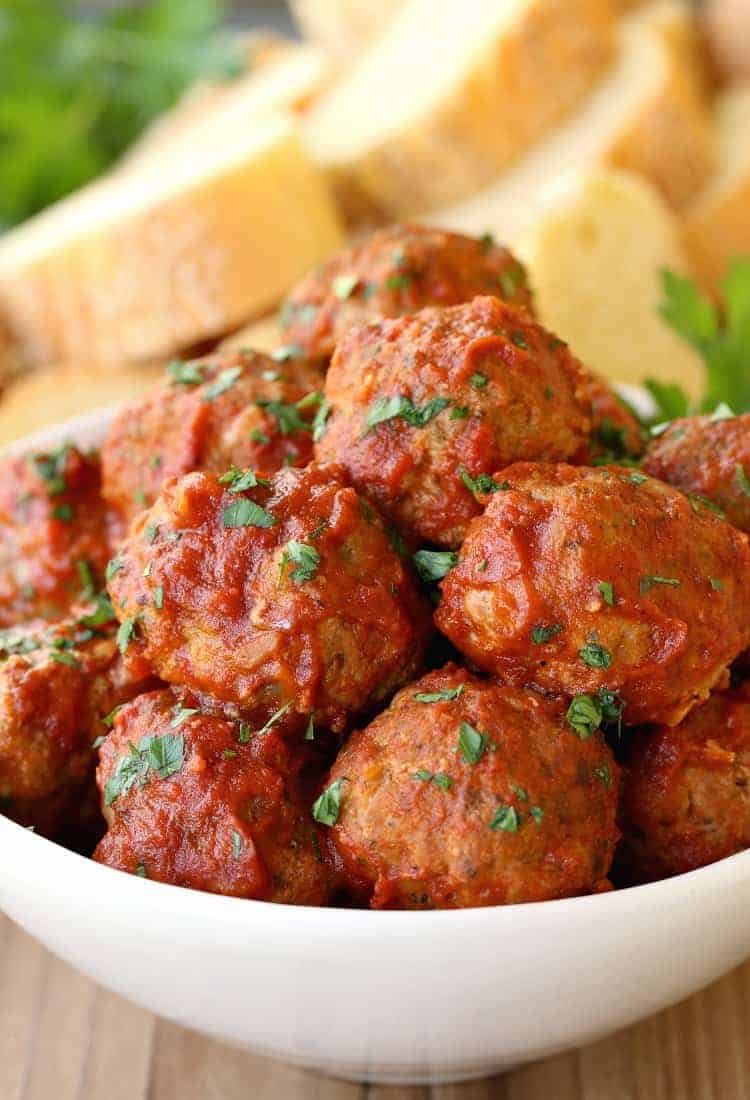 This recipe is a loose interpretation of my Grandma's recipe. I say that because she never actually wrote anything down, it was all from her head. We tried to get her to write the basics down before she passed away and we got most of it, but it's not quite 100%. You know how that goes, these special recipes never quite taste like what you remember, but this one is pretty damn close and it's always a big hit.
we hope you find a few things on this list of Holiday Dinner Ideas From Casual To Elegant, this is one to bookmark, to pin or however you keep your recipes because you'll be coming back to it for years!