Corned Beef Hash is so easy to make using your leftover corned beef! Crispy potatoes, peppers and onions topped off with a perfect fried egg!
This corned beef hash is so easy to make with your leftover Corned Beef! If you have leftover Cabbage from your St. Patrick's Day dinner you can throw that in this hash recipe too!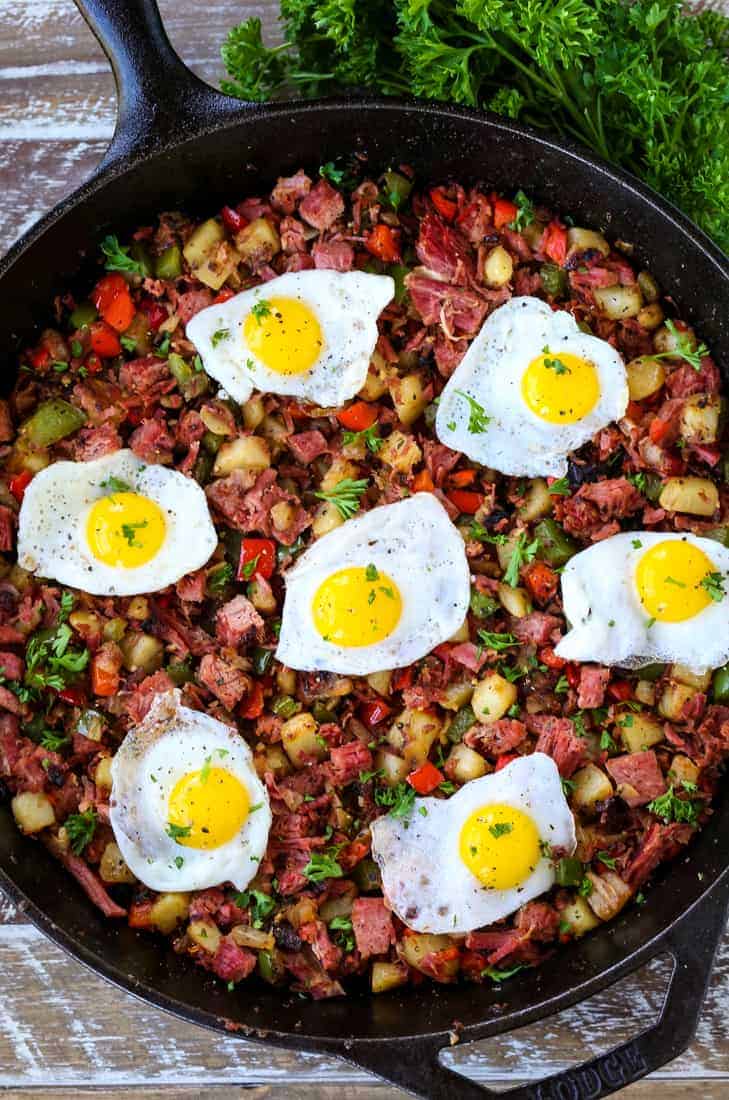 What Is Hash?
We're talking food here people. Hash is typically a recipe consisting of chopped meat, potatoes and onions cooked up in a cast iron skillet. The name comes from a French word "hacher" meaning to chop as the ingredients in the dish usually are.
Hash is a leftover recipe of all kinds, not just corned beef. Leftover potatoes, cabbage, peppers or really any kind of vegetable can be thrown into a hash recipe. Proteins can include corned beef, of course, ham, pork, sausages and even chicken or turkey.
We often see hash made for breakfast but I"m telling you, you're going to want to just make this Corned Beef Hash recipe for breakfast, lunch, brunch or even dinner. Our boys love corned beef hash with a runny fried egg on top and a dash or two of hot sauce!
How Do You Make Corned Beef Hash?
Hash is such an easy breakfast recipe to make with leftover corned beef. All you need to do is dice up your corned beef, grab a few potatoes, peppers and onions and a frying pan.
If you have leftover cabbage from your St. Patrick's Day dinner you can throw that in here too! Also, this hash recipe is a really great way to use up a lot of leftover vegetables or meats, at the end of the week or after a party!
Because the potatoes in this recipe are diced pretty small, you don't have to cook them ahead of time. They'll cook and crisp up in the pan really nicely. BUT if you have leftover, cooked potatoes just throw them in after the peppers are cooked.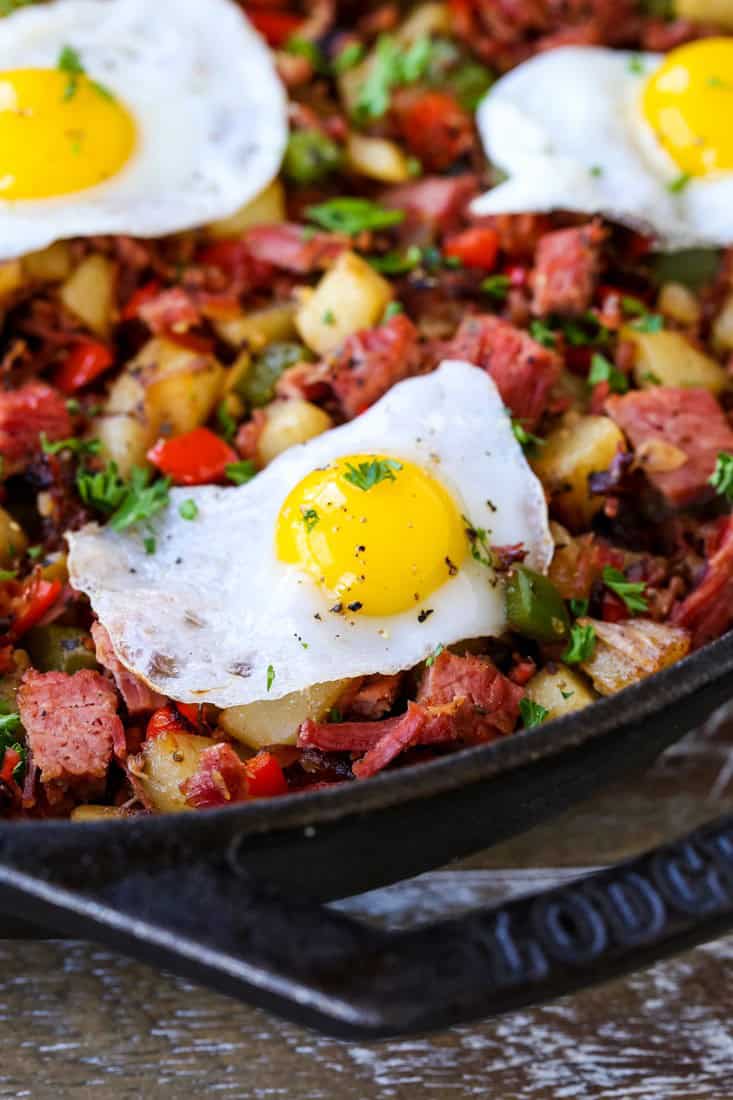 What Is Corned Beef?
People are confused about corned beef. I get it, I was too. Corned beef is made from a cut of beef called brisket. Brisket is a tougher cut of meat so it's normally braised or smoked, or used in slow cooker recipes or in this case brined.
Corned beef is made though a long curing process that uses large pieces of rock salt, otherwise known as corns. The "corns" are mixed with a liquid marinade called a brine. Then the corned beef can be cooked using your method of choice, producing a very tender cut of meat.
What Other Ingredients Can I Add To This Corned Beef Hash Recipe?
There's so many things that you can add to hash, the list is pretty long. You can even swap out the corned beef for other meats like leftover steak, chicken or turkey.
Fresh or frozen spinach
Cooked broccoli or other leftover vegetables
Sweet potatoes, leftover rice or cauliflower rice
Bacon bits or cooked, chopped bacon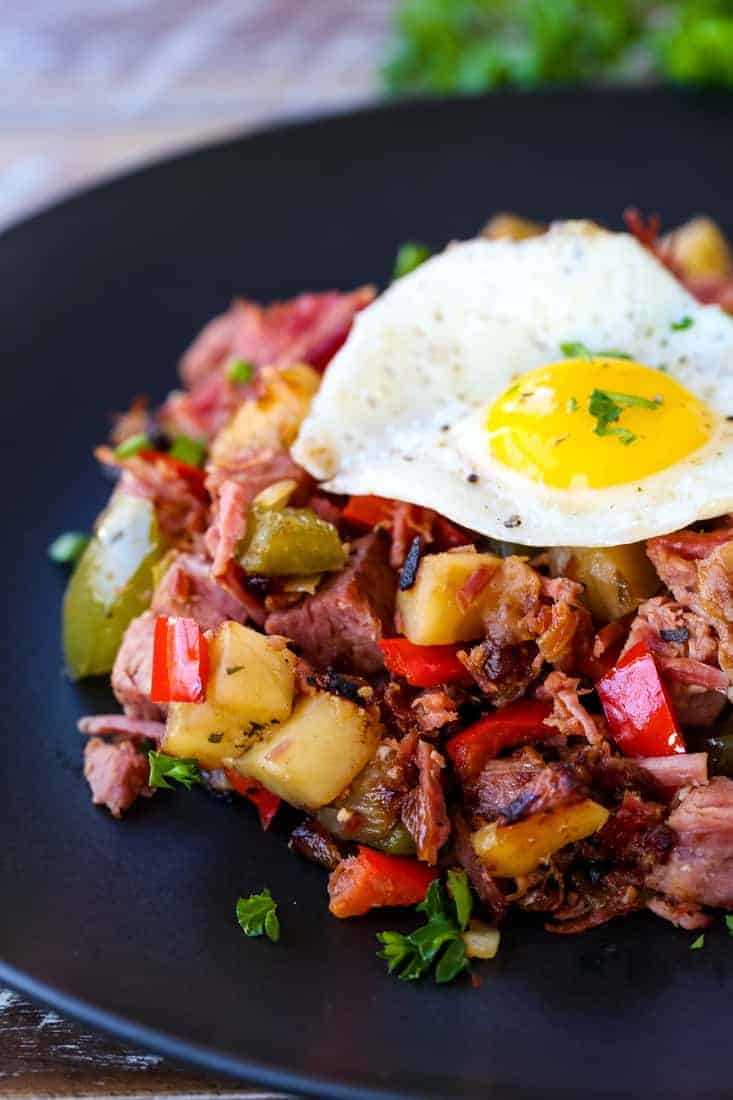 Looking for a low carb recipe? Just leave out the potatoes and add more vegetables! You can add cauliflower rice too, instead of potatoes or cauliflower florets. Bacon? Yes, pretty much everything IS better with bacon.
We usually have some bacon laying around or real bacon bits in the fridge so if you got 'em…use 'em. Now, to fry your eggs separately or add them right to your skillet? That's another part of this corned beef hash recipe that's totally up to you.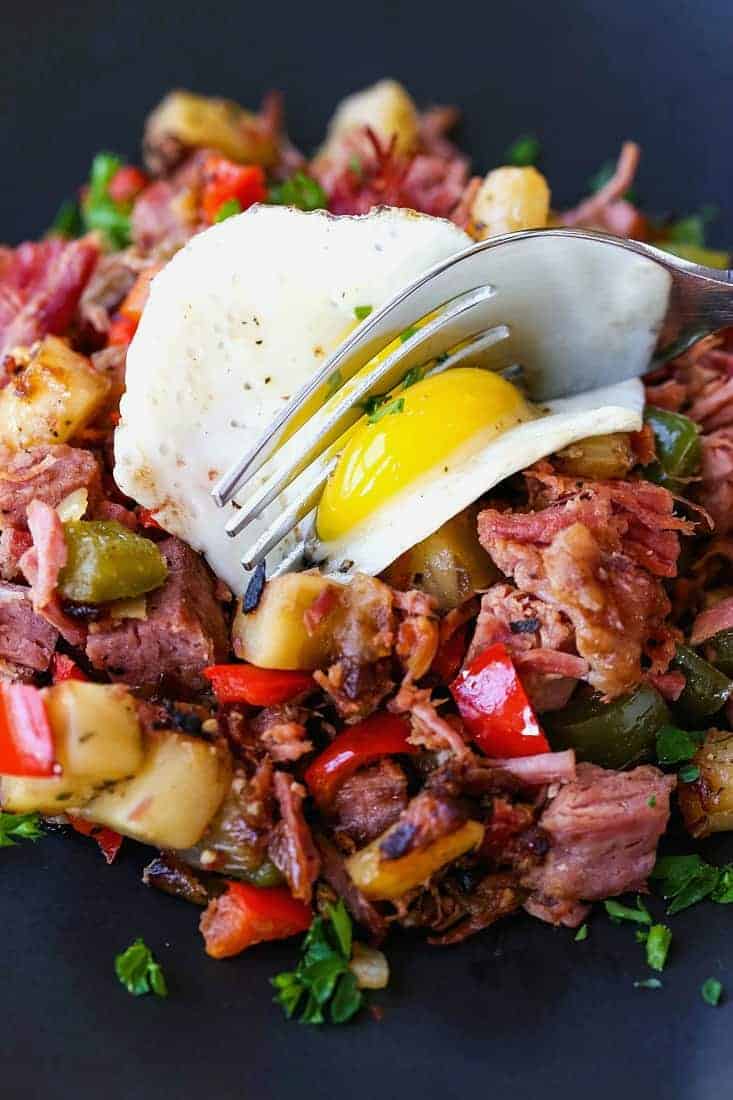 If you prefer a crispy, fried egg (we do) then make the in a separate frying pan. Or if you want to keep this a one skillet meal, make some wells in your hash and crack the eggs right in there. Place the whole skillet in the oven at 400 degrees until the whites of the eggs are set.
Cooking the eggs in a different skillet also makes it a little easier for portioning out this hash. Cook as many eggs as you need per person then top of your hash with one or two eggs…depending on how hungry you are!
Looking For More Leftover Corned Beef Recipes?
PIN IT!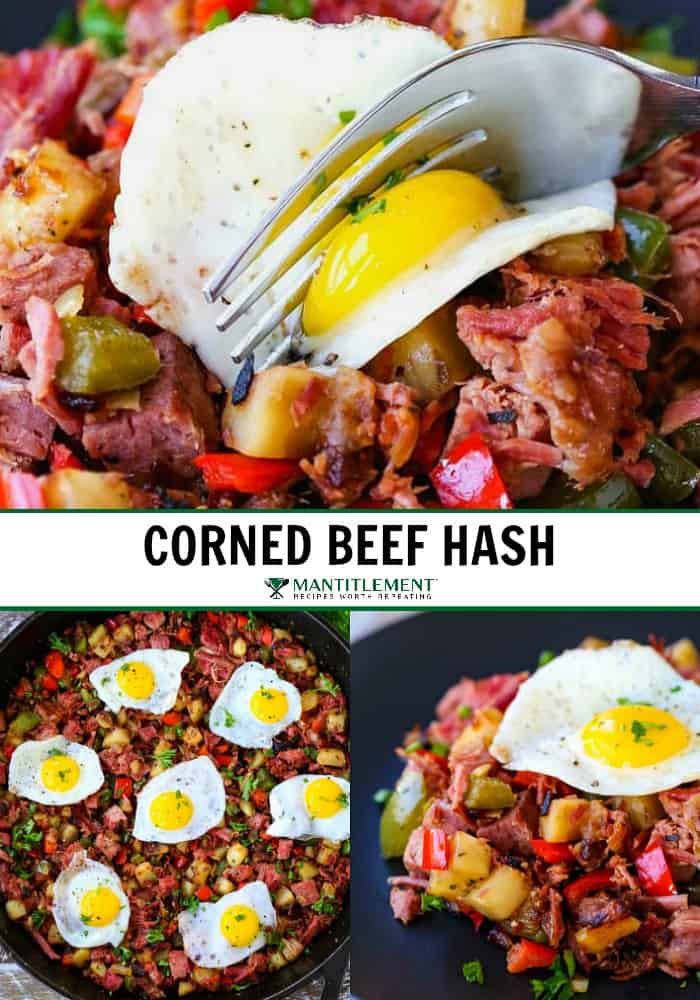 Print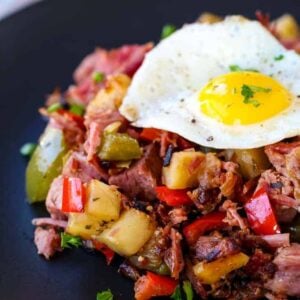 Corned Beef Hash
Author:

Prep Time:

10 minutes

Cook Time:

20 minutes

Total Time:

30 minutes

Yield:

6

1

x
This corned beef hash recipe isn't just for breakfast! Use your leftover corned beef from St. Patrick's Day, or grab some sliced corned beef from your deli!
Scale
Ingredients
2 tablespoons butter
1 pound potatoes, cut into small cubes (about 1/2″)
1 1/2 teaspoons kosher salt
Fresh ground black pepper to taste
2 1/2 cups diced bell peppers, any color
1/2 cup diced onion
3/4 pound leftover corned beef, cut into cubes
1 tablespoon Worcestershire sauce
1 tablespoon soy sauce
1 teaspoon Italian seasoning
2 teaspoons chopped garlic
Chopped fresh parsley for garnish
6 eggs for topping the hash
Instructions
Melt the butter in a large cast iron skillet over medium heat. Add the diced potatoes along with the salt and pepper and stir to combine with the butter.
Let the potatoes cook, stirring occasionally, until browned on the outside and tender, about 8-10 minutes.
Add the peppers and onions to the potatoes and cook for another 5 minutes.
Add the corned beef, Worcestershire sauce, soy sauce, Italian seasoning and garlic. Stir then flatten into a single layer in the skillet and cook, without stirring for 3-4 minutes so a crust forms on the bottom of the hash.
If you're cooking the eggs in the hash, make 6 wells into the hash and crack the eggs into the center of each well. Place the skillet in a 400 degree oven for about 5 minutes until the whites are set and the yolk is cooked to your desired consistency.
Alternately, you can cook the eggs in a separate skillet and serve on top of the hash.
Garnish with chopped parsley before serving.
Recipe Notes
*If you're using the oven method to cook your eggs, preheat the oven to 400 degrees before starting the hash.
Category:

breakfast

Method:

stove top

Cuisine:

American/Irish
Keywords: corned beef hash, corned beef hash recipe, leftover corned beef recipe, corned beef recipes, breakfast recipe, brunch recipes