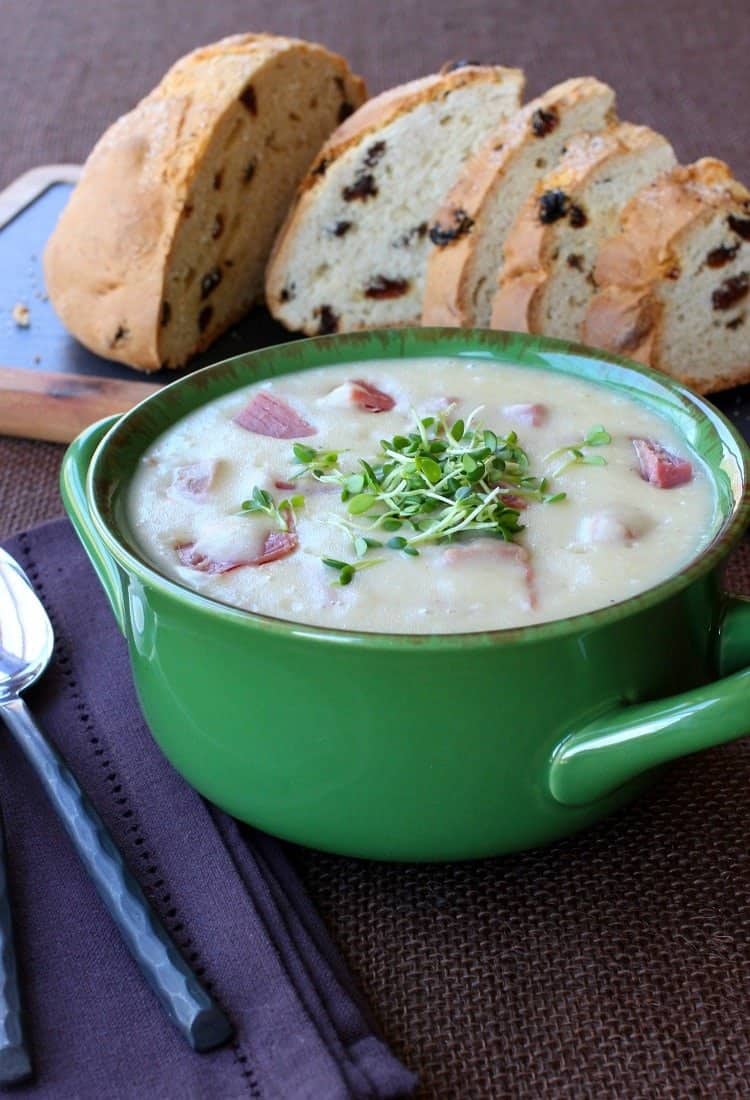 Creamy Potato and Corned Beef Chowder
Creamy Potato and Corned Beef Chowder will transform your corned beef leftovers into a delicious and hearty comfort food dinner!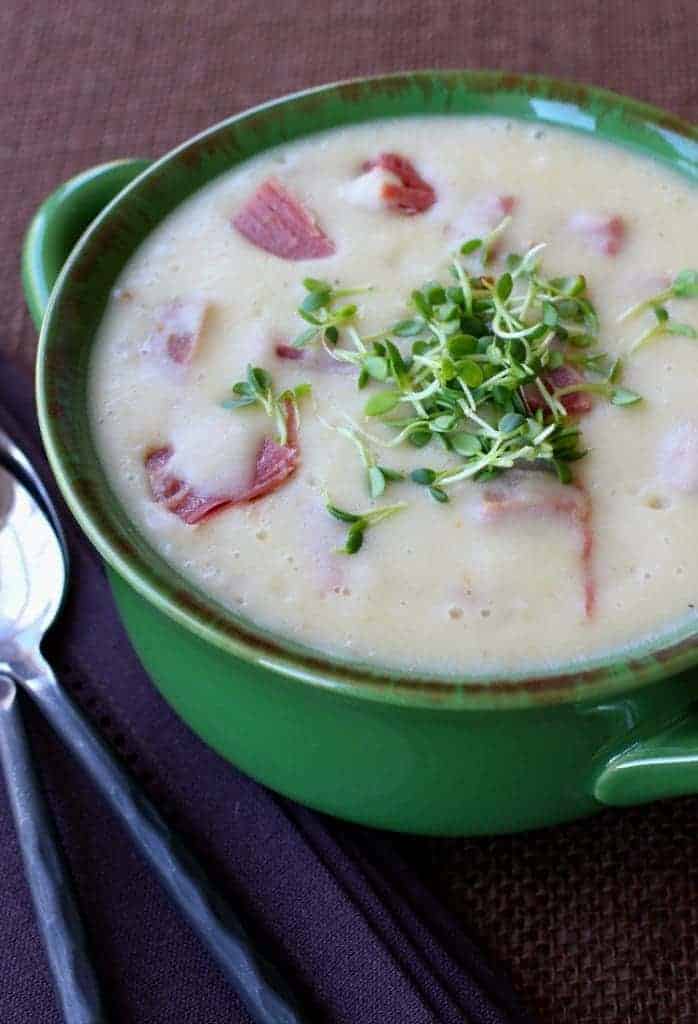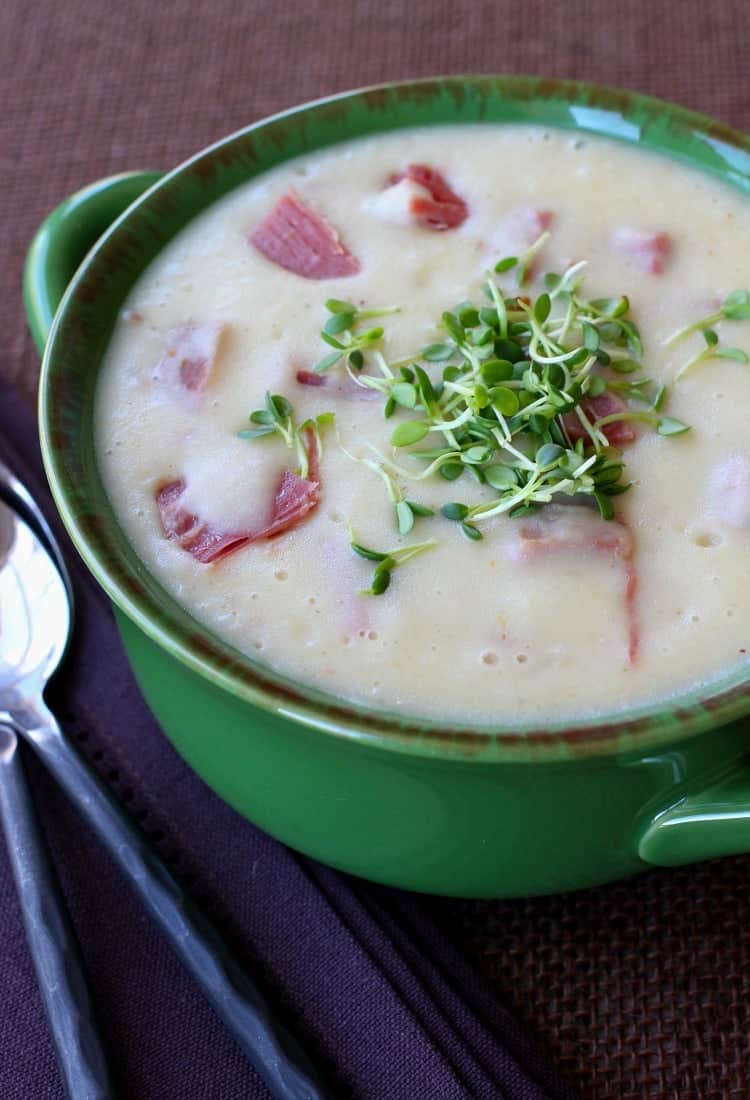 Leftovers. For some people leftovers are a problem, for us it's a fun challenge.
I can't believe that there are actually people out there that don't even eat leftovers – I mean not at all. Is that crazy or is it just me? I mean, those people must really like cooking. A lot.
And I think food eaten the next day tastes even better depending on the recipe…like this Beefy French Onion Soup, I could eat that all week.
Also, it's food. So I'm not going to throw it away just because we ate it the night before. I'm not a fan of wasting food, so if I have to, I'll turn it into something totally different that won't seem like the same exact dinner we already ate.
Enter this Creamy Potato and Corned Beef Chowder.
You're probably going to have some leftover corned beef after St. Patrick's Day, unless you've got my little guy hanging around that will keep picking at the leftover corned beef until it's gone. So when we know that we have awesome leftover recipes to make, like soup or maybe even these Corned Beef Tater Tots, we simply buy a bigger piece of corned beef.
We buy it FOR the leftovers. It's a whole thing you guys, I promise you.
So the base of this soup is like a baked potato soup, but this one has shredded cabbage in there too. We've got to get some veg in there too, right?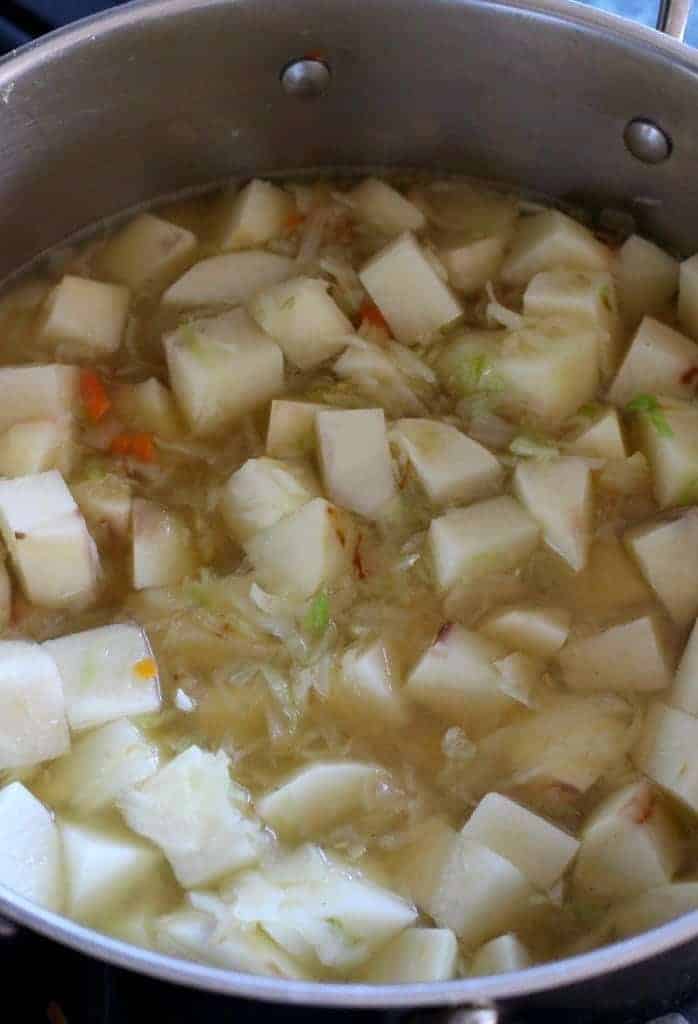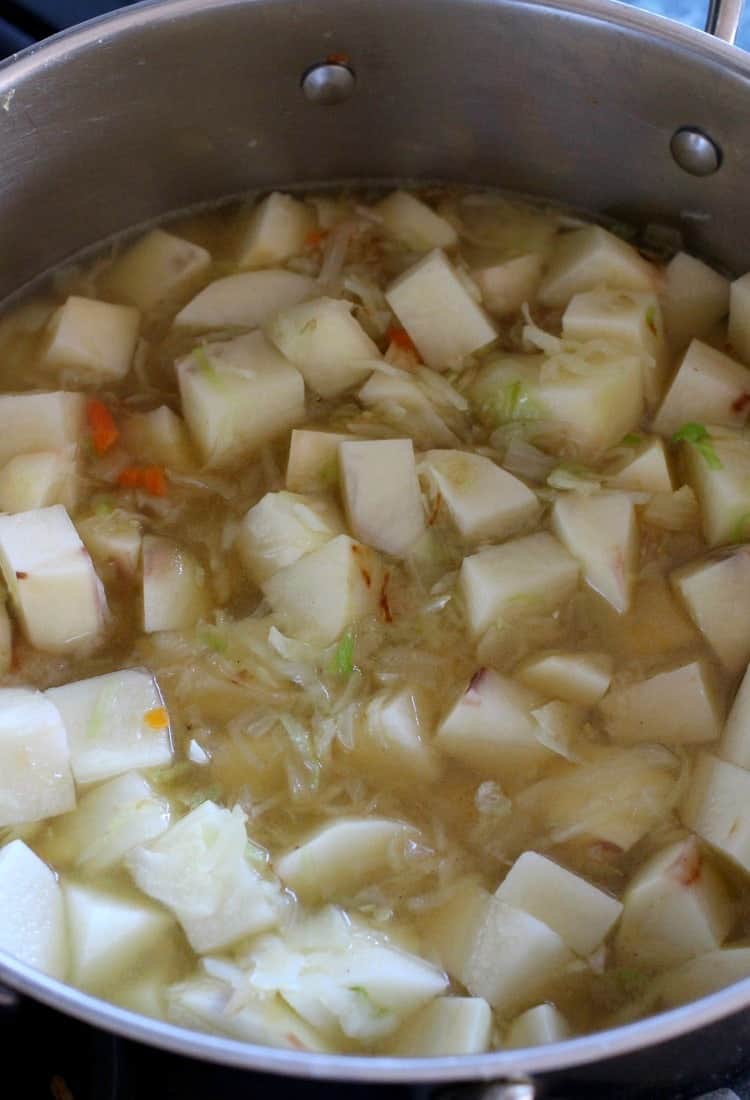 If you have leftover cooked cabbage from St. Patrick's Day…throw it in. Don't run out and buy more cabbage, but for this recipe I used a bag of coleslaw mix and dumped it right in.
You're going to need about three heaping cups of corned beef for this Creamy Potato and Corned Beef Chowder so try and plan ahead. Sneak some into the fridge before you serve it to the family.
Or if you really want to make this soup but don't want to cook a whole corned beef just get some thick diced from the deli counter, chop it up and get it in the pot.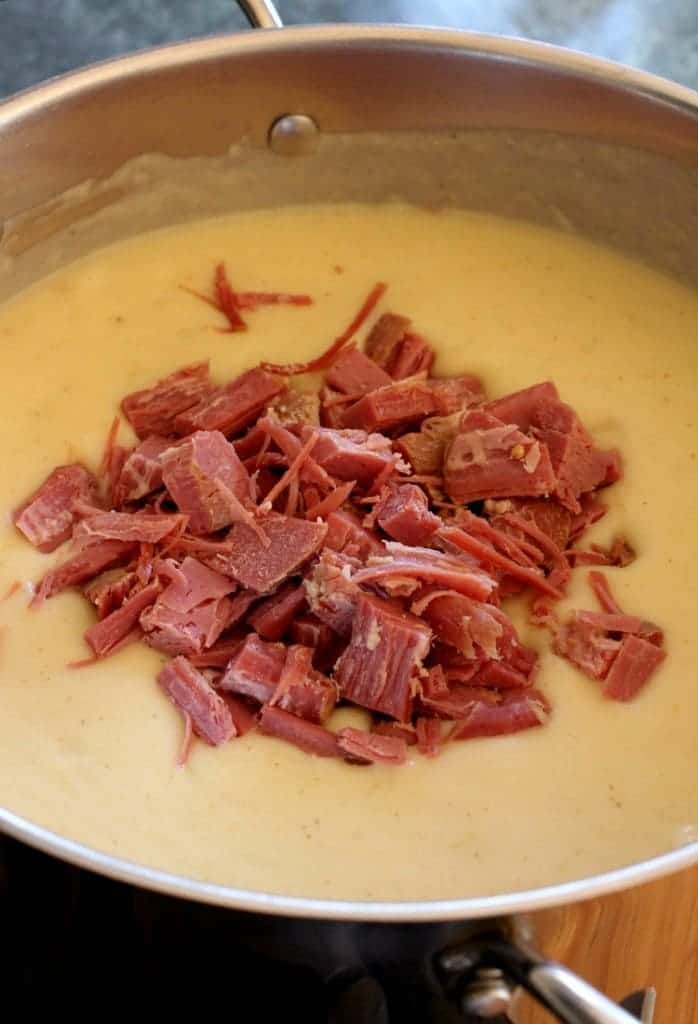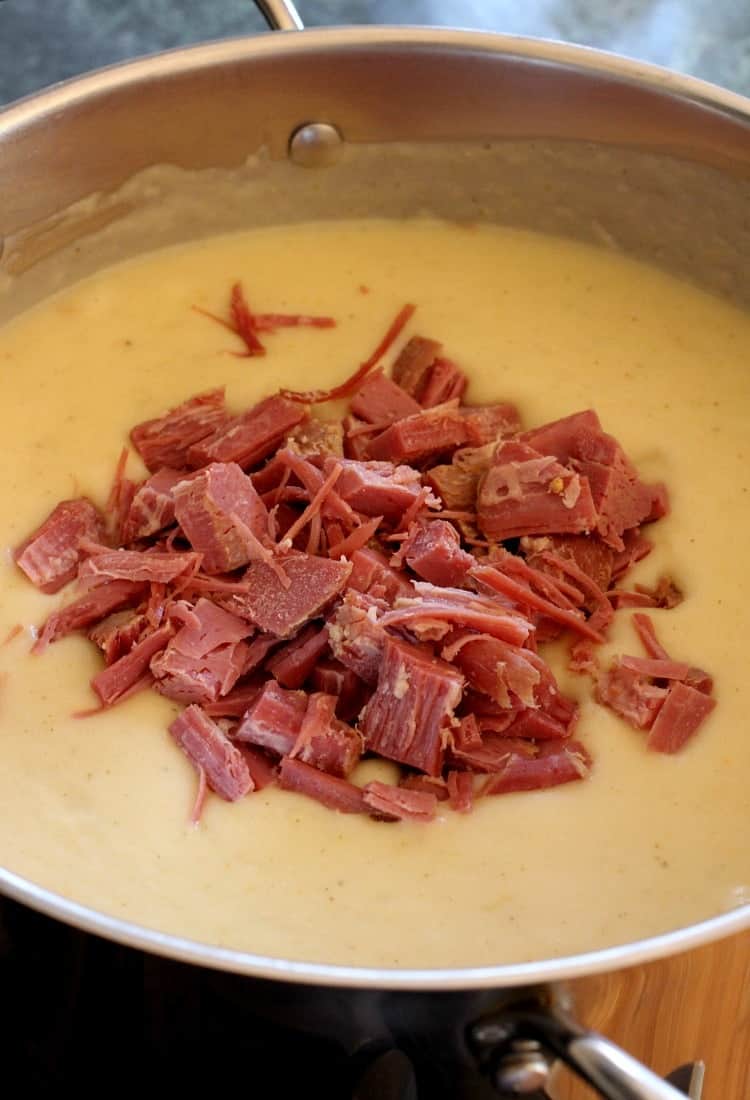 You'll be happy you did – this stuff is out of control good.
We had these sprouts leftover from our Corned Beef Irish Nachos so I thought they'd look good for garnish. Turns out they tasted pretty darn good on the soup too so it worked out all around.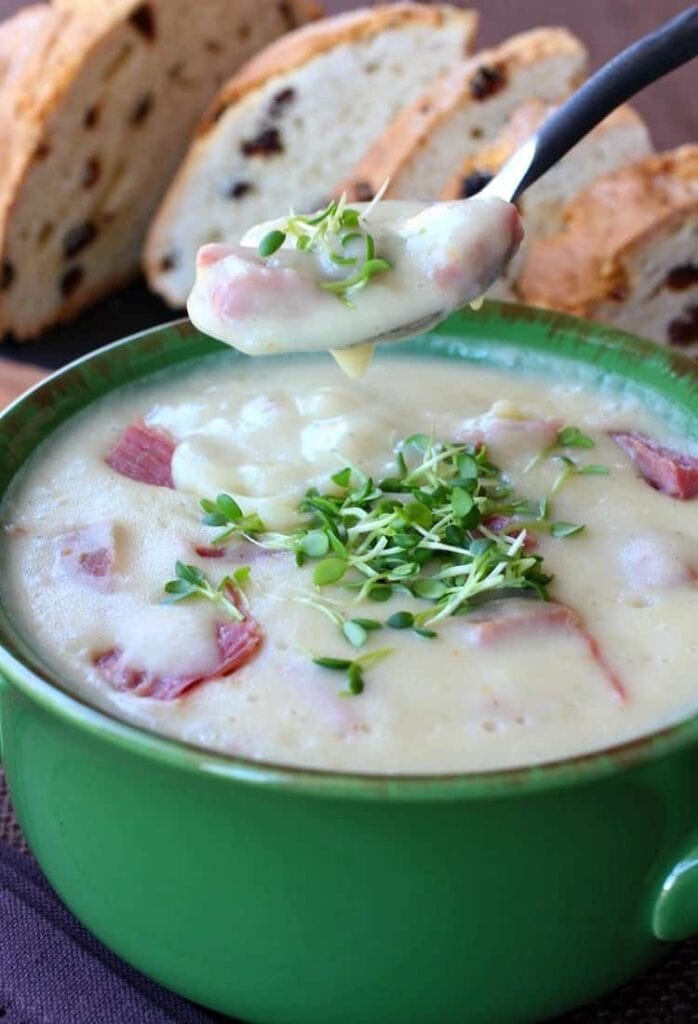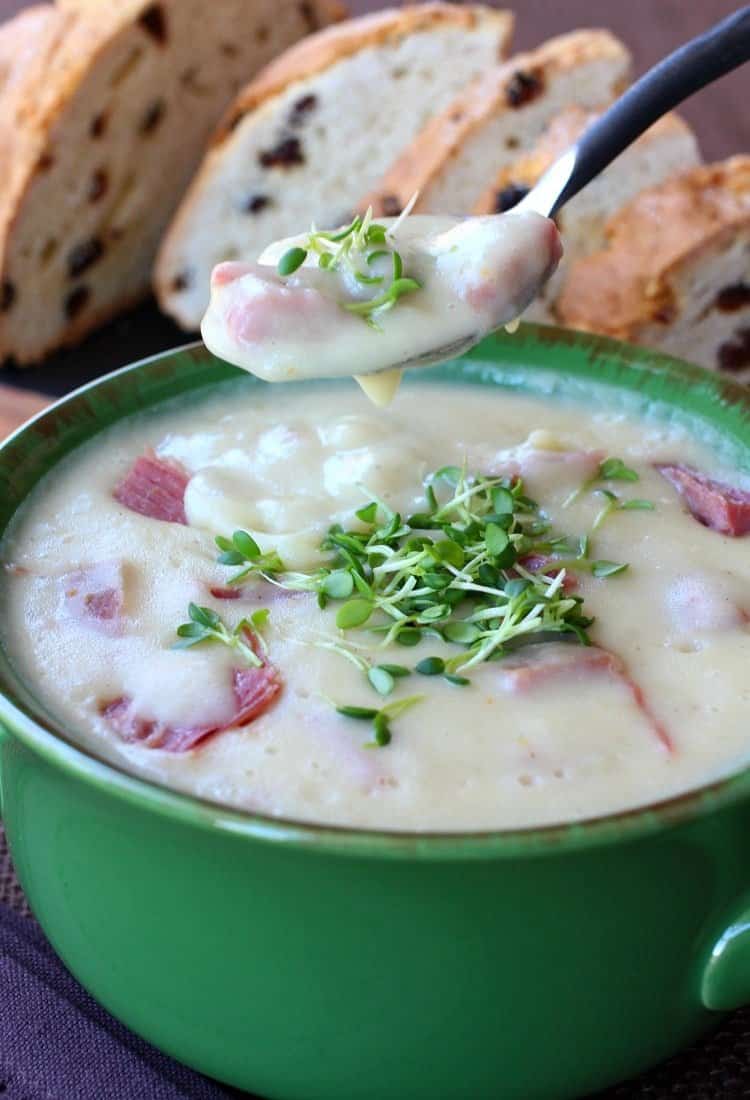 Grab a few beers and get this pot of soup on the dinner table. We can keep on celebrating all weekend long!
Check out the other way we use up our corned beef in these homemade tater tots!
Print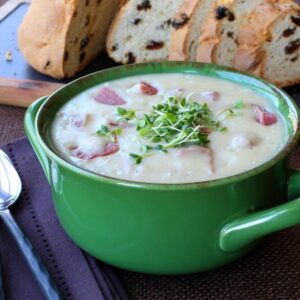 Creamy Potato and Corned Beef Chowder
Author:

Yield:

8
---
Ingredients
1 tablespoon olive oil
1 medium onion, chopped
1 (14 oz.) bag Coleslaw mix or shredded cabbage
3 lbs. russet potatoes, peeled and diced
6 cups chicken broth
2 1/2 teaspoons salt
1 teaspoon pepper
1 teaspoon celery salt
1 teaspoon garlic powder
1 cup heavy cream
3 cups diced leftover corned beef
Sprouts for garnish, optional.
---
Instructions
heat the oil in a large soup pot over medium heat.
Add the onions and cabbage and cook until softened, about 8 minutes.
Add the potatoes, seasonings and chicken broth and stir.
Cover and simmer for 30 minutes.
With an immersion blender, puree the soup until smooth, or until desired consistency.
Pour in the cream and corned beef, stir to combine and serve.
Garnish with sprouts if desired.