This Creamy Potato and Corned Beef Chowder is tasty way to use up leftover corned beef! Comforting potato chowder with tons of corned beef!
Make sure you try our delicious Crock Pot Corned Beef! We like to make more than we need so we can make leftover recipes like this soup or Corned Beef Hash and Fried Eggs! Made Roasted Cabbage, too? You can use those leftovers in this soup recipe too!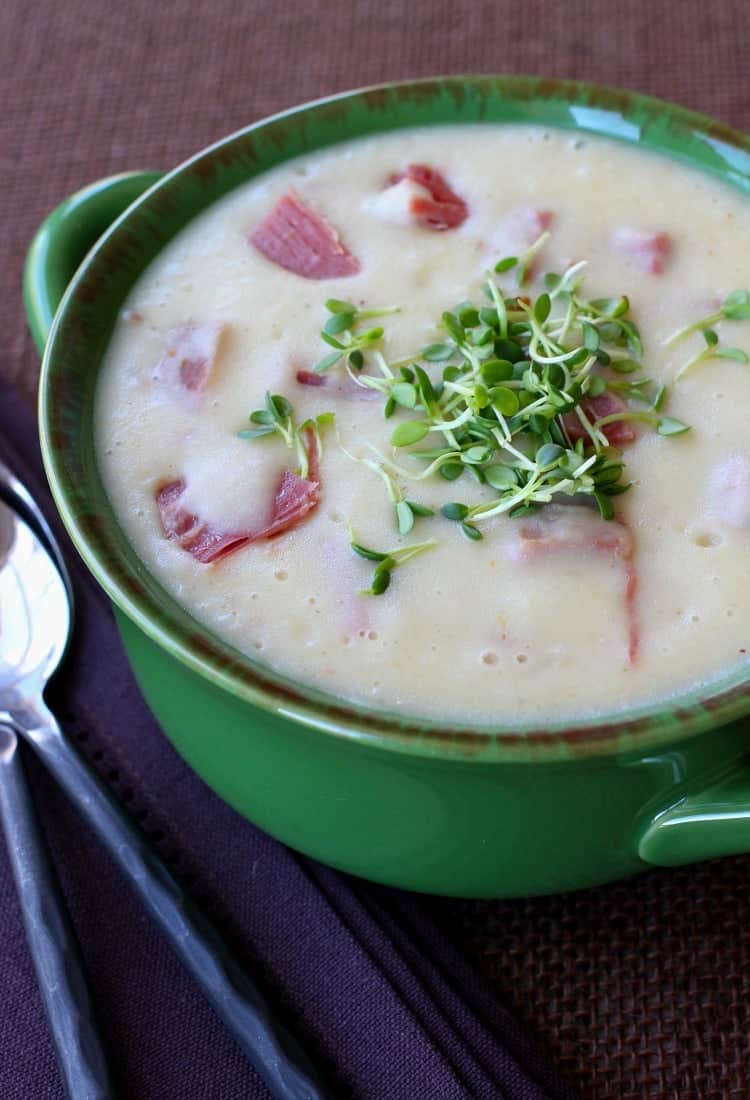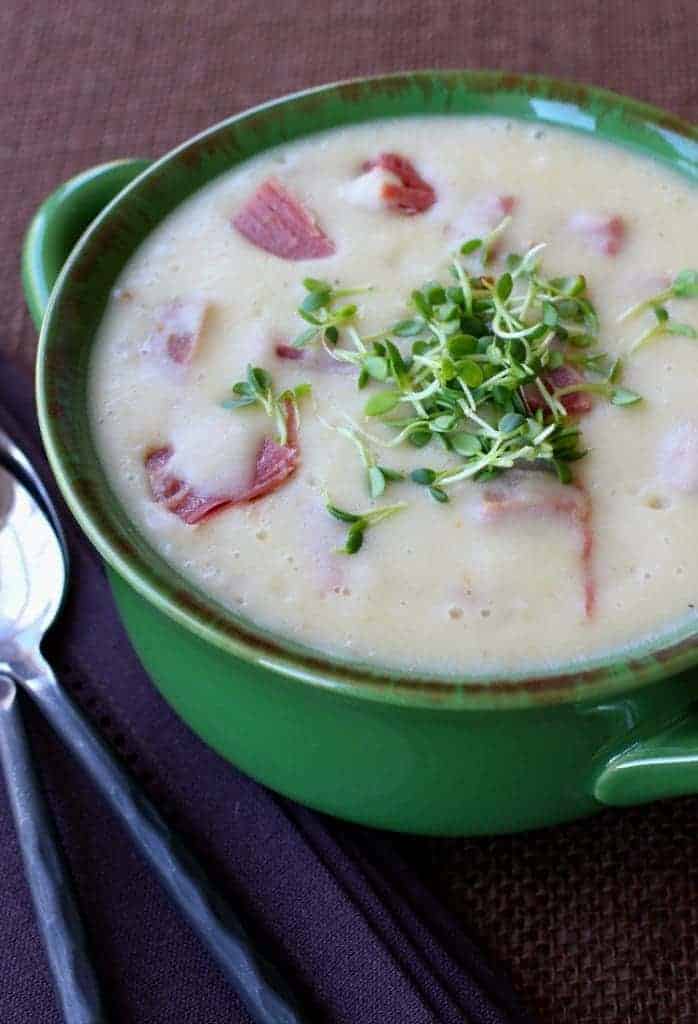 Leftover Corned Beef Recipes
Leftovers. For some people leftovers are a problem, for us it's the best part about cooking.
I can't believe that there are actually people out there that don't even eat leftovers – I mean like not at all. Is that crazy or is it just me? I mean, those people must really like cooking…
Here's a few more leftover corned beef recipes you can try!
Or you can make this delicious Creamy Potato and Corned Beef Chowder.
The base for this soup recipe is like a baked potato chowder, but with shredded cabbage and corned beef.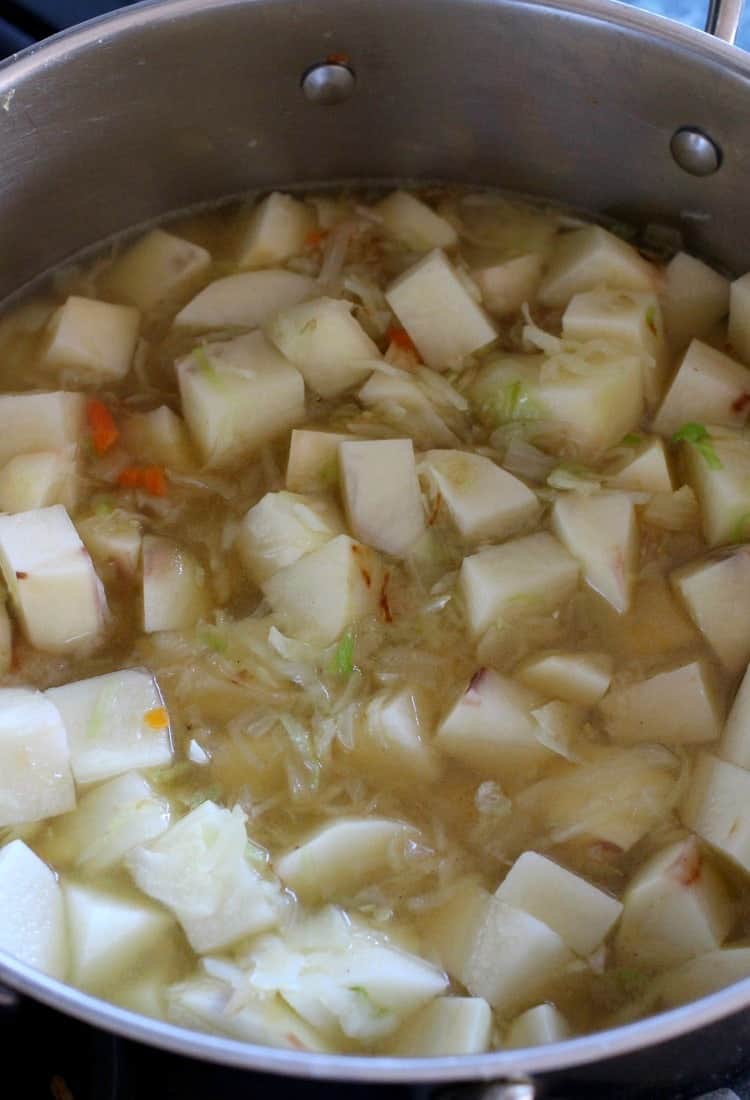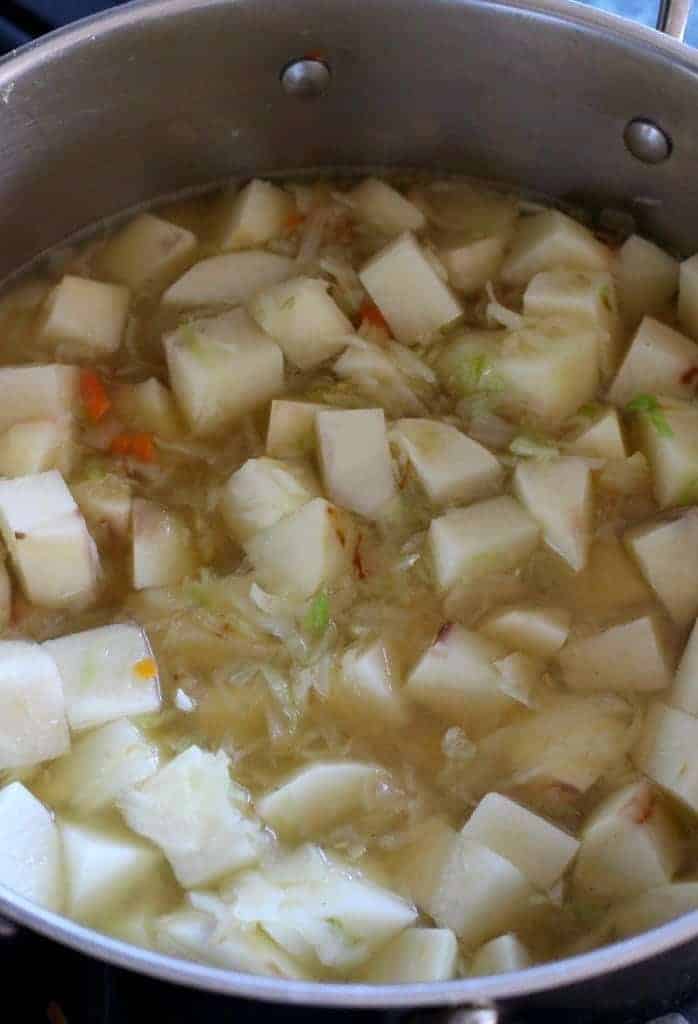 If you have leftover cooked cabbage from St. Patrick's Day you can throw that in here too. Don't run out and buy more cabbage, it's another great way to use up your leftovers!
For this soup recipe you are going to need about three heaping cups of corned beef so definitely plan ahead when you pick out the size of corned beef you're going to be making for dinner.
So I guess as opposed to some people that don't like leftovers, we actually make larger amounts of food so we have leftovers to make soup recipes like this one.
Also, if you really want to make this soup but don't want to cook a whole corned beef you can head to your deli and have them slice some up on the thicker side for you.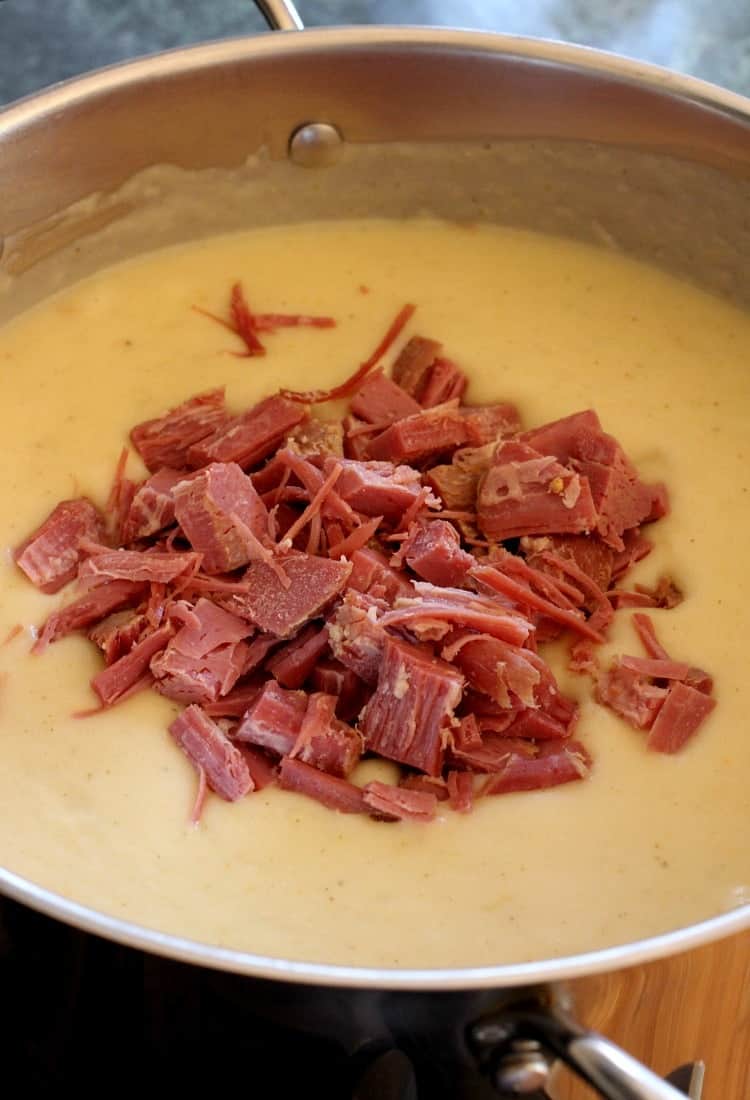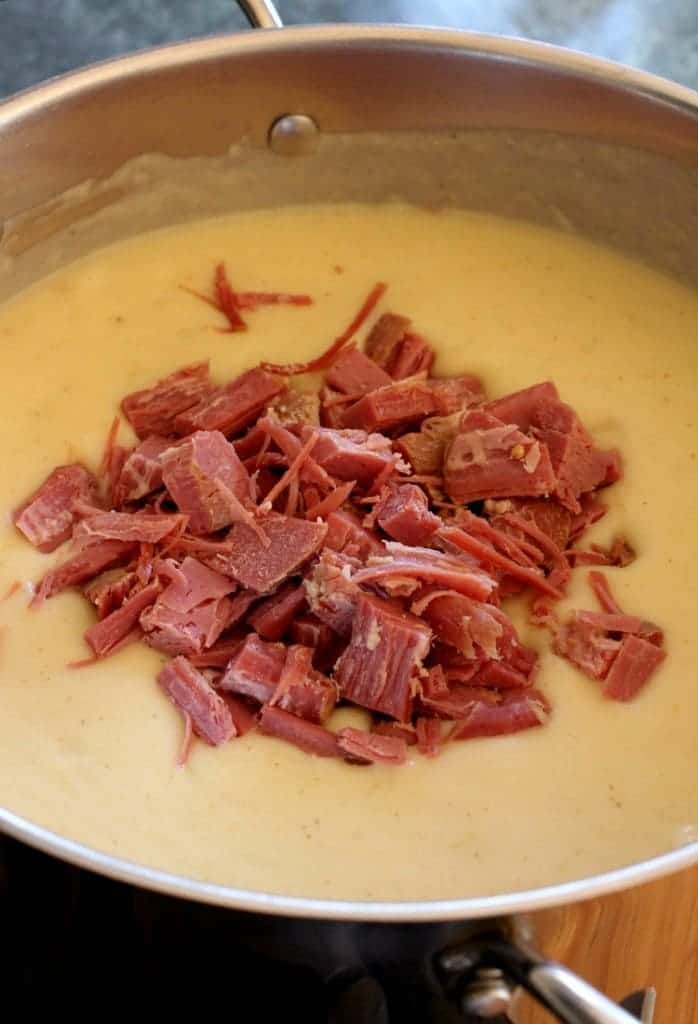 Corned beef is something I've never gotten before at my deli counter, until I started making all these leftover corned beef recipes – and absolutely loving them.
I mean, sometimes you just don't have a whole corned beef laying around, ready to cook. So take a few shortcuts!
We also had these sprouts leftover from our Corned Beef Irish Nachos so I thought they'd look good for garnish. Turns out they tasted pretty darn good in the soup, too so it worked out all around.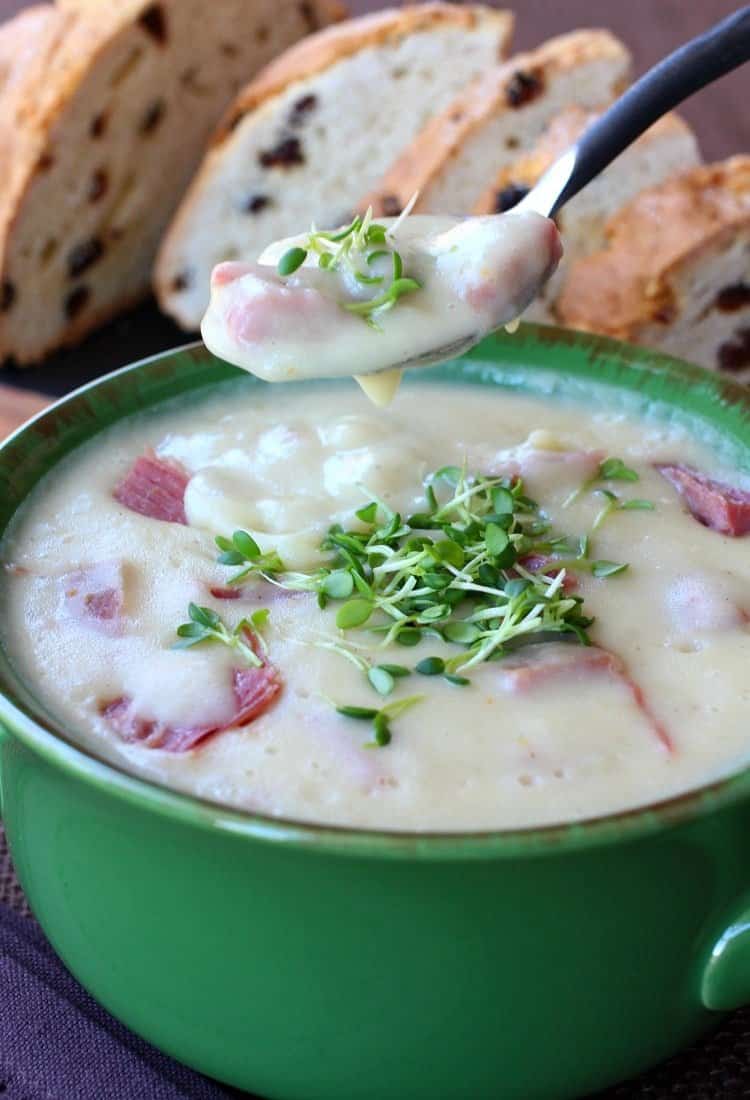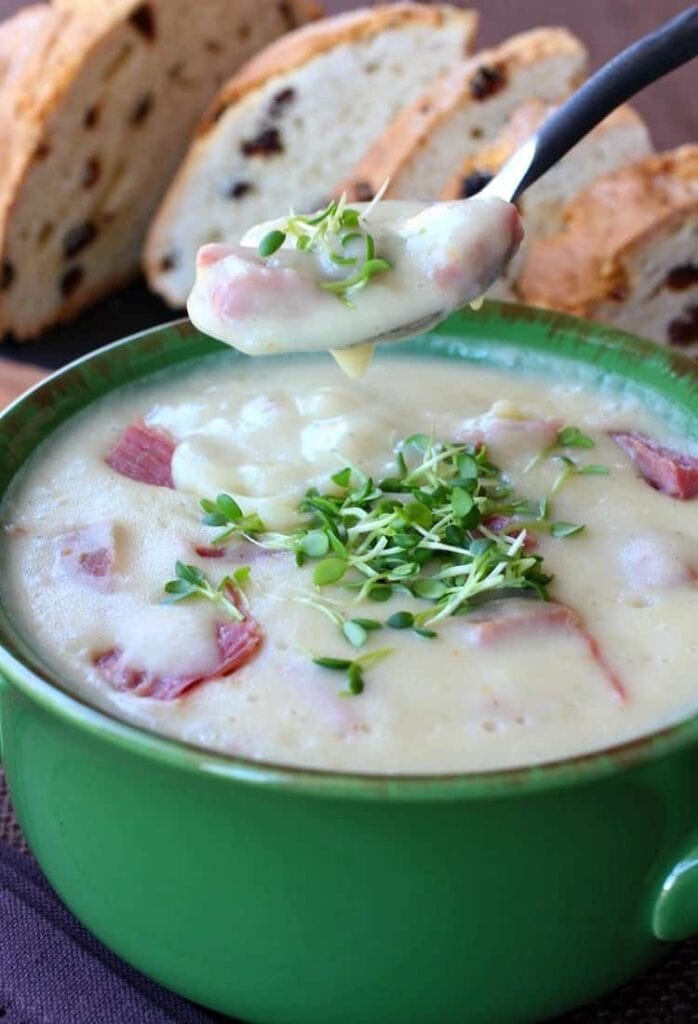 Garnish is another thing I've learned that really makes a difference in recipes. Even some chopped parsley or scallions can really make the flavor pop in your food, so try and get the garnish on there!
Grab a few beers and get a pot of this soup on the dinner table. We can keep on celebrating all weekend long!
Print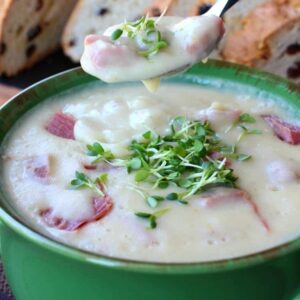 Creamy Potato and Corned Beef Chowder
Author:

Prep Time:

15 minutes

Cook Time:

35 minutes

Total Time:

50 minutes

Yield:

10 servings
This comforting soup recipe is made with leftover corned beef, but you can also grab corned beef right from your deli!
Ingredients
1 tablespoon olive oil
1 cup diced onion
1 (14 ounce) bag coleslaw mix or shredded cabbage
3 lbs. russet potatoes, peeled and diced
6 cups chicken broth
2 teaspoons kosher salt
1 teaspoon black pepper
1 teaspoon celery salt
1 teaspoon garlic powder
1 cup heavy cream
3 cups diced leftover corned beef
Sprouts for garnish, optional
Instructions
Heat the oil in a large soup pot over medium heat.
Add the onions and cabbage, cooking until the cabbage is wilted and the onions are soft, about 7-8 minutes.
Add the potatoes, chicken broth, salt, pepper, celery salt and garlic powder to the pot. Stir and bring to simmer for 30 minutes, covered.
Blend the soup using a stick blender, or let the soup cool and transfer to a regular blender. Blend until smooth.
Add the cream and corned beef, heat until warmed through and test for seasonings.
Garnish with sprouts if desired.
You can blend the soup but still leave some of the potatoes whole, it doesn't have to be perfectly smooth.
Category:

Soup

Method:

Stove Top

Cuisine:

American
Keywords: chowder, soup recipe, leftover corned beef, comfort food, potato chowder
Last updated on Dec 7, 2023 5:57 pm