Crock Pot Corned Beef is so easy, you don't have to save it just for St. Patrick's Day! Super tender and juicy, and the leftovers are amazing!
We love easy crock pot recipes like this for dinner. Also try our Crock Pot Sausage and Peppers for the most tender, juicy sausage or these Overnight Slow Cooker Ribs – both perfect for parties!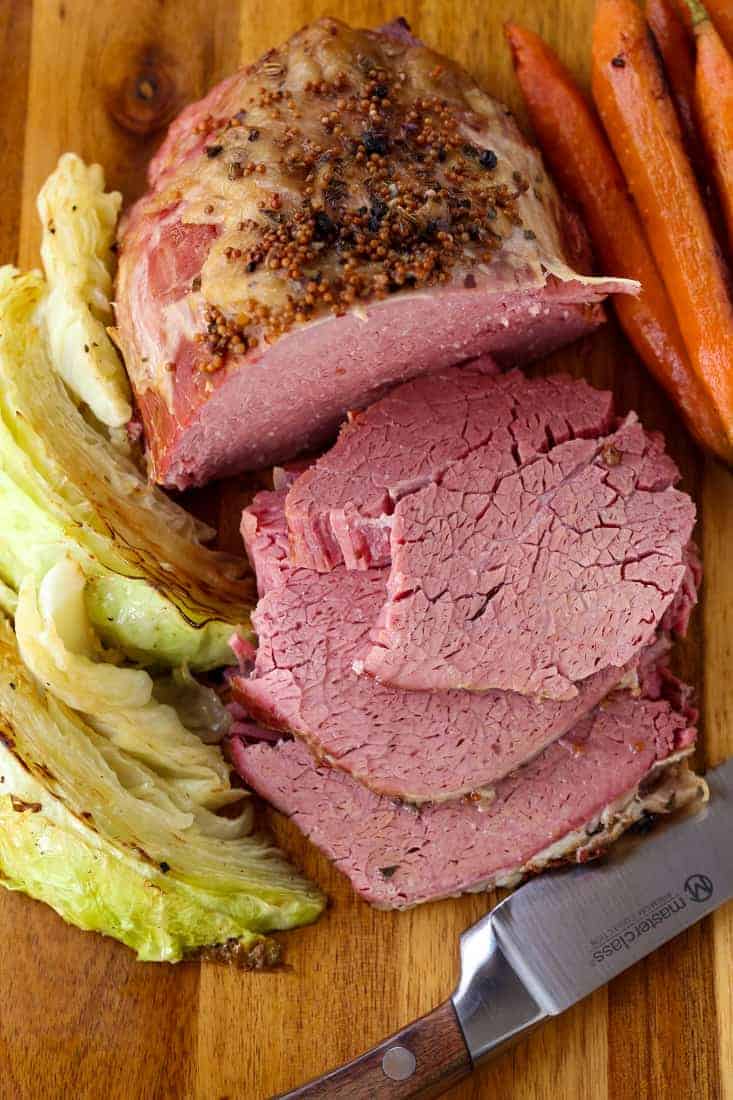 Slow Cooker Corned Beef Recipe
Making corned beef in your crock pot is such an easy dinner recipe for parties, or just a family dinner at home. It's such a simple recipe that provides all the comfort food, holiday vibes you're looking for.
To properly braise the corned beef you only want the liquid to come up about halfway over the meat. Completely covering the beef would produce a boiled corned beef, which isn't what we are looking for in this recipe.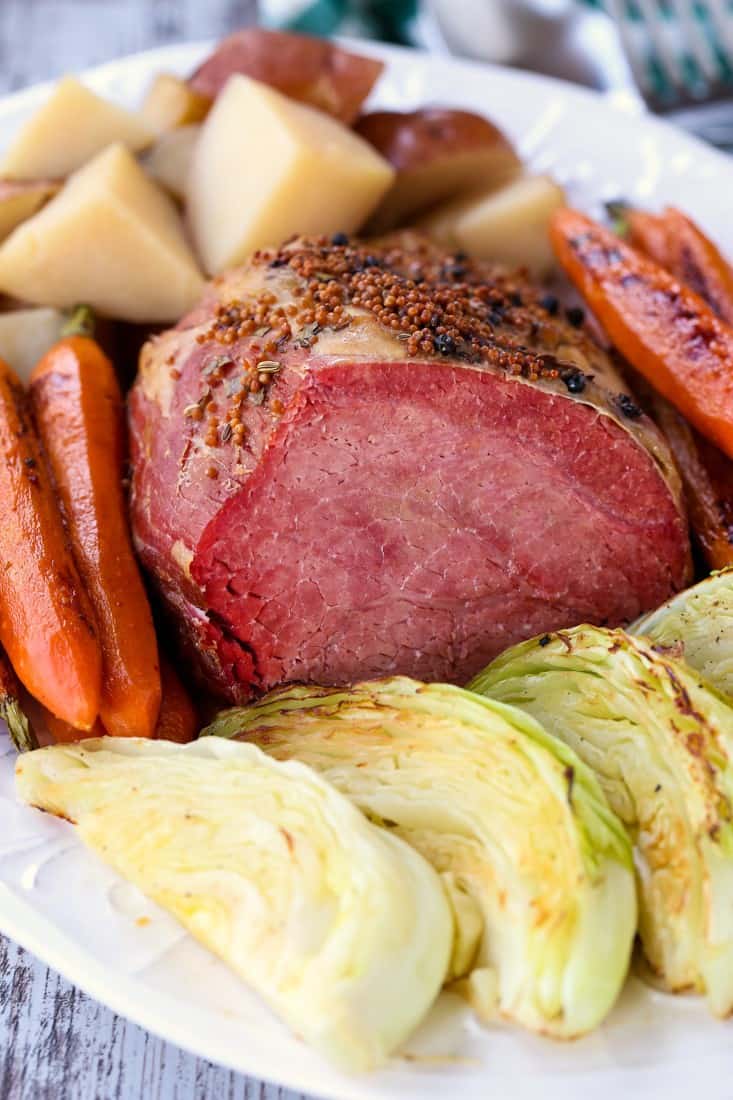 We like adding cabbage and potatoes to the crock pot too, but not until the last 3 hours of cooking time. Otherwise the potatoes and cabbage are going to end up mushy. But the cabbage also adds a ton of flavor to the corned beef as it is cooking.
The potatoes will be tender and flavored with the broth from the corned beef, we like smashing them on our plates and adding a few slices of butter.
You can also try our Roasted Cabbage Recipe if you like some more flavor to your cabbage, but definitely add some to your crock pot too so it can add flavor to this easy corned beef recipe.
What Is Corned Beef?
People seem to be very confused about corned beef, and I get it, I was too. Corned beef is made from a cut of beef called brisket. Brisket is a tougher cut of meat so it's normally braised or smoked, or used in slow cooker recipes, or in this case brined.
Corned beef is made though a long curing process that uses large pieces of rock salt, otherwise known as corns. The "corns" are mixed with a liquid marinade called a brine. Then the corned beef can be cooked using your method of choice, producing a very tender cut of meat.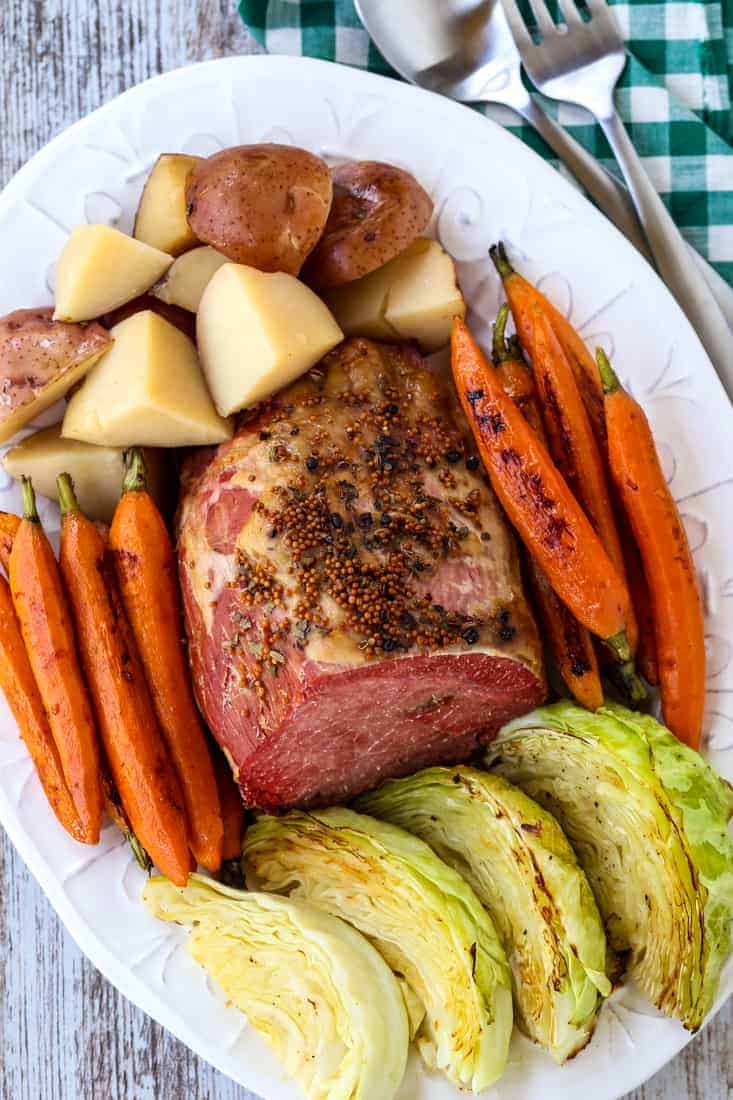 How Long Does Corned Beef Take To Cook?
Ideally, this corned beef recipe is better cooked on the low heat setting because I feel like it makes a more tender, flavorful corned beef.
But you can cook this recipe on the high heat setting, for about half the time, and it still will be super delicious. If you do have the time to let it cook, the low setting is definitely the better choice.
All around if you're looking for a super tender corned beef, this crock pot recipe is the way to go!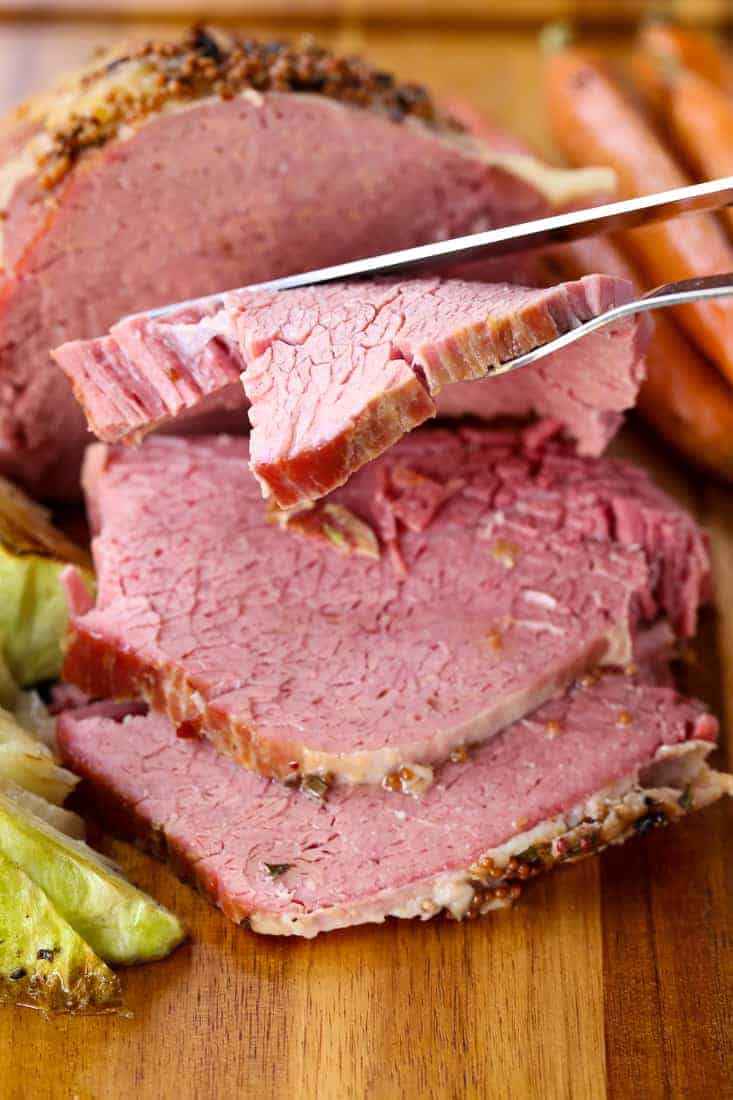 Can You Overcook Corned Beef?
You absolutely can.
Like many low and slow cooked foods, people tend to think that you want a falling apart, "falling off the bone" texture. This might apply in some cases but for the most part, you want t super tender end product but if you cook it too long the meat will end up mushy.
Been there done that, which is why we love using this easy corned beef recipe because it comes out perfectly every time. Still in tact enough to slice, but very tender.
But for fork tender, crazy juicy hands-off corned beef, it's the slow cooker for the win.
Because we know you're busy making all the side dishes and fun food for your St. Patrick's Day party…you don't need to be worrying about the corned beef in the oven, too.
What Side Dishes Can I Serve?
This corned beef recipe comes with the sides already! We also love roasting carrots in the oven with salt, pepper and olive oil. But here are some other great side dish recipes fro you to choose from!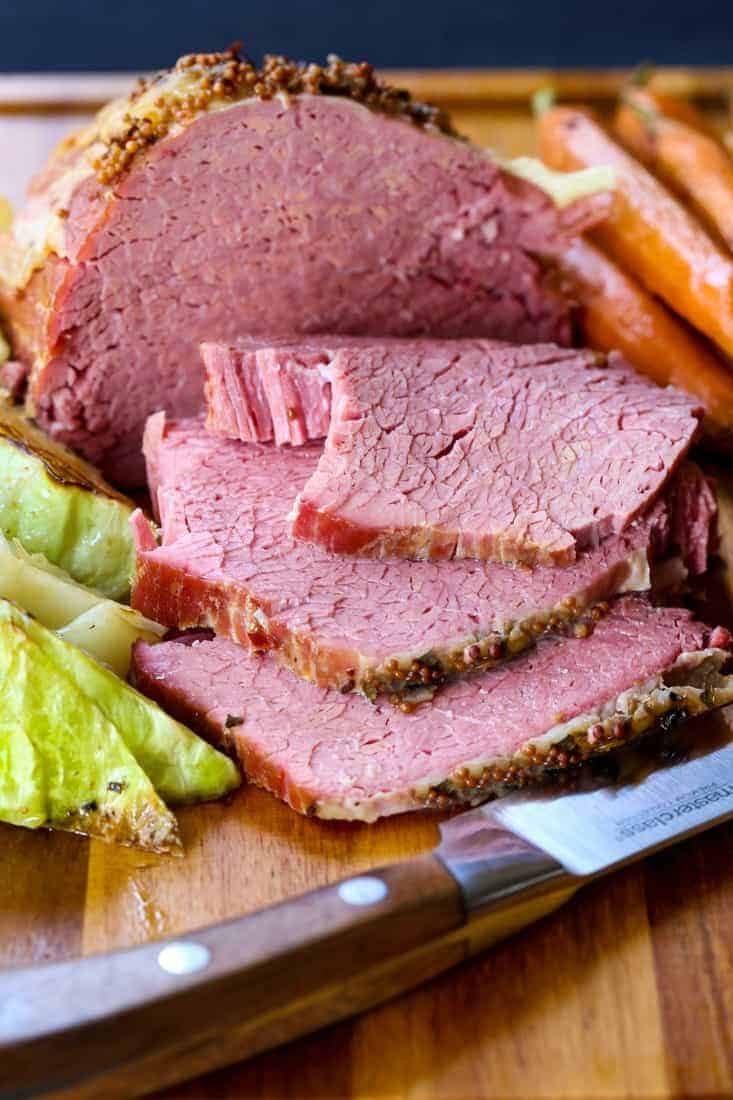 Leftover Corned Beef Recipes
Leftovers? We've GOT you. Any of these leftover recipes are going to be a hit! We actually find ourselves making larger pieces of corned beef than we need just to make these delicious leftover recipes!
Print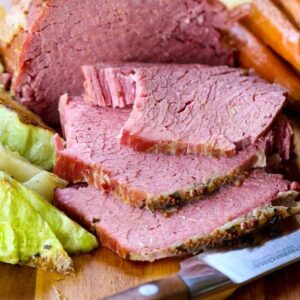 Crock Pot Corned Beef
Author:

Prep Time:

10 minutes

Cook Time:

8 hours

Total Time:

8 hours 10 minutes

Yield:

1

0

1

x
Love crock pot corned beef? Here's a pro tip: add a splash of white wine during the cooking process to bring out the flavor even more. You won't regret it!
Scale
Ingredients
4

–

5

pound corned beef and pickling spices

2

pounds red potatoes, cut into

four

ths

1

head of white cabbage

1/2 cup

white wine

1/2 cup

chicken broth
Instructions
Rinse the corned beef and pat dry with paper towels. Add the corned beef to a crock pot and add the pickling spices included in the package to the top of the corned beef.
Pour in the wine and chicken broth, then add water to come about halfway up the side of the corned beef. if you have a thinner cut of corned beef, you might not even need to add water. Just make sure you half liquid only halfway covering the meat of else it will boil instead of braise.
Cook on low for 4 hours.
After 4 hours, add the potatoes and cabbage to the slow cooker, tucking down into the liquid as much as possible.
Cook for another 3-4 hours then remove the corned beef to a cutting board. Place the cabbage and potatoes into bowls, then slice the corned beef and serve.
Category:

dinner

Method:

slow cooker

Cuisine:

Irish
Keywords: corned beef and cabbage, corned beef recipe, slow cooker corned beef, crock pot corned beef, st. patricks day recipes