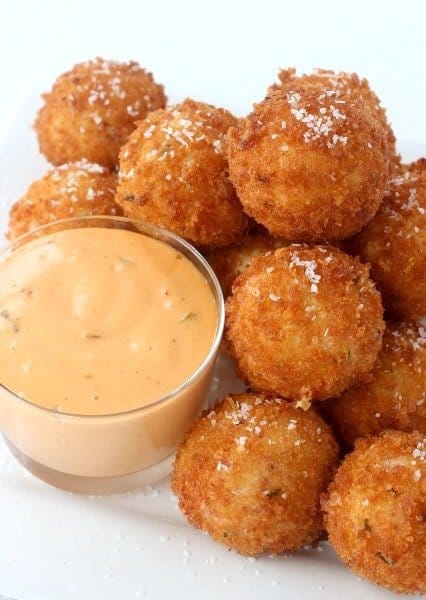 These Reuben Fritters are another tasty way to turn leftovers into party food…and if you don't have leftovers just grab some corned beef from the deli!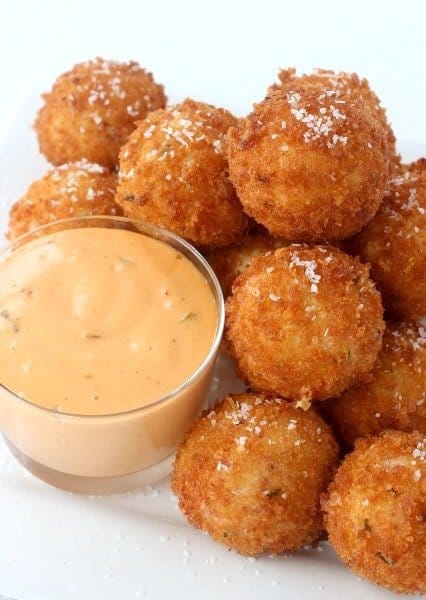 These fritters are awesome party food or just some snacks for the next day.
My sister in law told Christie about these after watching an episode of Diners Drive-in's and Dives. Do any of you watch that show? It's deadly. It's on at night after dinner for us so we just sit there and watch episode after episode to get ideas…and then we're starving.
And I really hate going to bed hungry so that usually turns into snack time for me.
After looking it up, the recipe on Food Network is for like 10,000 of these Reuben Fritters. So we had to figure out the proportions for a normal size batch. We also ended up adding a few of our own flavors to these fritters so I'm thinking they might be right up there with the ones we saw on Triple D.
If you have leftover corned beef from St. Patrick's Day this recipe is perfect. If you don't just head over to the deli and grab some corned beef there – either way these are pretty easy.
Chop up the corned beef and mix it up with some cream cheese and seasonings then roll them into golf ball sized balls. We used a 1 1/2 tablespoon scooper to get them all the same size.
Set up a quick breading station with flour, eggs and panko bread crumbs and start breading.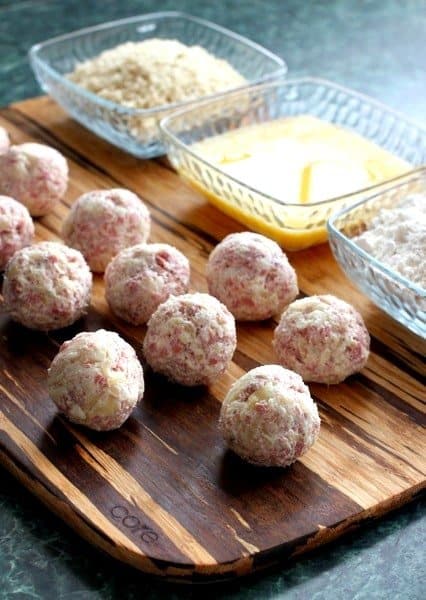 Drop your fritters into a large pot of canola oil that's at about 350º. If you don't have a thermometer you can stick the handle of a wooden spoon in the oil and if bubbles form all around it you're at about 350º.
Fry up these Reuben Fritters for 4 minutes until they're golden brown then remove to a paper towel lined plate to cool.
Season them when they're still hot with some kosher salt and try to wait a couple of minutes if you can before you start dipping.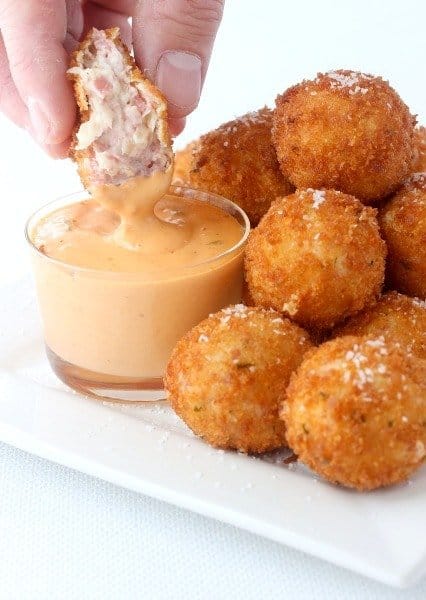 We've got one more awesome snack coming up this week for your St. Patrick's Day celebration…and of course there will be cocktails too!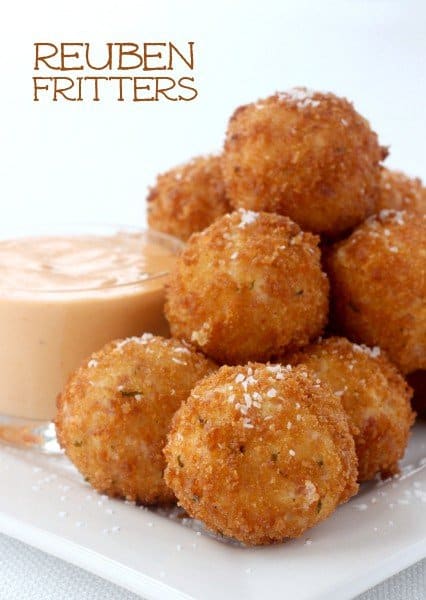 Print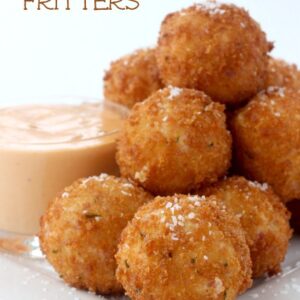 ---
Description
Makes approximately 30 fritters
---
Ingredients
3/4

lb. corned beef, chopped (you can use leftover corned beef or get it at the deli)

1

c. shredded mozzarella cheese

2

c. sauerkraut, rinsed

6 oz

. cream cheese at room temperature

1/2

t. garlic powder

1/4

t. salt, plus extra for seasoning the fritters

1

T. dijon mustard

2

eggs, beaten

1/2

c. flour

1 1/2

c. panko bread crumbs
vegetable or canola oil for frying
thousand island dressing for dipping
---
Instructions
Set a large pot filled half way with canola or vegetable oil over medium heat. You're looking for the oil to get to about 350º. If you have a thermometer that works best but a good way to check is to put the end of a wooden spoon in the oil, if it bubbles you're good.
Combine the corned beef, mozzarella cheese, sauerkraut, cream cheese, garlic powder, salt and dijon in a large bowl.
Beat together with a hand mixer until well combined.
Using a 1 1/2 tablespoon scoop, portion out the filling into balls.
Set up a breading station with three bowls, one for the flour, one for the eggs and another for the panko.
Dip each ball into the flour first, then the egg and last the panko.
Repeat until all the fritters are breaded.
Once your oil reaches temperature, carefully drop about 6-8 fritters at a time into your oil and fry for 4-5 minutes until golden brown.
Remove to a paper towel lined plate to cool and season with kosher salt.
Repeat until all the fritters are fried and serve with the thousand island dressing for dipping.