This Bourbon Caramel Apple Dip is the easiest, most addictive adult dessert for your Halloween party.
This week I'm going to be giving you some "adult" treats for your Halloween parties that you're hosting for the kids. Because the adults have to have fun too right?
We live in "the neighborhood" to go trick or treating in. It's pretty much one of the only neighborhoods around so the kids come by car loads.
We also have one of the houses that a lot of people end up hanging out at – at the end of the cul de sac, with the bon fire and all the food.
Halloween is definitely an event in our house, we have Halloween decorations (a Halloween Tree, but everyone has one of those, right?) I think we have just as much fun as the kids do.
After all the kids run around trick or treating a group of friends end up in front of our house eating hot dogs and chili. And of course, there's also lots of beer and cocktails.
My father in law took all the kids apple picking a couple of weekends ago and my wife came home with tons of apples. I'll tell you, my kids can eat apples like there's no tomorrow. I swear they eat five a day. But there was a lot…
That's when I got the idea for this Bourbon Caramel Apple Dip. You know that caramel dip you can buy right in the produce section at your grocery store? Grab a tub, throw the whole thing into a sauce pan and let it slowly heat up. Add in 4 shots of Apple Bourbon and stir. We used Berentzen's new Bushel & Barrel Apple Bourbon, it's definitely one of the most flavorful apple bourbons that I have tasted, so I thought this would go perfectly with the caramel.
And it's great for just sipping, too!
And now you're done.
Slice up some apples and start dipping.
This recipe would also be a great crock pot dessert if you bought a few tubs, added the bourbon and just let it heat up (and also stay warm that way)
The kids will have all their Halloween candy, so you can tell them to leave your Bourbon Caramel Apple Dip alone!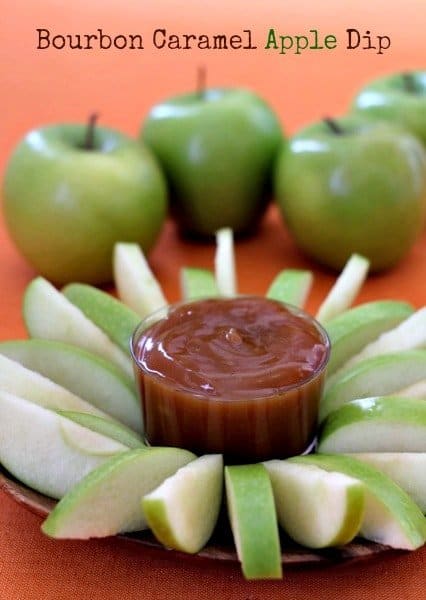 Bourbon Caramel Apple Dip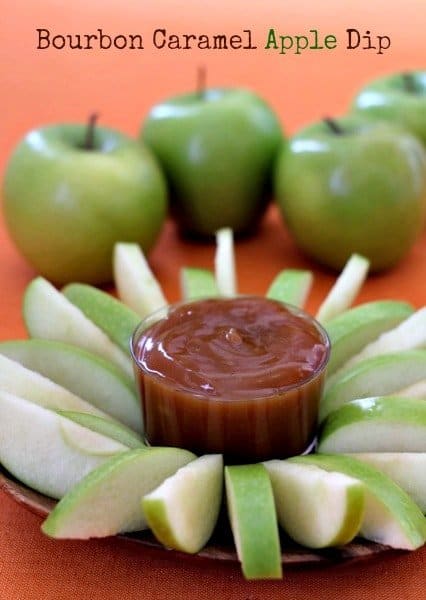 You could double or triple this and serve it in your crock pot. No need to use the pot to heat it up then, just add your dip and bourbon to your slow cooker and set on low. It'll take about 2 hours to warm up, or you can warm it up on top of the stove per the directions and transfer to your crock pot to keep warm.
Ingredients
1 tub (16 oz.) caramel apple dip
4 ounces Apple Bourbon, we used Berentzen Bushel & Barrel Apple Bourbon
6 apples, sliced
Instructions
Add the caramel dip to a sauce pan and heat over low heat until loosened.
Slowly stir in the 4 ounces of apple bourbon.
Serve with sliced apples.
Notes
Apples aren't the only dippers - bananas, pound cake, pretzels, graham crackers, anything that goes with caramel!
http://www.mantitlement.com/recipes/bourbon-caramel-apple-dip/