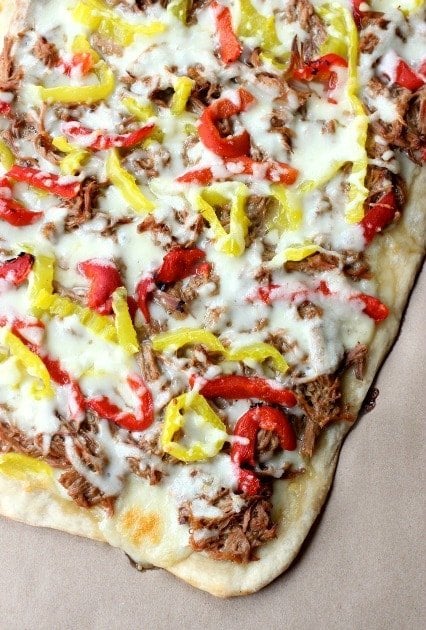 Forget the same old delivery pizza – make an Italian Beef Pizza for dinner instead!
This dinner is really a two for one recipe.
One being the Italian beef that your going to make in your slow cooker. Lipton onion soup mix, beef broth, beer and some seasonings and just let it cook all day.
That night you can grab some rolls and have Italian beef sandwiches for dinner. Add some mozzarella cheese, peppers, some of the gravy for dipping and some fries.
There's nothing better in my book.
You can even have those sandwiches a couple of nights if you want – I know we did. And there was also the addition of shredded beef in someones omelet the next morning.
But you guys get it, you can do a lot with this shredded beef recipe.
And then when leftovers get boring…
You're gonna put it on a pizza! Just grab a store bought pizza dough and let it come to room temperature for a few minutes. Roll it out and then put it on a greased baking sheet. Press it out to the sides and bake it for 5 minutes in a 400º oven.
Take it out and cover the pizza crust with mozzarella cheese…
Then a couple of cups of the leftover shredded beef…
And then some peppers. Because we all know you need the peppers for an Italian Beef sandwich – so you have to have them for this Italian Beef Pizza. Christie is originally from Chicago where the Italian Beef Sandwich rules and she says this recipe tastes just like that sandwich in pizza form.
I've never had an Italian Beef Sandwich in Chicago but after eating this pizza, I think I'm going to need to get myself one soon.
Then put it in the oven to bake for about 15-20 minutes. You want the cheese to be bubbling and the crust to be slightly brown on the bottom.
We made this Italian Beef Pizza recipe three times just to make sure it was right.
3 times. But we do like our pizza around here.
The last time we made it for an appetizer for the rum tasting party, along with many, many other apps., and it was a big hit. I think we probably could have served two of these and we would have been good to go.
If you're looking for a recipe that you can make on the weekend and eat for a few dinners during the week – this is definitely the one.
The possibilities with this shreded beef are pretty endless…
But this pizza is definitely my favorite one.
Italian Beef Pizza
2015-01-28 15:07:55
The shredded beef alone for dinner will serve 6-8. You'll need 2-3 cups of shredded beef leftover to make the pizza. If using this recipe for sandwiches, make sure you have at least 8 sub rolls on hand and any extra toppings you'd want for the sandwiches.
For the Shredded Beef
4 lbs. beef rump roast
2 packages Lipton Onion Soup Mix
2 t. sugar
2 t. salt
1 1/2 t. fresh grated black pepper
4 cloves garlic, chopped fine
4 c. beef broth
1 bottle of beer
For the pizza
1 ball store-bought pizza dough
2 c. shredded mozzarella cheese
1 c. sliced Mezzetta Deli-Sliced pepper rings
1 c. sliced roasted red peppers
2-3 c. leftover shredded beef
Instructions
To make the shredded beef, add all the ingredients to your slow cooker and turn on high for 8 hours.
Remove the roast from the slow cooker and shred with two forks, then place back in the slow cooker with all the juice.
For the Pizza
Pre-heat the oven to 400 degrees.
Take the pizza dough out of the refrigerator and let it come to room temperature for 15 minutes.
Spray a baking sheet with cooking spray.
Roll the pizza dough out into a rectangle shape on a floured board, then place it into the sheet pan and spread it out to the corners of the pan.
Bake for 5 minutes until slightly browned.
Remove from the oven and top with 1 cup of the cheese.
Add the shredded beef (squeezed out of any juices) into a single layer on top of the cheese, then add the sliced peppers.
Top with the other cup of cheese and place in the oven for 15-20 minutes until the cheese is brown and bubbling and the crust is brown on the bottom.
Mantitlement http://www.mantitlement.com/