These Teriyaki Meatballs can be served as both appetizers or dinner! Bursting with flavor form ginger, garlic and soy sauce, these meatballs are not only easy to make but will no doubt get you cheers at the dinner table!
Serve these delicious meatballs with your favorite rice side dish, plain rice or ramen noodles. Add a side of Garlic Roasted Broccoli and dinner is done!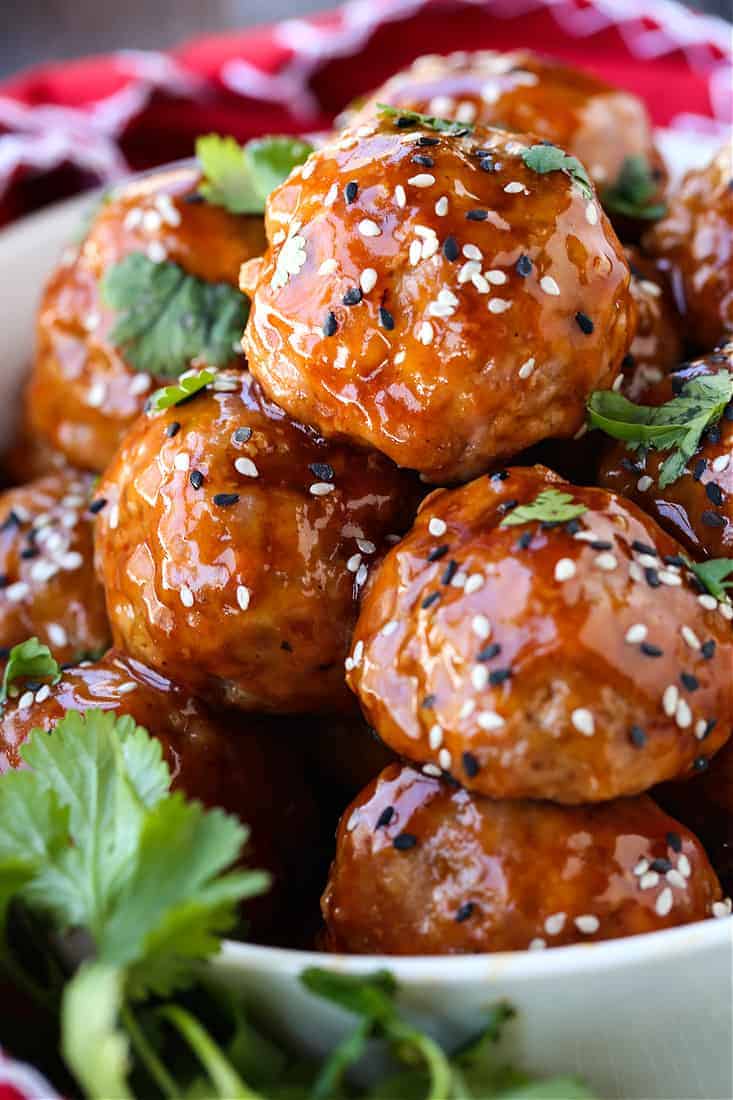 A Meatball Recipe For Appetizers Or For Dinner!
That's right, these Teriyaki Meatballs are not only a delicious dinner recipe, served with rice or noodles, they can also be made smaller and served as appetizers. Grab a few toothpicks and watch them disappear.
Ingredients To Make Teriyaki Meatballs
There's lots of different flavors that you can add or take away from this meatball recipe but this is recipe is about adding big flavor and getting dinner on the table fast. We've taken a few shortcuts like using ginger and garlic paste from a tube and using store bought teriyaki baste (or glaze).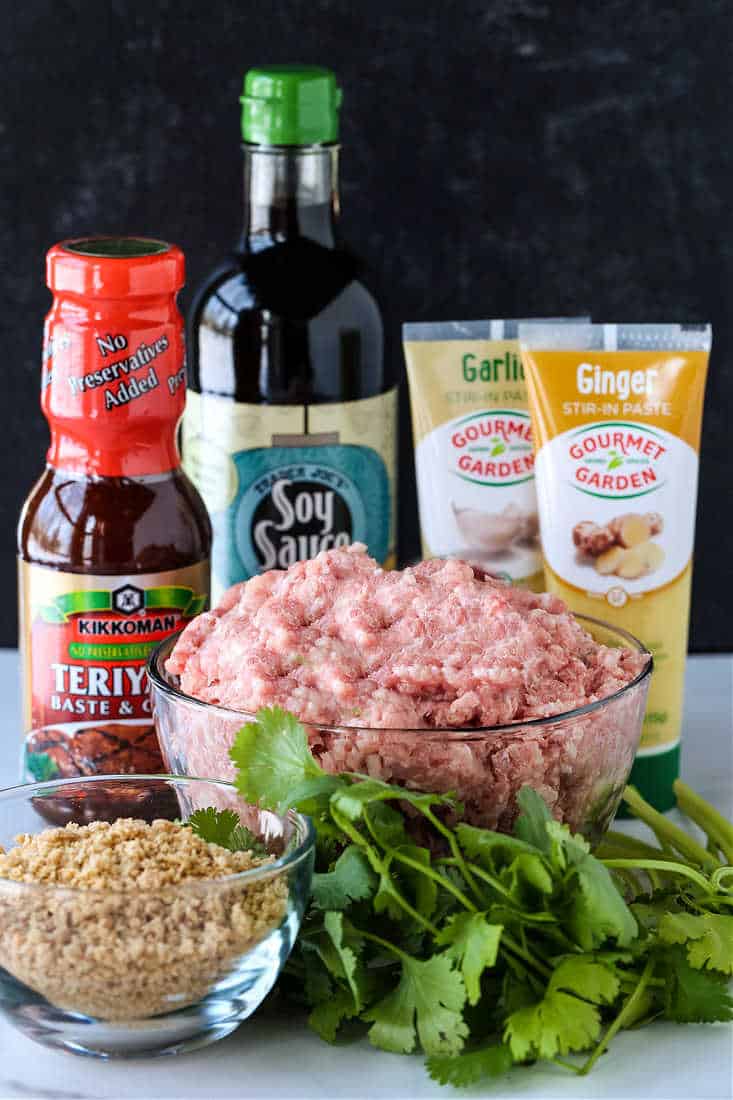 Of course you can use fresh garlic and fresh ginger, too. Just make sure to mince those ingredients very fine so that you don't have any big chunks of garlic or ginger in your meatballs.
Ground Pork
Ground Beef
Panko Breadcrumbs
Ginger Paste
Garlic Paste
Soy Sauce
Eggs
Milk
Store Bought Teriyaki Glaze
Sesame Seeds and Fresh Cilantro for garnish
How Long Do These Meatballs Take To Cook?
If you're making these Teriyaki Meatballs for dinner, we like making them bigger like you see in these pictures. A #20 scooper (2 ounces) is perfect for making these meatballs into a dinner recipe served with rice or noodles on the side.
But if you need the most delicious, easy appetizer for a party or holiday, you can make the meatballs smaller (about 1 ounce) and serve with toothpicks for easy grabbing. So the larger sized meatballs take about 20 minutes to cook and the smaller meatballs will take about 12-14 minutes.
Can You Make This Meatball Recipe Ahead Of Time?
Absolutely! You can do this a few different ways. Form the meatballs and keep them in the refrigerator, then bake when ready. Or you can cook the meatballs, toss in the glaze, let cool and then refrigerate until you need them. Warm them up in the oven or the microwave for an easy meal!
Lastly, you can make these meatballs all the way through and then transfer them to a slow cooker on the "warm" setting and they should be good for the length of your party!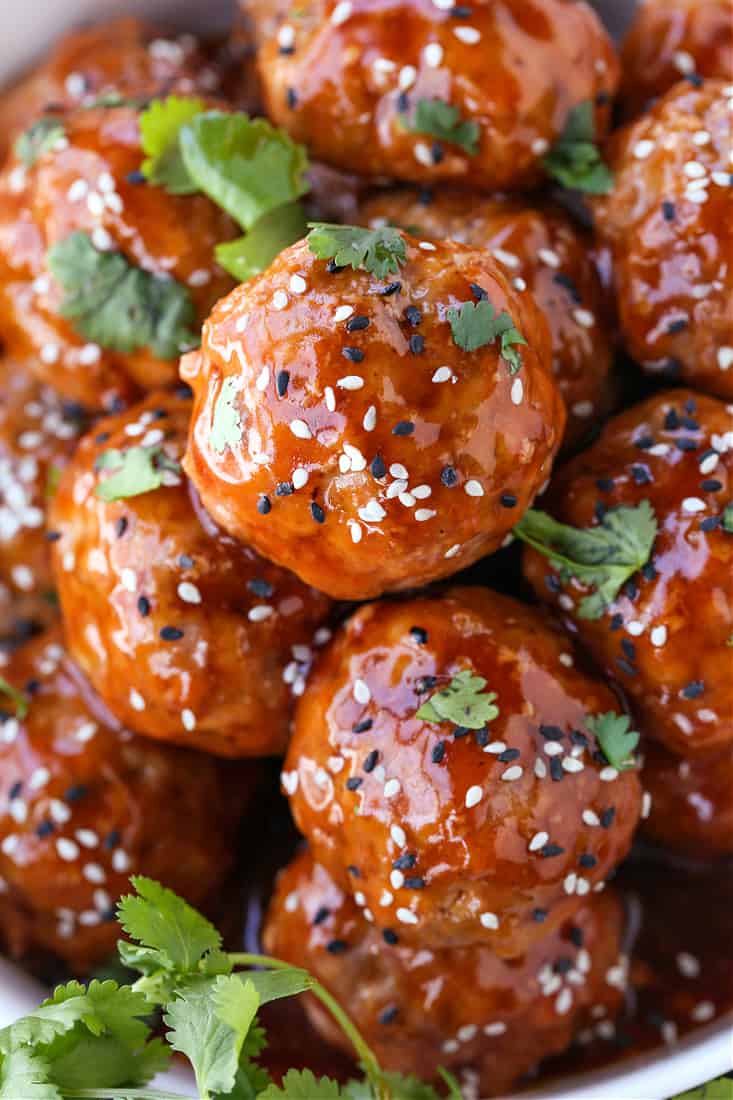 These Teriyaki Meatballs are super tender, but they won't fall apart on you. But if you do have them in your slow cooker, make sure that you stir them gently so that they don't break apart.
Since the glaze that we're using on these meatballs is store bought, it's easy to add more glaze to the meatballs if the glaze starts to dry out on you. We understand that sometimes a party goes longer than anticipated…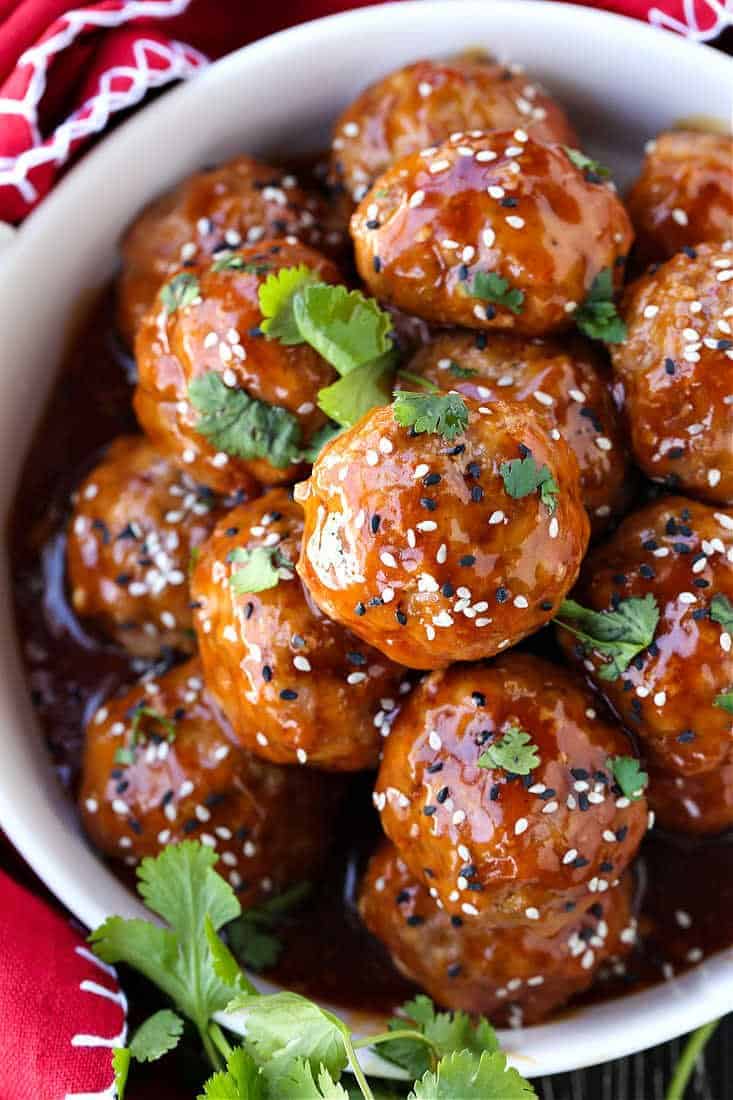 How To Make Teriyaki Meatballs
Preheat the oven to 400 degrees. Start making the meatballs by adding all the ingredients to a large bowl (using only 1 tablespoon of the teriyaki glaze in the meatball mixture).
Form the meatballs using a #20 scoop if you're making these meatballs for dinner, use a one ounce scoop if you're making meatball appetizers.
Place the meatballs on a parchment lined baking sheet, you'll end up with 24 large meatballs and about 48 smaller meatballs.
Bake the large meatballs for 20 minutes and smaller meatballs for 12-14 minutes, until the center is cooked through.
Remove the meatballs from the oven and place into a large bowl.
Warm the teriyaki glaze in the microwave for 1-2 minutes and then toss with with meatballs. Toss the meatballs carefully so that they don't break apart.
Serve with sesame seeds and fresh cilantro for garnish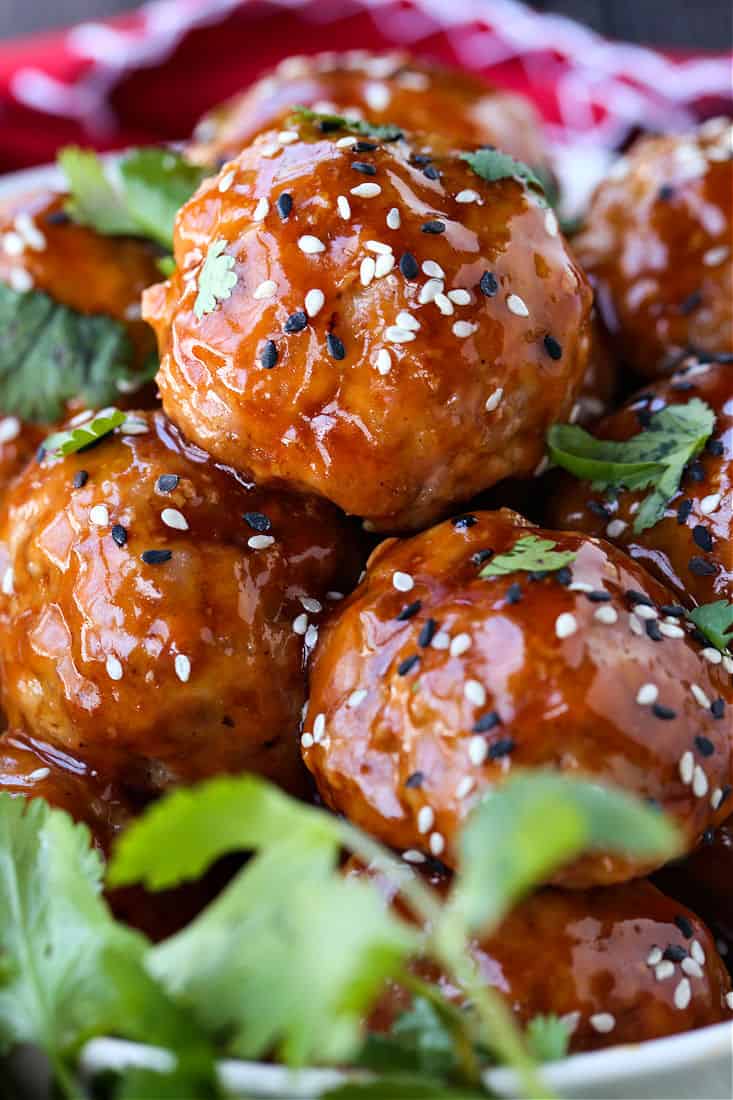 Looking For More Meatball Recipes?
Print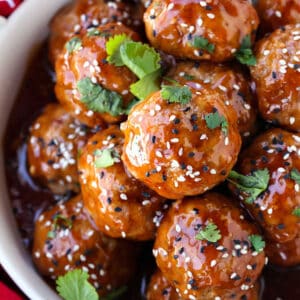 Teriyaki Meatballs
Author:

Prep Time:

5 minutes

Cook Time:

20 minutes

Total Time:

25 minutes

Yield:

6

Servings

1

x
These Teriyaki Meatballs are ready in less than 30 minutes! Serve for dinner with rice or noodles or make smaller meatballs for appetizers!
Scale
Ingredients
1

pound ground pork

1

pound ground beef

2

eggs, beaten

1 teaspoon

kosher salt
Fresh black pepper to taste

2 tablespoons

soy sauce

1 tablespoon

plus 1 cup (for the glaze) teriyaki glaze

1 cup

panko bread crumbs

1/4 cup

milk

1 tablespoon

garlic paste or fresh minced garlic

1 tablespoon

ginger paste or fresh minced ginger
Sesame seeds and fresh cilantro for garnish
Instructions
Preheat the oven to 400 degrees.
Add all the ingredients for the meatballs, only using 1 tablespoon of the teriyaki glaze in the meatballs. Mix together with your hands to make sure all the ingredients are well combined. Let the mixture sit a room temperature for 20 minutes to let the flavors combine. (If you are making these meatballs ahead of time, cover with plastic wrap and refrigerate until ready).
Using a 2 ounce scoop (#20), portion out 24 meatballs onto a parchment lined baking sheet.
Bake the meatballs for 20 minutes until the centers are cooked through and remove from the oven.
While the meatballs are baking, warm the remaining 1 cup of teriyaki glaze in the microwave for 1-2 minutes until warned through.
Add the cooked meatballs to a large bowl and then pour on the warm teriyaki glaze. Gently toss to coat and then place in a serving bowl.
Garnish with sesame seeds and torn, fresh cilantro (optional).
Recipe Notes
You can also make these meatballs smaller for appetizers, ending up with 48. Reduce the cooking time for the smaller meatballs to 12-14 minutes, until the centers are cooked through.
Nutrition information is for the large meatballs, 4 per person.
Category:

Dinner

Method:

Oven

Cuisine:

American
Keywords: mantitlement, meatball recipes, ground pork recipes, ground beef recipes, easy recipes, family friendly meals, teriyaki meatballs