This better than take out Shrimp Fried Rice is a fun and delicious meal that is always a hit at my house. We love making fried rice at home so that we can control the ingredients and customize it to our liking. Baby shrimp, eggs and vegetables make a healthy, protein packed dinner that's ready in less than 20 minutes.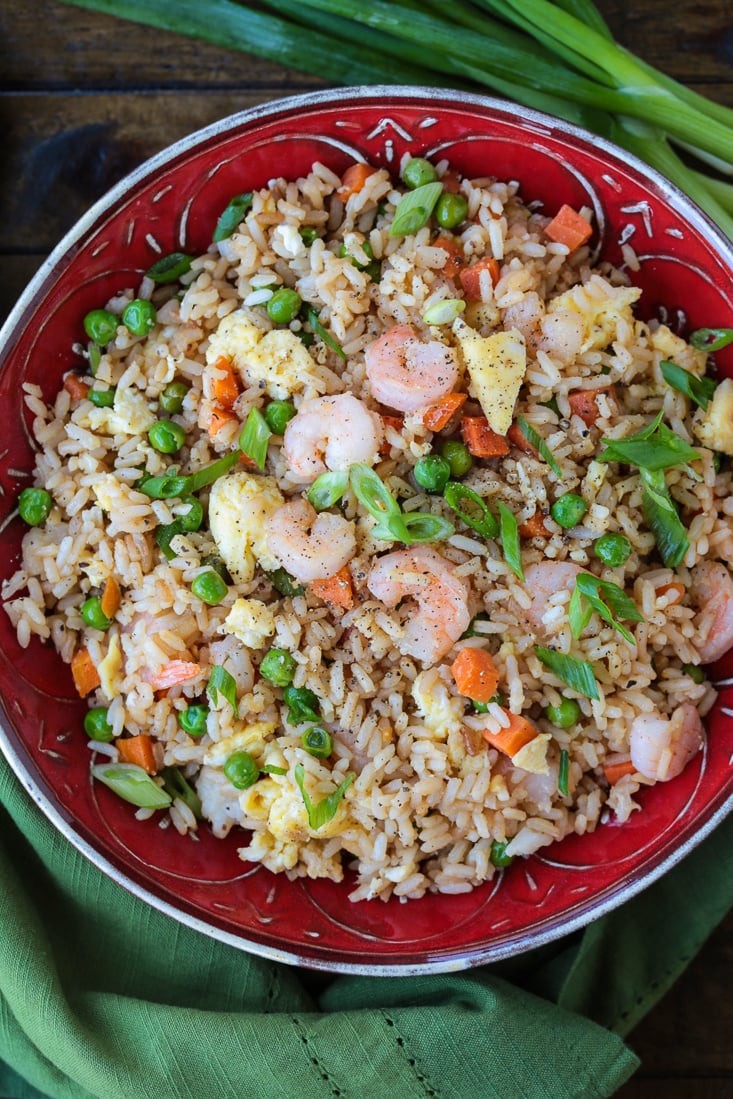 Easy Shrimp Fried Rice Recipe
Shrimp fried rice is typically made by stir-frying cooked rice with shrimp, vegetables, and eggs. The rice is best when its cooked in advance, so it should be cold and dry before adding it to the wok. This helps prevent the rice from sticking together during the cooking process so that you end up with fluffy, separate grains.
Most any vegetable can be added to a fried rice recipe, but we chose to stay traditional with peas and carrots. Other vegetables could include broccoli, snap peas, string beans or bok choy, or a combination of all!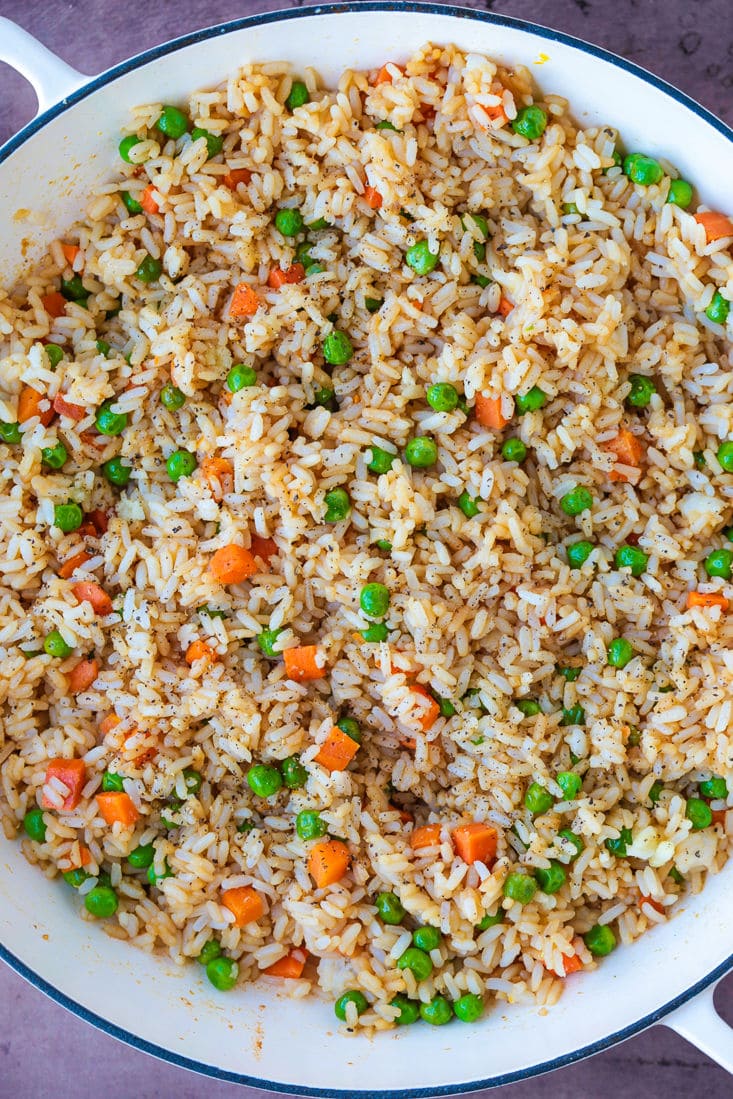 What You'll Need To Make Shrimp Fried Rice
These are the basic ingredients you'll need to make this recipe:
Baby Shrimp: We like to buy smaller shrimp for our fried rice. You can buy the shrimp with the tails on or off, just make sure to remove them before adding them to the final dish.
Cooked White Rice: The rice works best in this recipe if it's cooked and cooled before using. Day old or leftover rice works perfectly!
Frozen Peas and Carrots: No need for defrosting, you can add the frozen vegetables right to the pan.
Scallions: We use these for garnish, to add a fresh crunch to the final dish. You can also add diced onion in with the peas and carrots for extra onion flavor.
Toasted Sesame Oil: This oil adds a nuttiness and authentic flavor to the fried rice that we love.
Garlic: Finely minced garlic or garlic pressed through a garlic press.
Ginger: Grate fresh ginger or use ginger paste in a tube.
Soy Sauce: We use regular soy sauce but you can also use low-sodium soy sauce as well.
Vegetable Oil: Or canola oil, any mild flavored cooking oil.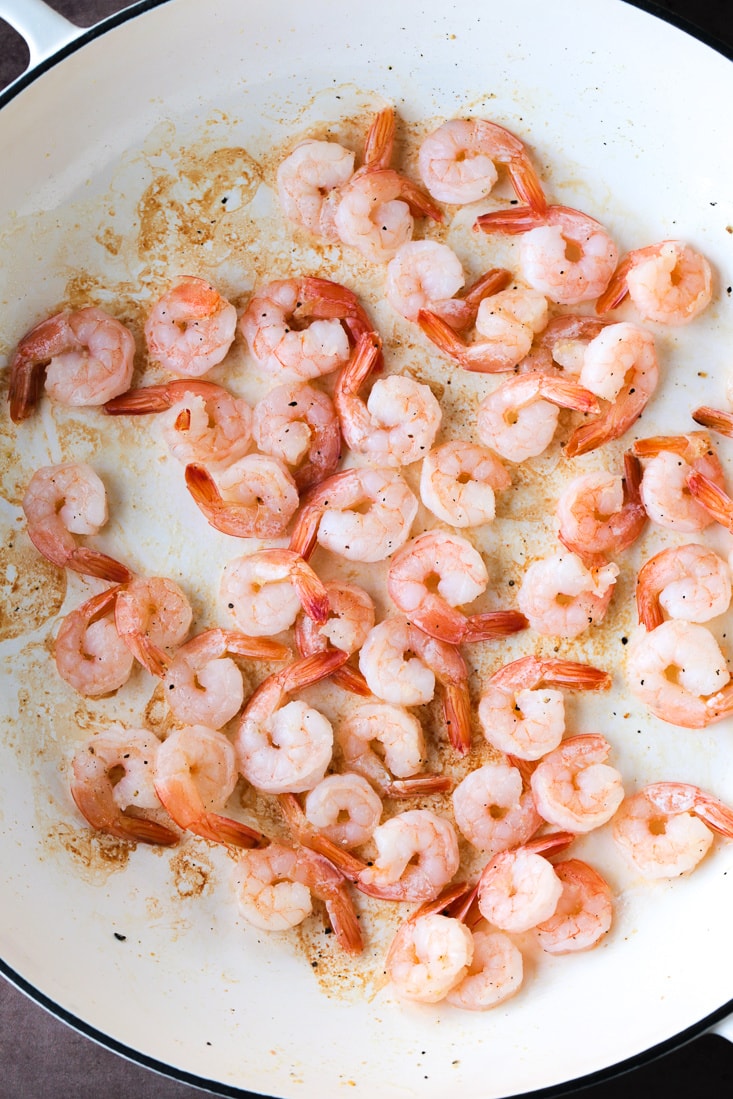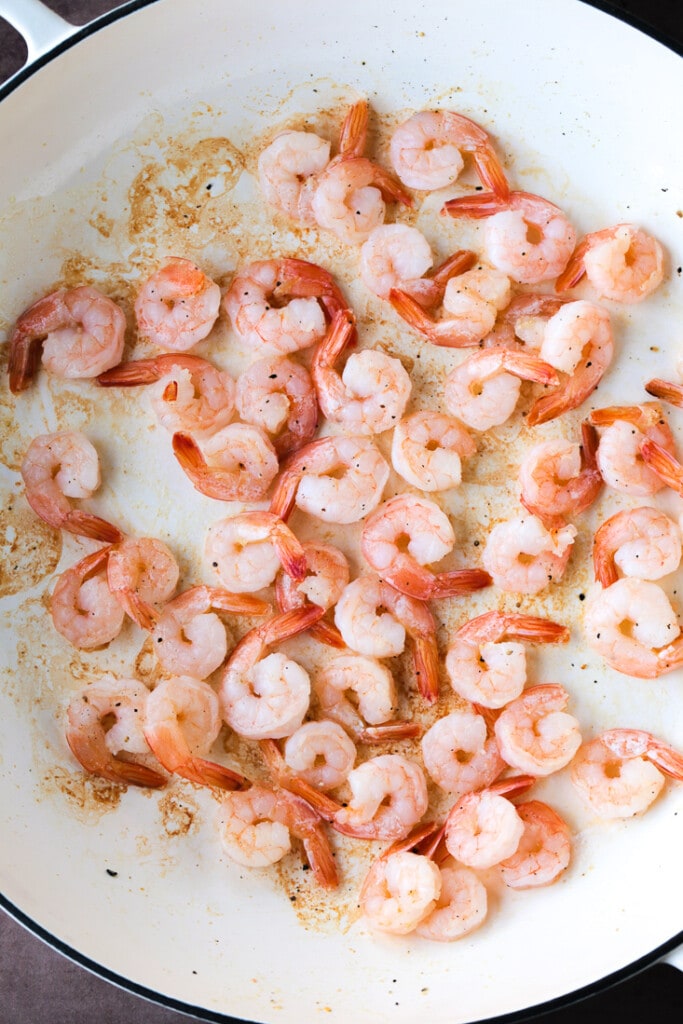 How To Prepare Shrimp Fried Rice
Sear the shrimp: Add oil to a large skillet or wok over medium-high heat. Season the shrimp with salt and pepper and cook for a minute or two on each side until light pink in color. Remove the shrimp from the pan into a bowl. Cover with foil to keep warm.
Cook the eggs: To the same pan, add the eggs and scramble until light and fluffy. Remove the eggs from the skillet to a bowl with the shrimp and cover.
Add the vegetables: Add the peas and carrots to the skillet and cook for 3-4 minutes until softened. Add the cooked rice to the pan along with the shrimp and eggs.
Season: Add minced garlic, ginger, soy sauce and toasted sesame oil. Stir-fry the ingredients until warmed through and garnish with chopped scallions.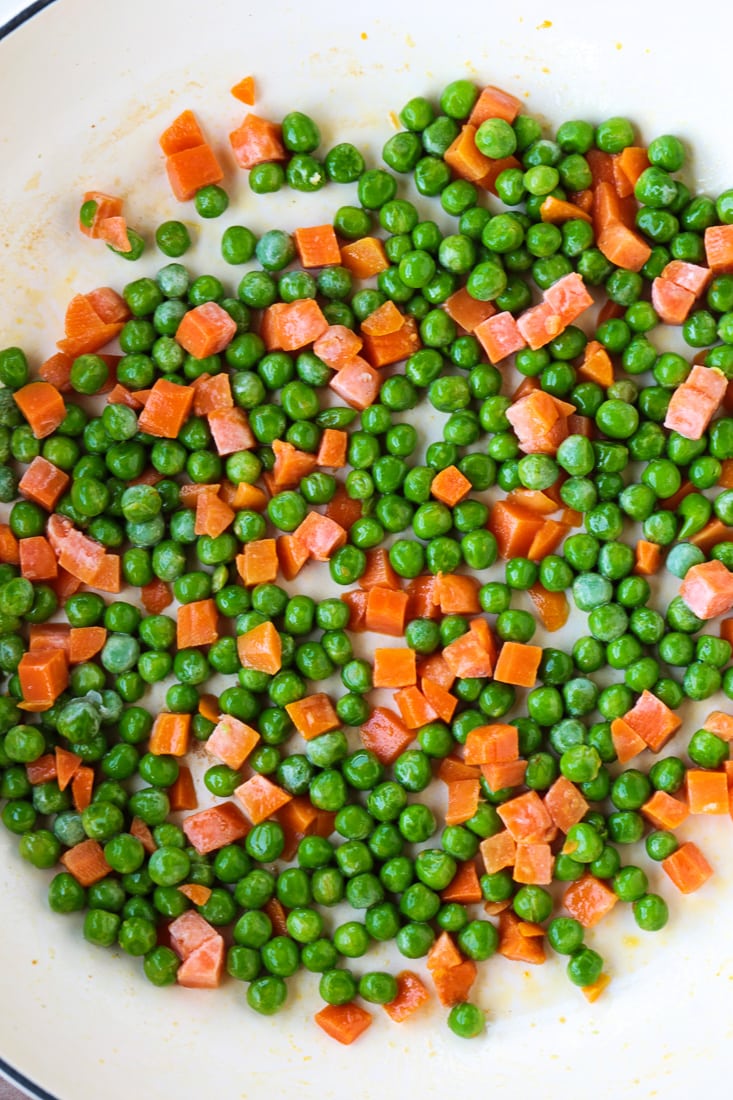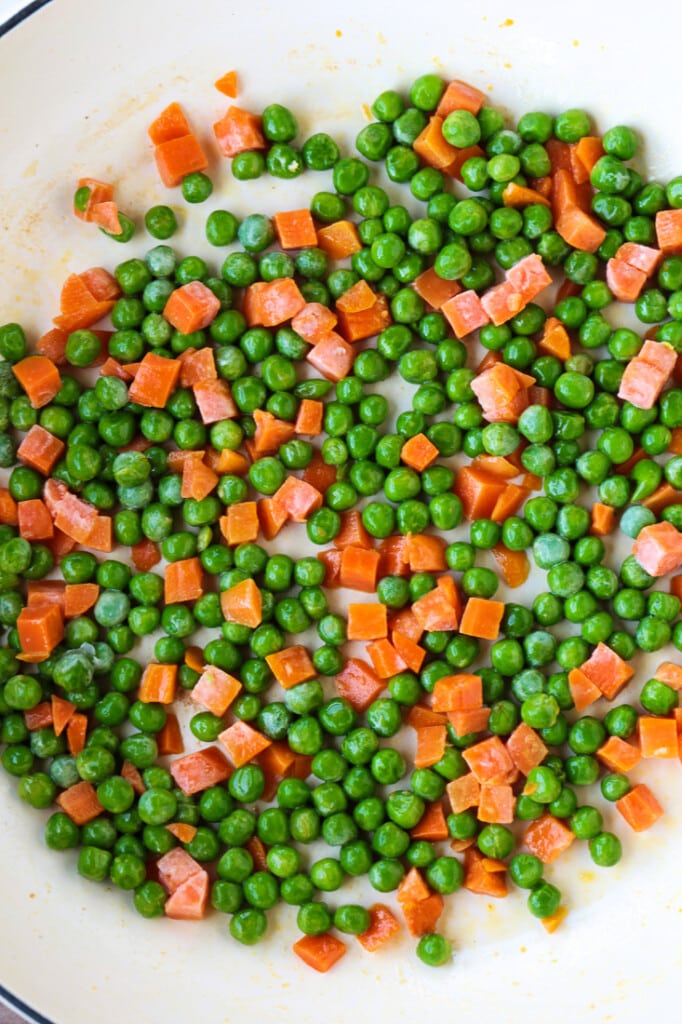 Can Fried Rice Be Made Ahead Of Time?
Fried rice of any kind is a wonderful make ahead meal. It reheats beautifully right in the microwave so it's perfect for meal prepping, or a quick lunch the day after.
If the fried rice dries out a bit when reheating, add a splash of chicken broth and a little more soy sauce to the bowl and stir to combine.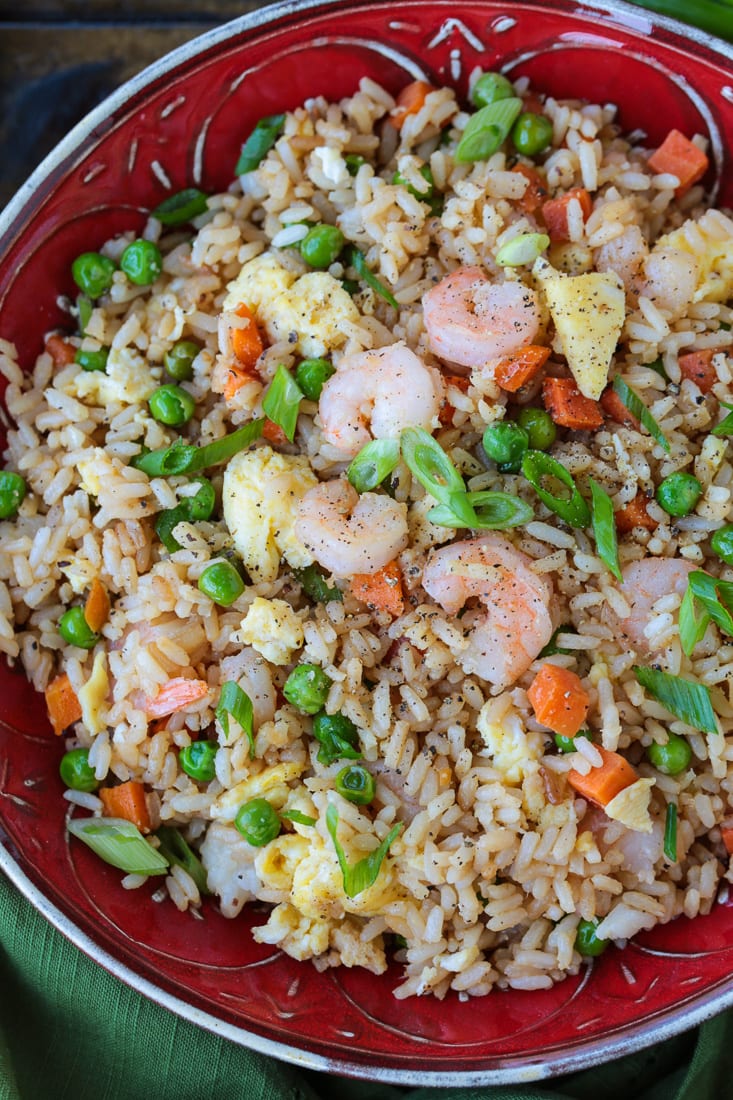 Tips For Making The BEST Fried Rice
Use Day Old Rice: Day old, refrigerated rice works best because the rice is dried out and won't stick together when cooking. If you don't have leftover rice, cook up a batch and spread it out thin on a baking sheet to cool. Refrigerate the rice until ready to use.
Use A Wok: Using a wok isn't a must, but you do need a pan that can hold up to high heat. Another option is a cast iron pan or an enameled cast iron pan like we have here.
Have The Ingredients Ready: Having all of the ingredients ready to go (mis en place) is a great tip for preparing perfect fried rice. This recipe cooks quickly so having everything ready to add the the wok is a great time saver.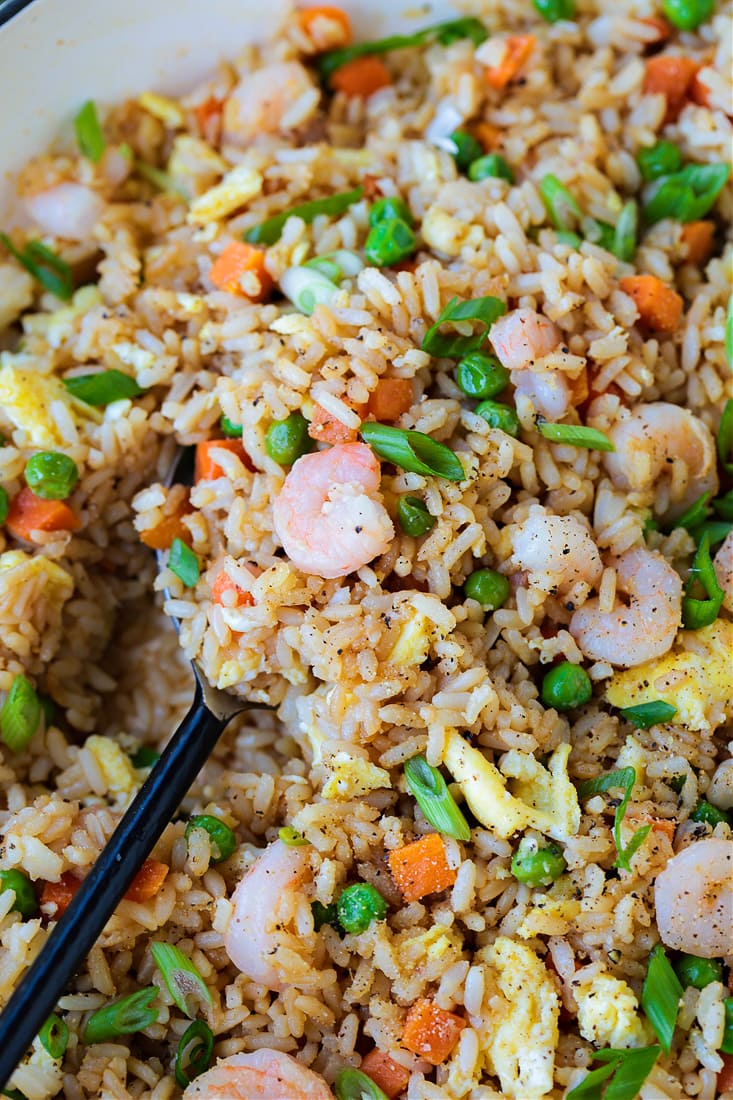 Is Fried Rice A Healthy Dinner?
Aside from being mega tasty, shrimp fried rice is also a nutritious and filling meal. Shrimp is a great source of protein and contains a variety of vitamins and minerals. The vegetables in the dish provide additional fiber and nutrients, while the rice provides energy and carbohydrates to fuel your body.
Follow this simple recipe method and you can make your own delicious version of this dish at home. Get creative and customize this recipe to your liking by adding different vegetables, proteins or spices!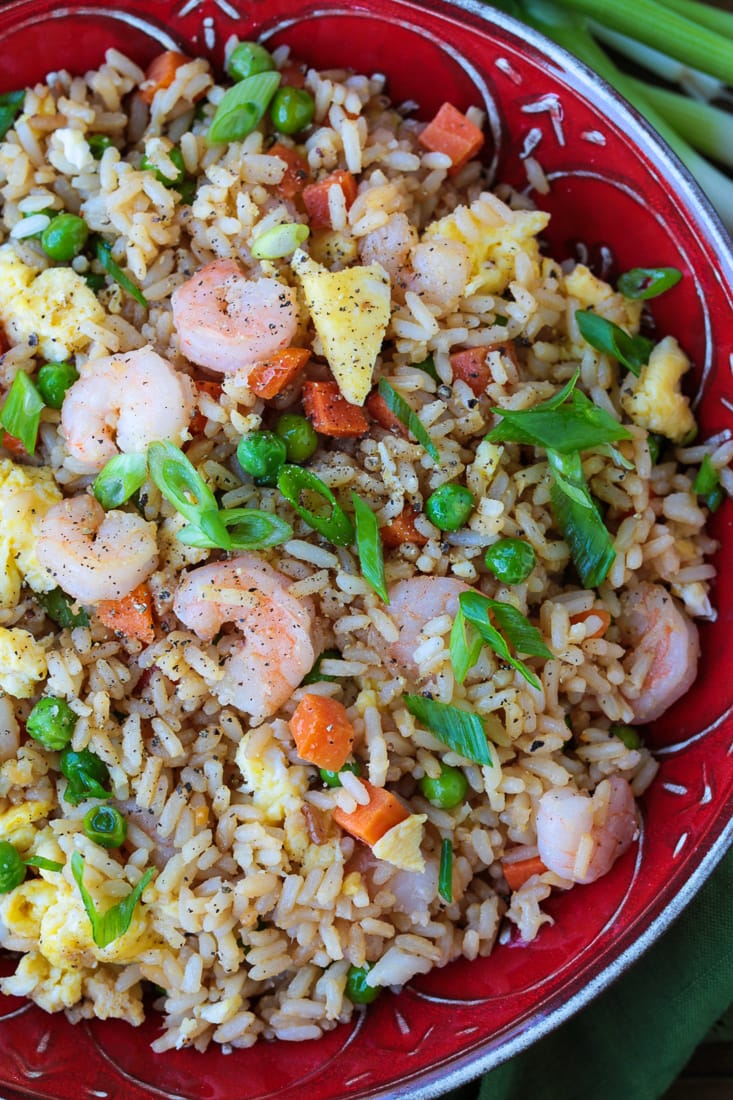 What Is The Best Rice For Making Fried Rice?
Our preference is jasmine rice, but any long grain white rice will work. If you don't have day old or leftover rice, you can still make fried rice!
Rinse the rice several times until the water runs clear. Cook the rice according to the package directions. and then let cool by spreading out onto a large baking sheet. Once the rice has cooled to room temperature, refrigerate the rice for at least 2 hours, longer is better, until you're ready to use.
Looking For More Fried Rice Recipes?
Print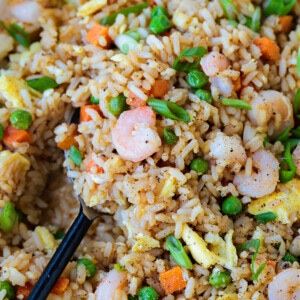 Shrimp Fried Rice
Author:

Prep Time:

5 minutes

Cook Time:

15 minutes

Total Time:

20 minutes

Yield:

6

Servings

1

x
Shrimp Fried Rice is a classic Asian dish that's so easy to make at home! You can customize this rice to your liking, and it's always a hit for dinner!
Scale
Ingredients
3 tablespoons

vegetable oil, divided
Kosher salt and fresh black pepper for seasoning

3/4

pound baby shrimp, peeled and deveined (you can use tail on shrimp, just remove the tails before adding to the final dish)

4

eggs, beaten

1 1/2 cups

frozen peas and carrots

5 1/2 cups

cooked white rice, cooled completely (best if using day old rice)

1 teaspoon

ginger paste

1

–

2

teaspoons fresh minced garlic

1 tablespoon

toasted sesame oil

3 tablespoons

soy sauce (plus more if desired)

3

scallions, chopped
Instructions
Add 1 tablespoon of the vegetable oil to a large, deep bottomed skillet or wok over medium-high heat. Season the shrimp with salt and pepper on both sides. Add the shrimp to the skillet and cook for 1-2 minutes on each side until pink in color and opaque. Remove the shrimp from the skillet to a bowl and cover with aluminum foil to keep warm.
Add another tablespoon of the oil to the skillet and then pour in the eggs to scramble. Cook while stirring until light and fluffy, then remove from the skillet to the bowl with the shrimp and cover.
Add the remaining tablespoon of oil to the skillet and then add the peas and carrots. Stir fry the vegetables for 2-3 minutes until warmed through.
Add the cooked rice, ginger paste, garlic, sesame oil, soy sauce and scallions to the skillet along with the cooked shrimp and scrambled eggs. Stir fry the ingredients until combined and warmed through. Season with more salt and pepper to taste, and serve.
Recipe Notes
Store: Let the fried rice cool down to room temperature and then store in an air tight container in the refrigerator for up to 3 days.
Reheat: Reheat leftover fried rice in the microwave until warmed through. Add a splash of chicken broth and/or soy sauce to add moisture back into the rice upon reheating.
For a healthier recipe, cut the vegetable oil in half and/or use an oil based cooking spray.
Category:

Dinner

Method:

Stove Top

Cuisine:

American / Asian
Keywords: mantitlement, fried rice recipe, shrimp fried rice, easy recipes, dinner ideas, healthy recipes, Asian recipes, take out at home