Green Beans with Bacon and Onions are a simple but flavorful side dish that goes with almost any meal! This green bean recipe is made using frozen green beans right from the bag. Easy, delicious and nutritious!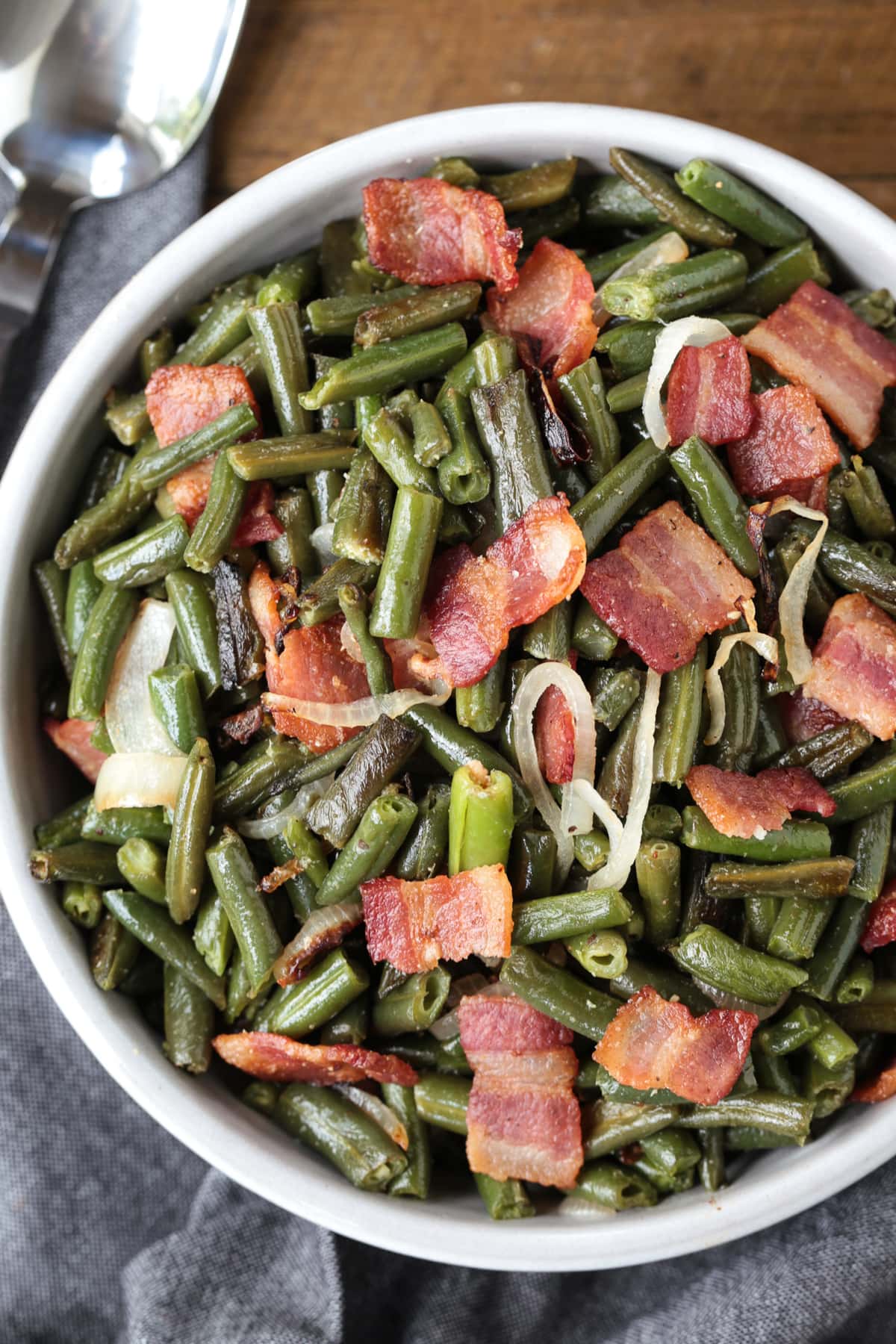 Why You'll Love This Green Beans with Bacon and Onions Recipe
Make Ahead Recipe – Whether you're making this recipe for every day dinners or the holidays, you can make it all ahead of time!
Easy Clean Up – Since this recipe is made all on one baking sheet, clean up is so easy.
Nutritious – Even though we're using bacon, the bulk of this recipe is vegetables which offer a lot of vitamins and nutrients.
100% Customizable – Make this recipe work for your family! Add or swap out ingredients, even grab fresh green beans instead of frozen.
Serves Many – This recipe will serve 8-10 as a side dish, perfect for large crowds and entertaining.
Addicting Flavor! – There's nothing quote like the flavor of these green beans that are roasted with the bacon drippings. They're sure to be gobbled up by all.
This recipe is just as good for everyday dinners as it is for parties and holidays. It's super adaptable, mega tasty and can be made ahead of time. All of the things that we look for in a good side dish recipe.
Ingredients You'll Need
For a complete list of ingredients and amounts, be sure to scroll to the recipe card at the end of the post.
Frozen Green Beans: To make this recipe easy, grab a bag of frozen, cut green beans. Frozen vegetables can also be less expensive at times, and often fresher depending on the season.
Bacon: Use thick cut bacon so that it doesn't get too crispy or burn while the vegetables are roasting. You can use cured or uncured bacon, regular or a flavor like maple or hickory smoked.
Yellow Onions: Yellow onions are sweet, especially when roasted. We like the contrast of sweet onions with the salty bacon.
Seasonings: Kosher salt, freshly ground black pepper and garlic powder.
Can I Use Fresh Green Beans?
Yes. You can use fresh green beans instead of frozen green beans in this recipe and we'll tell you how. Fresh green beans will take less time to cook, so the cooking time will be pretty much cut in half.
Once you cook the bacon, add fresh green beans and onions to the sheet pan and toss. Cook for 15 minutes, toss and cook for another 5-10 minutes until the beans are done to your liking.
However, we don't recommend using canned green beans in this recipe since they are too soft and won't roast properly in the oven. In a pinch, you could use drained canned green beans and add them to the bacon and onions during the last 7-8 minutes of cooking time.
The beans won't have a caramelized, roasted flavor or appearance but they will still be pretty tasty.
How Do You Make This Green Bean Recipe?
Since this recipe is made all on one sheet pan, there's very little clean up. Don't throw away those drippings from the bacon! We'll use them to toss with the vegetables and add tons of flavor to this dish.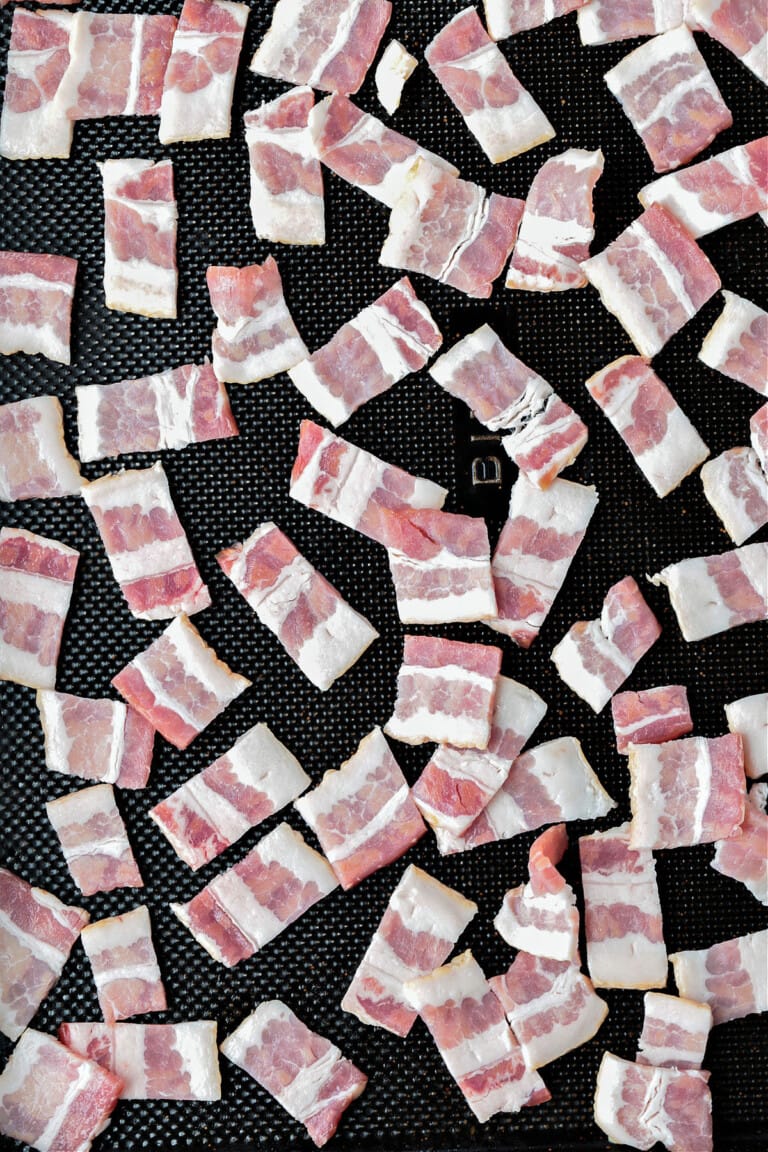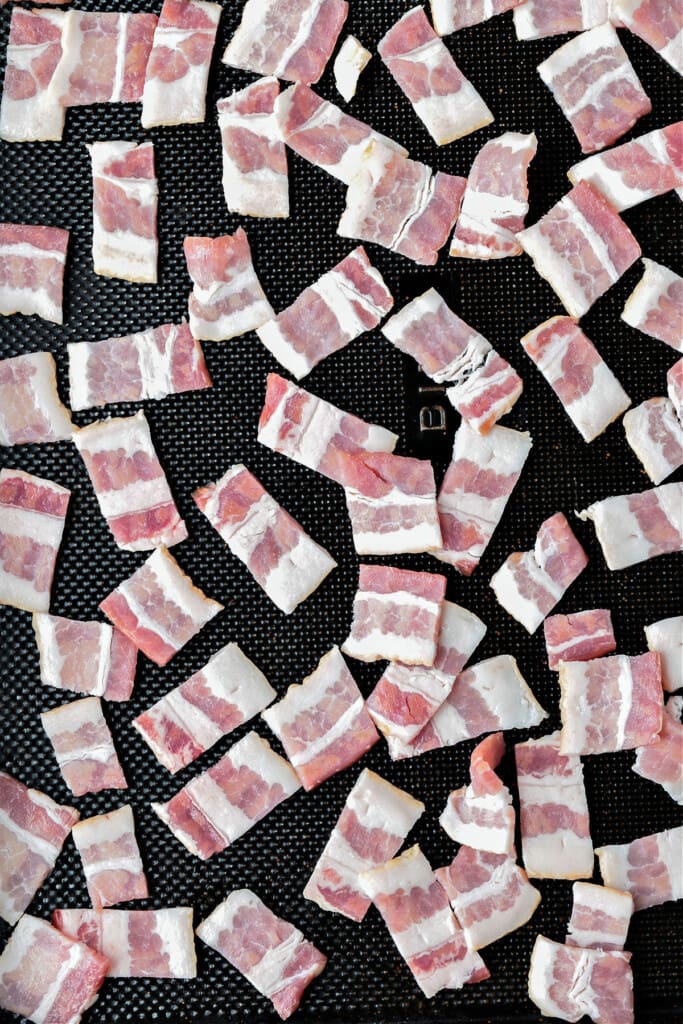 Cook the Bacon: Dice 1 pound of thick cut bacon and place it on a sheet pan. Cook in the oven at 400 degrees for 8-10 minutes until crisp, but not completely cooked. The bacon will continue to cook with the green beans and onions.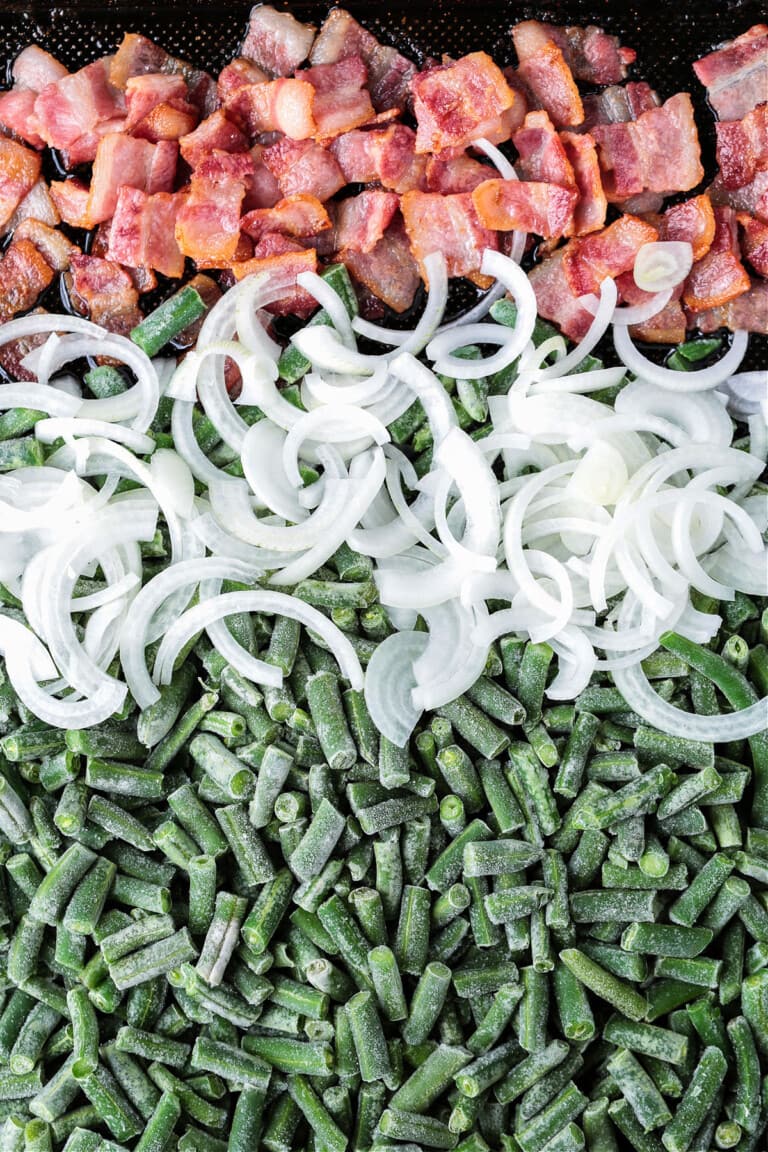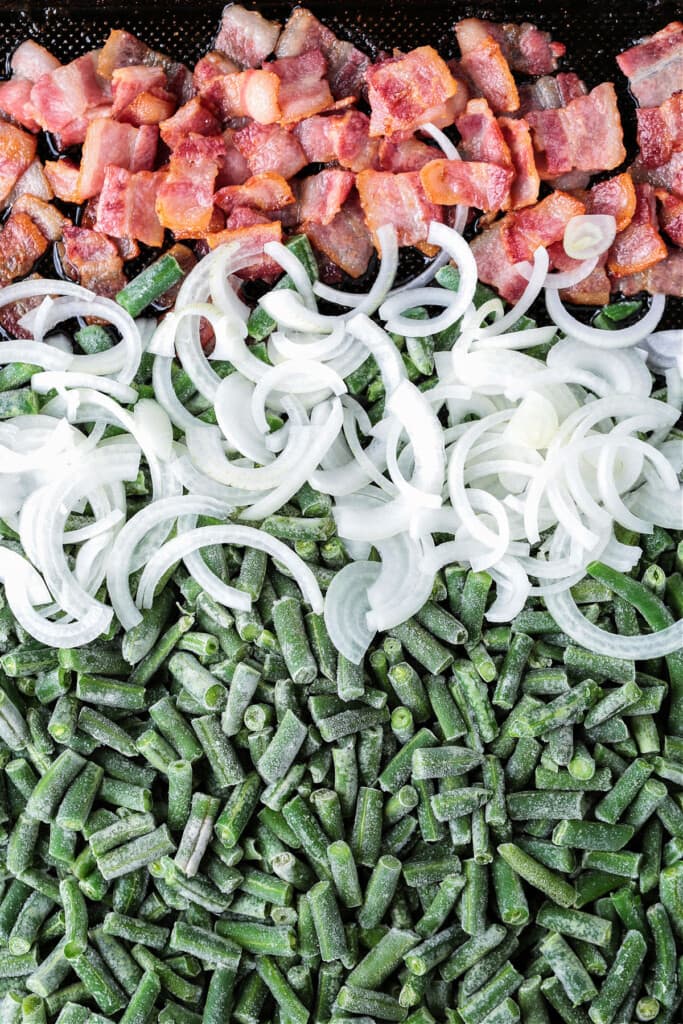 Add the Green Beans and Onions and Toss: Add partially defrosted green beans and sliced onions to the sheet pan and toss with the bacon and bacon drippings. Season with salt, pepper and garlic powder.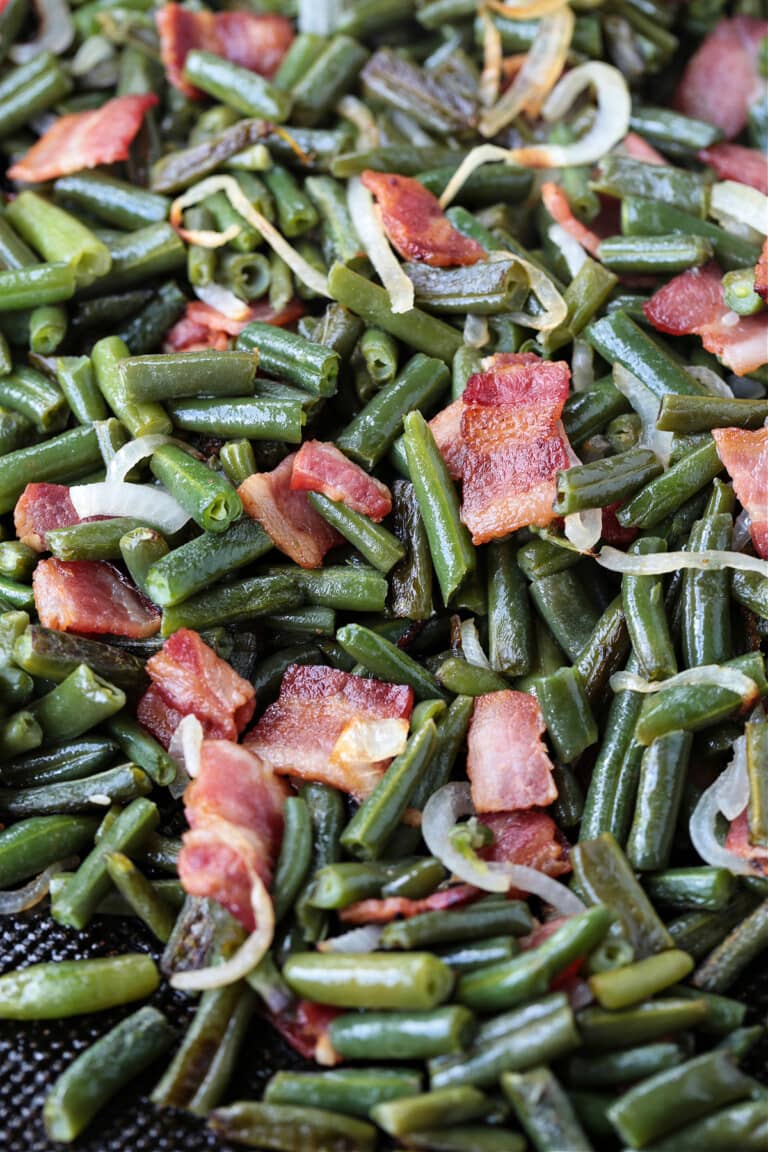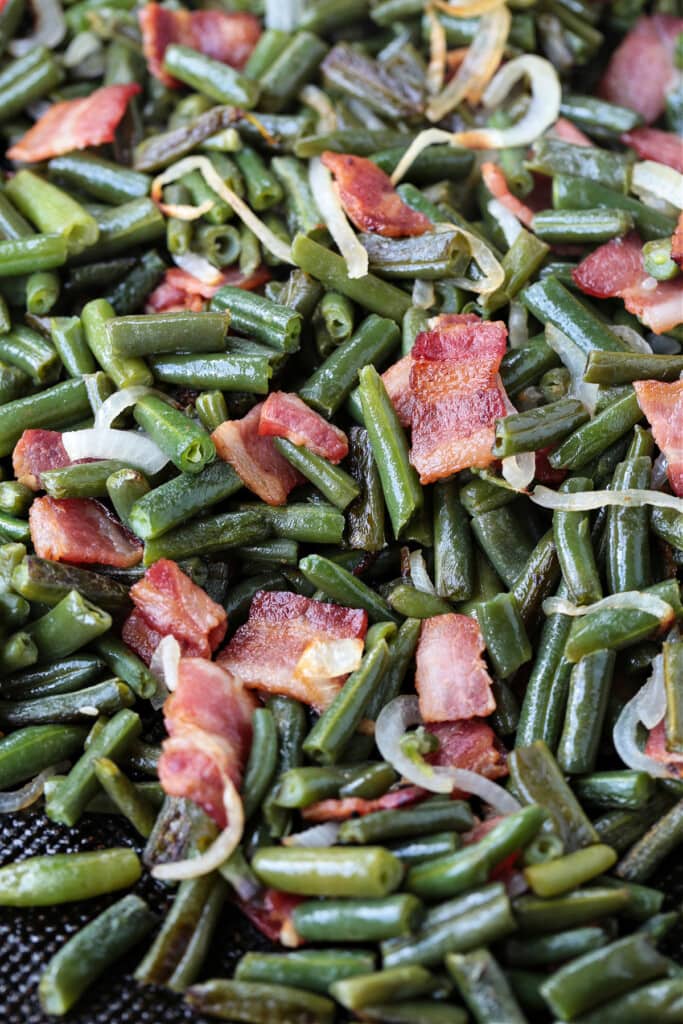 Cook: Place the sheet pan in the oven and cook for 20 minutes, toss and cook for another 20 minutes until the onions are soft and the green beans have color.
Can You Make These Green Beans Ahead Of Time?
Yes. You can make this side dish recipe ahead of time. We recommend that you only make them a day ahead of time though, much more than that will make the bacon too soft.
What you can do is make this entire recipe ahead of time and then when you need it, warm it back up in the oven to crisp up that bacon again.
Another way to make this recipe ahead of time is to roast the beans and onions separate from the bacon and then toss with the bacon right before serving. The green beans and onions won't be tossed in the bacon drippings, so the flavor will be slightly different, but it's an option.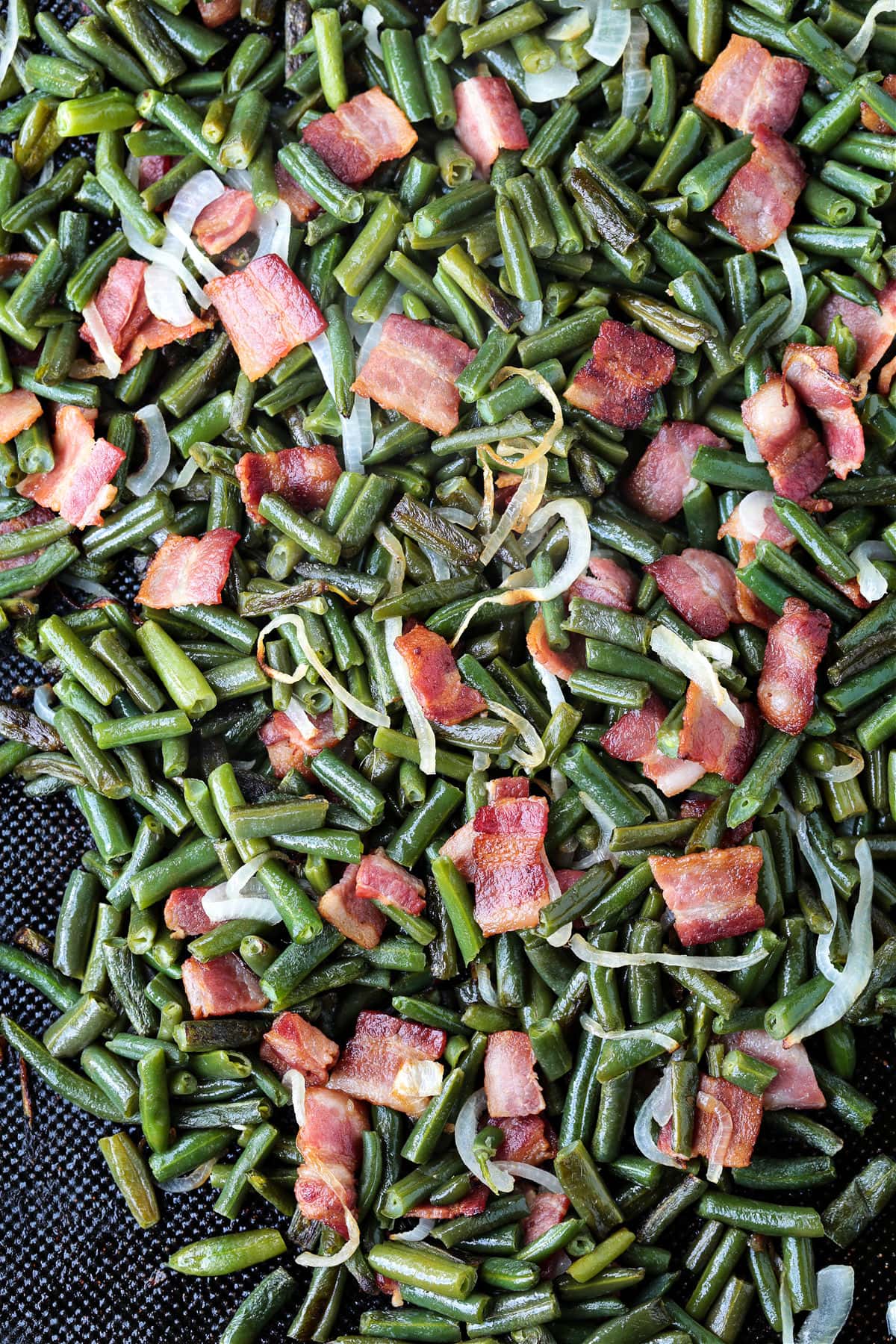 Variations On The Recipe
This green beans recipe is so simple, but with deep, elevated flavors. You can, of course swap out or add to this recipe to make it your own. Here are a few ideas!
Leave Out The Bacon – If you're looking to keep this recipe vegetarian, you cam simply omit the bacon. The bacon and drippings drippings do add a depth of flavor that we love, but if it's not an option for you just leave it out.
Different Spices and Seasonings – Switch up the flavors in this recipe and try using different seasonings like paprika or Old Bay, and even a little heat from cayenne. Dried herbs like oregano, thyme and basil are also great flavors to add.
Different Vegetables – Try adding sliced mushrooms to the pan before roasting. Other vegetables could include sliced brussels sprouts, sliced bell peppers or asparagus.
Toppings – Sliced almonds for crunch or parmesan cheese sprinkled on top.
What Main Courses Go Well With Green Beans?
Since this vegetable is loved by so many people, we think it goes well with a variety of main courses. From chicken to steak to fish and pork, you really can't go wrong with a delicious side dish like this one!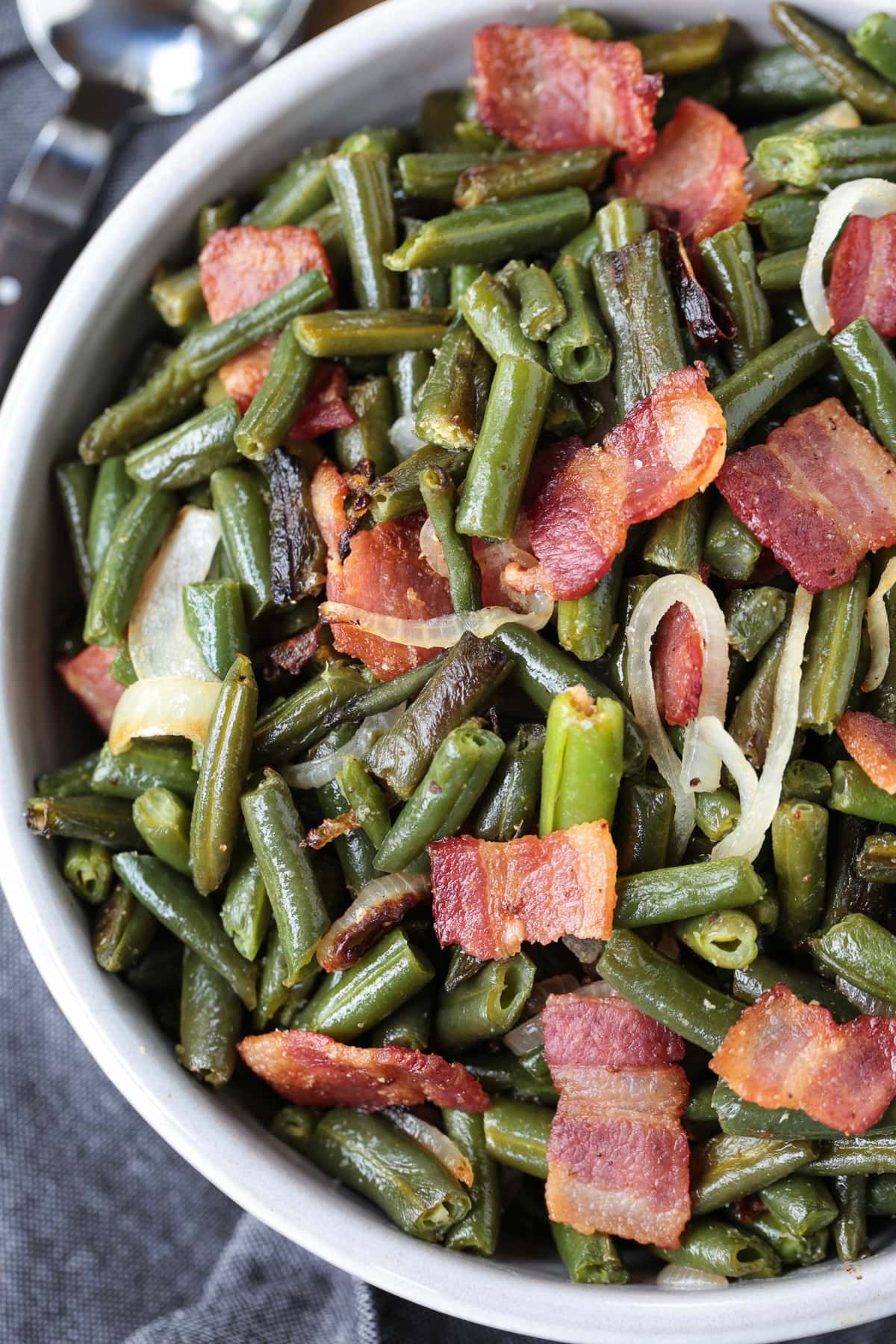 Tips For Success!
Let The Green Beans Partially Defrost: When you turn your oven on to pre-heat, grab the beans out of the freezer and let them defrost. They'll still be frozen(ish) when you put them on the sheet pan but this will give them a head start.
Don't Cut The Bacon Too Small (Or Too Big!): Refer to the photos in our post here and diced the bacon accordingly. We're looking for approximately a 1 inch dice, give or take. If the bacon is too big it won't be crispy enough by the time the vegetables are done, or if cut too small it will burn.
Use Thick Cut Bacon: Thinner slices of bacon may burn before the entire recipe is done. Thick cut bacon works perfectly.
Don't Remove The Bacon Drippings: I know you'll be tempted, but leave all those delicious bacon drippings right where they are. Instead of using olive oil to drizzle on the vegetables before roasting, we're using the flavor from bacon grease. You won't be disappointed!
Remember To Toss: Toss the bacon once in between cooking and also toss the vegetables once in between cooking. Tossing the ingredients help them to cook properly all around so it's an important step to take. Again, refer to the recipe card at the end of the post for complete instructions.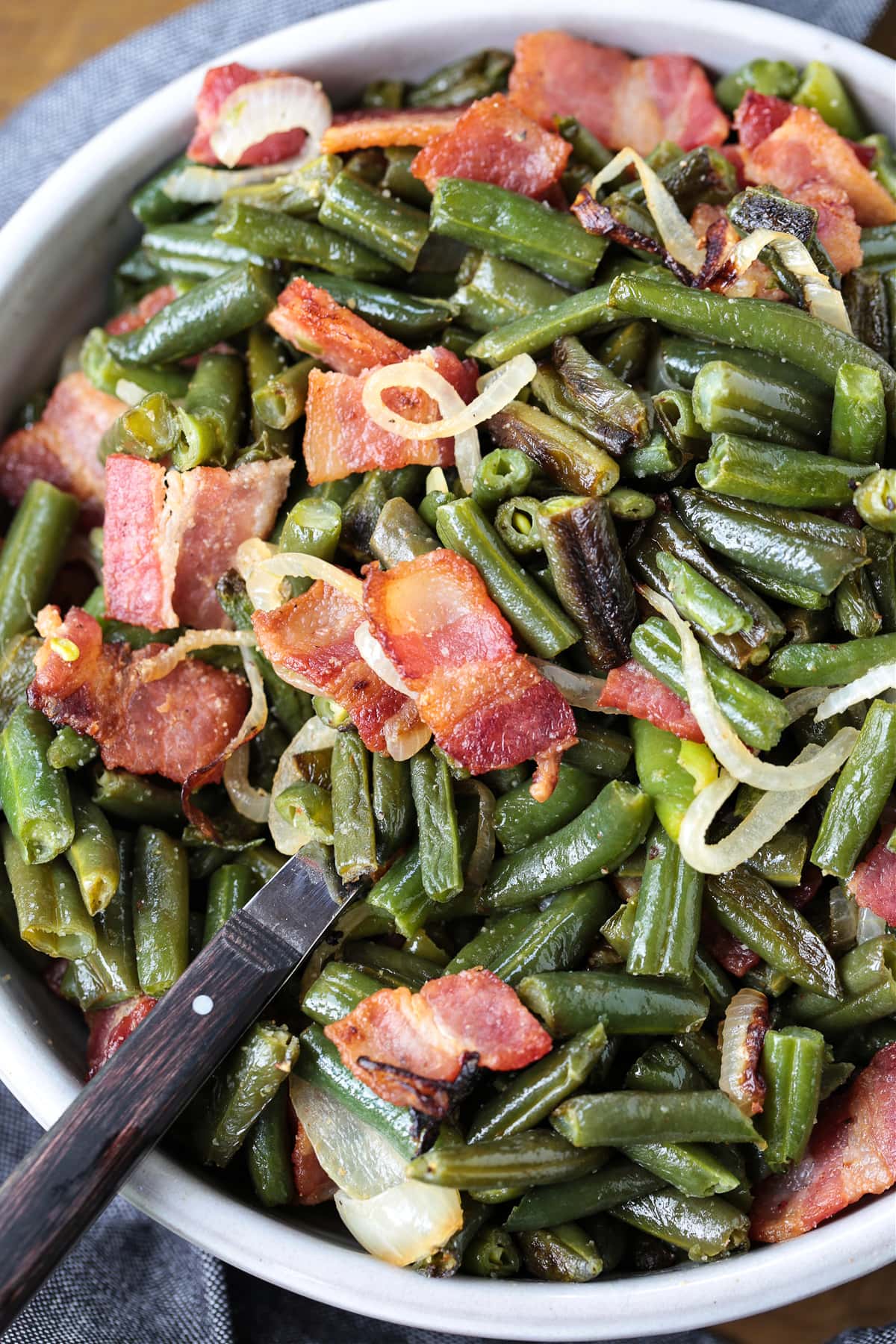 Looking For More Green Bean Recipes?
Print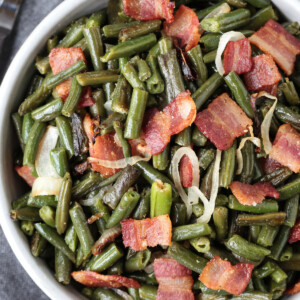 Green Beans with Bacon and Onions
Author:

Prep Time:

5 minutes

Cook Time:

50 minutes

Total Time:

55 minutes

Yield:

8

Servings

1

x
Green Beans with Bacon and Onions is an easy to make, nutritious and delicious vegetable side dish! Use frozen green beans right from the bag to make this side dish a breeze to make!
Scale
Ingredients
1

pound thick cut bacon, diced

1

large yellow onion, sliced thin

2 1/2

pounds frozen cut green beans

1/2 teaspoon

salt

1/2 teaspoon

garlic powder
Fresh ground black pepper to taste
Instructions
Preheat the oven to 400 degrees. Take the green beans out of the freezer to defrost slightly while the oven is preheating.
Place the diced bacon on a large sheet pan in a single layer. Cook for 8 minutes, tossing and spreading back in a single layer in between cooking. The bacon won't be completely done, we're just giving it a head start so that's it's crispy when the beans are finished. Don't drain the bacon grease from the sheet pan as we are using that to flavor and cook the green beans.
Add the sliced onion and the green beans to the sheet pan and season with the salt, garlic powder and pepper. Toss and spread into an even layer.
Cook for 20 minutes and then remove the pan from the oven. Toss again and spread into an even layer. Place the sheet pan back into the oven for another 20 minutes until the beans are roasted and caramelized.
Recipe Notes
Store: Store leftover green beans in an air tight container in the refrigerator for up to 4 days.
Reheat: Reheat leftovers in the microwave for the fastest method. Reheating the beans back in the oven will help to crisp the bacon up again.
Category:

Side Dish

Method:

Oven

Cuisine:

American
Keywords: mantitlement, green bean recipes, recipes with green beans, recipes with bacon, vegetables sides, holiday side dish