Grilled Barbecue Pork Chops start with a brine that keeps them juicy, not dried out! Perfect for any dinner night or at your next BBQ! A quick brine helps to keep these bone-in pork chops tender and juicy!
Pair these chops with some Oven Roasted Corn and our famous Classic Potato Salad for a fun summer dinner!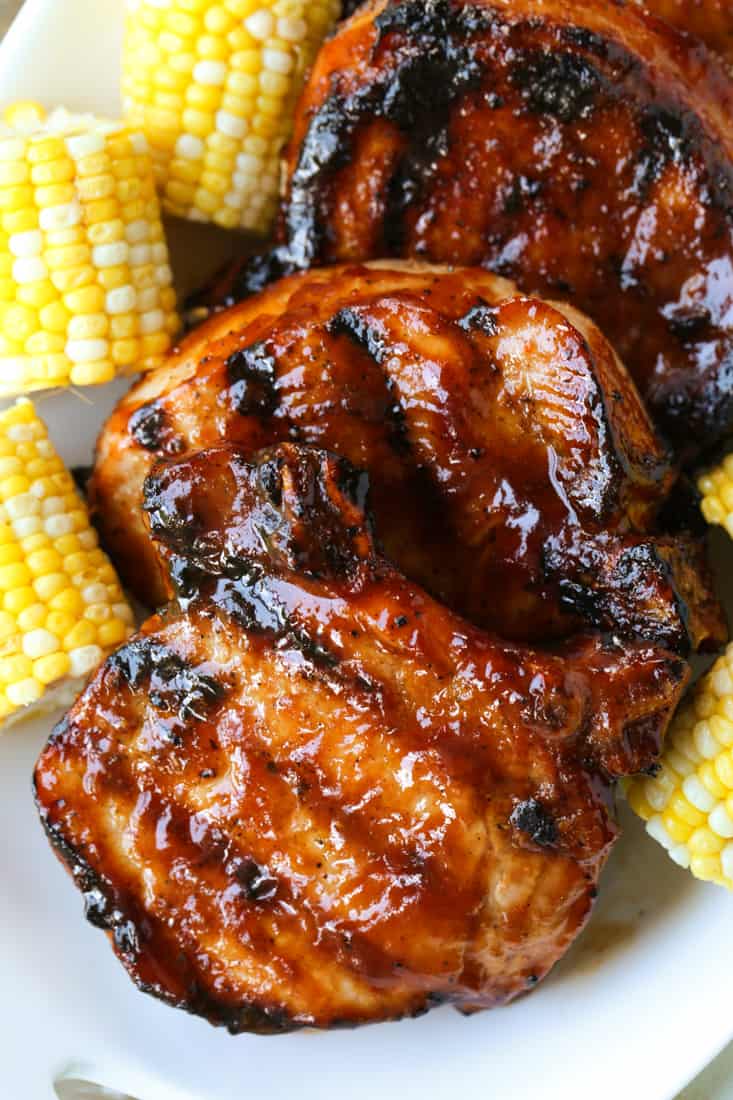 Easy Grilled Barbecue Pork Chops
Summertime and warm weather hits and we're ready to start grilling! These Grilled Barbecue Pork Chops are on the menu pretty often. Thick cut, bone-in pork chops that turn out juicy and tender, with just a few minutes of prep time.
Even people that don't typically like pork chops seem to really love pork cooked this way. A quick brine and a few minutes on the grill is all you need!
How To Make Pork Chops On The Grill
After the pork chops have soaked in a brine (we'll get to the brine a little further down in the post) dry them off well and season them on both sides. We used our favorite dry rub recipe, but you can grab any pork seasoning that you like from the store, too.
Once the pork chops are seasoned, place them on a preheated 400 degree grill.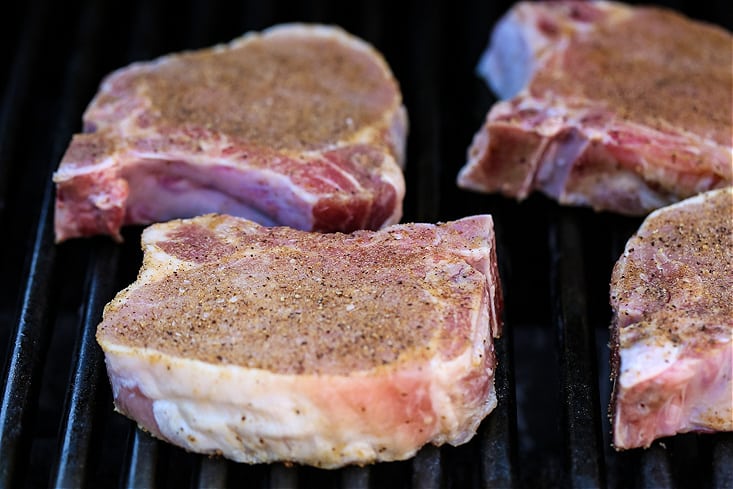 Grill the pork chops for 4-5 minutes on each side. This will depend on how thick your pork chops are; just make sure that the juices run clear and there's just a slight pink hue left in the meat.
After you cook the pork chops on the second side you can start to baste the pork with the barbecue sauce. You don't want to add the barbecue sauce too early because it will burn and stick to the grill.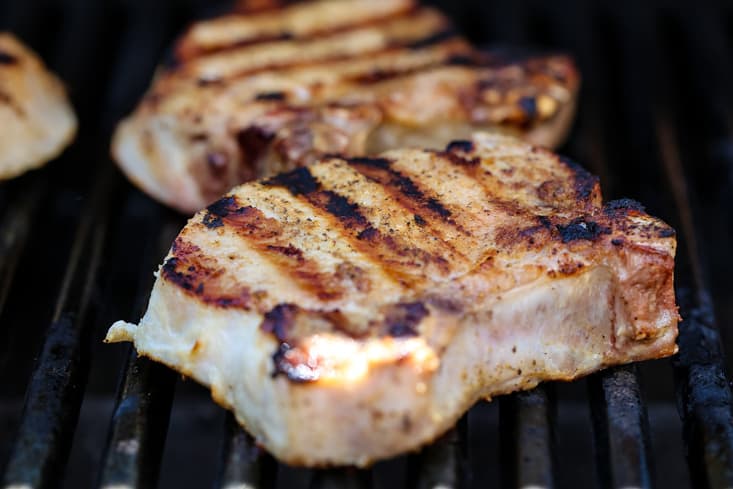 What Temperature Do I Cook Pork To?
It used to be that you didn't want to see any pink in pork, but nowadays that's only true if you're using ground pork. A slight pink hue to your pork chops is perfect. Not overcooking the pork will ensure that you end up with juicy, tender pork chops.
Remove the pork chops from the grill at 145 degrees. Place the chops on a platter, cover with foil and let them rest for at least 5 minutes, 10 preferably. This will continue the cooking time to raise the temperature to about 150 degrees, which in our opinion is the perfect temperature for pork.
If you want these Grilled Barbecue Pork Chops more well done, just keep them on the grill another few minutes before letting them rest.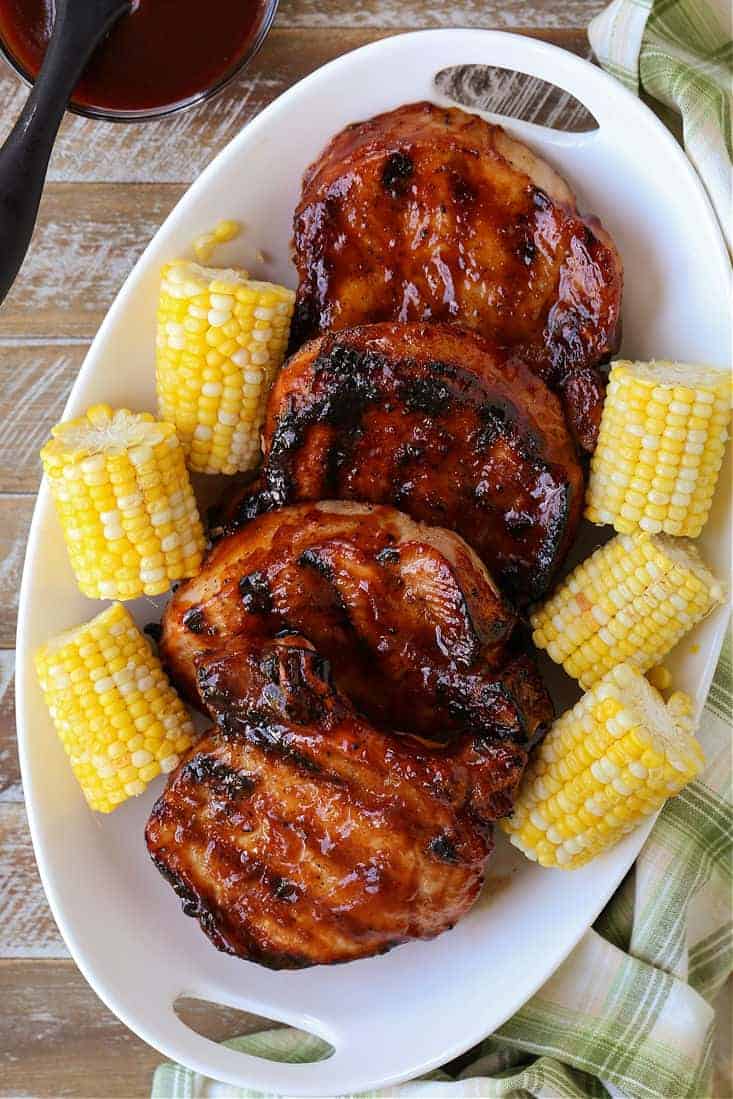 What Does A Brine Do?
Brining is the process of submerging meat in a water and salt solution. It not only adds flavor to the meat but it helps the meat (as in this pork recipe) retain water, which makes for a more juicy, flavorful end result.
Brining also tenderizes the meat, so on top of the most juicy pork chops you've ever eaten, they're going to be super tender too. You can add tons of flavors to a brine, depending on what type of meat you're brining. This is the brine recipe that we used for these pork chops:
Water
Kosher Salt
Bay Leaves
Whole Peppercorns
Brown Sugar
Garlic Cloves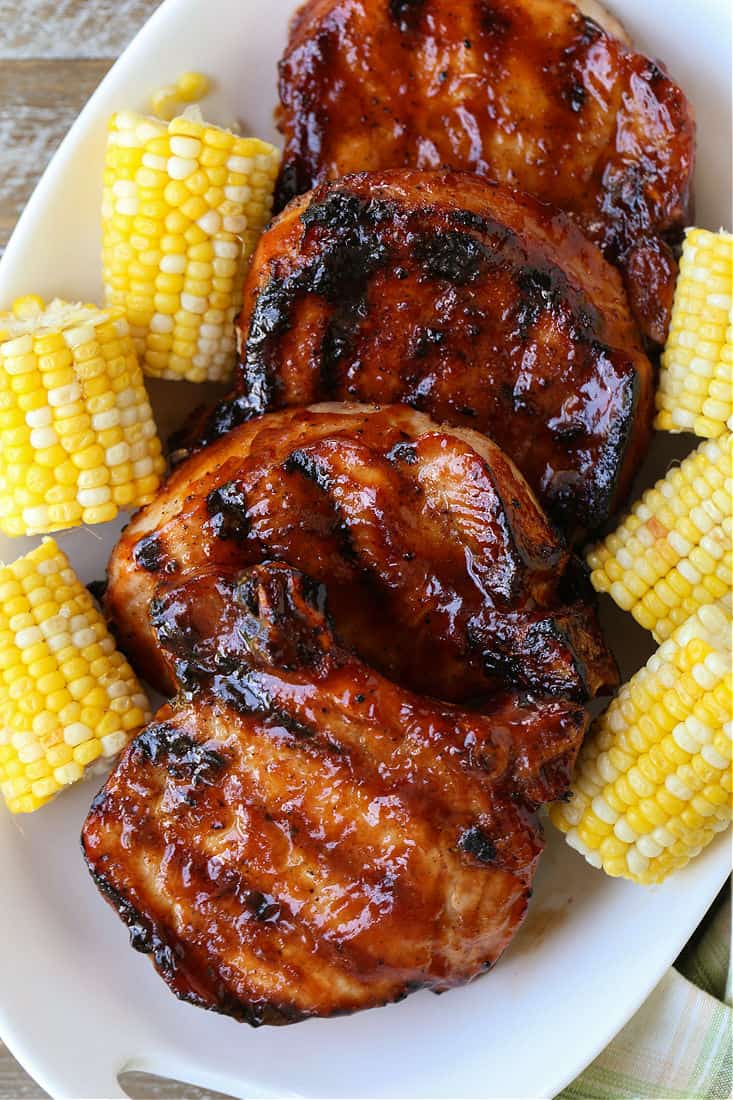 What Kind Of Pork Chops Are Best For The Grill?
These Grilled Barbecue Pork Chops are thick, bone-in chops that are perfect for grilling. Using meat with the bone-in always helps to keep the end product juicier and not dried out.
But since we're using a brine for this pork chop recipe you could use boneless pork chops if you prefer. They won't turn out as moist as the bone-in version but the brine will do its job and help them not to dry out as much.
When using boneless pork chops for this recipe you should let the chops soak longer in the brine than you would for the bone-in pork chops.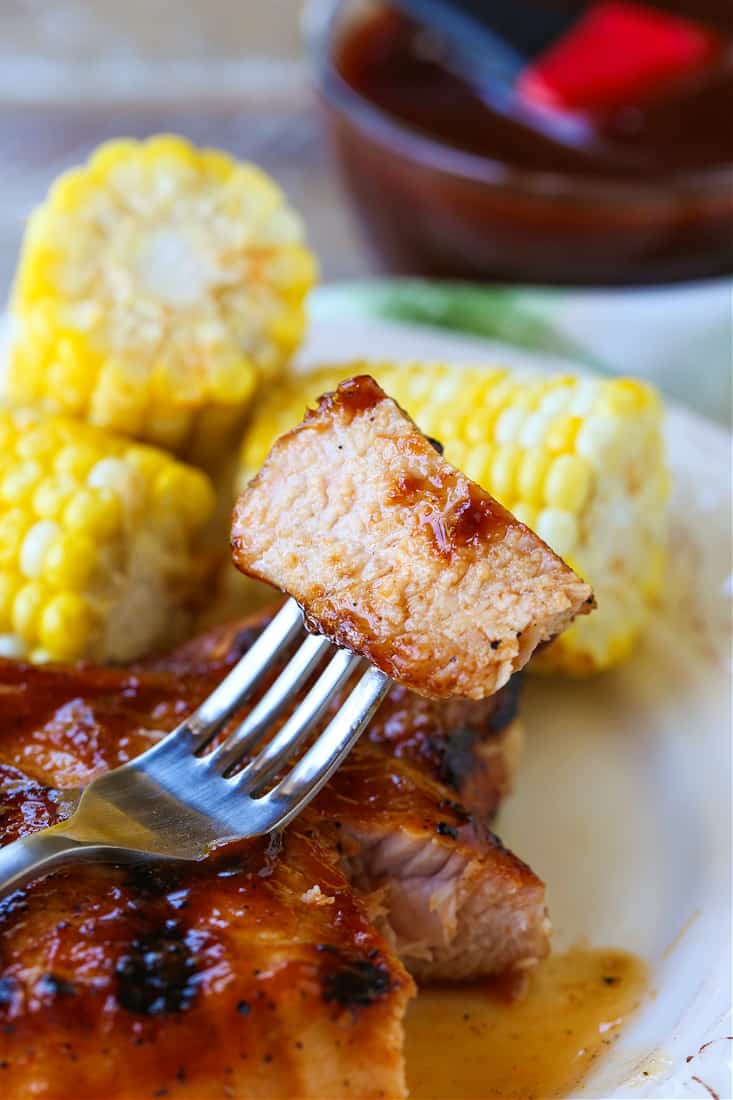 What Sides Go Well With This Pork Chop Recipe?
We've got side dishes galore to share with you! Whether you're making these BBQ pork chops for a party or BBQ, or just for dinner, we've got the perfect side dish to go along with them!
You can also try smoking pork chops! We're not the experts as far as smoking goes, so check out this recipe for Smoked Pork Chops, then circle back here for all your sides!
Looking For More Grilling Recipes?
Print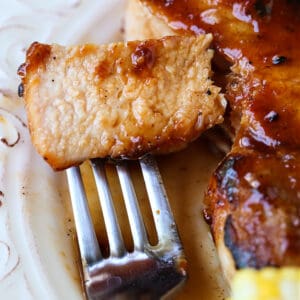 Grilled Barbecue Pork Chops
Author:

Prep Time:

5 minutes

To For The Brine:

2 hours

Cook Time:

10 minutes

Total Time:

2 hours 15 minutes

Yield:

4

servings

1

x
These Grilled Barbecue Pork Chops are a favorite summertime dinner recipe! So easy to make with a quick brine and just a few minutes on the grill!
Scale
Ingredients
4

thick sliced, bone in pork chops
Pork dry rub (any type will work, or use the dry rub seasonings from our Pulled Pork recipe!)
Kosher salt and black pepper, to taste
For the Brine:
4 cups

water

1/4 cup

kosher salt

1

bay leaf

1 teaspoon

whole peppercorns

2 tablespoons

brown sugar

4

cloves garlic, whole
For the Barbecue Sauce:
1 cup

honey barbecue sauce (regular flavor will work too)

2 tablespoons

soy sauce

2 tablespoons

pineapple juice (or orange juice)

2 tablespoons

honey
Instructions
Add all the ingredients for the brine into a medium sized pot and bring to a boil. Stir to make sure the sugar is dissolved and then reduce the heat to a simmer for 15 minutes.
Let the brine cool for 5 minutes on the stove with the heat turned off and then pour into a bowl over an ice bath (see note). Let the brine cool completely; this should take about 30 minutes, stirring often.
Once the brine has cooled, pour over the pork chops in a glass dish or a resealable bag. Let the pork chops brine in the refrigerator for at least 2 hours or up to 8 hours.
Remove the pork chops from the brine and dry off with paper towels. Preheat the grill to a medium-high heat, about 400 degrees.
While the grill is preheating, mix the ingredients for the BBQ sauce together in a bowl and set aside.
Oil the grill grates or spray with non-stick cooking spray and then cook the pork chops for 4-5 minutes on each side. After 4 minutes on the second side, start to brush the pork chops with the barbecue sauce. We like to brush on the sauce, close the lid for 2 minutes and then brush more sauce on the chops.
Remove the pork chops from the grill when they reach 145 degrees. Place the pork chops on a platter and cover with foil for at least 5 minutes.
Serve the grilled barbecue pork chops with juices from the platter poured on top and extra barbecue sauce on the side.
Recipe Notes
Ice Bath: Fill a large bowl with water and ice. Place a smaller bowl on top of the water and ice so that the smaller bowl sits on top. When the brine is done, pour it into the smaller bowl and stir until the brine is cooled completely.
Category:

Dinner

Method:

Grill

Cuisine:

American
Keywords: mantitlement, pork recipes, pork chop recipes, grilling recipes, bbq pork recipe, bbq pork chops, barbecue pork chops