Chinese BBQ Pork Tenderloin is one of our favorite dinners! Tender, marinated pork is tenderloin baked with a quick Asian BBQ sauce!
Make this pork tenderloin recipe for dinner and then have leftovers for the week! We love making BBQ Pork Fried Rice with any leftovers or you can roll the pork up in these Baked Pork Taquitos!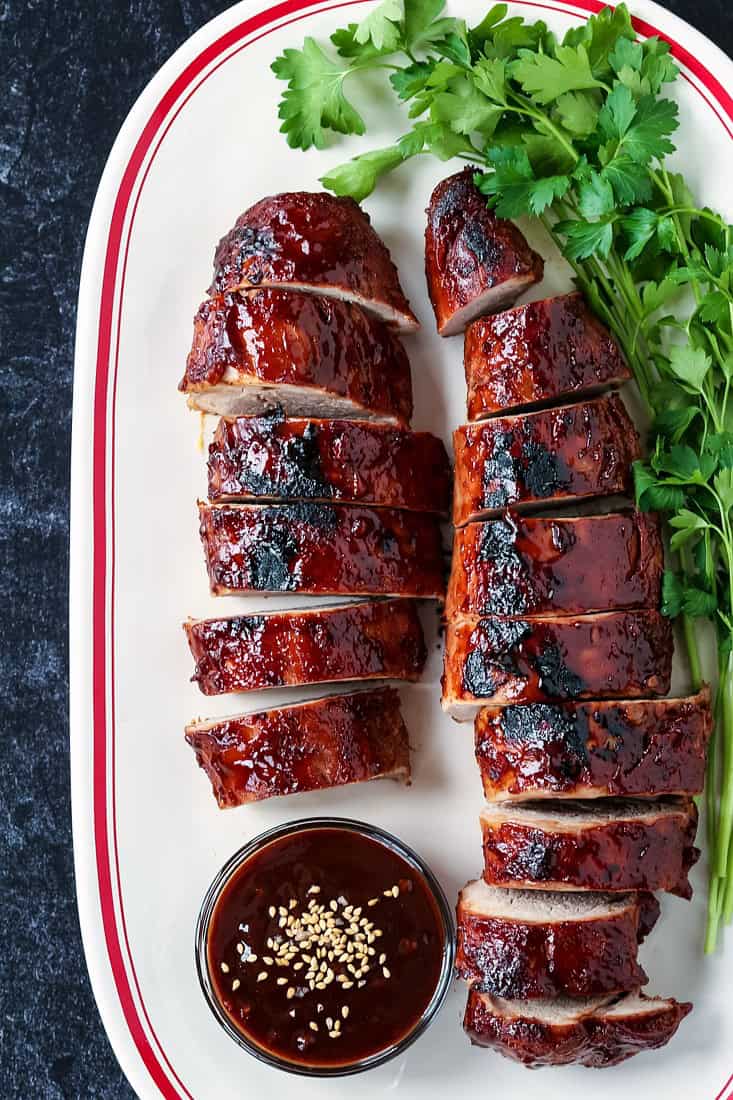 A Pork Tenderloin Recipe With Asian BBQ Sauce
When I tell you that our kids literally gobbled this Chinese BBQ Pork Tenderloin up, I mean it. Pork tenderloin can be dry if not cooked properly, or over cooked but the marinade in this recipe makes this pork really tender and juicy.
So even if you overcook it a little, you're still going to be good.
This marinade is actually the same marinade that we use on our Boneless Chinese Spare Ribs which ave become a really popular recipe! Using an air fryer, those boneless spare ribs are done in only 8 minutes!
All you need to do for this pork recipe is think ahead a little, get the pork marinated the night before and then getting dinner on the table is a breeze. Serve this pork dinner with rice or ramen noodles and a side of steamed broccoli!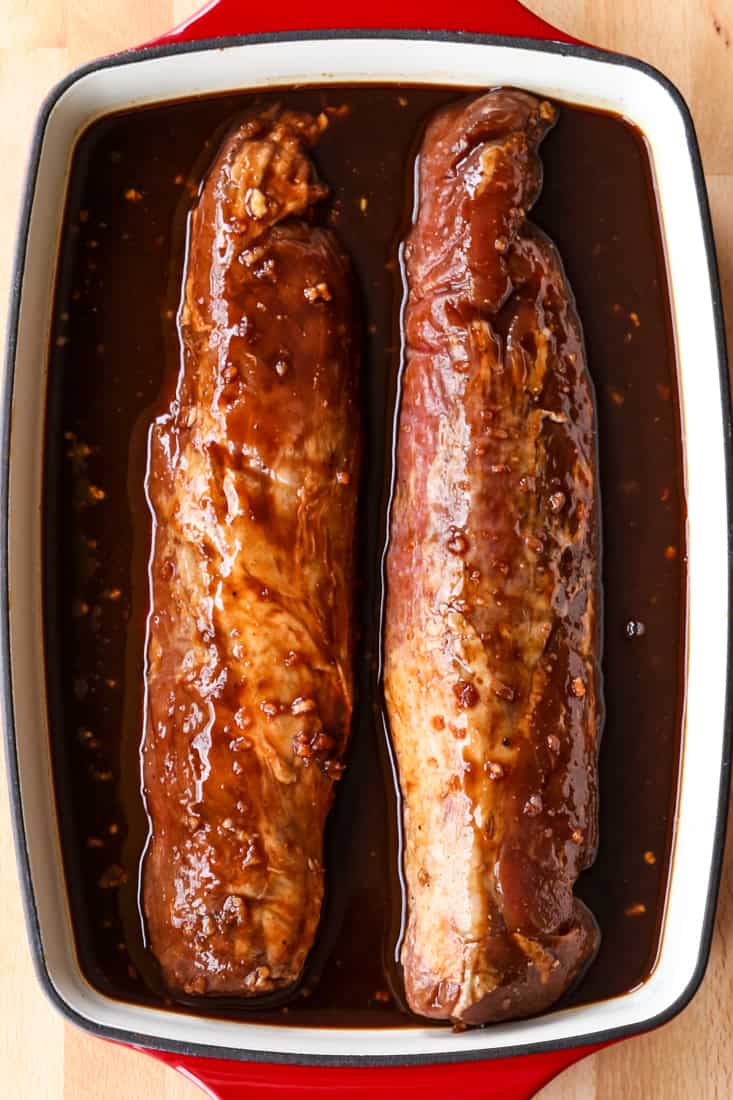 Is Using The Pork Marinade In The Sauce Safe?
We get this question a lot. If you're really that concerned you should google it and let the google gods give you the answer, but the answer is – yes. Boiling a marinade that's been used on raw meat for at least 5 minutes will kill off any harmful bacteria going on, so just to be safe we boil it for 10 minutes.
Also, if you're really not down with reusing the marinade, you can double the marinade recipe and save half for making the sauce after. That way really takes out any cause for concern and it makes for a super tasty BBQ sauce that can be used on tons of different things!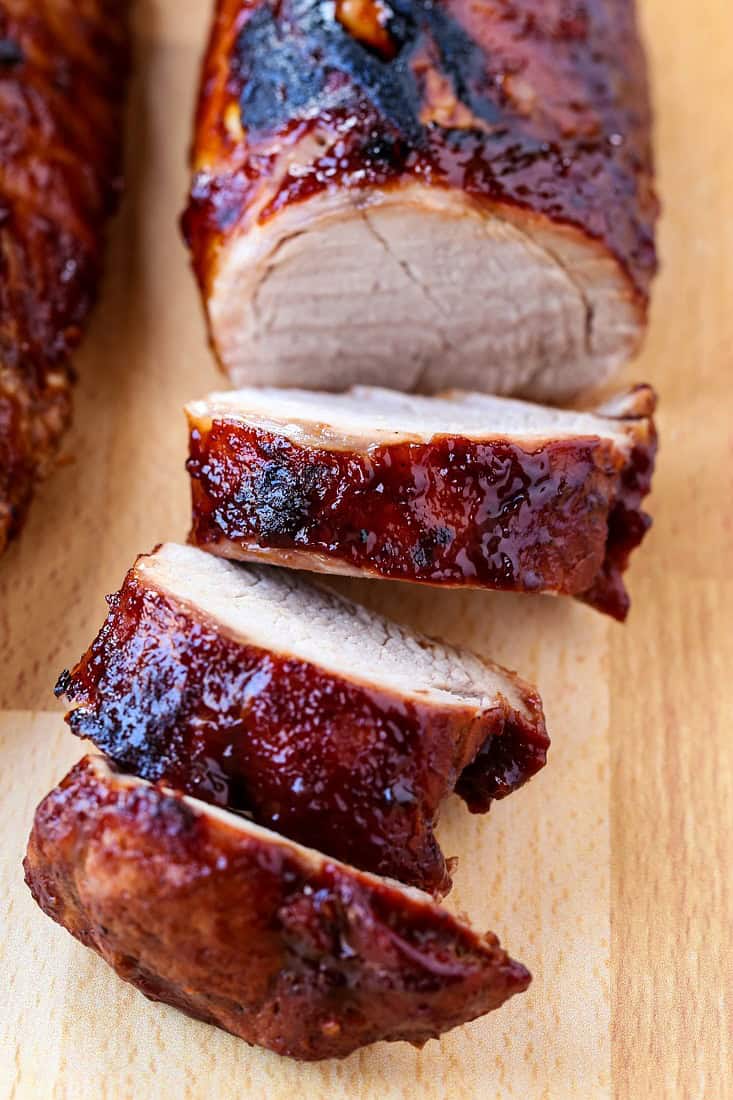 What Is The Recommended Temperature To Cook Pork To?
You can remove this pork tenderloin from the oven at 140 degrees, then let it rest for 10 minutes tented under foil. A lot of people tend to overcook pork, making it tough and dry so do try and use a meat thermometer to get a good temperature reading.
A slight pink color in the center of the pork is ok, don't freak out about it! You definitely don't want it too pink looking or rare at all but just a slight pink hue is really what you're looking for.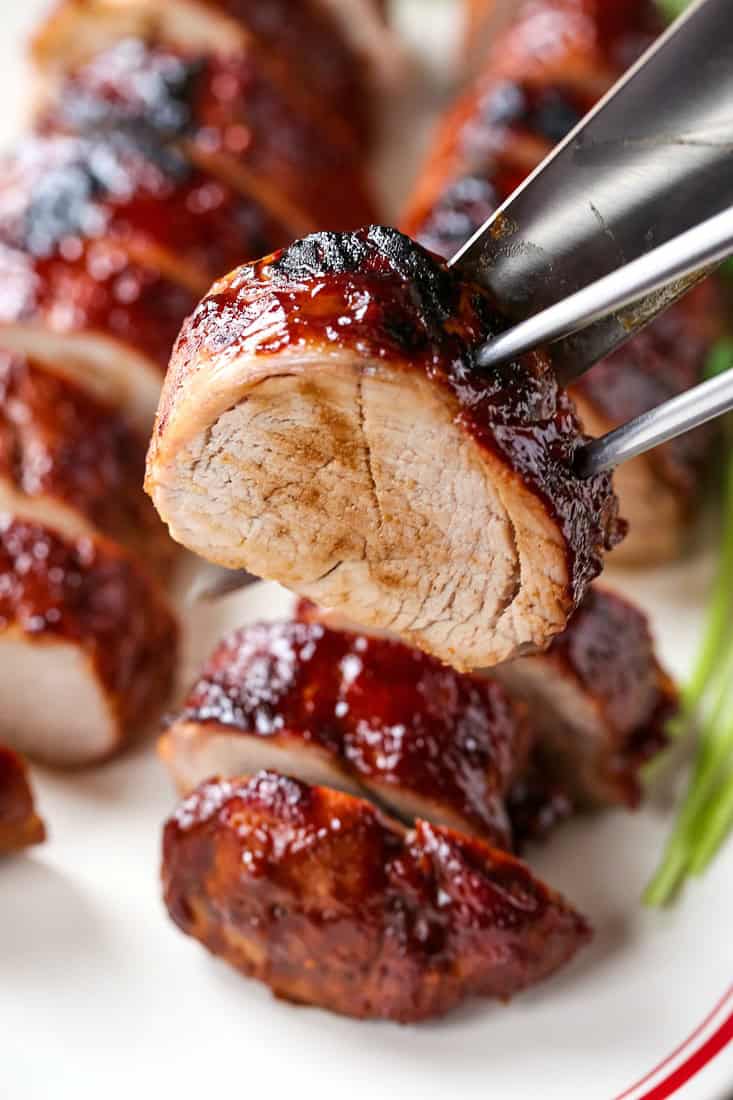 How Long Do I Need To Let The Pork Rest?
Resting the pork after it comes out of the oven is key to a juicy pork roast! I know people that even say they just don't like pork because it's "too dry" or "doesn't have any flavor". Well this Chinese BBQ Pork Tenderloin recipe is here to prove them wrong.
So after you pull these pork tenderloins out of the oven, tent them loosely with foil and let them rest for at least 10 minutes. What this does is let all the juices go back into the meat instead of pouring out all over the cutting board when you go to cut into it.
You can almost cut this pork with a fork after you slice it, it's that tender. And as long as you marinate the pork for a long enough time there's no way you're ending up with tasteless, dry pork. Not on my watch.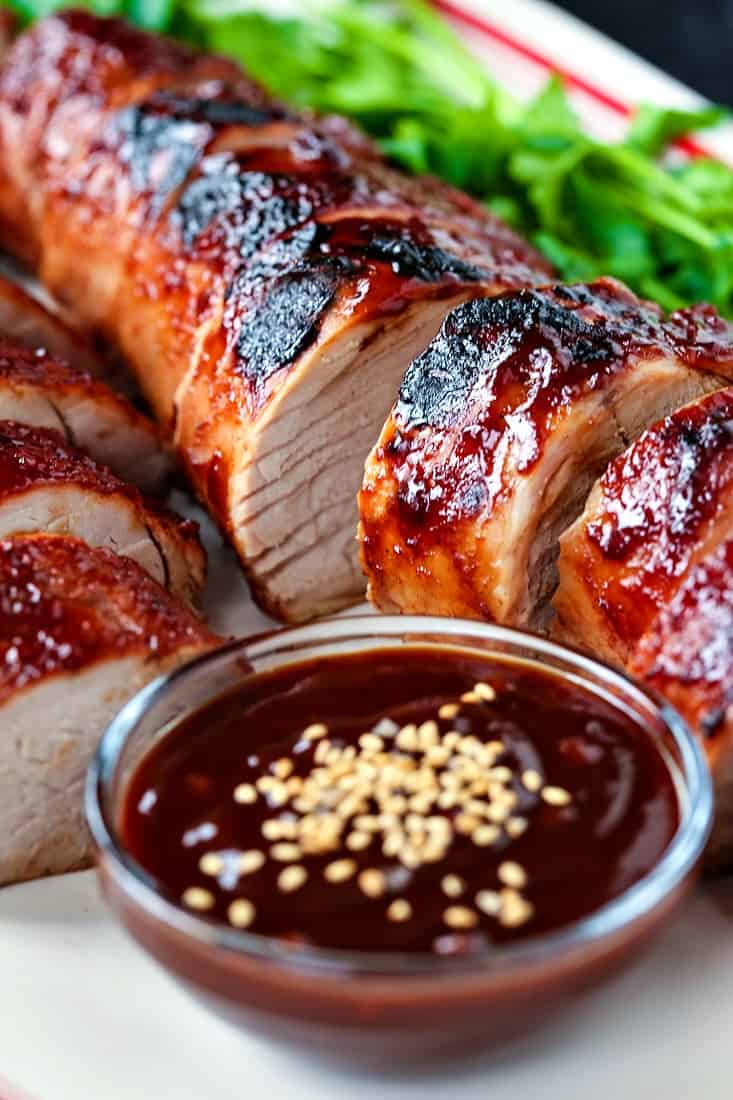 What Can I Serve With This Pork Tenderloin Recipe?
So many things! We'll give you a few of our favorites here! For all of you following a low carb plan, you can serve this pork with salad or any type of steamed vegetables like broccoli, asparagus or bok choy.
For all you carb lovers, try ramen noodles, rice or crispy french fries! Still serve up a side of veg just to keep things healthy;)
Full Carb Options:
Low Carb Options:
Or you can serve a combination of a couple of the above side dishes to please everyone at the dinner table! This pork tenderloin recipe makes a good amount so you're probably going to have some leftovers!
Perfect for meal prepping for a busy week ahead or turning leftovers into another delicious dinner!
PIN IT!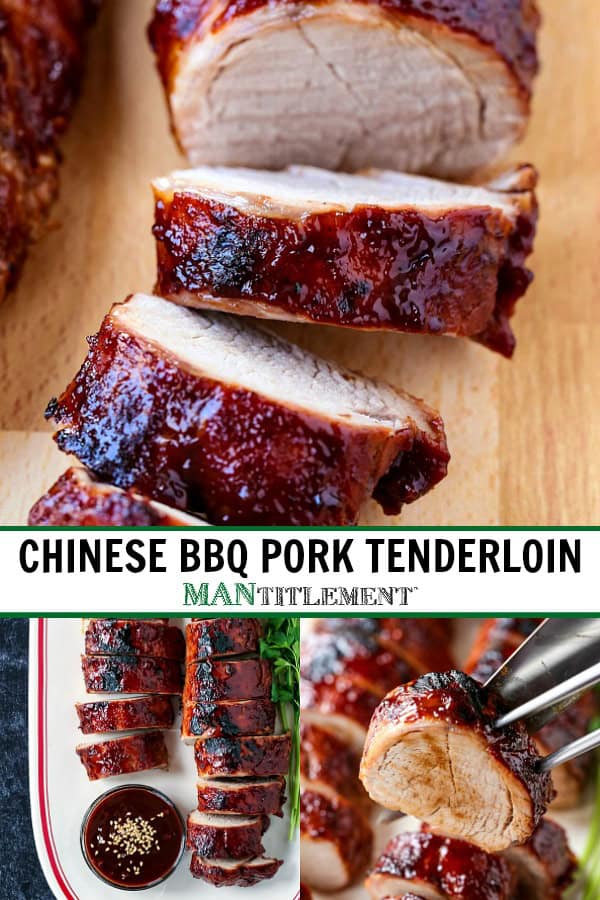 Looking For More Pork Recipes?
Print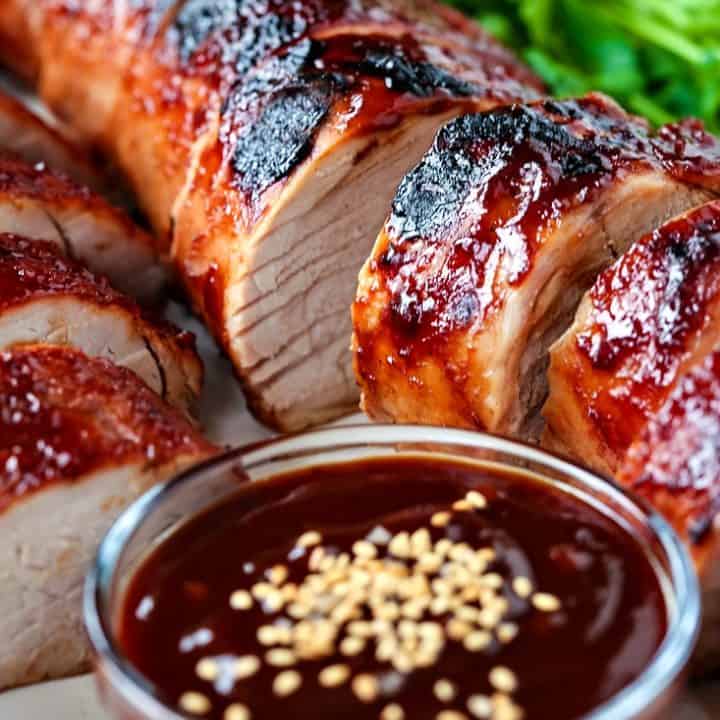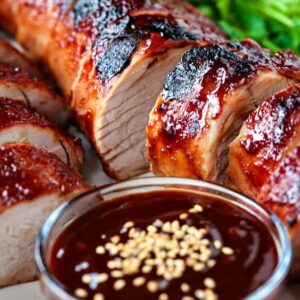 Chinese BBQ Pork Tenderloin
Author:

Prep Time:

5 minutes

Cook Time:

60 minutes

Total Time:

1 hour 5 minutes

Yield:

8

Servings

1

x
This tender pork tenderloin recipe is so easy to make! Marinade the pork overnight and then make a quick, homemade Asian BBQ Sauce to go on top while it's baking!
Scale
Ingredients
2

pork tenderloins (about

2

pounds each)

1/2 cup

hoisin sauce

1/2 cup

soy sauce

1/2 cup

red wine

1 tablespoon

minced garlic

1 tablespoon

sugar

1/8 teaspoon

cinnamon

1/8 teaspoon

ground coriander
Pinch of cloves
Fresh black pepper to taste

1/2 cup

BBQ sauce (can use low sugar BBQ sauce if doing low carb)
Instructions
Combine the hoisin sauce, soy sauce, red wine, garlic, sugar, cinnamon, coriander and the pinch of cloves in a resealable bag or a glass baking dish. Add the pork tenderloins and marinate overnight or for at least 8 hours, turning during the marinating process to coat both sides of the pork.
Preheat the oven to 400 degrees.
Remove the pork from the marinade (reserving the marinade) and dry off with paper towels, then add to a baking dish that's been sprayed with cooking spray. Place into the oven for 30 minutes.
While the pork is in the oven, pour a cup of the marinade into a small pot. Bring the marinade to a boil for 5 minutes, then turn the heat down to a simmer for an additional 3-5 minutes. Add the 1/2 cup of BBQ sauce and stir to combine, then remove from the heat.
After 30 minutes, take the pork out of the oven and baste with the sauce. Return the pork tenderloins to the oven for another 15 minutes, then remove and baste again. Bake for another 15 minutes or until the temperature reaches 140 degrees.
Tent the pork loosely with foil to rest for 10 minutes. Slice and serve with additional sauce on the side.
Recipe Notes
If you want a crispier, caramelized sauce on top of the pork you can place it under a broiler for 5 minutes.
Category:

Dinner

Method:

Oven

Cuisine:

American
Keywords: pork tenderloin recipe, pork recipe, bbq pork, chinese pork, chinese bbq pork, dinner recipes, low carb recipes