Flat Chicken is a thin, crispy chicken cutlet that can be eaten alone or used in so many different recipes! Breaded with parmesan cheese and a secret ingredient that brings the most delicious flavor!
Chicken cutlets are such a universal "ingredient" to have on hand! Eat them with a squeeze of lemon or use them to make other recipes like these Bang Bang Chicken Sliders or make a sheet pan Chicken Parmesan!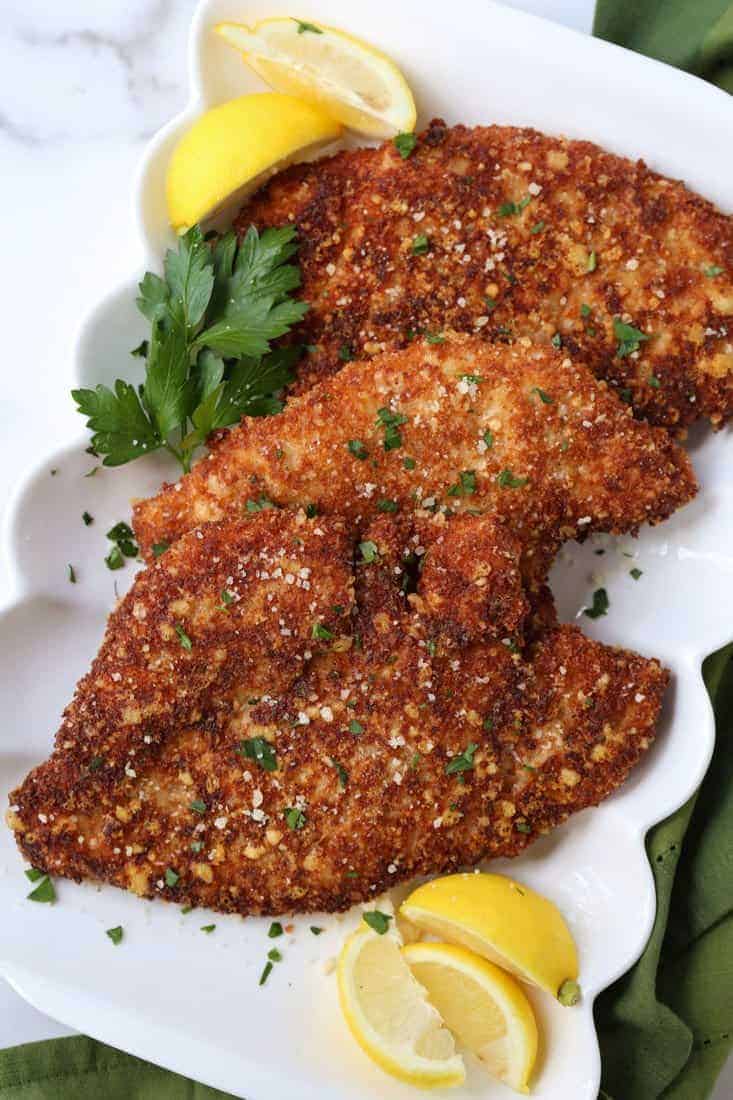 What Is Flat Chicken?
Flat Chicken us pretty self-explanatory! Our boys used to call these breaded chicken cutlets "Flat Chicken" when they were little and the name stuck over time. Thin, crispy chicken cutlets that are breaded with equal parts of panko bread crumbs and parmesan cheese. These chicken cutlets have one secret ingredient that really makes the flavor pop!
Use Flat Chicken to make sandwiches, cut up and toss in salads, make a quick chicken parmesan or my favorite, Chicken Milanese. Of course you can eat these chicken cutlets as is, with a squeeze of lemon or dip into your favorite dipping sauce!
How Do You Make Breaded Chicken Cutlets?
The first thing you need to do is to pound out your chicken. If your chicken breasts are very thick, you can butterfly them or slice them in half lengthwise. Then pound the chicken between two layers of plastic wrap, one on the bottom of the chicken breast and one on top.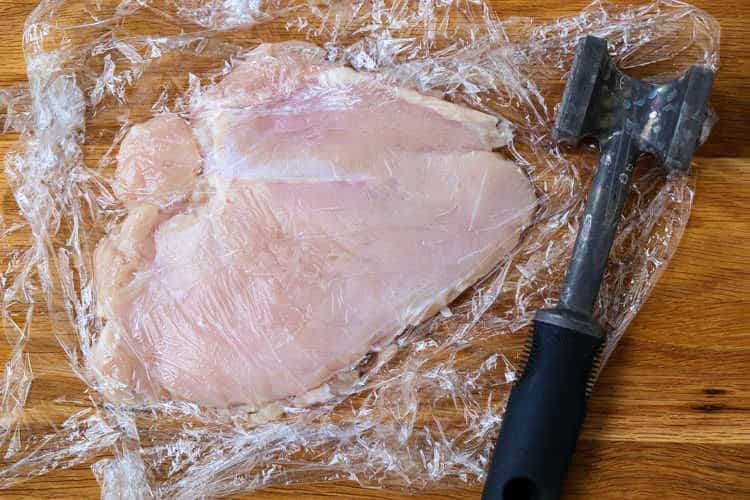 You want the chicken to be thin but not so thin that you don't taste any chicken! A quicker way to make this chicken is to buy thin sliced chicken cutlets, but try and make sure that they aren't paper thin like I talked about before.
Pound the chicken out until it's about 1/2 inch thick, making sure it's even all around. If you start out with the thin sliced chicken breasts you most likely won't have to pound them at all.
How To Set Up A Breading Station
Here's a little trick to remember the order that you bread almost anything! February. FEB. Flour, eggs, bread crumbs. That's the order for a perfectly breaded chicken cutlet.
You guys know what I'm talking about, right? Sometimes you get a breaded chicken or veal or turkey cutlet and the breading just falls off? That's because it wasn't breaded correctly.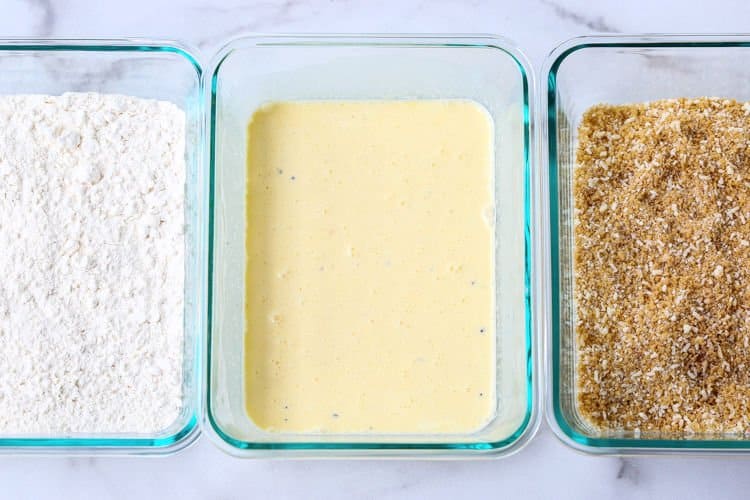 So the flour sticks to the chicken, the egg wash sticks to the flour and the bread crumbs stick to the eggs. That's how you end up with a super crispy chicken cutlet that the breading actually stays on!
Once you get the order of this breading station down, you can start breading all your favorite things! We've added cream to our egg wash to make it even more flavorful and a whole lot of grated parmesan cheese to our panko breadcrumbs.
Dip the chicken breast into the flour, tapping the excess off, then the egg mixture, letting the excess drip off and then finally into the bread crumbs and parmesan cheese. Make sure to press the bread crumbs into the chicken breast so that you get a nice, crispy coating.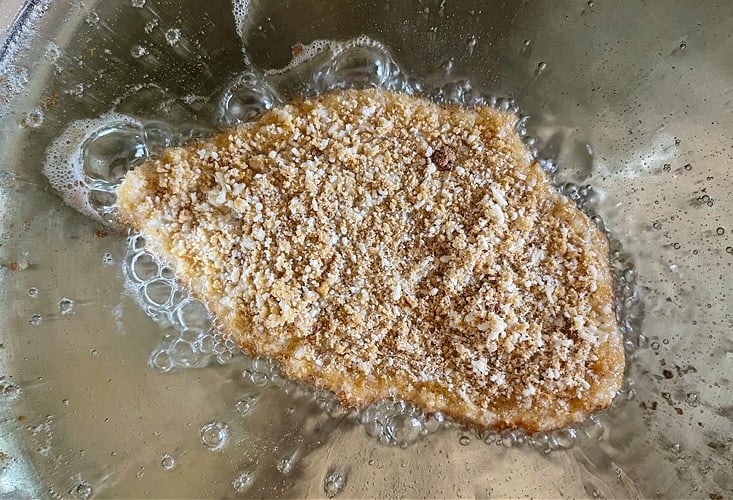 Now the breaded chicken cutlets go into a skillet with just a shallow layer of oil. As you can see the oil isn't covering the chicken at all, the chicken is just sitting nicely in the oil. Cook the chicken for 2-3 minutes on each side, depending on the thickness of your cutlet until they are nice and golden brown just like this…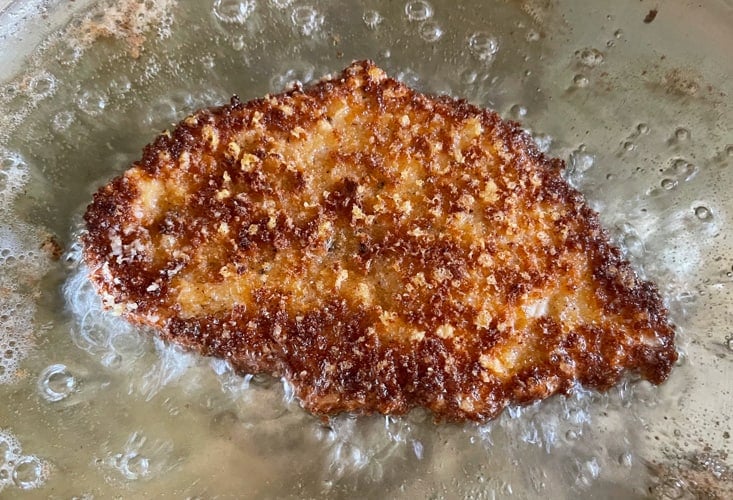 What's The Secret Ingredient In Flat Chicken???
Nothing crazy, just a simple little spice. Ground nutmeg. That's right, my friends, nutmeg isn't just for baking. Adding ground nutmeg to these chicken cutlets just gives it that extra depth of flavor that you can't really put your finger on, but you know it just tastes delicious.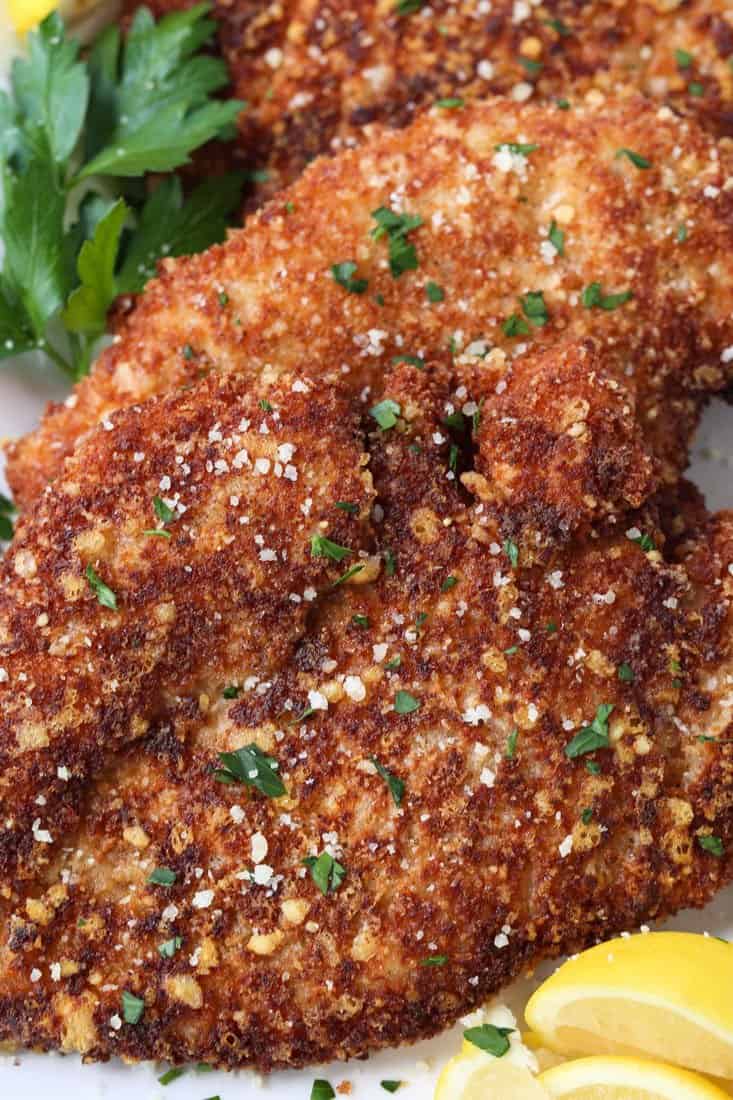 The other ingredient that we like using to make these breaded chicken breasts taste the best is whole wheat panko bread crumbs. You can, of course use regular panko for this recipe but whole wheat bread crumbs give another depth of flavor and a wonderful dark brown color to the cutlets.
I'm telling you guys, you're not going to have a more delicious and crispy breaded chicken cutlet than these!
Can You Freeze Breaded Chicken Cutlets?
This chicken recipe is perfect for meal prepping! Once the chicken is cooked and cooled, add to freezer bags in a single layer and freeze until ready. Remove as many chicken cutlets as you need and place on a baking sheet that's been sprayed with cooking spray. Cover the chicken loosely with aluminum foil and heat at 400 degrees until the chicken is warmed through.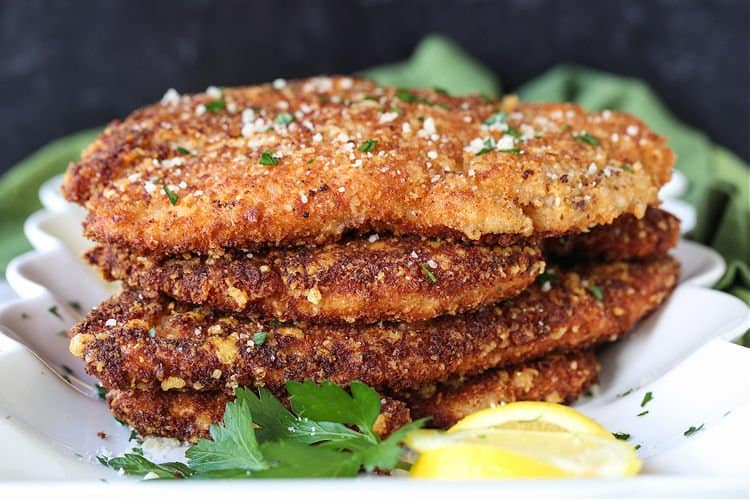 What Are Some Ways To Use These Breaded Chicken Breasts?
As we mentioned before, just eat this crispy chicken as is with a squeeze of lemon and a side salad for a delicious dinner! Or use your favorite honey mustard sauce, drizzle the top with bang bang sauce or your favorite dipping sauce!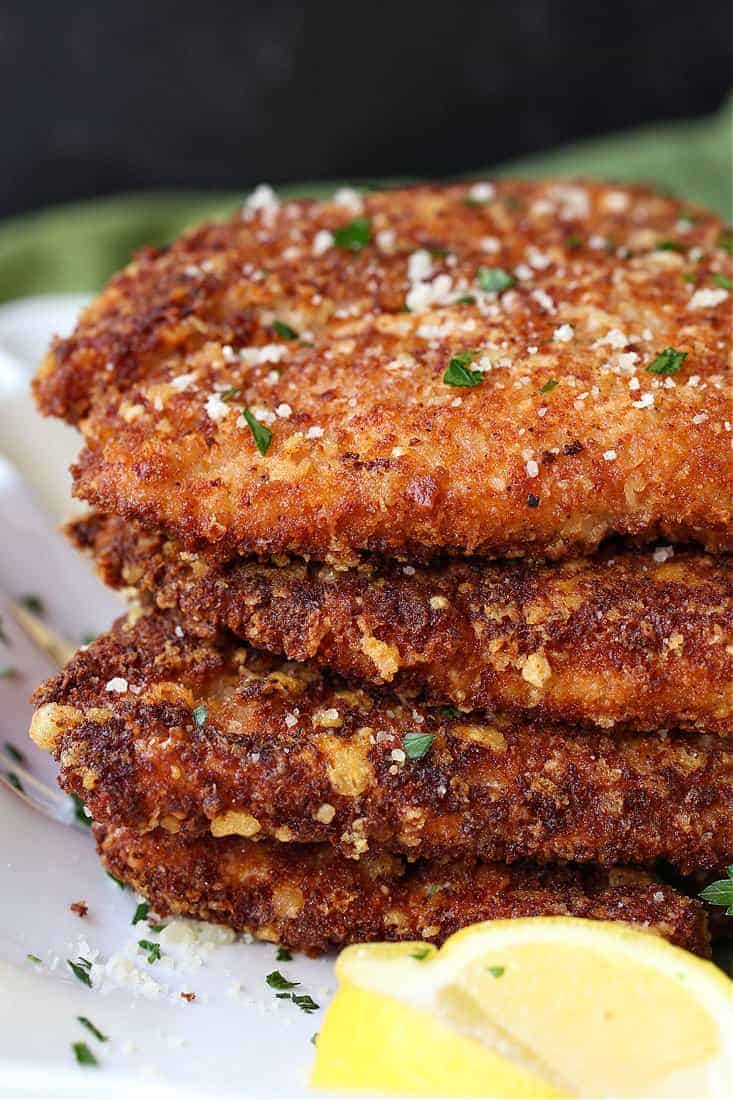 Other ideas to make with this chicken recipe is to place on a sheet pan, top with sauce and mozzarella cheese for a quick chicken parmesan. Or top with fresh mozzarella, roasted red peppers, basil and balsamic glaze and place on a ciabatta roll for the most tasty sandwich ever.
Cut up for salads, add to pasta dishes or make a wrap with lettuce, cheese and mayonnaise! This Flat Chicken is one of our favorite chicken recipes for a lot of reasons. Prep this chicken at the start of the week and make a new dinner every night!
Looking For More Chicken Recipes?
Print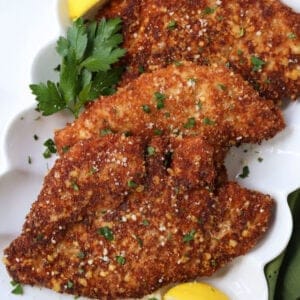 Flat Chicken (Thin & Crispy Chicken Cutlets)
Author:

Prep Time:

10 minutes

Cook Time:

15 minutes

Total Time:

25 minutes

Yield:

6

Servings

1

x
Flat Chicken is our secret family recipe for the best chicken cutlets you'll ever have! Flat Chicken is what our boys used to call these crispy chicken cutlets when they were little and the name stuck! Eat these cutlets as is or use them to make so many different recipes!
Scale
Ingredients
1 1/2

–

2

pounds boneless, skinless chicken breast (about

4

large chicken breasts, see note)

1 cup

whole wheat panko bread crumbs

1 cup

grated parmesan cheese (use a good quality parmesan)

1 1/2 teaspoons

ground nutmeg

1/4 teaspoon

kosher salt

3

eggs

1/2 cup

heavy cream or

half an

d half

1/4 teaspoon

fresh black pepper

1/2 cup

flour
Vegetable or canola oil for frying
Instructions
Place a piece of plastic wrap on a board. Top with a chicken breast and then another pieces of plastic wrap. Use a meat mallet to pound the chicken out to a 1/2 inch thickness. If your chicken breasts are very large, you can butterfly them first to make it easier.
Set up a breading station with flour in one dish, the eggs beaten with cream, salt and pepper in another dish and the bread crumbs, parmesan cheese, nutmeg and 1/4 teaspoon of salt in another dish.
Dip a chicken breast into the flour, tapping off the excess flour. Now dip into the egg mixture, letting the excess egg drip off and then into the bread crumb mixture, pressing to make sure the chicken is coated well. Place the breaded chicken on a plate and repeat with the remaining chicken breasts.
Add a thin layer of oil to a large skillet. This isn't a deep fry but you want enough oil to coat the entire bottom of the skillet. Heat the oil over medium heat until hot, then add a couple of breaded chicken breasts at a time as to not crowd the pan. Cook for 2-3 minutes on each side, depending on how thick your chicken cutlets are, then remove from the skillet onto a paper towel lined plate. Repeat with the remaining chicken.
Serve while hot or keep in a warm oven (325 degrees) until ready to serve.
Recipe Notes
You can also use thin cut chicken breasts so that you don't have to pound out the chicken.
Freeze these chicken cutlets in a freezer bag and reheat in a 400 degree oven, covered loosely with foil until warmed through. To make sure the chicken gets crispy on both sides, turn the chicken cutlets over once when reheating.
Category:

Dinner

Method:

Stove Top

Cuisine:

American
Keywords: mantitlement, chicken cutlets, breaded chicken cutlets, parmesan chicken breast