Here's some of our most Favorite Chicken Appetizers for all of your party needs! These chicken appetizers are so good, they just might turn into dinner!
The theme for this week started with a freezer full of ground chicken. We always grab it when it's on sale, or when it's not…it's a great swap in for beef in a a lot of recipes and for some recipes there's isn't a substitute for ground chicken, like my Chicken and Waffle Meatballs or the Chicken Parm Pizza from earlier this week.
And besides ground chicken there's ALWAYS boneless skinless chicken in our fridge. I guess we do eat a lot of chicken. But sometimes you open the freezer and you just stare at all the chicken with a blank look on your face. More chicken recipes are always needed…
What we like to do to switch things up is have apps for dinner. Instead of a big meal, just make an appetizer and have a more casual night instead of a big meal. This works really good for us with school starting…the homework and sports practices. Everyone can just grab something to eat and go.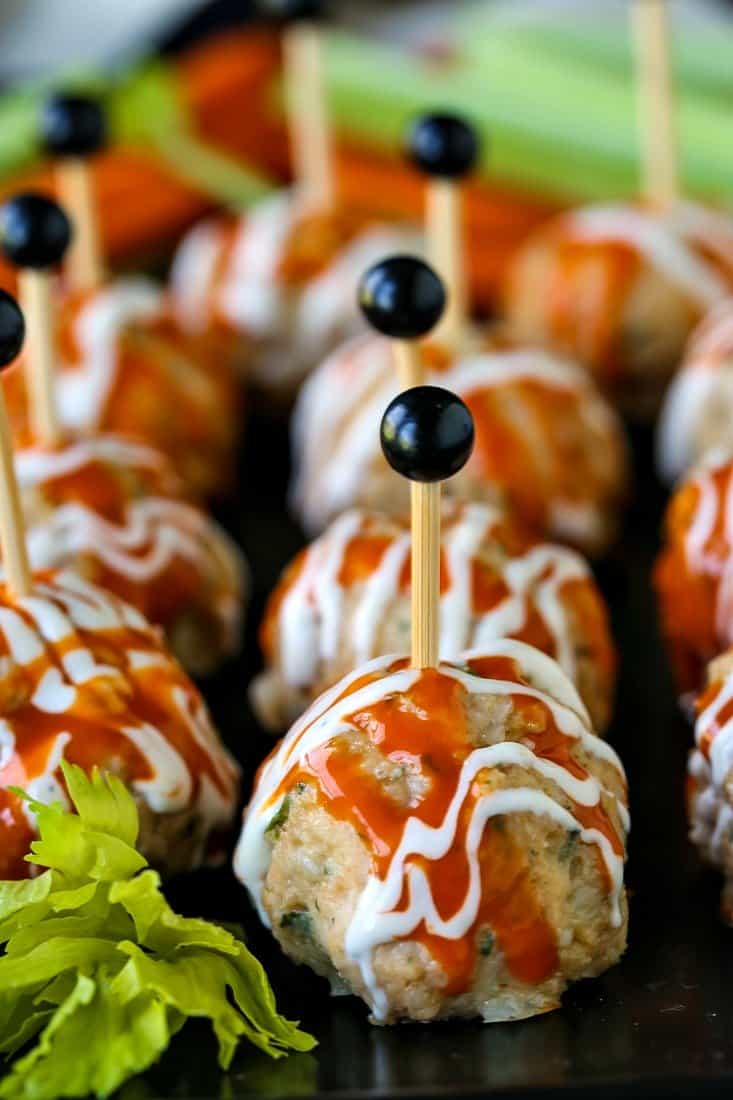 These slightly spicy chicken meatballs are so good, our kids can't stop eating them. Using a buffalo wing sauce instead of hot sauce makes these meatballs fall more on the mild side instead of that blow your head off heat.
Not a buffalo sauce fan? Make these chicken meatballs and serve them with BBQ Sauce, an Asian Glaze or even just straight up. They're good for you and super delicious!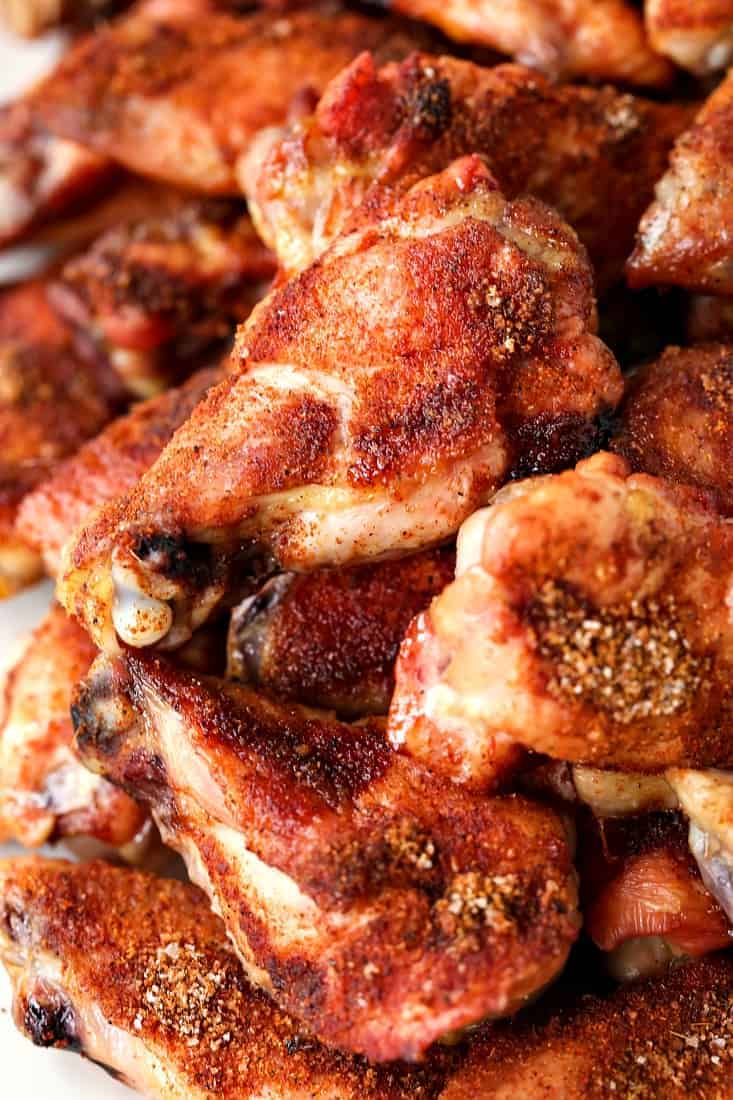 Sometimes you don't want all that sauce ALL over you hands, am I right? I mean, there's a time and a place for that, don't get me wrong. But these wings have the most delicious BBQ dry Rub on them that's so good you don't even need the sauce.
Chicken Caesar Salad Bruschetta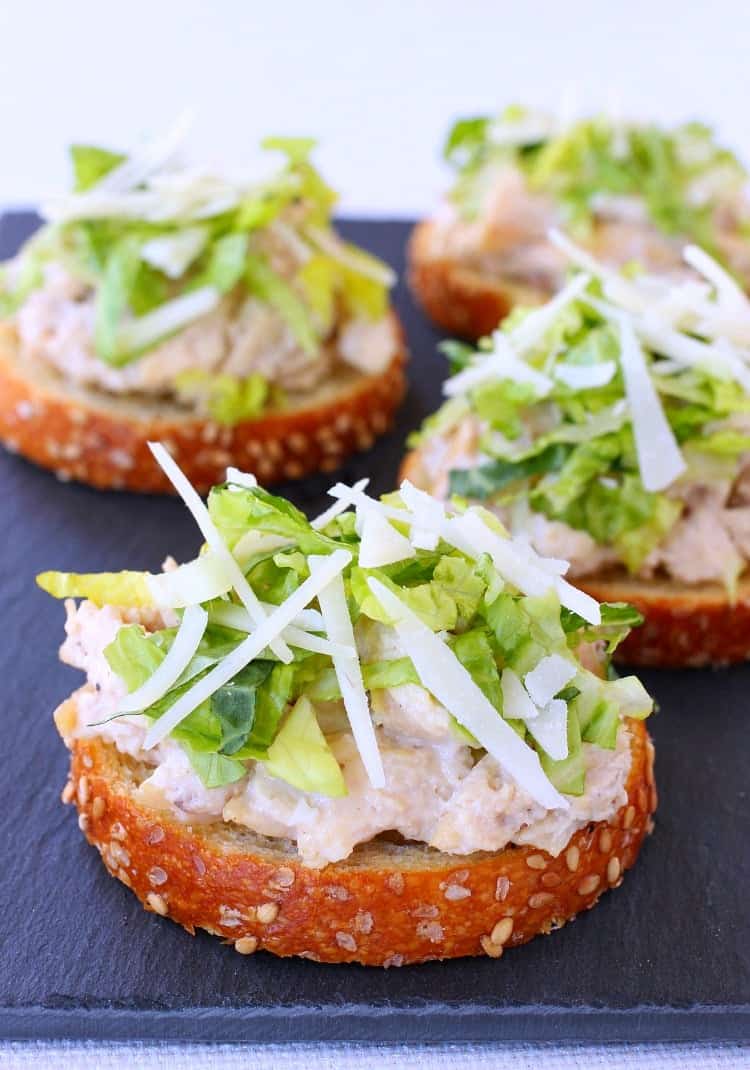 This chicken salad is made with our homemade Caesar Dressing instead of just straight up mayonnaise. It's so tangy and flavorful, you'll be eating it right out of the bowl! But pile it on crispy toasts and top with shredded lettuce and shaved parmesan cheese and you've got party worthy chicken salad.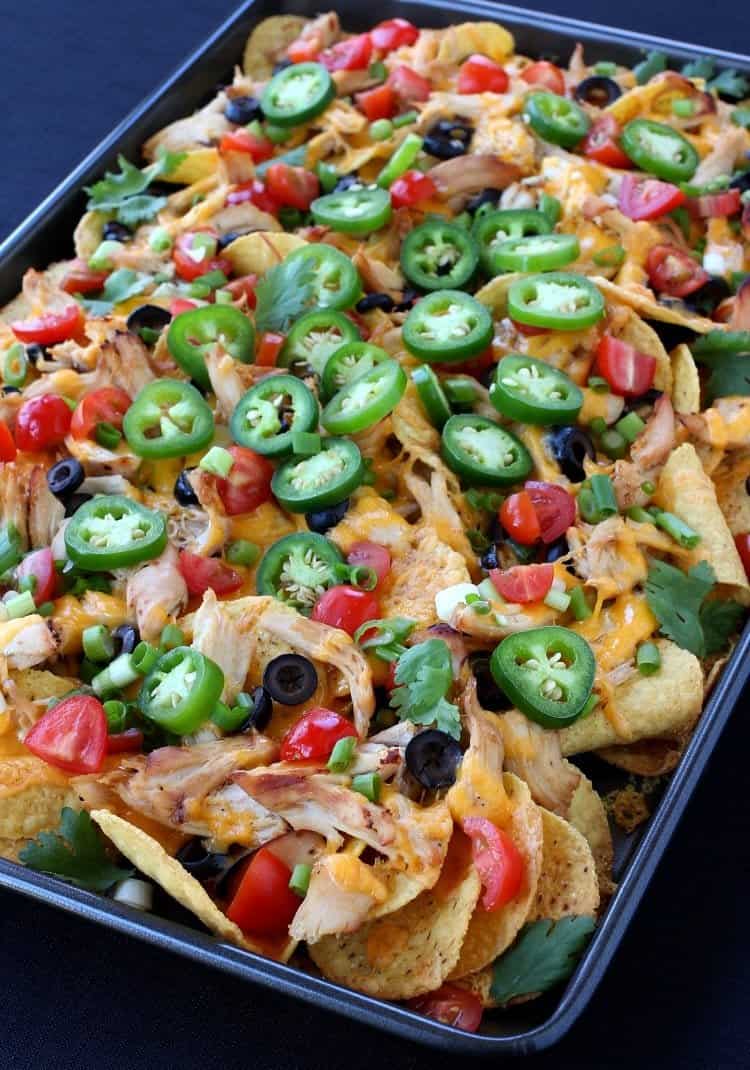 There's not much to say about these chicken nachos. Besides that everyone loves them and nachos always mean a party. Whether you're having a big gathering or just at home with the family.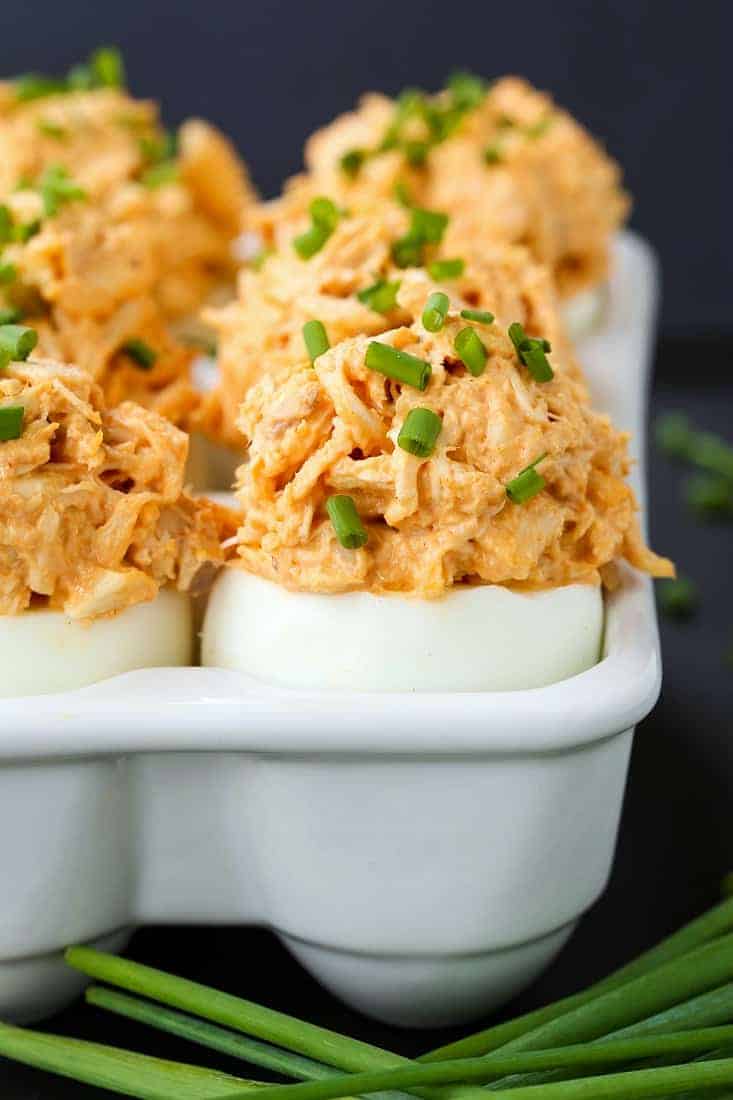 These stuffed eggs are very low carb, if you're looking for a low carb appetizer. Again, we're using a mild buffalo wing sauce so these eggs aren't too spicy at all. Just that delicious buffalo wing sauce flavor!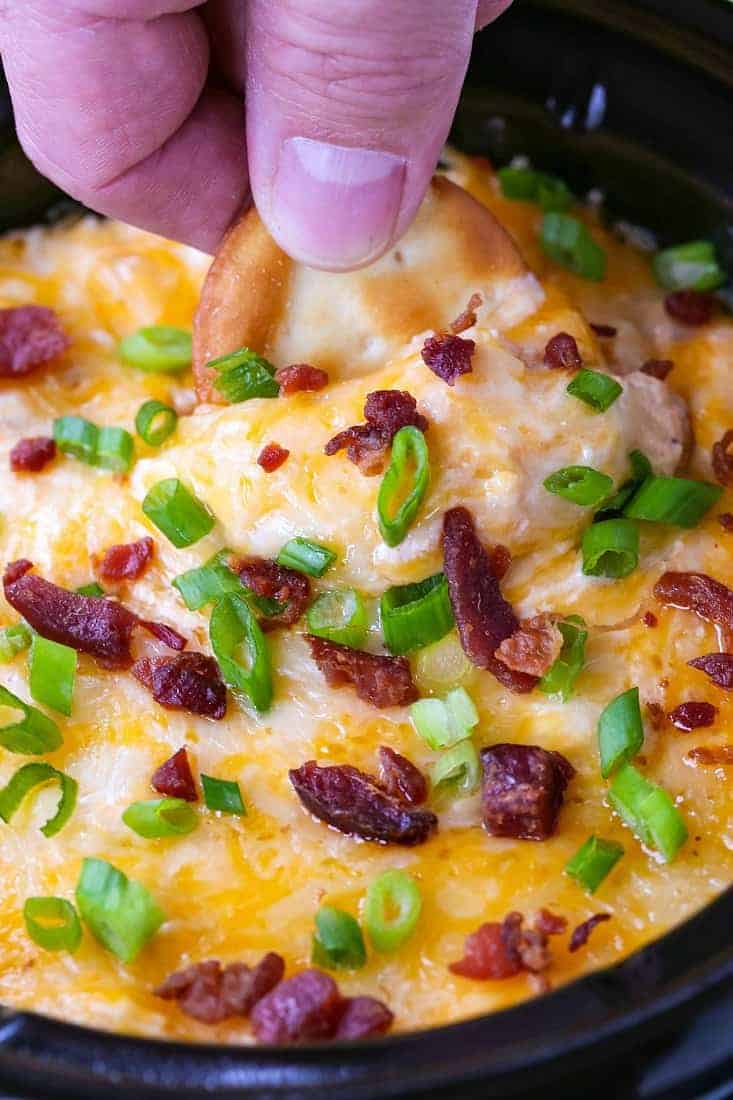 Melty, cheesy, hot dip with buffalo chicken. The best part is that it stays warm all night in your crock pot so the party an go on for hours!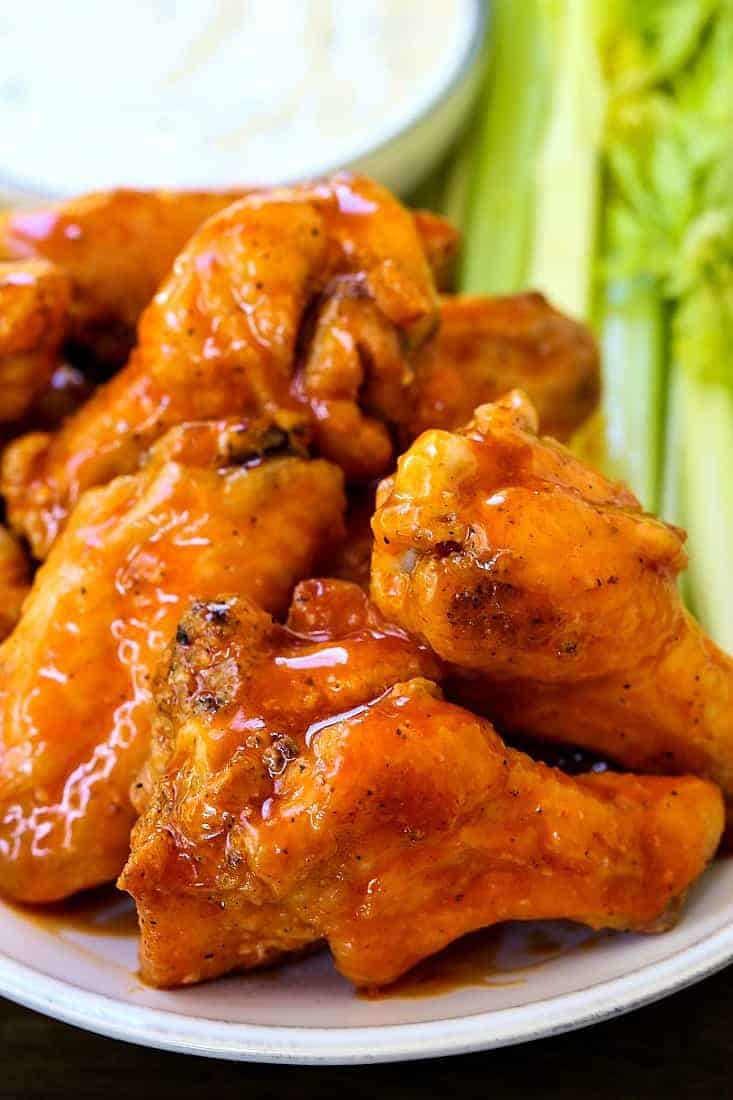 We wanted to try baking our favorite buffalo chicken wings instead of frying them, and I have to tell you. You won't be able to tell the difference! Just look at those perfect chicken wings, they'll rival any restaurant version!
These chicken appetizers are from my earlier posts that you might not have seen yet – and one of my first posts were these Hudson Whiskey Chicken Bites.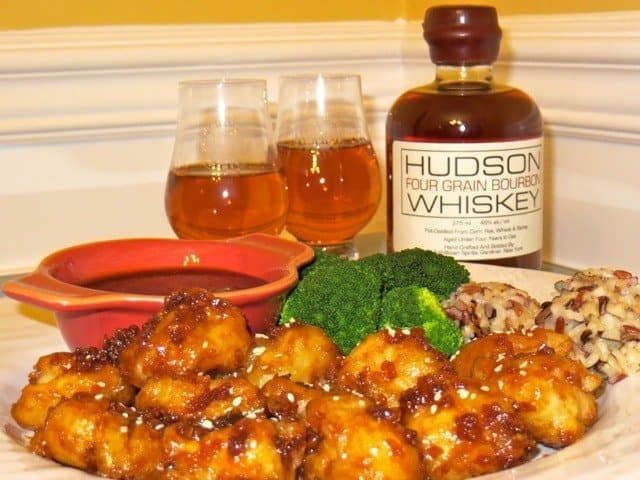 They taste really, really close to Friday's Jack Daniels chicken. That wasn't my intention but it's the first thing we said when we tasted them.
Made with Hudson Whiskey, that you can actually taste in the sauce. These chicken bites are awesome…so move on over Friday's Chicken.
These Buffalo Chicken Bites taste like a buffalo chicken wing in a bite-sized appetizer.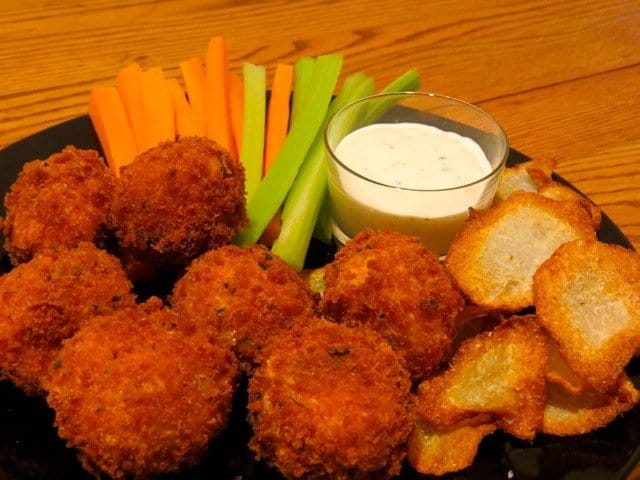 Crispy and spicy bites of chicken served with a blue cheese dressing. Just as good as wings, just not as messy!
But if you are looking for a wing, try my Asian Glazed wings. Baked chicken wings with a sticky and sweet asian glaze.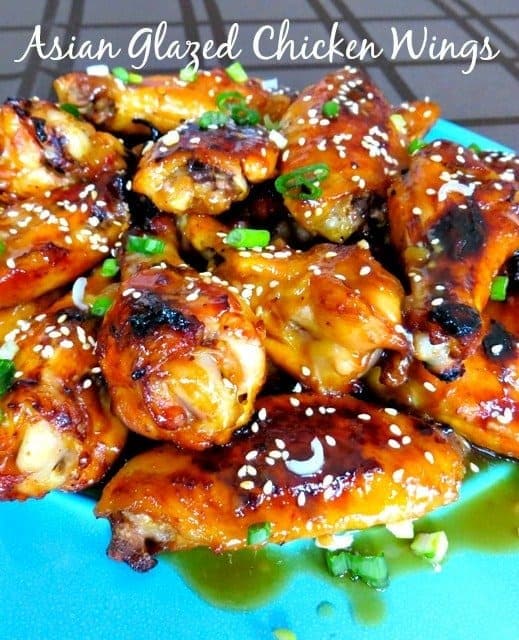 Awesome appetizer or dinner for any night…but get lots of napkins for this one!
How about some nachos with a beer cheese queso? Nachos can be for any meal or snack if I'm making the rules…and these Pale Ale Chicken Nachos are our families favorite!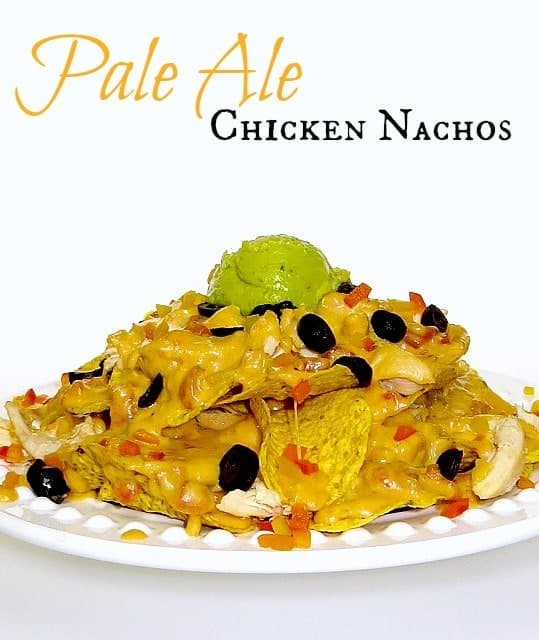 We hope you've enjoyed Our Favorite Chicken Appetizers here, make one, make them all! These chicken appetizers are always on our party and dinner menu at home!