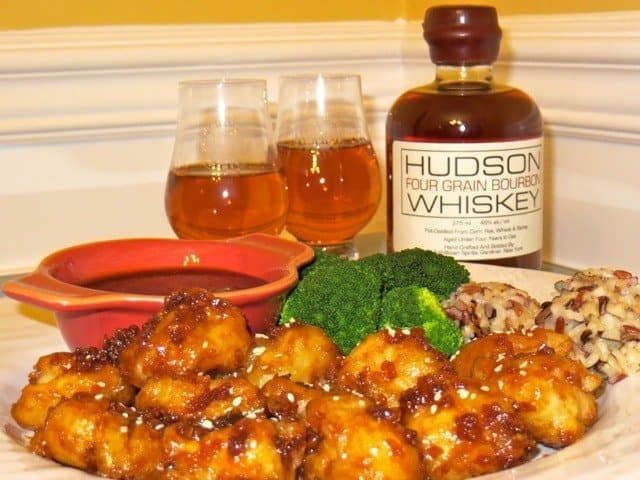 Hudson Whiskey Chicken Bites
These Hudson Whiskey Chicken Bites are going to be the hit of the appetizer table! Tender chicken with a sweet, boozy sauce, you can't go wrong with these!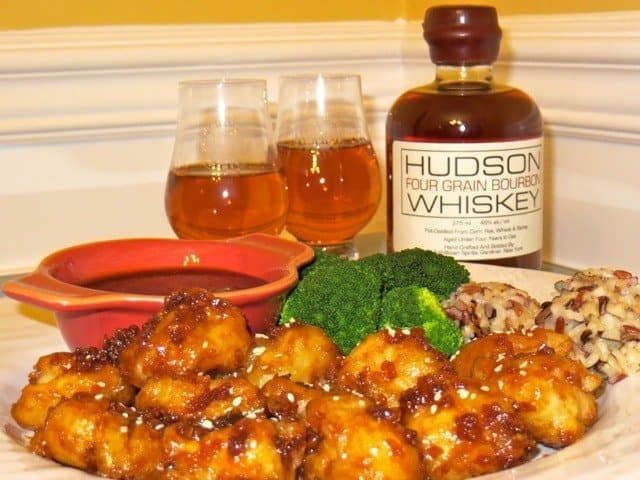 Trying to find a recipe to make with the Hudson Whiskey was really a lot harder than I though it was going to be. Probably because every whiskey recipe I came across I wanted to make…
With hundreds of recipes to chose from with whiskey that I wanted to make!
Finally, I chose this whiskey chicken bite recipe because I thought the kids would love it (and they did) and it would also be awesome to serve as an appetizer at a party.
You can use any bourbon or whiskey that you have on hand, just make sure it's something that you enjoy drinking.
But really, even if you aren't a whiskey sipper, you're still going to love these Hudson Whiskey Chicken Bites.
Just because this recipe has a lot of steps, don't go passing it by. Because once you try it, you're going to be making these chicken bites again and again.
Personally, we've been making these now for a long time and every time we make them they taste better and better!
How Do You Make Fried Chicken Without A Deep Fryer?
So this is a question that I get asked a lot. How do you make fried food without an actual deep fryer? The answer is really simple.
All you need is a deep, heavy bottomed pot filled just halfway with oil. Vegetable or canola oil work best for frying, you don't want to use olive oil or something with a low smoke point.
Let's get started on these Hudson Whiskey Chicken Bites! First you dip your chicken in the beer batter and fry it up…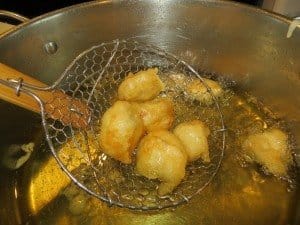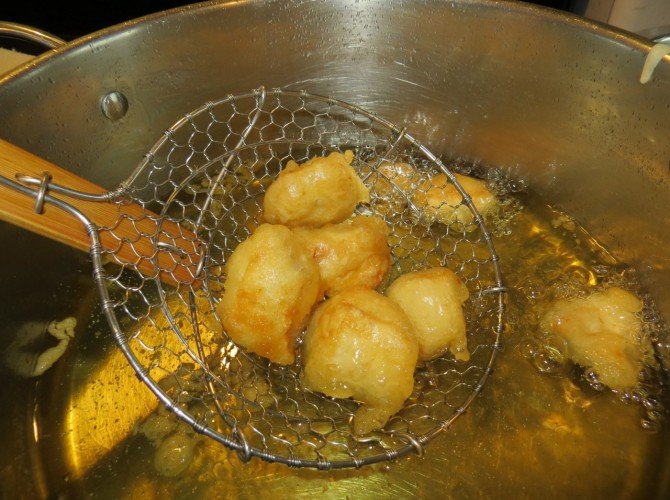 After a few minutes when the chicken turns golden brown, drain it on a plate lined with paper towels and finish frying the rest of the chicken.
Now for the fun part – the delicious whiskey glaze!
Whiskey Glaze Ingredients
There are a few ingredients for this whiskey glaze but it comes together really quickly.
Garlic
Canola oil
Pineapple juice
Teriyaki sauce
Soy sauce
Brown sugar
Whiskey
Cayenne pepper
Just whisk those ingredients together in a small pot and bring to a boil. Let the sauce simmer for about 20 minutes until it thickens then it's ready for dipping…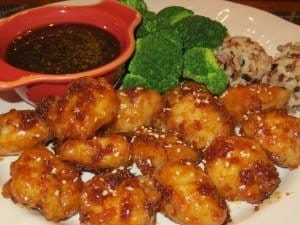 Pour the sauce over the fried chicken pieces or toss them together in a large bowl. Either way will work, just get them coated.
Try adding some sesame seeds to these boozy Hudson Whiskey Chicken Bites for garnish and serving with broccoli and rice. You've got a full dinner here or a fried chicken appetizer that will have the them running to the table!
Print
Hudson Whiskey Chicken Bites
Author:

Prep Time:

15 minutes

Cook Time:

30 minutes

Total Time:

45 minutes

Yield:

6

servings

1

x
Category:

appetizers

Method:

deep fry

Cuisine:

drinks
---
Description
Fried chicken bites tossed in a tangy and sweet whisky glaze! Perfect for appetizers or a fun dinner at home!
---
Ingredients
2 pounds boneless, skinless chicken breast cut into 2 inch pieces
For the beer batter
1 cup flour
1 tablespoon cornstarch
1 teaspoon salt
12 oz. beer – note: you might not use it all
For the Glaze
2 tablespoons minced garlic, or you can use 5-6 cloves of fresh garlic
1 tablespoon canola oil
1/2 cup water
1/2 cup pineapple juice
1/4 cup teriyaki sauce
2 tablespoons soy sauce
1/2 cup brown sugar
1/4 cup whiskey or bourbon, we used Hudson Whiskey
1/4 teaspoon cayenne pepper
---
Instructions
First make your beer batter. Add the flour, cornstarch and salt in a medium bowl. Slowly add in the beer while whisking until it looks like a thin pancake batter. You might not need all of it, there was a few sips left in mine…set the batter aside until you're ready for it.
You'll want to get a large pot that you can fry in. It needs to be pretty deep so that the oil doesn't splatter out at you. Fill the pot halfway with canola oil or vegetable oil- peanut oil would be awesome too- I used canola because it's what I had. Set the heat to a medium-high and give it a good 15 minutes. Your temp should get to about 350-400, but if you don't have a thermometer, just test it with a cube of bread, if it fries up golden in a few seconds you're good!
While your oil is heating up, add all the ingredients for the glaze in a medium sauce pot. Stir it up and let it reduce until your done frying your chicken, about 20 min., it'll get nice and thickened. Keep stirring while it's reducing so it doesn't get all stuck to your pot.
When your oil is ready, take your chicken pieces, a few at a time, and coat it with the beer batter. Let some of the excess drain off and lower it into the oil with a slotted spoon or a frying spider. I did this in about 4 batches, you don't want to crowd the pot and bring the temp down too much. Fry the chicken for about 5 minutes, flipping it around every once in a while. Take them out and drain them on paper towels. Cut into one just to check that it's cooked and white all the way through. Repeat with the remaining chicken.
Transfer the glaze into a large bowl. Toss the fried chicken in batches until they are all coated with the glaze. Garnish with sesame seeds if you like and eat up.
Keywords: fried chicken, fried chicken bites, whiskey glaze, appetizer recipes, chicken recipes, dinner recipes, deep fried chicken