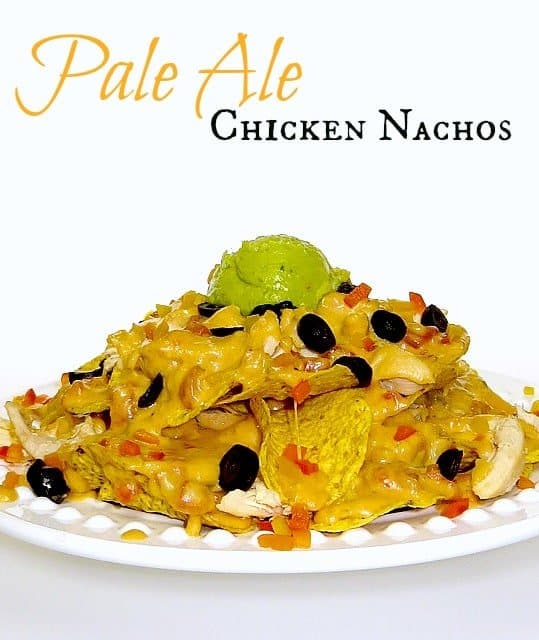 So I guess I had a fun time trying out my BROpener. It's pretty fun to use, weirdly enough, but it takes a second to get used to. Once I got the hang of it though I had more beers opened then I could finish or hand out to my friends.
Believe me when I say that I tried to drink what I could, but I really did get carried away opening these bottles up.
I had to think of what to do with all the beer…so I made a beer queso to go on top of shredded chicken nachos. Good stuff.
Somehow I always seem to go to a recipe with cheese.
I picked up a rotisserie chicken from the grocery store just to make it easier on myself but feel free to roast your own chicken and then shred it up.
I also grabbed some guacamole from the store, the avocados weren't ripe so it seemed like the best option.
The toppings that I used are pretty straightforward -I had some finely diced bell peppers, black olives and guacamole, and of course the cheese for the queso.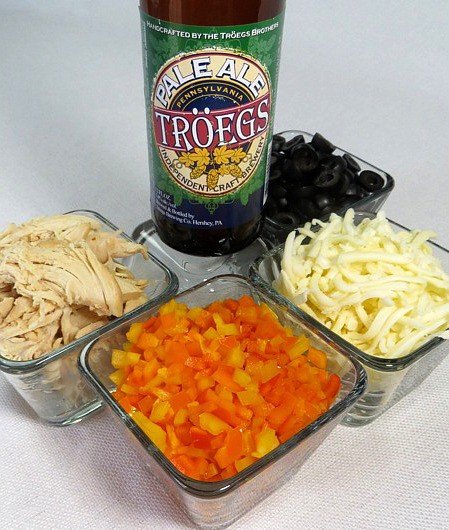 For me, I had some hot sauce and pickled jalapenos on the side but the kids won't eat that so I left them out of the final picture.
You can totally adjust the toppings to your liking though. Sour cream and bacon, scallions or diced tomatoes…and then there's the beer.
I used Troegs Pale Ale because it's brewed in Hershey, Pennsylvania, not too far from where I live. I plan on visiting the brewery in May on my way to the Springsteen show that I'm seeing at Hershey Park…kill two birds with one stone, right?
And here's the secret ingredient- mayonnaise. The queso wasn't as creamy as I usually like it. I was trying to think of what to add to make the queso come together and I tried mayo. It worked. Not only did it add great flavor, but it made everything smooth and creamy- like a queso should be. From now on, mayo goes in my queso.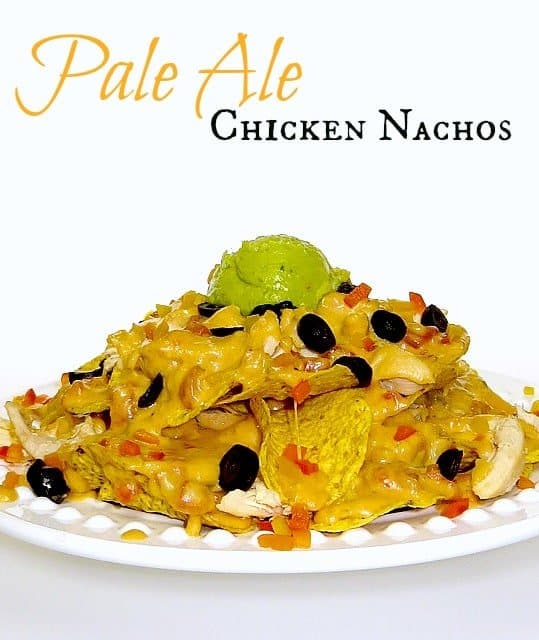 These Pale Ale Chicken Nachos were awesome for an appetizer, for my family they turned into dinner, but either way they were a hit. I hope you try them!
Print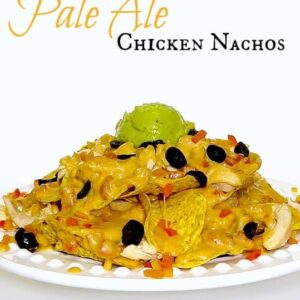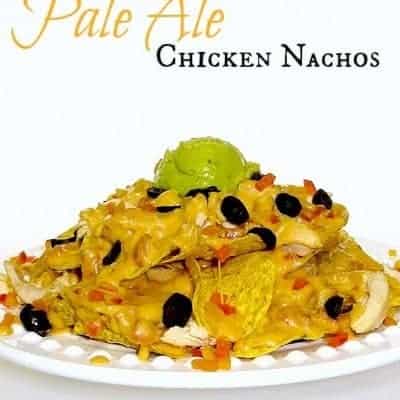 Pale Ale Chicken Nachos
---
Ingredients
2

t. olive oil

1

small onion, diced

4

cloves garlic, chopped

1

can 14.5 oz. petite diced tomatoes, drained

16 oz

. Cabot® Monterey Jack, grated

4 oz

. Cabot® extra sharp cheddar, grated

3/4 cup

of Troegs Pale Ale

2

T. Hellmann's® mayonnaise

1/2

t. cumin

1/4

t. cayenne pepper

1/4

t. garlic powder

1

t. salt

1/2

t. fresh black pepper
I bag of tortilla chips, 14.5 oz., whichever kind you like

1

3.8 oz. can of black olives, sliced

1

yellow bell pepper, diced finely

1

red bell pepper, diced finely

1

container packaged guacamole

1

Rotisserie chicken, skinned and shredded
---
Instructions
For the Queso
Add the olive oil to a non-stick skillet on medium high heat.
Add in the onions, cook 5 minutes until softened, then add the diced garlic and cook for a minute more.
Add the diced tomatoes and the 3/4 cup of beer and reduce for 5-7 minutes until most of the liquid is evaporated.
Place in the grated cheeses and stir to combine.
Stir in the mayonnaise, the cumin, garlic powder, salt and peppers and stir.
To a Platter
Place a layer of chips on a platter.
Add some shredded chicken, then spoon on some queso.
Add another layer of chips, more queso and then your toppings- the black olives, diced red peppers and guacamole. Serve immediately.
---