So we've got a couple drinks under our belt, now let's get some food going with this Dirty Rice! One of the most flavorful rice dishes ever!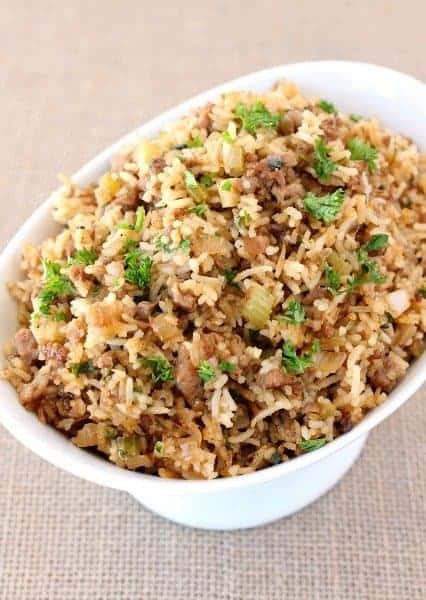 I ATE CHICKEN LIVERS.
I'm just letting you know, that's a total game changer for me.
No WAY was I eating chicken livers, I told the wife. But she said that the authentic way to make Dirty Rice is with chicken livers. A neighbor of hers from Louisianna used to make it all the time and she says that it was delicious.
I still wasn't convinced. Especially since it's me that does the shopping.
But I asked the butcher where the chicken livers were…the smallest package you have, please.
The package wasn't small. It was like a pound of chicken livers but it was all that they had.
I left it to the wife at this point, I really didn't want anything to do with the chicken livers…but I said I'd be there to help.
The chicken livers were poached for about a half an hour and then chopped up into the smallest pieces possible so that they would dissappear into the rice. I guess the point is that you just want the flavor and not to bite into a piece of liver.
By the time this rice was done – let me tell you – I was sold.
It smelled good so it HAD to be good, right? That's what I was hoping for anyway.
It starts with sausage, onions, celery and garlic all cooked up together in a skillet.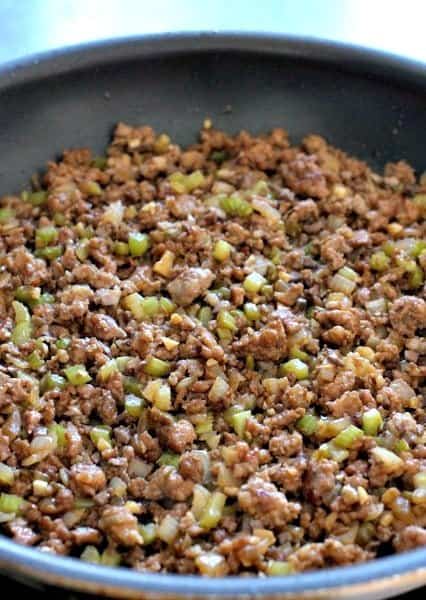 Then you add in some cooked rice and the chopped up chicken livers and you've got yourself a meal. Dirty Rice is typically served as a side dish but I think of it more as a one pot dinner. It's got everything you'd need in a full meal, vegetables included.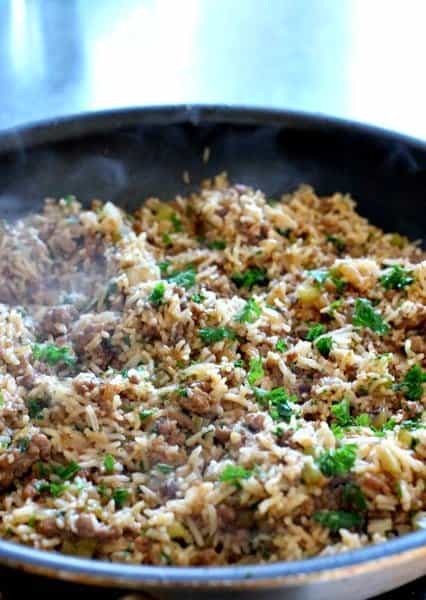 Grab yourself a Dirty Mary or a Dirty Martini to go along with this rice and you'll be good to go.
This Dirty Rice was amazing. Chicken livers and all. As long as Christie wants to poach those chicken livers for me, I wouldn't make it any other way.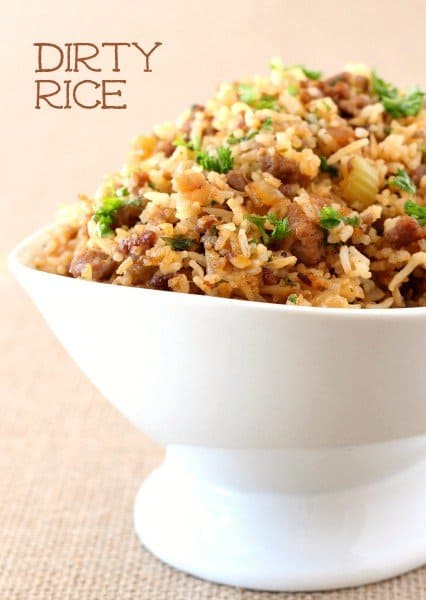 Print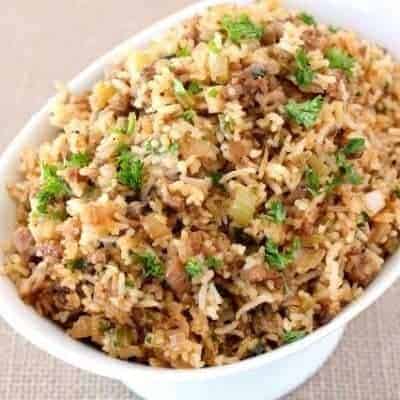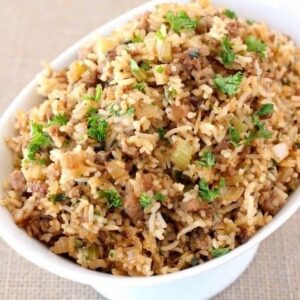 Dirty Rice
Scale
Ingredients
2

T. olive oil

1

lb. spicy italian sausage

1/4

lb. chicken livers

1

bay leaf

2

t. cajun seasoning

3

celery stalks, chopped

1

onion, chopped (about a cup)

1/4

c. worcestershire sauce

3

T. soy sauce

4

–

5

cloves of garlic, peeled and chopped

1

c. chicken broth

4

c. cooked white rice
Instructions
In a small pot, cover the chicken livers and the bay leaf with water and bring to a boil, then turn the heat down to a low simmer, covered, for 30 minutes.
Once cooled, remove the bay leaf, chop into very small pieces and set aside.
Heat up the olive oil in a large skillet over medium heat.
Add the sausage, breaking up with a spoon and cook until browned.
Add in the celery and onion, cooking for 4-5 minutes until they start to soften, then add the garlic and cook for a minute more.
Pour in the chicken broth, cajun seasoning, soy sauce, worcestershire sauce and salt and pepper to taste.
Simmer for 10 minutes until the broth reduces by half.
Stir in the cooked rice and chicken livers and heat through.
Recipe Notes
You can totally leave the chicken livers out of this recipe if you aren't daring enough and it'll be delicious!