Perfectly cooked, melt-in-your-mouth Air Fryer Scallops with an irresistible crunchy crust! Using your air fryer takes the guesswork out of the cooking time in a skillet. These delicious buttery scallops are sure to please anyone.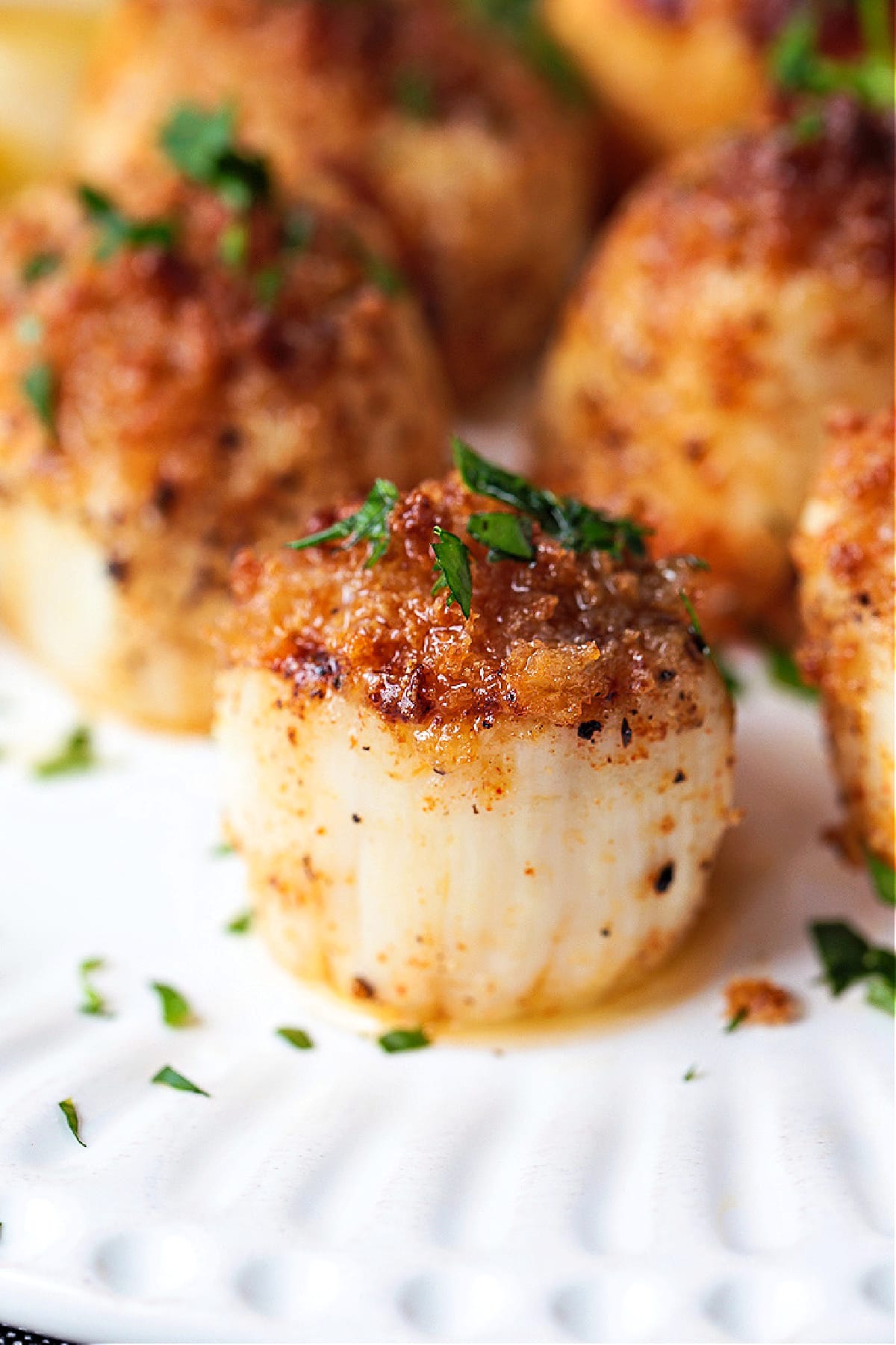 Air Fryer Scallops Recipe
Making scallops seems like a fancy, restaurant-only recipe for some people. But honestly, scallops couldn't be easier to make. The biggest mistake that people make is overcooking scallops, but other than that it's usually just a quick pan sear to perfection.
These air fryer scallops are a delicious and equally tasty option. You don't have to worry about your pan being too hot or burning these pricey little gems. So using the air fryer does take a little bit of the guesswork and paranoia out of making scallops at home.
Ingredients For Making Air Fryer Scallops
1 pound large sea scallops
Garlic powder, paprika, kosher salt and fresh black pepper
Fresh parsley
Panko breadcrumbs
Butter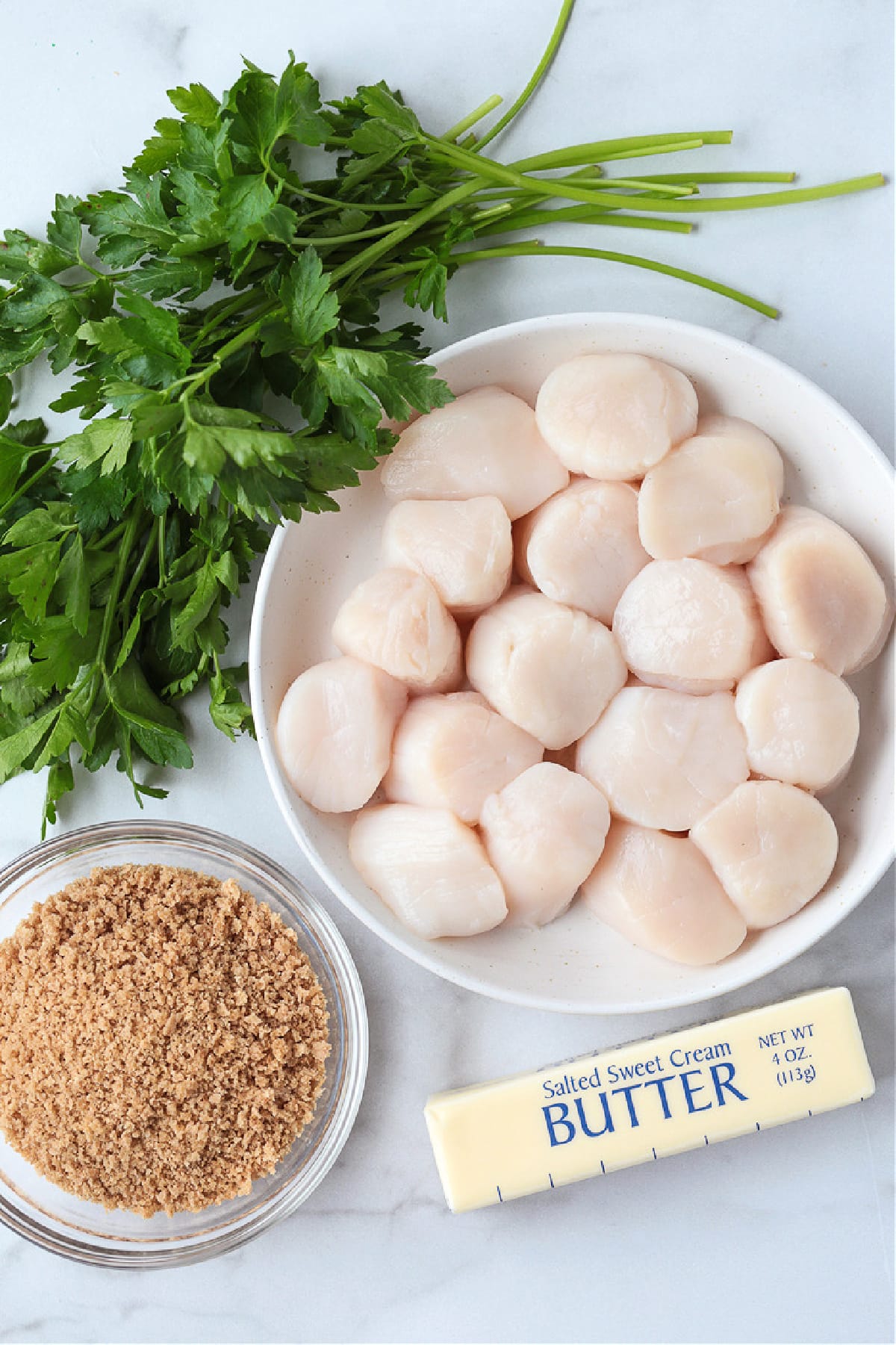 What Are "Wet" and "Dry" Scallops?
Wet and dry scallops are not a certain type of scallop, rather how the scallops are preserved after harvesting. Wet scallops are stored in cold sea water and then preserved with chemicals to help extend the shelf life. These preservatives also plump up the weight of the scallops, costing you money in the end.
Dry scallops are typically flash-frozen within a few hours of harvesting, without the use of any chemicals or preservatives. So in short, try to find dry scallops if you can, but you can still cook with wet scallops if that's what you have available.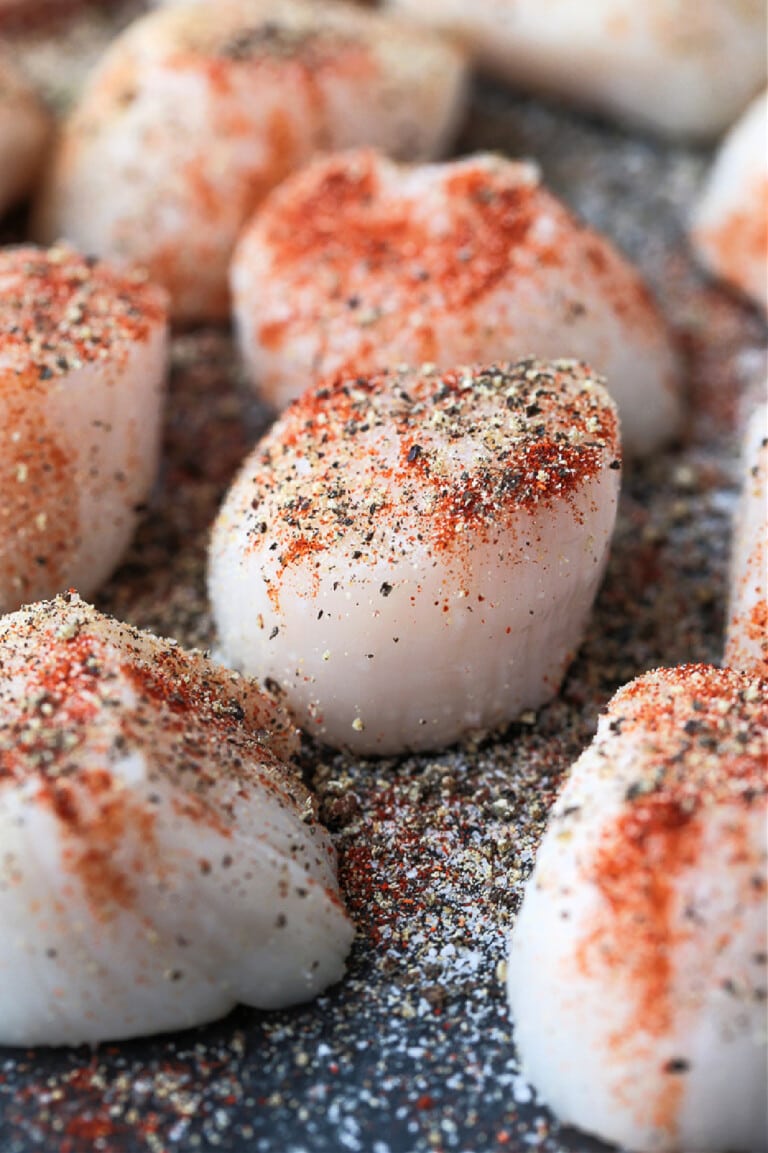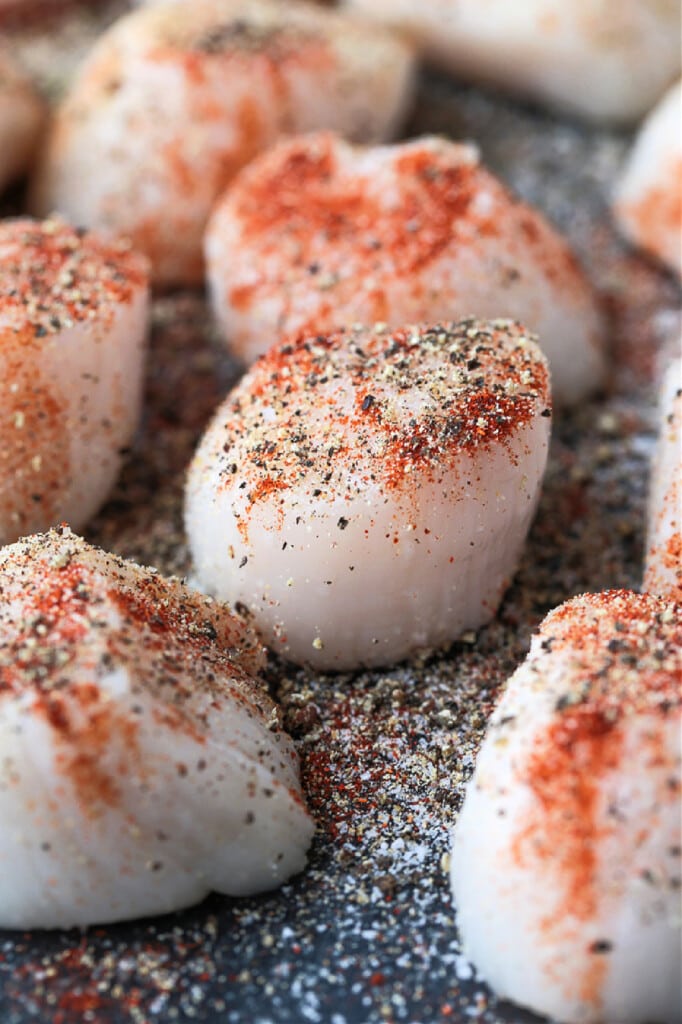 How To Make Scallops In An Air Fryer
This scallop recipe is so simple, even beginner cooks are going to nail it. Simple seasonings, butter and breadcrumbs is all you need!
Season the scallops: Season the scallops with salt, pepper, garlic powder and paprika.
Cook the scallops: Place the scallops in a 400 degree air fryer for two minutes. Remove from the air fryer, turn the scallops over and add melted butter and panko breadcrumbs. Cook for another 3 minutes.
Garnish: Finish the scallops with more drizzled butter, fresh chopped parsley and a squeeze of lemon if desired.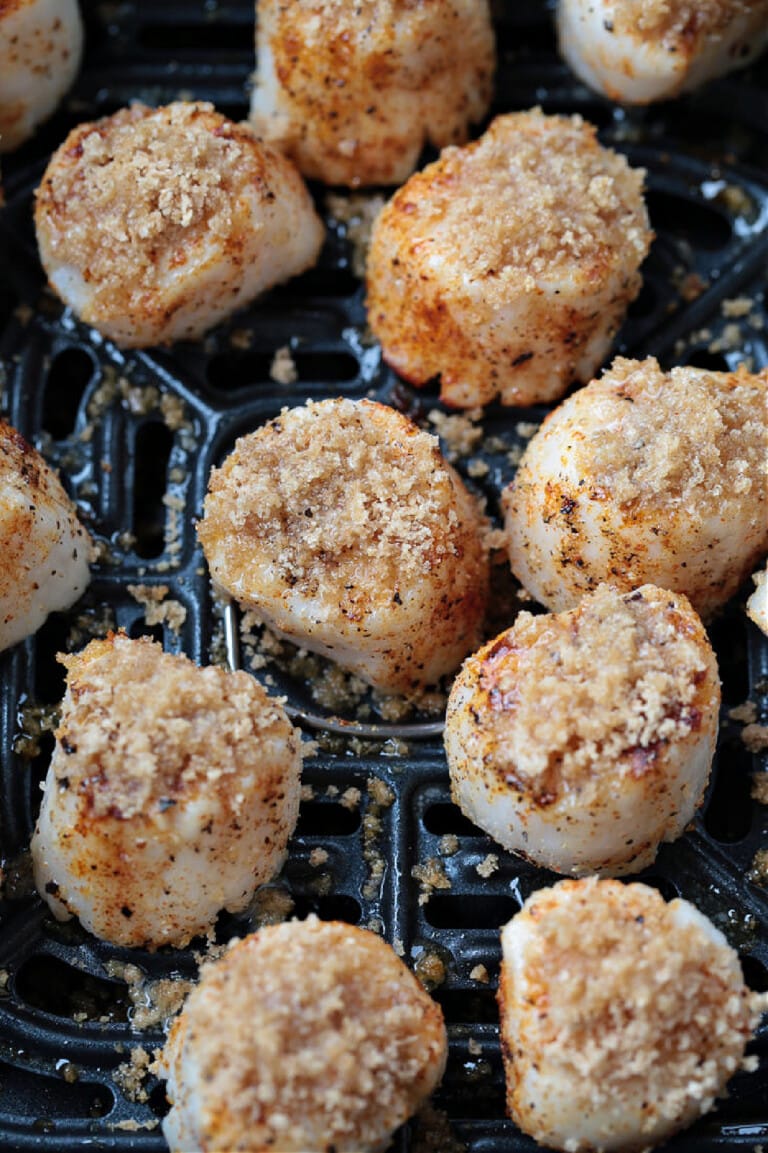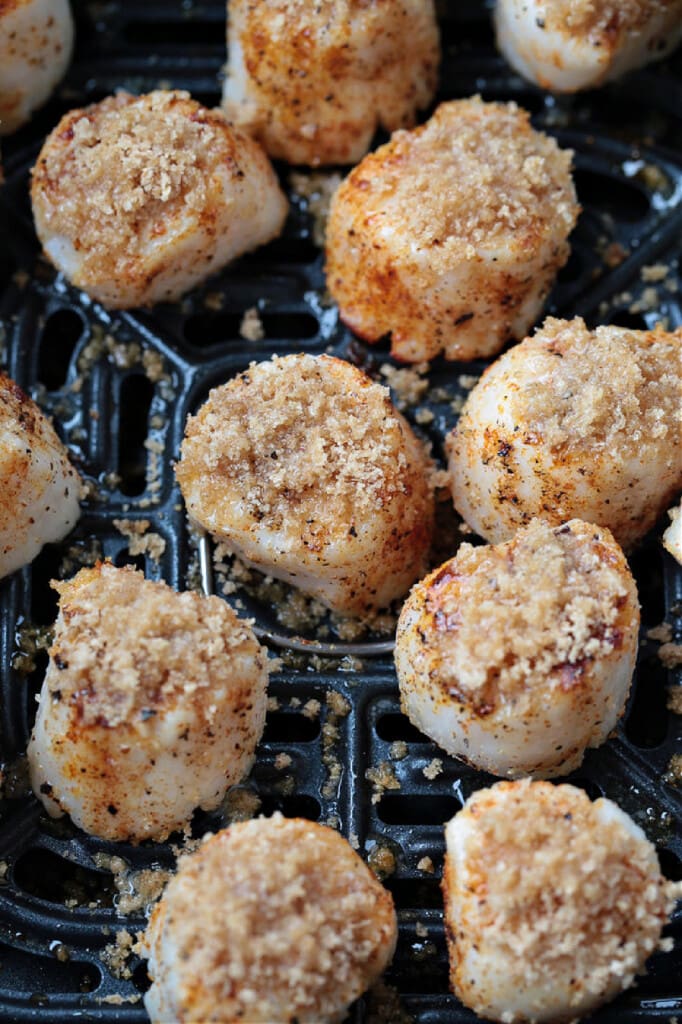 What Does A Scallop Taste Like?
Scallops are a pretty mild tasting seafood, but that doesn't mean they lack in flavor. They taste like they came right from the ocean without having a fishy taste. They are sweet and briny with a very tender texture.
Scallops will easily take on the flavors of the sauces and seasoning that you are cooking them with, so they can be transformed into many different recipes. If you are a seafood beginner, scallops are definitely something that you should try!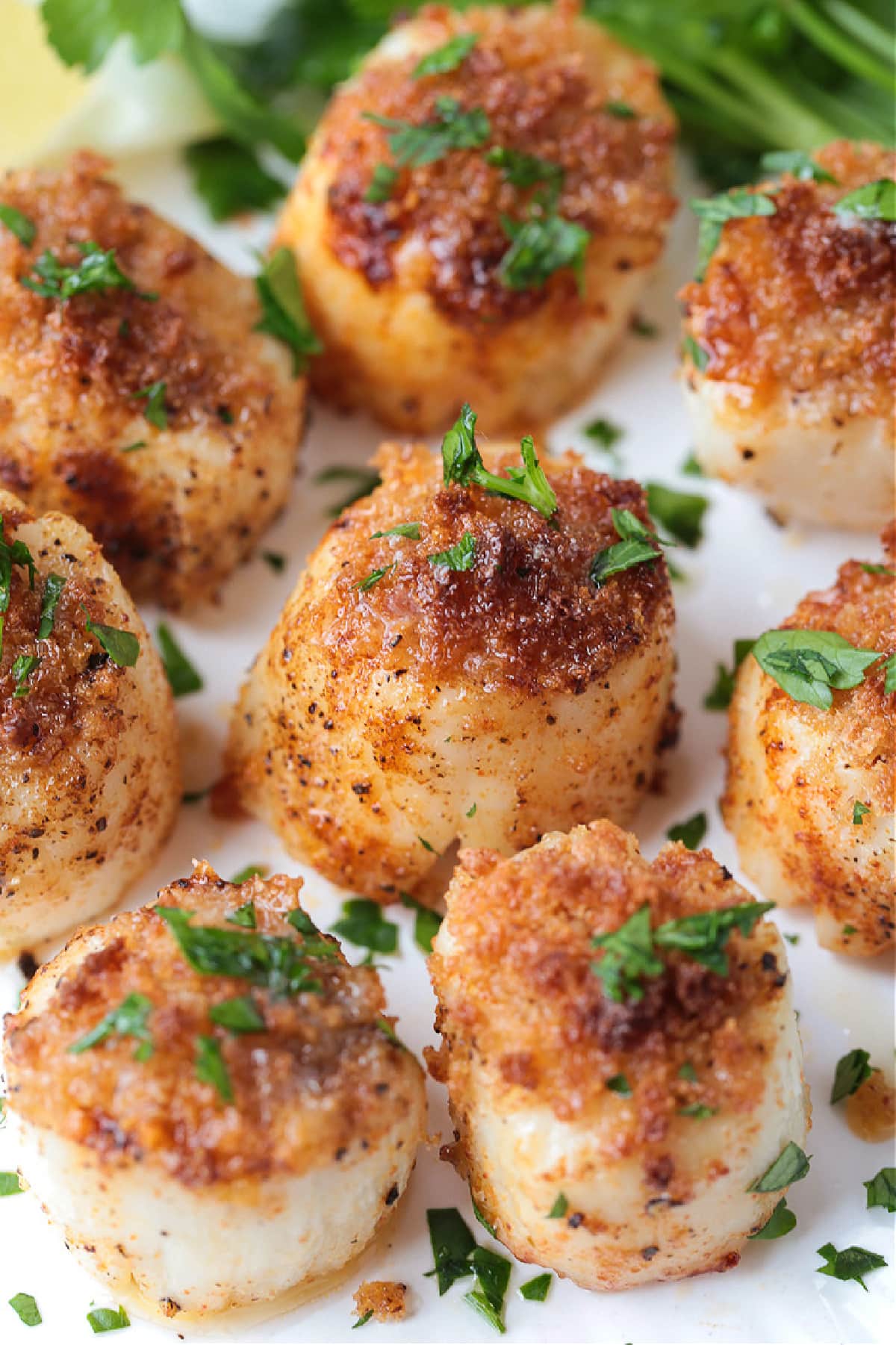 What Sides Go Well With Scallops?
If you're serving these Air Fryer Scallops for dinner instead of a first course or appetizers, we've got may delicious side dishes for you to try. Scallops go with anything from rice to potatoes, to vegetables to grains, or a combination of a few.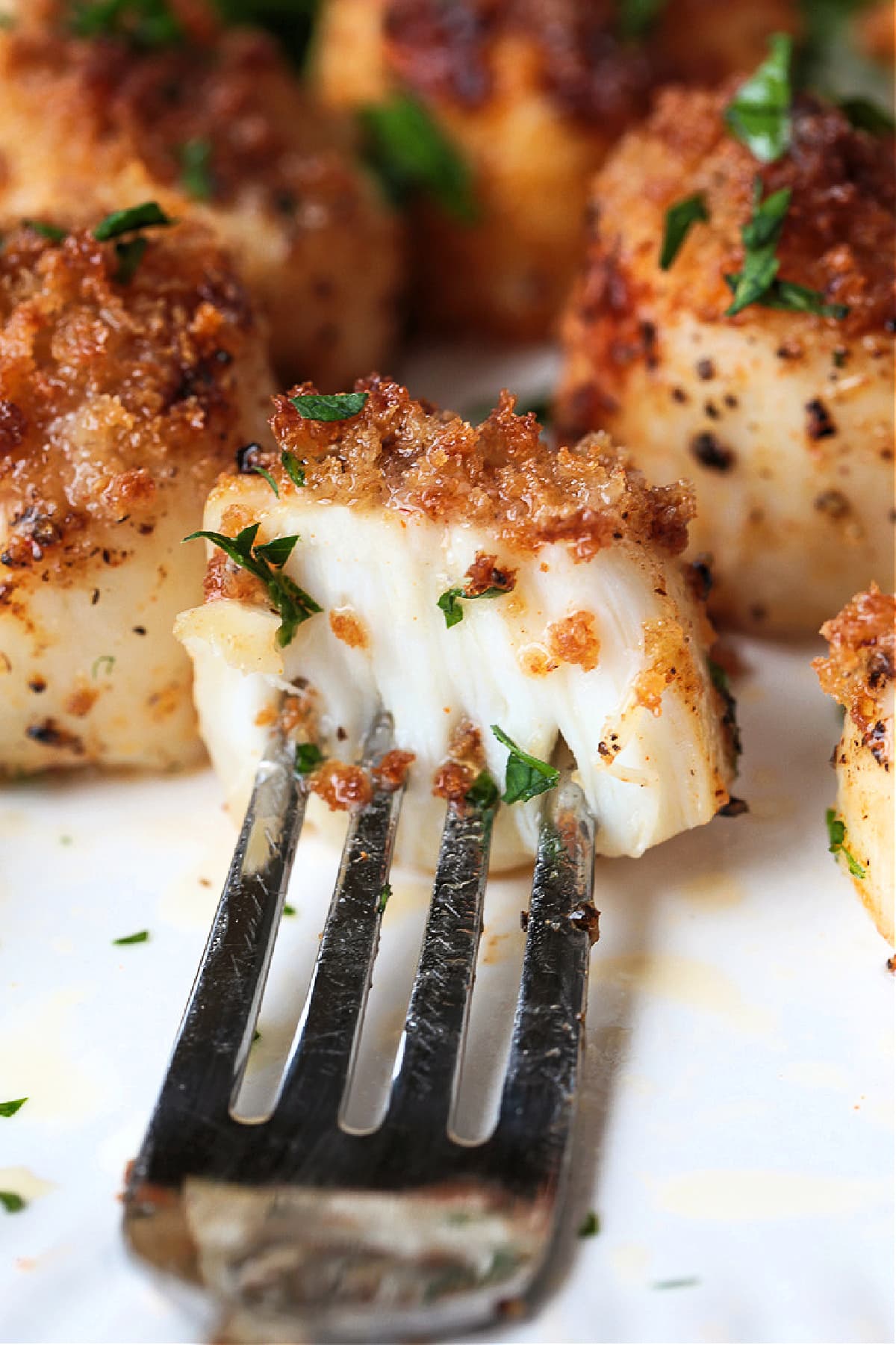 Can You Eat The Foot Of A Scallop?
Some scallops come with a "foot" attached that needs to be removed before cooking. It's really not a foot, per se, it's a flap of muscle that hangs off the side of the scallop. Never fear, it's totally edible, it just doesn't cook up as tender as the rest of the scallop so most people opt to remove it before cooking.
The foot comes off very easily, just find the flap on one side of the scallop and gently pull it off. If you're scallop doesn't have that flap of muscle then it has already been removed or it wasn't there to begin with.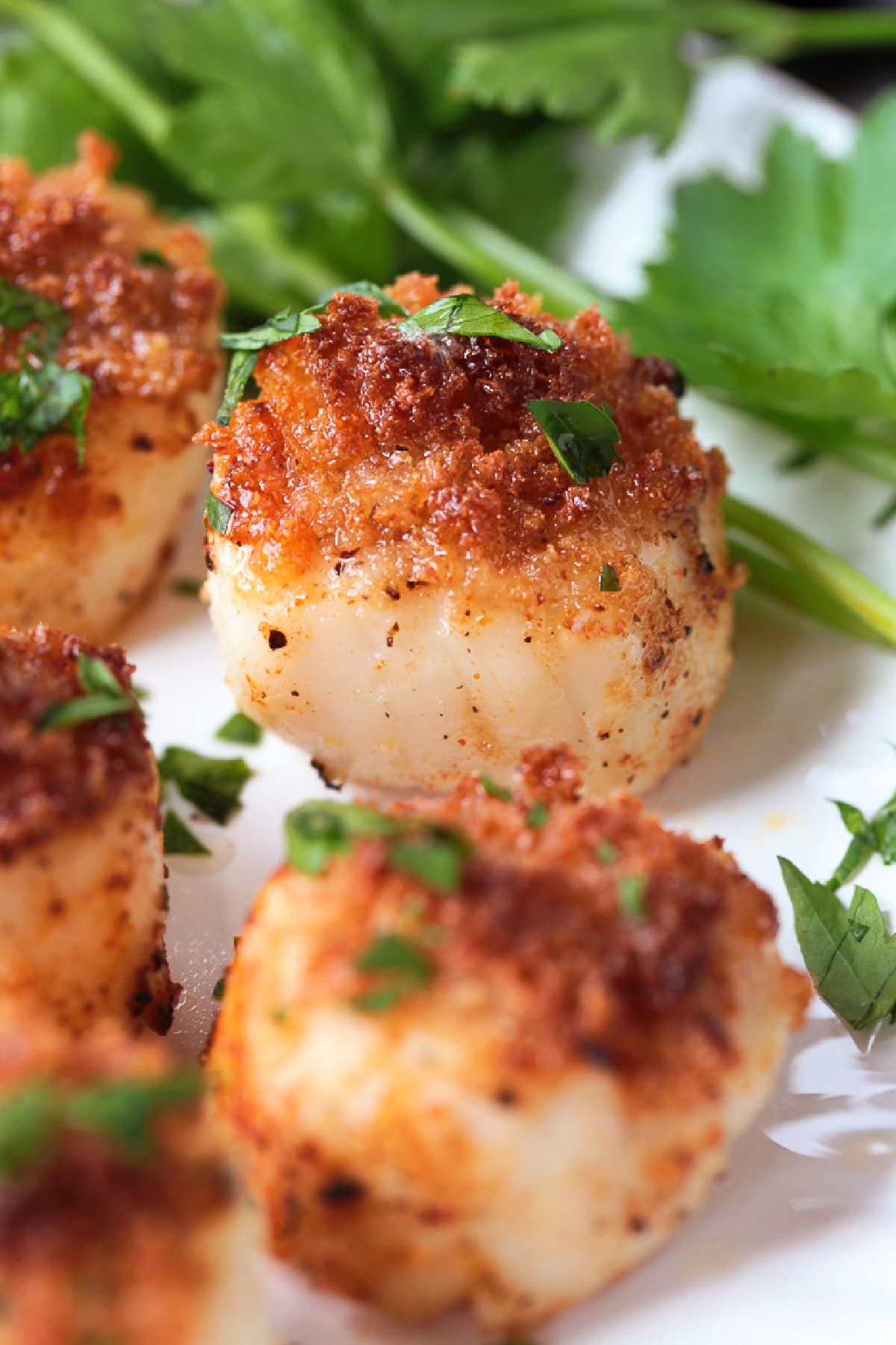 How About Some More Seafood Recipes?
Print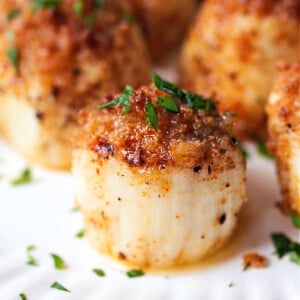 Air Fryer Scallops
Author:

Prep Time:

5 minutes

Cook Time:

5 minutes

Total Time:

10 minutes

Yield:

4

servings

1

x
Perfectly cooked, melt-in-your-mouth Air Fryer Scallops with an irresistible crunchy crust! Whether you're following a healthy eating plan or just looking for a tasty dinner option, these delicious scallops are sure to please.
Scale
Ingredients
1

pound sea scallops
Kosher salt, fresh black pepper, garlic powder and paprika for seasoning the scallops

3 tablespoons

butter, melted

1/4 cup

panko breadcrumbs

1/4 cup

chopped parsley
Lemon wedges for garnish, optional
Instructions
Remove the foot (if present) by gently pulling the flap away from the scallops. Rinse the scallops with cold water and pat dry with paper towels.
Preheat your air fryer to 400 if needed.
Season both sides of the scallops with a light sprinkle of the salt, pepper, garlic powder and paprika. Place the scallops into an air fryer basket that's been sprayed with cooking spray. Brush lightly with some of the melted butter and cook for 2 minutes.
Flip the scallops over and top with the panko breadcrumbs. Drizzle with more melted butter and cook for 3 minutes until the scallops are opaque, slightly firm but still tender. If your scallops are on the smaller side they'll only require 2 minutes on the second side.
Garnish with chopped parsley and serve with lemon wedges on the side.
Category:

Dinner

Method:

Air Fryer

Cuisine:

American
Keywords: mantitlement, seafood recipes, scallop recipes, air fryer scallops, easy seafood dinners, date night recipes