Our Balsamic Chicken Marinade is delicious on any cut of chicken! Tangy and sweet with fresh, vibrant herbs that flavor chicken wonderfully. But don't stop there, you can also use this marinade recipe on turkey or pork, too!
Serve this chicken with a delicious homemade Caesar Salad and some Roasted Vegetables to round out dinner!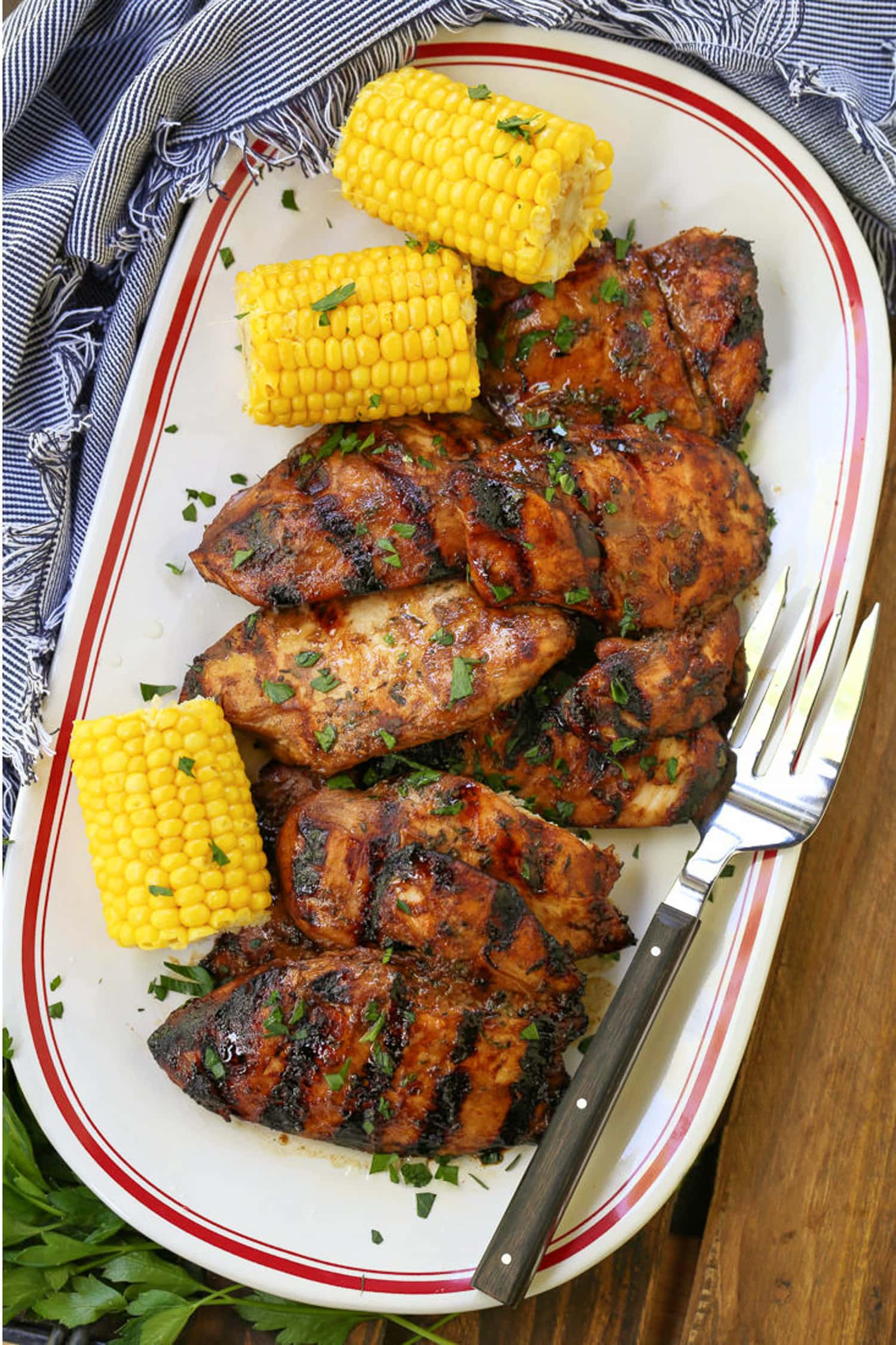 Balsamic Chicken Marinade Recipe
We always seem to have boneless, skinless chicken breast in our refrigerator or freezer, but this chicken marinade works on all kinds of chicken!
This flavorful marinade also doesn't have to be used only on chicken! Pork tenderloin or turkey cutlets are going to be amazing in this balsamic marinade recipe. Fresh herbs and good quality balsamic vinegar really penetrate the chicken and make it so addicting.
Ingredients for Balsamic Marinade
Because the ingredients for this marinade are so simple, make sure to use the best quality that you can. Fresh garlic, fresh herbs and good quality balsamic vinegar are a must.
Balsamic Vinegar: Try using a balsamic vinegar from Modena, and one that's aged at least 12 years. We like a balsamic vinegar that's tart but sweet instead of more acidic.
Olive Oil: It doesn't have to be extra virgin, but extra virgin olive oil will impart more flavor.
Fresh Rosemary: Rosemary is a very flavorful herb and gives this marinade a wonderful flavor. It has notes of lavendar, pine and citrus.
Fresh Thyme: Thyme has an earthy, bright lemon flavor. It's one of our most used herbs in many different recipes.
Fresh Garlic: Again, fresh garlic is going to give this chicken marinade the best flavor.
Brown Sugar: Just a tablespoon to add a slight sweetness to the marinade.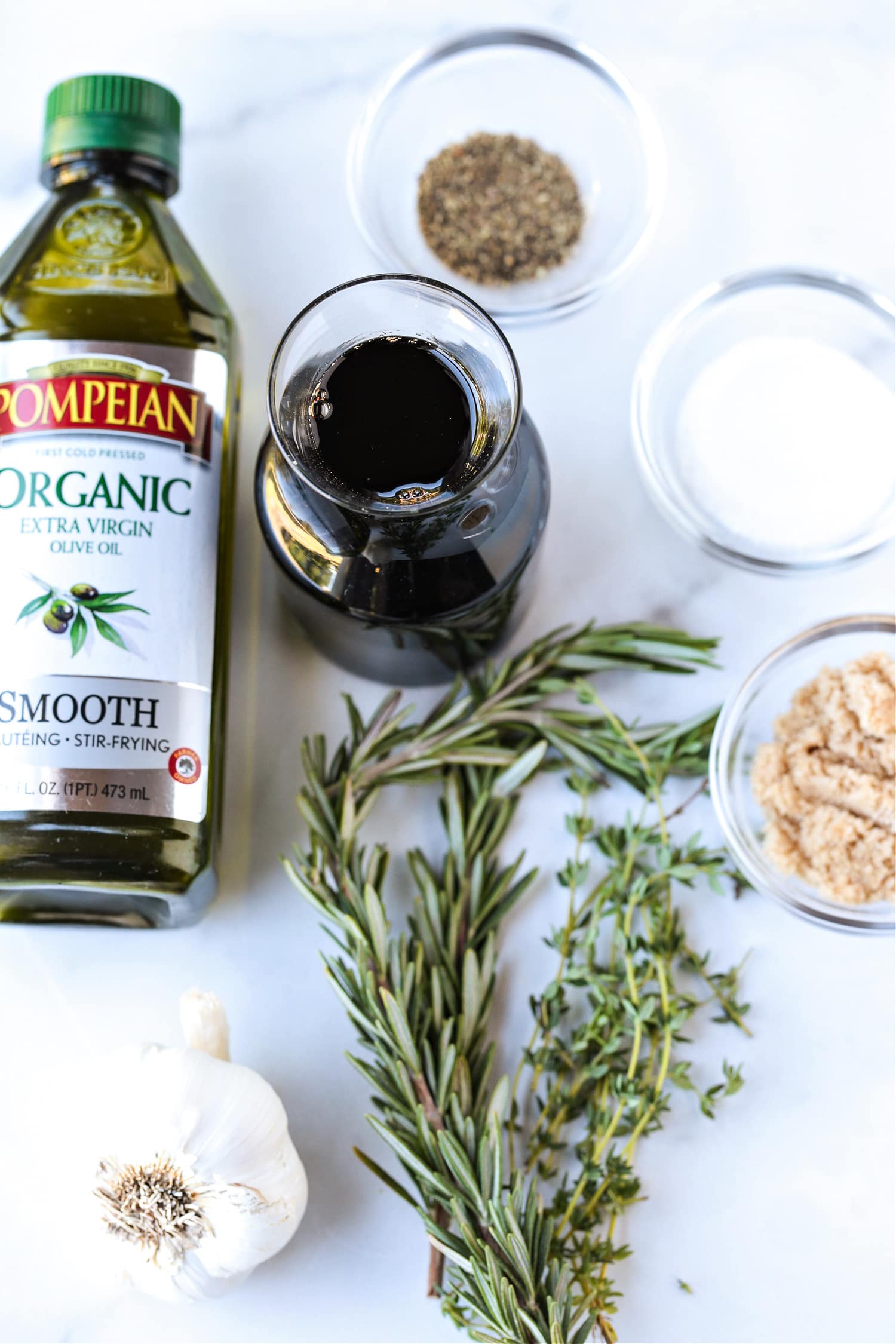 How Long Do You Have To Marinate The Chicken?
A solid 4 hours will do if that's all the time you have, but up to 8 hours works best. However, a few hours is better than nothing so let the chicken marinate for as long as you can.
This marinade recipe also makes for the most juicy, never dry chicken on the grill you've ever had. You can see in the picture above how much juice is on the plate from this grilled chicken.
After slicing this chicken breast we always pour any juices from the plate right on top!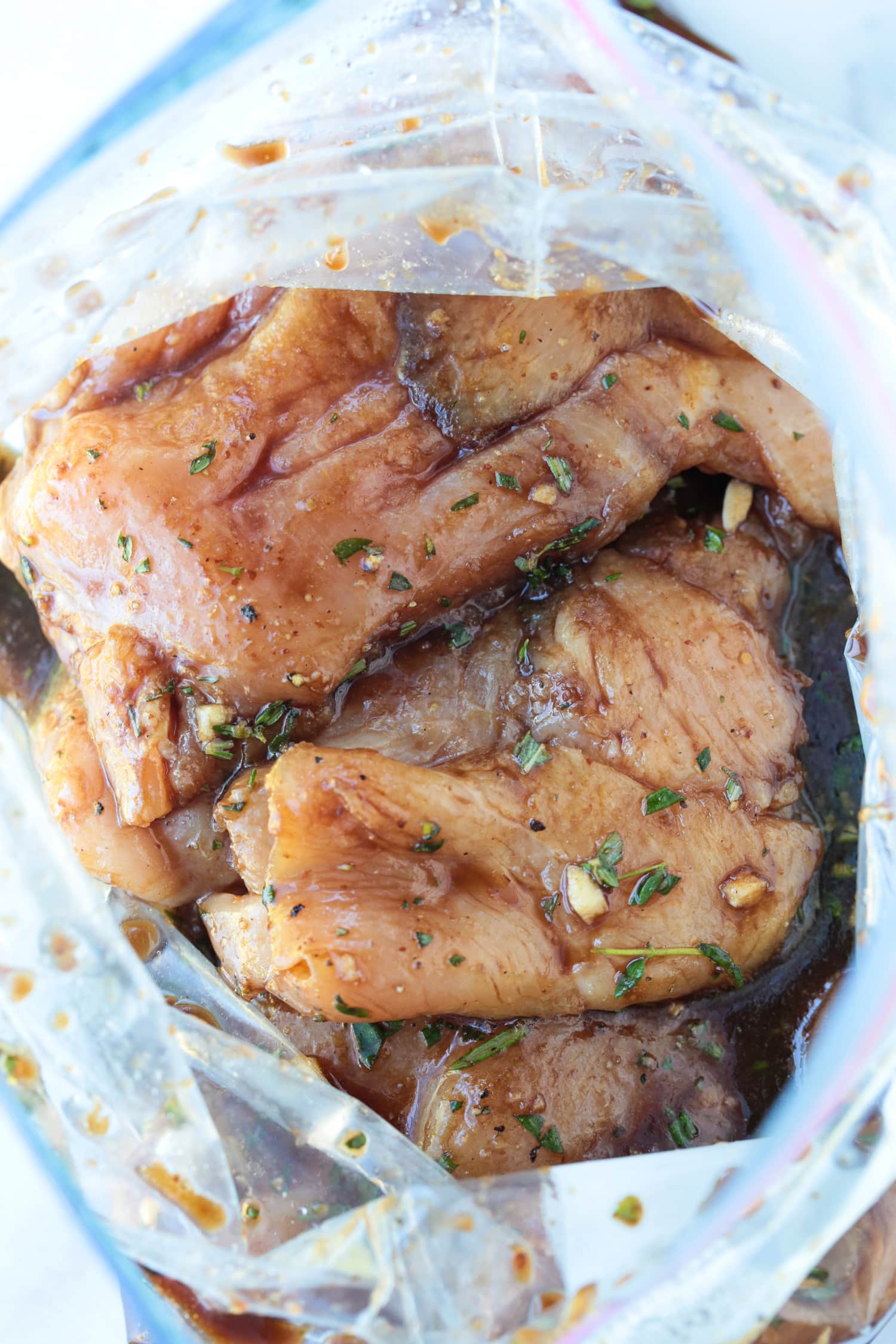 How Do You Cook Marinated Chicken?
Grilling this balsamic marinated chicken is always our top choice, but it's not the only choice. The chicken will be delicious cooked in a skillet on the stove top or baked in the oven.
And yes, we've air fried marinated chicken, too! Just make sure to dry off most of the marinade before adding the chicken to your air fryer.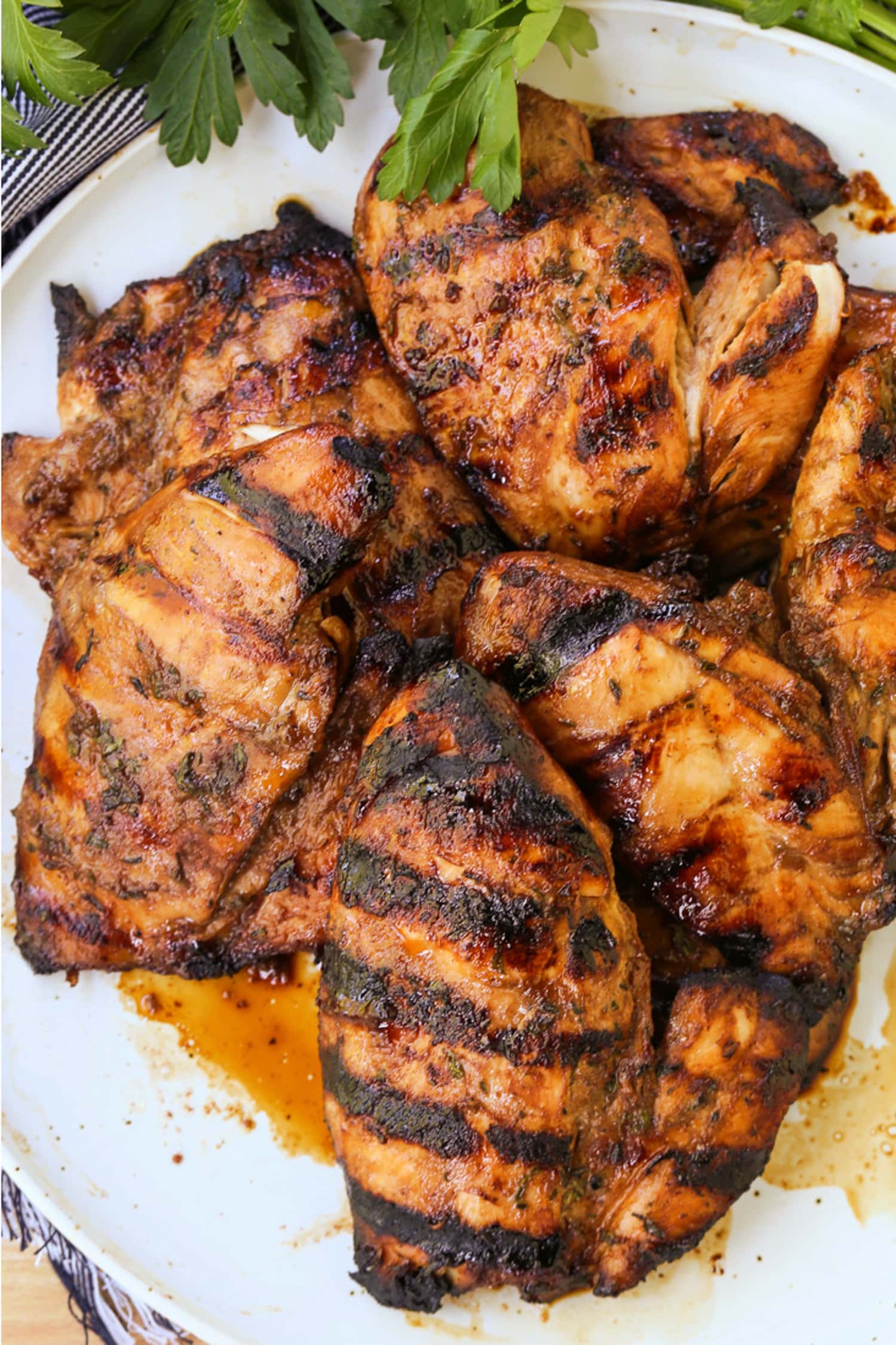 Can You Freeze A Marinade?
You absolutely can. Not only can you make this balsamic chicken marinade ahead of time and refrigerate it until you're ready, but you can freeze it, too.
In the refrigerator, this marinade will keep for up to 2 weeks. If you haven't used it within that time, transfer it to a resealable freezer bag and freeze it for up to 3 months.
Alternately, you can add chicken to the freezer bag with the marinade and freeze as well.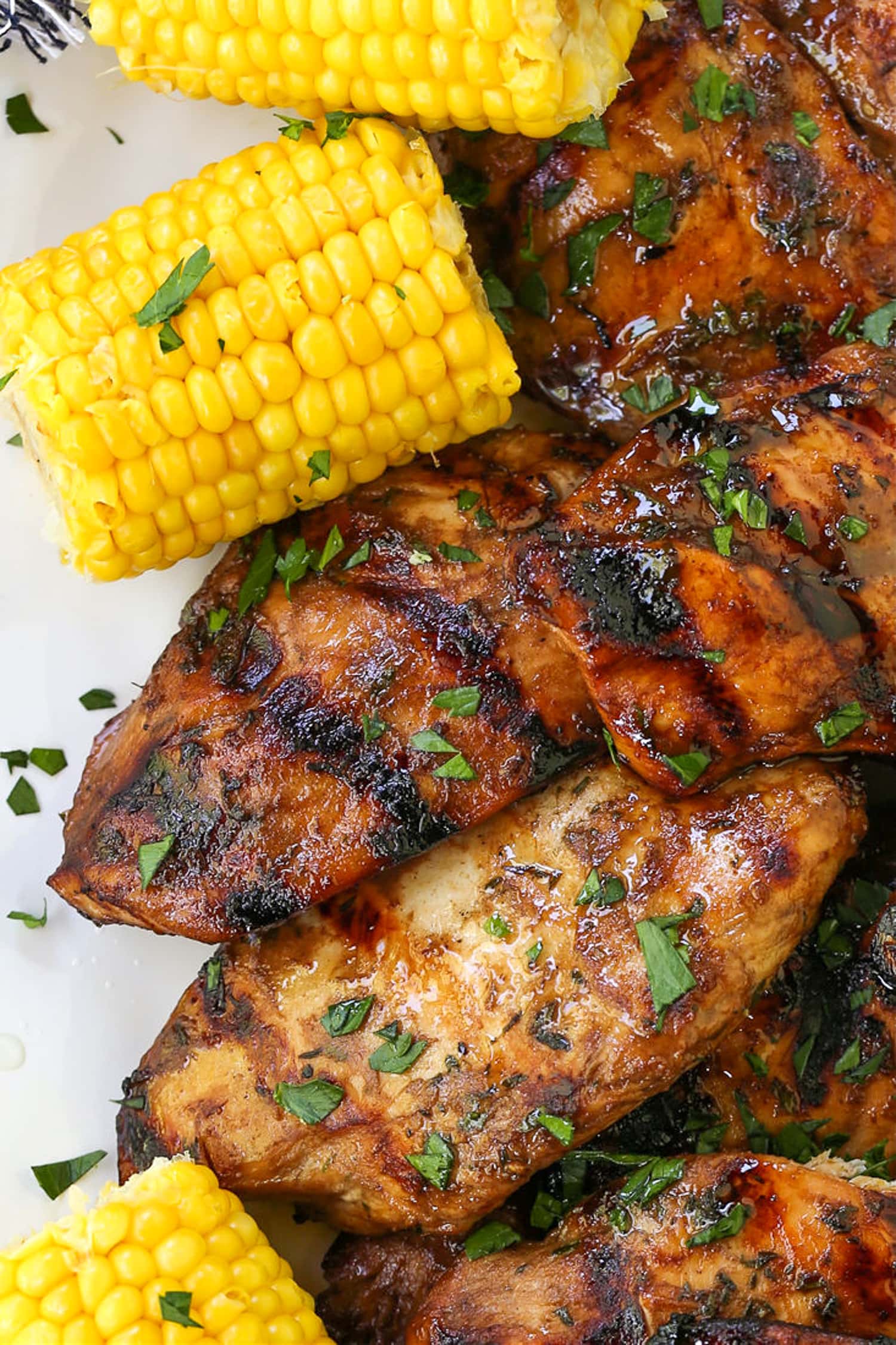 How Do You Grill Chicken Breast So The Chicken Isn't Dry?
The marinade is going to help you out a lot here. But other than a good marinade, here's a few tips to help make this grilled chicken super juicy and not dried out!
Preheat the grill to the right temperature: A medium to medium low grill (about 375-400 degrees) is what we're looking for here. When the heat is too high the marinade is going to burn and the chicken won't be cooked to the right temperature.
Cook the chicken to the right temperature: Chicken breast needs to be cooked to 165 degrees, but take the chicken off around 155-160 degrees. Let the chicken rest covered with foil and that will add another 5-10 degrees to the temperature. Take the chicken breast off the grill at about 155 degrees, add to a plate and cover with foil for 10 minutes before serving and you should be at the perfect temperature!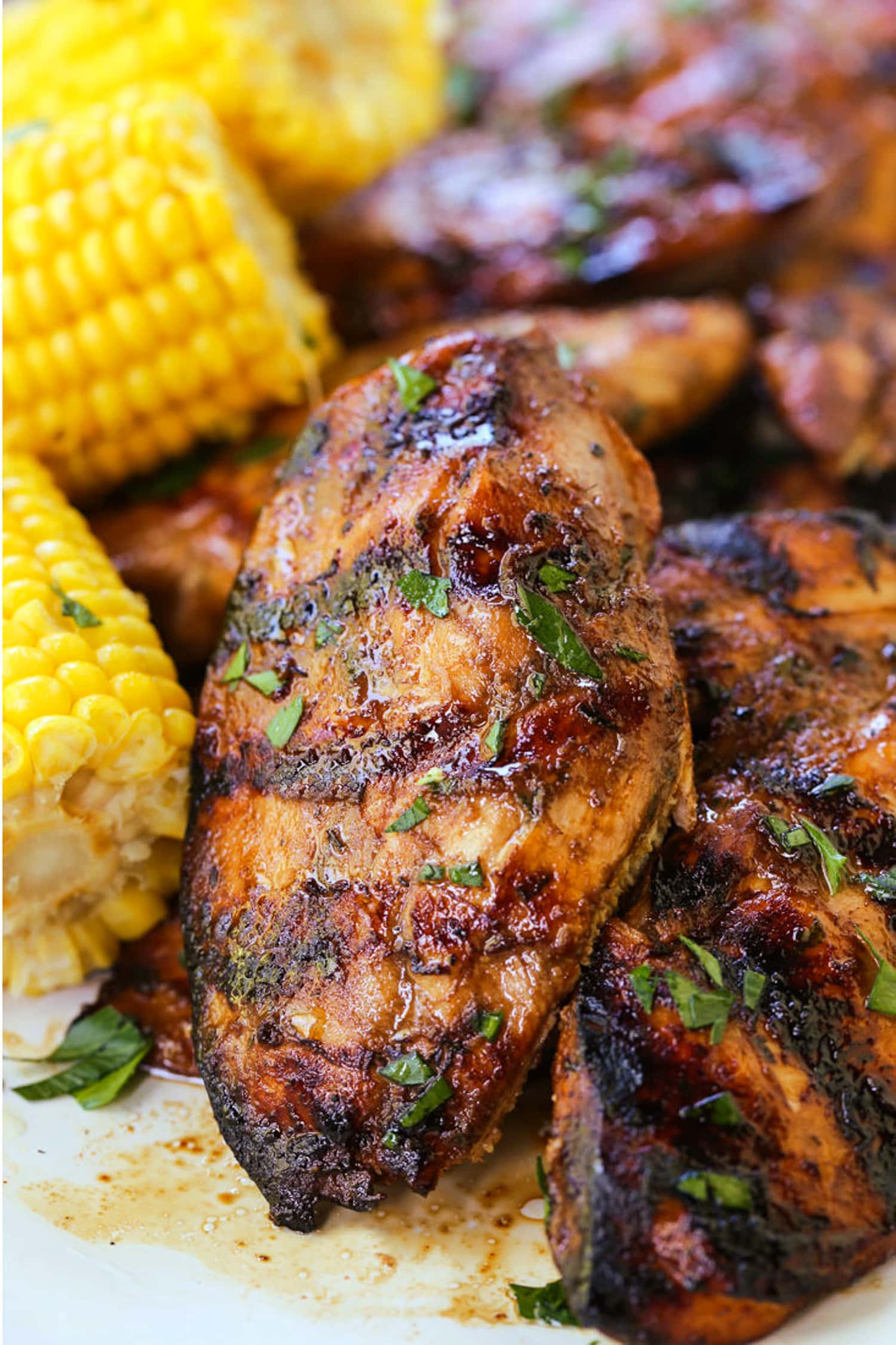 How Do You Keep Chicken From Sticking To The Grill?
Oil or spray your grill with a non-stick cooking spray before grilling. You can people use a grilling specific cooking spray on the grill but I have found that any spray really works fine.
When you grill chicken or any protein correctly, it'll tell you when it's time to flip. If you try to flip the chicken before it's ready it might stick to the grill, so give it a few more minutes.
Sometimes a marinade will have ingredients (like the brown sugar in this one) that might cause the chicken to stick. To prevent that, make sure that you oil your grates well and have the grill at the right temperature.
What Other Ways Can You Use This Chicken Marinade?
This balsamic chicken marinade is so delicious, you can even use it in place of a balsamic vinaigrette on a salad. Toss it with a pasta salad, or over some hot roasted potatoes.
Another note about this marinade recipe, although we love throwing marinated chicken on the grill, you can cook it in the oven, too!
Bake the chicken along with some of the marinade for extra flavor. You can also pan-fry the chicken in a skillet or buts out the air fryer. Just make sure that you dry off most of the marinade from the chicken before adding it to you air fryer.
Looking For More Marinade Recipes?
Print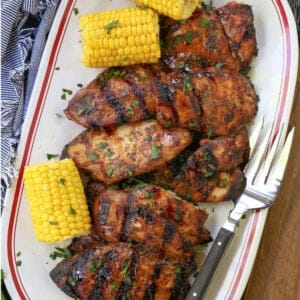 Balsamic Chicken Marinade
Author:

Prep Time:

5 minutes

8 hours for marinating:

Cook Time:

0 minutes

Total Time:

5 minutes

Yield:

3/4 cup

marinade

1

x
Our Balsamic Chicken Marinade is delicious on any cut of chicken! Tangy and sweet with fresh, vibrant herbs flavor chicken wonderfully. But don't stop there, you can also use this marinade recipe on turkey or pork, too!
Scale
Ingredients
1/2 cup

balsamic vinegar

1/4 cup

olive oil

1 tablespoon

chopped fresh garlic

1 tablespoon

brown sugar

2 teaspoons

fresh, chopped thyme

1 teaspoon

fresh, chopped rosemary

1 teaspoon

kosher salt
Fresh black pepper to taste
Instructions
Add all the ingredients for the marinade into a bowl and whisk together to combine.
Add up to 2 pounds of chicken to a resealable bag. Pour the marinade into the bag and seal. Massage the chicken to make sure that it is completely coated in the marinade. Refrigerate for at least 4 hours or up to overnight. The more time the chicken is in the marinade the better the flavor will be!
Remove the chicken from the bag and discard the marinade. Grill, bake or air fry the chicken.
Recipe Notes
This marinade makes enough for approximately 2 pounds of chicken.
Store: You can make this marinade ahead of time and keep it in the refrigerator for a week to 2 weeks. You can also freeze the marinade with or without the chicken for up to 3 months.
Category:

Dinner

Method:

No Cook

Cuisine:

American
Keywords: mantitlement, chicken on the grill, balsamic chicken marinade, marinated chicken recipes, chicken marinade recipe, marinade recipes