This super flavorful Greek Chicken Marinade is so versatile! Fresh lemon juice, garlic and oregano come together to make this marinade shine. You can grill, bake or prepare the chicken in a skillet. Serve with a salad or roasted vegetables on the side for a dinner that's easy to make and out of this world delicious.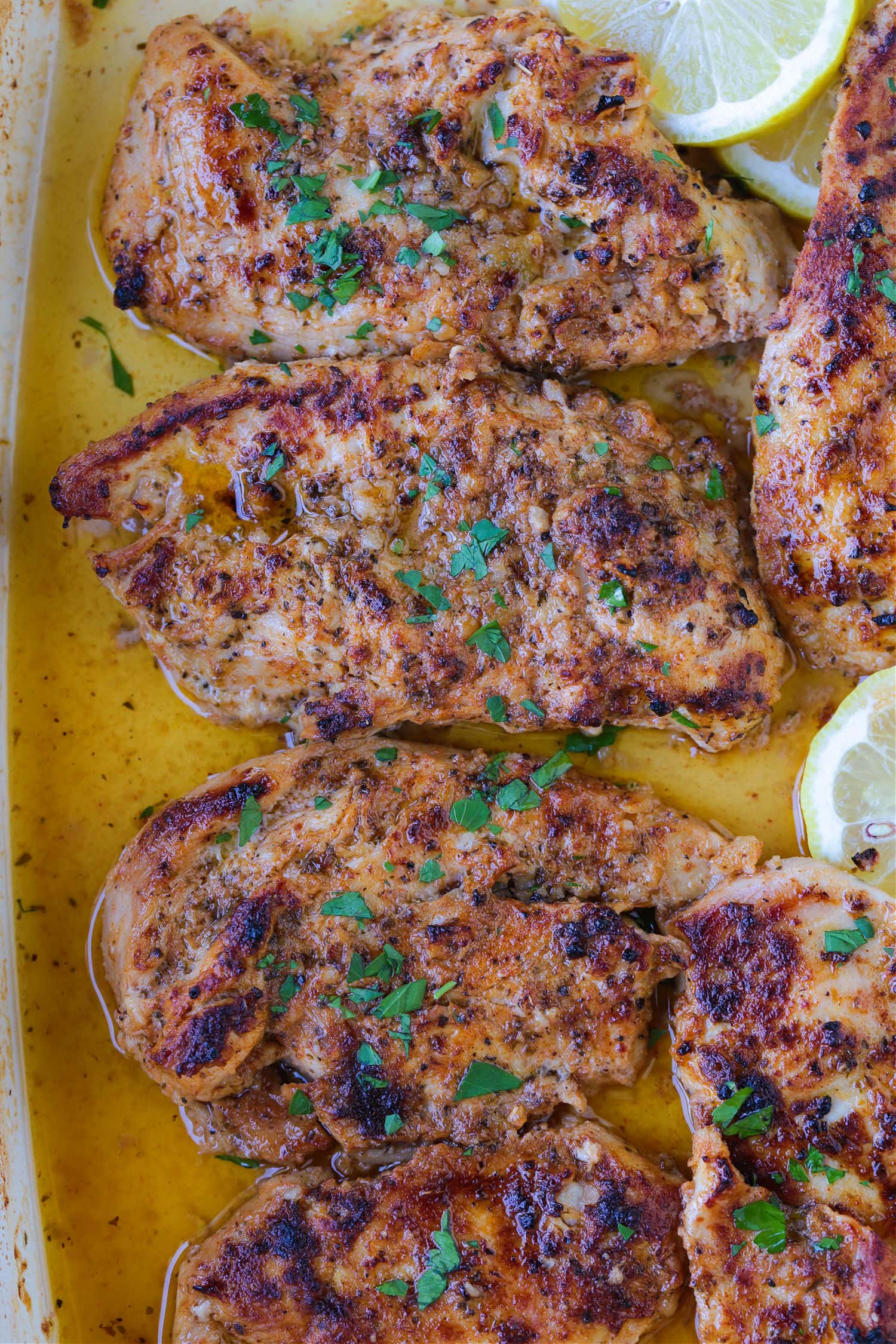 Greek Chicken Marinade Recipe
Fresh, simple flavors are what make this Greek Chicken Marinade shine. Fresh lemon juice and fresh garlic are a must when making this marinade recipe.
This marinade is super versatile, too. You can use it to bake, grill or cook the chicken in a skillet. Another wonderful thing about this marinade recipe is that you don't need a ton of time for marinating. Since the flavors are so fresh and bold, just a couple of hours will get you great flavor.
Ingredients For The Marinade
Fresh Lemon Juice: Not the bottled kind, fresh is best for this marinade recipe.
Fresh Garlic: Nothing quite beats the flavor of fresh garlic, so crack a few cloves and mince them with a knife or put them through a garlic press.
Olive Oil: Greek olive oil would be wonderful, but any good quality olive oil will work.
Oregano: Dried oregano works quite well for this recipe, if you want to use fresh cut it down to 1/2 teaspoon.
Paprika: Adds a little smoky flavor and color.
Kosher Salt and Fresh Black Pepper: Don't forget to season the marinade with salt and pepper, too!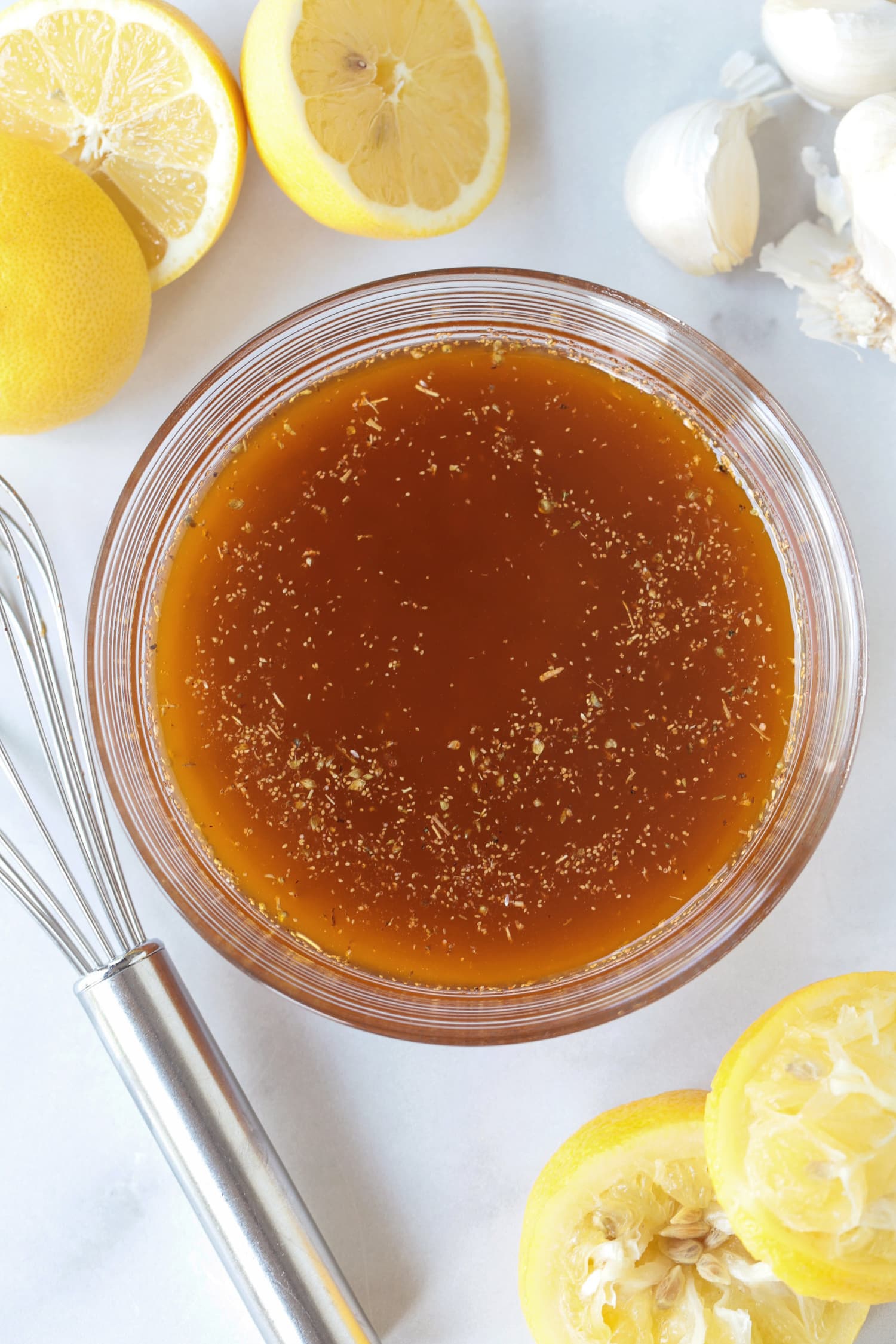 How Long Does The Chicken Need To Marinate?
Since we're using fresh lemon juice, you don't want the chicken in the marinade for too long. However, we have let this chicken marinate overnight at times and it is still fine.
The length of time for marinating also depends on what type of chicken that you're using. Bone-in thighs or legs will take more time for marinating than boneless, skinless chicken breasts.
Because of the acidity in lemon juice, it can change the texture of the chicken if left for too long. Again, we really haven't found that to be a problem with this marinade. To sum it up, you're going to need at least 2 hours of marinating time or up to 8 hours.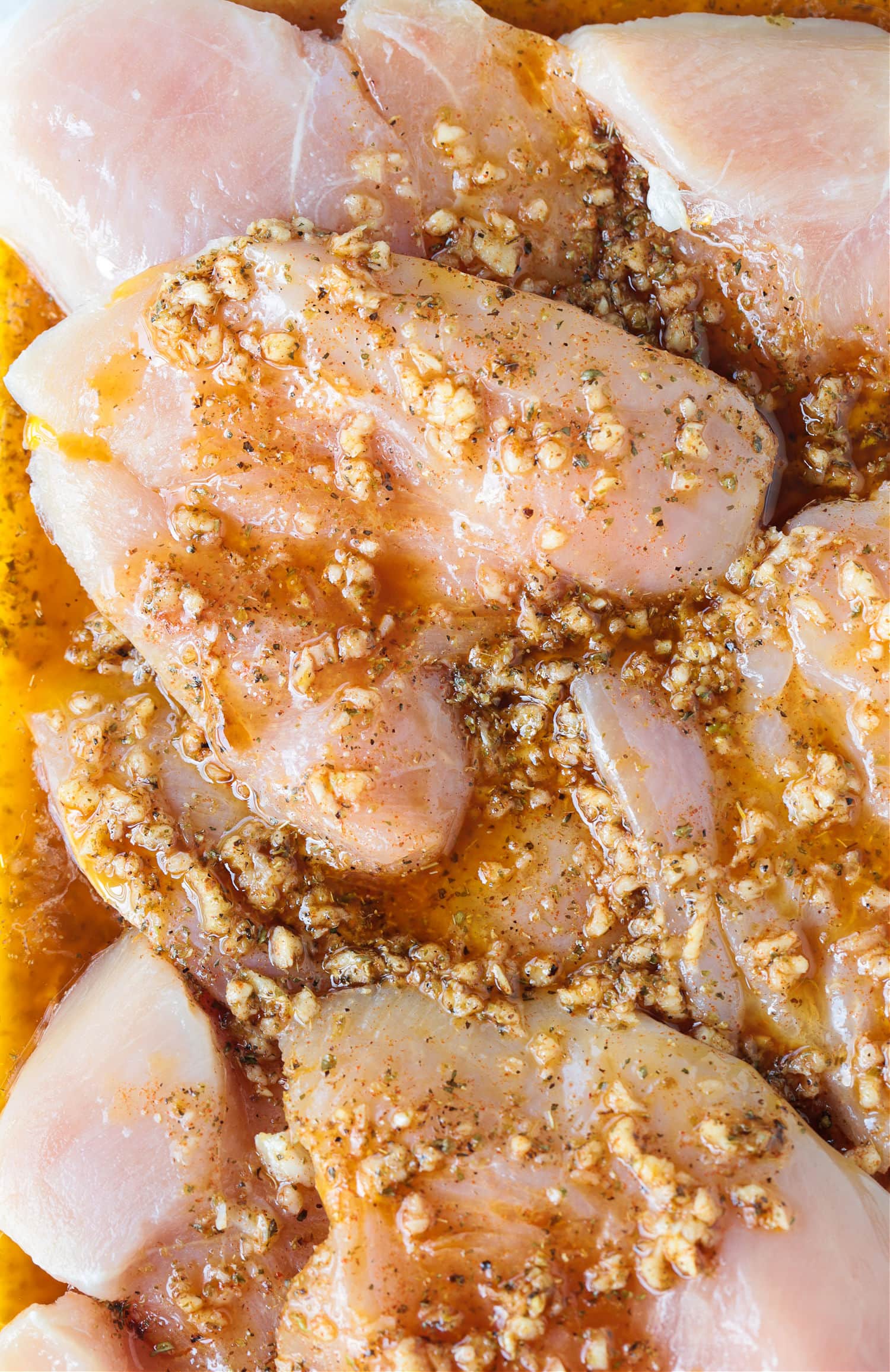 What's The Best Way To Prepare The Chicken After Marinating?
This chicken can be prepared really any way you like after marinating, but there are some tips to making different cooking methods work best.
If you're grilling this greek chicken, make sure that you remove most of the marinade from the chicken before placing it on a hot grill. The oil in the marinade will cause the flames to flare up on the grill, possibly resulting in some burnt chicken. As long as you remove most of the marinade before grilling, the chicken will turn out perfect!
You can also bake this chicken right in the marinade! Since the marinade will cook with the chicken, it is safe to use in this way. You don't even want to pour a marinade that has been in contact with chicken (or any meat) over the finished product and use it as a sauce.
Another way to make this chicken is to cook it in a skillet on the stove top. Just a few minutes on each side until you get a nice brown exterior and the chicken is cooked through.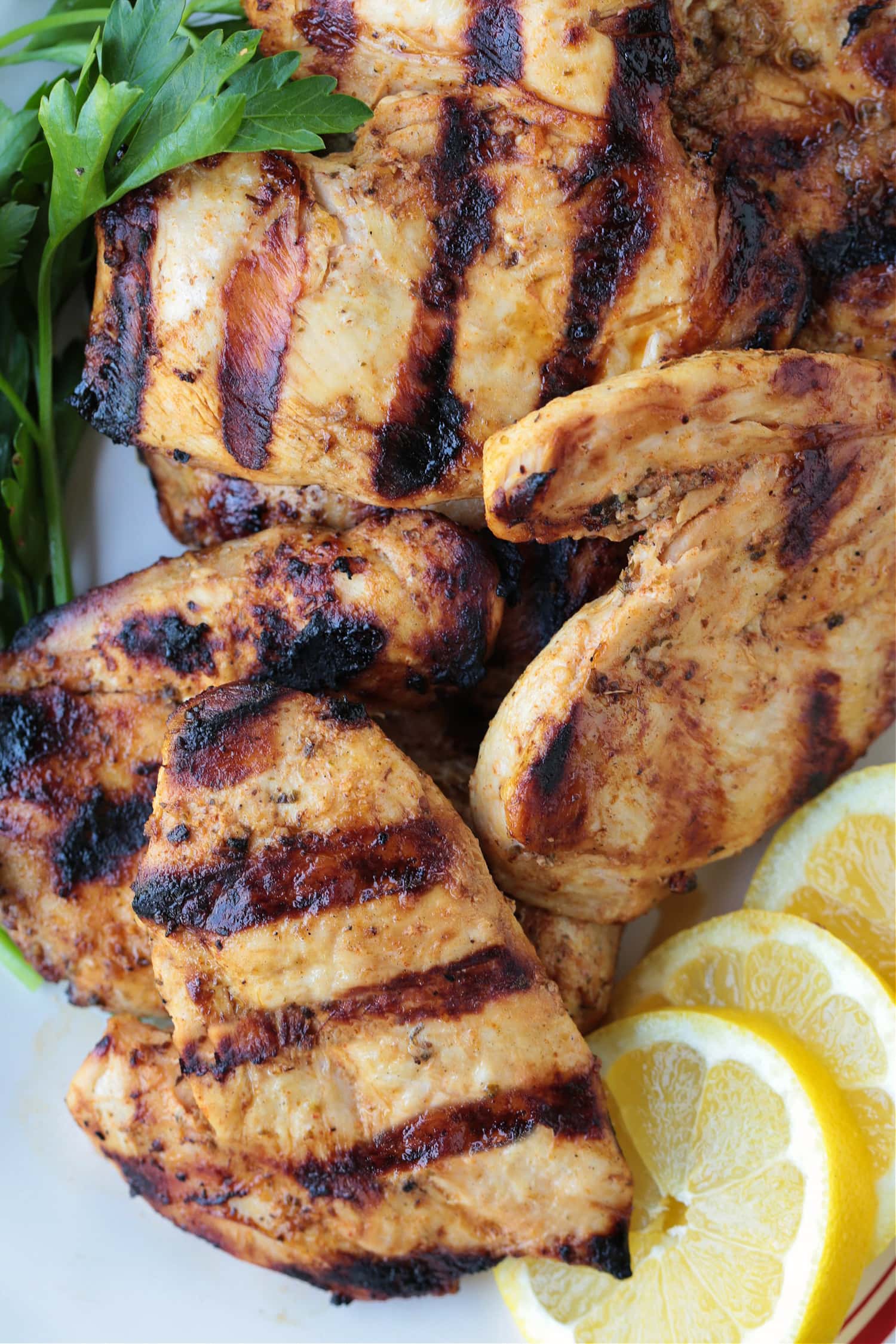 What Side Dishes Go Well With Chicken?
Chicken is such a versatile protein, you can serve it with pretty much anything you like. Whether its a potato dish or a salad, or roasted vegetables, it's going to be delicious.
Sometimes, we even serve this slice this chicken and serve it over pasta with some of the sauce from the baking dish. Again, you can only repurpose the marinade if you've cooked it, or reserved some of the marinade before adding it to the raw chicken.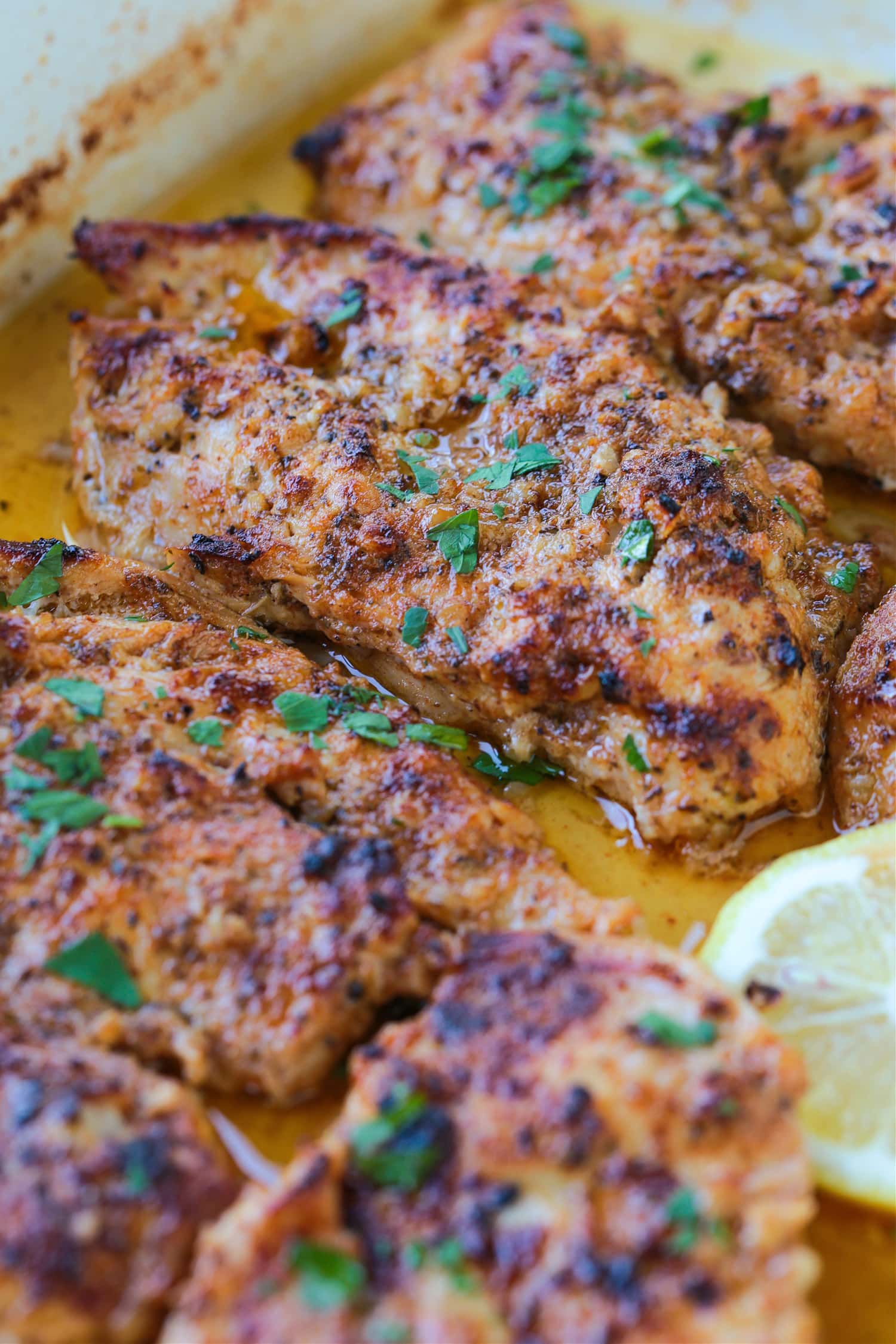 Looking For More Marinade Recipes?
Print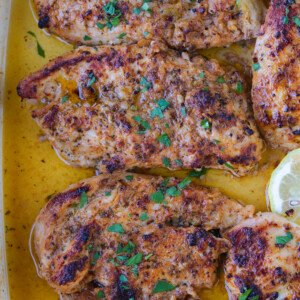 Greek Chicken Marinade
Author:

Prep Time:

5 minutes

Cook Time:

0 minutes

Total Time:

5 minutes

Yield:

1/2 cup

1

x
This flavorful Greek Chicken Marinade is super versatile! Fresh lemon juice, garlic and oregano come together to make this marinade shine.
Scale
Ingredients
1

pound boneless, skinless chicken breasts

1/4 cup

olive oil

1/4 cup

fresh lemon juice

1

–

2

tablespoons finely minced garlic (depending on how much garlic flavor you like!)

1 1/2 teaspoons

dried oregano

1 teaspoon

kosher salt

1/2 teaspoon

paprika
Fresh black pepper to taste
Instructions
Place approximately 1 pound of chicken in a resealable plastic bag or a dish.
Add the ingredients for the marinade to a bowl and whisk to combine.
Pour the marinade over the chicken, making sure to coat all the chicken well.
Refrigerate the chicken and let marinate for at least 2 hours or up to 8 hours.
Cook the chicken on the grill, in the oven or on the stove top in a skillet. Refer to the post for cooking tips!
Recipe Notes
This marinade recipe is enough for approximately 1 pound of chicken. If you have more than that, simply double the marinade.
Category:

Marinade

Method:

No Cook

Cuisine:

American
Keywords: mantitlement, marinade recipe, greek chicken marinade, chicken marinade recipe, greek chicken recipe, easy recipes