Get ready for the deliciousness of Air Fryer Eggplant! This easy, crispy eggplant recipe is perfect for a mid-week meal that is quick and easy to make. Enjoy the crunch of perfectly cooked eggplant without the extra fat from frying in oil.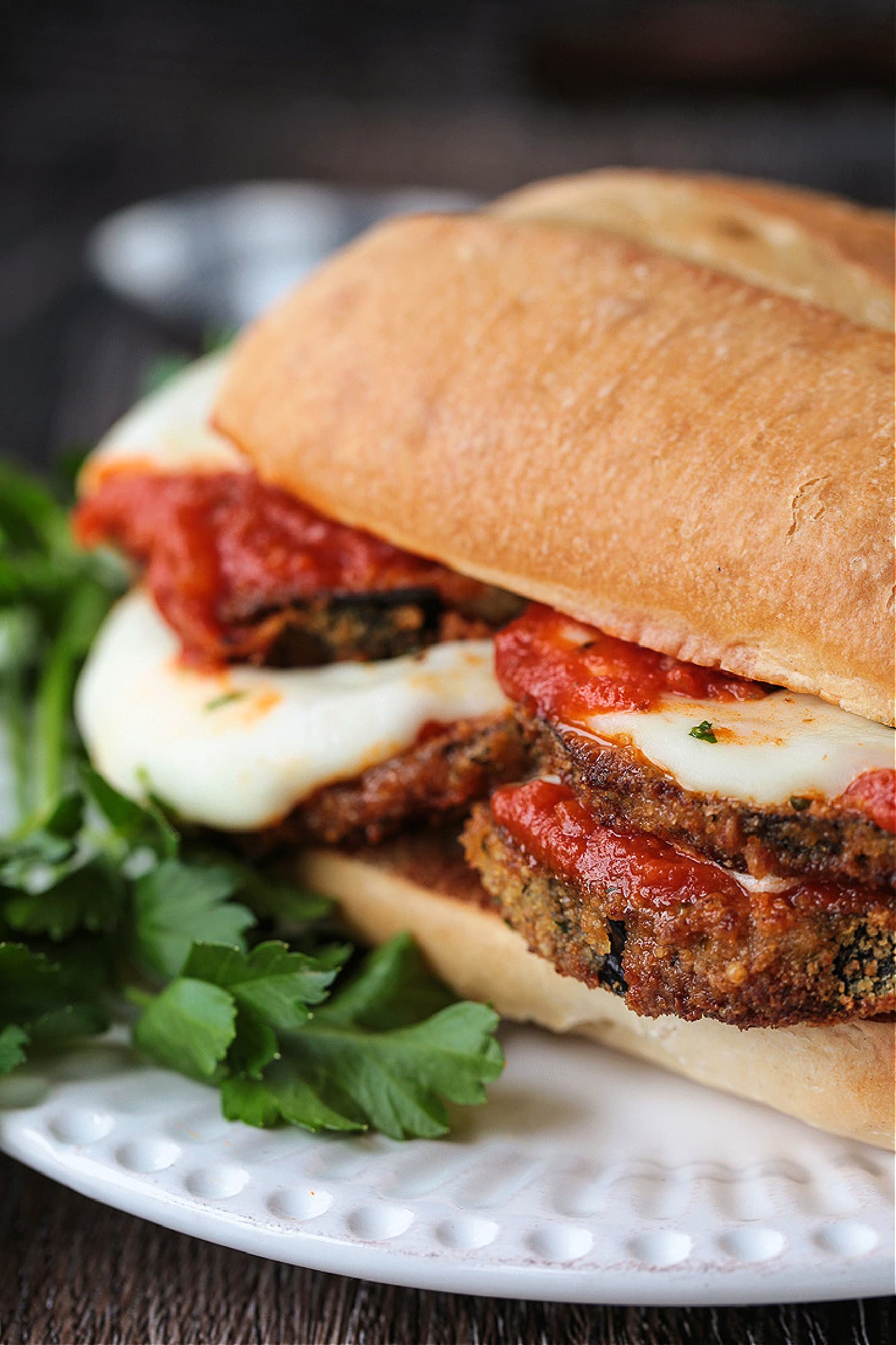 How To Make Air Fryer Eggplant
Making air fried eggplant is really so easy to do! You don't need a mandoline slicer, although you can use one if you want extra thin slices which we sometimes do.
We also know there's a whole thing about salting eggplant before cooking. However, we often find that we skip this step when we're busy. When we're making more involved dishes like our Dad's Famous Eggplant Parmesan, we do salt the eggplant because the entire cooking process is longer.
Which, by the way, now that we've perfected making air fried eggplant, we use this in our eggplant parmesan instead of frying! Truth be told, we actually like it better this way because the eggplant stays crispier.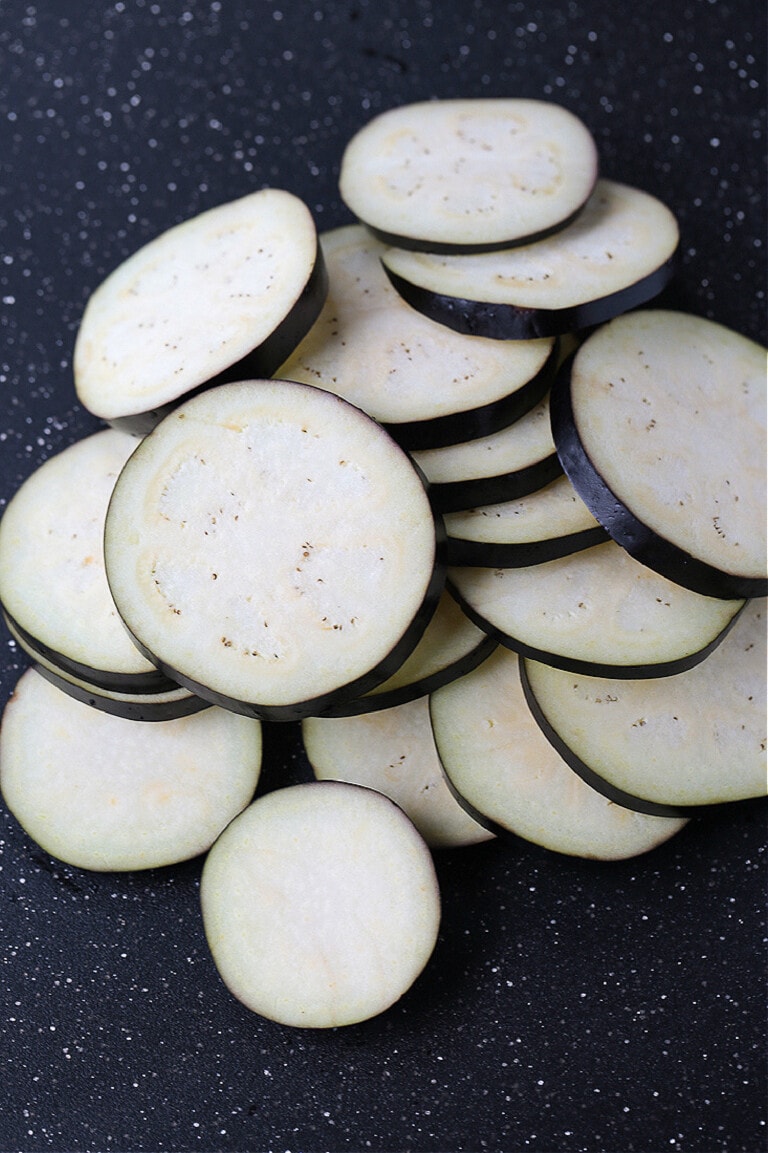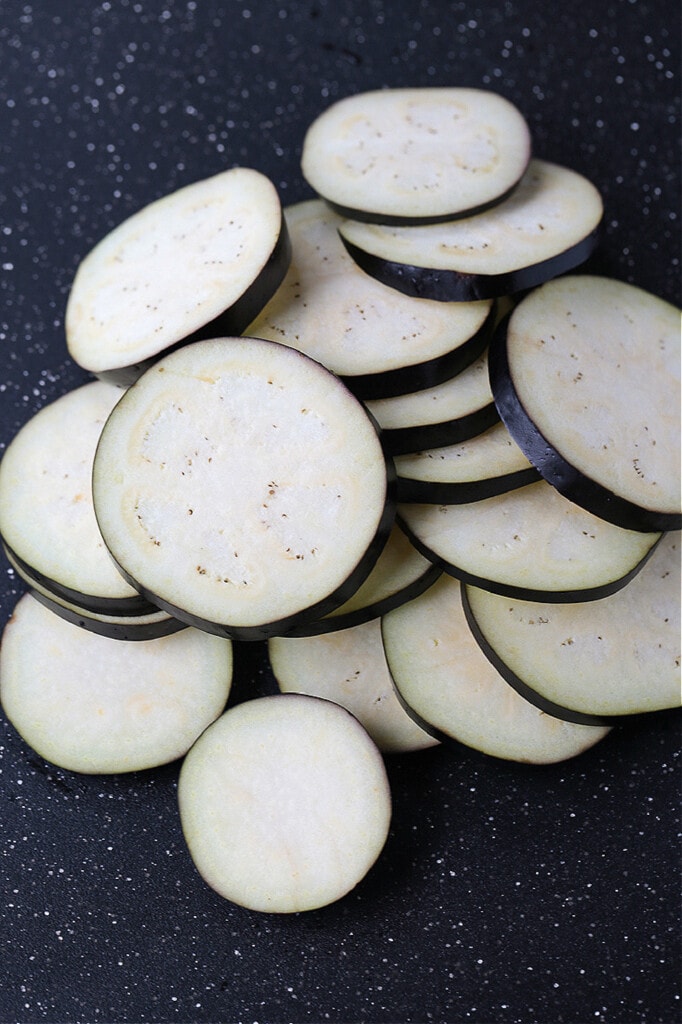 Slice the eggplant into 1/4 inch thick pieces, peeled or unpeeled. Dip each slice of eggplant into an egg wash, then into whole wheat breadcrumbs mixed with grated parmesan cheese.
Make sure to press the breadcrumb mixture into the eggplant so that you get an even crust.
Place the breaded eggplant into your air fryer in a single layer and spray generously with an oil cooking spray. Air fry the eggplant for 8 minutes at 400 degrees. You'll need to flip the eggplant over halfway during the cooking time and again, spray with the oil cooking spray.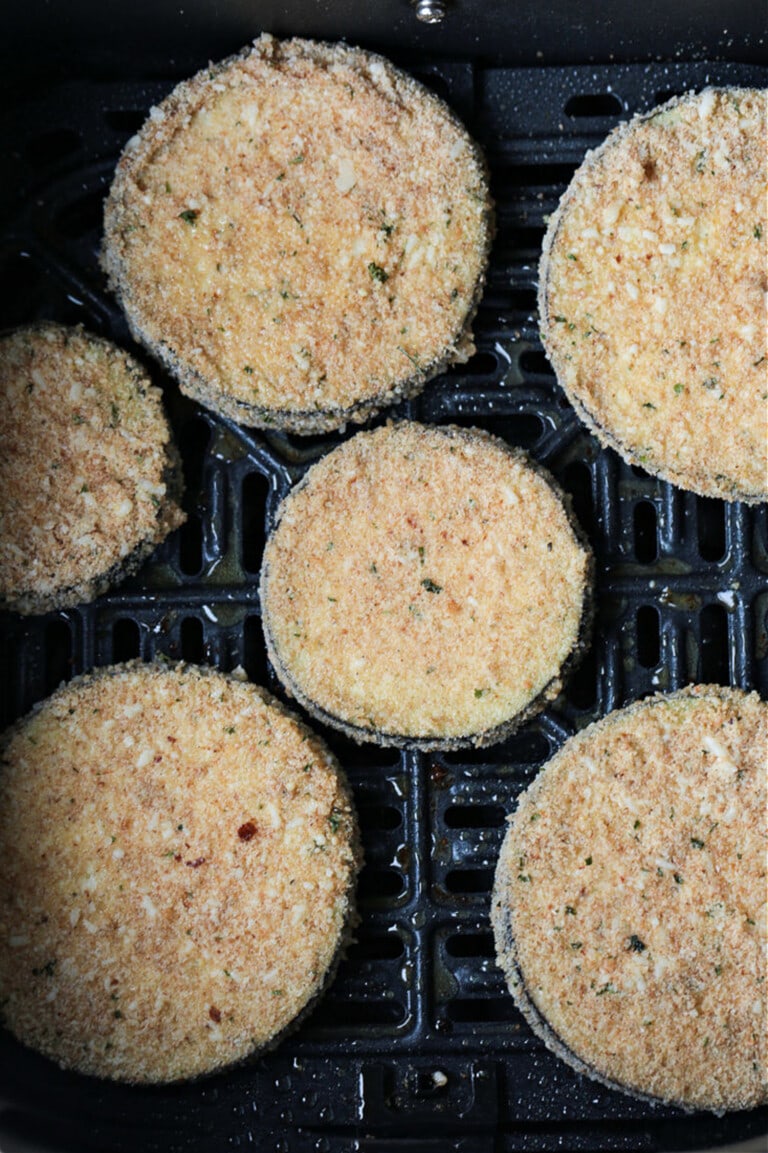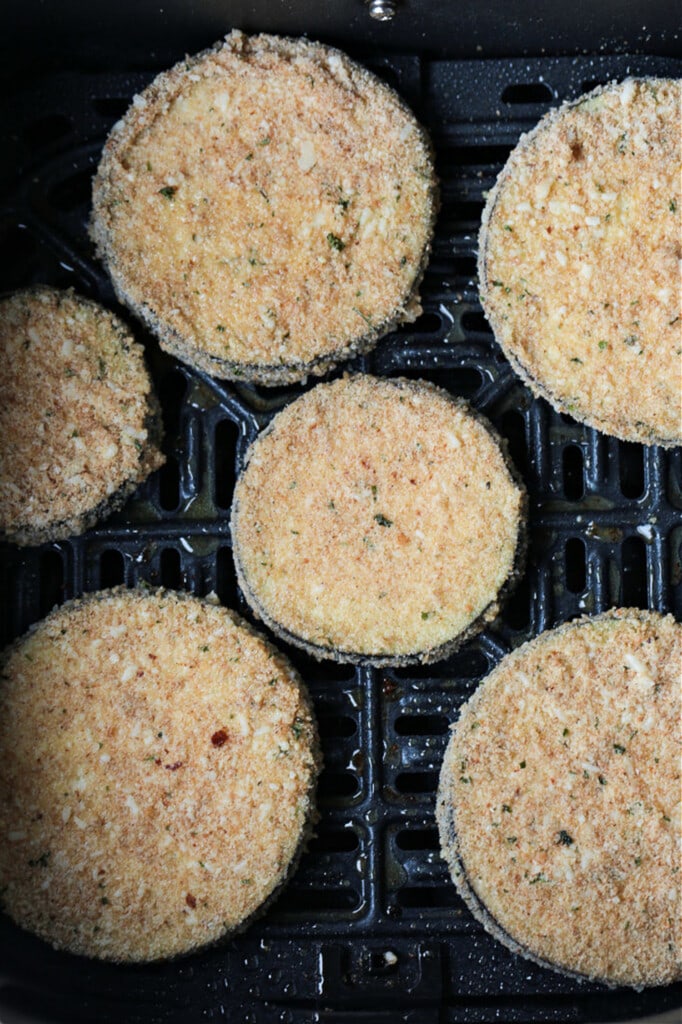 When the air fried eggplant is done, it'll be nicely browned and super crispy on the outside, with tender eggplant in the center.
This is by far our kids most favorite way to eat any kind of eggplant. They love dipping it in marinara sauce and eating it with sliced mozzarella cheese.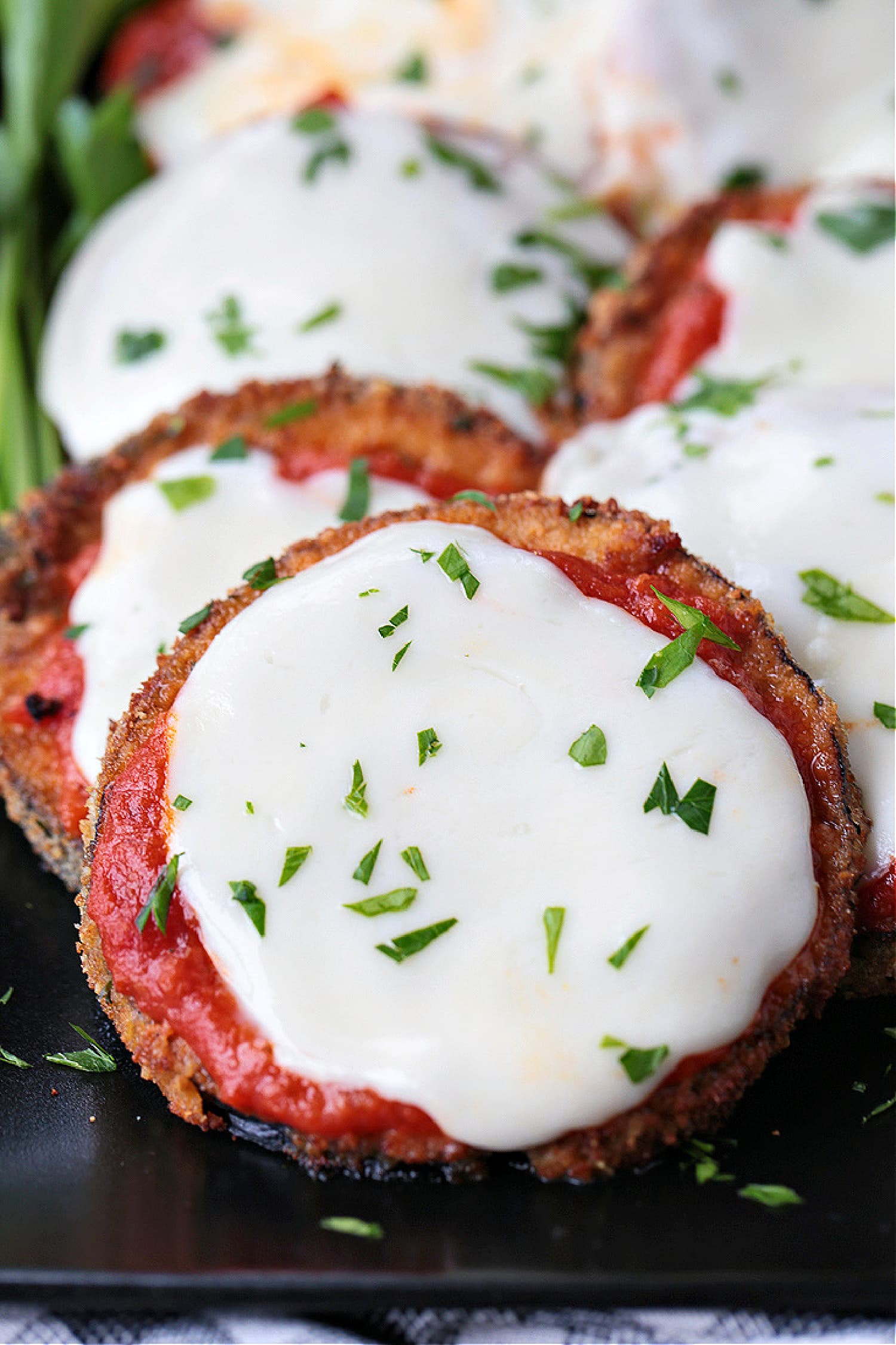 What Can I Make With Air Fried Eggplant?
As we've already discussed, Eggplant Parmesan is a great recipe to make with this eggplant. But besides just enjoying it as is, or dipped in marinara sauce (our boys favorite method) there's many ways to use this crispy eggplant!
Sandwiches: Sandwiches like we're going show you here are such a delicious way to eat this crispy eggplant. Swap out eggplant for chicken in this Italian Chicken Ciabbata sandwich would also be delicious.
Pasta Recipes: Simply cut up the eggplant and add it to your favorite pasta recipe like Creamy Penne Vodka or any pasta dish that you'd like to add some crunch to. We've even seen restaurants layer crispy eggplant into lasagna recipes, combining the two dishes.
Cheese & Marinara Sauce: Simply top this air fryer eggplant with marinara sauce and mozzarella cheese, pop it into the oven and bake until the cheese melts. Add a salad on the side and dinner is done!
Salad: If you need a crispy crunch (and some extra veggies) in your salad, this eggplant recipe is the way to go. Cut it up into bite sized pieces and add it to your salad instead of croutons.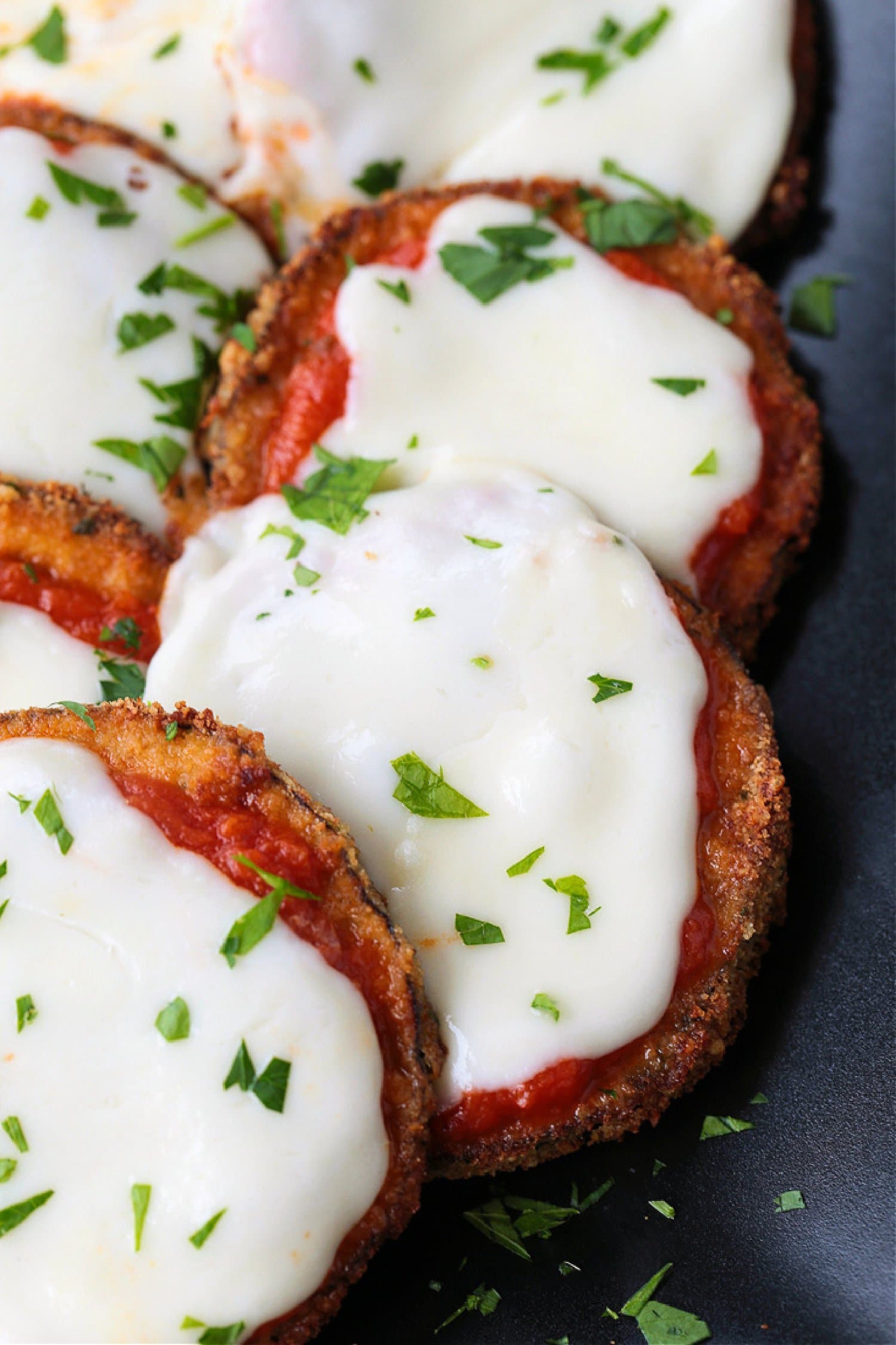 Can You Make Breaded Eggplant Ahead Of Time?
Assuming that you have an air fryer, then the answer is yes. Make a whole bunch of this air fryer eggplant and keep it in the refrigerator for up to 5 days.
Reheat the slices of eggplant in your air fryer for just about 2 minutes until it's warmed through and crispy again.
You can crisp the eggplant back up in an oven as well. It won't get as crispy as using an air fryer but it will do the job. Place breaded eggplant on a baking sheet and heat at 450 degrees until warmed through.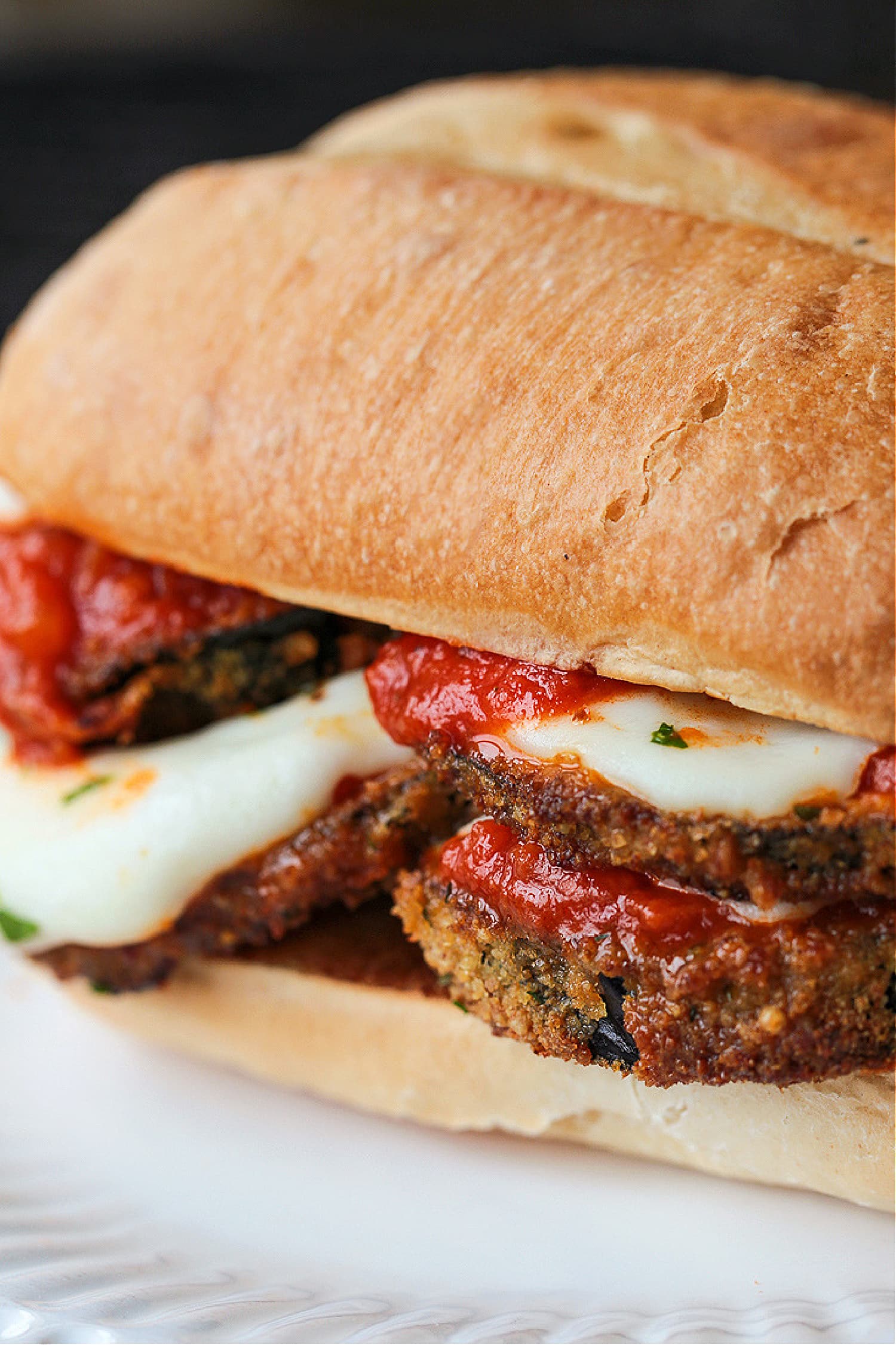 Tips For Success!
Don't Slice The Eggplant Too Thick: Slice the eggplant about 1/4 inch thick for this recipe. It doesn't have to be perfect, but the thicker the eggplant slices are, the longer it will take to cook in the center.
Bread Properly: When you dip the eggplant slices into the egg wash, let the excess egg drip off so that you don't carry that over into your breadcrumb mixture. The excess egg will clump in the breadcrumbs, causing the breading fall off when air frying.
Whole Wheat Breadcrumbs: Use whole wheat, seasoned breadcrumbs for this eggplant recipe. For one, whole wheat breadcrumbs add more flavor than regular breadcrumbs. For two, they add more color, giving you that lovely brown coating. Panko breadcrumbs will also work, but we find that they aren't as golden brown at the end.
Looking For More Air Fryer Recipes?
Print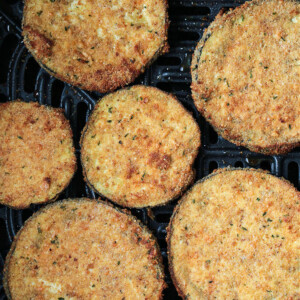 Air Fryer Eggplant
Author:

Prep Time:

10 minutes

Cook Time:

8 minutes

Total Time:

18 minutes

Yield:

4

servings

1

x
Air Fryer Eggplant is so crispy and delicious, without the extra oil! Use this all purpose recipe to make sandwiches, pasta recipes and eggplant parmesan!
Scale
Ingredients
1

medium to large eggplant

1 cup

seasoned, whole wheat breadcrumbs

1/4 cup

grated parmesan cheese

2

eggs beaten with a splash of milk
Kosher salt for seasoning
Instructions
Preheat the air fryer to 400 degree if needed.
Peel the eggplant if desired, or leave the skin on. Slice the eggplant into 1/4 inch thick slices.
Add the breadcrumbs into a bowl along with the parmesan cheese and mix together. Beat the eggs in a separate bowl with a splash of milk.
Dip each slice of eggplant into the egg mixture, letting the excess egg drip off. Dip the eggplant into the breadcrumb mixture making sure to press the coating into each side well. Place on a parchment lined baking sheet while you bread the rest of the eggplant.
Add the breaded eggplant into your air fryer in a single layer. Spray generously with an oil based cooking spray and then cook for 4 minutes. Flip the eggplant over and spray with oil again, then continue to cook for another 4 minutes until browned and crispy.
Season the eggplant slices as soon as they come out of the air fryer with a sprinkle of salt and fresh black pepper if desired.
For ideas on what to use this air fried eggplant for – besides just eating as is – refer to the full post.
Category:

Dinner

Method:

Air Fryer

Cuisine:

American
Keywords: mantitlement, air fryer recipes, eggplant recipes, air fried eggplant, air fryer eggplant, breaded eggplant, healthy recipes, low fat recipes