Dad's Eggplant Parmesan is one of our favorite Sunday dinners! This eggplant parmesan recipe has layers of fried eggplant, beef and cheese!
This recipe is right up there with our Classic Beef Lasagna recipe, also perfect for Sunday meals, or Grandma's Sunday Meatballs and Sauce. Or if you're from an Italian background like we are, you'd be having all of the above, in one Sunday dinner!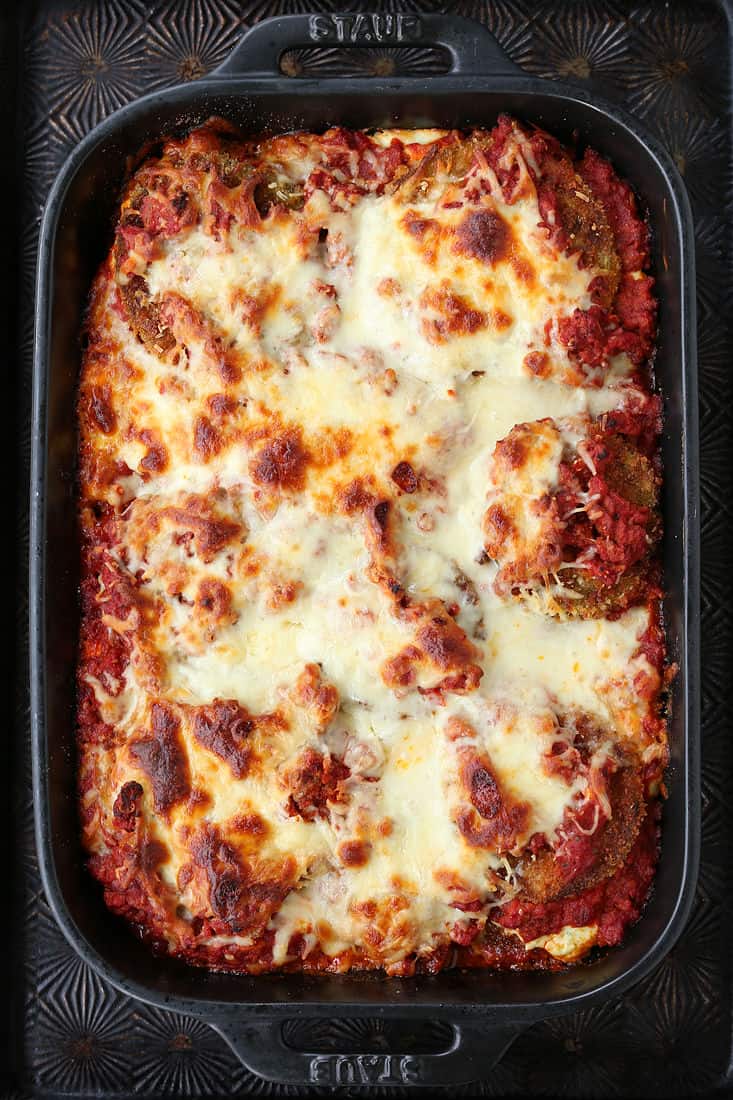 Dad's Eggplant Parmesan Recipe
Honestly, if you ever go through the trouble of making eggplant parmesan you need to make this recipe. The layers of fried eggplant stay crispy, not soggy, and the cheese to sauce to meat ratio is literally perfect.
Of course, Dad doesn't really use a recipe, he just makes it from memory each time. The basics of frying the eggplant, making a quick meat sauce and layering it between a flavored ricotta cheese mixture.
It's better than anything you'll get from a restaurant, I guarantee it!
How To Keep Eggplant Parmesan From Getting Soggy
The trick is to salt the slices of eggplant before frying. Let the salt sit on the eggplant for about 15 minutes until the moisture comes out. Wipe off the water and salt and then start your frying process.
Because the salted eggplant lets out some of the moisture, it won't make your fried eggplant soggy because of excess water inside. This method also helps to make the the eggplant taste less bitter.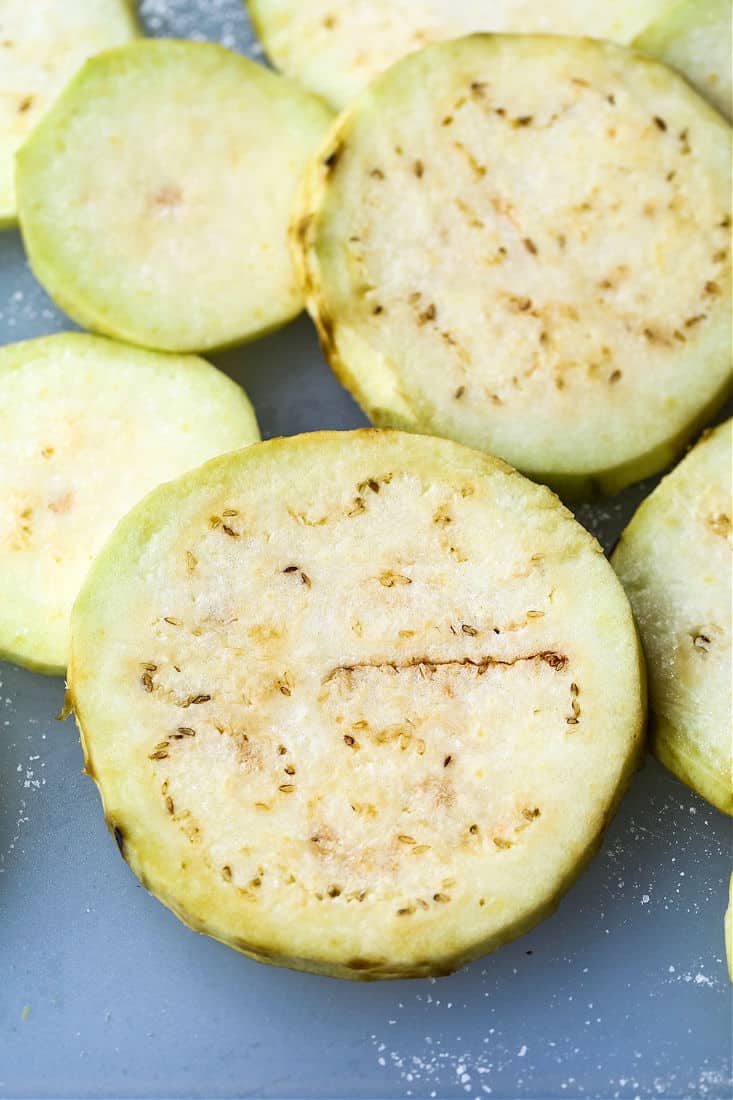 How To Make Eggplant Parmesan
Start by dipping the eggplant slices in an egg wash (a mixture of beaten eggs with a splash of milk or cream) then coating in breadcrumbs. Fry the breaded eggplant until golden brown and crispy on both sides and set aside on a paper towel lined plate.
Let's get this out of the way here…you're going to use a LOT of oil when you fry up the eggplant. Like, a lot. The breaded eggplant slices soak up a lot of oil, which can only be prevented slightly by making sure that your oil is hot before adding the eggplant.
But still, it is what it is. This isn't a low calorie recipe here, it's comfort food 101.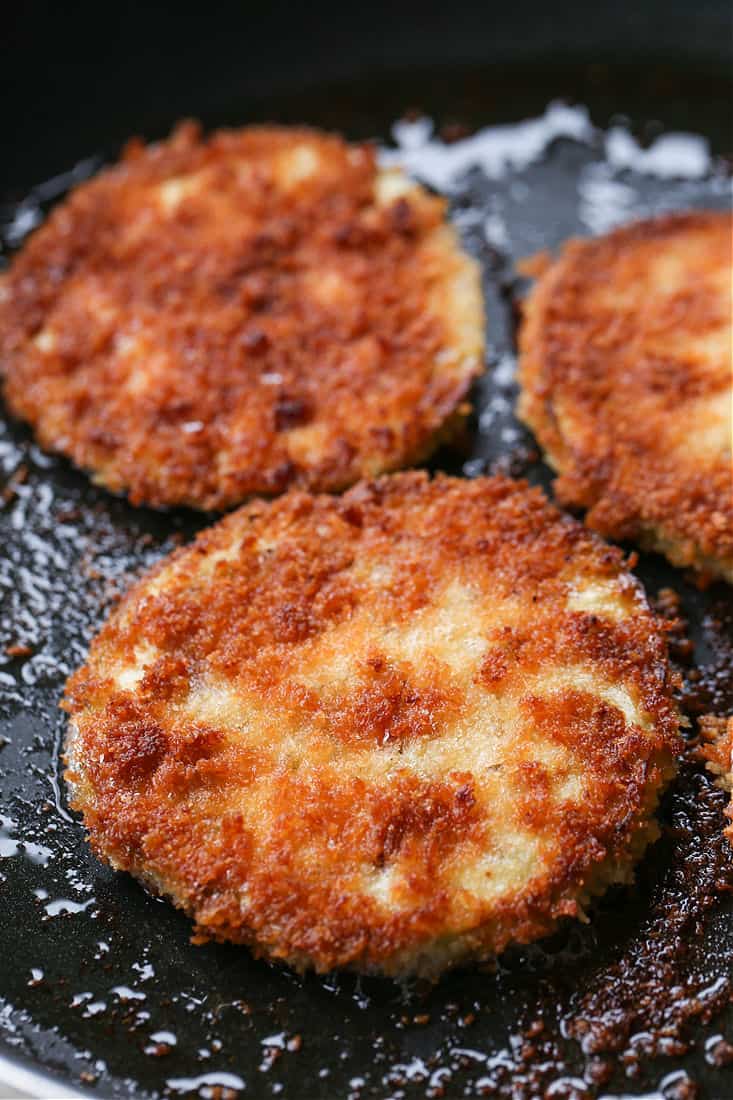 After the eggplant is fried, and you can even do this part a day ahead of time and keep the fried eggplant in a container with paper towels in the refrigerator, we're going to start the meat sauce.
Again, the sauce can be made ahead of time too, up to a day or two and keep it in the refrigerator until you're ready. The sauce starts by browning ground beef with onions and garlic and then adding crushed tomatoes and tomato sauce.
Now we're going to start to assemble our eggplant parmesan! Add about a cup of sauce to the bottom so that you're eggplant doesn't stick. Spread it out in a thin layer and then add six slices of eggplant like you see here.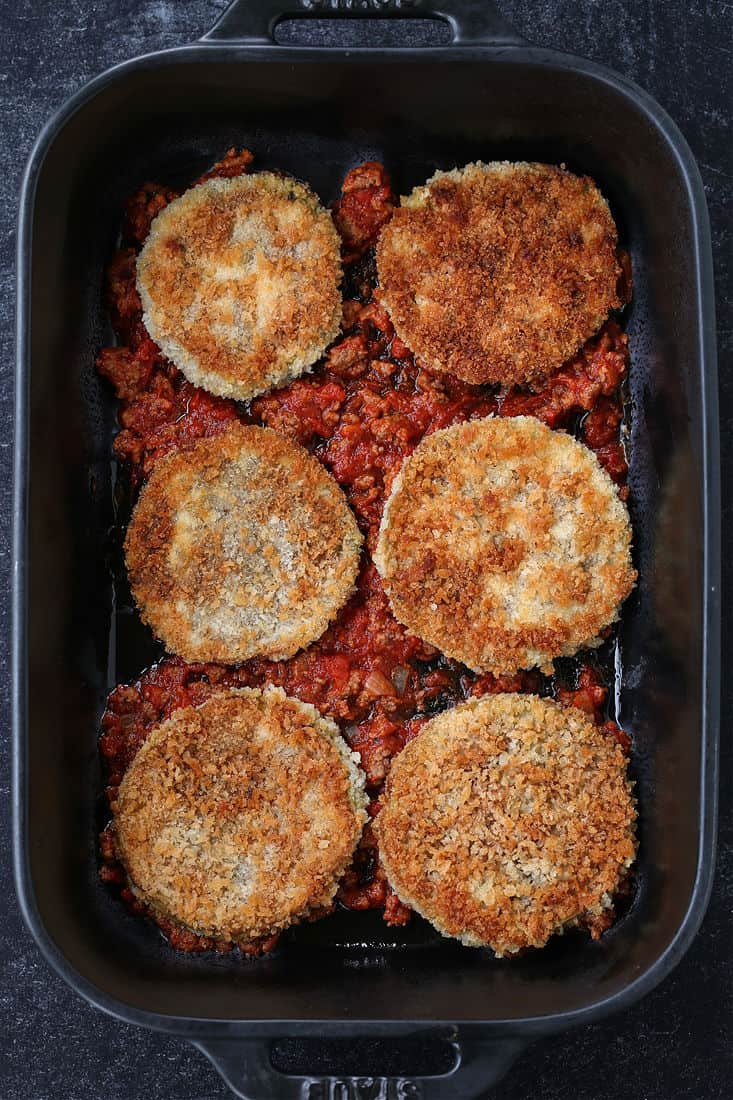 Ricotta cheese that's been mixed together with salt, pepper, oregano, parsley and an egg goes on next. You'll use half of the ricotta cheese mixture in this layer and the other half on the next layer.
Now add another layer of the meat sauce and spread it out to the edges to cover all the eggplant.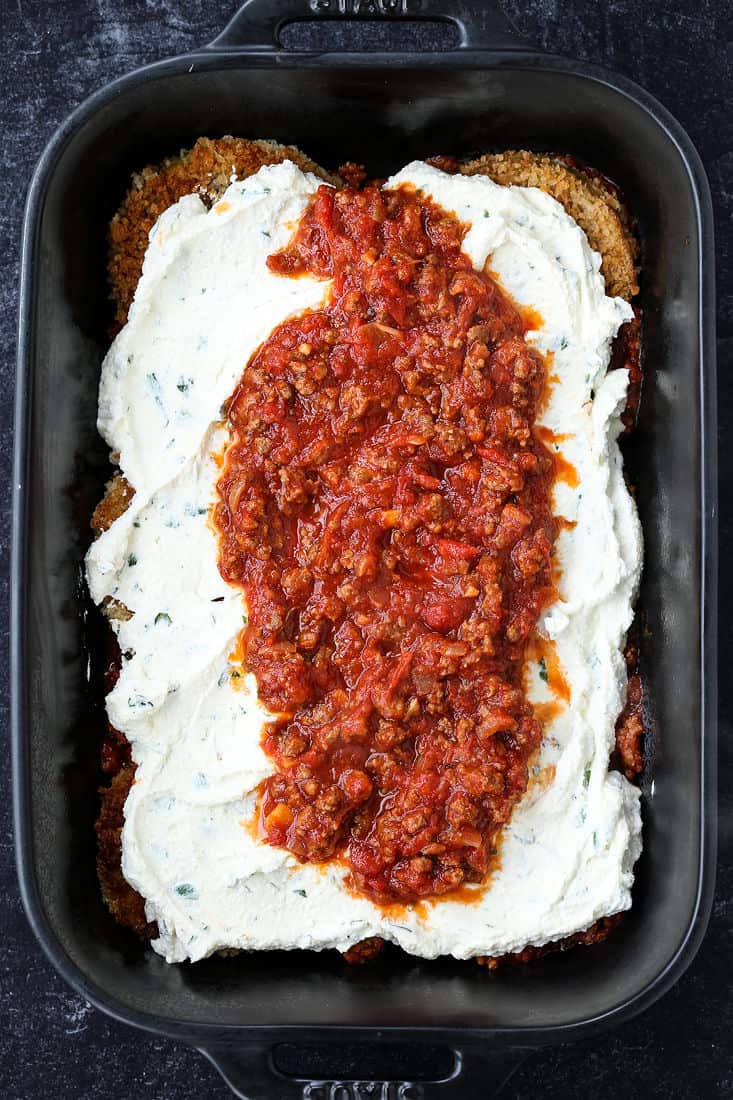 Repeat with more eggplant, more ricotta cheese and sauce. The top layer is another layer of fried eggplant, the rest of the sauce and a layer of shredded mozzarella cheese. Depending on how cheesy you like your eggplant parmesan to be, you can add as little or as much here as you like.
Not only does the mozzarella cheese add that delicious, gooey, cheesy layer to the top of this casserole, but it also helps to keep the eggplant parmesan from drying out. So start with about two cups at least and add more if you like.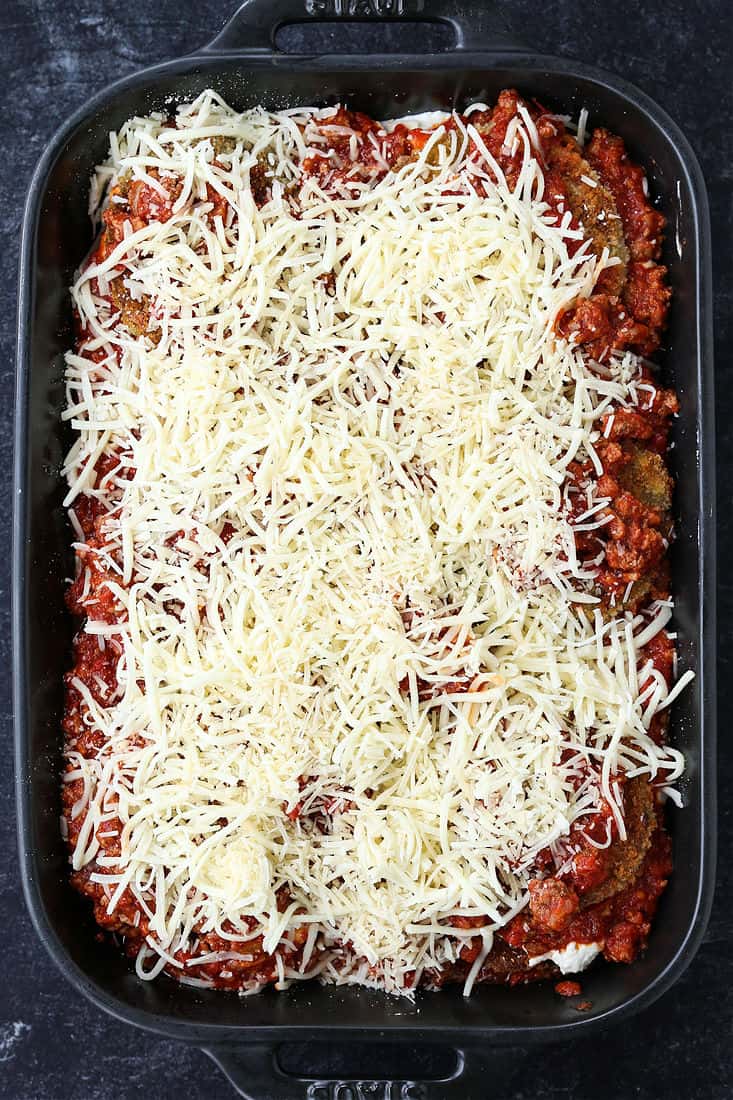 Do You Need To Peel Eggplant Before Cooking?
The skin on an eggplant is edible, but it can be tough sometimes, especially on larger eggplants. Smaller eggplants will have more tender skin which is also full of vitamins and nutrients.
So this is a personal preference here, we like to peel our eggplant for Dad's Eggplant Parmesan recipe but can do what you like best.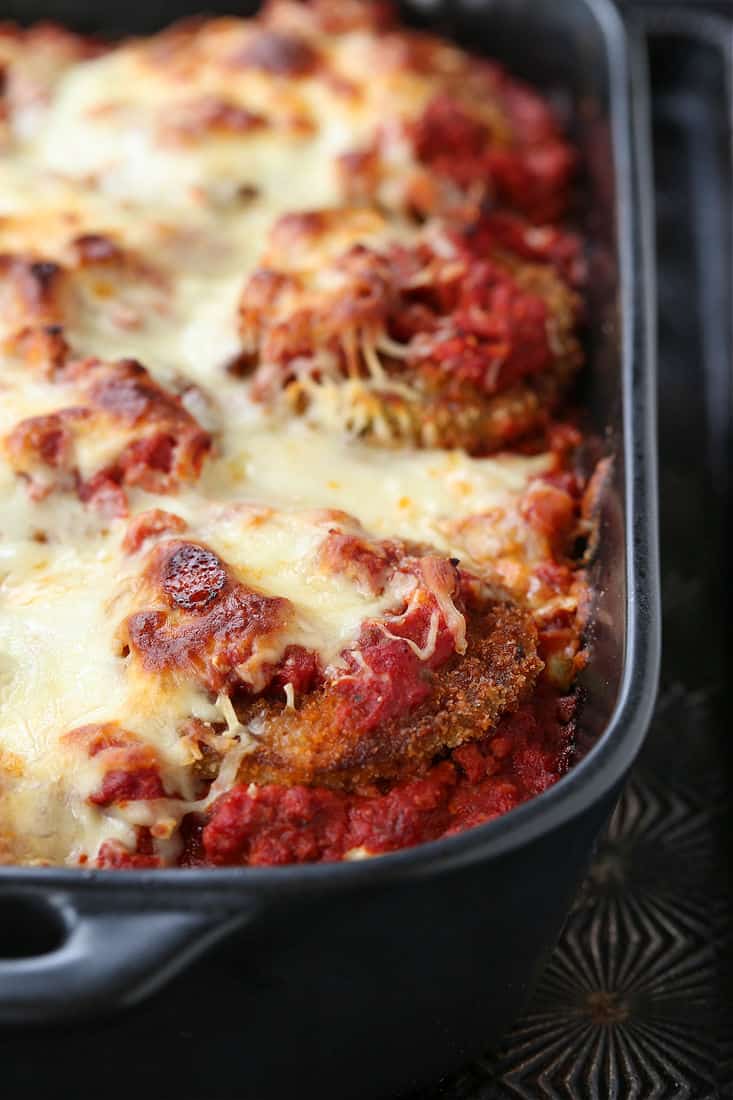 Can I Make This Eggplant Parmesan Recipe Ahead Of Time?
Absolutely, which makes it perfect for an easy Sunday dinner or for meal prepping during the week! You can actually make the entire casserole ahead of time, cover it with foil and keep in the refrigerator. Take the eggplant parmesan out about 30 minutes before baking to take the chill off and then follow the recipe instructions for cooking.
Or if you're really wanting that super crispy eggplant, make the sauce ahead of time and fry the eggplant at the last minute, assemble and bake. Taking one step out of the process like making the sauce the day before will make for a much easier process.
Also, you can fry the eggplant ahead of time, like we mentioned before. We did that for this recipe here and you can see from the photos how crispy it still is, so you have a lot of options here!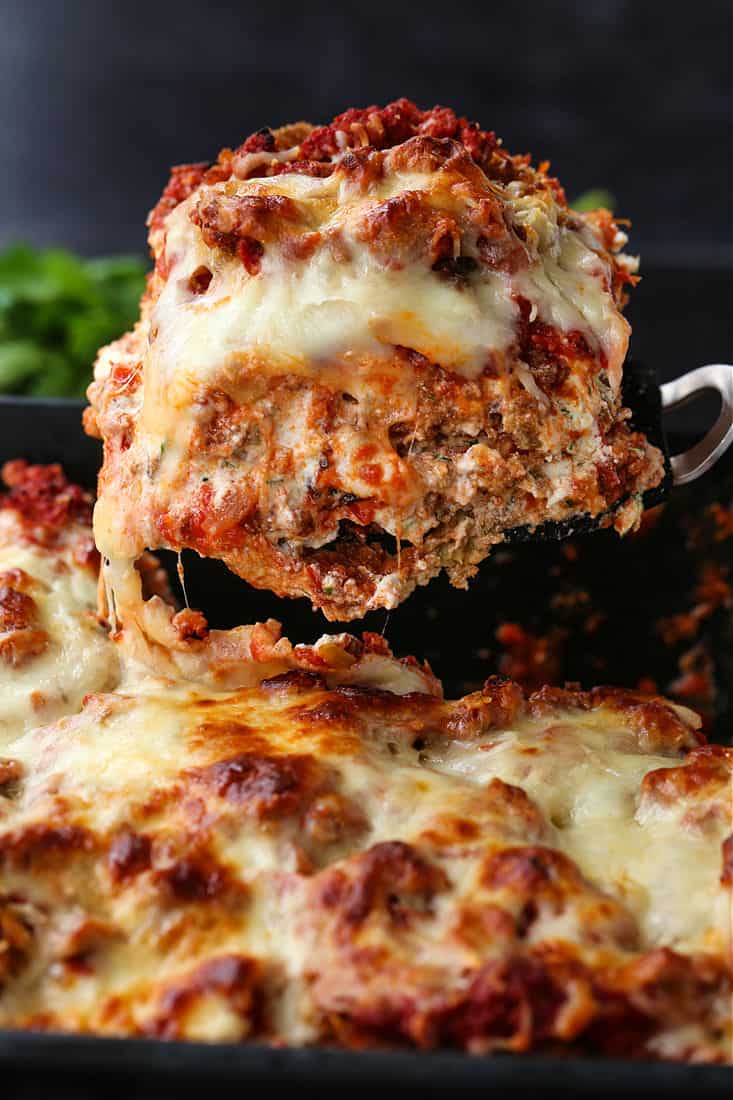 What Can I Serve With Eggplant Parmesan?
Dad's Eggplant Parmesan is pretty much a meal in itself. You've got your vegetables and protein all in one! But if you're going full out Sunday dinner here, there are a few more sides that you can try!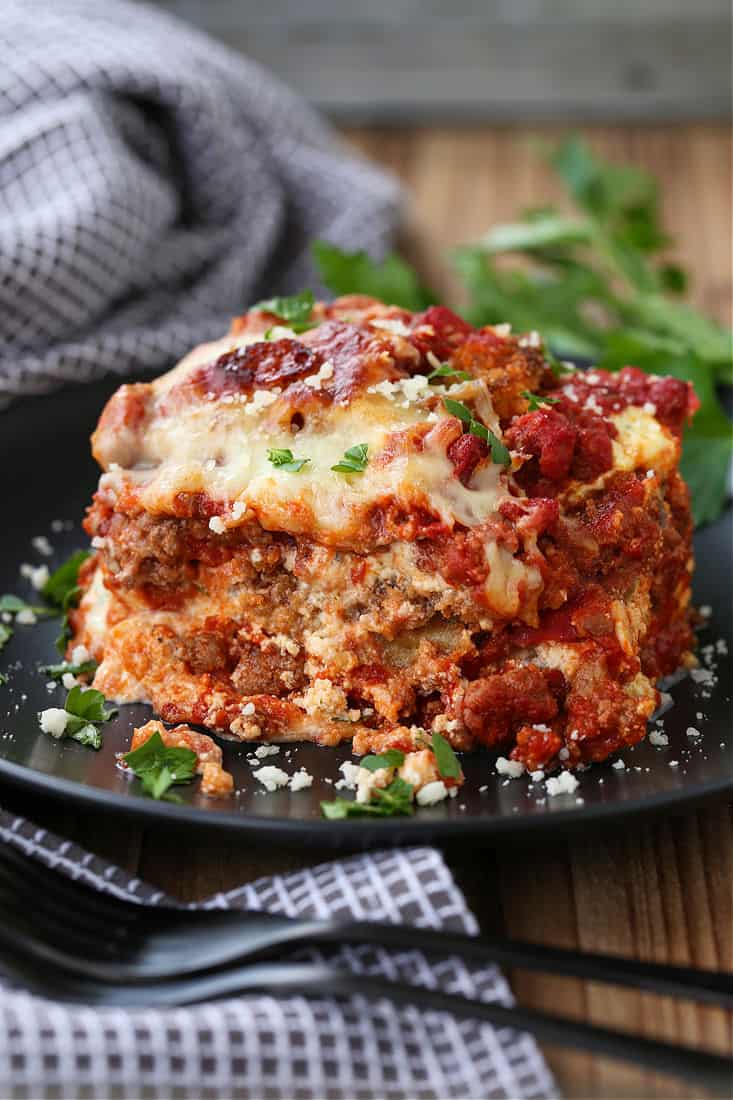 Can I Make This Recipe Vegetarian?
Yep! Simply leave out the ground beef when you're making the sauce. Start by cooking the onions and garlic and follow the recipe from there. You can also use ground pork, turkey or Italian sausage instead of the ground beef!
Looking For More Dinner Recipes?
Print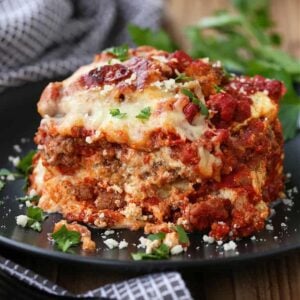 Dad's Eggplant Parmesan
Author:

Prep Time:

30 minutes

Cook Time:

45 minutes

Total Time:

1 hour 15 minutes

Yield:

8

servings

1

x
This ultra comforting casserole belongs on your Sunday dinner menu! A family favorite recipe, this eggplant parmesan recipe comes out perfect every time!
Scale
Ingredients
To Fry The Eggplant:
1

medium eggplant, about

1

pound, slice into

1/4

inch thick rounds
Kosher salt for salting the eggplant

4

eggs

2 tablespoons

whole milk or cream

2

–

3

cups panko or regular breadcrumbs (we use panko for an extra crispy texture)
Olive oil for frying
For The Meat Sauce:
1 tablespoon

olive oil

1 1/2

pounds ground beef

1/2 cup

diced onion

1 tablespoon

chopped garlic

2 teaspoons

salt
Fresh black pepper to taste

2 teaspoons

oregano

2 cups

tomato sauce (

15 ounce

can)

1

can 28 ounce crushed tomatoes, pour into beef mixture

1/4

–

1/2

cup water
For The Ricotta Cheese Layer:
32 ounces

ricotta cheese

1

egg

1 1/2 teaspoons

kosher salt
Fresh black pepper to taste

1/4 cup

fresh parsley, chopped

1/4 cup

grated parmesan cheese
Topping The Eggplant Parmesan:
2

–

3

cups shredded mozzarella cheese

3 tablespoons

grated parmesan cheese
Instructions
Place the sliced eggplant on a board. Generously salt the eggplant with kosher salt and let sit for 15 minutes. Wipe the excess salt and water off the eggplant with paper towels.
Beat the 4 eggs and milk together in a shallow bowl. Add the breadcrumbs to another bowl. Dip a slice of eggplant into the eggs, letting the excess drip off and then into the breadcrumbs, pressing to coat on both sides. Repeat with the remaining eggplant.
Add oil to cover the bottom of a large skillet over medium heat. You'll need to add more oil in between batches of frying the eggplant. Once the oil is hot, place a few breaded eggplant slices into the skillet in a single layer. Cook for 3-4 minutes on each side until golden brown. Remove to a paper towel lined plate and repeat until all the eggplant is fried.
To make the meat sauce, add olive oil to a large skillet or dutch oven. Brown the ground beef until almost cooked through and drain any drippings from the pan. Add the onions and garlic and cook for 5 minutes until the onions has softened.
Season the beef with the salt, pepper and oregano, then pour in the tomato sauce and crushed tomatoes. Stir to combine and bring the sauce to a simmer. Simmer for 30 minutes, covered, stirring often. If the sauce thickens too much you can add some water at the end of the cooking time to thin it out.
While the sauce is cooking, add all the ingredients for the ricotta cheese layer into a small bowl and mix together.
Preheat the oven to 400 degrees.
Start assembling the eggplant parmesan by adding about 1 cup of sauce to the bottom of a 9″ x 13″ baking dish, spreading out to cover the bottom. Place 6 slices of eggplant on top of the sauce, followed by half the ricotta mixture.
Add another layer of sauce on top of the ricotta layer, then 6 more slices of eggplant followed by the other half of the ricotta mixture.
The last layer is 6 more slices of eggplant topped with the remaining sauce. Top the eggplant parmesan with the mozzarella and parmesan cheeses.
Cover with non-stick foil, or spray aluminum foil with non-stick cooking spray and cover the baking dish. Cook for 25 minutes, covered, then remove the foil from the baking dish and cook another 15 minutes uncovered.
Remove the eggplant parmesan from the oven and let rest for 5-10 minutes before slicing. Slice into squares and serve.
Recipe Notes
Refer to the pictures in the post for a step by step instruction!
Category:

Dinner

Method:

Stove Top / Oven

Cuisine:

American
Keywords: eggplant parmesan, fried eggplant, casserole recipe, baked eggplant, eggplant recipes, ground beef recipes, sunday dinner