These Air Fryer Mozzarella Sticks turn out fabulously crispy without any oil! No need to break out the deep fryer or spend money on a store bought version, these mozzarella sticks are sure to become a new favorite appetizer recipe!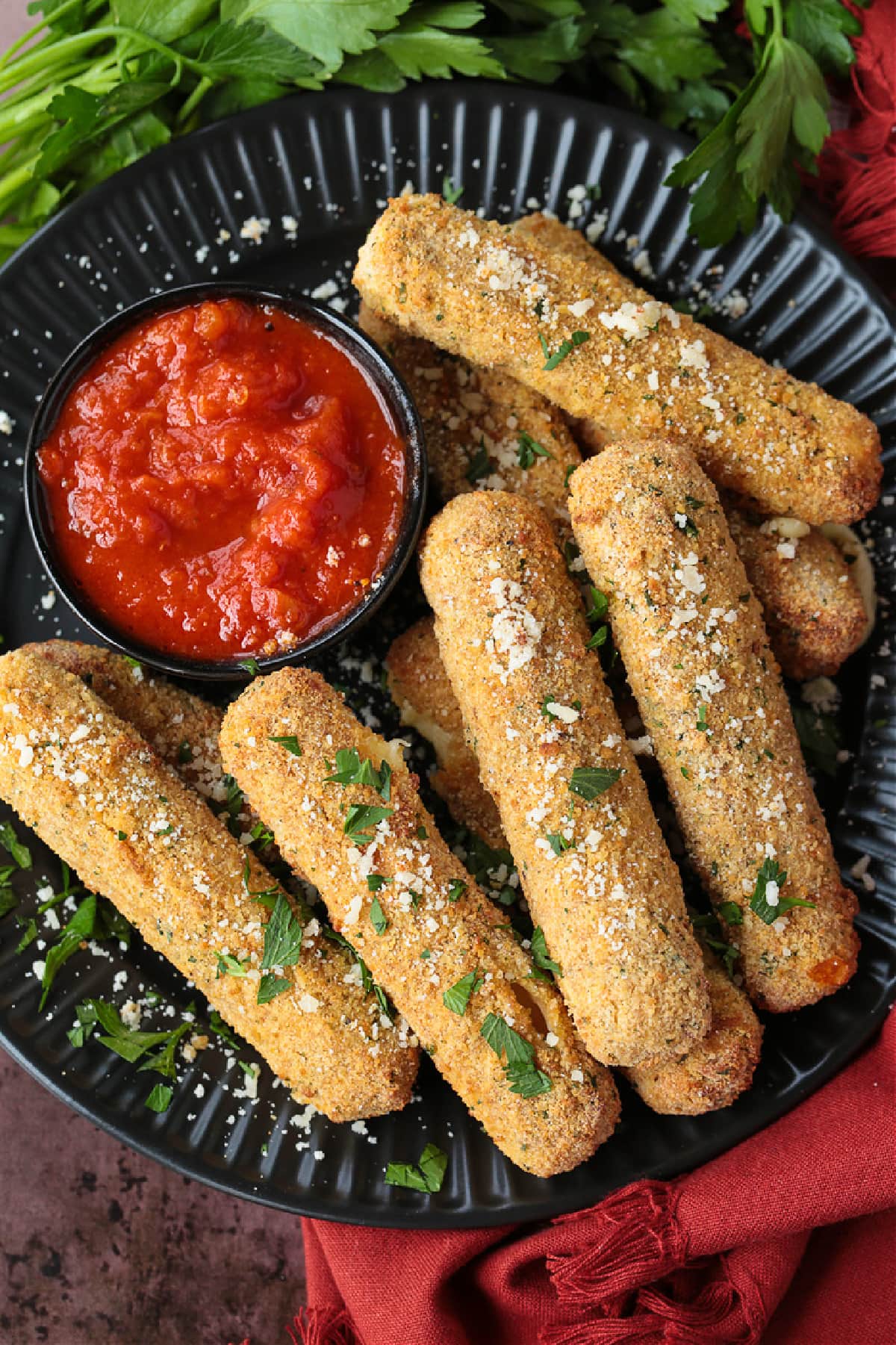 Super Crispy Air Fryer Mozzarella Sticks
There's so many reasons that we love these Air Fryer Mozzarella Sticks! Not only are they crazy addicting, but we might so so far as to say they are a tad bit healthier for you, too.
Yes, of course, you're eating a whole piece of string cheese, but there's almost zero oil involved in making these mozzarella sticks, as compared to the deep fried version. So yes, we're going to say this version is better for you.
And I have to get into a little blogger story here – but I'll be brief. Hit that "jump to recipe button" at the top of the page if you're not here for it!
So, my mother in law has been helping out in our kitchen and she was here for this mozzarella stick day. This recipe took me quite a few tries to get them perfect, but I finally did.
My mother in law (who loves mozzarella sticks) was joking and texting her grandson who's away at college about how she thinks that she'll skip this recipe because it seemed too difficult and grab the store bought version instead.
Until I got it right. I've pulled her over to the other side by simplifying this recipe and making the end result taste 1000 times better than the first few batches.
I'm telling you guys, if I can convince her, I've already won this mozzarella stick recipe.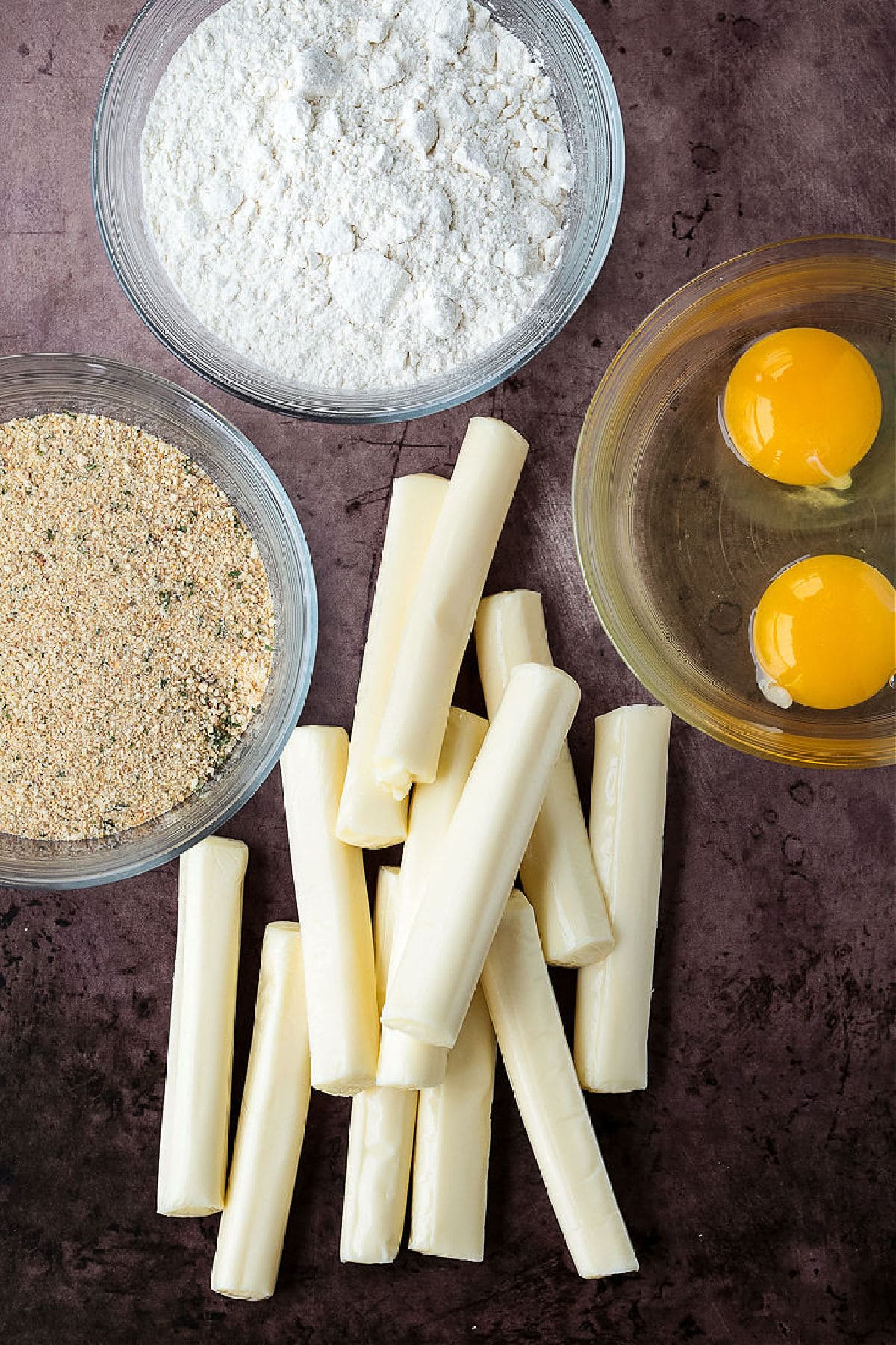 Ingredients For Air Fryer Mozzarella Sticks
Just a few ingredients is all you need to get started!
Part Skim or Whole Milk String Cheese: We prefer part skim, not because they're lighter, but they're more firm than whole milk string cheese, causing less cheese to ooze out when air frying.
Eggs: Beaten with a splash of water
Flour
Italian Seasoned Bread Crumbs: The seasoning is all in there – nothing else needed!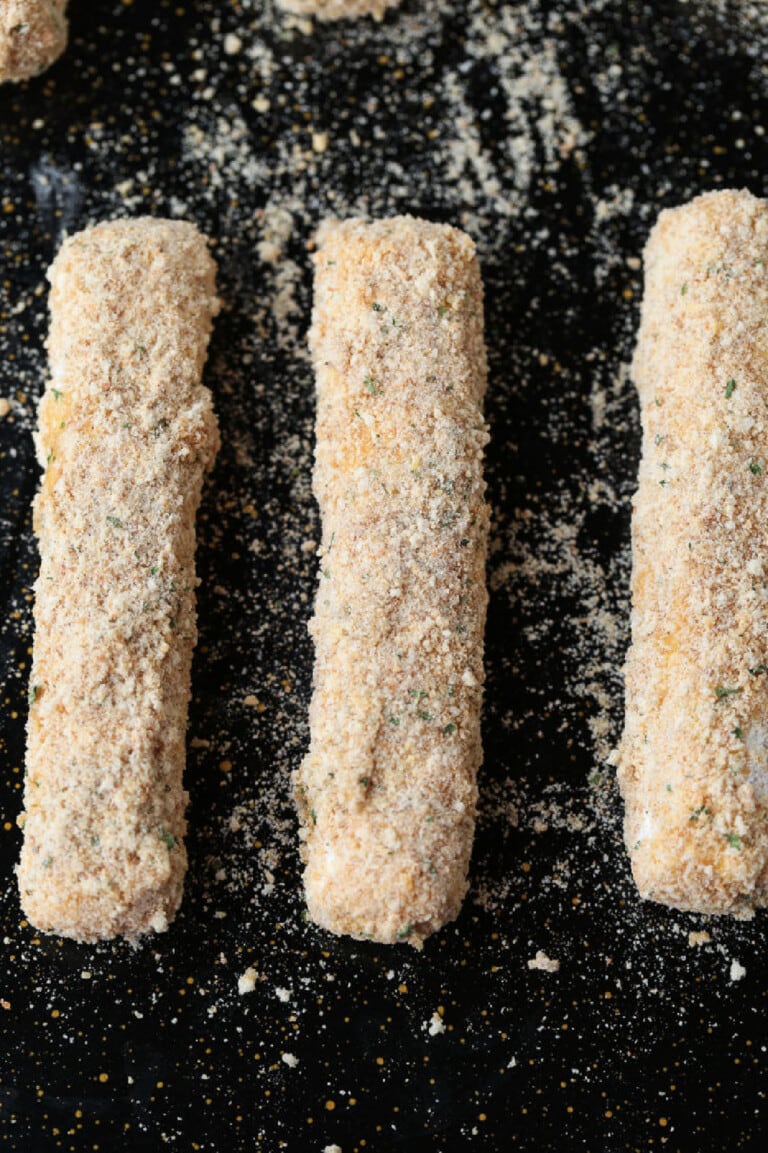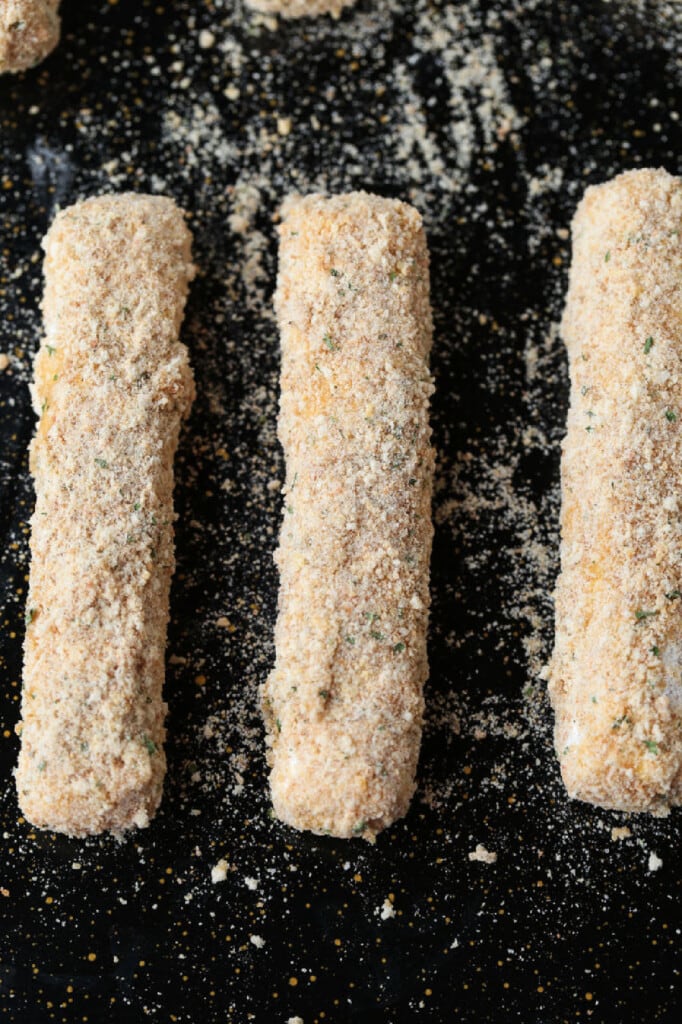 How To Make Mozzarella Sticks In The Air Fryer
All you need to do is grab your ingredients and set up a breading station. A typical breading station consists of flour, eggs and bread crumbs.
One of the tricks to making the cheese not ooze out of the mozzarella sticks when cooking them is to double bread them. So bread all of the string cheese, then go back and bread them again.
Freeze the mozzarella sticks for 1 hour (or longer, up to 3 months!) and then air fry them for 6-7 minutes until golden brown and crispy.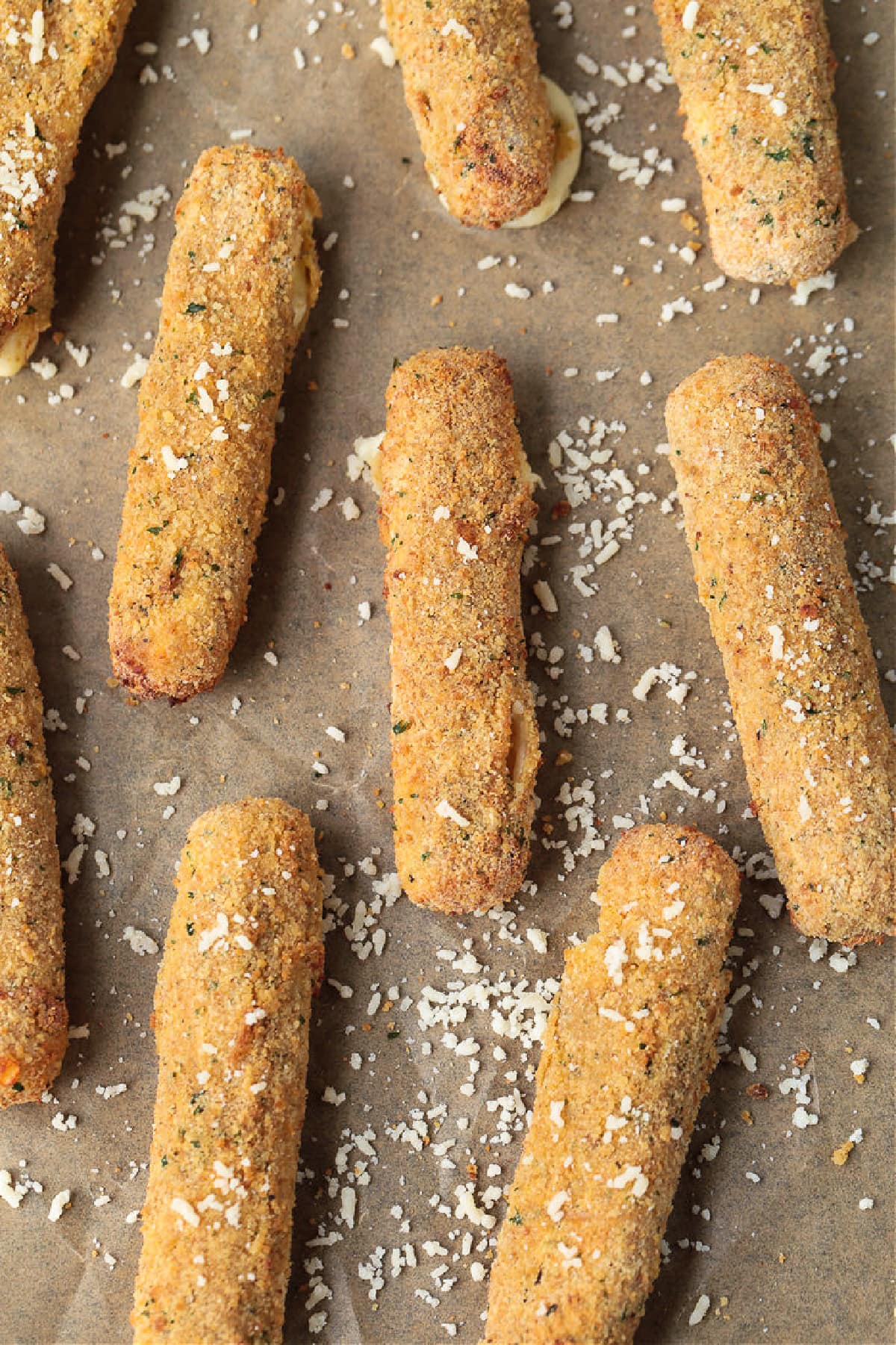 Can You Freeze Homemade Mozzarella Sticks?
Yes! Which is another reason why we love this cheesy appetizer recipe. Go ahead and double bread as many mozzarella sticks as your heart desires and then place them on a flat surface like a sheet pan in your freezer.
After about an hour, you can transfer the mozzarella sticks to a resealable freezer bag and freeze for up to 3 months.
Then just pull out as many mozzarella sticks as you need and air fry them for 6 minutes and you've got a delicious, homemade appetizer!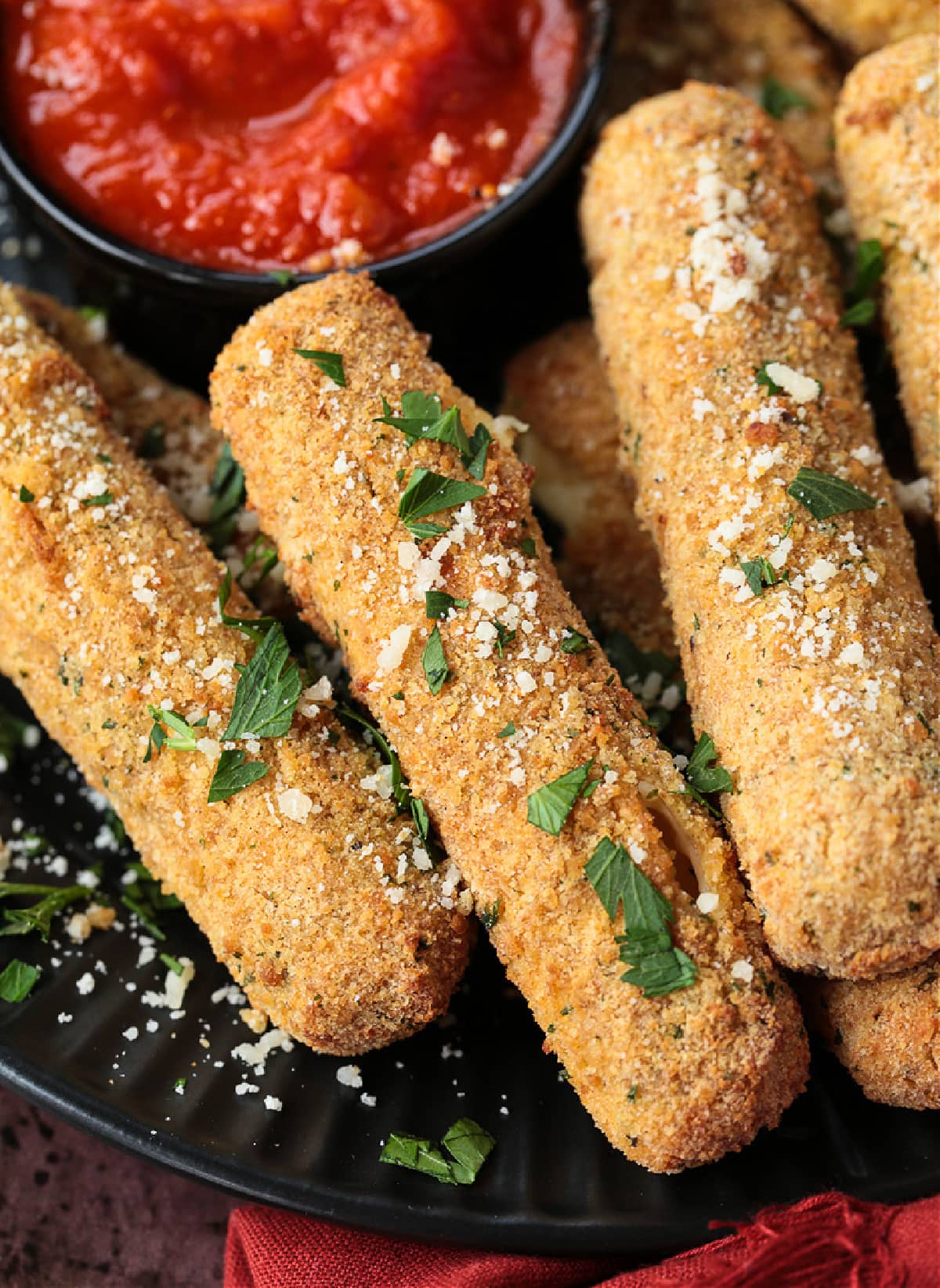 How Do You Keep Mozzarella Sticks From Exploding In The Air Fryer?
We sort of already answered this above, but it is one of the reasons that I had to redo these a few times, so let's cover it once more!
The first important step is double breading the string cheese. Don't bread a piece of string cheese and then bread it again, bread all the string cheese that you're making first.
Now go back and do it again. Letting the breading sit a few minutes on the string cheese will help it stick to the mozzarella stick and not fall off.
The next important step is to freeze the breaded string cheese for at least an hour before air frying. Again, you can make these appetizers ahead of time and freeze them for a few months, or just an hour will do if you're making them right away.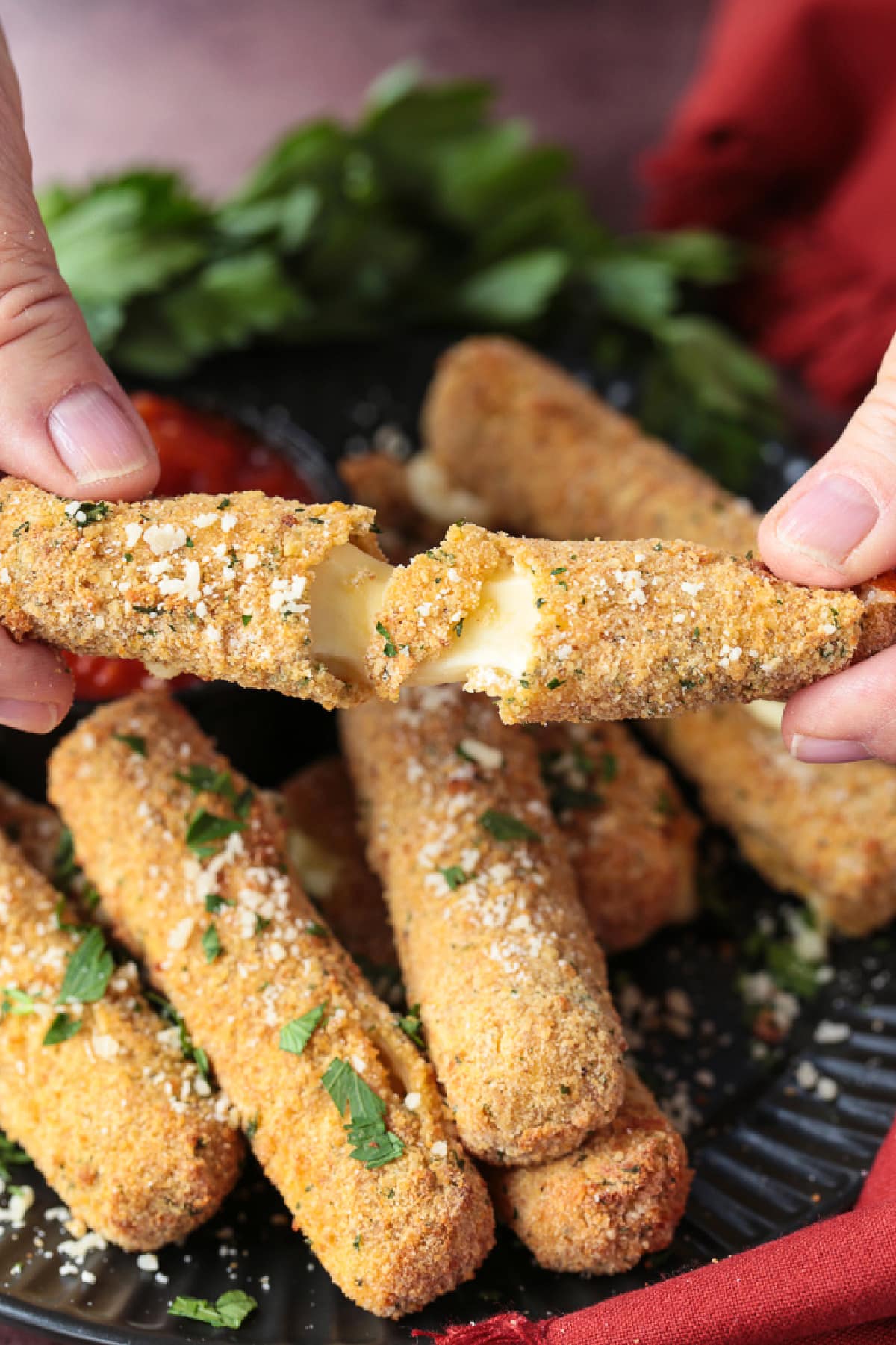 What Temperature Do You Air Fry Mozzarella Sticks?
I am a 400 degree temperature lover for pretty much everything, whether cooking in the oven or an air fryer. BUT I have to say, 390 was a better temperature for making these mozzarella sticks to prevent the cheese from oozing out.
You may be tempted to cook these a minute or two longer to get them browner, but I caution you to keep it to 6 or 7 minutes maximum.
What's Best – Panko or Regular Bread Crumbs?
We tested this for you, too. I started with panko bread crumbs, made them a couple of times and while they were tasty, the panko didn't brown up as much as I'd like – and we do eat with out eyes.
After testing the panko I used regular bread crumbs and found that they browned better and also resembled a store bought mozzarella stick more, so that was the better option for me.
We also played around with seasoning the bread crumbs first but after trying Italian seasoned bread crumbs we discovered that was all we needed, and they tasted perfect!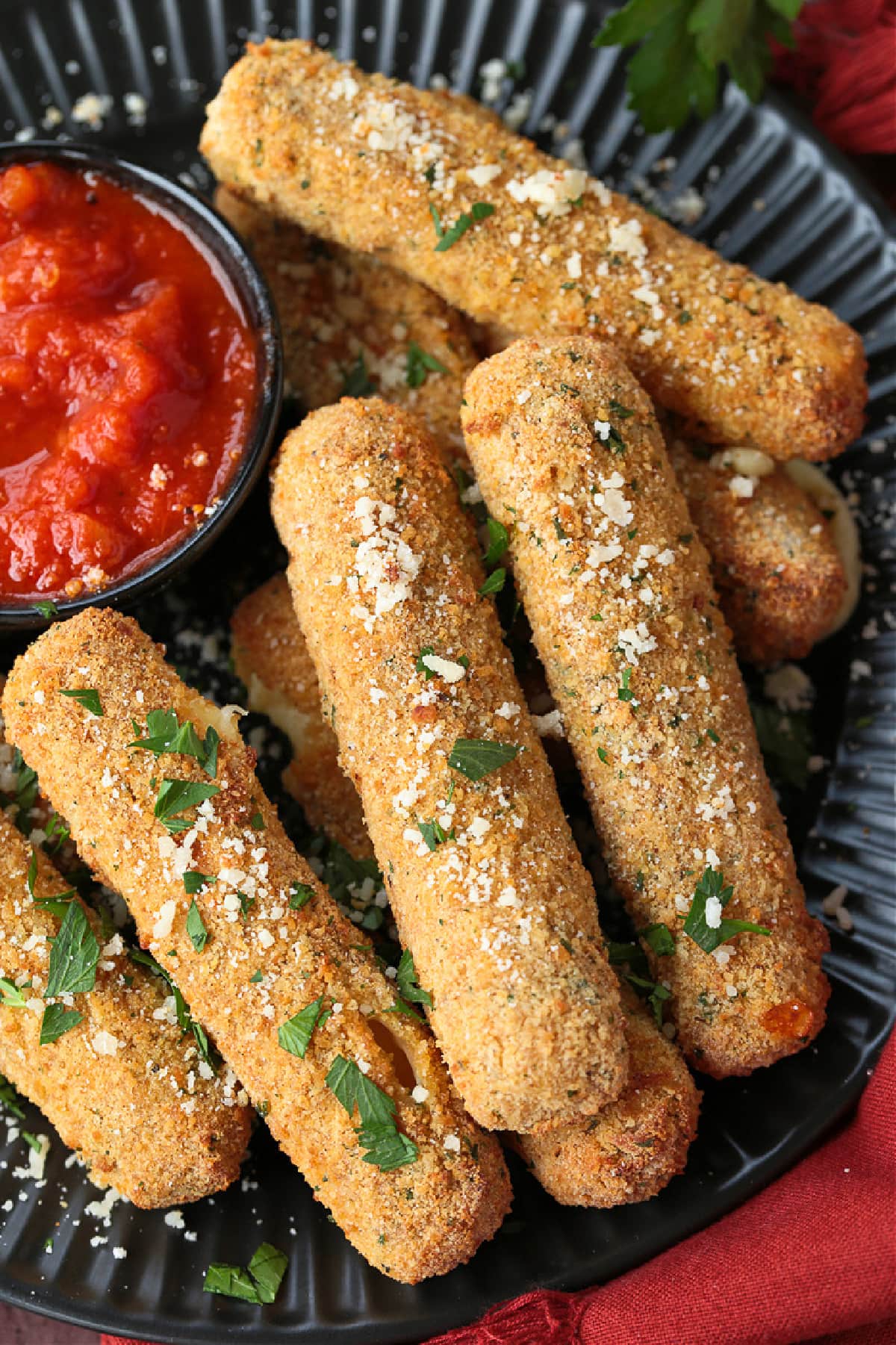 What If I Don't Have An Air Fryer?
Then I say go ahead and treat yourself to one. We love using our air fryer to mimic the flavor and texture of fried foods, and for so many other reasons.
They reheat frozen food beautifully in minutes, without having to preheat the oven which takes much longer.
But if you don't have an air fryer, you can still make these cheesy appetizers! Double bread them as you would for the air fryer version and then place them on a parchment lined baking sheet.
Spray them with an oil based cooking spray, and bake them at 450 for 10 minutes, turning over in between cooking.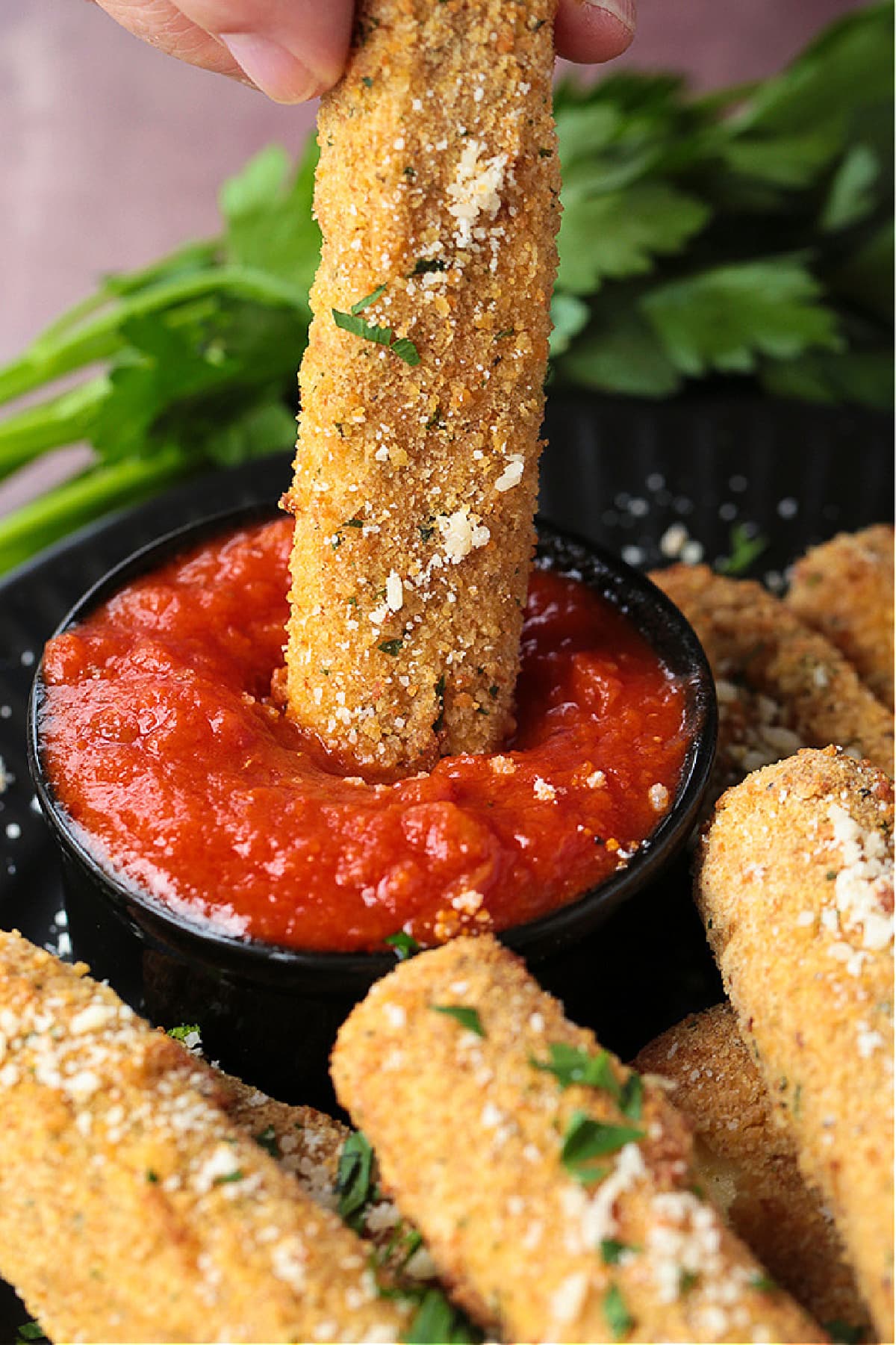 Looking For More Air Fryer Recipes?
Print
Air Fryer Mozzarella Sticks
Author:

Prep Time:

10 minutes

Cook Time:

6 minutes

Total Time:

16 minutes

Yield:

4

servings

1

x
These Air Fryer Mozzarella Sticks turn out deliciously crispy without any oil! A healthier way to have these addicting, cheesy appetizers for parties and holidays!
Scale
Ingredients
12

sticks of string cheese (part skim preferred)

2 cups

Italian seasoned bread crumbs

1/2 cup

flour

2

eggs beaten with a splash of water
Grated parmesan cheese and marinara sauce for serving
Instructions
Set up a breading station in shallow dishes. Add the flour to one dish, the eggs to another and bread crumbs to a third dish.
Coat a piece of string cheese in flour, making sure to coat the string cheese evenly, and then tap off the excess flour. Dip into the eggs, letting excess egg drip off, then into the breadcrumbs. Press the bread crumbs onto the string cheese to make sure the coating is even. Repeat with the remaining string cheese.
Go back and bread all of the string cheese again, giving them a double coating. Freeze the breaded sting cheese on a flat surface like a baking sheet for at least 1 hour.
Place the mozzarella sticks in your air fryer in a single layer. Spray the mozzarella sticks generously with an oil based cooking spray. Air fry the mozzarella sticks at 390 for 6 minutes, turning over and spraying with cooking spray again halfway through cooking.
Serve immediately with grated parmesan cheese (optional) and marinara sauce for dipping.
Recipe Notes
To Make In Advance: You can make these mozzarella sticks and freeze them up to 3 months in advance, then pull out as many as you need and air fry them.
Oven Instructions: Double bread the mozzarella sticks and place on a parchment lined baking sheet in a single layer. Spray with non-stick cooking spray and cook at 450 degrees for 8-10 minutes, turning over and spraying again in between the cooking time.
Store: Store leftover, cooled down mozzarella sticks in a resealable bag or air tight container for up to 5 days in the refrigerator. Reheat mozzarella sticks in the air fryer at 390 degrees for 4 minutes until warmed through.
Category:

Appetizers

Method:

Air Fryer

Cuisine:

American
Keywords: mantitlement, air fryer recipes, air fryer mozzarella sticks, healthy recipes, easy recipes, game day food, holiday appetizers, appetizers for a party