This Grilled Pineapple recipe is a super easy summer dessert! Sweet, warm pineapple drizzled with a brown sugar sauce and topped with ice cream!
You don't need a special occasion to make this easy dessert recipe, even though it's delicious enough for any party or holiday meal. Use a grill pan or the outside grill to make this sweet, caramelized pineapple dessert!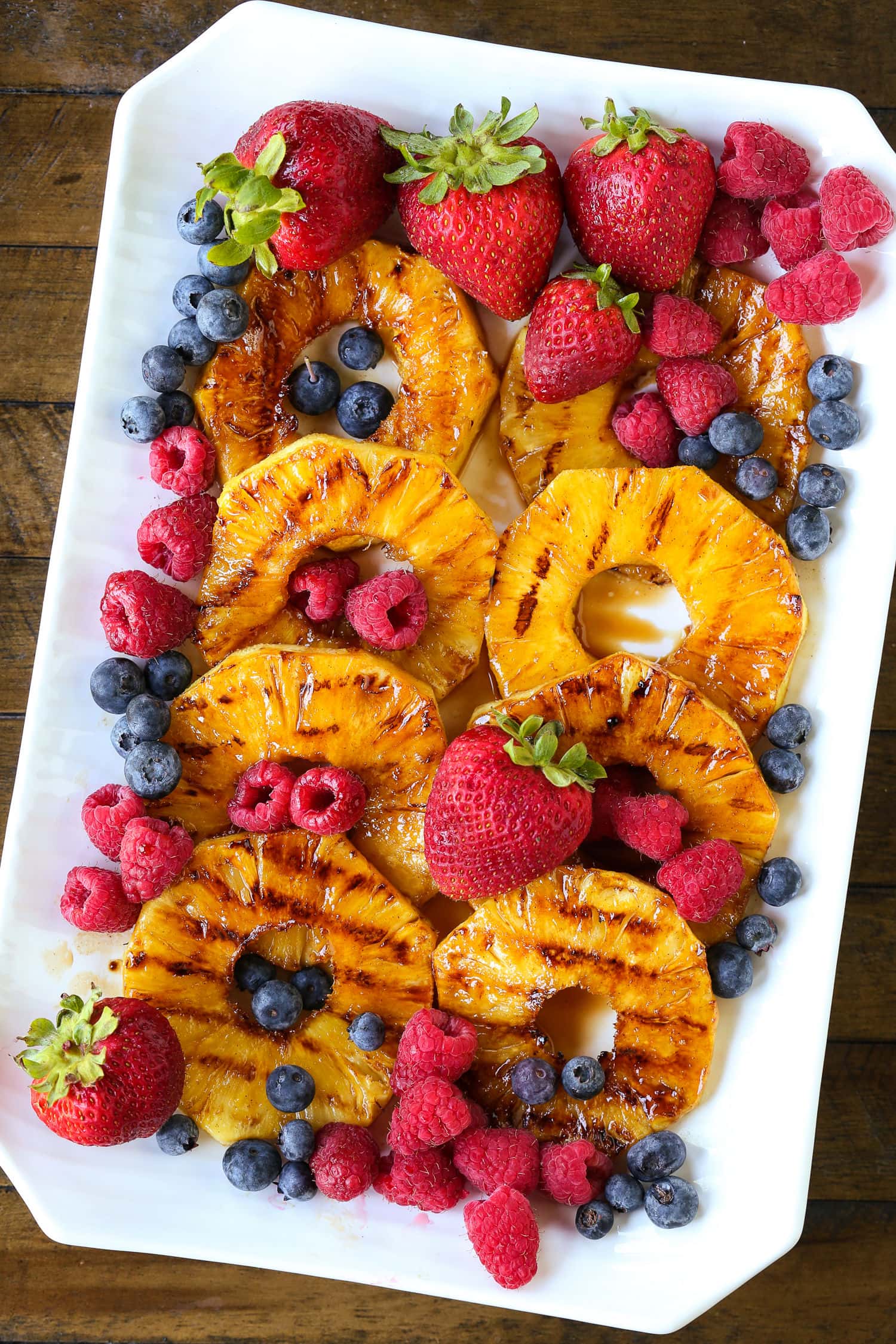 Easy Grilled Pineapple Recipe
Don't let bad weather (or cold weather) stop you from making Grilled Pineapple recipe for dessert! If grilling outside isn't an option, just grab a grill pan and you'll be good to go.
From start to finish, this grilled pineapple recipe takes just about 15 minutes, and you can make as much or as little as you need. Make it ahead for parties and warm it up right before serving. It's honestly the most perfect dessert ever!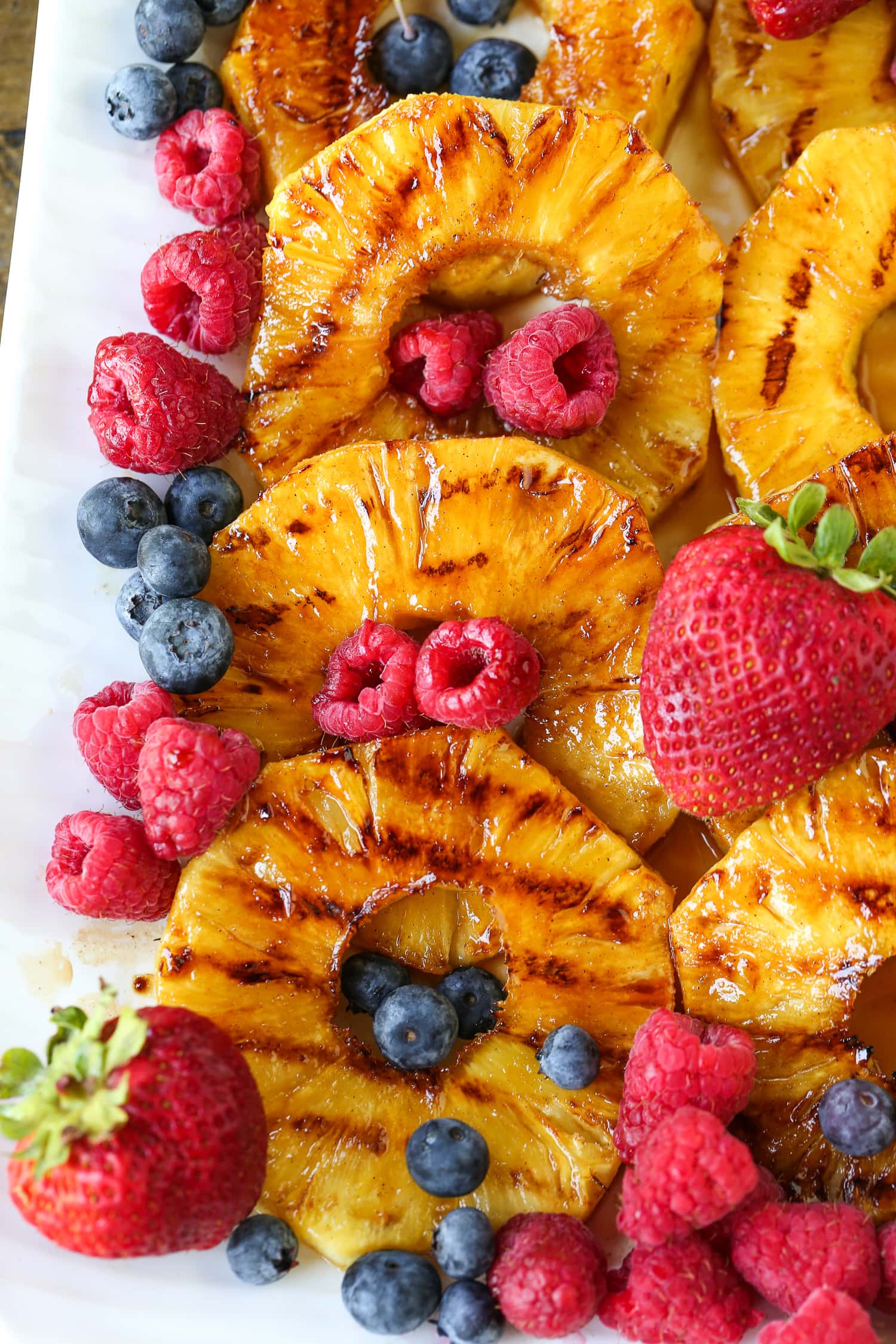 Ingredients For Grilled Pineapple
A ripe pineapple, for starters. Then just a few more simple ingredients and you're on your way to the most deliciously sweet, caramelized pineapple dessert!
Fresh Pineapple: Definitely try and grab a fresh, whole pineapple for this recipe. Yes, you can use an already peeled and cored pineapple, or even canned pineapple, but fresh is better. The pineapple that's already cut up for you will be fine, but typically those are going to be softer so they might get mushy on the grill instead of soft and caramelized like a fresh cut pineapple will.
Butter: 4 tablespoons of salted butter for the sauce.
Brown Sugar: Brown sugar is the perfect way to sweeten up the sauce that goes on the pineapple slices.
Honey: Honey is used for another sweetener, but also to thicken the sauce and help it stick to the pineapple slices.
Cinnamon: Just a little cinnamon in the sauce to give it a touch of spice!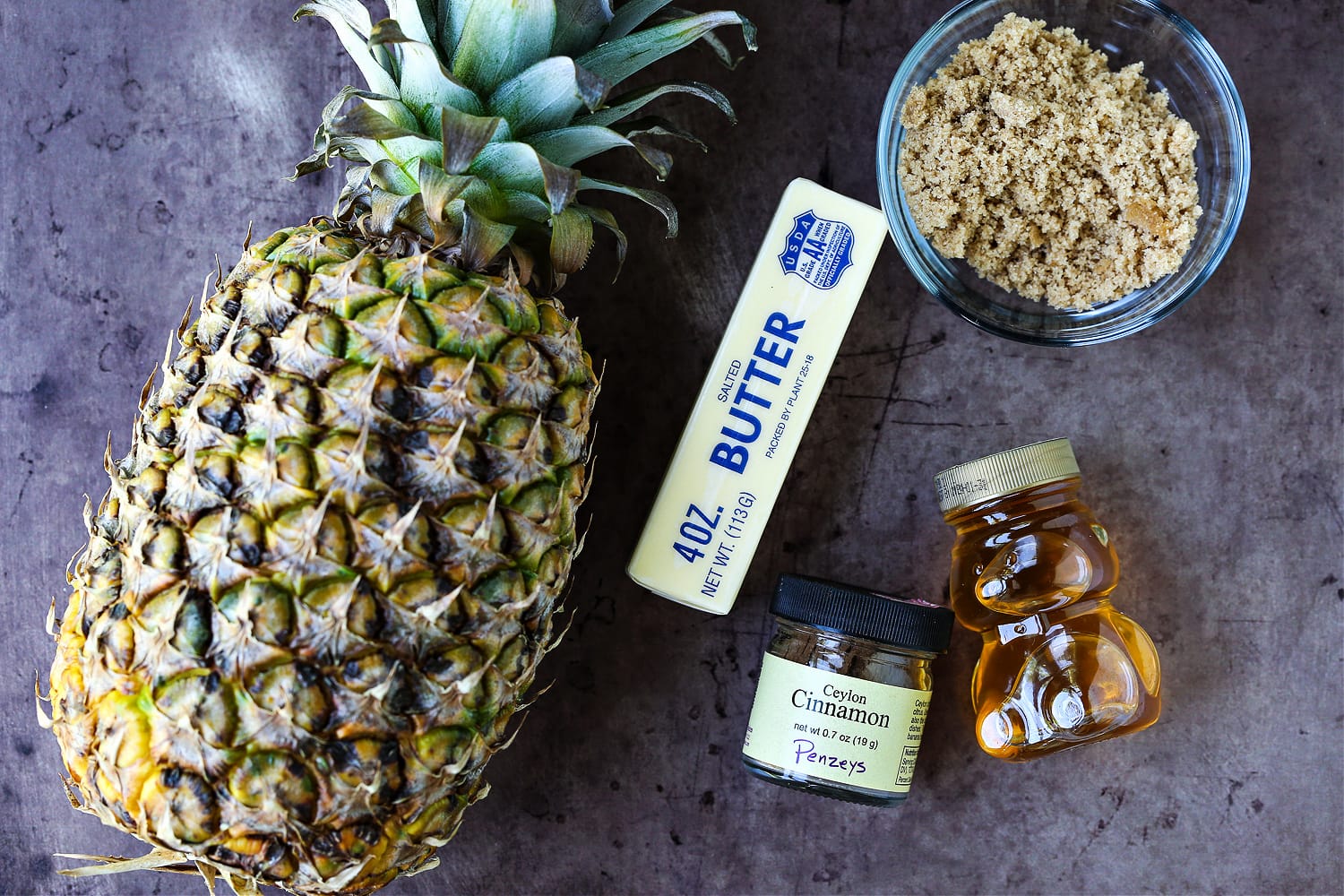 How Thick Do I Need To Slice The Pineapple?
About 1/2 inch thick slices work best for making Grilled Pineapple. Just thick enough so that it won't fall apart on you but not so thick that it won't soften up on the grill before burning.
Of course, you don't have to be super precise here, just make sure that your slices are about the thickness that you see here for optimal grilling!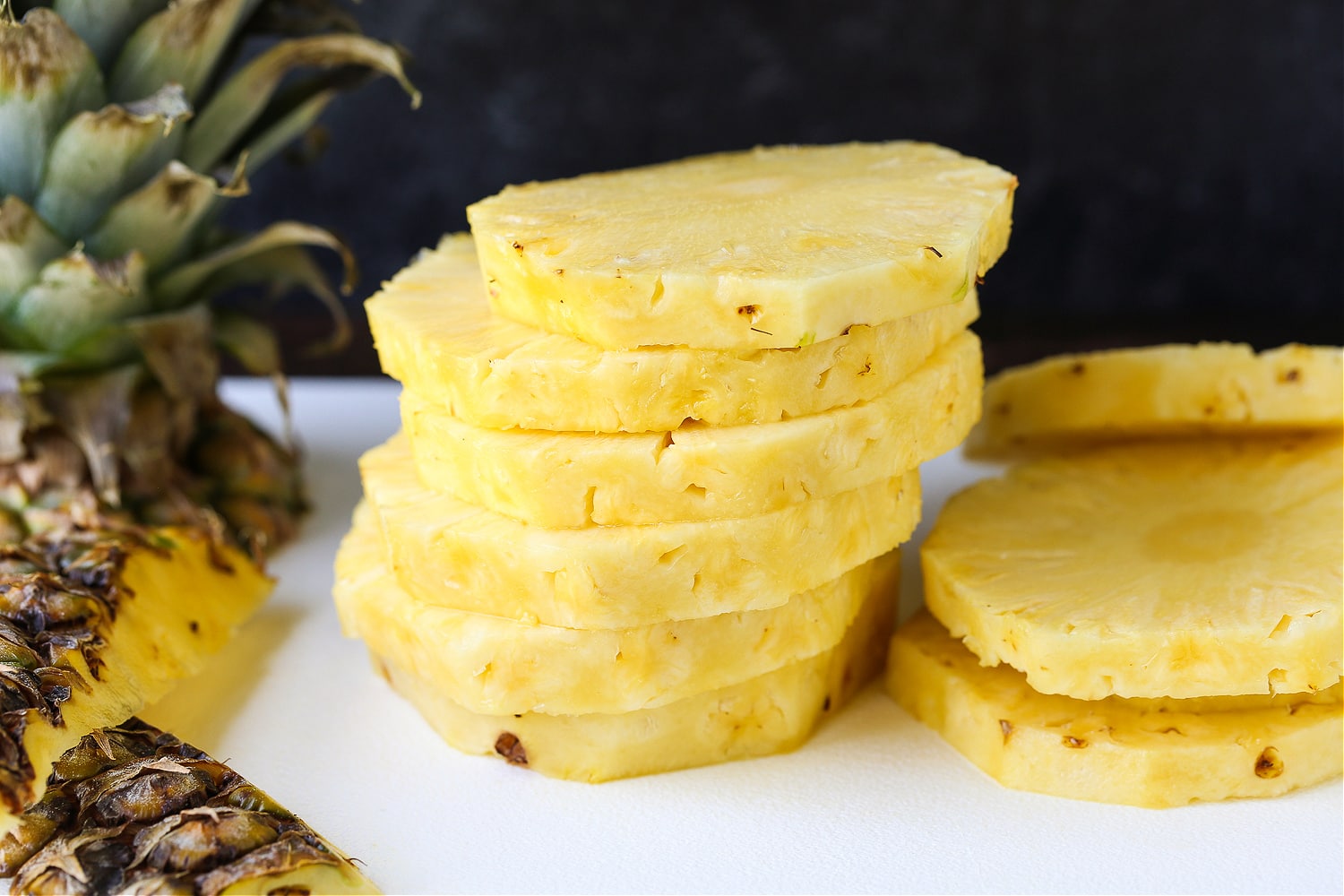 Can I Use A Grill Pan To Make Grilled Pineapple?
Yep. In fact, we opted for a grill pan when we made this pineapple, too. Sometimes the weather just doesn't cooperate but you still want this gooey, sweet Grilled Pineapple for dessert.
A grill pan works perfectly, so don't hesitate to use one. No grill pan? Use a cast iron skillet or a nonstick skillet and it'll work for you, too. You aren't going to get these nice grill marks, but the pineapple will still soften and caramelize.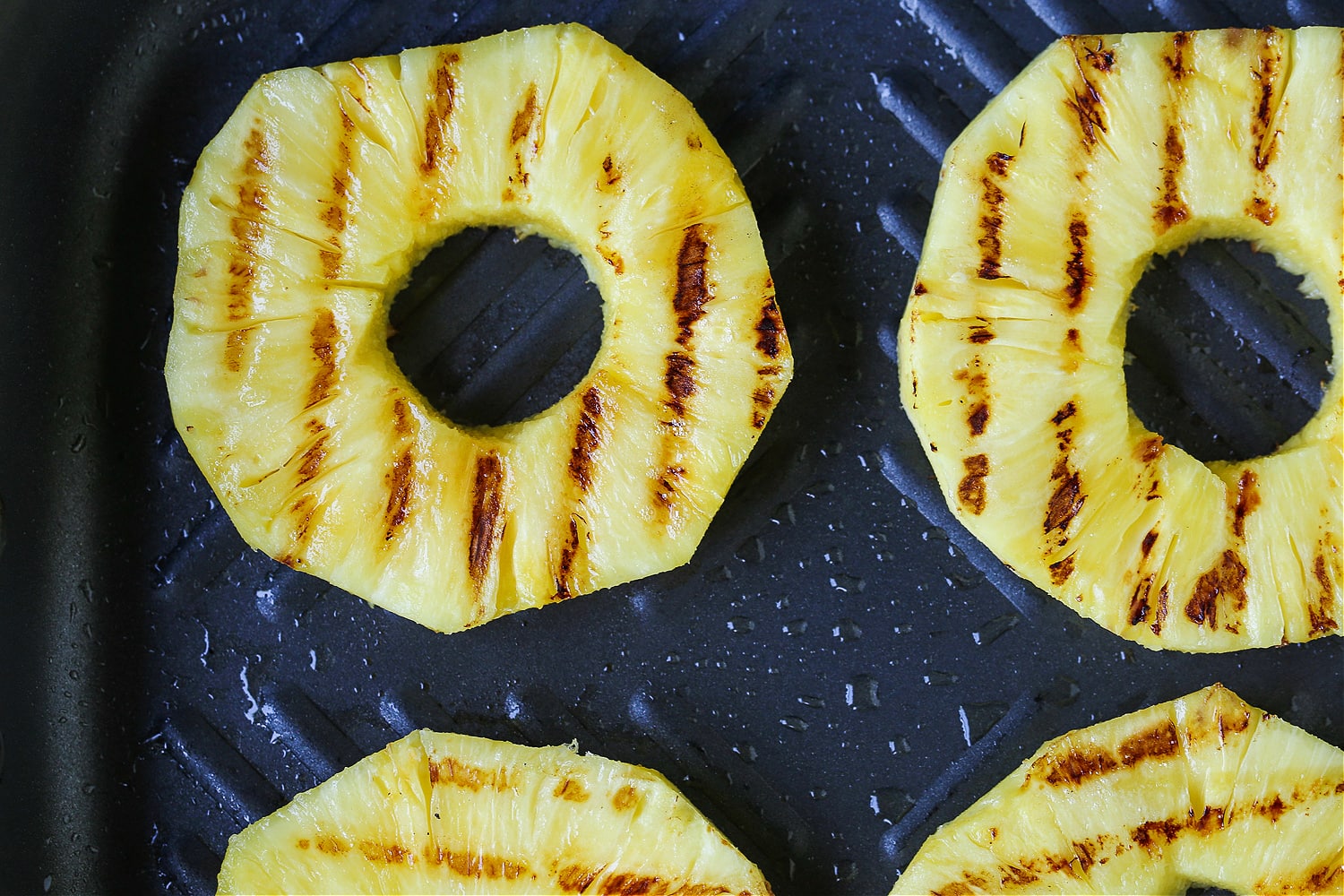 Other Uses For Grilled Pineapple
Although we love topping of our grilled pineapple with ice cream for dessert, it can be served as a side dish, too! Ditch the ice cream and try serving your grilled pineapple slices with any of these dinner recipes!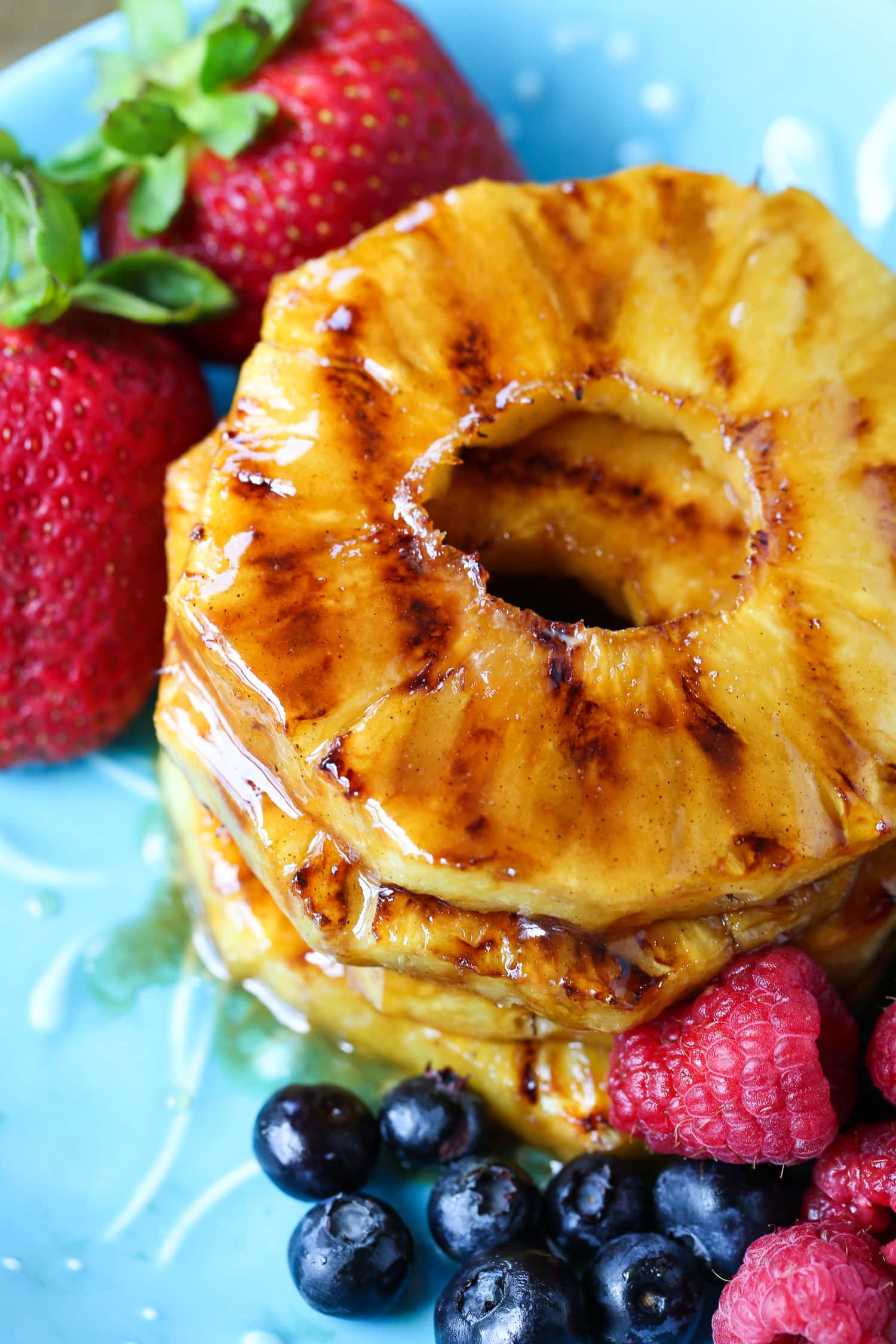 How Do You Pick A Ripe Pineapple?
Once a pineapple is picked, it does not ripen on the counter. So don't think that when you bring a pineapple home that you need to let it sit a couple of days. It's all ready to go the minute you bring it home from the store.
Tips For Picking A Ripe Pineapple:
Grab a pineapple with a nice, green top. The greener the top, the fresher the pineapple. Also, you want to look for a pineapple that has a yellow color to the exterior.
Next, the pineapple should have a slightly sweet smell. I know it's weird going around smelling your produce, but you don't have to actually touch it with your nose. A ripe, sweet pineapple should give off enough sweet smelling fragrance that just close enough will do.
Lastly, a ripe pineapple should be firm but have a slight give when you squeeze it. An underripe pineapple will be completely firm with no give, so skip that one and try another.
How Do You Serve This Grilled Pineapple Dessert?
Our favorite way to serve this simple fruit dessert is with a big scoop of vanilla ice cream on top. Top the grilled pineapple while it's still a little warm so that the ice cream melts into the pineapple and brown sugar sauce.
It reminds me a little of Bananas Foster, another favorite dessert recipe of ours. It seems to be all about the sweet, brown sugar and butter sauce.
Another way to serve this pineapple is with fresh berries like strawberries, raspberries or blueberries, or all of the above. A beautiful, simple dessert that will please any crowd!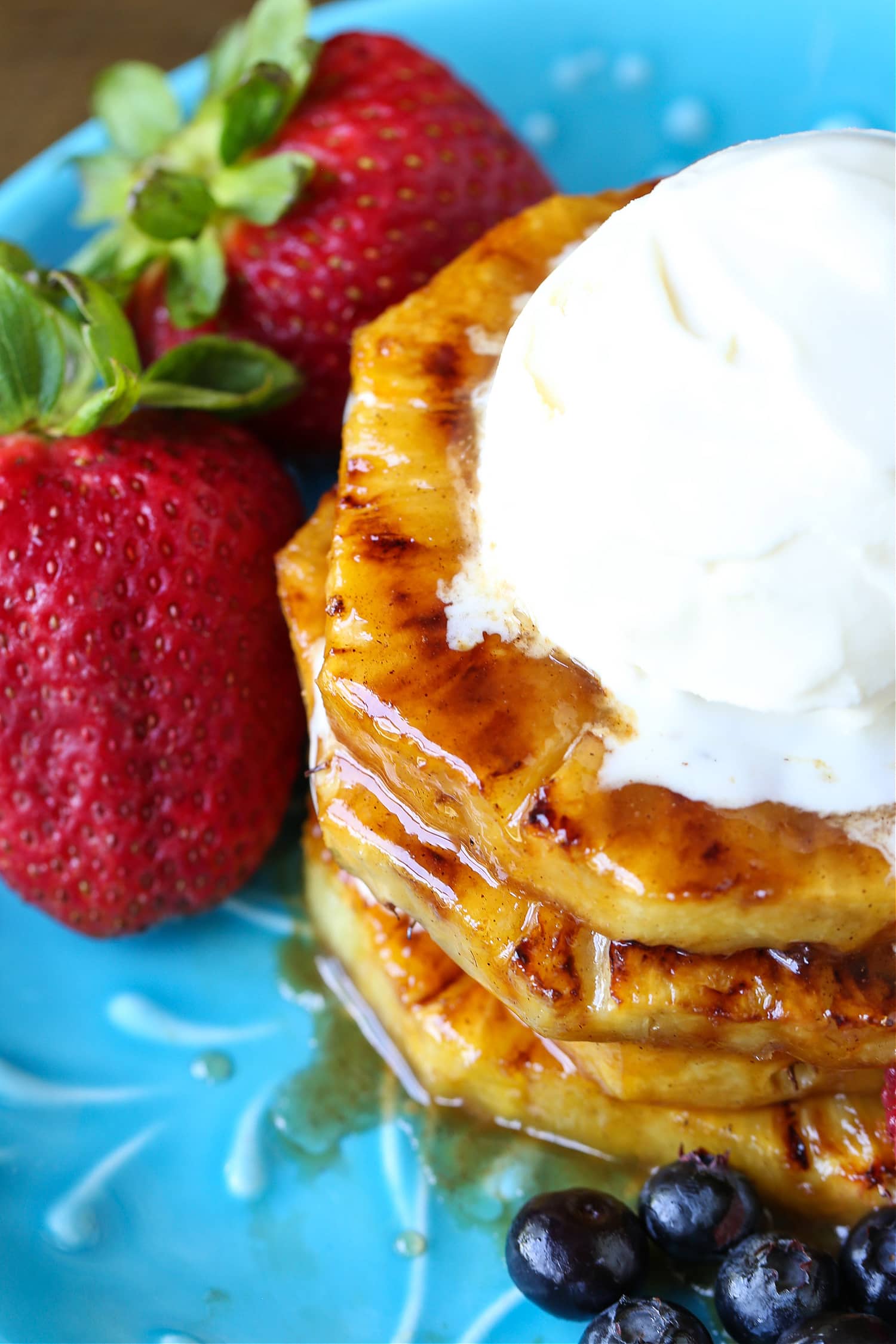 Reheat And Store
Making this pineapple dessert for a party or special occasion? Make the amount of grilled pineapple that you need and let it cool. Store the pineapple in an air tight container in the refrigerator for up to 3 days.
You can easily reheat it in the microwave and then top it with ice cream while it's warm. This is a great way to do it if you need a lot of grilled pineapple for a party.
You can also keep the pineapple slices warm in a low, 250 degree oven until you're ready to serve!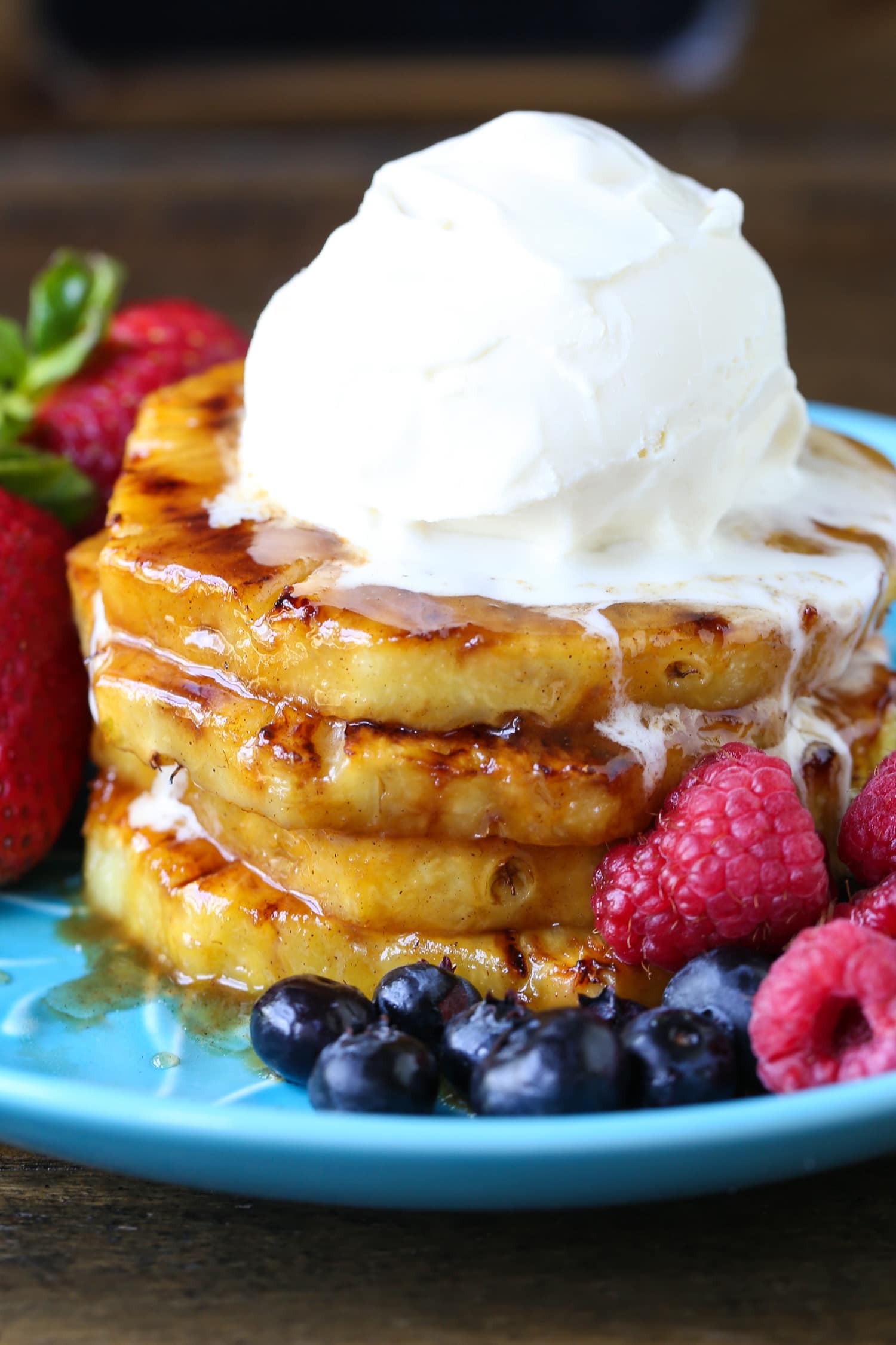 Looking For More Easy Dessert Recipes?
Print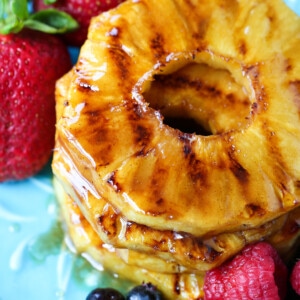 Grilled Pineapple Recipe
Author:

Prep Time:

5 minutes

Cook Time:

5 minutes

Total Time:

10 minutes

Yield:

5

servings

1

x
Make this Grilled Pineapple recipe for an easy dessert that everyone will love! A scoop of vanilla ice cream melts into the brown sugar and butter making the most amazing sauce!
Scale
Ingredients
1

pineapple, peeled, cored and cut into 1/2 inch thick slices (you should get about

10

slices of pineapple)

4 tablespoons

butter, melted

1/4 cup

brown sugar

2 tablespoons

honey

1/4 teaspoon

cinnamon
Pinch of kosher salt
Vanilla ice cream for topping (optional)
Instructions
Add the melted butter, brown sugar, honey, cinnamon and a pinch of salt to a bowl and mix together well.
Preheat the grill to medium heat, about 400 degrees. Alternately, you can make this grilled pineapple in a grill pan on the stove. Spray the grill grates with non-stick cooking spray or brush with oil.
Place the pineapple slices on the grill and cook for 2 minutes. Flip the pineapple slices over and baste with the brown sugar and butter glaze, cooking for another 2 minutes.
Remove the pineapple slices from the grill and baste with more glaze.
Serve warm with vanilla ice cream, and drizzle with more of the brown sugar and butter glaze.
Recipe Notes
You can keep this pineapple warm in a 250 degree oven until ready to serve, or you can reheat the grilled pineapple in the microwave until just warmed through.
Category:

Dessert

Method:

Grill

Cuisine:

American
Keywords: mantitlement, grilled pineapple, easy dessert recipes, grilling recipes, easy recipes, fruit dessert