This Beef Tip Marsala Stew is perfect comfort food dinner everyone will love! Serve over noodles, with mashed potatoes or with my favorite – french fries!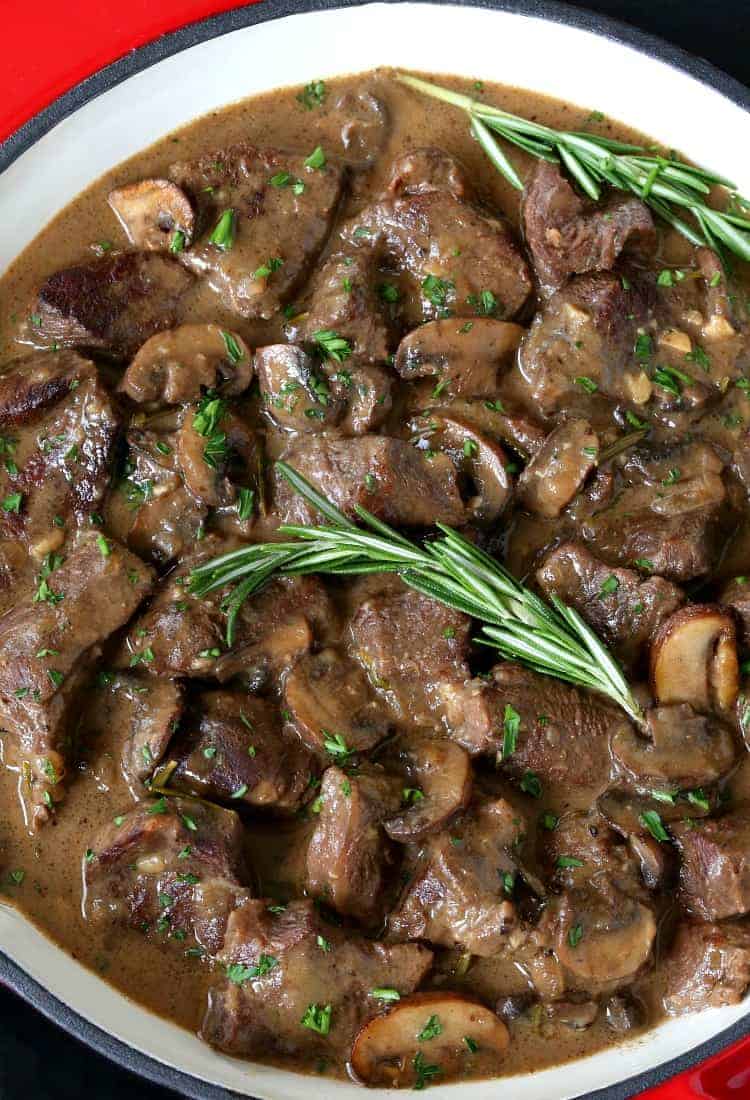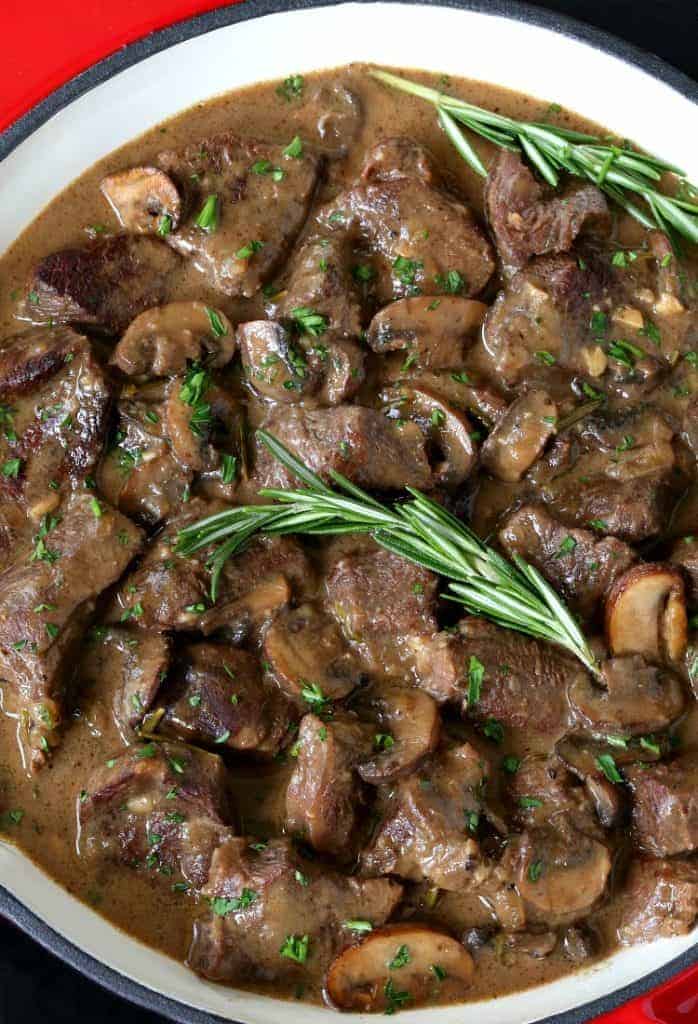 Beef stew is one of those things that we don't make often, even in the colder months. I'm not sure why because every time we do it's always a hit and makes dinner seem like a special occasion.
I mean what's there not to like about perfectly tender meat swimming in thick gravy poured over noodles or potatoes? Or like I said, crispy french fries to soak up a all that gravy, sort of like a poutine recipe, minus the cheese although that's not a bad idea either…
This Beef Tip Marsala Stew is a pretty simple recipe, a basic beef stew with the addition of marsala wine to kick up the flavor.
In a lot of beef stew recipes you might see red wine used or just beef broth but I like the flavor that marsala wine brings to the stew. Just like all the marsala recipes I like, these Chicken Marsala Wings are one of my favorites.
Anyway, back to the stew, start by browning the meat in a large dutch oven. Make sure you only put enough meat in to form a single layer, if you have to do this in batches it OK. Take the extra step so that the beef browns correctly.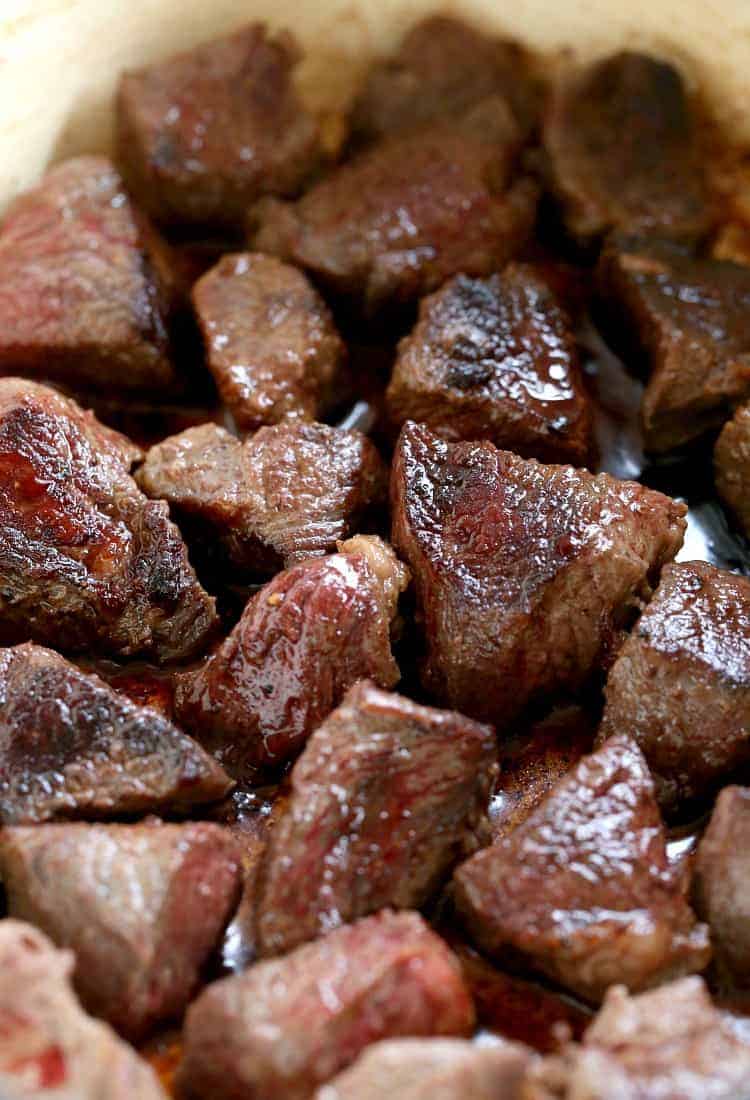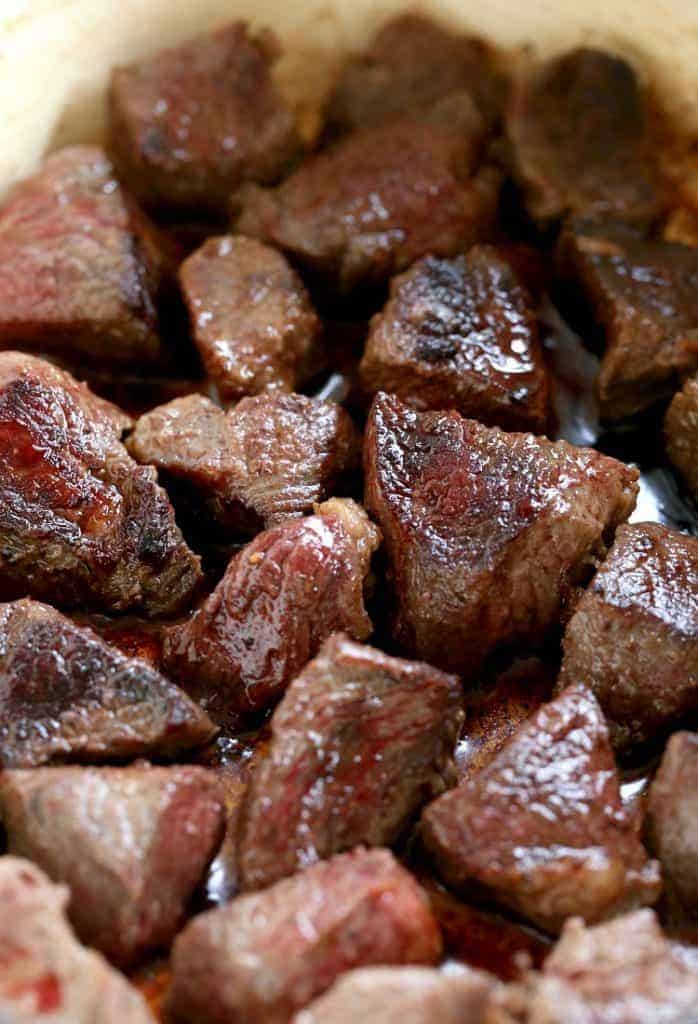 Once the meat is browned, remove to a plate and add some mushrooms and onions. Cook them for about 10 minutes then start to make the gravy.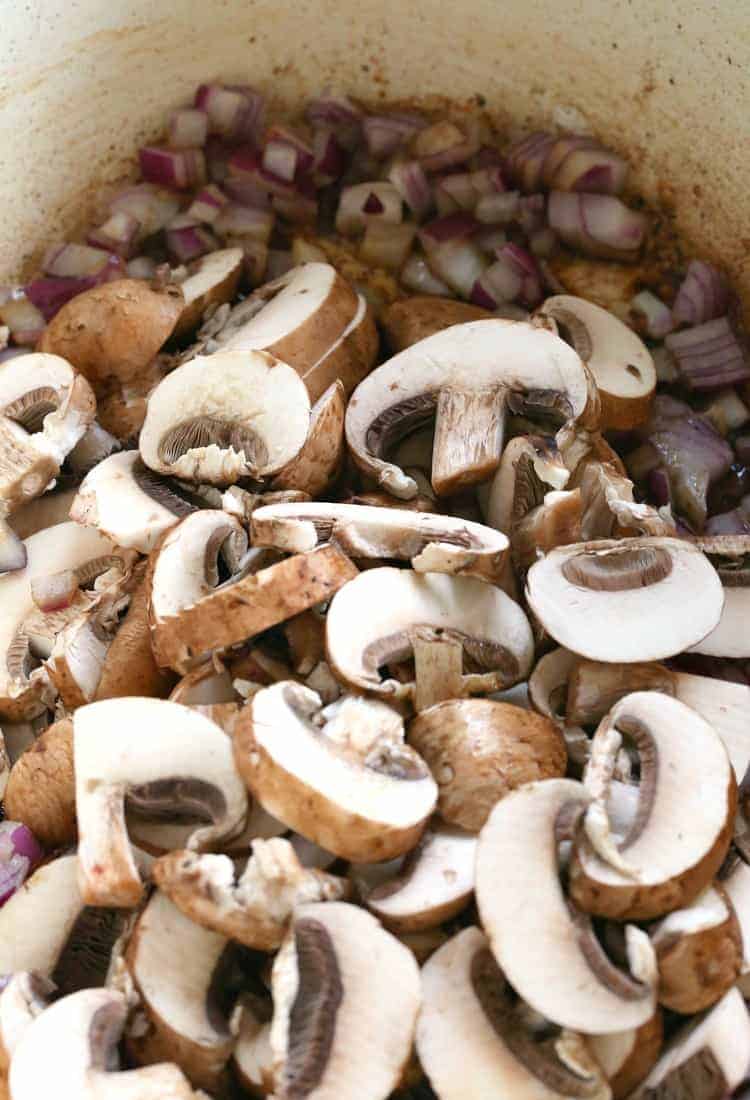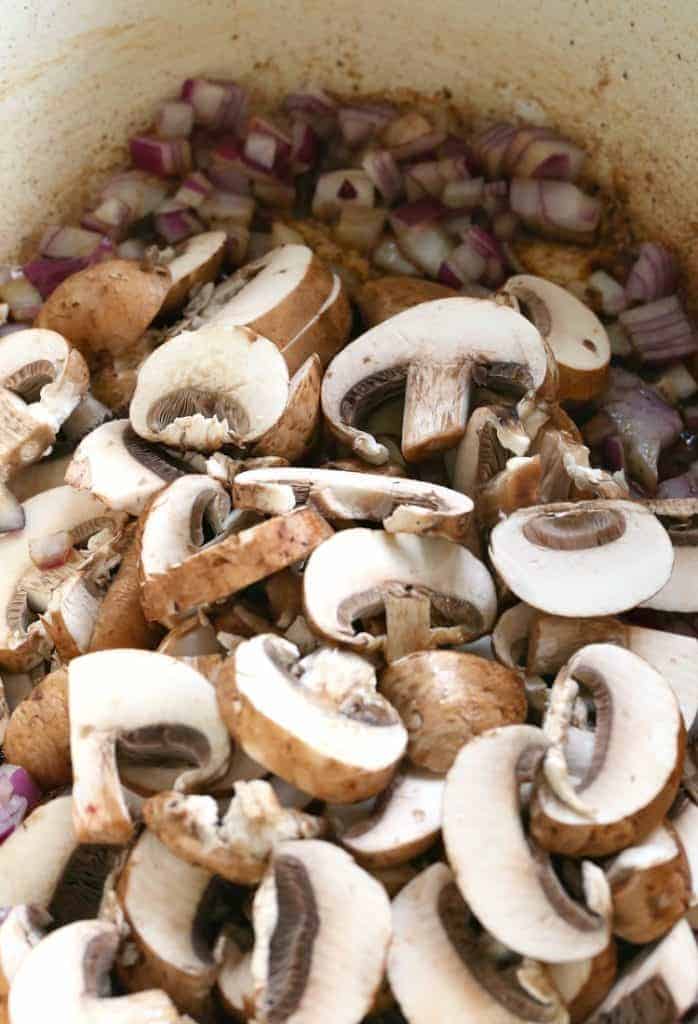 Adding marsla wine and beef broth and some flour to thicken, the gravy will start to take shape.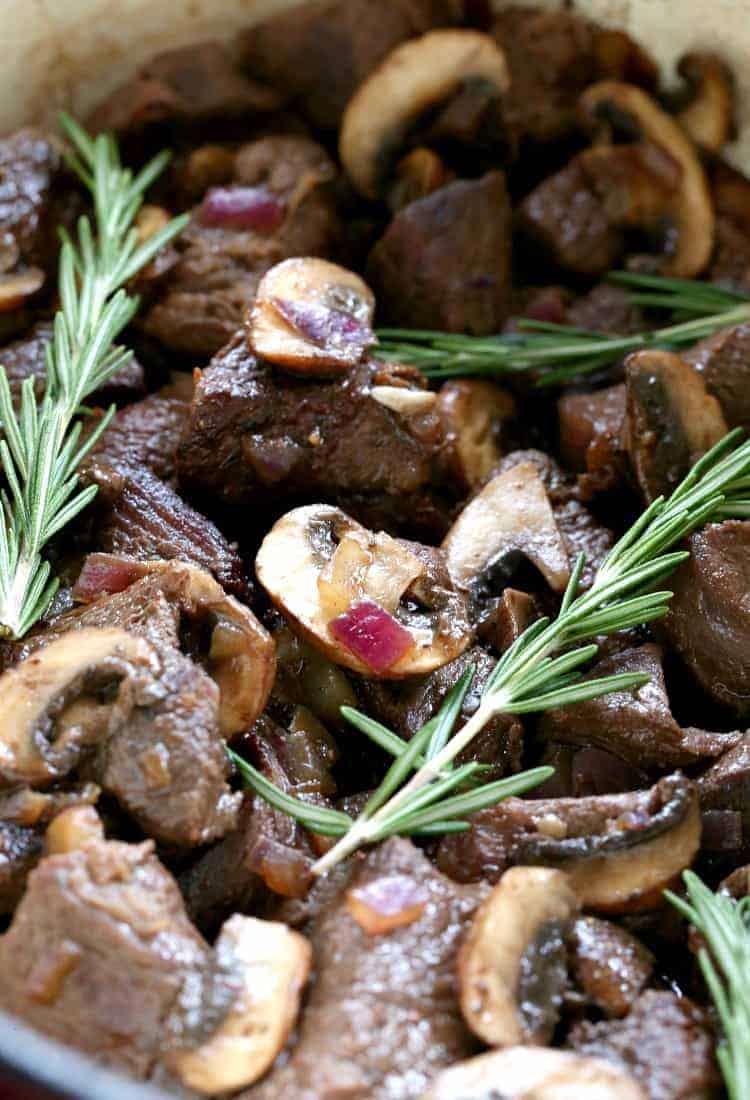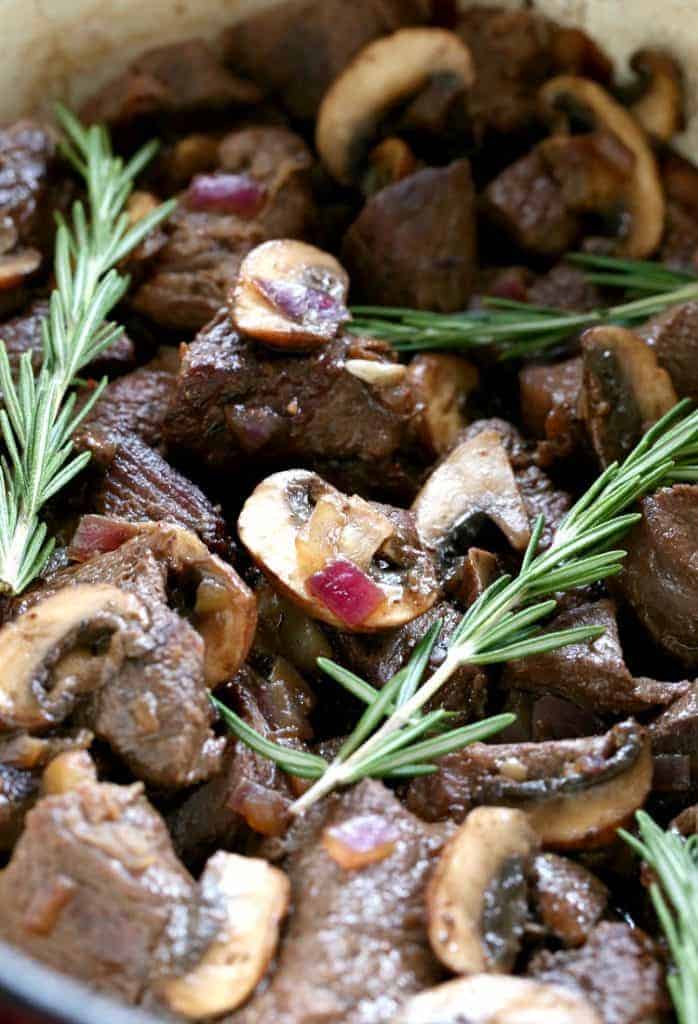 Then you can add the beef back in and get it in the oven for an hour and a half.
Once the stew is finished, finish of with heavy cream – just a little – and serve.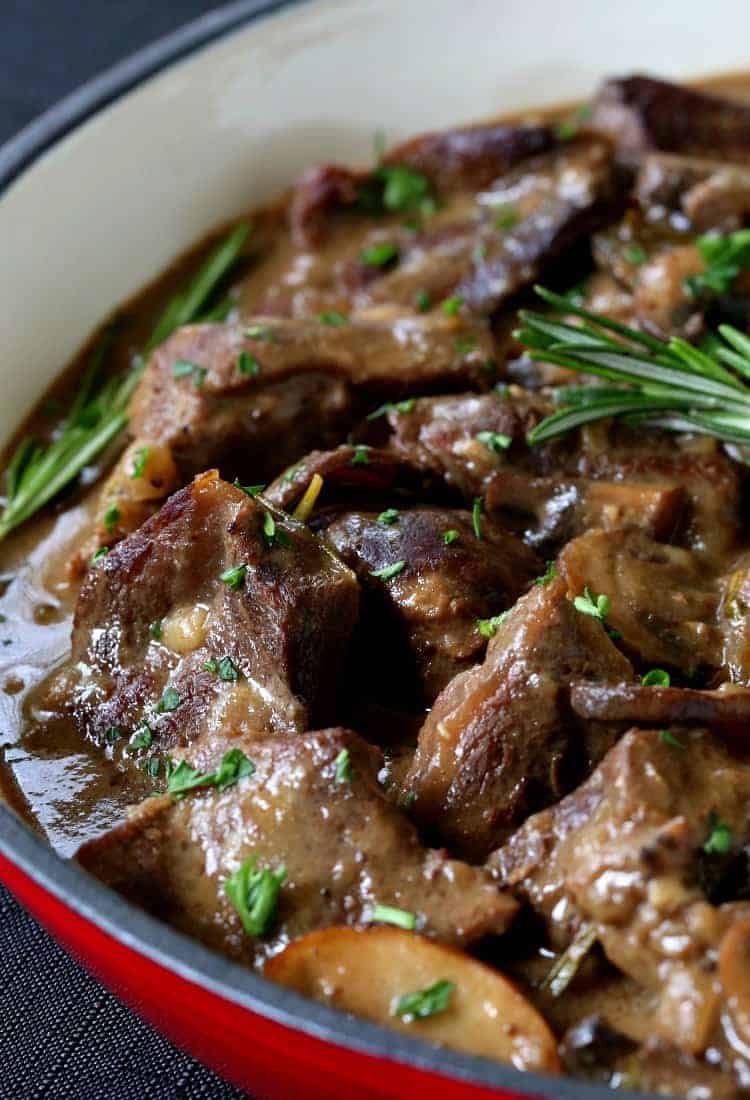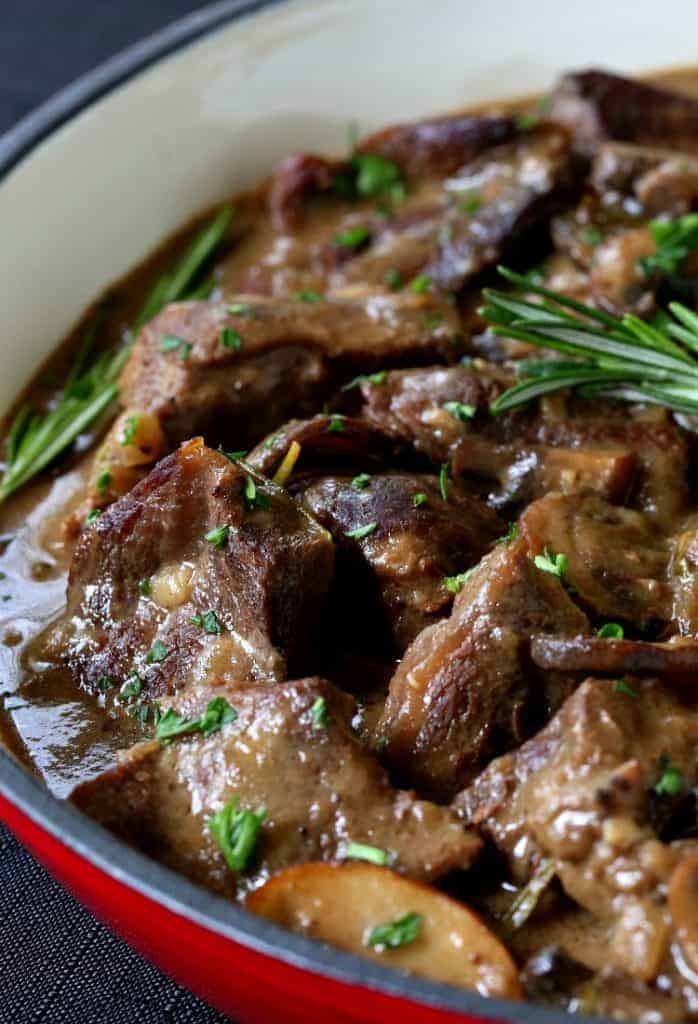 Look at all that gravy. You know I made this recipe to make extra gravy just to cover all those fries you're going to make…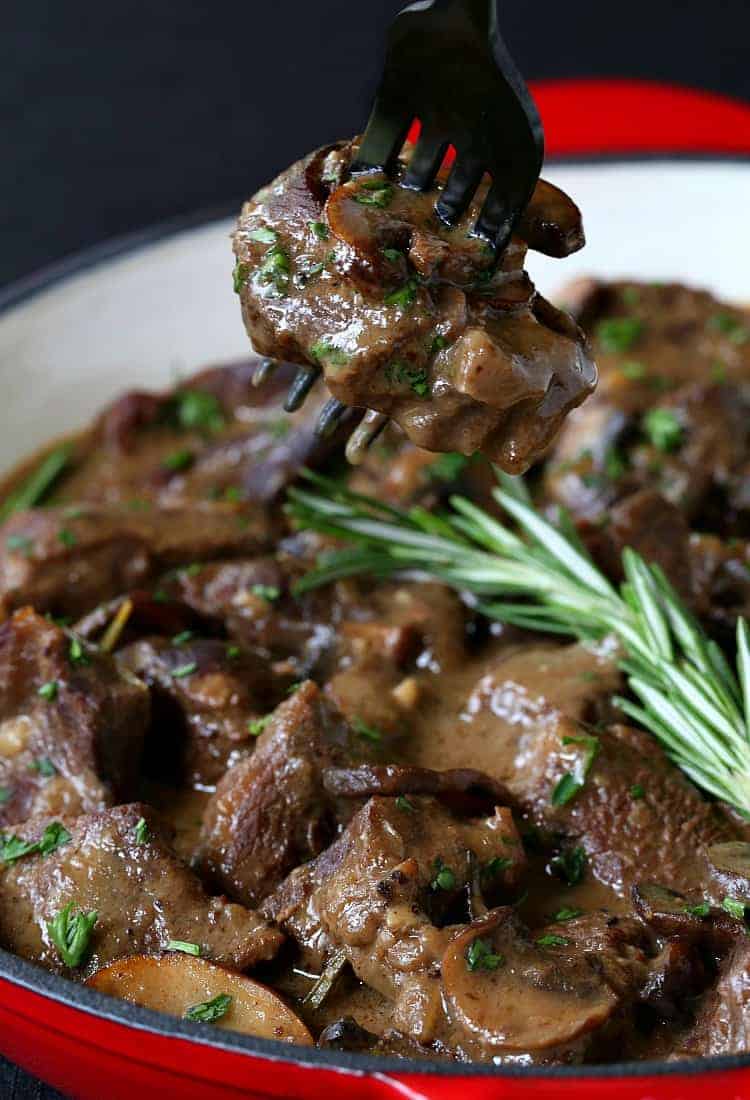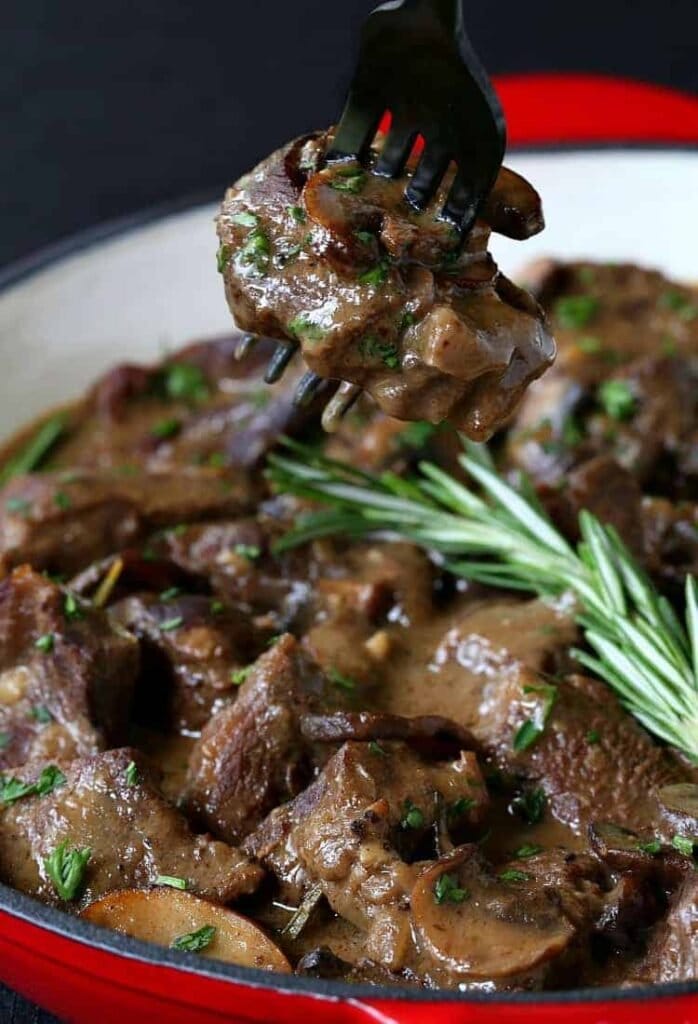 Try this Beef Tip Marsala Stew over you favorite carb of choice…or just eat it as is!
Print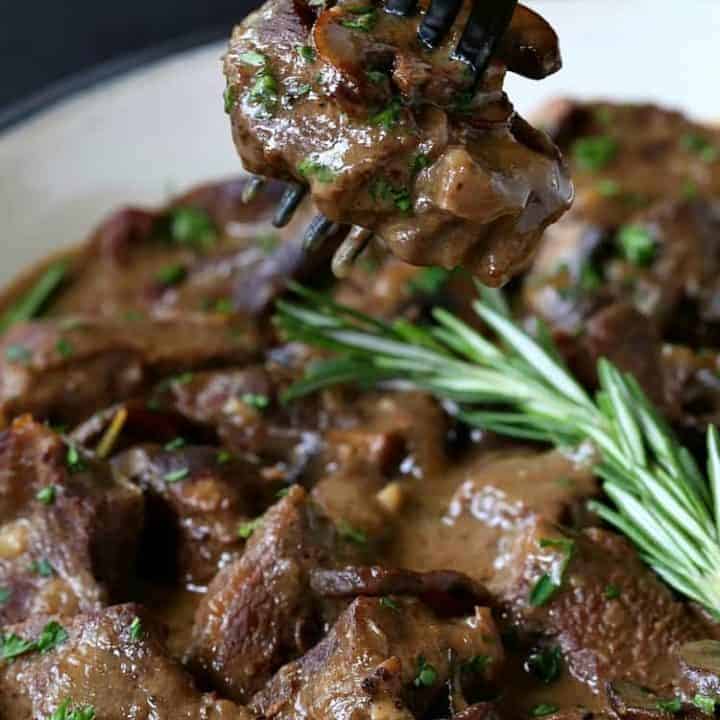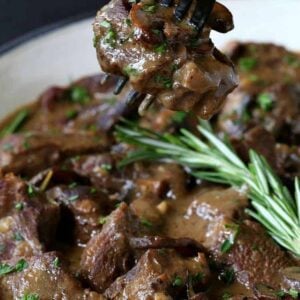 Beef Tip Marsala Stew
Scale
Ingredients
3

pounds chuck roast, cut into

2

inch pieces

2 tablespoons

olive oil

1 tablespoon

plus 1 1/2 teaspoons of salt, divided

1 1/2 teaspoons

pepper, divided

1 cup

onion, diced

1

package (12 oz.) mushrooms, sliced

1 cup

marsala wine

1/4 cup

of flour

2 cups

beef broth

3

–

4

sprigs fresh rosemary

1/4 cup

heavy cream
Instructions
Preheat the oven to 350 degrees.
Season the meat on all sides with a tablespoon of the salt and a half teaspoon of the black pepper.
Add the oil to a dutch oven over medium high heat.
Brown the meat on all sides in batches making sure the meat is in a single layer. Remove when browned and repeat with another batch of meat if needed.
Add the onion, mushrooms and rosemary to the pot, stir and season with the remaining 1 1/2 teaspoons of salt and 1/2 teaspoon of pepper.
Cook until onions are softened and mushrooms are browned, about 10 minutes.
Pour in the wine and let boil for a minute, then use a wooden spoon to scrape up the bottom of the pot while stirring the mushrooms and onions.
Sprinkle the flour into the pot and stir, cooking for 1 minute.
Pour in the beef broth slowly while stirring then bring to a boil to thicken the gravy.
Once thickened, add the meat and any juices back to the pot. Stir to combine and place in the oven, covered, for 1 1/2 hours.
Remove from the oven and stir. Pour in the cream, stir again and season with additional salt and pepper if needed.
Remove the rosemary steams before serving.