15 Incredible Halloween Party Recipes is the best guide to planning the most delicious Halloween recipes – for kids and adults!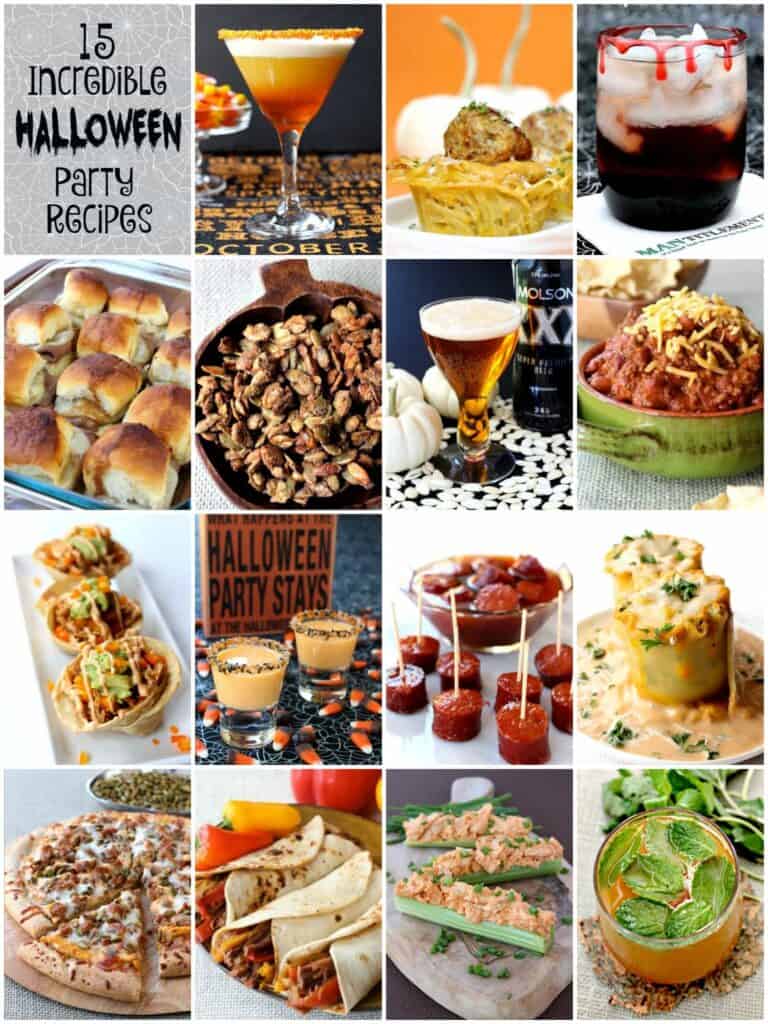 Our Halloween party is located outside – so we hope the weather stays decent. We've gotten lucky most years, except for the time when we had no power for two week because of a hurricane…but even more reason to light up the fire pit and have a few cocktails.
By week two without power I can tell you…we needed the cocktails. But most years we get pretty lucky, even some years it's been really warm like in the 70's – and for Jersey that's pretty warm for October.
So what we do is gather a bunch of neighbors and friends, make a bunch of food and drinks and light a fire. That way we're hanging outside with the kids but having our own fun too.
Lots of these 15 Incredible Halloween Party Recipes are pumpkin based, to keep festive of course, but a few are just good, fun Halloween themed recipes to serve at a party.
Or for trick-or-treating…Lots of yummy Halloween recipes and Halloween cocktails for anyone walking by.
Halloween Cocktail Recipes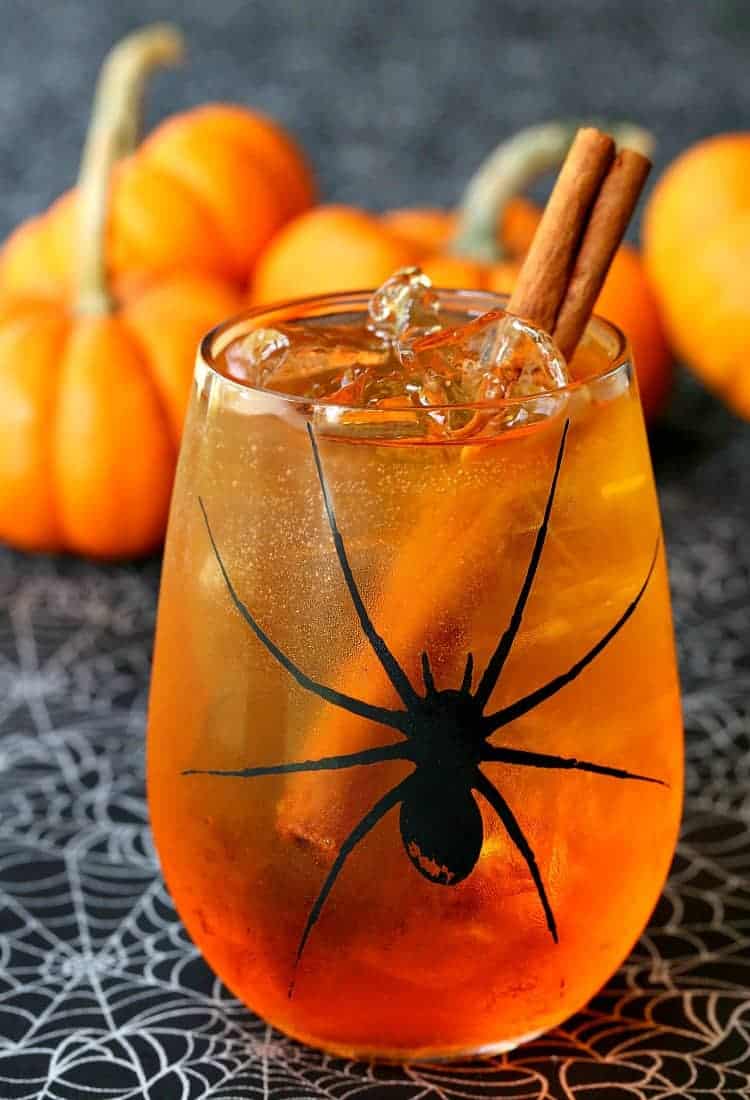 Obviously this one is for the adults, as are all the Halloween cocktail recipes here of course. This fun wine spritzer recipe uses some festive Fall flavors!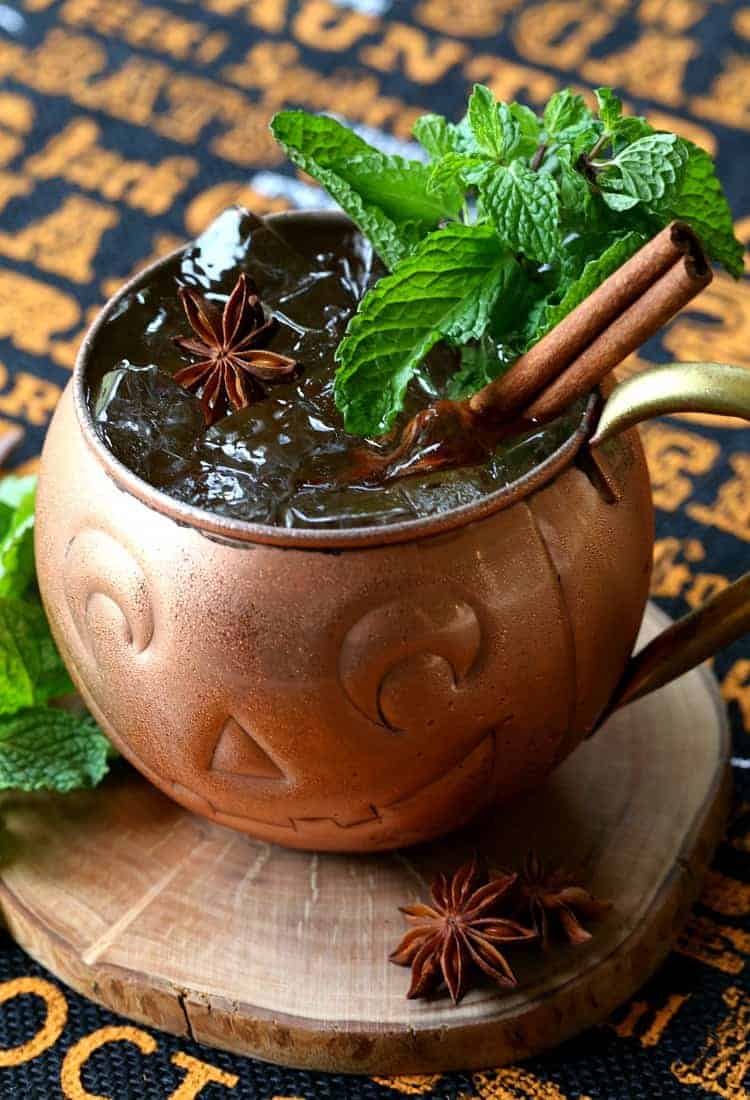 Let's bring the cool back to Halloween recipes. With a cool drink that is. This pumpkin twist on a moscow mule recipe will be the hit of your Halloween party!
Jack-O-Blast Pumpkin Rum Shooters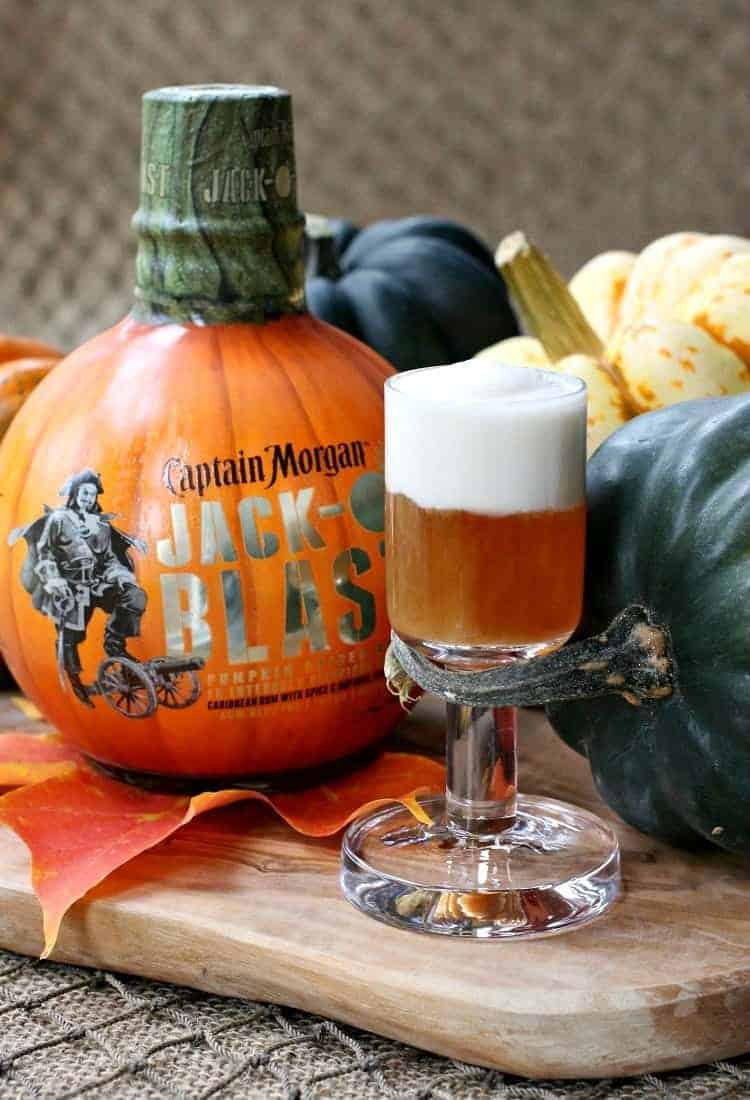 Shots, shooters – whatever you want to call them these shooters are going to be a huge hit! A thick layer of cream makes the rum shots good enough to swap in for a dessert shot!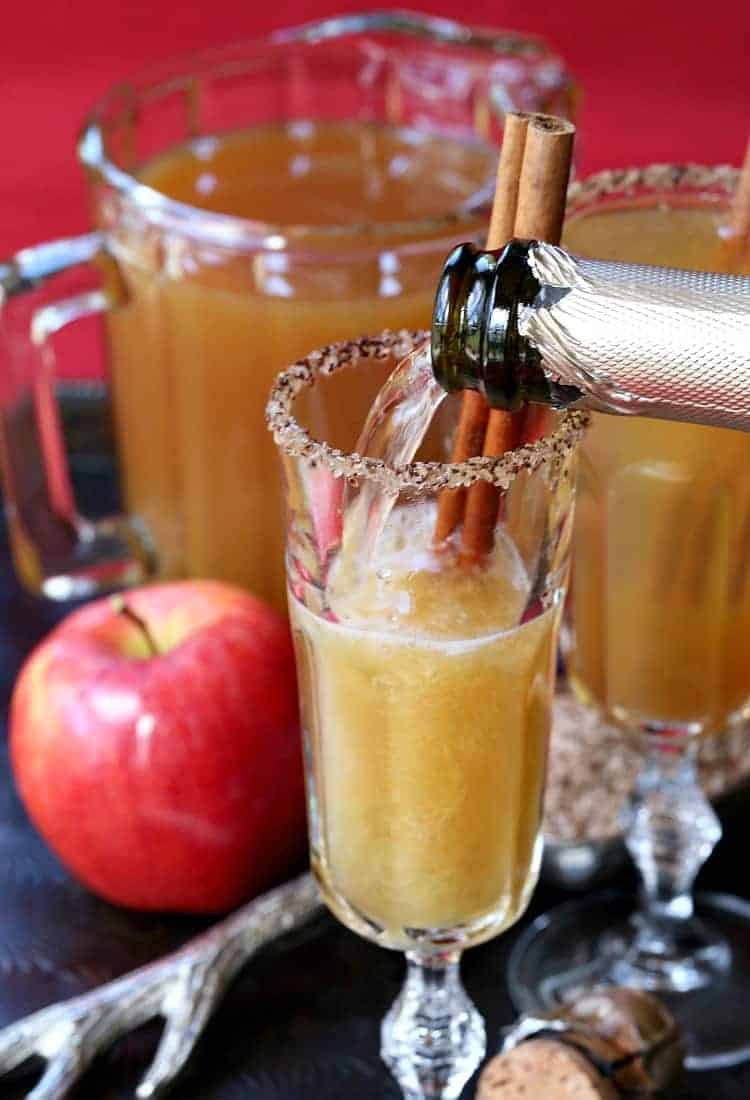 Mimosas aren't just for breakfast! That doesn't even sound right…but you know what I mean. Apple cider adds such a delicious flavor to this mimosa recipe – it'll kick that OJ right to the curb.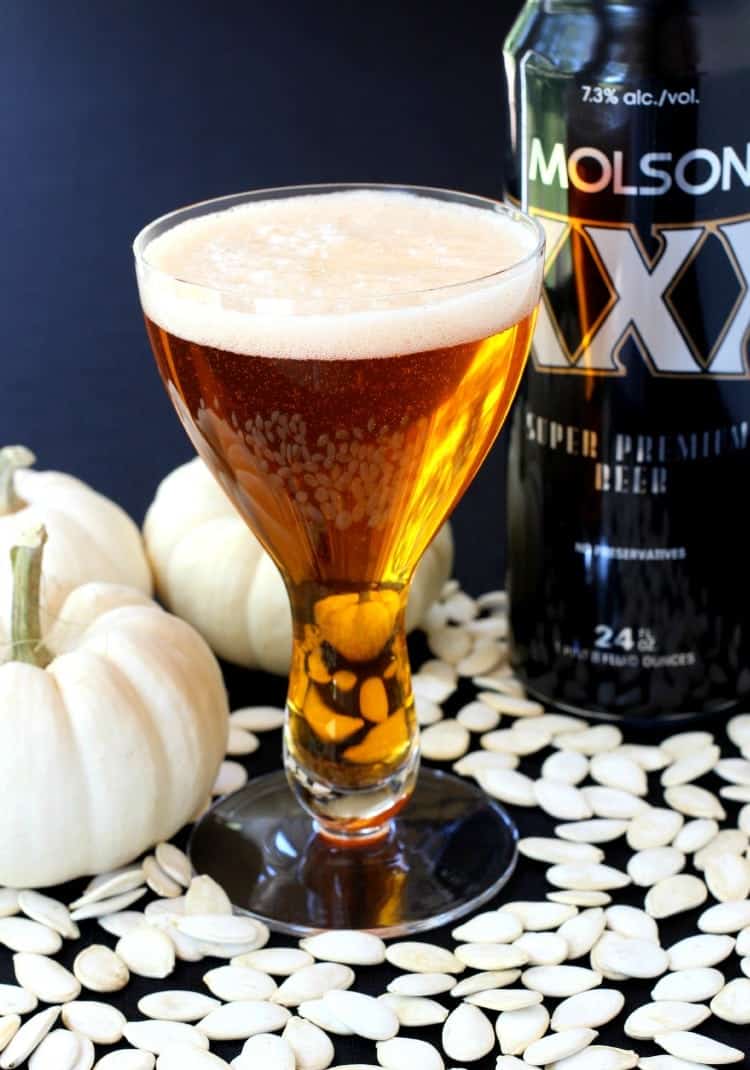 You know there's those guys that only drink beer, I know because I was one of them for a long time. Turn your favorite beer into this easy Pumpkin Beer Cocktail and everyone is happy!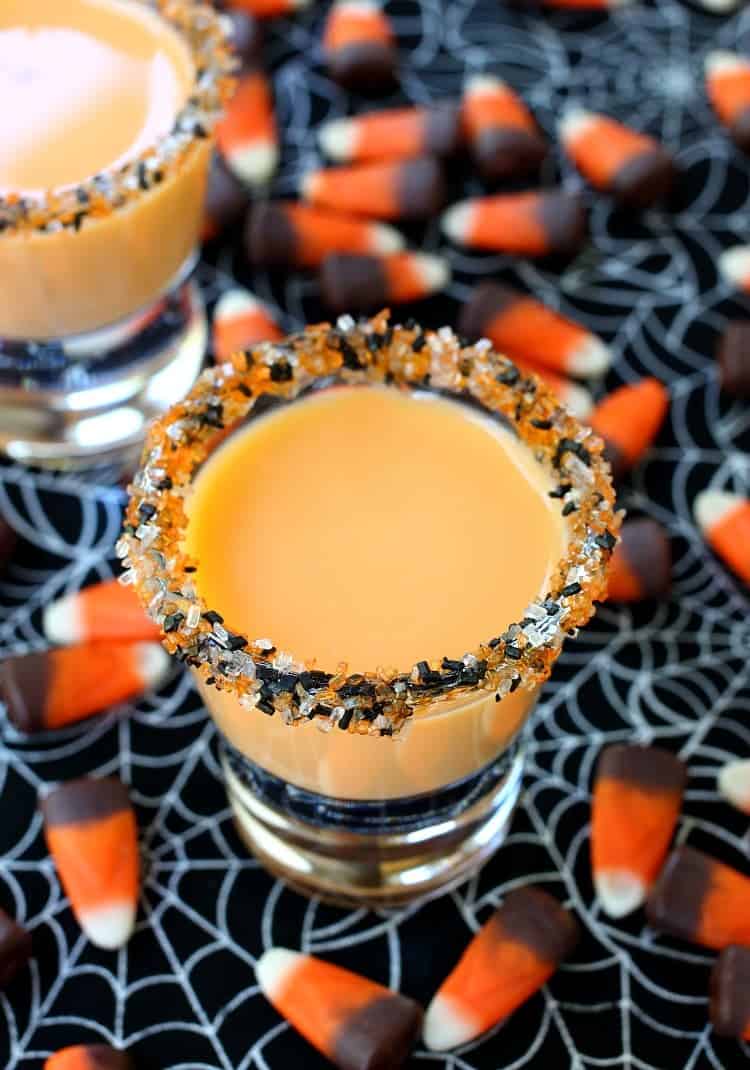 I mean you've got to have shots, right? For Halloween maybe something more festive than just tequila shots. These taste just like pumpkin pie in a glass so they're perfect for your Halloween party.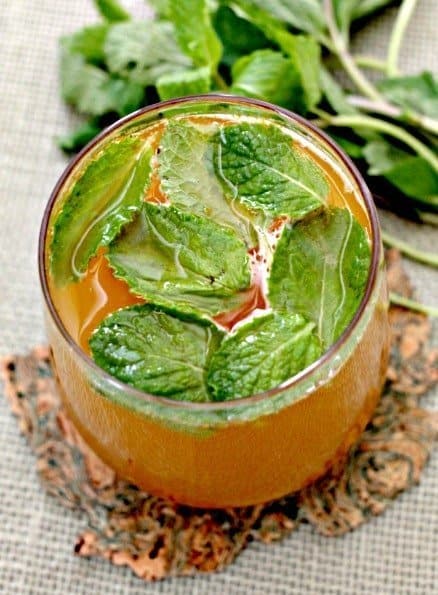 This cocktail adds pumpkin flavor to the classic mojito recipe, and it tastes amazing. You can make these mojitos ahead of time in a pitcher or even a large batch in a punch bowl for easy serving.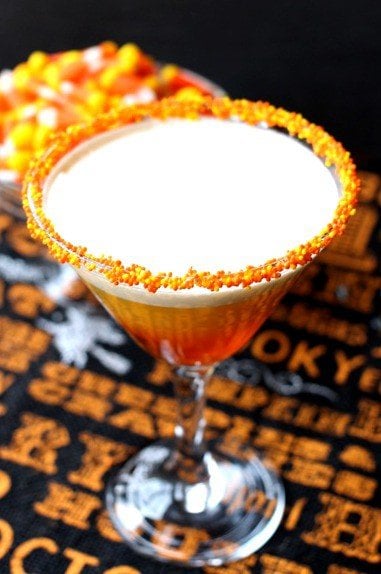 This one takes a little bit of prep time, layered cocktails do take a minute or two but I'll tell you, they are always a show stopper. Not only does this layered martini look crazy cool but it tastes as good as it looks!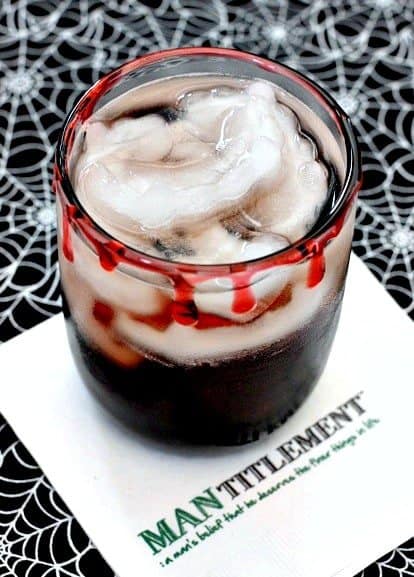 Even those out there who think they don't like tequila, trust me, you are going to love this one. This tequila cocktail is mixed with a pomegranate liquor and seltzer – complete with vampire blood dripping off the rim.
Halloween Appetizer Recipes
We know you need lots of appetizers when you're serving these delicious cocktails! We've added something for everyone on our list of 15 Incredible Halloween Party Recipes!
Pumpkin Cornbread Stuffed Mushrooms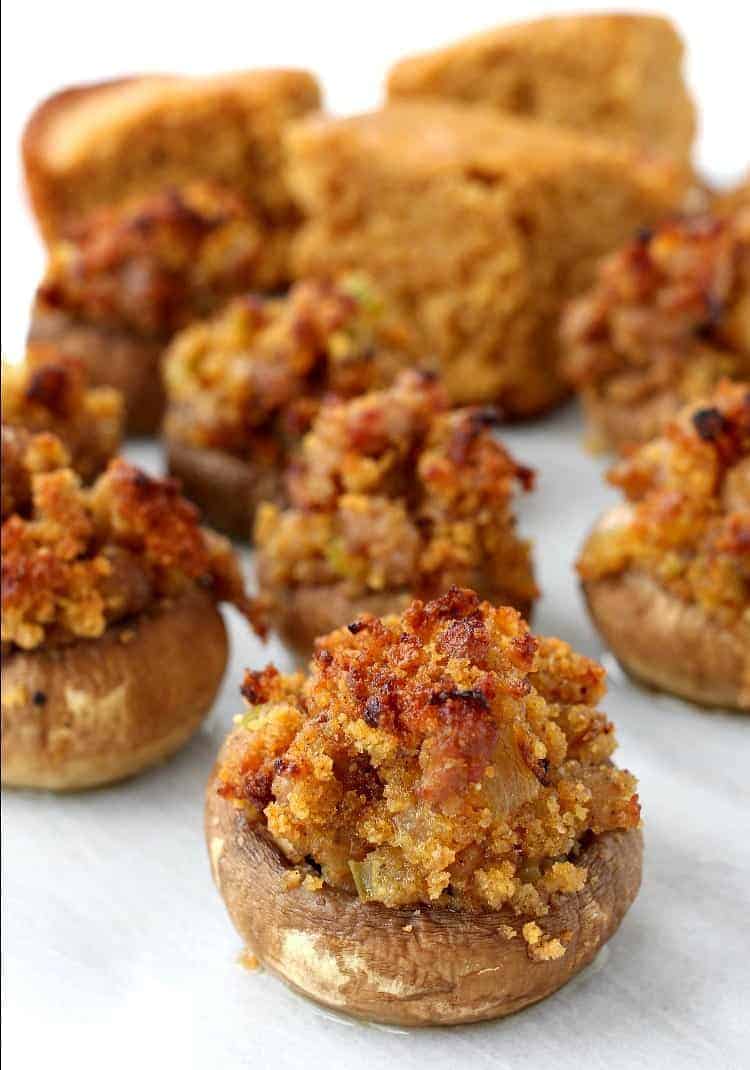 We found pumpkin cornbread stuffing at Trader Joe's and it was crazy delicious! This stuffed mushroom recipe is perfect for a Halloween party or any Fall holiday!
Slow Cooker Sriracha Honey Kielbasa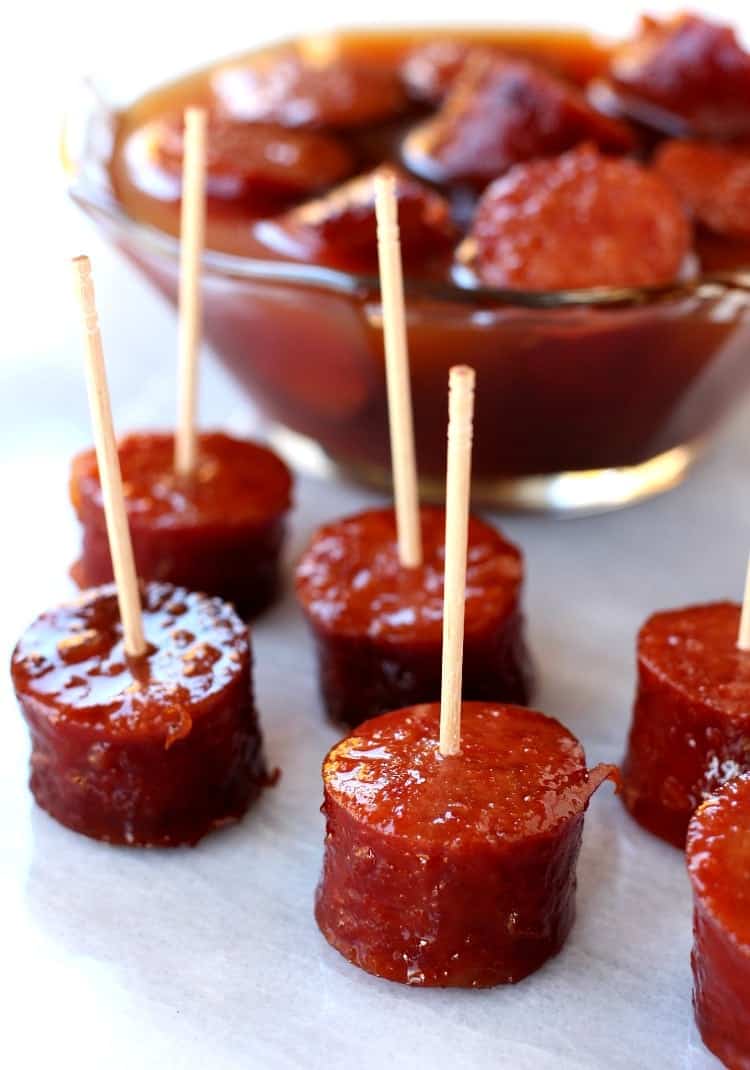 Sweet and spicy kielbasa that can hang out for hours in your slow cooke. It probably won't last that long, but it's nice to have a super easy sausage appetizer that you don't have to worry about heating up or getting cold on you.
Pumpkin Glazed Cocktail Meatballs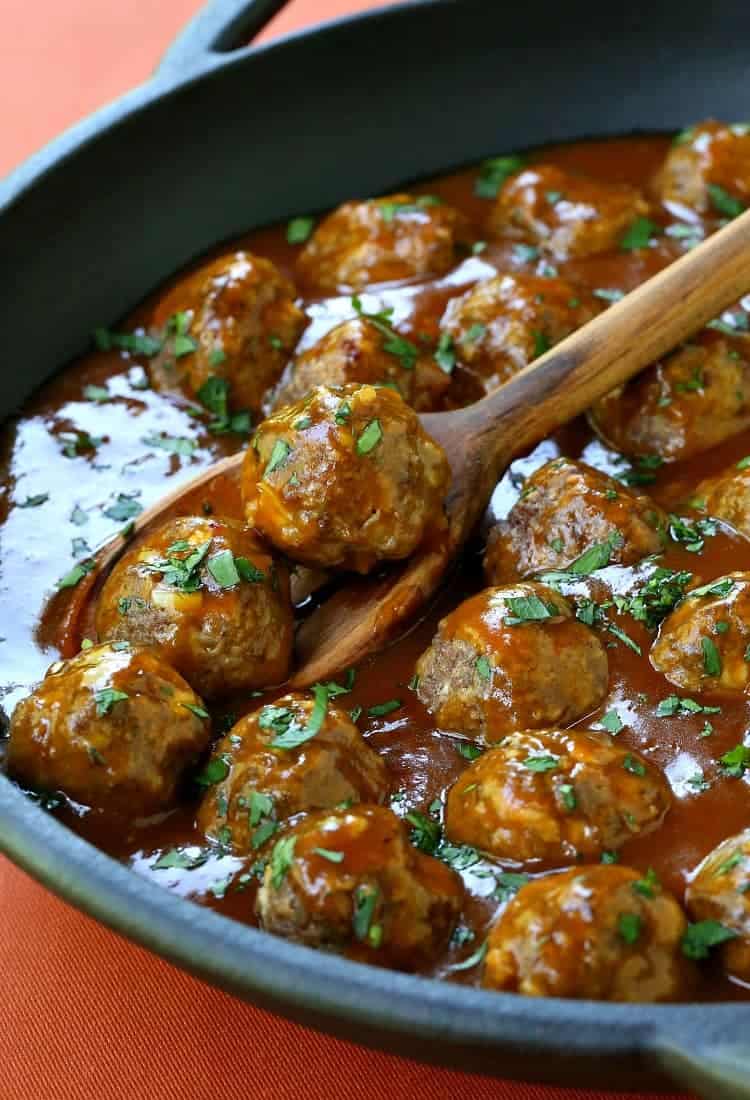 You aren't going to believe how good the sauce is on these cocktail meatballs. A little spicy, a little sweet. It's the perfect flavor combination for a meatball appetizer! Keep these meatballs warm in your crock pot all night long!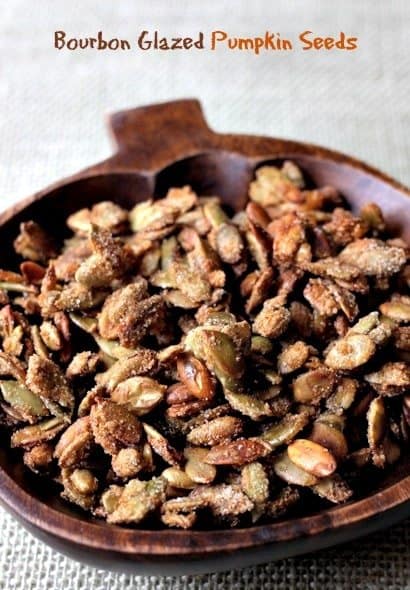 Glazed pumpkin seeds tossed in a bourbon and sugar glaze, then roasted until crunchy. Set them out in bowls all around your party and watch them disappear.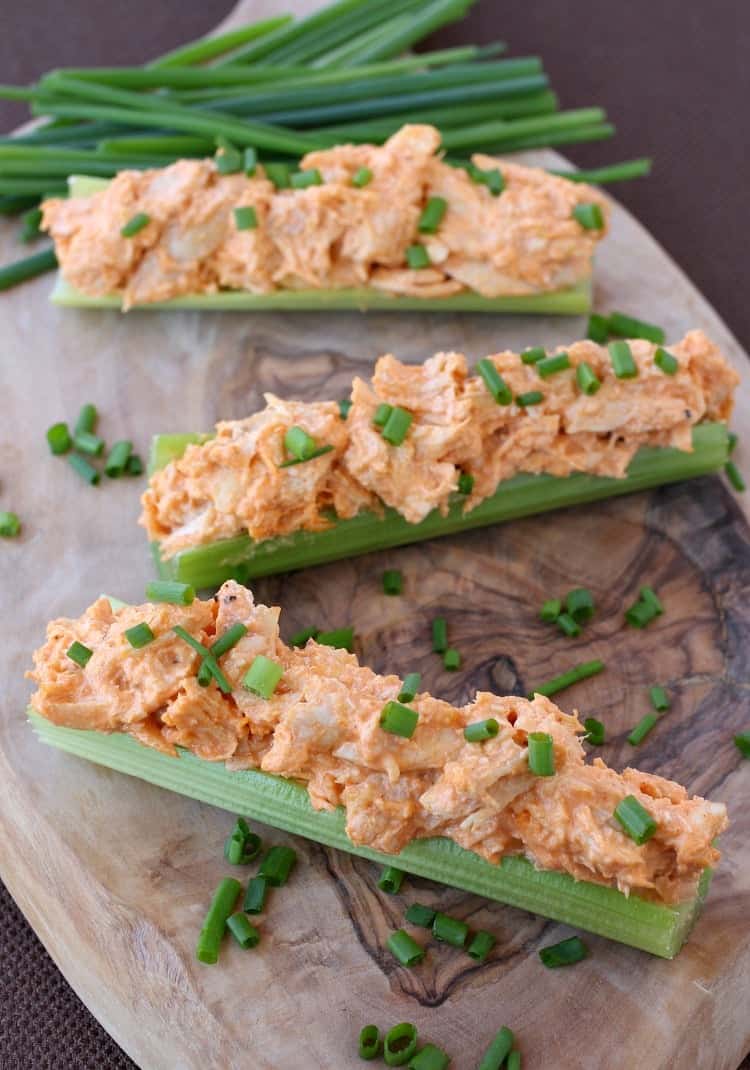 These chicken stuffed celery sticks are such a simple, low carb appetizer recipe it's hard to believe how good they are! Shredded chicken, even canned chicken mixed with orange buffalo sauce is perfect for Halloween!
Spicy Sausage and Pumpkin Pizza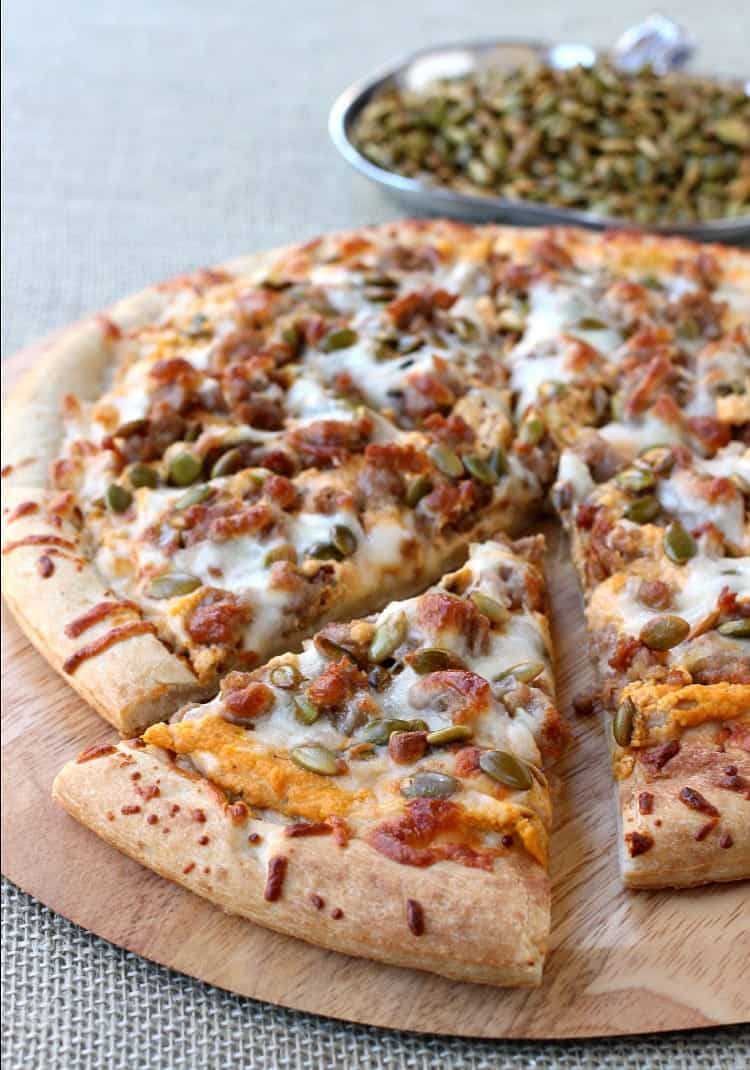 This pumpkin sauce combined with a spicy sausage and crunchy pumpkin seed topping is a pizza recipe you wont want to miss.
Halloween Dinner Recipes
Lasagna Rolls with Pumpkin Alfredo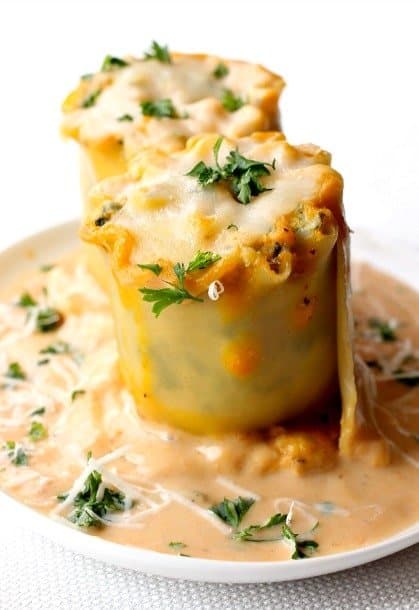 The pumpkin alfredo sauce alone is worth making this pasta recipe for. This is a make ahead dinner recipe too, so it's going to be perfect for a party!
Spaghetti and Meatball Cups with Pumpkin Sauce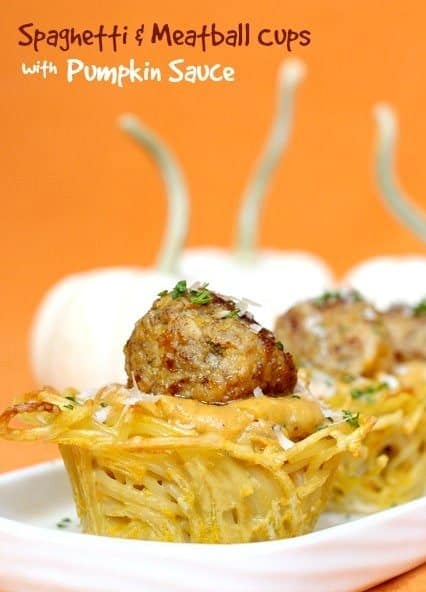 Crazy good, juicy meatballs served in these fun spaghetti cups with pumpkin sauce. This is what I call one of the best Halloween recipes, festive and delicious!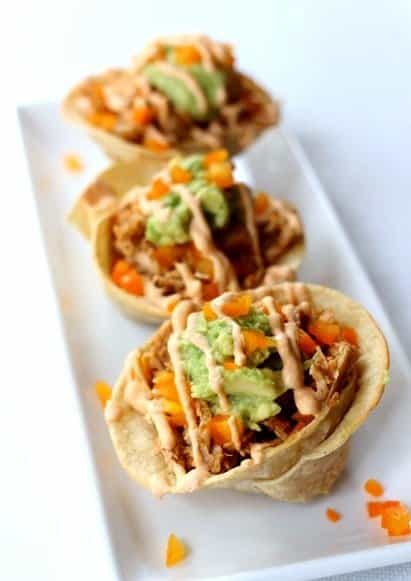 Chicken slow cooked in beer, what could be better? This Halloween cooking recipe really cooks itself. All that's left to do is shred the chicken, mix together with the sauce and load into taco shells..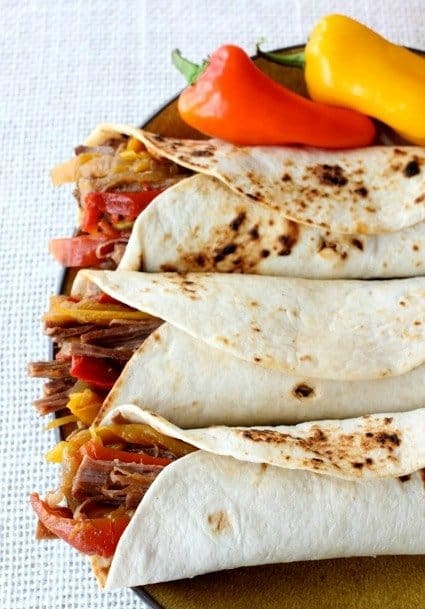 We started making this beef fajita recipe a couple of years ago on Halloween and they have become a fan favorite. If you're looking for easy to make Halloween recipes…this fajita recipe is the one you're looking for!
Pasta with Pumpkin Cream Sauce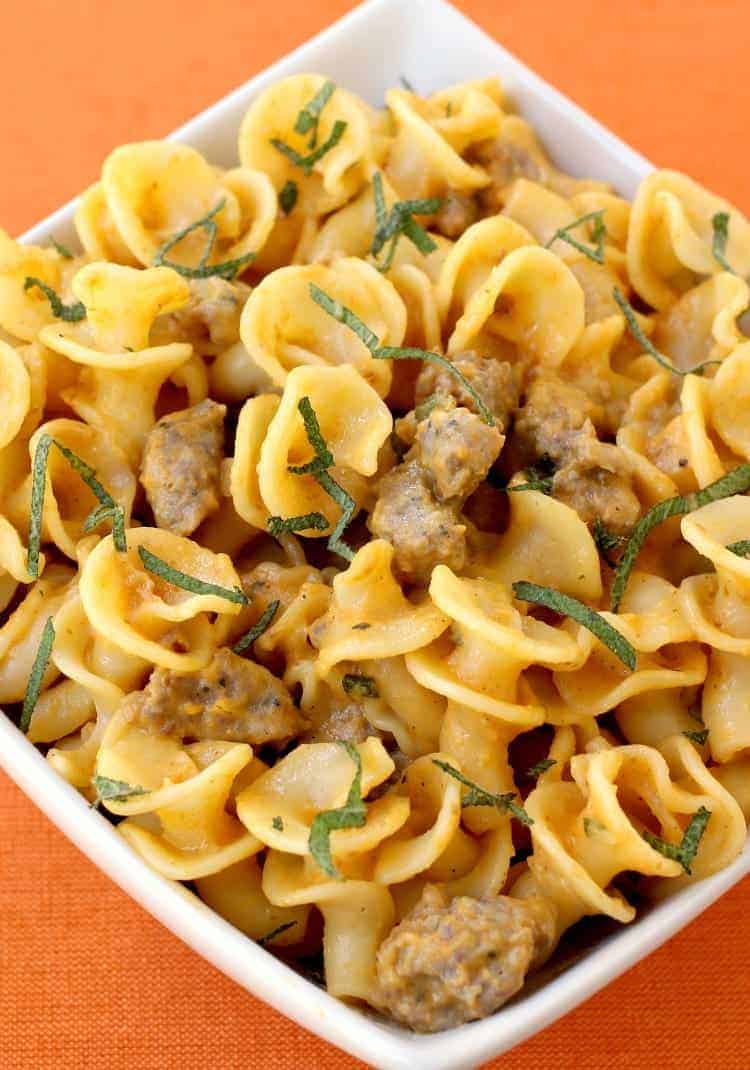 The pumpkin cream sauce on this pasta is so rich and tasty, you won't leave any behind! Make this recipe with spicy Italian sausage to cut through the rich creamy flavors in the sauce.
Perfect for a party – easy to grab and go – make ahead and cook at party time. The buttery gravy on top of these beef sliders soaks into the buns as they bake. Cheesy, roast beef sliders for a party, what could be better?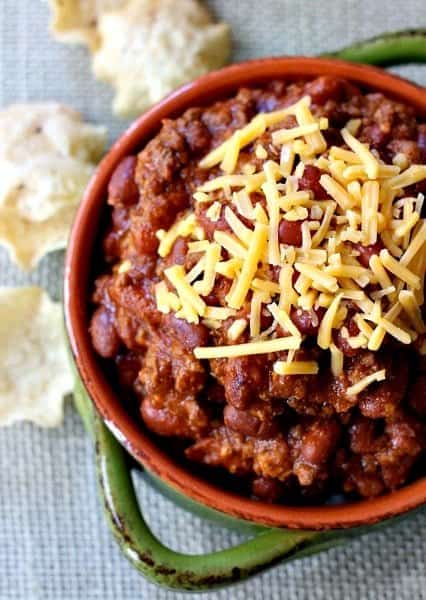 This chili recipe is what I call "kid-friendly". It's not too spicy but you can definitely spice it up as hot as you like with hot sauce or sriracha.
Put out sour cream, cheddar cheese, scallions and tortilla chips for some fun topping ideas. You can even use this chili recipe to make walking tacos for the kids!
NOTE* We've updated this guide since it posted a couple of years ago so there are even more than 15 Halloween Recipes here for you!