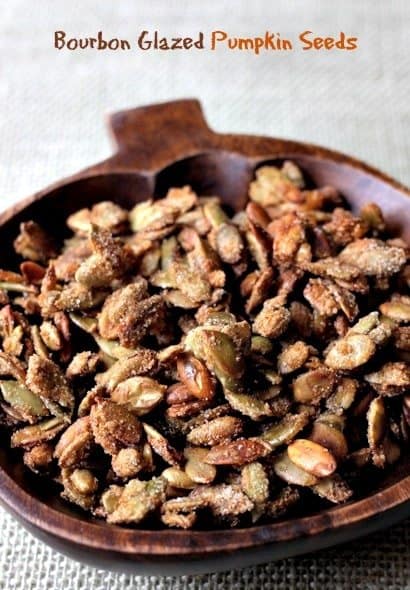 Bourbon Glazed Pumpkin Seeds
Every recipe you see these days has to do with either apple or pumpkins, so because I don't want to feel left out, I'm making Bourbon Glazed Pumpkin Seeds.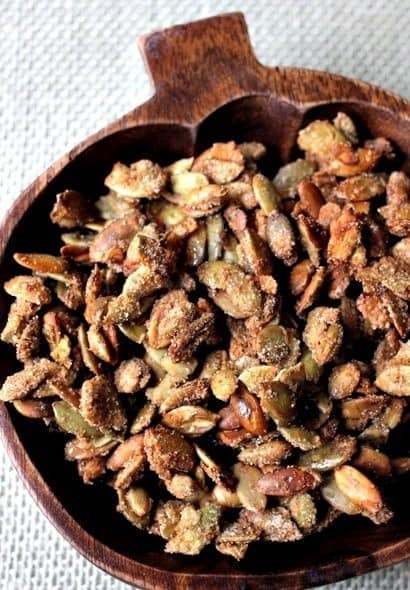 These pumpkin seeds are going to be gone as soon as you make them.
I'm not kidding when I say that you literally can't stop eating them.
I went ahead and bought my pumpkin seeds at the grocery store. I really wasn't going to get all crazy and start gutting a pumpkin to get the seeds out. I know people do that but when they're right in the grocery isle at the store? Seems like a no brainer.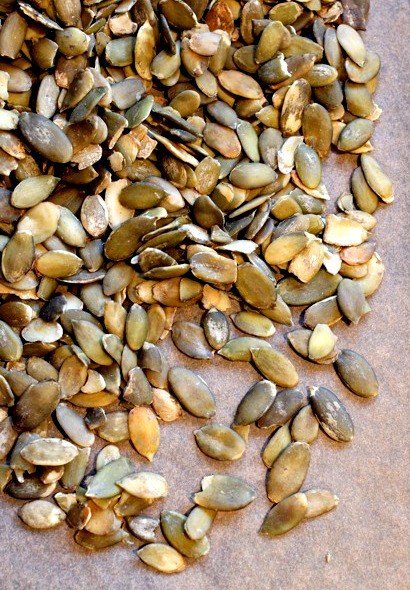 All you have to do to make them is toss your pumpkin seeds with a beaten egg white and some bourbon – and I mean beaten – it's got to be frothy so it sticks to the pumpkin seeds. Pour this all over the pumpkin seeds and stir until they're all coated with the boozy egg. Then let that sit a few minutes to soak up all the bourbon flavor.
Once their done drinking up the bourbon, place the pumpkin seeds onto a baking sheet covered in parchement and spread them out into an even layer.
In a small bowl, toss together some sugar, brown sugar, cayenne pepper and salt.
Then take the sugar mixture and literally cover the pumpkin seeds. It looks like a lot is going on there but trust me, it'll work.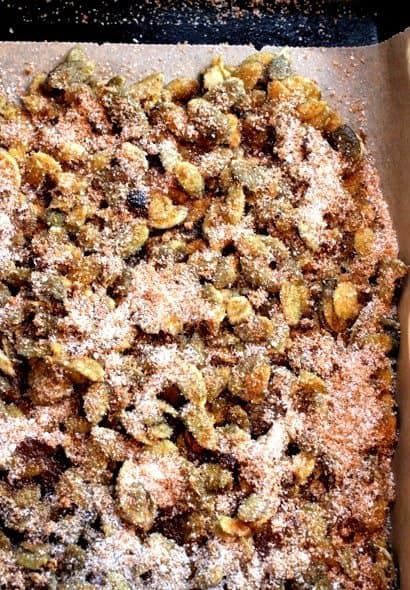 Bake about 10 minutes and then take them out and give a good stir. You might have to crunch them up with your spatula and make sure all the seeds are getting coated with the sugar, and then stick them back in the oven for another 10-15 minutes.
Watch these guys closely so they don't burn because that'll happen before you know it – I had to ditch a few around the edges that got a little too dark.
Done.
Let them cool and place on a dish or in a bowl for snacking. Ours didn't quite make it to a bowl, beside the one in the picture.
We just ate them right from the baking sheet. And then we kept on going…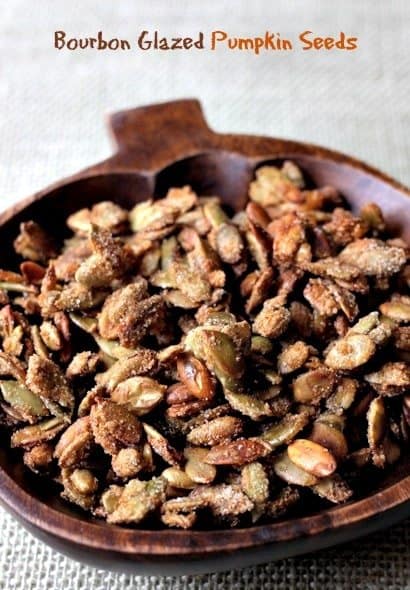 These Bourbon Glazed Pumpkin Seeds come together in about 20 minutes. Quick and easy – they'll be warm and on your table ready to be paired with a nice cold beer. Or bourbon…it's up to you.
Print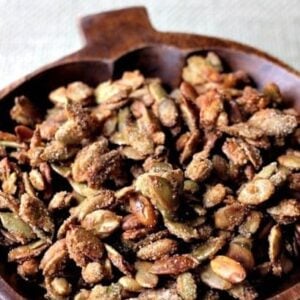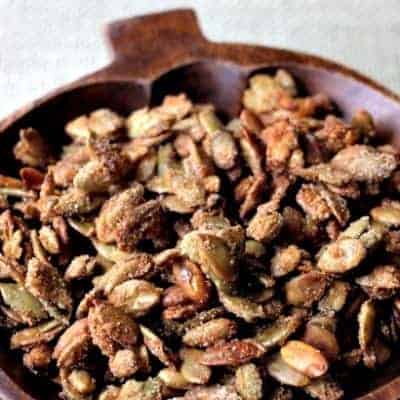 Bourbon Glazed Pumpkin Seeds
---
Ingredients
3 cup

s pumpkin seeds

1

egg white

1/4

t. vanilla

2

T. bourbon

1/2

c. sugar

1/2

c. brown sugar

1/4

t. salt

1/4

t. cayenne pepper
---
Instructions
Heat the oven to 350 degrees.
Place the pumpkin seeds in a large bowl.
Beat the egg white together with the bourbon and vanilla until frothy.
Pour over the pumpkin seeds and toss together well.
Pour out onto a parchment covered baking sheet and spread into an even layer.
Mix together the brown sugar and white sugar, cayenne pepper and salt in a small bowl.
Cover the seeds with the sugar mixture and toss lightly.
PLace in the oven to bake for 10 minutes, then take out and stir.
Bake for another 10 minutes, take out and let cool.
---