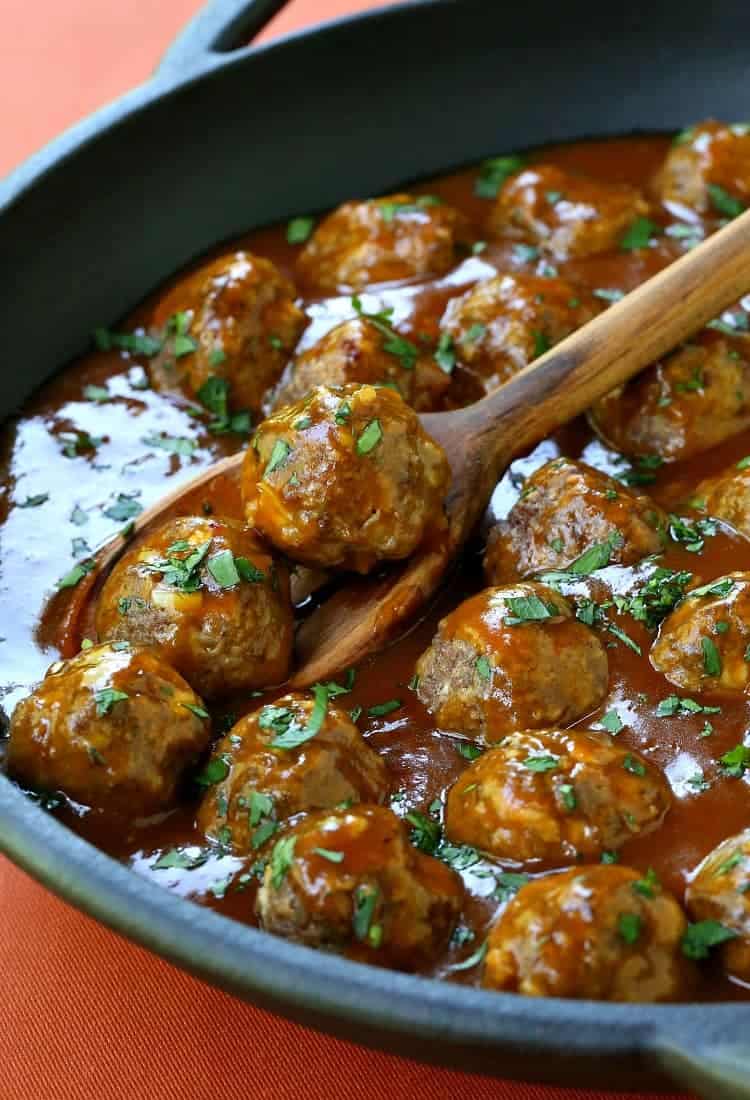 Pumpkin Glazed Cocktail Meatballs
Make a whole bunch of these Pumpkin Glazed Cocktail Meatballs for your next party! Halloween, cocktail parties, tailgating or just a tasty family dinner!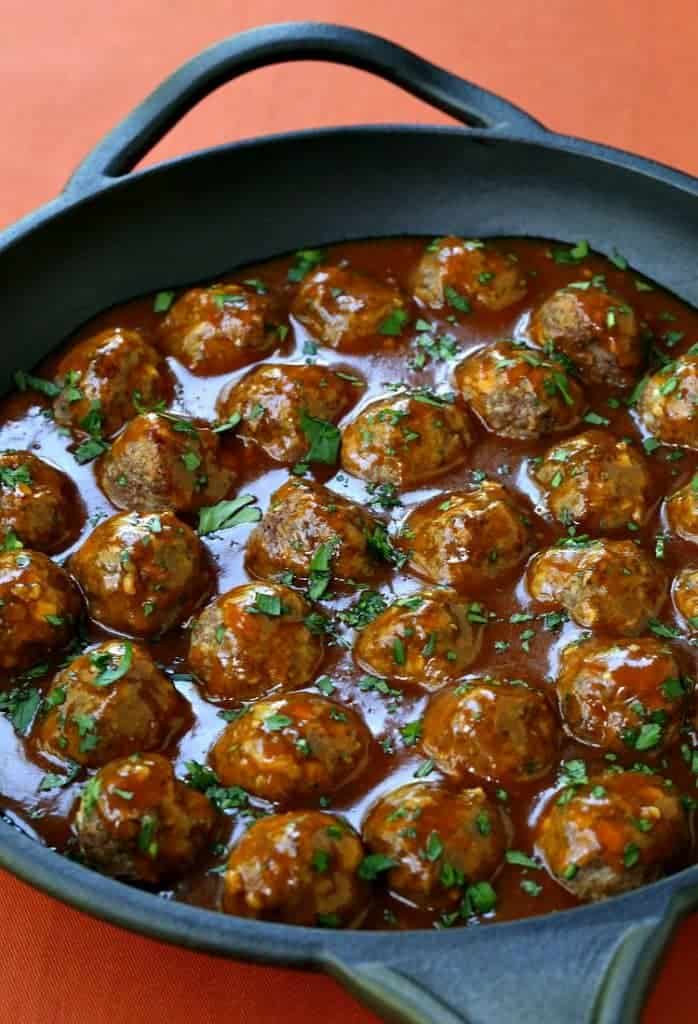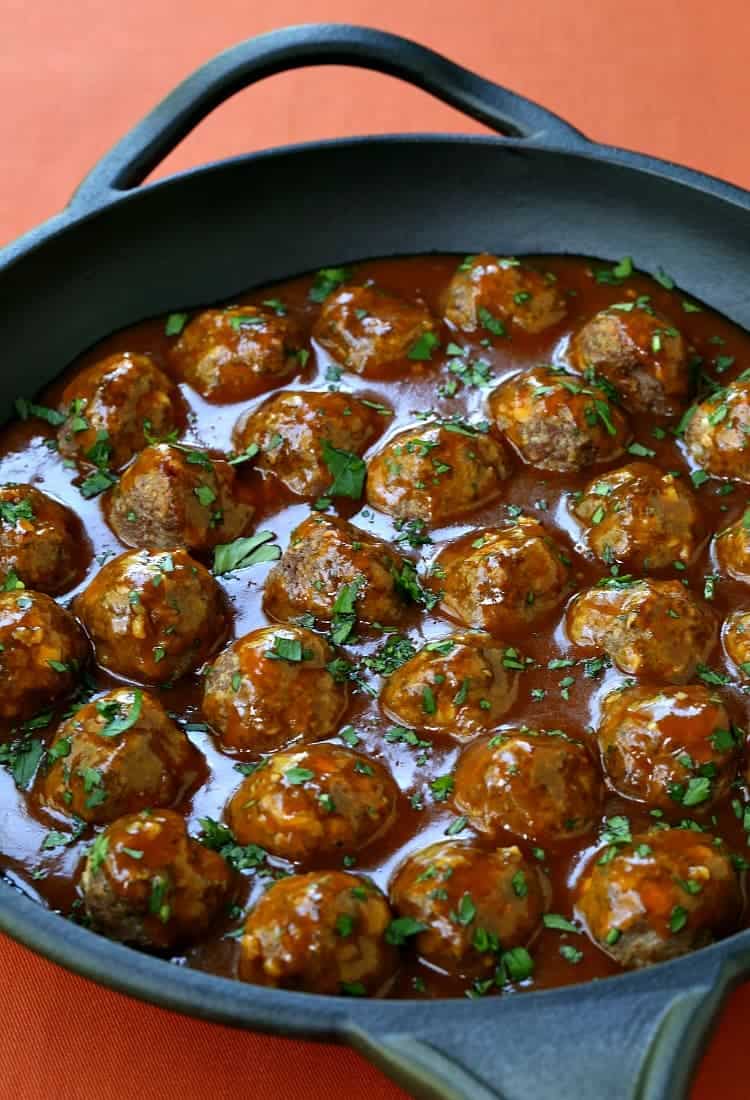 There's a lot of different appetizers that I consider a favorite of mine. Any type of meatball appetizer is one, bruschetta is another or anything really with cheese is good by me.
I actually love appetizers so much that I will turn happy hour apps into dinner – anytime that I can. These Meatball Pizza Quesadillas are one appetizer that now we just make for dinner. The boys totally love these, if you have meatball or pizza fans in your house you have to try them.
So when I was coming up with another pumkin idea for Fall…I first thought of a meatball. But that didn't sound great – a pumpkin meatball.
I had to think of some way to turn these Pumpkin Glazed Cocktail Meatballs into something totally party worthy and totally addicting.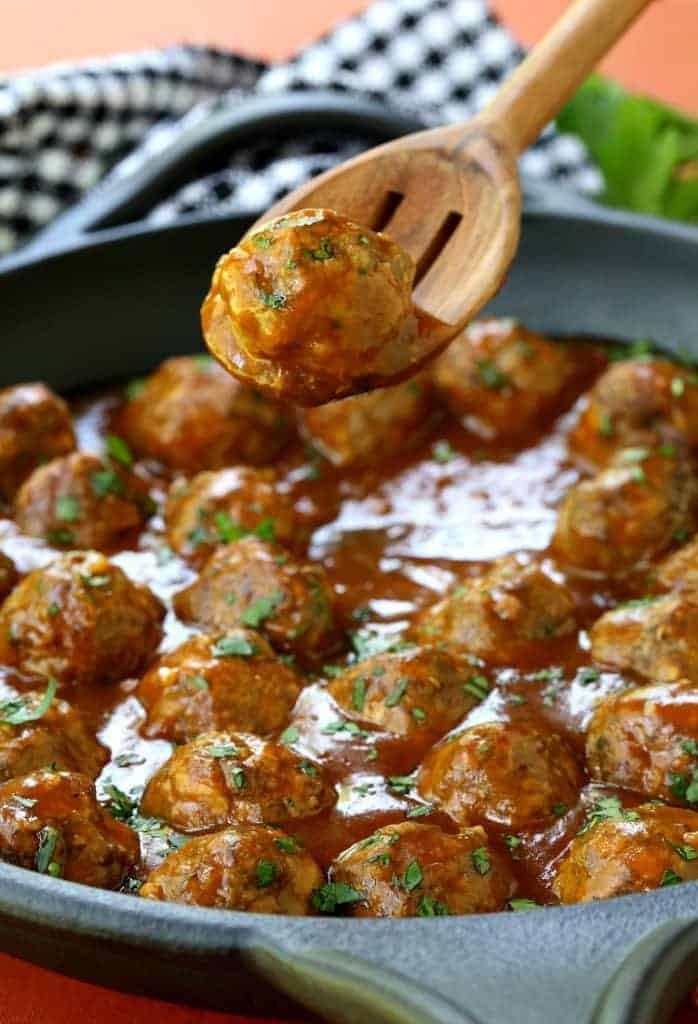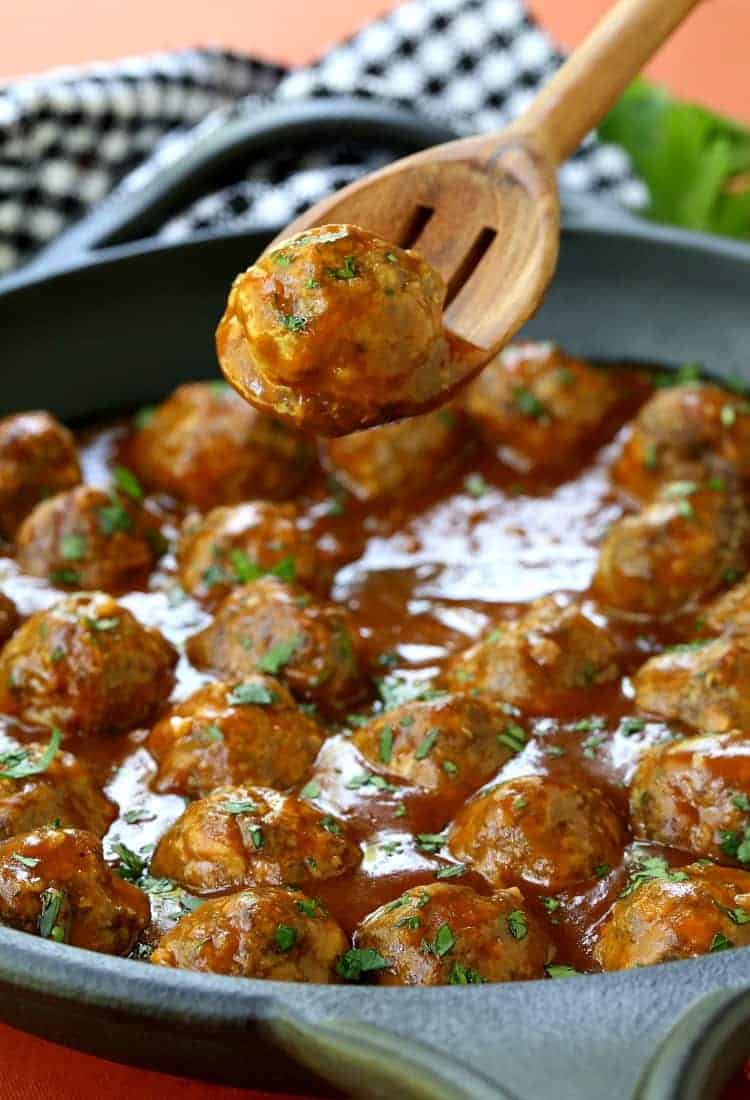 Step in Pumpkin Spice Cheerios. Cheerios? Yep. I'm going to swap out crushed Cheerios for the bread crumbs to kick up the flavors in these meatballs. THEN I'm going to coat them in a slightly sweet and slightly spicy glaze that is also flavored with pumpkin.
And yep, they are both totally party worthy and totally addicting.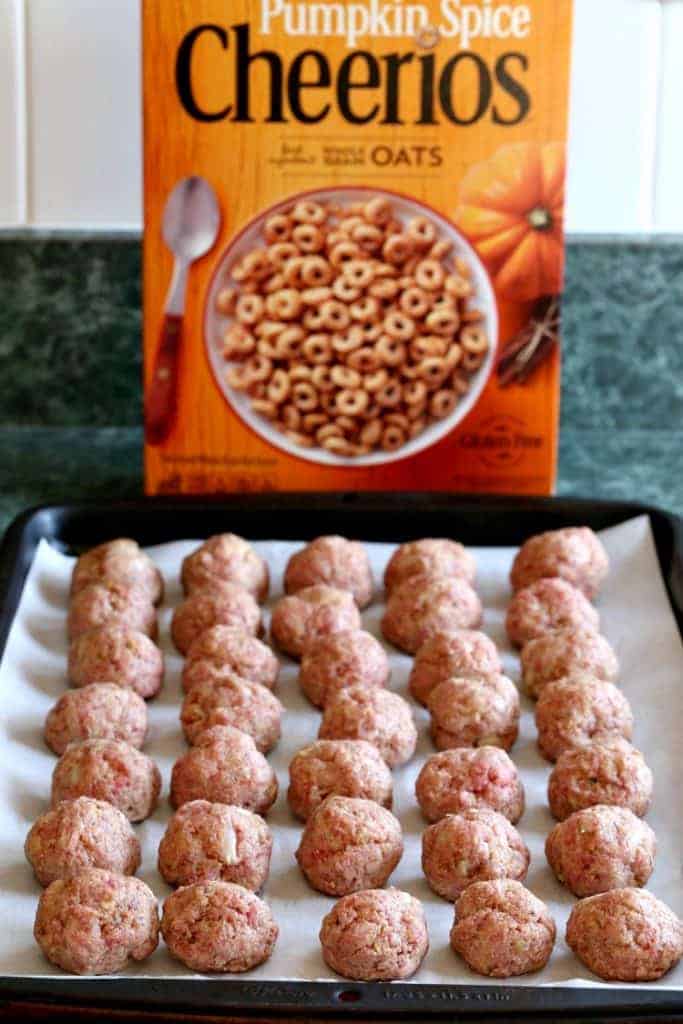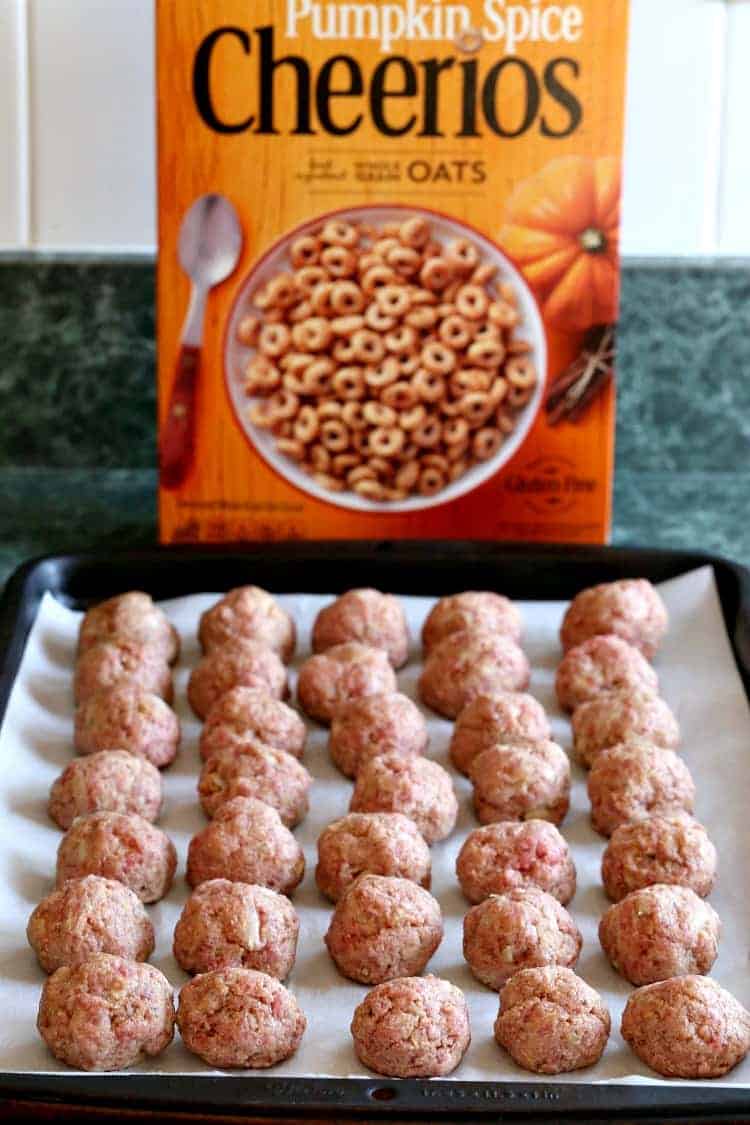 These meatballs are going to bake in the oven for about 25 minutes, then get tossed in the glaze after baking.
While the meatballs are in the oven you can get the glaze together, it has a few ingredients but it comes together pretty quickly…
We keep these in a slow cooker for parties so they stay hot just like we do with our Turkey Apple Glazed Meatballs, if you have a slow cooker like this one for parties it works out perfectly…
You can get your meatballs in there, a cheesy queso dip or whatever appetizer you need to keep warm.
Although I can tell you that I was snacking on these Pumpkin Glazed Cocktail Meatballs right from the fridge the night after we made them and they tasted pretty darn good even cold.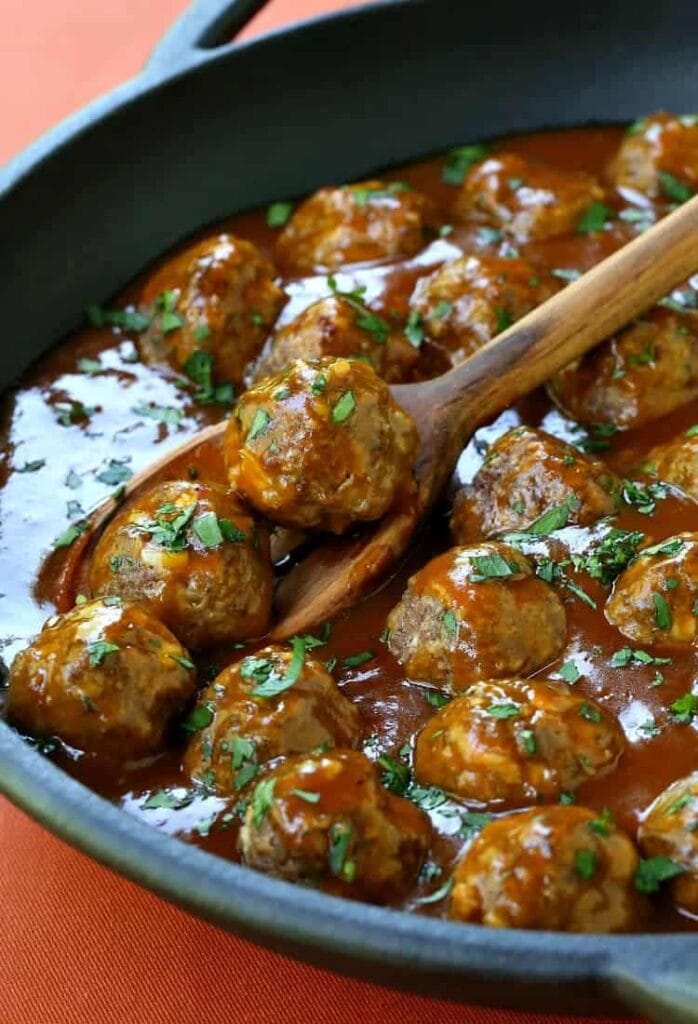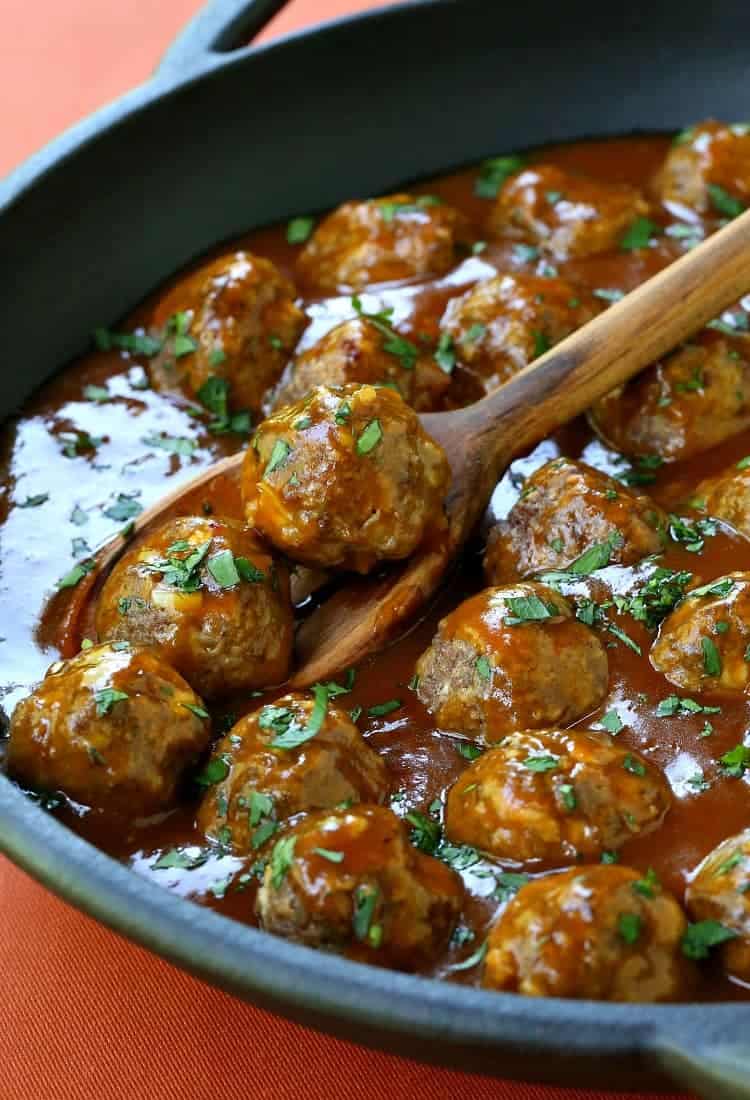 But don't go serving your guests cold meatballs – that's just a late night snacking piece of information for you.
Print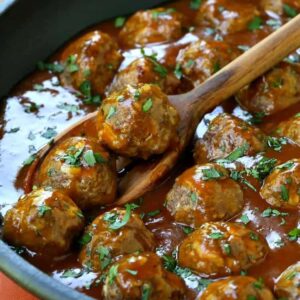 Pumpkin Glazed Cocktail Meatballs
---
Description
Makes approximately 40 meatballs
---
Ingredients
2 lbs. ground beef
1/2 cup finely diced onion
1 tablespoon chopped garlic
1 1/2 teaspoons salt
1 teaspoon pepper
1/2 teaspoon nutmeg
1/2 cup ricotta cheese
2 eggs, beaten
2 cups finely crushed Pumpkin Spice Cheerios
For the glaze
1 tablespoon crushed garlic
1 tablespoon canola oil
1/2 cup water
3/4 cup pineapple juice
1/2 cup teriyaki sauce
1 cup pumpkin puree
1/3 cup brown sugar
1/2 teaspoon cayenne pepper (optional)
1 tablespoon cornstarch mixed with 1 tablespoon water for thickening
---
Instructions
Preheat the oven to 400 degrees.
In a large bowl mix together all the ingredients for the meatballs.
Using a 2 tablespoon scooper, portion out the meatballs and place them on a parchment lined baking sheet.
Place in the oven to bake for 20 minutes.
While the meatballs are in the oven you can make the glaze.
Add the oil to a medium sauce pan over medium heat.
Add the garlic and stir for 20 seconds, then add the rest of the ingredients except for the cornstarch mixture.
Stir well to combine then bring to a boil.
Once boiling you can pour in the cornstarch mixture and whisk to combine.
Bring the glaze back to a boil then reduce to a simmer for 5 minutes.
Turn the heat off, cover and let rest until the meatballs are finished cooking.
Remove the meatballs from the oven and transfer to a large skillet or baking dish.
Pour the glaze over the meatballs and toss gently to coat. The skillet works well if you're keeping these warm just until serving, or you can toss the meatballs and transfer to a slow cooker if you need to kee them warm longer.
---
Notes
Alternately to baking the meatballs you can cook them in a large skillet then remove them when browned and cooked through. In the same skillet you can make the glaze then add the meatballs back in the skillet to coat in the glaze.