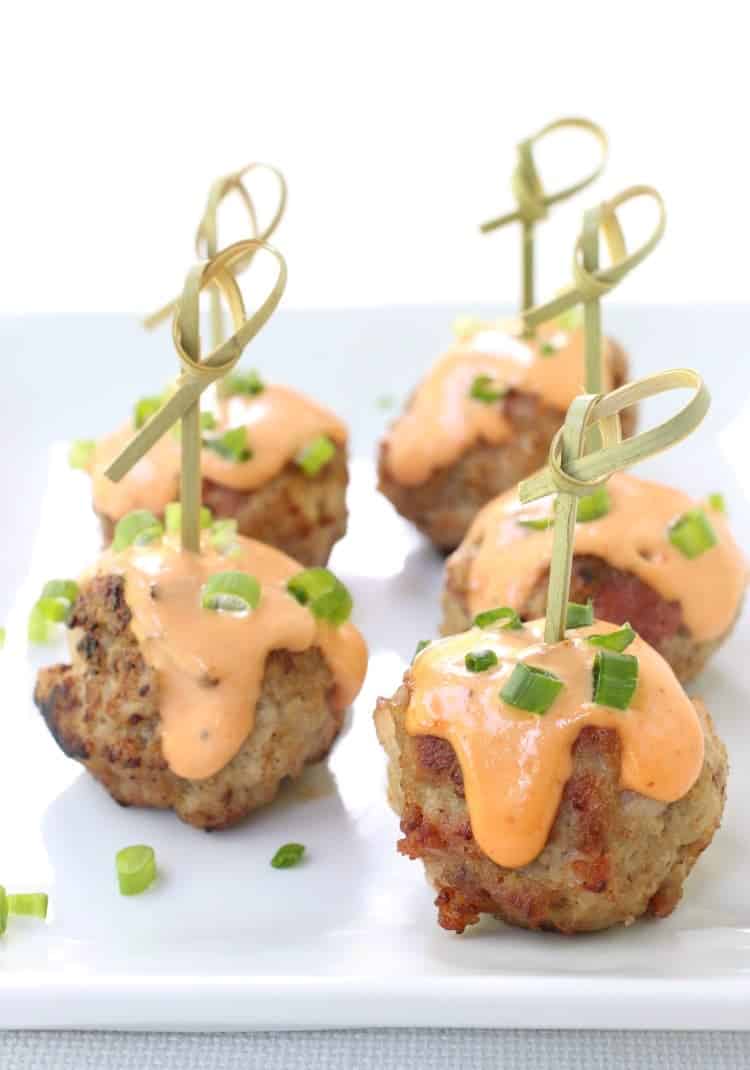 Bacon and Pork Meatballs with Chili Remoulade
These Bacon and Pork Meatballs with Chili Remoulade are so addictive, you might forget that dinner is actually coming next!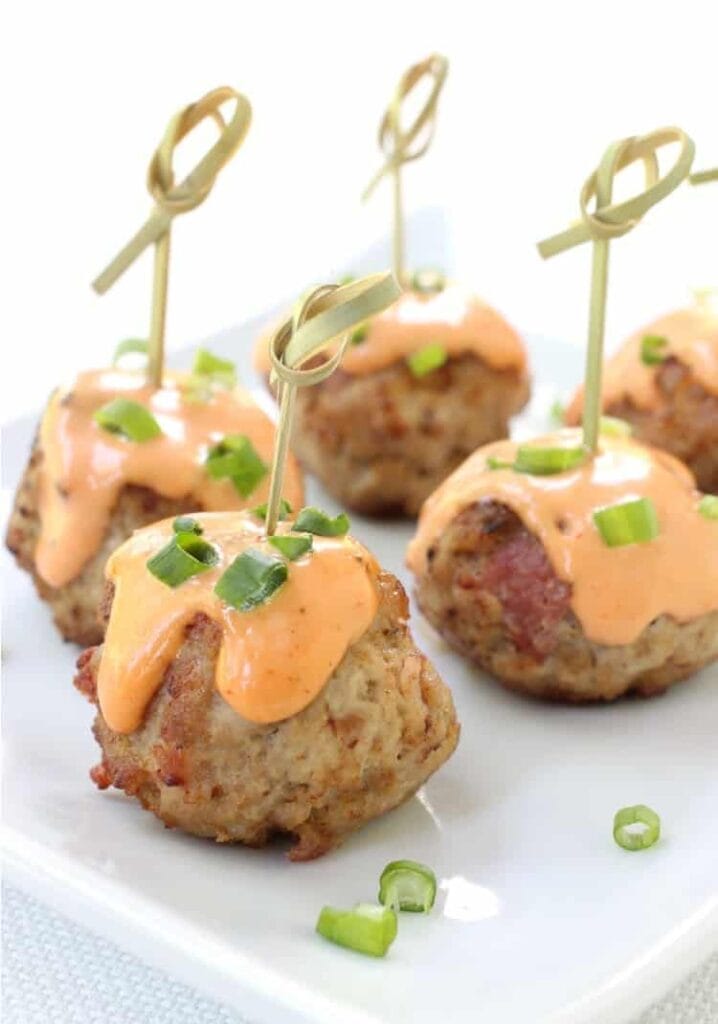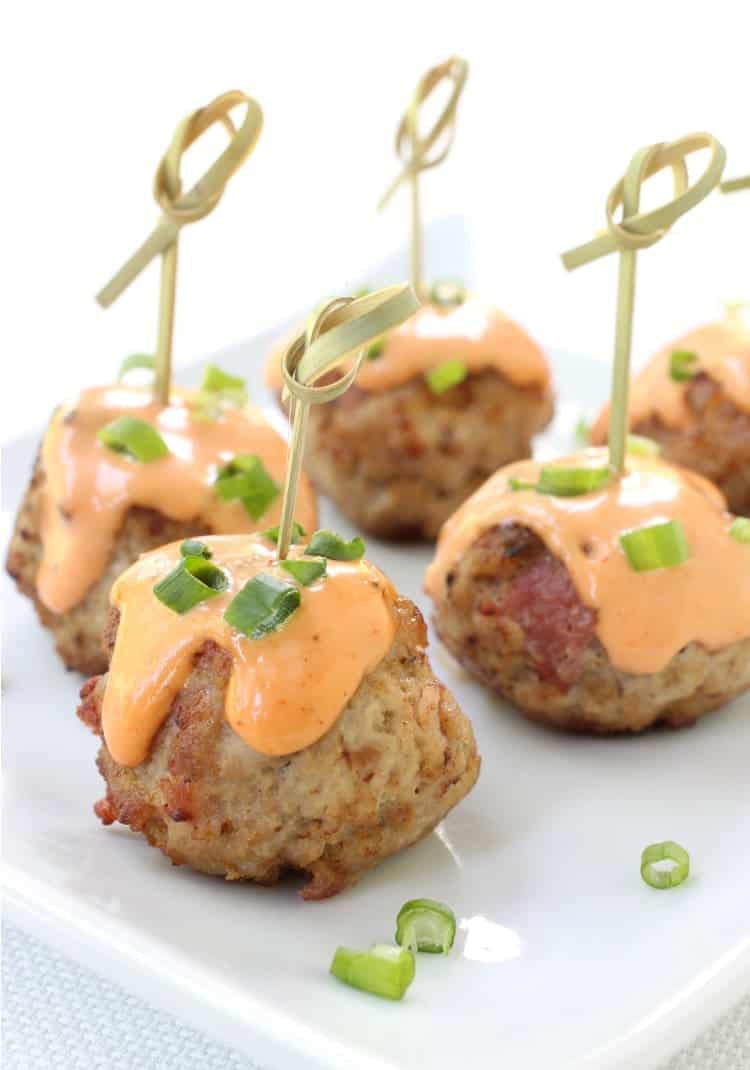 These meatballs are definitely one of my favorite meatball appetizers. I say that a lot, I know. But these are IT.
Full of bacon – a half pound to be exact – quick pan fried and covered with a chili remoulade sauce that you'll be using for everything. And I mean everything.
Fry sauce? Check.
On a turkey sandwich? Check.
Even as a dip for vegetables or as a dressing on you favorite iceberg salad. It's that good.
Sometimes the sauce that you're dipping something in kind of makes the whole taste, but these meatballs have it going on both way, the meatball is just as good as the sauce.
The interesting part about this recipe is how the bacon gets mixed into the meatballs. It's raw, not cooked ahead of time. But surprisingly you don't get chewy bacon. It's crispy on the outside where the meatball hits the oil in the pan and on the inside…it just kind of melts away and flavors the pork.
It really couldn't be more perfect.
I tried at first baking these meatballs and they turned out OK. But OK isn't what I'm going for. So a quick pan fry is what you need to do to get the best flavor out of these meatballs, trust me on that one.
Once they're cooked through and nice and crispy, remove them and let them drain on a paper towel lined plate.
Mix up the sauce with just a few ingredients and you're on your way to some of the best tasting meatballs ever.
You can pour the sauce on top or serve it on the side for dipping. Whatever way you do it, these are going to blow your party guests away.
What? Not having a party? Then just whip these up for dinner over rice or with a salad.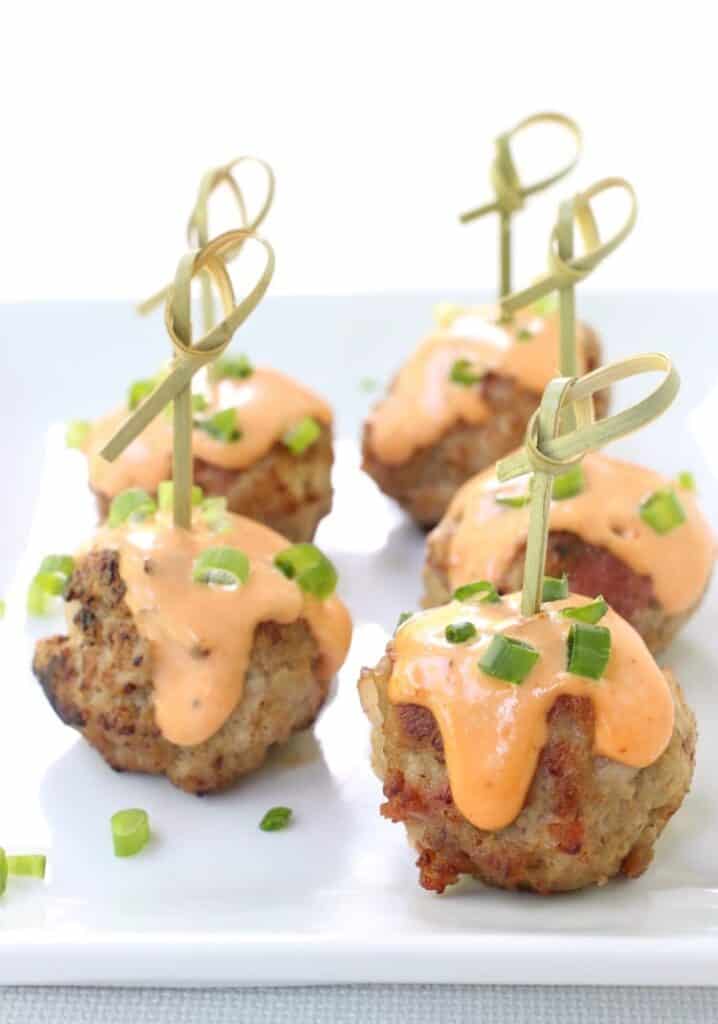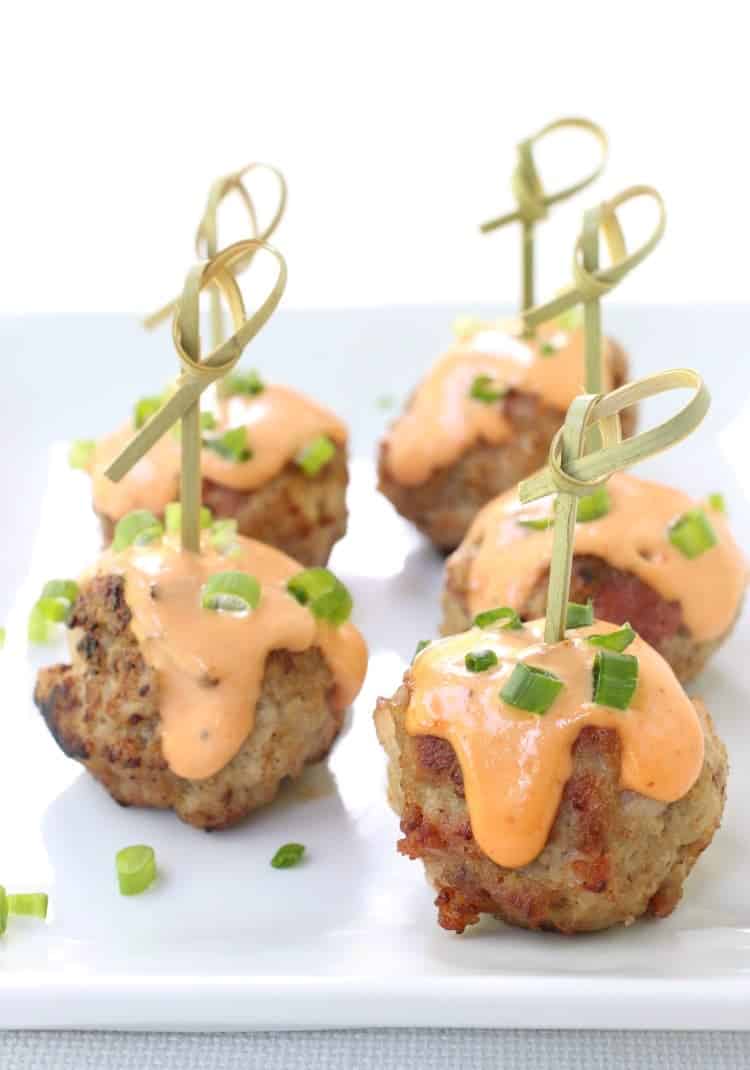 Hopefully you'll have just a few leftover because these are great midnight snacks too – cold from the fridge!
Print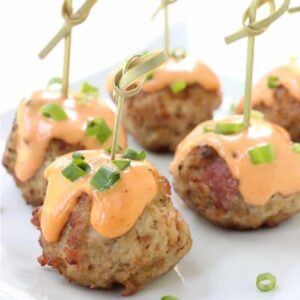 Bacon and Pork Meatballs with Chili Remoulade
---
Ingredients
For the Meatballs
1

lb. ground pork

1/2

lb. bacon, cut into a small dice

3

cloves of garlic, chopped fine

1 teaspoon

dijon mustard

1 tablespoon

worcestershire sauce

1 teaspoon

salt

1/2 teaspoon

black pepper

1/4 cup

plain breadcrumbs
For the Remoulade
1/2 cup

mayonnaise

1/4 cup

sweet chili sauce (you can substitute ketchup if you need to)

1 tablespoon

sriracha
a few grinds of black pepper
For garnish
1/4 cup

chopped scallions
---
Instructions
Mix all the ingredients for the meatballs together in a large bowl.
Using a 1 1/2 tablespoon scoop, portion out the meatballs and place on a baking sheet sprayed with cooking spray.
Heat a large skillet with the canola oil and cook the meatballs over medium heat, turning to crisp on all sides for a total cooking time of 10-12 minutes. Cut a meatball open to test, making sure the center is no longer pink.
Remove the meatballs to a paper towel lined plate while you mix together the sauce.
Serve the meatballs with the sauce on the side for dipping and garnish with chopped scallions.