Bring on the flavor with Zesty Mustard Glazed Cocktail Meatballs! These zesty meatballs can be made ahead and kept warm in your slow cooker all night!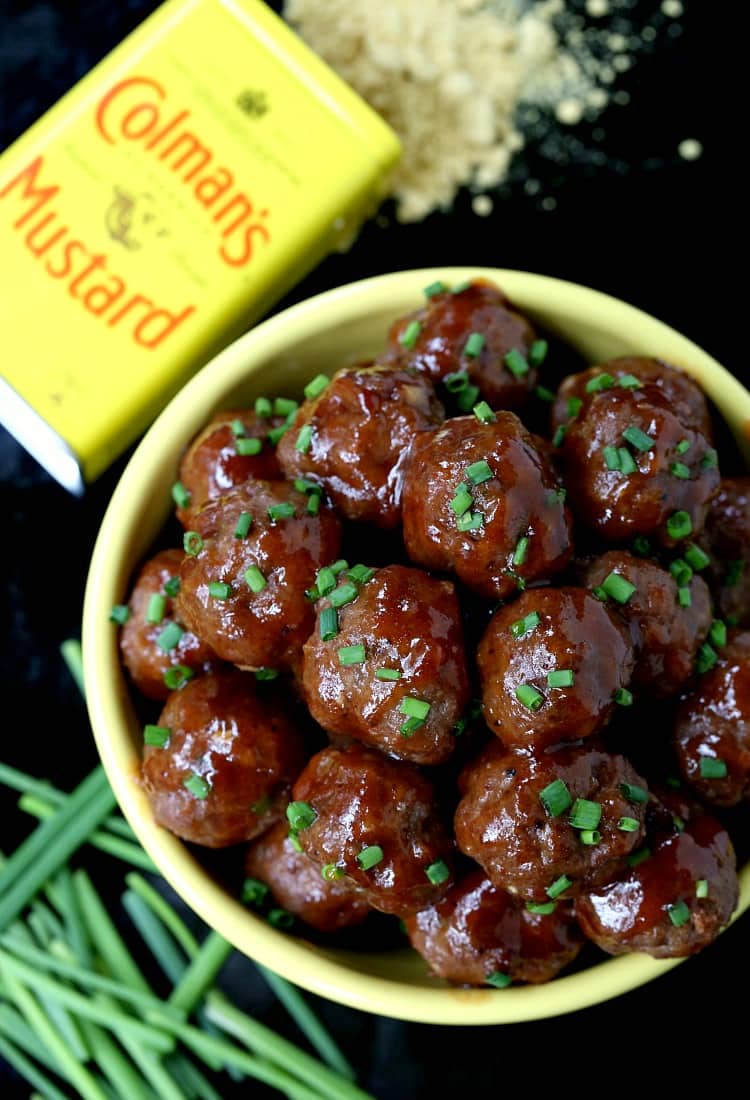 Let's talk party food for a minute.
Party food (in my opinion) should be fun, a little indulgent, and easy to prepare.
And it doesn't have to always be an easy recipe, instead it could be a more time consuming one too but definitely one that can be made ahead of time.
Recipes like these Zesty Mustard Glazed Cocktail Meatballs are going to fit both that criteria perfectly. First of all, they are a really easy appetizer to make. Just a few minutes of prep time to getting these cocktail meatballs started.
Also, these meatballs are a make ahead recipe that can be kept warm in a crock pot or slow cooker before and during the party.
Above all, I like to enjoy my parties. Not just be the guy in the kitchen serving you…because I want to be at the party too.
Finally, don't you hate when you're looking up recipes to make and you have to run out for that one thing that you don't have? Happens to me all the time.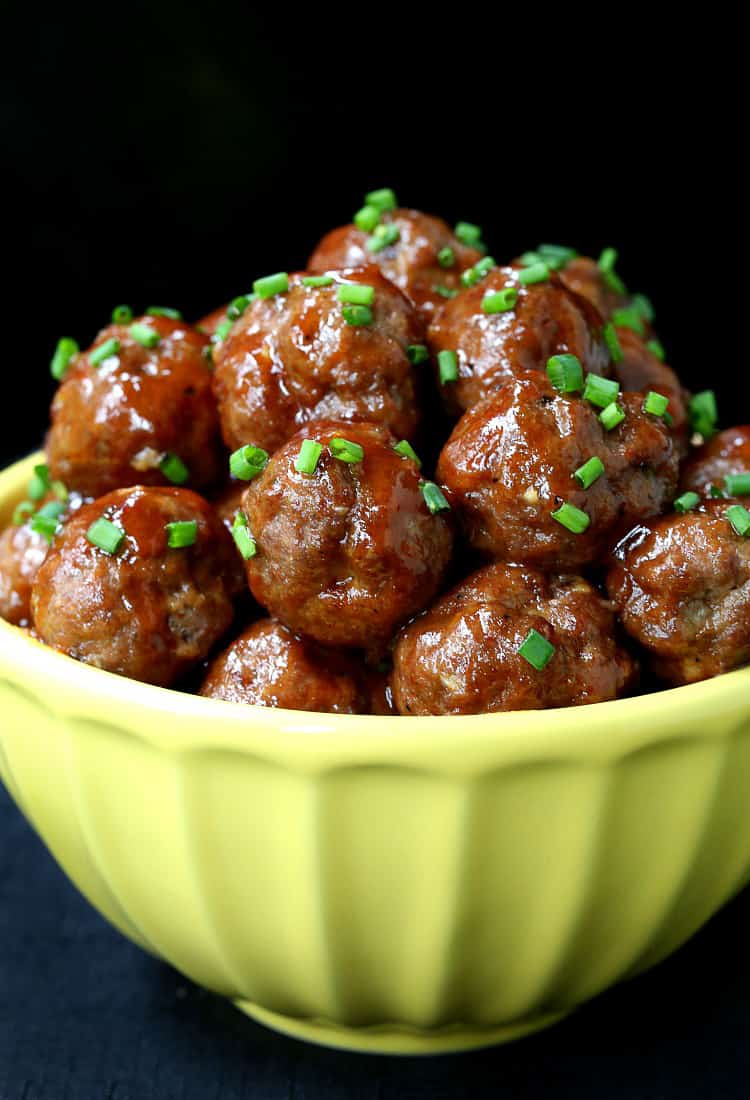 Sometimes it makes me skip over the recipe and look for another one…sometimes it makes me run out to the store for one thing.
Which, as you all know, turns into 500 things. I don't think it's physically possible to go into a store for one thing.
It's against all the forces of nature.
So that's another reason to make these Zesty Mustard Glazed Cocktail Meatballs because I'm pretty sure you already have what you need.
Colman's Dry Mustard is the key ingredient to making this easy meatball recipe. I know you have that can of dry mustard in your spice cabinet just waiting for you to use…
Just mix up a few ingredients and shape them into meatballs about this size –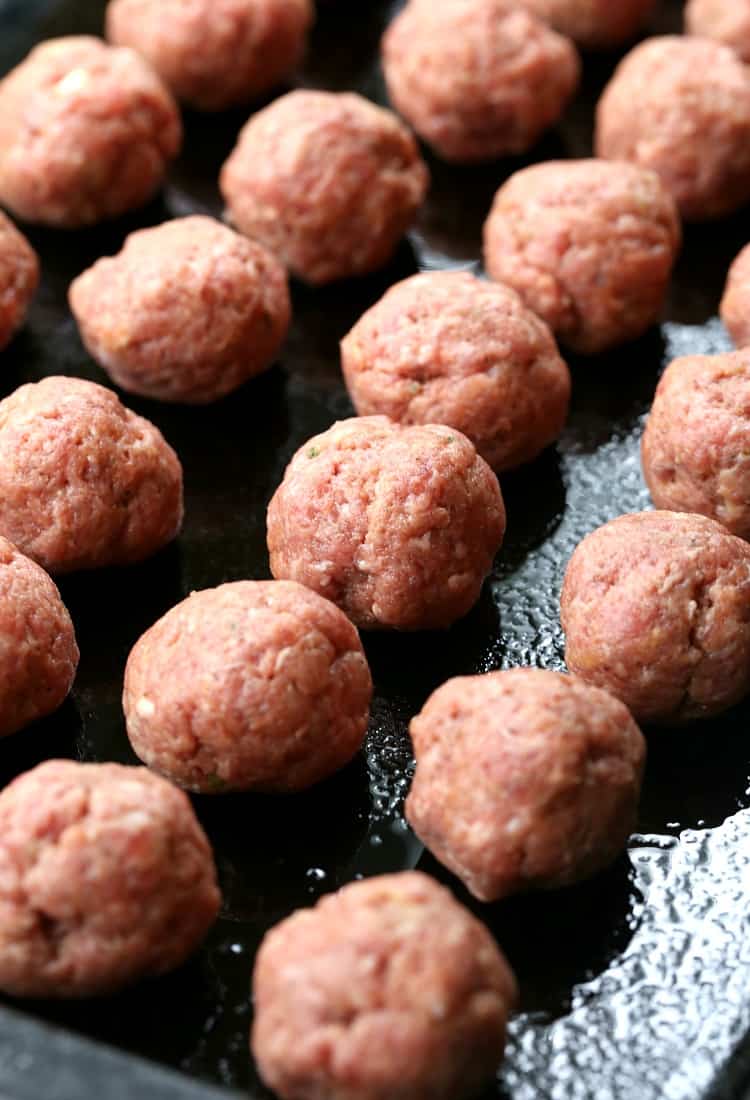 Bake for 15 minutes and then start the sauce which is just honey, barbecue sauce and a LOT of Colman's Dry Mustard.
We're talking 2 tablespoons of dry mustard in this recipe because you definitely want to bring the flavor!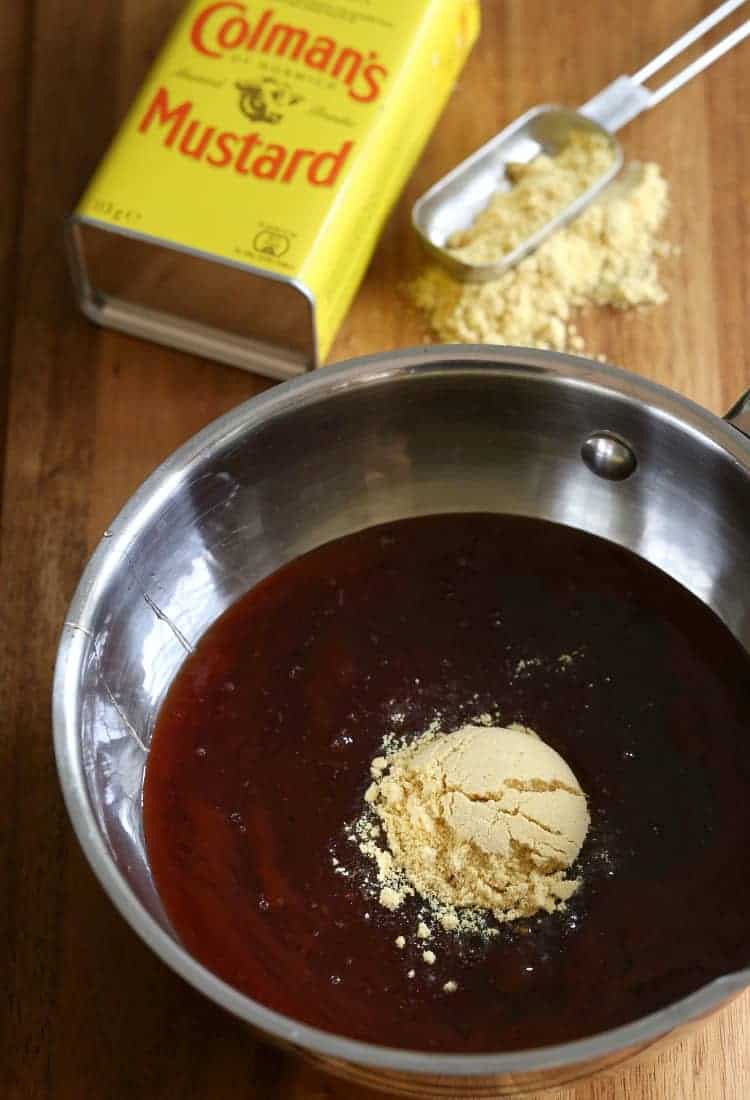 I don't know about you but those are all things we usually have at all times so these meatballs are going to be on our appetizer menu pretty often.
If you've never used a lot of dry mustard before maybe now is the time to try it.
So we all use a teaspoon or so in our deviled egg filling or maybe in your favorite barbecue sauce recipe but there's so many ways to use dry mustard besides just those recipes.
Dry mustard brings a certain back heat to the party…not that blow your head off type heat. That subtle heat that creeps up on you after a few minutes and warms up your mouth.
That's the kind of heat we're talking about today and this recipe nailed it.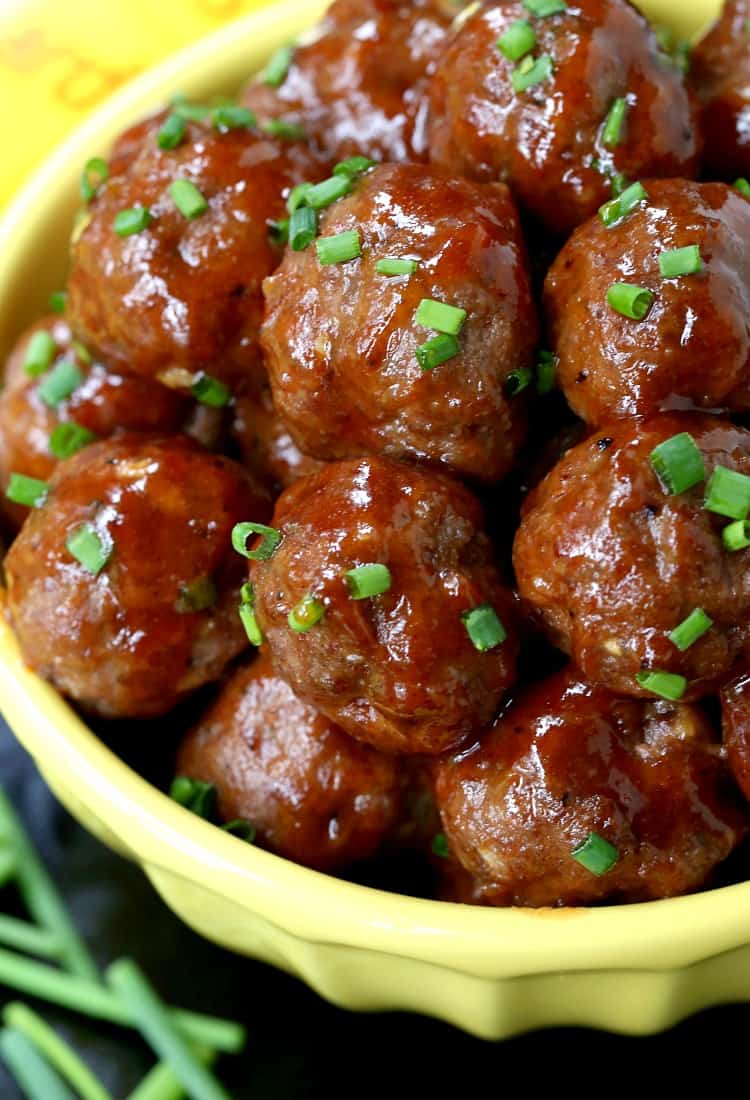 If you're looking for a make ahead easy appetizer recipe, this is the one! These meatballs bake in the oven but once they're done you can keep them warm in your crock pot or slow cooker all night!
Just about 15 minutes in the oven and a three ingredient sauce to get these on the table, about 20 minutes from beginning to chow time.
How perfect is that? And don't just wait for a party or a potluck that you need to bring something to – we make these for dinner all the time!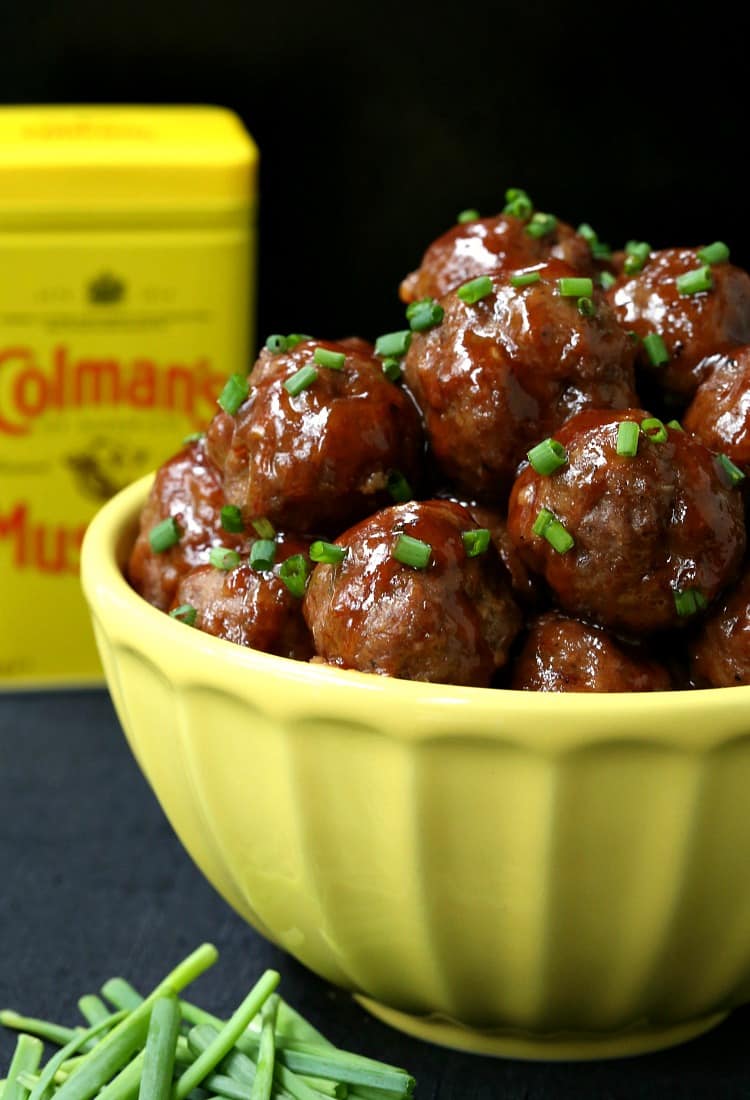 A side of broccoli or rice (or broth) is all you need to round out these cocktail meatball appetizers and make it a meal!
So really, it's probably the best meatball recipe ever.
Looking For More Meatball Recipes?
Print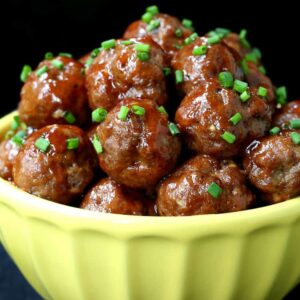 Zesty Mustard Glazed Cocktail Meatballs
Author:

Prep Time:

5 minutes

Cook Time:

15 minutes

Total Time:

20 minutes

Yield:

about

40

meatballs

1

x
These cocktail meatballs have a sweet and mildly spicy sticky glaze that is so addicting and perfect for parties!
Scale
Ingredients
2 lbs. ground beef
1 egg, beaten
1/2 cup breadcrumbs
2 cloves garlic, chopped
1 teaspoon onion powder
2 teaspoons Colman's Dry Mustard
1 tablespoon worcestershire sauce
1 teaspoon kosher salt
1/2 teaspoon black pepper
1 tablespoon BBQ sauce
2 tablespoon chopped chives (for garnish)
Sauce:
1/2 cup honey
1/2 cup bbq sauce
2 tablespoons Colman's Dry Mustard
Instructions
Preheat the oven to 400 degrees.
Mix the ingredients together for meatballs (excluding the chives) and shape using a 1 1/2 tablespoon scoop (golf ball size) and place on a baking sheet that has been sprayed with cooking spray.
Bake the meatballs for 15 minutes.
While the meatballs are baking, mix together ingredients for the sauce in a small saucepan and simmer on low heat until the meatballs are cooked.
Add the meatballs to a large bowl and pour the sauce on top, tossing to coat the meatballs in the sauce.
Garnish with chives and serve immediately or keep warm in slow cooker.
Category:

appetizers

Method:

oven

Cuisine:

American
Keywords: meatballs, appetizers, party food, dry mustard recipes, slow cooker recipes, easy recipes