How much do we love fried rice??? More than you can imagine. We've got everything here from traditional fried rice recipes to tasty recipes with a fun twist. Choose any of our Best Fried Rice Recipes for a delicious, easy dinner that everyone is sure to love!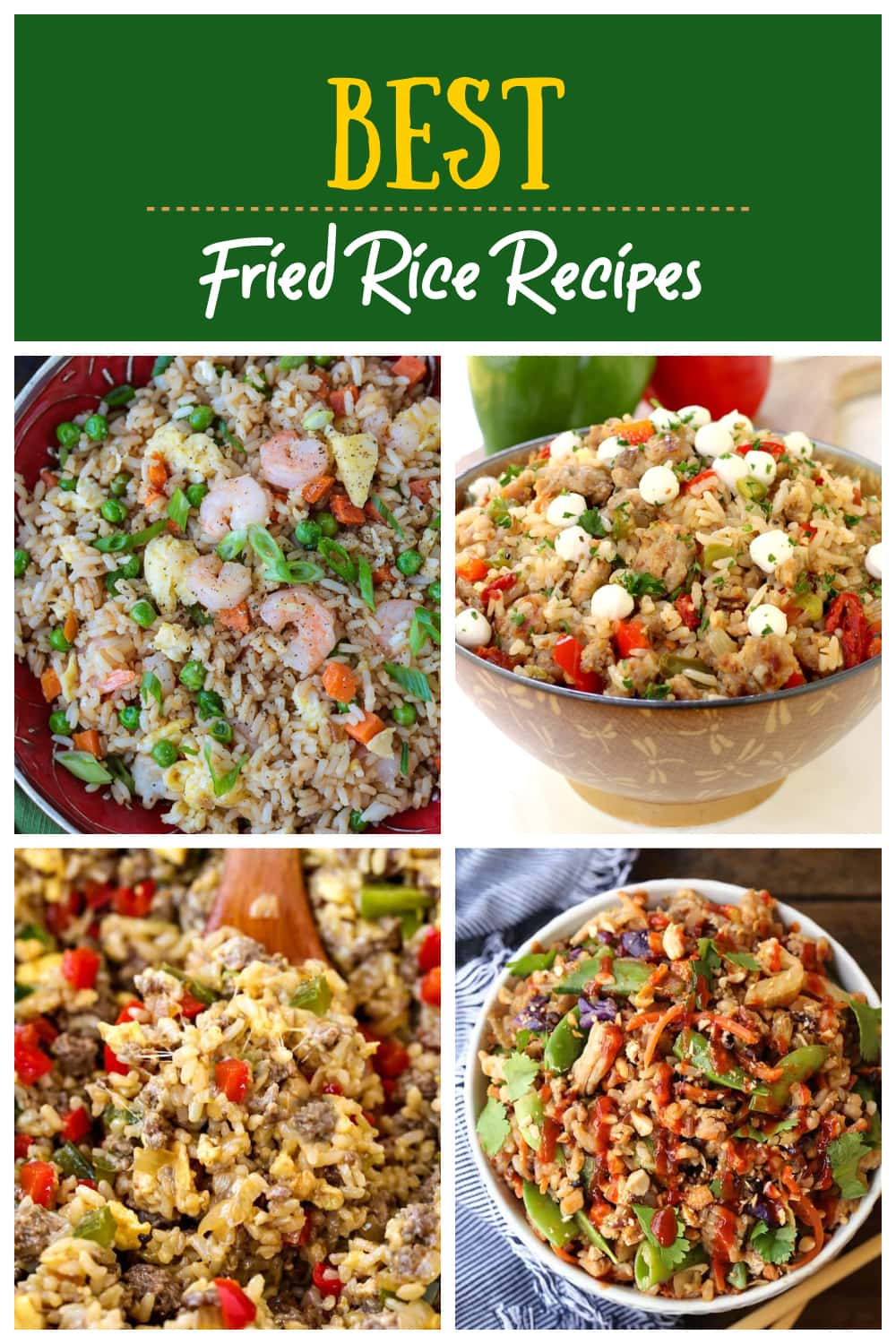 What Is The Secret To Good Fried Rice?
Fried rice isn't hard to make, but there are a few tips and tricks that will make your rice taste more authentic and produce better results.
Use day old, or cold leftover rice: If you don't happen to have day old rice in the fridge, cook up your rice the morning of, spread it out on a sheet pan and chill in the refrigerator until dinner time. This helps to dry the rice out and separate the grains so that you don't end up with mushy fried rice.
Cook with high heat: Or as high as your stove will allow you to go. This is how you achieve that stir fried flavor when ordering from a restaurant. Almost a charred vibe, smoky and delicious.
Use the right pan: On that note, you'll need a pan that can hold up to high heat. A wok, of course, is great, but you don't have to use a wok. You need a very large, deep skillet or a dutch oven that for one can be used with high temperatures and for two, has enough room for all of the ingredients to stir fry without crowding together.
Don't use too much sauce: Sometimes we tend to want to add more sauce than fried rice needs. Add whatever sauce that you're using a little at a time so that you don't over saturate the rice and take away all of that delicious, charred flavor and texture.
What Makes Fried Rice Taste So Good From A Restaurant?
All of the above tips are a great way to start. Another reason that fried rice tastes so delicious from a Chinese restaurant is the combination of flavors in their sauces and seasonings.
Our list of Best Fried Rice Recipes has a few that we think are pretty authentic tasting, but still doable for the home cook. You don't have to run out and grab crazy ingredients, but there are a few staples.
One super easy way to add great flavor to fried rice is by adding a couple of tablespoons of our Homemade Stir Fry Sauce. This sauce is such a staple in our kitchen. It adds tons of flavor to any stir fry recipe in addition to most fried rice recipes.
***BONUS…it only takes 5 minutes to make and will last all week in the fridge!
Staple Ingredients For Making Fried Rice
Day old or leftover, cold, long grain rice
Eggs
Vegetables (see below for ideas!)
Soy Sauce
Toasted Sesame Oil
Oyster Sauce
Ginger
Garlic
Avocado, vegetable, canola oil or butter!
Fried Rice Variations
This list of Best Fried Rice Recipes is going to cover lost of tasty variations of fried rice recipes. Everything from authentic chicken fried rice to a fun twist like Italian Fried Rice with mozzarella cheese.
But in addition to these recipes, you can use a basic fried rice recipe and switch it up with different vegetables, sauces and proteins, too!
Protein Choices: To keep it vegetarian, small diced firm tofu is a great option. Chicken, ground beef or sliced steak, ham (great use for leftover ham!) shrimp and pork all work wonderfully in fried rice.
Vegetables: Traditional peas and carrots are always a solid choice. Edamame, broccoli, bok choy, scallions, bell peppers, mushrooms and cauliflower will all work great.
Best Fried Rice Recipes
Everything from traditional, authentic tasting fried rice to fun recipes with a twist! All of these recipes are loved by our family, and they're a great way to use up leftovers!