These Beer Glazed Candied Jalapeños are a sweet and spicy blend of flavors that's going to go perfectly on your cheese and cracker platter!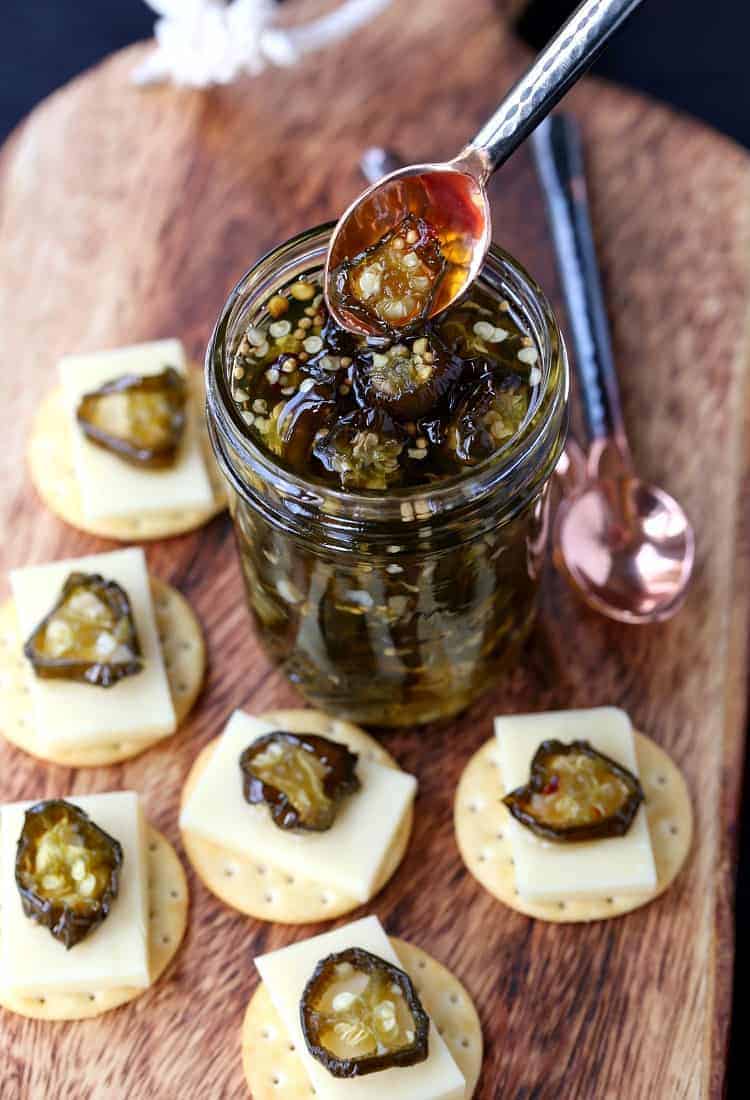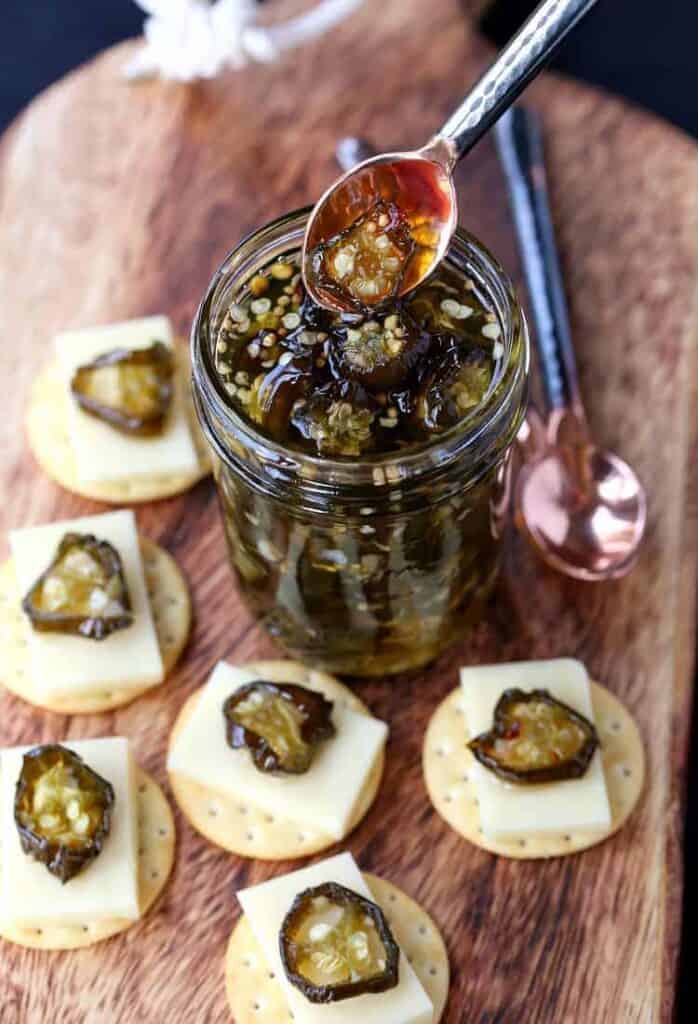 Or you can snack on them in many, many other ways.
Shall we count the ways???
OK, here goes.
Grab a few and stack them on your sandwich instead of pickles.
Throw a bunch on top of your tacos at taco night…this includes burritos, quesadillas, nachos and all like Mexican dishes.
Having a salad? Don't leave out these Beer Glazed Candied Jalapeños, they make a perfect addition to all sorts of salads, especially with a creamy dressing like Ranch.
Get a bowl ready on the side of your steak dinner. Grab one for each bite.
Burgers? Pile them on.
Let's not forget breakfast…you're making an omelet or scrambled eggs? Get these babies in there for a breakfast that'll really get you going!
And I'm really very sure that I could go on for a while longer but you guys get the idea. These Beer Glazed Candied Jalapeños aren't just for cheese and crackers.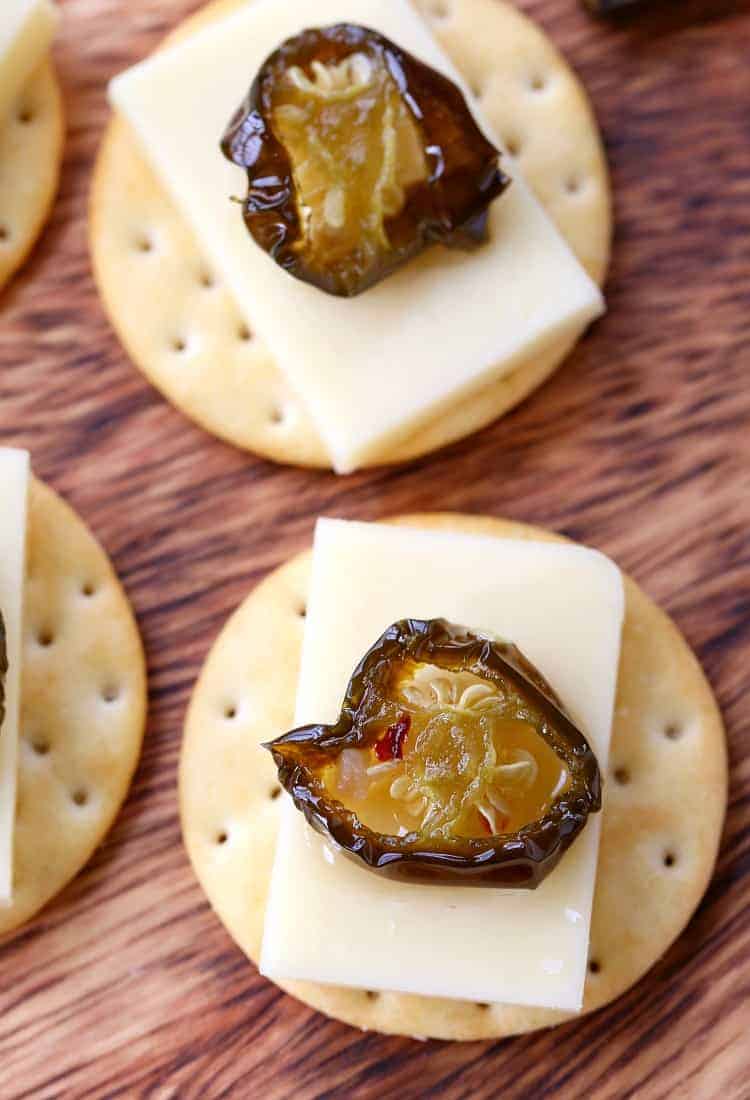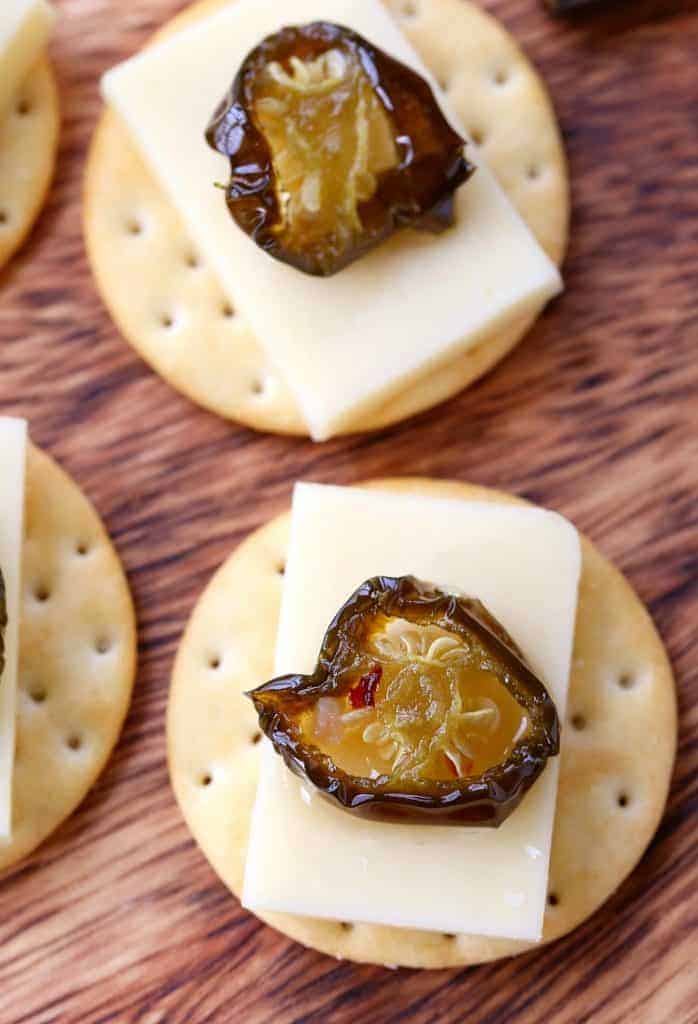 But they do taste really, really good with your cheese and crackers.
And they couldn't be easier to make – start out buy boiling the jalapeños in a mixture of sugar, vinegar, beer and some seasonings.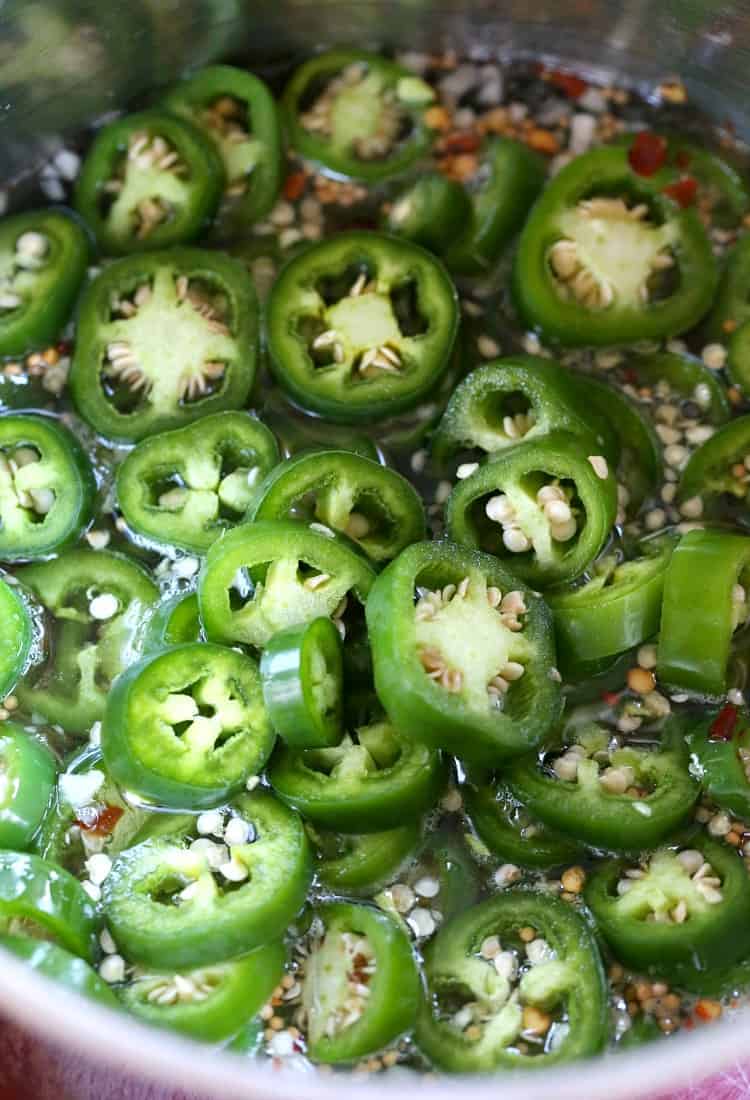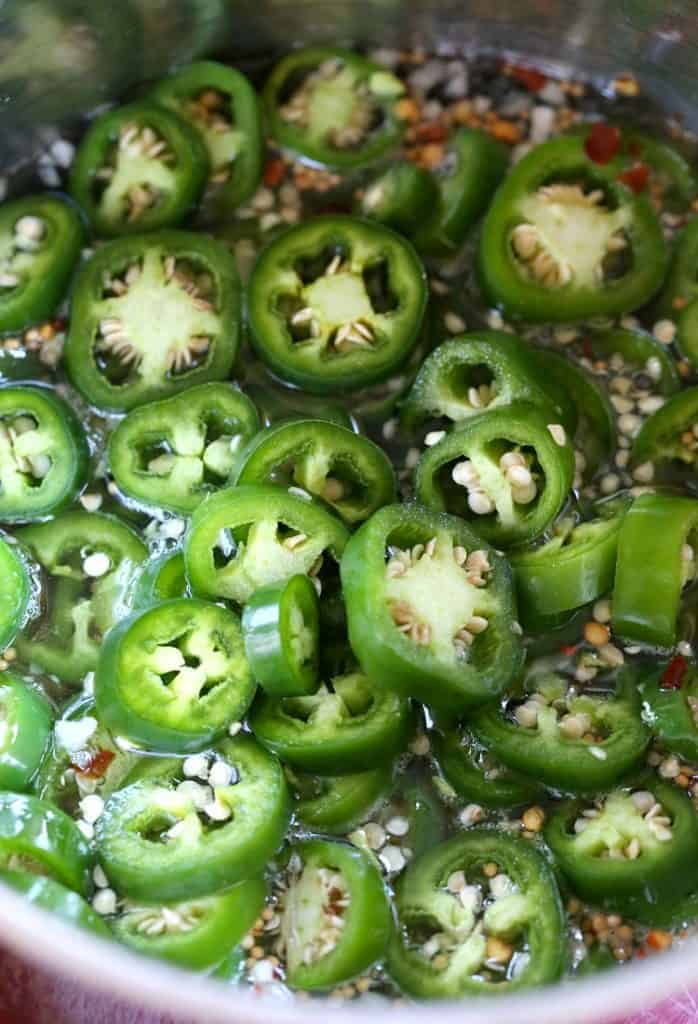 After about 5 minutes, remove them from the pot and reduce the glaze for another 15. They're going to look like this –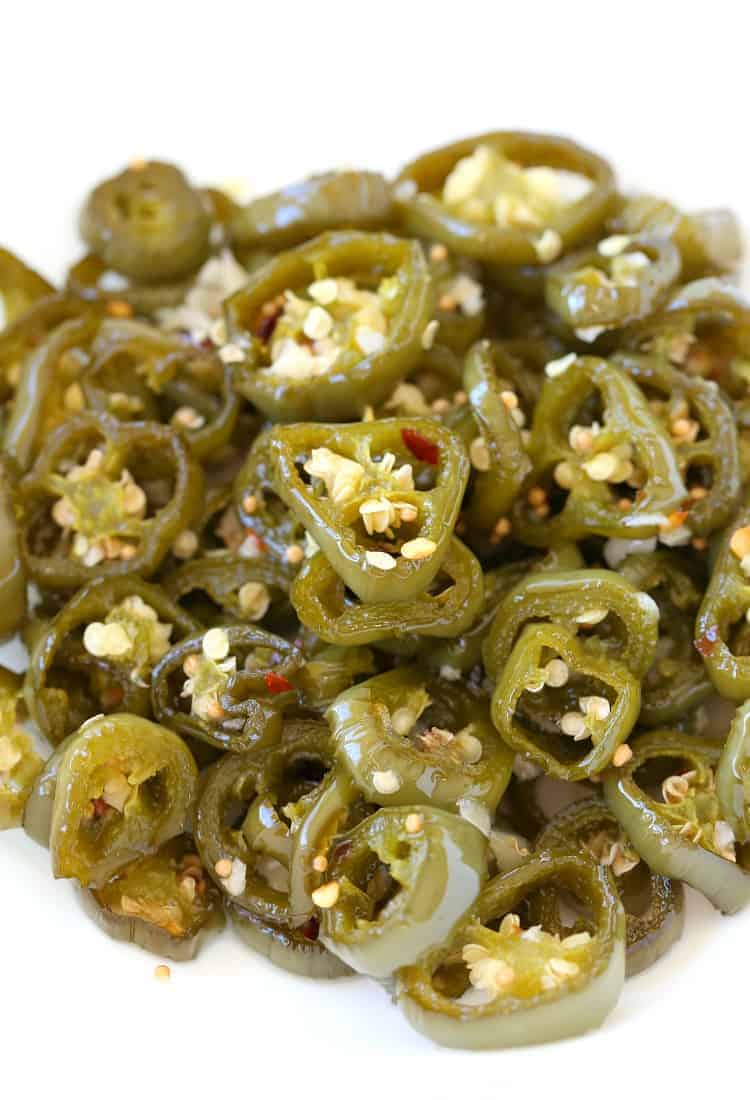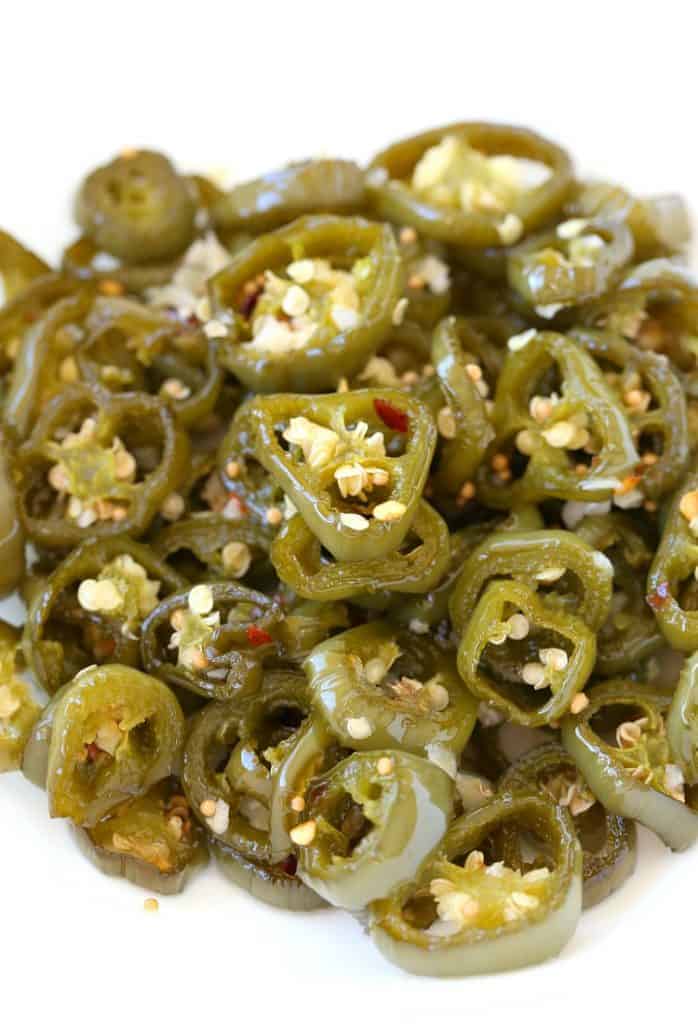 Now you can put the jalapeños back into the reduced spicy beer glaze and get them in the fridge to mellow out.
If you can wait that long. I didn't.
But they do mellow out a little in the refrigerator after a couple of days, then you can keep snacking on them for up to a month.
I know there's lots of recipes for candied jalapeños that involve canning too, not my thing for one, and for another – these Beer Glazed Candied Jalapeños don't last longer than they'll stay fresh right in my fridge.
And with the holiday season upon us, I know you guys are having lots of parties or random friends dropping in to have a drink – which happens a lot this time of year and I just don't know why it doesn't happen ALL the time.
Stop over and have a drink with me. You don't have to wait until the holidays.
And when you do, I'm going to have these Beer Glazed Candied Jalapeños and the most amazing cocktail for you. Whipped up right from the kitchen.
On a random Tuesday.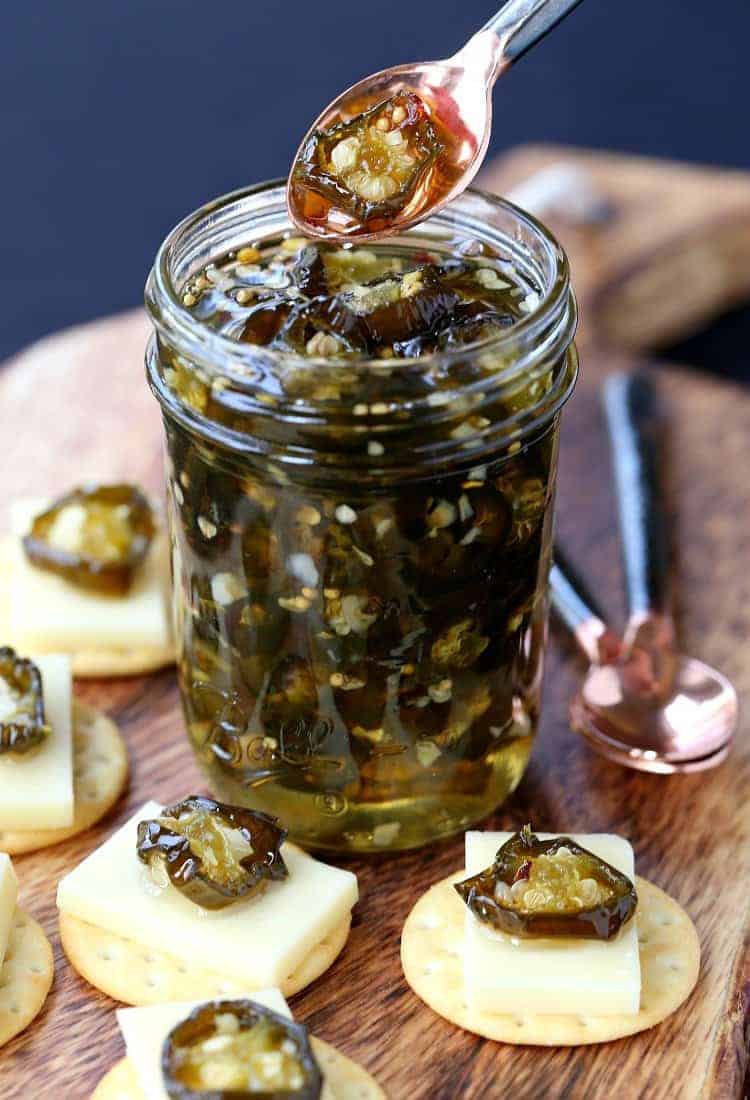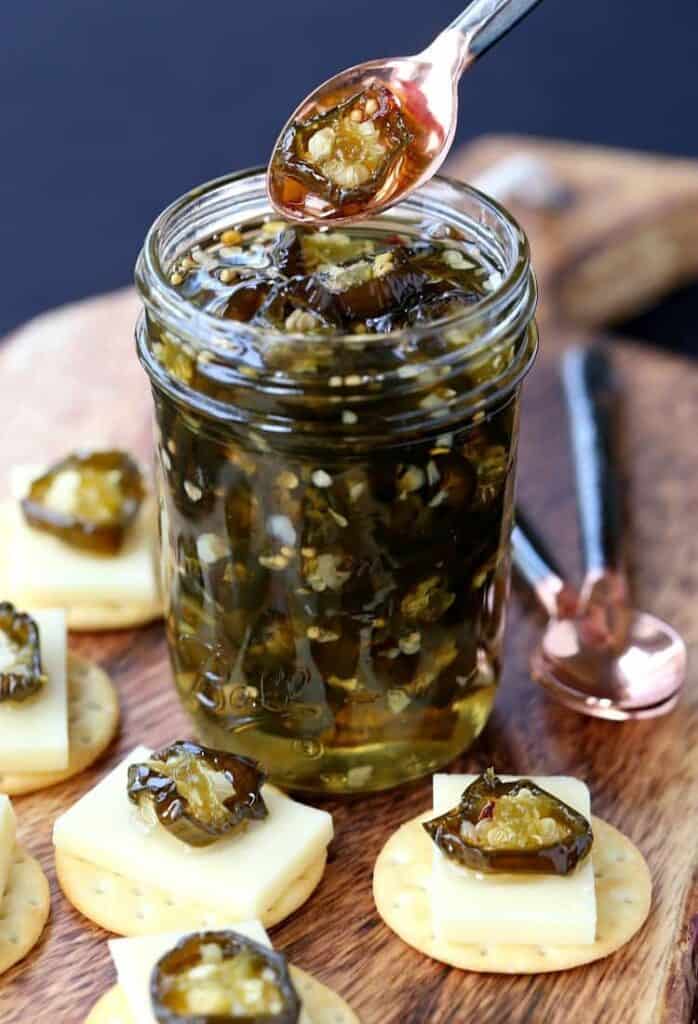 Cheers!
Print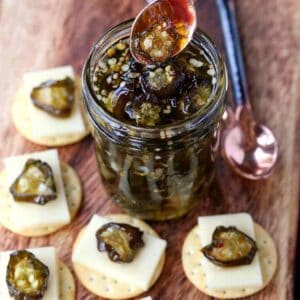 Beer Glazed Candied Jalapeños
Scale
Ingredients
1

lb. jalapeños, sliced

1 cup

apple cider vinegar

1/2 cup

beer

2 cups

sugar

1/4 teaspoon

red pepper flakes

1

/4 teaspoon mustard seed
pinch salt
Instructions
Bring the cider, beer, sugar, pepper flakes, mustard seed and salt to a boil. Stir and cook until the sugar is dissolved.
Add the jalapeños, stir and cook while simmering for 5 minutes.
Remove the jalapeños with a slotted spoon to a bowl.
Bring the liquid back to a boil, turn the heat down and simmer for 15 minutes to reduce the glaze.
Remove from the heat and cool.
Pour the glaze over the jalapeños and chill in the refrigerator for at least 24 hours before serving to mellow the heat.
Recipe Notes
You can store these jalapeños in the refrigerator in a sealed container for up to a month.