Honey Glazed Salmon Meatballs are made with fresh salmon and marinated artichokes, then tossed in a honey lemon glaze that's out of this world!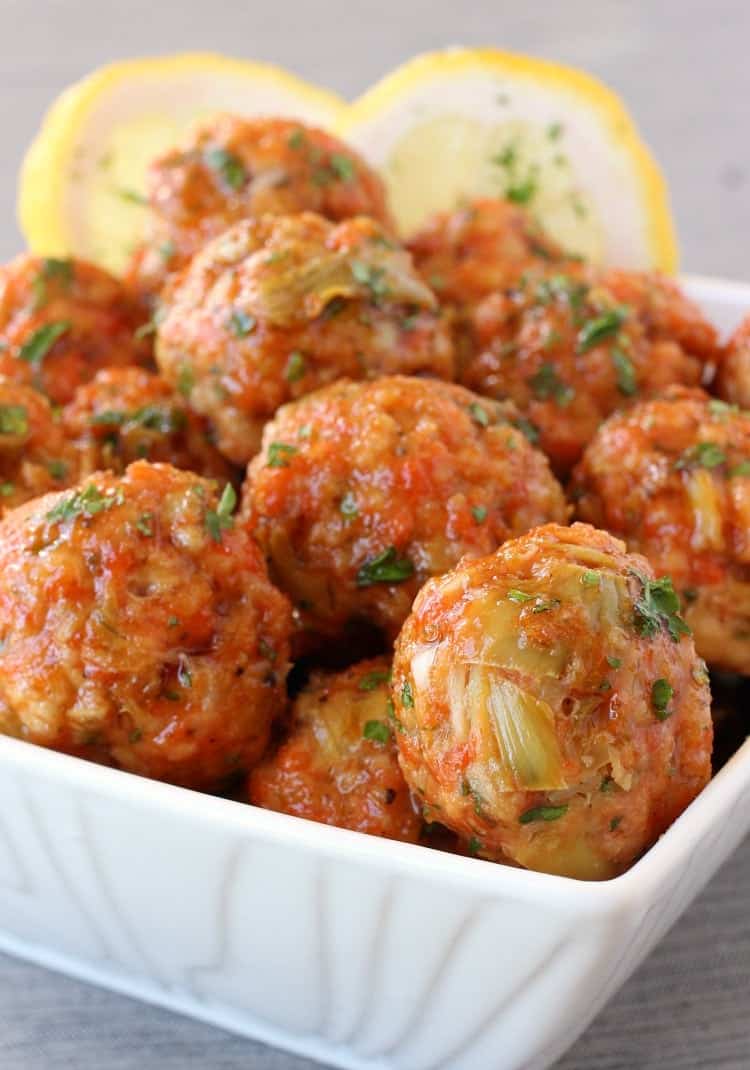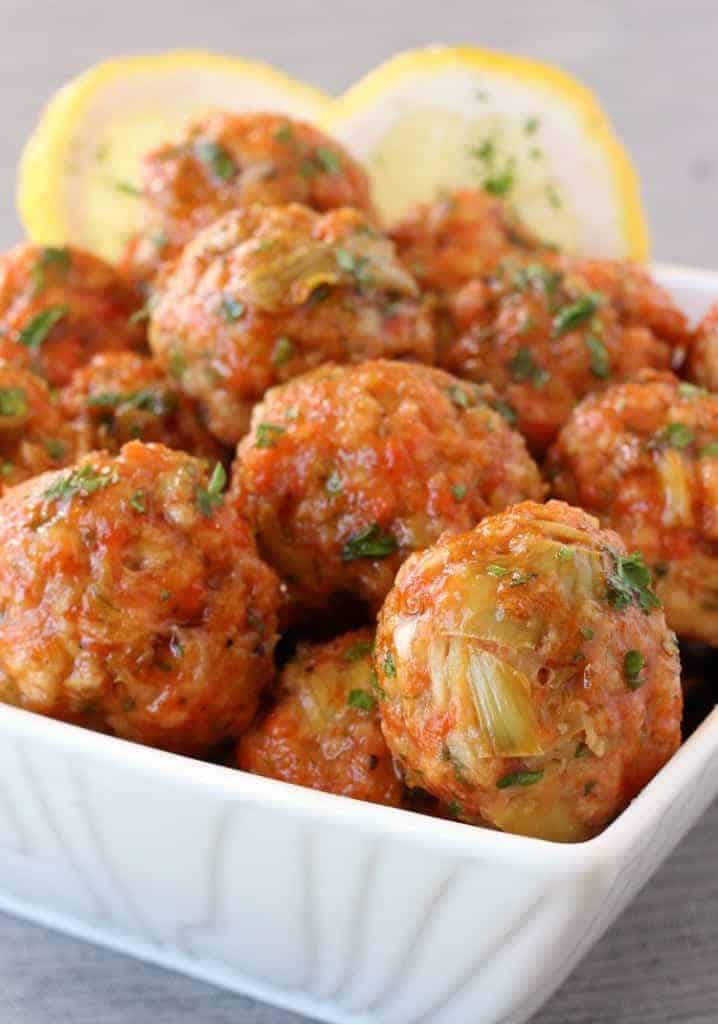 AM I a huge salmon fan? Nope, but I've had it a few times recently and I'll eat it. I'll eat it, but it's not my favorite. But as my theory goes, put it on a stick or turn it into a meatball and it'll taste a whole lot better!
My son's favorite way to eat salmon is teriyaki salmon, actually he said the best way he's ever had it was at The Captain's Grill at Saratoga Springs in Disney World. Everything tastes better at DIsney though right?
But I was thinking more of a lemon flavor with these salmon meatballs – maybe even get them all glazed up with some honey too. And then throw in some artichokes. Yep, Artichokes. Why artichokes? Because I love 'em. Especially these marinated artichokes we get from Trader Joe's – we get a few jars and stock up every time we go.
You could make these with canned salmon but I think you should definitely try using fresh. It's such a huge difference in flavor you won't be sorry.
Just cube up the salmon and get it into a food processor to start.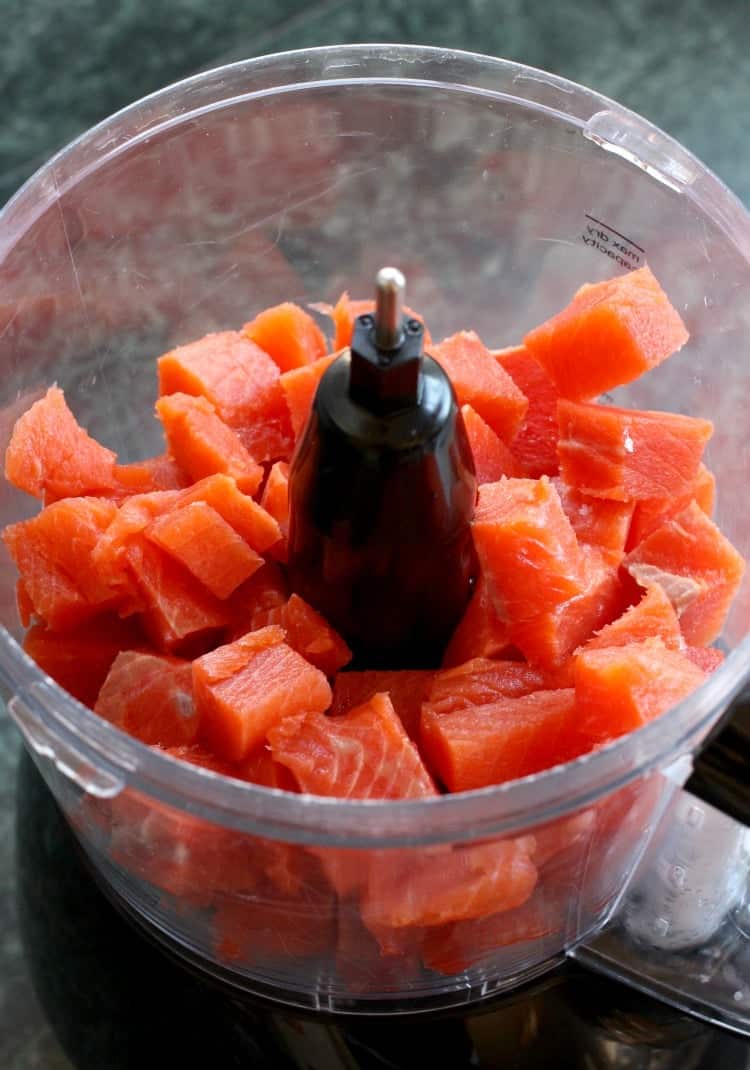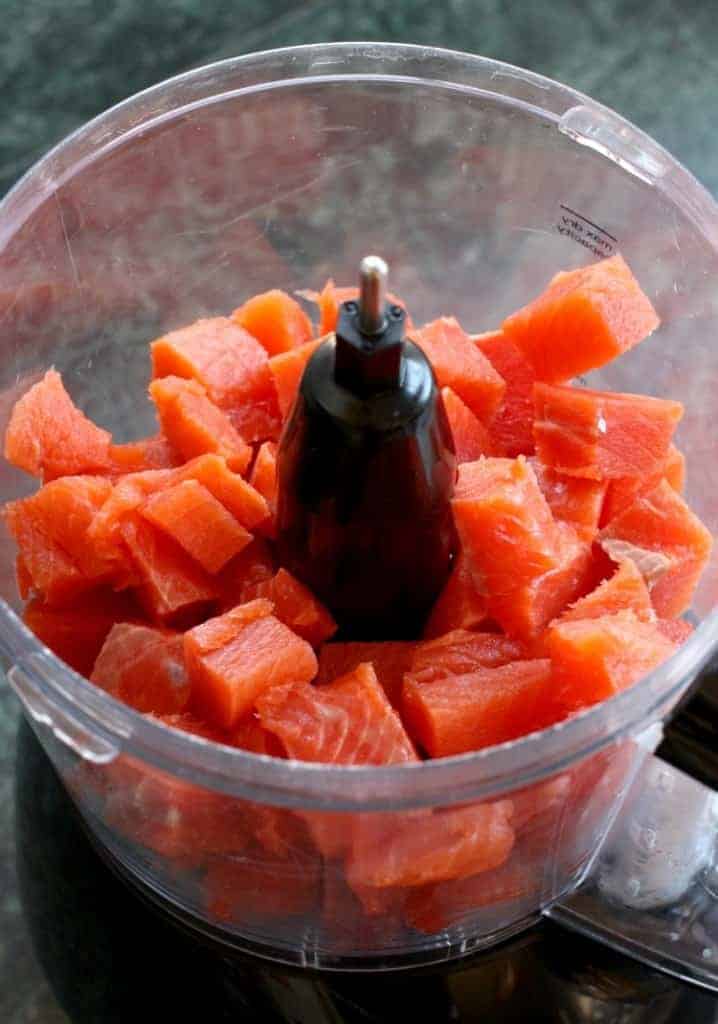 Get that going a little and then throw in the marinated artichokes…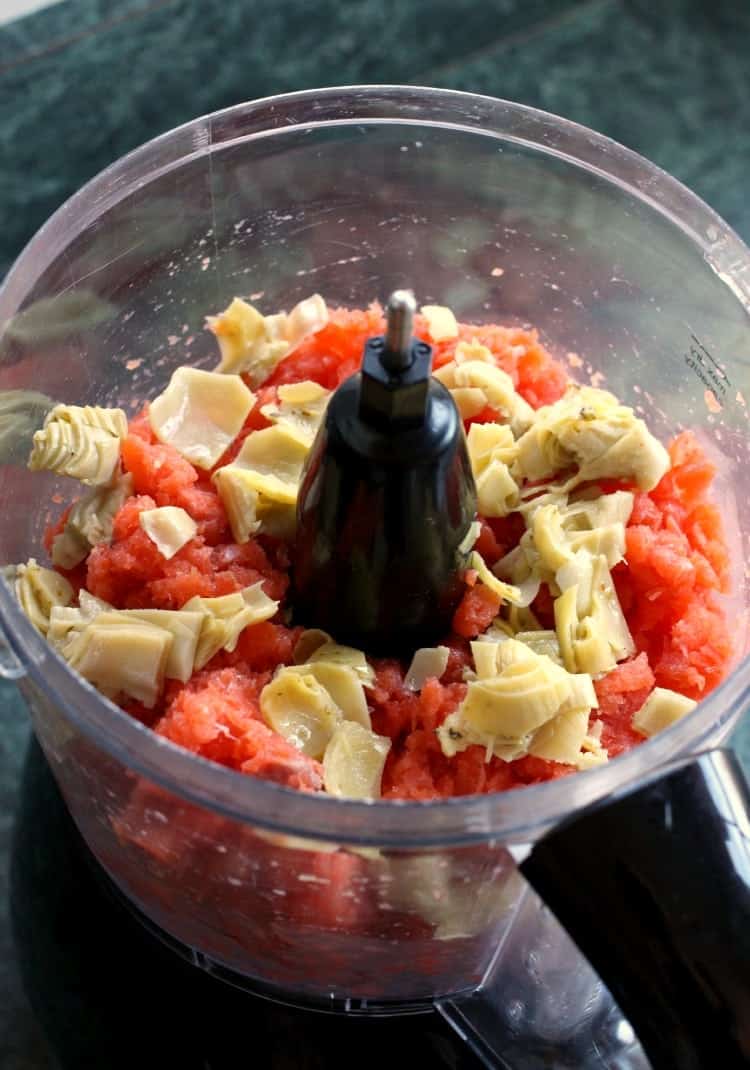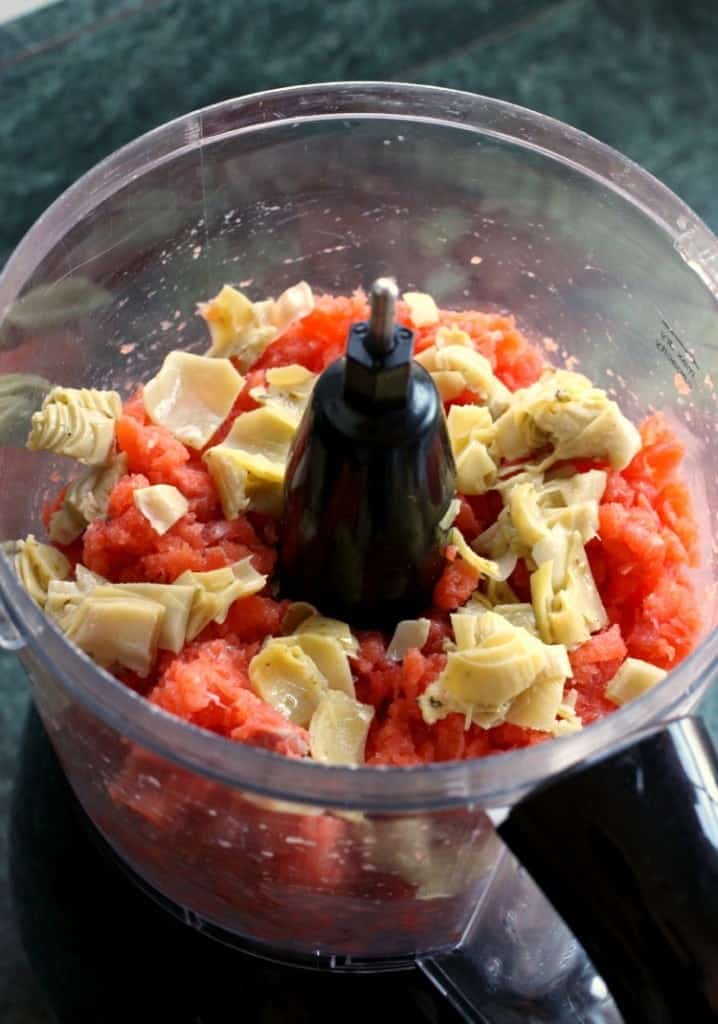 Pour the salmon mixture out into a bowl and stir it together with the rest of the ingredients – then scoop out your meatballs and bake.
While the meatballs are baking you can make the honey lemon glaze, just a few ingredients…heat it up and reduce it down so it thickens and then pour it all over the salmon meatballs.
You're definitely going to win the crowd over with this one!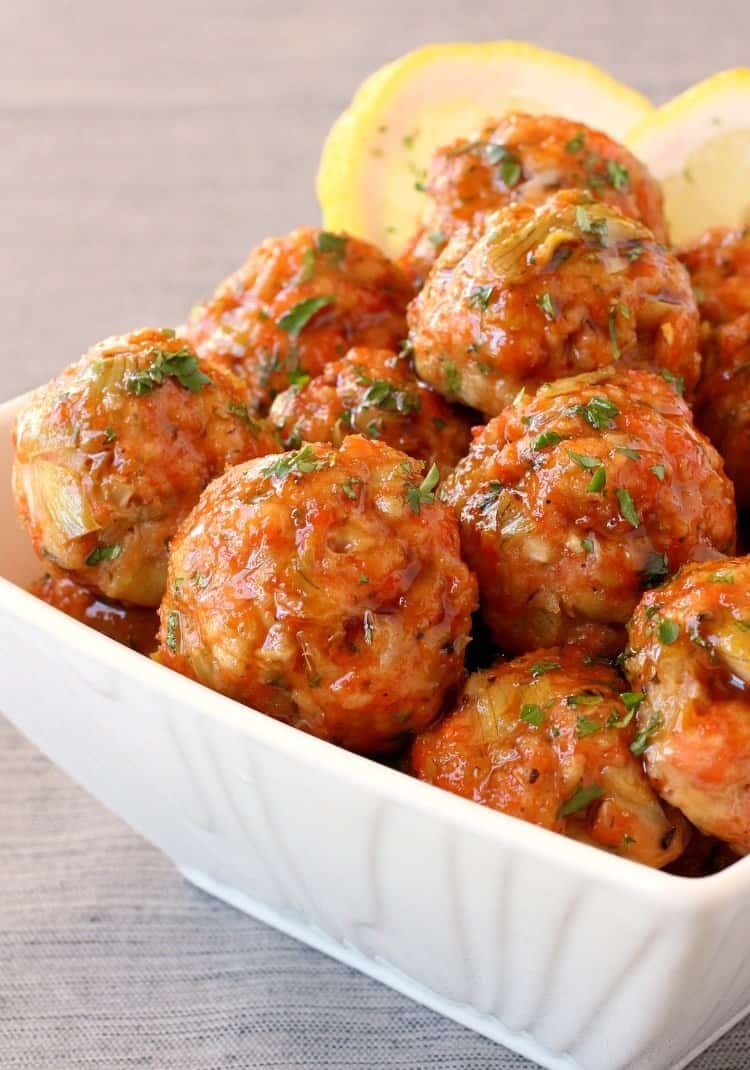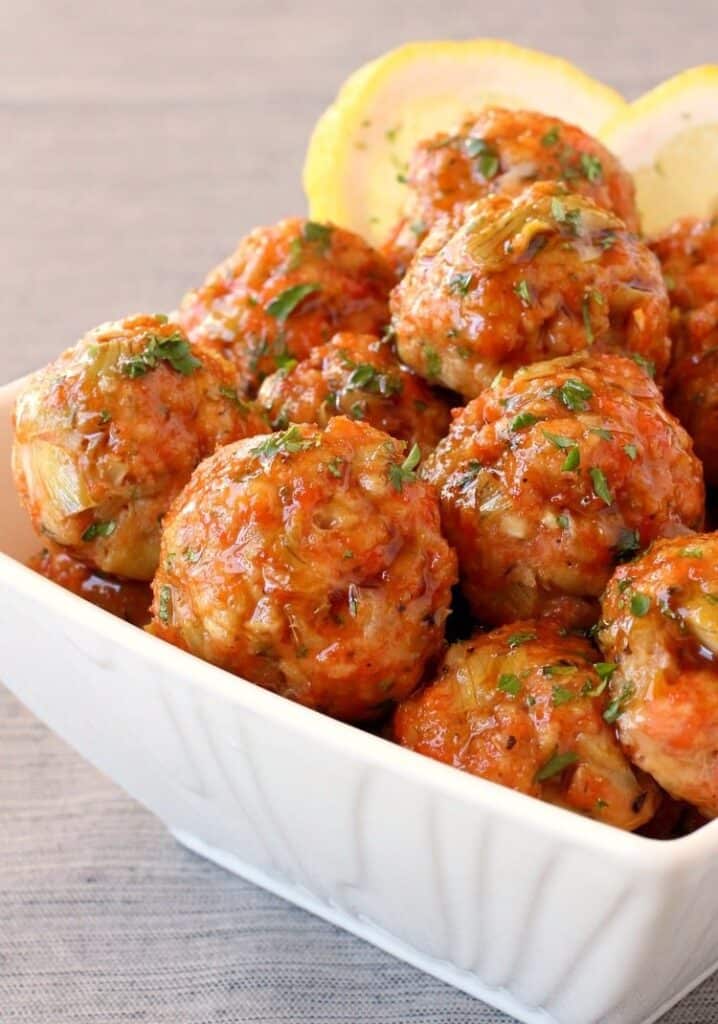 Print
Honey Glazed Salmon Meatballs
Scale
Ingredients
1 1/2

pounds fresh salmon

2 teaspoons

salt

1/2 teaspoon

ground pepper

1 teaspoon

dried oregano

3

garlic cloves, chopped

1 teaspoon

dijon mustard

1 cup

marinated artichokes, chopped

2 teaspoons

lemon juice

1/3 cup

panko bread crumbs

1

egg plus one egg white

2 tablespoons

parsley, chopped
For the Honey Lemon Glaze
1/3 cup

honey

1/4 cup

soy sauce

1/2 teaspoon

garlic powder

1/4 cup

fresh lemon juice

1 teaspoon

apple cider vinegar
Instructions
Preheat the oven to 400 degrees.
Cube the salmon and then add it to a food processor and pulse a few times to break up.
Next add in the marinated artichokes and pulse until it's almost completely mixed together.
Pour the salmon and artichoke mixture into a large bowl and then stir in the rest of the ingredients, mixing well to combine.
Portion out the meatballs using a 1 1/2 tablespoon scooper onto a baking sheet sprayed with cooking spray and bake for 15 minutes.
While the meatballs are cooking you can make the glaze by adding all the glaze ingredients to a small pot.
Bring to a boil and then reduce while the meatballs finish cooking, about 10 minutes.
Toss the meatballs in the glaze and garnish with additional chopped parsley.