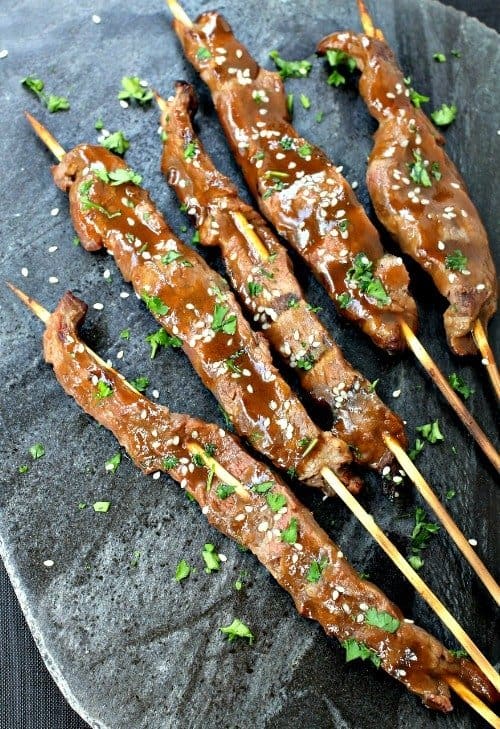 These Korean Steak Kabobs will turn any family dinner into a party! Any time dinner involves kabobs it usually feels like a party to me!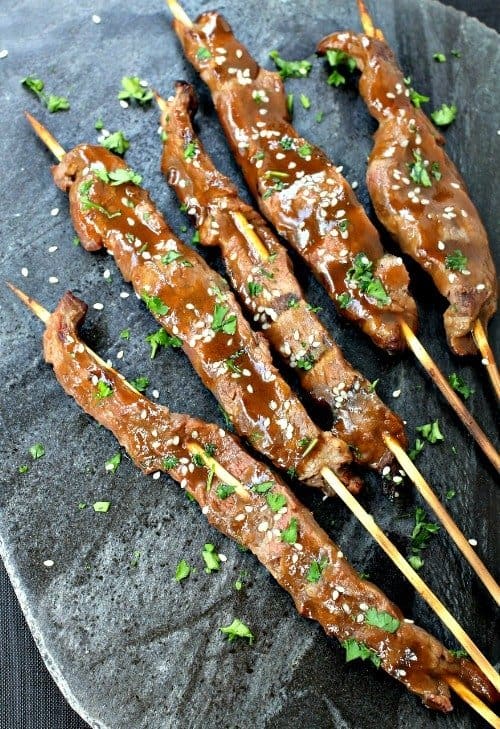 Everything's better on a stick, right? I can tell you that flank steak is definitely better on a stick.
I know it seems like a lot of work to put all those slices of steak onto  skewers but I did this recipe twice. It takes 15 minutes – tops. And because the steak is marinaded for hours and sliced thin it cooks up in five minutes.
One of the quickest dinners that we make is Korean Beef over rice. It literally is done in 15 minutes, the rice probably takes longer than the beef, but it's so good we seems to make it a couple of times a month. So we took that simple recipe and turned it into a filling for Korean Beef Quesadillas. Now when we make Korean Beef we have to triple the recipe instead of just doubling it so we have extra for quesadillas. Lot's of beef going on…
Take those same Korean Beef flavors and turn it into a marinade for a flank steak. The marinade for this steak alone is worth taking down the recipe.
Start a good few hours ahead of time – overnight is best but a good 6 hours at least. Get your flank steak in the marinade – bacon, garlic, soy sauce brown sugar onions and root beer. Not just any root beer of course, I used a hard root beer for this. It's called Not Your Father's Root Beer and it's so good. So good I made sure not to use more than one bottle for the recipe so I could drink the rest.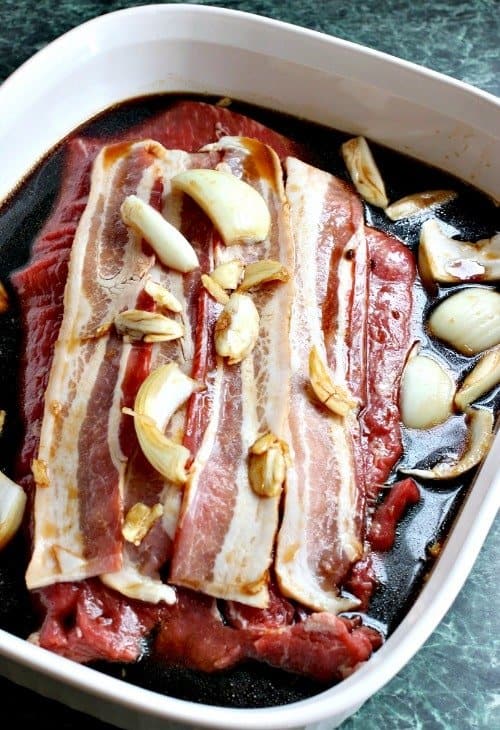 Once it's soaked up all that good flavor you're going to slice it into strips about 1/4 inch thick and get them on your skewer sticks. If you're using wooden ones like we did make sure you soak them in water for about 1/2 hour before you put them on the grill.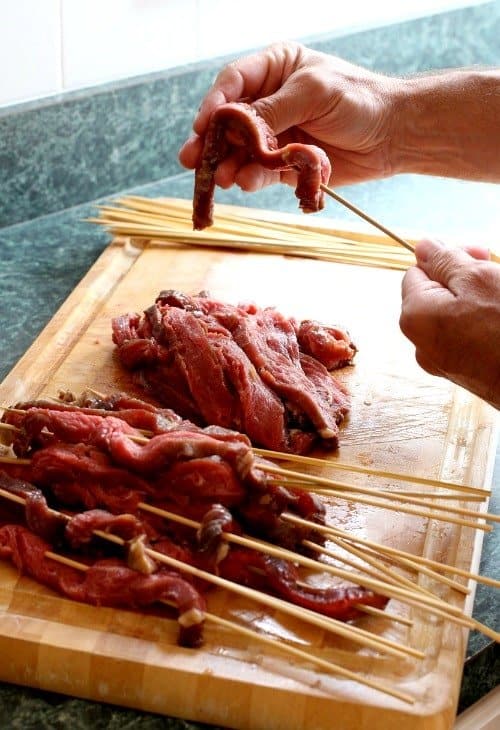 And now it's grilling time! Grab the rest of that pack of Root Beer and head out to the deck. These are only going to take about 2 minutes per side until they're done…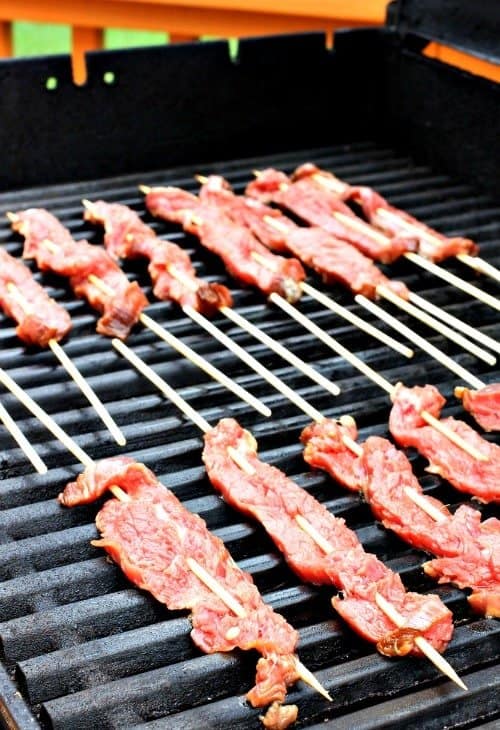 While your kabobs are on the grill pour the rest of the marinade into a small saucepan and let it reduce for 15 minutes. Add some Wondra® flour to thicken it up and let it simmer.
Take the Korean Steak Kabobs off the grill and pour the reduced marinade all over the top. Garnish with sesame seeds and chopped parsley – dinner is done.
Food on a stick never looked so good!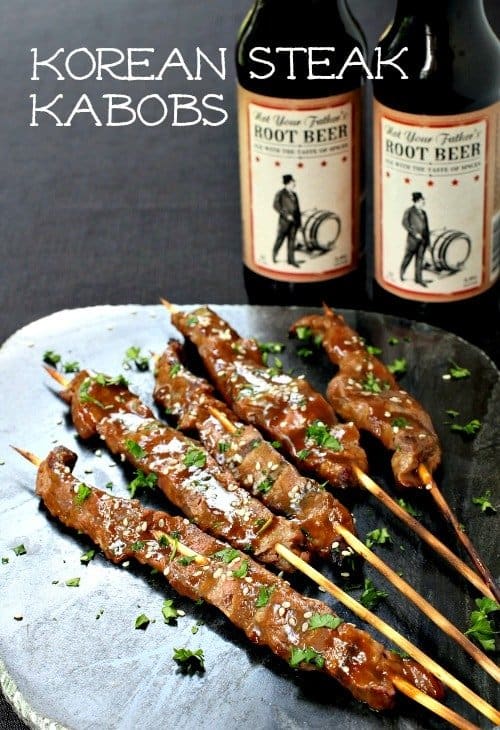 Print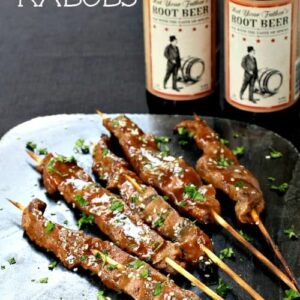 Korean Steak Kabobs
---
Ingredients
2

lb. flank steak

3 tablespoon

s sesame seeds

4

garlic cloves, smashed

1/4 cup

soy sauce

1 cup

Not Your Father's Root Beer (drink the rest)

1/4 cup

packed brown sugar

1/4 cup

toasted sesame oil
salt and pepper

4

slices of bacon

2 teaspoon

s Wondra® flour
extra sesame seeds and chopped parsley for garnish
---
Instructions
Place the flank steak in a baking dish.
Mix all the ingredients for the marinade except the bacon in a bowl and then pour over the steak.
Layer the bacon slices on top, cover and refrigerate for at least 6 hours or overnight.
Slice the steak into quarter inch thick slices and thread each slice onto a skewer.
Grill on medium-high heat for 2 minutes per side and remove to a plate.
While the kabobs are grilling, pour the marinade into a sauce pan (discarding the bacon) bring to a boil and add in 2 teaspoons of Wondra® flour. Bring back to a boil and let reduce for 15 minutes.
Pour the reduced marinade over the kabobs, garnish with sesame seeds and chopped parsley and serve.
---
Notes
If you can't find Not Your Father's Root Beer you can substitute regular root beer instead.