Roasted Beets and Sweets in Brown Butter Maple Glaze are going to be your go-to side dish for Thanksgiving, Christmas or any dinner at home! An easy roasted beets recipe that everyone will gobble up!
Roasting vegetables brings out all their natural sweetness, which is why our favorite Corn On The Cob recipe is oven roasted! We'll even make a sprout fan out of you when you try these Oven Roasted Brussels Sprouts!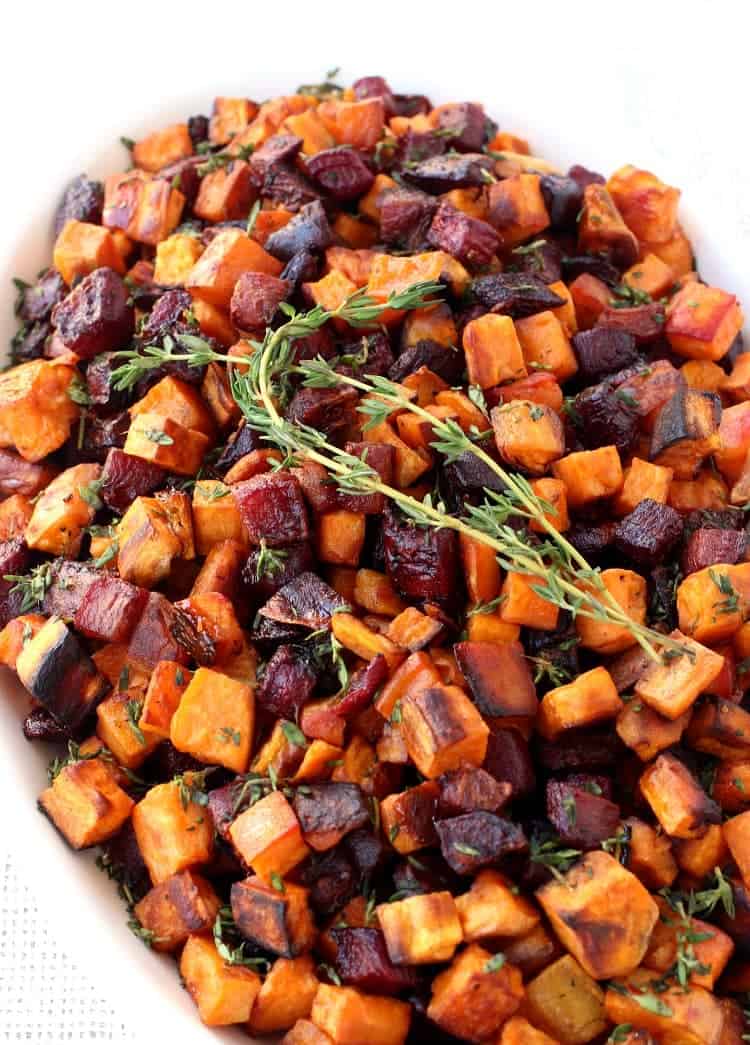 An Easy Roasted Beets Recipe
Don't save this Roasted Beets and Sweets in Brown Butter Maple Glaze for Thanksgiving, you're going to want to make it a lot more often than that.
All the sides for Thanksgiving kind of make the whole dinner, don't you think? With the artichokes and mashed potatoes, stuffing for sure – lots of stuffing…the more sides the better!
Easy side dish recipes can bee a life saver when planning holiday menus, or even just busy weeknight dinners are home! This roasted vegetable recipe is one that the whole family will love!
Yep, there's a whole stick of butter in this recipe but there are also a LOT of sweet potatoes and beets going on here. This is going to serve at least 6, but I'll say your safe with serving 8 if you've got a lot of other sides going on too.
How to Roast Beets and Sweet Potatoes
Start out by peeling and cubing the potatoes and beets. This will be the most time consuming part of the recipe but still should only take you about 15 minutes or so. Get the kids in the kitchen and have them do the peeling for you!
Toss the beets and sweet potatoes with salt and pepper and olive oil and bake in the oven for 30 minutes.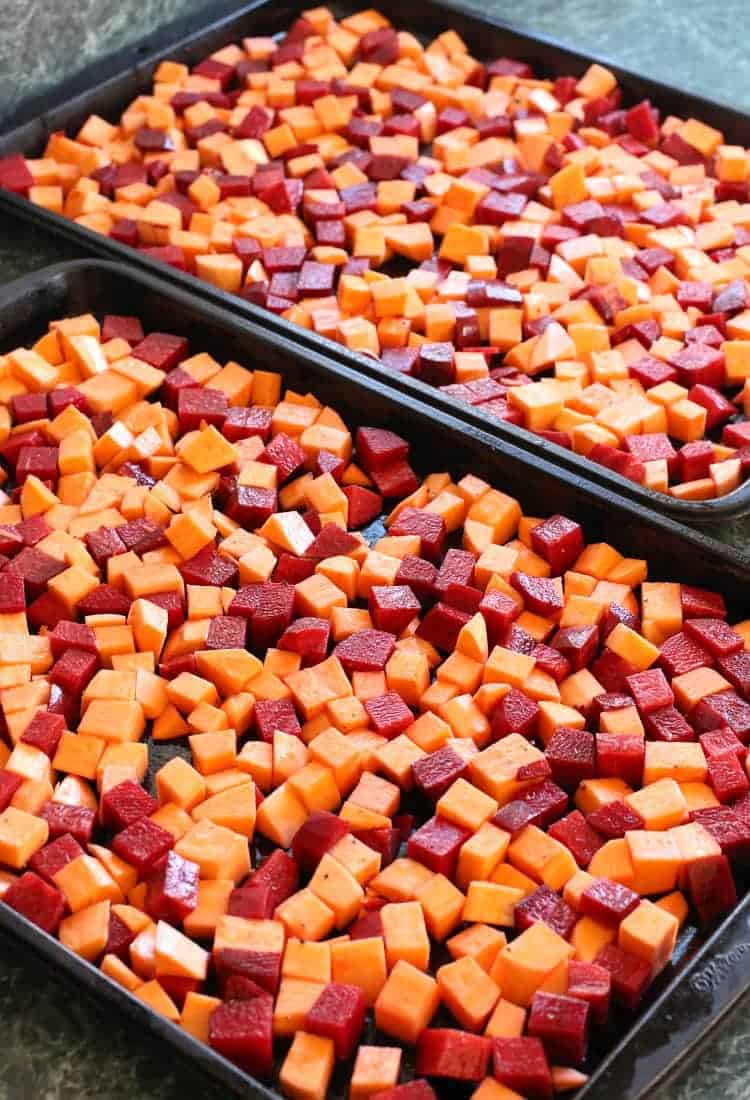 While the beets and sweet potatoes are in the oven you can make the brown butter maple glaze. Sounds a lot more fancy than it actually is but it's only 3 ingredients and it's ready in about 5 minutes.
A whole stick of butter goes into the pan with 3 or 4 thyme sprigs…wait until that butter gets brown, add in real maple syrup and then remove it from the heat.
Brown butter maple glaze is done, it doesn't get much easier than that!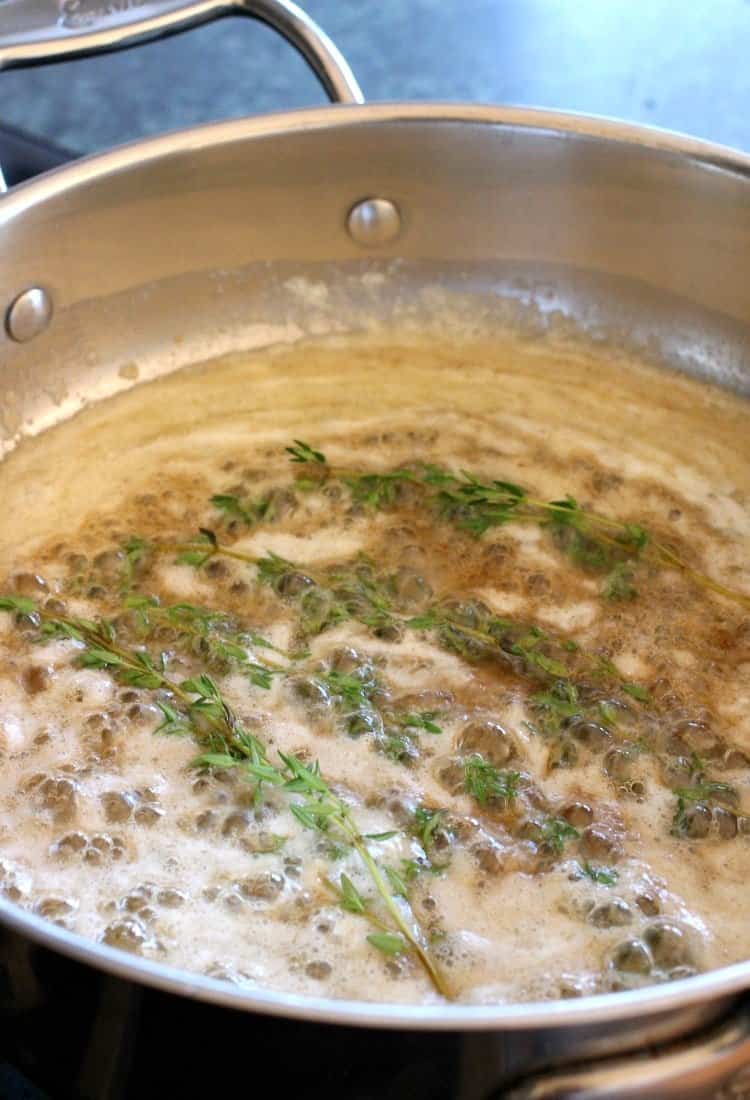 Take the potatoes and beets out of the oven after the 30 minutes are up and toss them in the brown butter glaze, snack on a few, then get them back into the oven. You want to try and get the vegetables in a single layer on the sheet pan so that they caramelize instead of steaming.
When you take them out again after 15 minutes they're going to look like this…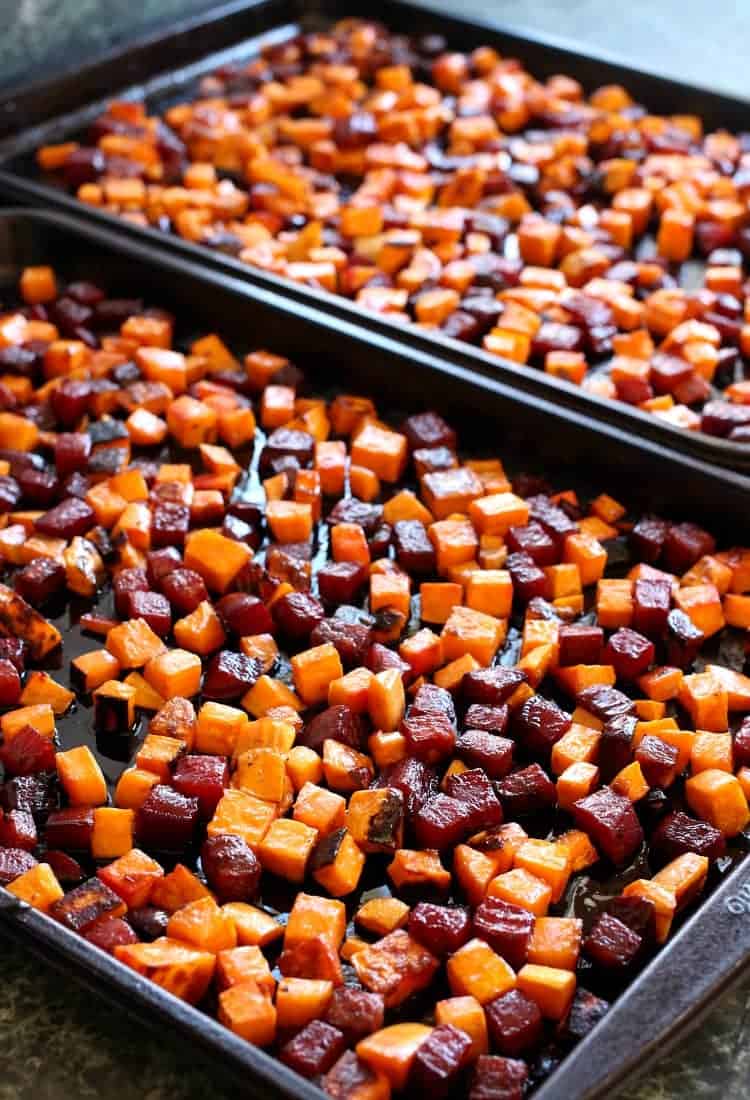 I'm going to say on the level of indulgent foods at a Thanksgiving table these Roasted Beets and Sweets in Brown Butter Maple Glaze are way down there on the list.
When you're talking about all the other indulgent side dishes going on, these are nearly as bad, even with that whole stick of butter!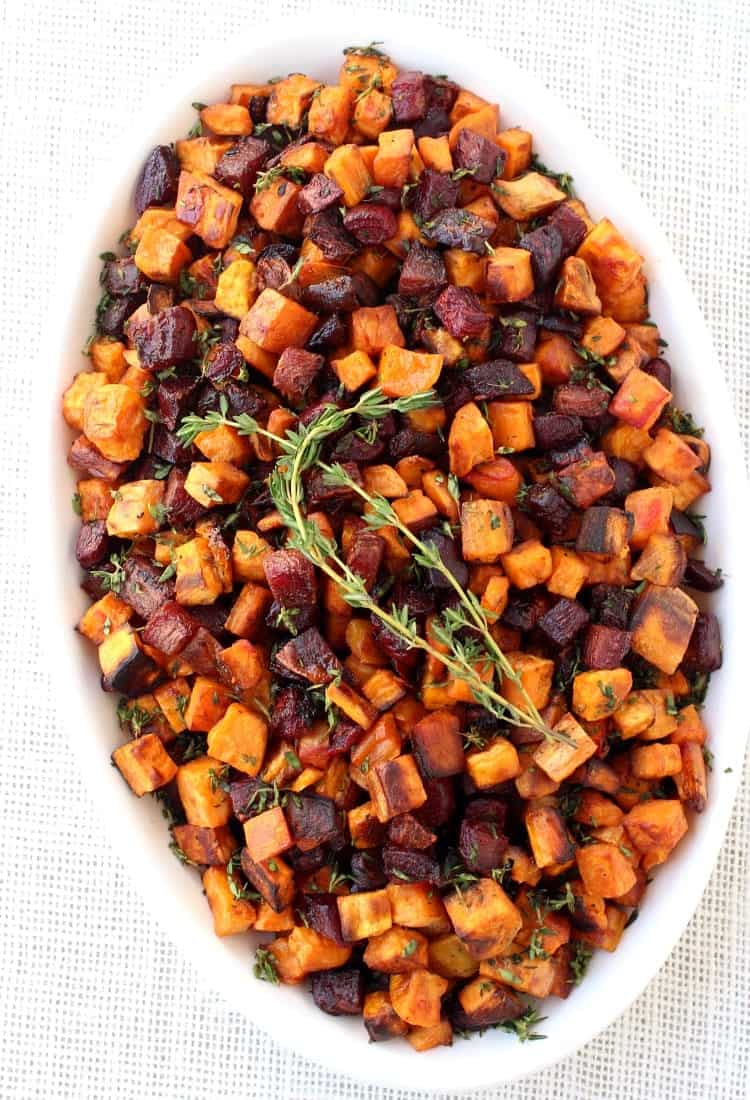 Can You Make This Recipe Ahead Of Time?
I would make this about halfway through. Stop after the first 30 minutes of roasting the vegetables and then you can let them cool and stash them in your refrigerator.
When it gets near cooking time, take them out of the fridge and let them come to room temperature for about 30 minutes and then continue with the recipe!
Looking For More Side Dish Recipes?
Parmesan Roasted Cauliflower Gratin
Bourbon Sweet Potato Casserole
Our Favorite Stuffing Recipes!
Perfectly Smooth Mashed Potatoes
Print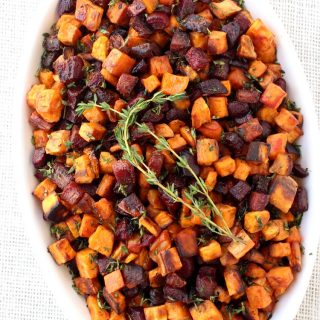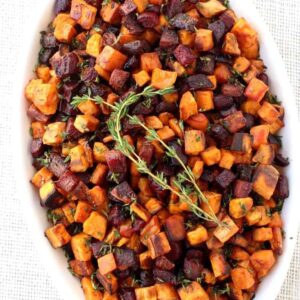 Roasted Beets and Sweets with Brown Butter Maple Glaze
Author:

Prep Time:

15 minutes

Cook Time:

45 minutes

Total Time:

1 hour

Yield:

8

1

x
Roasted beets and sweet potatoes with a buttery sweet glaze that is a delicious side dish to any meal!
Scale
Ingredients
6

sweet potatoes, peeled and cubed (small,

1

inch dice)

4

beets, peeled and cubed (small,

1

inch dice)

2 tablespoons

olive oil

2 teaspoons

salt

1 teaspoon

fresh ground black pepper
For the Glaze
1

stick butter

2 tablespoons

real maple syrup

3

–

4

fresh thyme sprigs, plus 2 tablespoons more chopped for garnish
Instructions
Preheat the oven to 435 degrees.
Spray 2 baking sheets with cooking spray.
In a large bowl, toss together the beets, sweet potatoes, salt and pepper.
Roast in the oven for 30 minutes.
While the potatoes and beets are in the oven, make the brown butter glaze by adding 1 stick of butter to a skillet along with the fresh thyme sprigs.
Melt the butter down until just browned (about 5 minutes) then stir in the maple syrup and remove from the heat.
After 30 minutes, remove the potatoes and beets from the oven and toss with the brown butter glaze.
Place back in the oven for 15 minutes then remove to a large serving plater and garnish with the two tablespoons of reserved chopped thyme.
Category:

vegetable side dish

Method:

oven

Cuisine:

American
Keywords: roasted beets, roasted sweet potatoes, brown butter, brown butter glaze, maple glaze, side dish, holiday side dish, thanksgiving side dish