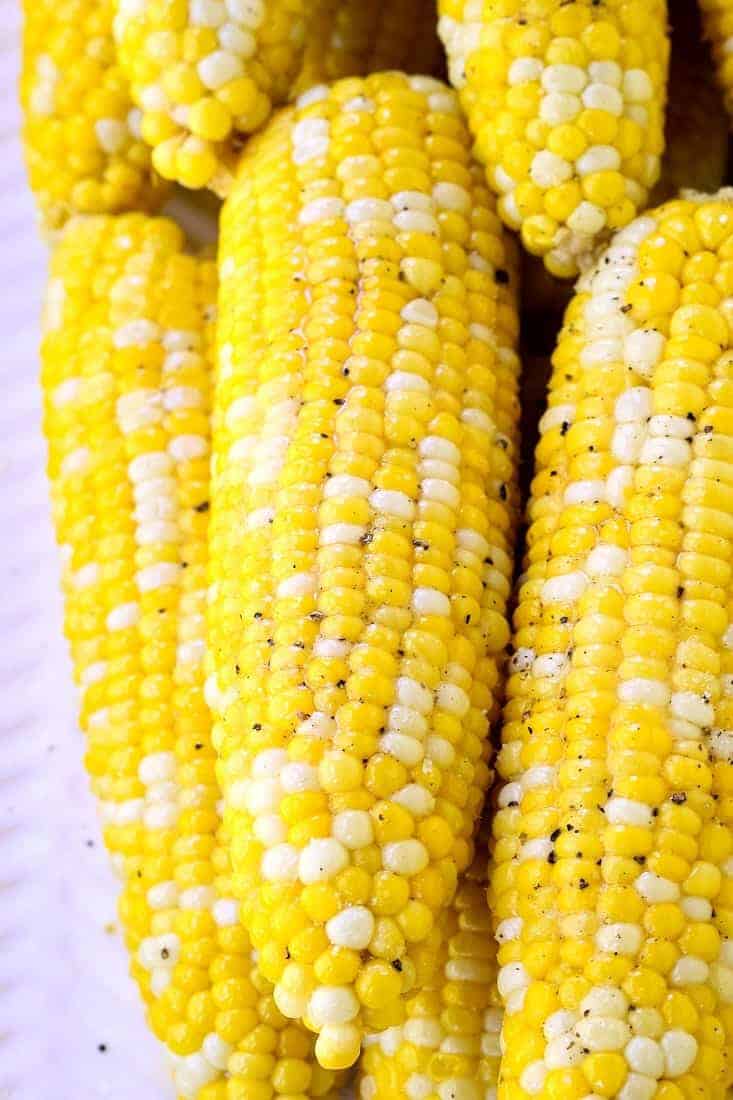 Oven Roasted Corn On The Cob
Oven Roasted Corn On The Cob is our favorite way to make corn! No shucking, no mess, just put the whole ear of corn right in the oven!
We love easy side dishes like this corn! Also be sure to try our Classic Potato Salad recipe and our Slow Cooker Loaded Baked Beans!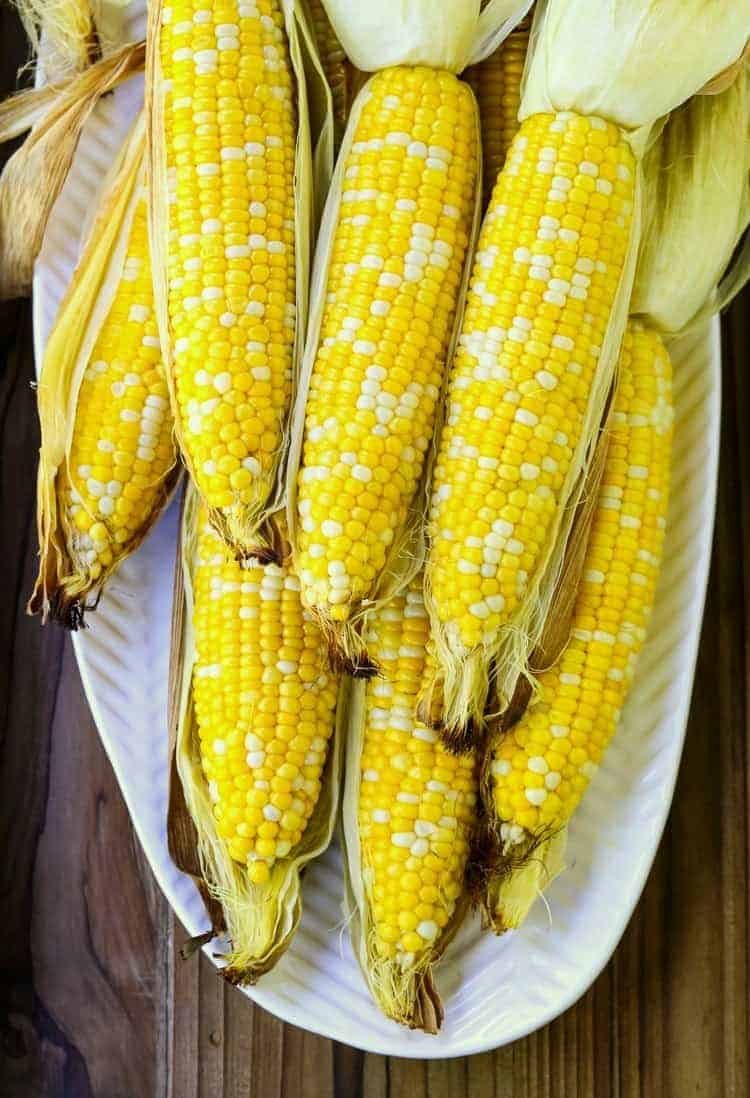 How To Cook Corn On The Cob In The Oven
It's so easy, I can't believe we never cooked corn on the cob this way before. No more huge pots of boiling water, no more messy shucking…
This oven roasted corn on the cob recipe is a dream come true for corn lovers.
I can't even call this a recipe, it's more of a method. Here's all you need to do…
Peel off just the outer layers of the corn husks, just the "dirty" ones. Rinse the corn off and pat dry with paper towels. Now get them on a sheet pan, as many as will fit! You actually don't even have to use a sheet pan, the corn can go right on your baking rack.
I just find that it's easer to get the corn in and out of the oven if it's on a baking sheet, so that's the way we usually do it. Unless you're cooking corn on the cob for a large amount of people, then you might want to pile in your oven right on the racks.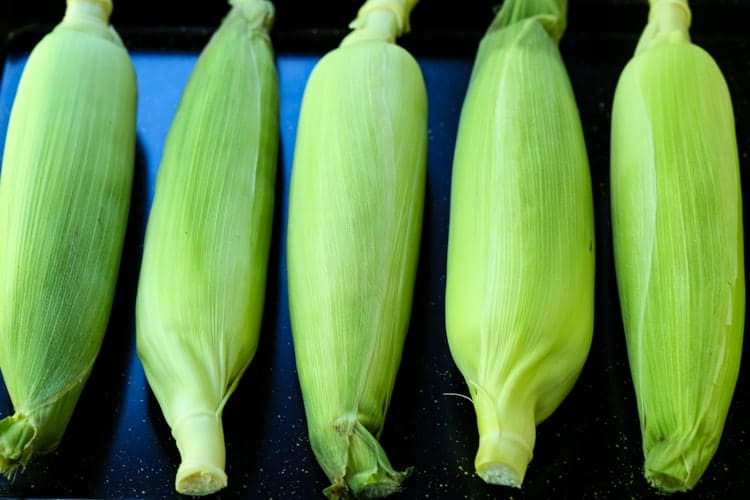 Get the corn in the oven and…that's all. Yep, that's all.
Just wait about 40 minutes and your oven roasted corn on the cob will be perfect. How easy is that???
Once the corn comes out of the oven the husks and the silk will fall off super easily. The corn basically steams in the husks so it takes away all the stickiness of the silk strands.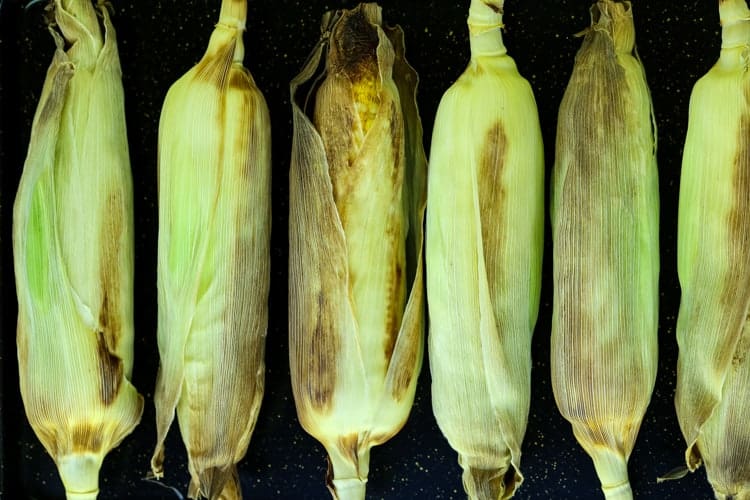 What Can You Put On Corn On The Cob?
We like to keep it simple with fresh black pepper, kosher salt and butter. Lots of butter. But there's a lot of different toppings that you can add to corn on the cob!
Mayonnaise and Sriracha (Mexican Street Corn)
Flavored Salts
Olive Oil Instead Of Butter
Parmesan Cheese
Fresh Herbs (parsley, dill, cilantro, basil)
Melted Cheese and Bacon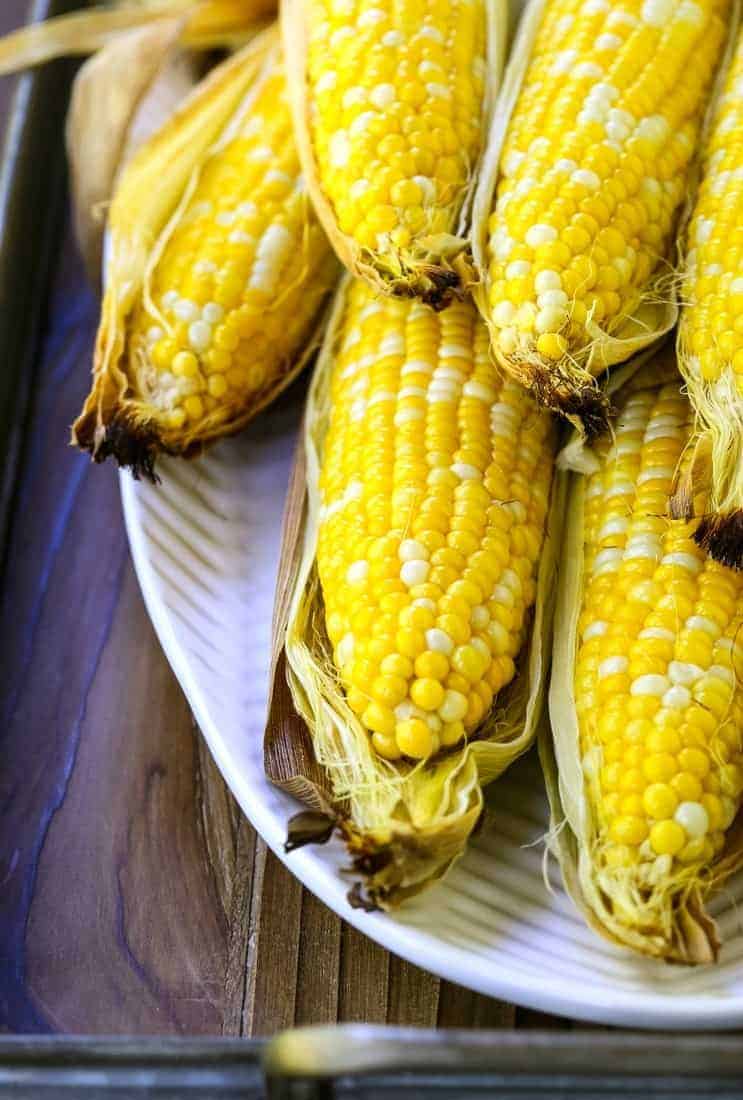 You can even set out a topping bar for parties and let your friends customize their own corn on the cob! So if parties or BBQ's are what you are planning for, this Oven Roasted Corn On The Cob recipe is for you.
Forget trying to boil corn and find your biggest pots ever, it's never enough when you're having more than 10 people over for corn!
Our oven easily fits 30 ears of corn on both racks, and the cooking time is the same no matter how many pieces of corn are in your oven.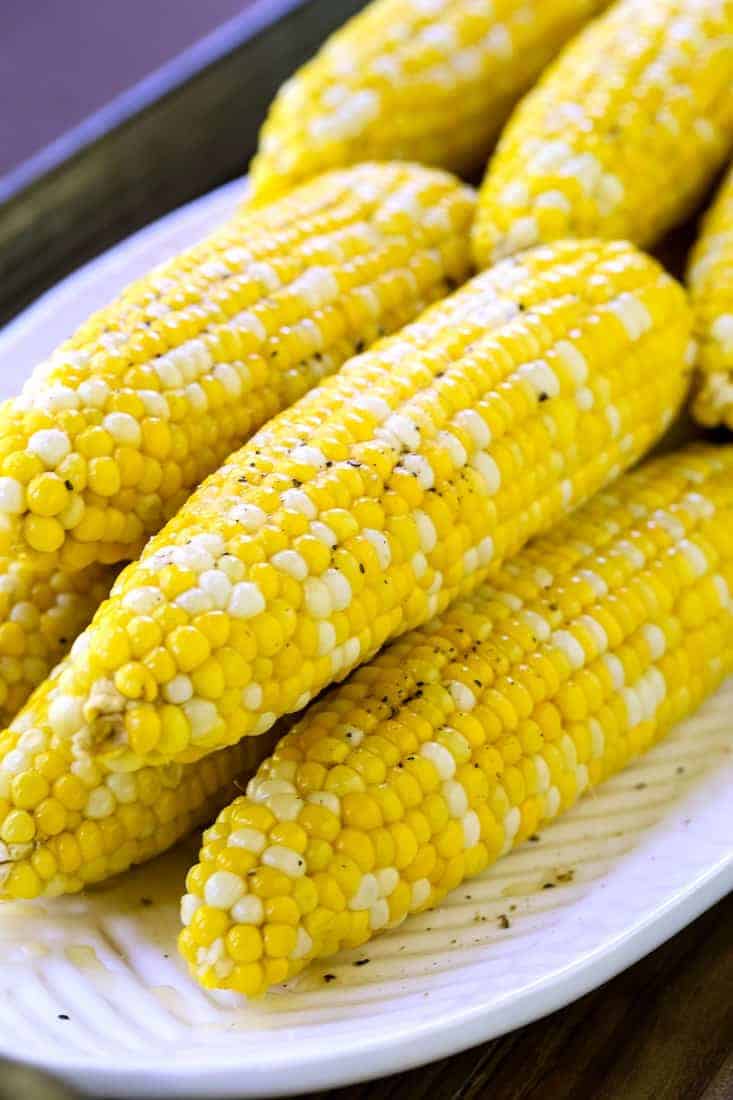 If you peel the husks and silk back but don't remove them fully they'll serve as a "handle" for the corn on the cob so you can dig right in there while it's hot!
Just make sure there's lots of butter to go with your corn. Even when corn is at it's peak and it's so sweet its good all by itself…still add butter.
Butter makes everything better.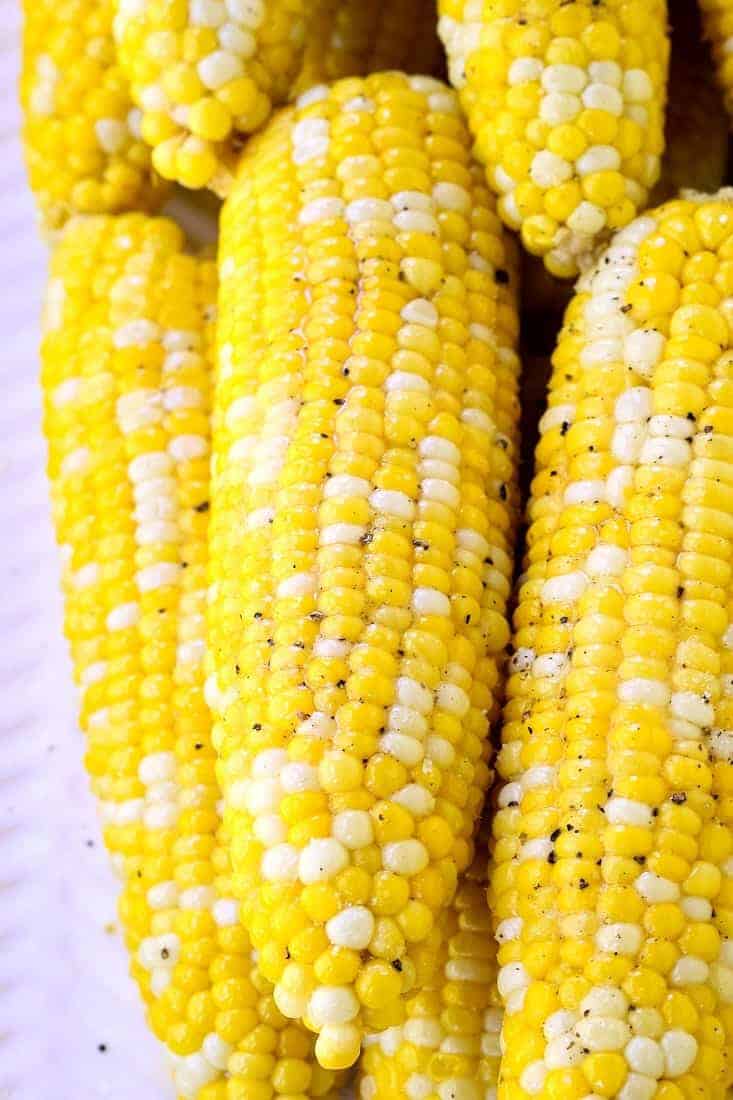 What Can I Serve With Corn On The Cob?
Corn on the cob is a pretty versatile side dish, it goes with just about anything! Here are some of our favorite main courses…
Pin It!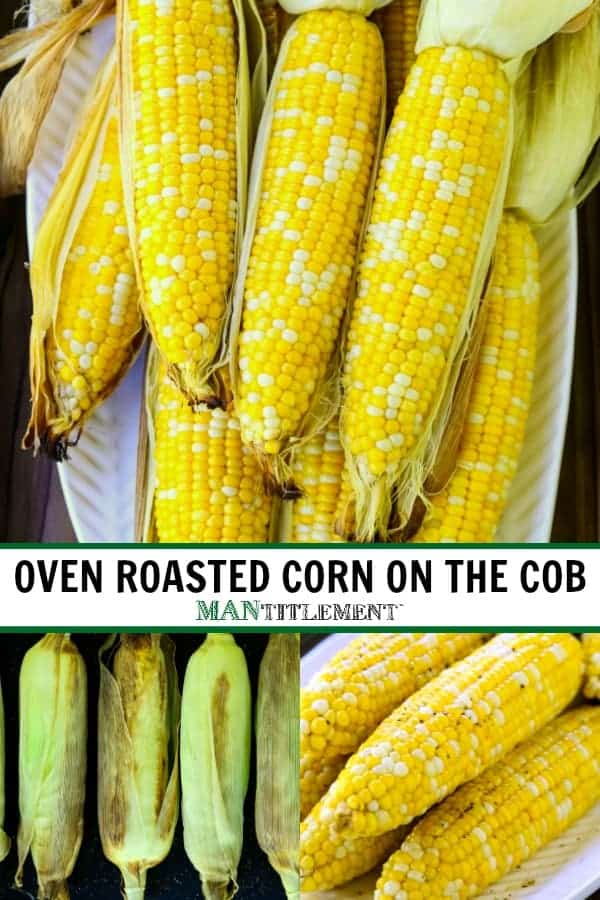 Print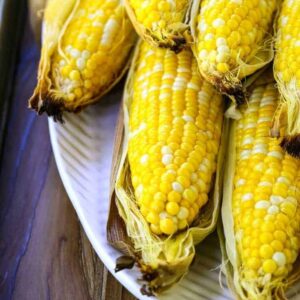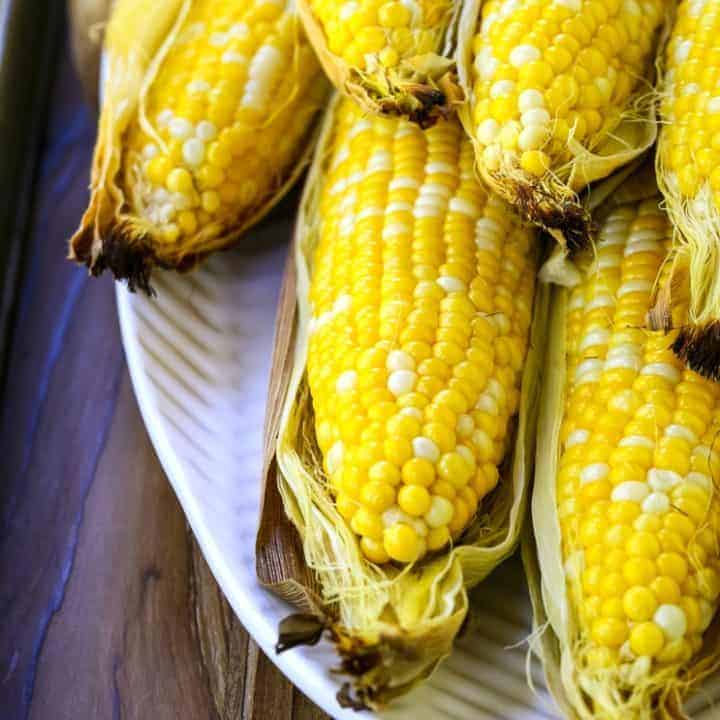 Oven Roasted Corn On The Cob
Author:

Prep Time:

5 minutes

Cook Time:

40 minutes

Total Time:

45 minutes

Yield:

8

1

x
Category:

Side Dish

Method:

Oven

Cuisine:

American
---
Description
This SUPER easy corn on the cob method is perfect for parties! Cook up to 30 ears of corn at a time and no shucking!
---
Ingredients
8 Ears of corn (or as many as you want to cook!)
Butter
Salt and Pepper
---
Instructions
Preheat the oven to 400 degrees.
Peel off just a few of the outer layers of corn husk and rinse the corn under cold water.
Pat dry with paper towels and place the corn on a baking sheet or right on the oven rack.
Cook for 30-40 minutes (depending on how you like your corn cooked – see note) then remove from the oven. Let cool slightly then peel the husks and silk back.
Add butter, salt, pepper or toppings of choice.
---
Notes
This cooking method works for as little or as many ears of corn as you want to cook!
*If you like your corn more on the crisp side, test the corn cobs after 30 minutes. If you like your corn to be a little softer keep them in for the full 40 minutes.
Keywords: corn on the cob, corn recipes, oven roasted corn, side dishes, easy recipes, low carb recipe