This week is going to be all about east summer appetizers. Bruschetta appetizers to be exact! All types of bruschetta like this Whipped Feta Bruschetta for serving at parties!
What is the perfect summer appetizer? Anything that fresh and in season, tossed with the perfect ingredients and served on a tasted baguette…like this Whipped Feta Bruschetta.
See, people who know me think I don't like vegetables. I do, I like lots of vegetables, they just have to be done the right way. A big bunch of broccoili on my plate? I'll eat it, but not my favorite. Broccoli cheese soup? Yup, I'll eat it up.
Tomato wedges on a plate next to a sandwich? Nope, gonna leave 'em. But chopped heirloom tomatoes tossed in olive oil and vinegar in top of whipped feta? I'm in.
See, it's all about the delivery for me. We eat with our eyes they say? That's totally true for me.
So I'm loving this Whipped Feta Bruschetta with grape-sized heirloom tomatoes…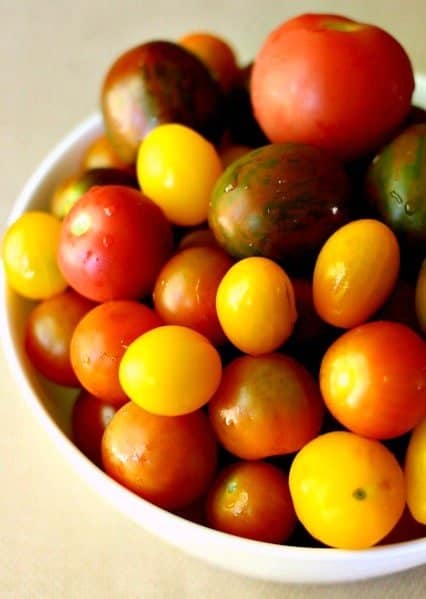 All you do is chop them up and toss them with vinegar, garlic and shallots and a good amount of olive oil. Let those flavors get all happy in the fridge and then on to the whipped feta.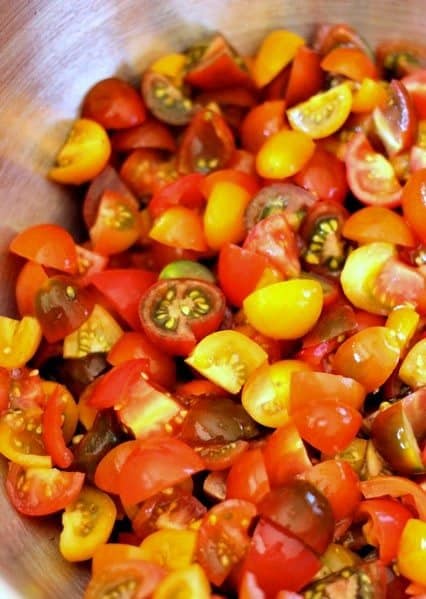 Put the feta, parmesan, olive oil, lemon juice and salt and pepper in a food processro and whip until smooth. There's your cheese topping. Done.
Then just toast your baguette slices, top with the whipped feta and then the tomatoes. Make up a whole platter and serve to your company. Everyone will be eating their veggies tonight!
Print
Whipped Feta Bruschetta
---
Ingredients
2

lbs. heirloom grape tomatoes (any grape tomatoes will substitute fine)

6 oz

. feta cheese

2 oz

. cream cheese, room temperature

2

T. parmesan cheese

2

t. lemon juice

1/3 cup

olive oil
salt and pepper

2

T. minced shallots

2

t. minced garlic

1

T. champagne vinegar

1

T. balsamic vinegar

2

T. basil leaves, chopped

2

french baguettes, sliced and toasted
---
Instructions
Heat the oven to 400 degrees. Slice the baguettes into 1/2″ thick slices and place on a baking sheet. Drizzle with olive oil, salt and pepper and place in the oven for 5 minutes. Turn and bake another 3-4 minutes until brown on the other side. Take out of the oven and let cool.
Chop the tomatoes into bite sized pieces, then add the vinegars, garlic, shallots, salt and pepper to taste and basil leaves. Place in the refrigerator for a half an hour to chill.
While the tomatoes are in the fridge, put the feta and the parmesan cheeses in a food processor. Pulse a few times, then add the lemon juice and olive oil, salt and pepper to taste.
Take the toasted baguette and top with the whipped feta. Then top with a mound of the tomatoes. Repeat with all the toasts and serve on a platter.
---