Classic Tomato Bruschetta is an easy appetizer that's always ready for a party! A fresh tomato topping piled on top of baked, crispy toasts!
We love bruschetta recipes so much, we've made quite a few! Check out our popular Italian Sub Bruschetta and this fun Chicken Stay Bruschetta too! We've even used our favorite Creamy Caesar Dressing to make super tasty Caesar Chicken Salad Bruschetta!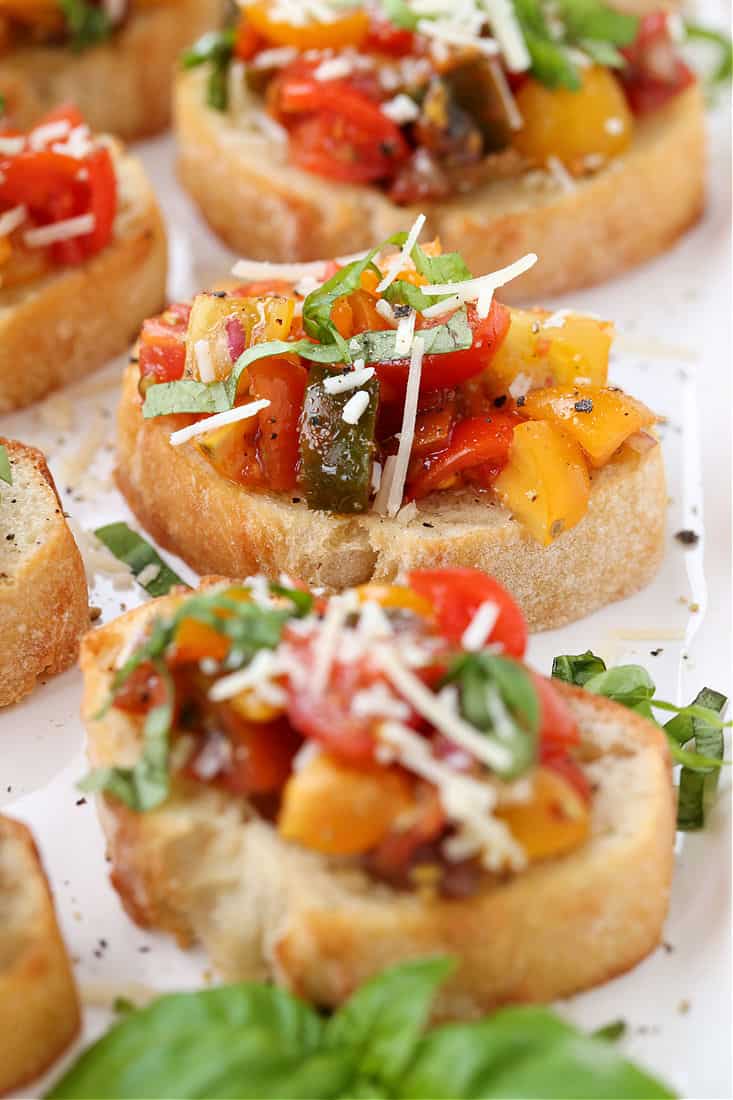 What Is Bruschetta?
Bruschetta is made up of typically a diced tomato topping, mixed with olive oil and sometimes balsamic vinegar. Finely diced red onion is also used for people that aren't opposed to a raw onion flavor – we are not.
There's many different variations of bruschetta that you can make, today we're sticking with this Classic Tomato Bruschetta that everyone always loves! Diced tomatoes, red onion, balsamic vinegar and extra virgin olive oil.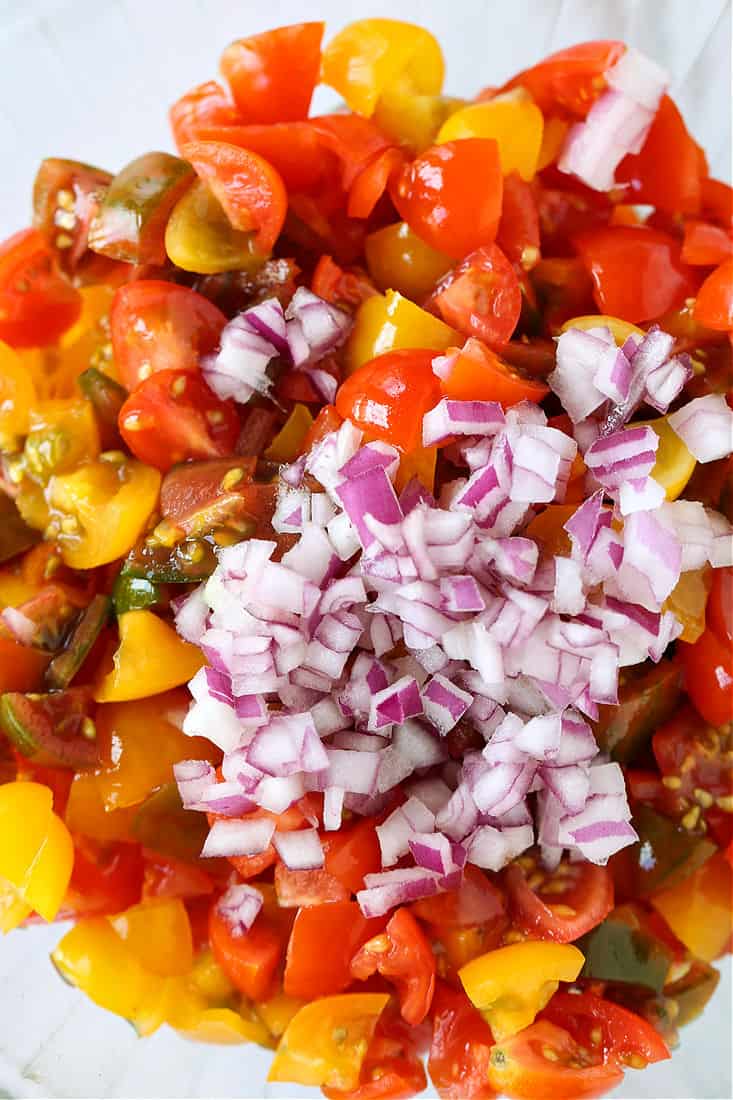 What Is The Best Bread To Use For Making Bruschetta?
You definitely want a crusty bread for making bruschetta, nothing too soft or mushy. A French or Italian baguette works perfectly, but so does Ciabatta and Sourdough. It's really up to your taste preference, as long as it's a good, crusty bread that will crisp up nicely.
How Do You Keep Bruschetta From Getting Soggy?
The first tip is to use the right bread as we've mentioned above. Using a soft bread will result in soggy bruschetta, no matter how much you toast it. Another tip is to not assemble the bruschetta beforehand. Make a few bruschetta toasts up and place them on your serving platter and then keep the rest in a bowl for your guests to assemble as they eat.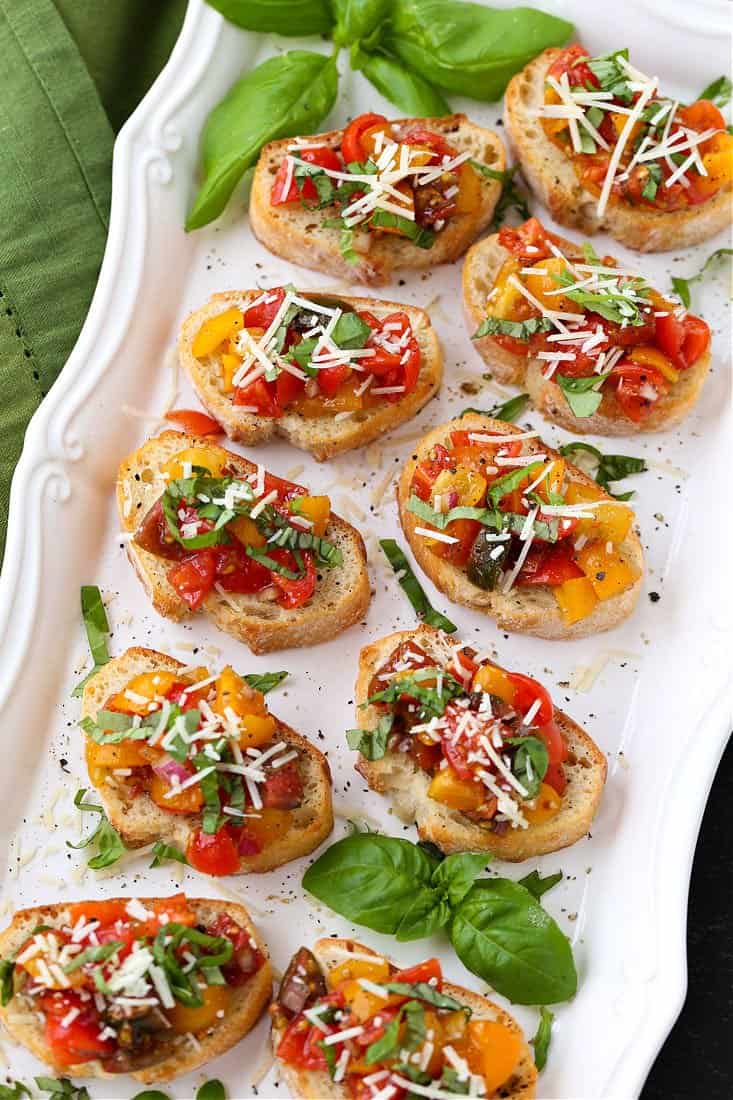 How Long Does This Classic Tomato Bruschetta Last In The Refrigerator?
Keep this bruschetta covered in the refrigerator for up to three days. Going a little longer isn't going to hurt anyone, it'll just loose a lot of it's fresh consistency and texture. If you're making this appetizer recipe in advance for a holiday or party, I would recommend doing it the morning of your even tor the day before.
What Are The Best Tomatoes To Use To Make Bruschetta?
The answer really is sweetest, ripest tomato that you can find. When a recipe like bruschetta uses one main ingredient, you want it to be the best quality that you can find. Obviously making bruschetta with in season tomatoes is key, but these days we can get produce most any time of the year.
So if the best looking tomato at the market is a Roma tomato then go with that. Vine ripened tomatoes that you often find in grocery stores usually have a nice flavor and color, and so do those sweet little grape tomatoes that we've used in this recipe.
I really like using small grape tomatoes for tomato bruschetta because you have more firm tomato than mushy tomato and I really like that texture.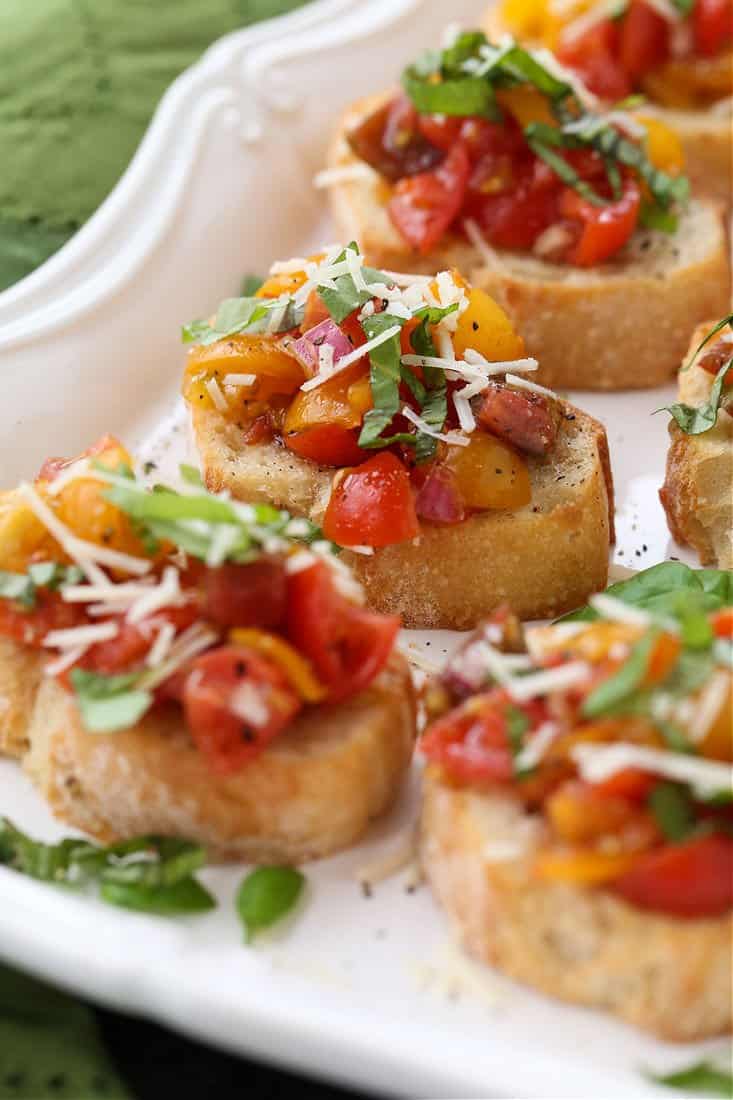 What Are Some Variations I Can Make With Bruschetta?
Like we mentioned before, there are countless ways to make bruschetta fun and unique! Try some of our other bruschetta recipes or make your own flavor combinations!
Add more vegetables like chopped zucchini, corn, edamame or chopped spinach
Use beans and spices to make a "fiesta bruschetta"
Toss in cubed mozzarella cheese instead of or along with shredded parmesan cheese
Add more herbs like fresh thyme, oregano or rosemary
Make a low carb bruschetta by swapping out thin slices of crispy fried eggplant or zucchini!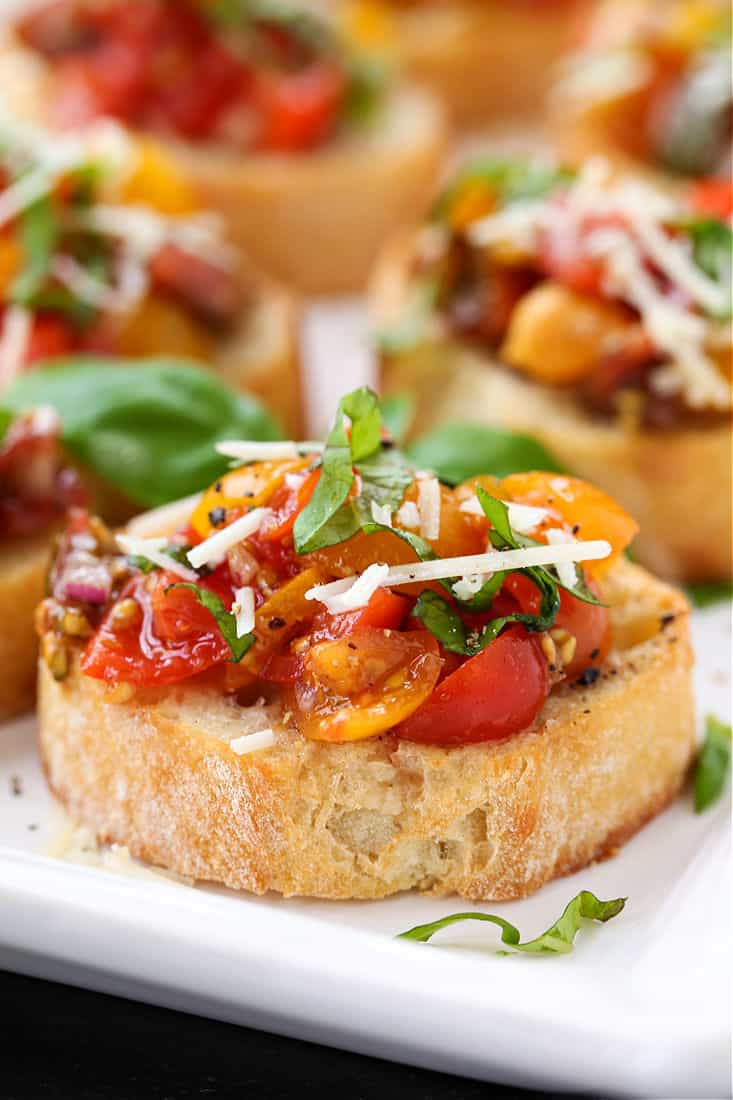 Looking For More Easy Appetizer Recipes?
Print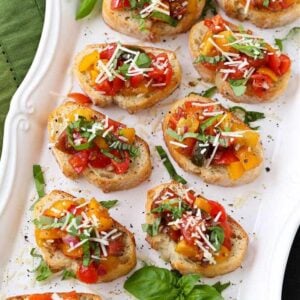 Classic Tomato Bruschetta
Author:

Prep Time:

1 hour 15 minutes

Cook Time:

0 minutes

Total Time:

1 hour 15 minutes

Yield:

8

Servings

1

x
This Classic Tomato Bruschetta is always a hit at parties and holidays! We have a few tips for making the BEST bruschetta you've ever eaten!
Scale
Ingredients
1

large baguette, sliced 1/2- 3/4 inch thick (can use Italian, French, ciabatta or sourdough)

16.5 ounce

container of multi-colored grape tomatoes (or your choice of whatever tomato is the ripest, Roma, Cherry tomatoes, Tomatoes on the Vine, Beefsteak or Heirloom)

2 tablespoons

finely diced red onion

2 tablespoons

good balsamic vinegar (use a god quality so that it's a little thicker and sweeter as opposed to a sharp vinegar flavor)

2 tablespoons

extra virgin olive oil

1/2 teaspoon

kosher salt
Fresh black pepper to taste

1/4 cup

shredded parmesan cheese

1/2 cup

fresh basil, leaves stacked and sliced into thin shreds (chiffonade style)
Instructions
Cut the tomatoes into a small dice (like seen in the photos in the post) and add to a bowl along with the red onion, balsamic vinegar, olive oil, salt and pepper. Refrigerate for at least and hour or up to overnight.
When ready to serve the bruschetta, preheat the oven to 400 degrees. Brush or spray the sliced bread lightly with olive oil, then season with salt and pepper. Place on a baking sheet and bake for 4-5 minutes on each side until the bread is lightly toasted. Remove from the oven and let cool. You can do this a few hours ahead of time and wrap the bread lightly in plastic wrap once completely cooled.
Top each bread slice with some of the tomato topping, some parmesan cheese and a few pieces of fresh basil. Serve immediately.
Recipe Notes
This recipe makes about 2 1/2 cups of bruschetta topping. If serving for a party, assemble a few pieces of the bruschetta on a platter and then serve the rest of the bruschetta in a bowl with the toasts on the sides for your guests to assemble as they eat. This will keep the bruschetta fresh and crisp instead of soggy.
*Prep time includes 1 hour for the bruschetta to rest in the refrigerator for the flavors to blend together. This is best for flavor, but if you need to whip this together at the last minute, it's still going to be delicious!
Category:

Appetizers

Method:

No Cook

Cuisine:

American
Keywords: bruschetta, bruschetta recipe, tomato bruschetta, fresh basil, easy appetizers, make ahead recipes, holiday appetizers, party food, game day food