Bruschetta is always a go to appetizer for me, especially when I can turn a meal into a bite sized appetizer like this Chicken Satay Bruschetta!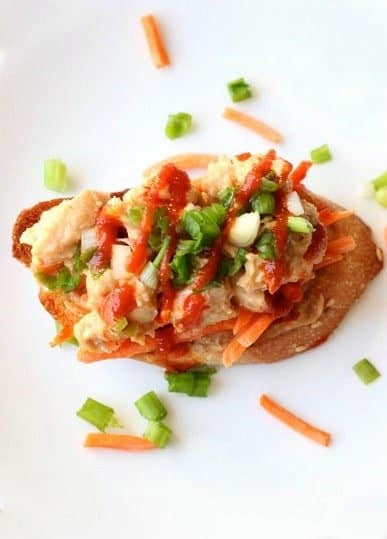 I love bruschetta in all different forms, like my whipped feta bruschetta or a light tropical shrimp bruschetta.
What are you going to serve to drink with this? Beer, and lots of it. The spicy peanut chicken topped with sriracha is just yelling for you to go and grab a few cold ones.
The peanut sauce for this recipe is one that my wife has been using for years, we use it as a base for a lot of recipes. Make up the satay sauce and pour it all over the chicken, throw some scallions on top and bake it in the oven.
You could stop right at this point and serve this chicken over rice. It comes out of the oven looking like this – awesome chicken satay.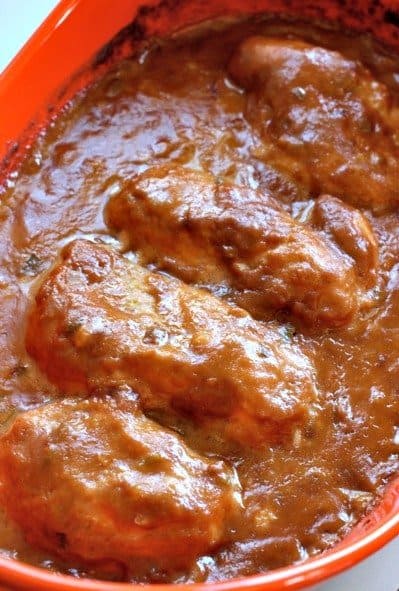 But we're going to turn this chicken satay into party food today!
Chop up the chicken into small cubes and place it all in a bowl. Spoon over some of the satay sauce from the baking dish and stir it all together.
Slice an italian baguette into 1/2″ thick pieces and place on a sheet pan.
Brush lightly with olive oil and then top the bread with some salt and pepper.
After it bakes, set the toast aside to cool for a few minutes and grab your other ingredients. The shredded carrots, scallions and the sriracha.
Assembling the rest takes just minutes. Spread some satay sauce on each toasted bread slice, then some shredded carrots, a spoonful of the diced chicken and top with chopped scallions.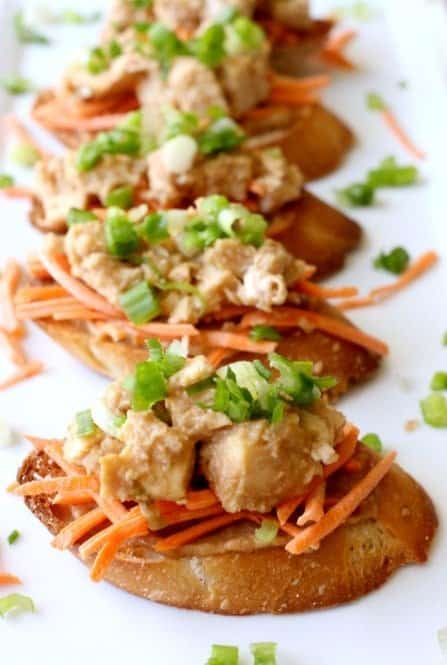 Again, you can stop there – but all of that topped of with a drizzle of sriracha makes it that much better!
A platter of this Chicken Satay Bruschetta will make any meal a party – or it will become the meal like it did at my house!
Just don't forget the brewskies to wash them down.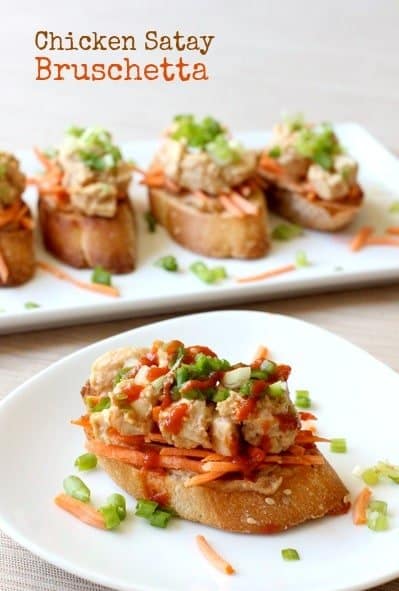 Print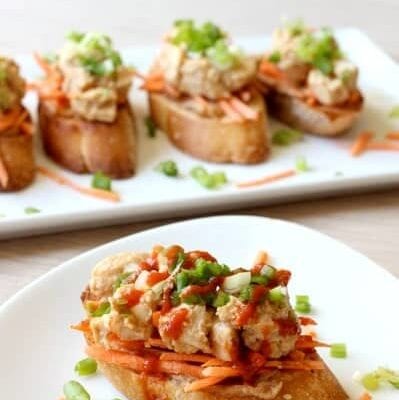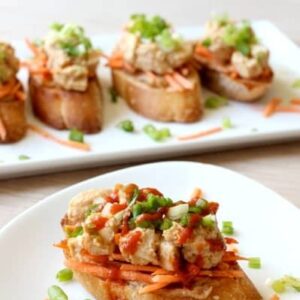 Chicken Satay Bruschetta
Scale
Ingredients
1 1/2

lb. boneless, skinless chicken breast

1

Italian baguette (long and skinny)

1

bag shredded carrots

1

bunch scallions, chopped
olive oil
salt & pepper
sriracha sauce
For the Satay Sauce
1/2

c. chicken broth

1/2

c. light coconut milk

2

T. soy sauce

1/2

lime, juiced

2

T. brown sugar

1/2

c. peanut butter

1/4

t. cayenne pepper
Instructions
Pre-heat the oven to 375 degrees.
Add all the ingredients for the satay sauce into a medium sized bowl and whisk together until smooth.
Place the chicken in an oven safe dish.
Cover the chicken with the satay sauce and top with 1/3 of the chopped scallions.
Cover with foil and bake for 30 minutes.
Take the foil of and bake another 15 minutes until the sauce is browned and bubbling.
Take out and let cool while you toast the bread.
Turn the oven up to 400 degrees.
Slice the baguette into 1/2″ slices and place on a baking sheet.
Brush each slice of bread with olive oil, then season with salt and pepper.
Place in the oven to bake for 10 minutes, then turn and bake for another 5, checking to make sure they don't get too brown.
While the bread is toasting, dice up the chicken and place into a bowl.
Spoon some of the satay sauce over the diced chicken and stir to coat all the chicken well.
When the toast slices are done, remove from the oven and let cool slightly.
Spread some of the satay sauce on each slice of bread.
Top with shredded carrots, then a spoonful of the diced chicken.
Add the chopped scallions on top and repeat with the rest of the toast slices.
Top with sriracha or serve on the side.