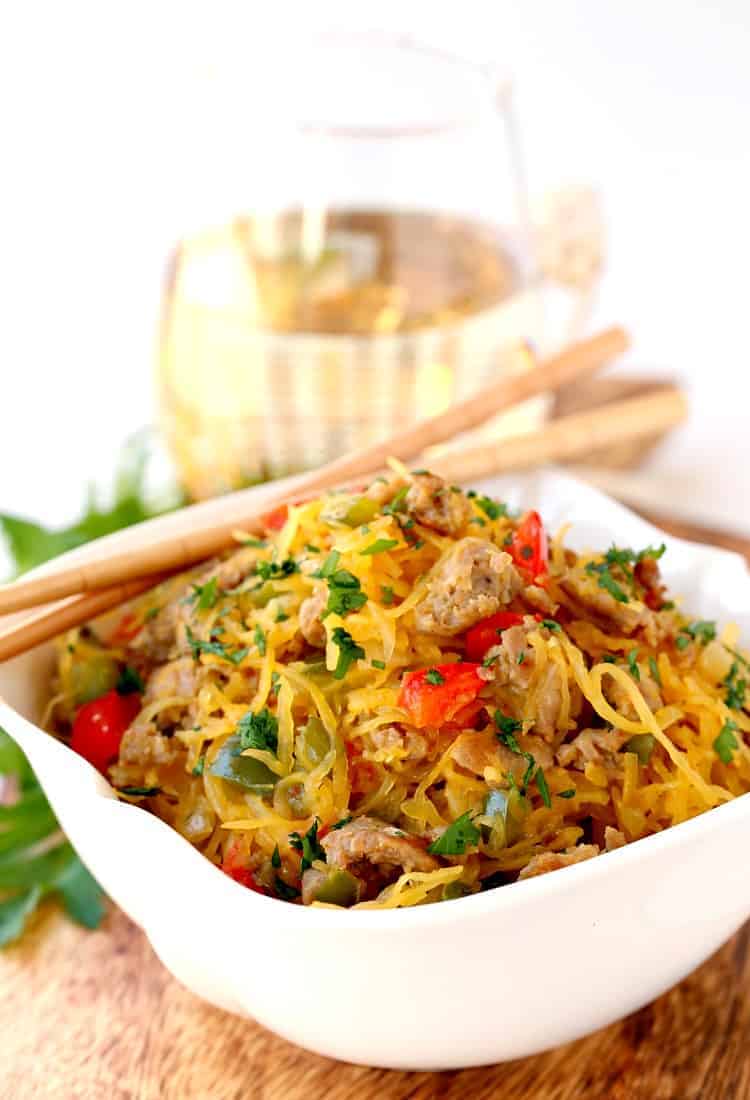 Sausage and Pepper Spaghetti Squash Stir Fry
Try this Sausage and Pepper Spaghetti Squash Stir Fry tonight! It's a little bit healthy, a little bit not. And you're going to love it!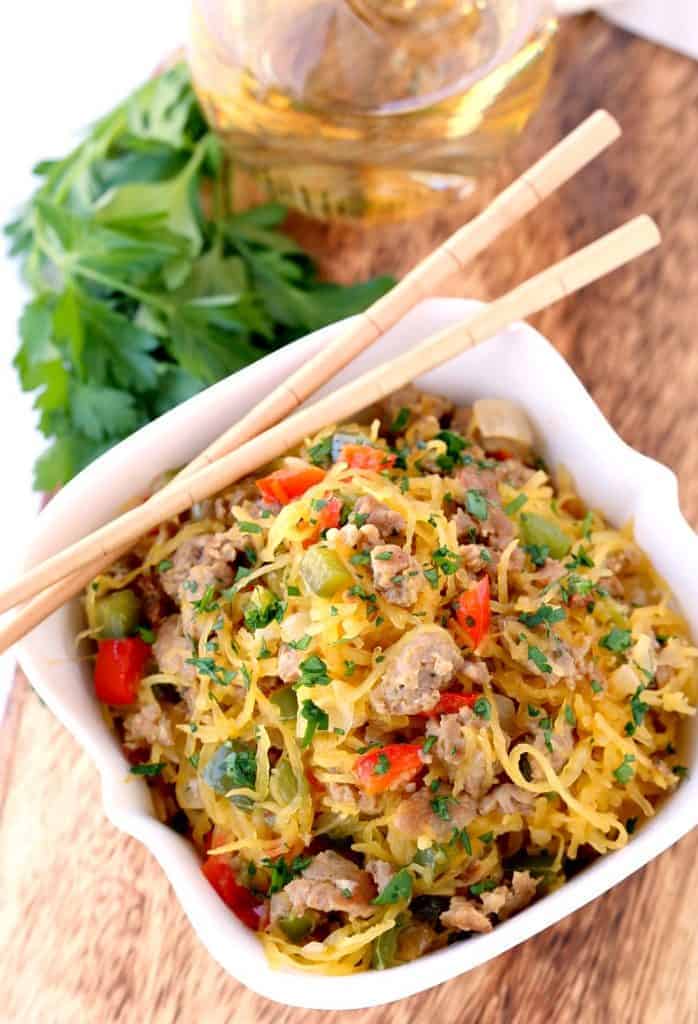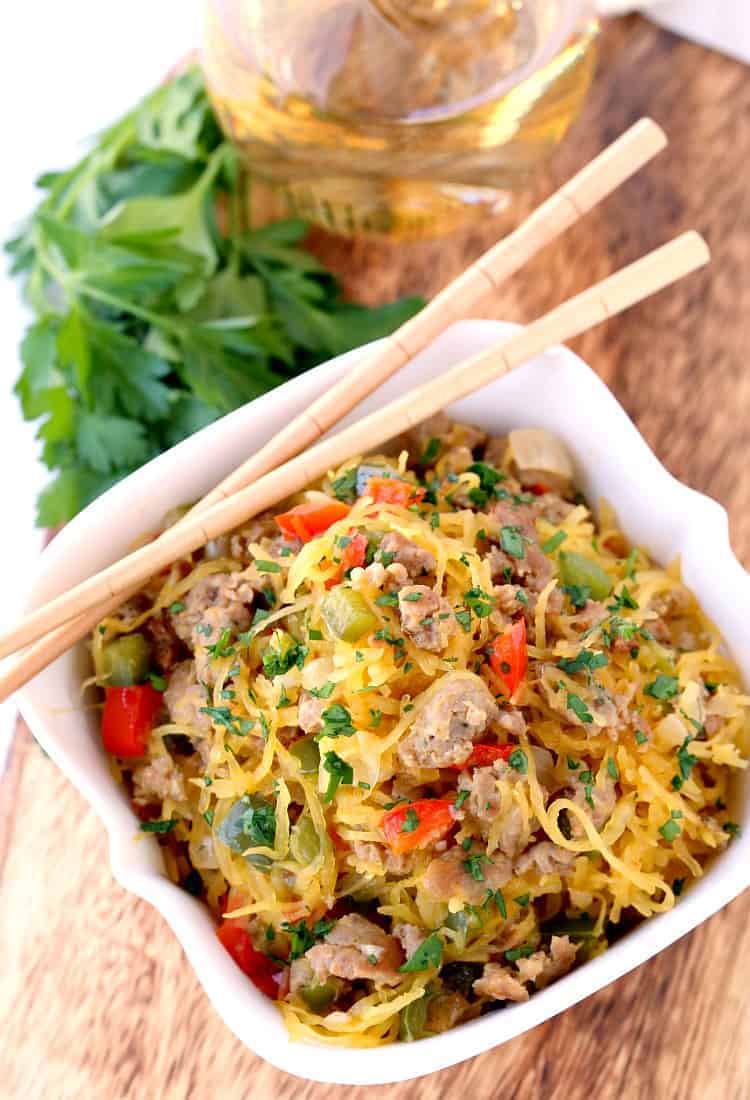 So we're trying to get some more veg in our diet. But we like to do it in creative ways, like these Easy Chicken and Broccoli Meatballs.
Christie and the boys are awesome, I mean seriously. My kids eat almost everything…but me, not so much.
I eat whatever we make for the site here, no question about it. That's probably where I get most of my vegetables in when we make food to go on the blog.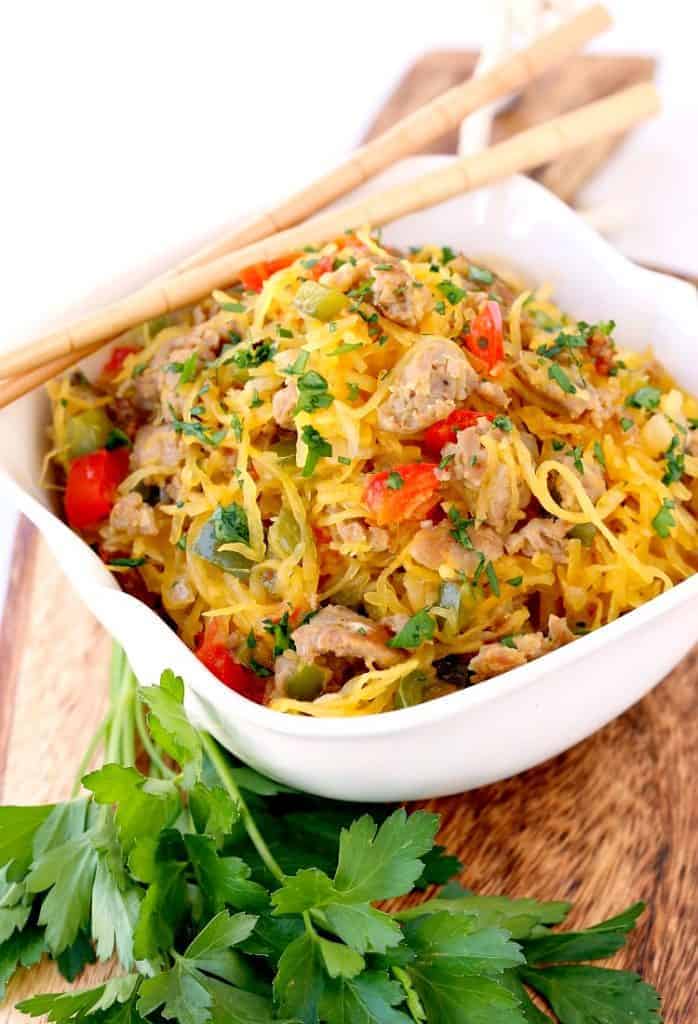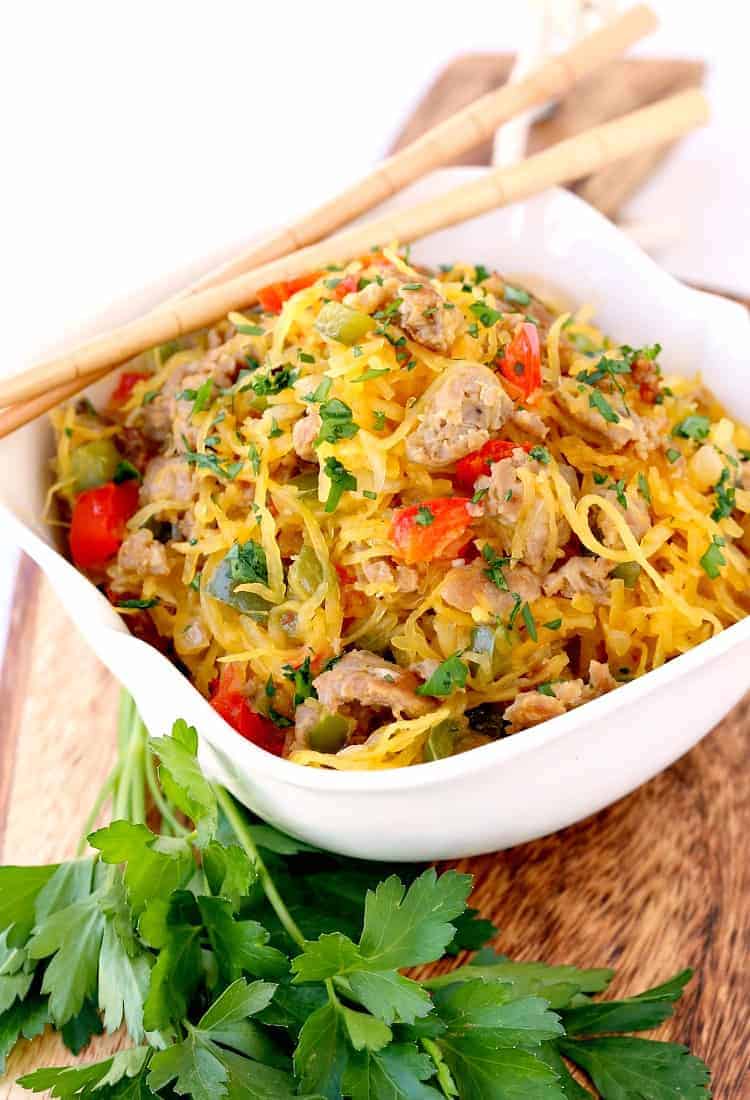 But other than that – I'm a meat and potatoes guy.
Unless, of course you want to make something like this Sausage and Pepper Spaghetti Squash Stir Fry. This I'm going to eat, and a lot of it.
It seriously doesn't even taste like you are eating a bowlful of squash. Just tasty stir fry with a little bit of Italian sausage mixed in…that's what makes it taste so good.
Start out by roasting the squash in the oven. You can microwave it too, however you want to do it, but I've always oven roasted it.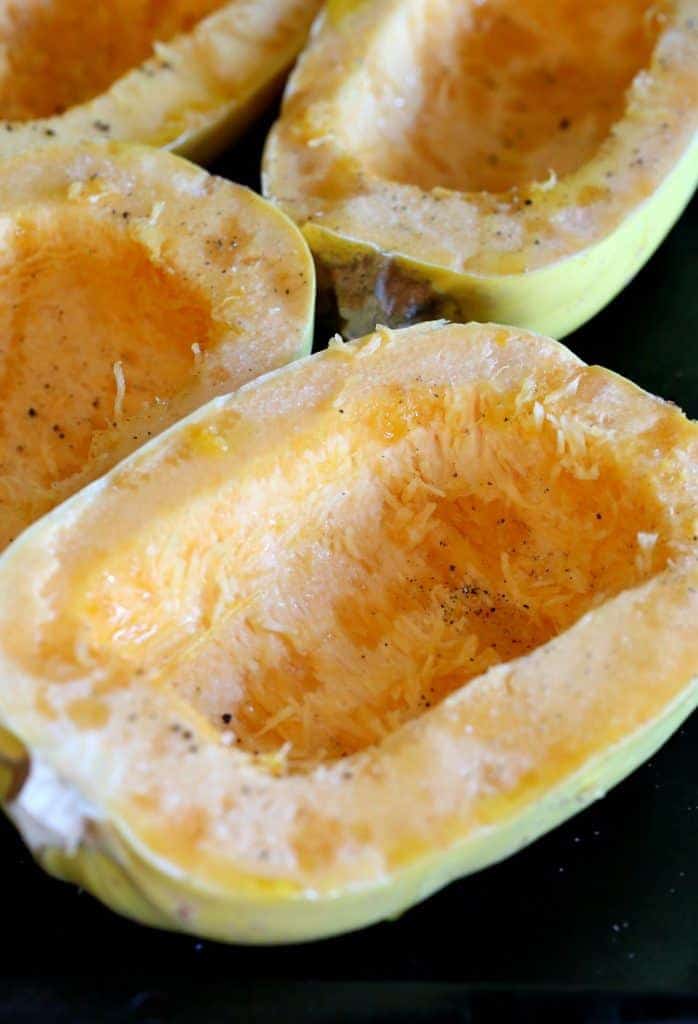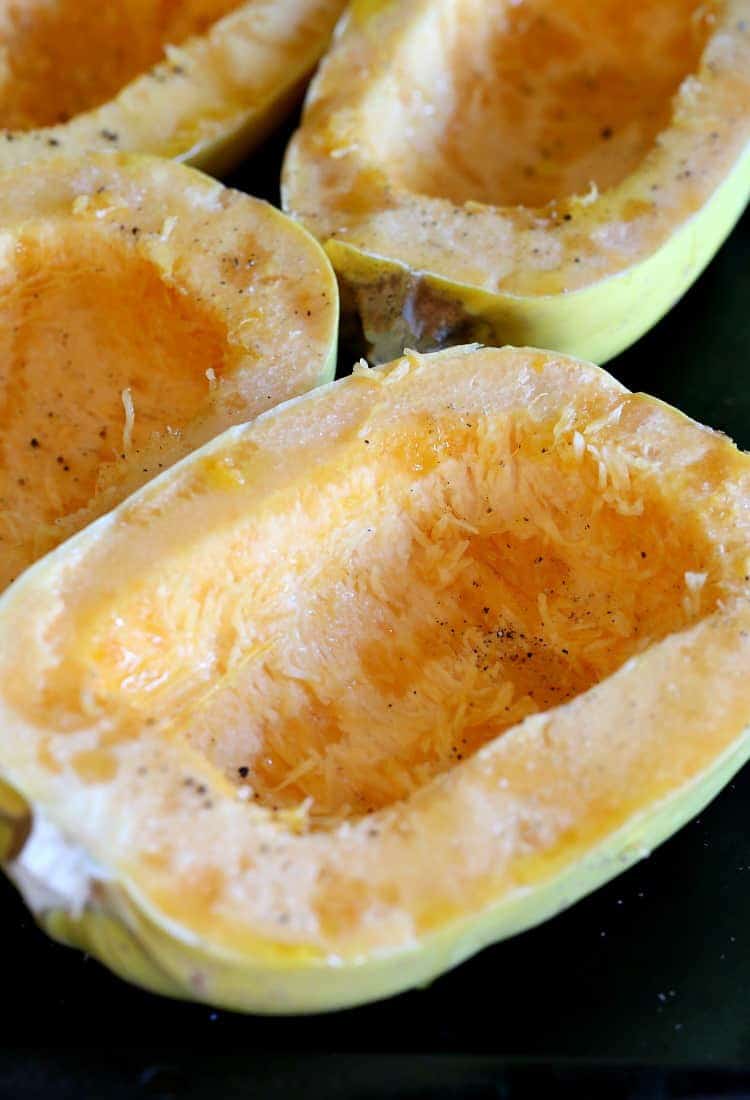 Scrape out the flesh into strands…that's where you get the "noodles" from, then set it aside while you make the stir fry.
The sausage goes in first, then the peppers and onions and seasonings. Now you can go ahead and stir back in the squash. All the flavors will cook together for a few minutes and then it's ready to serve.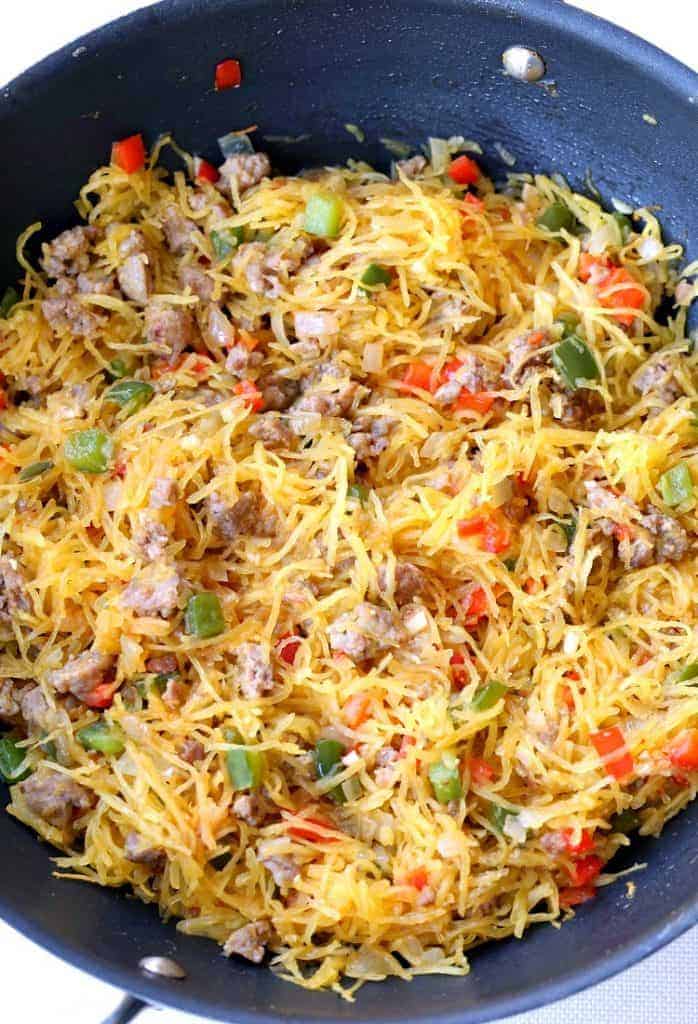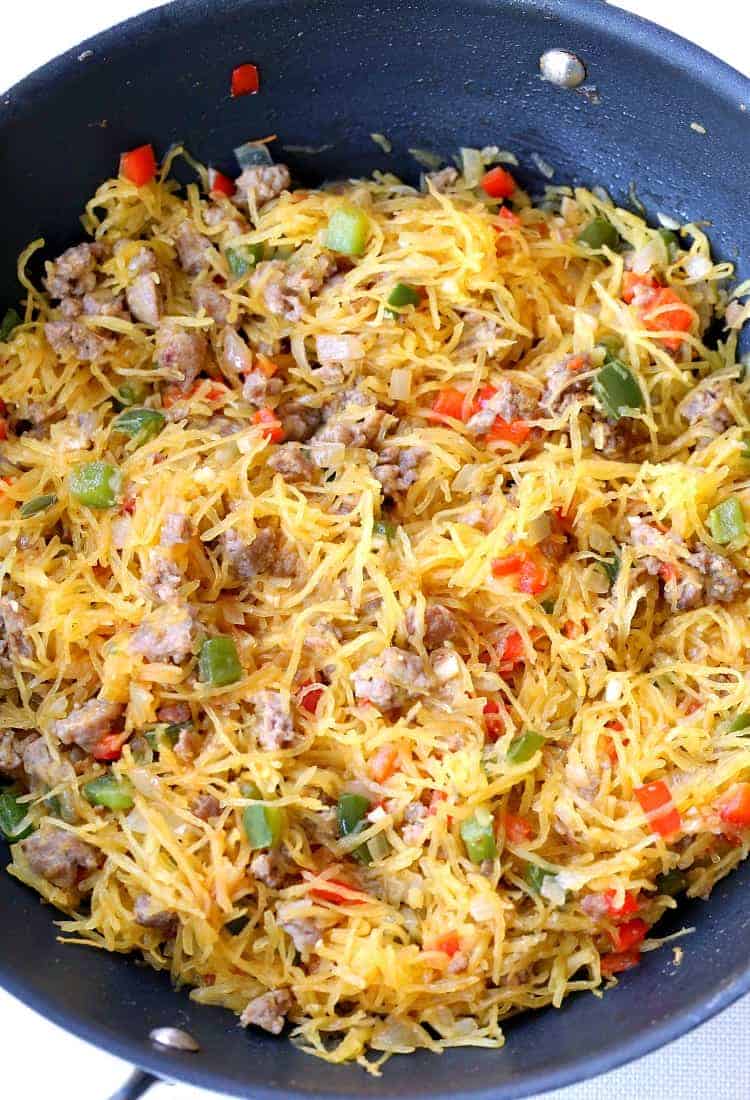 Half squash – half sausage and peppers.
I'd say that's a pretty good healthy compromise!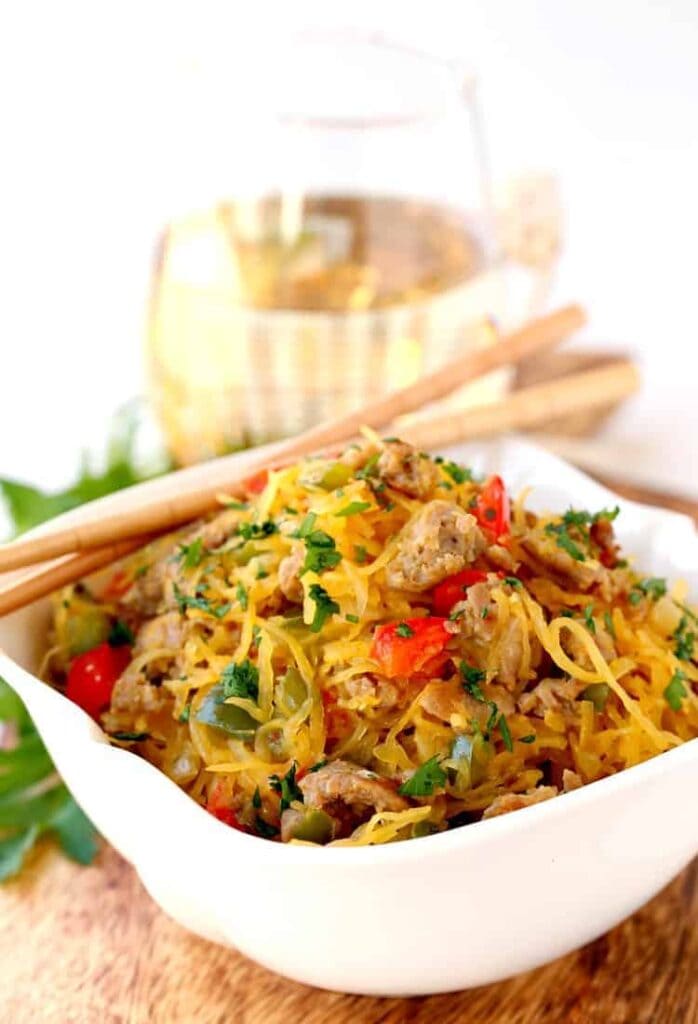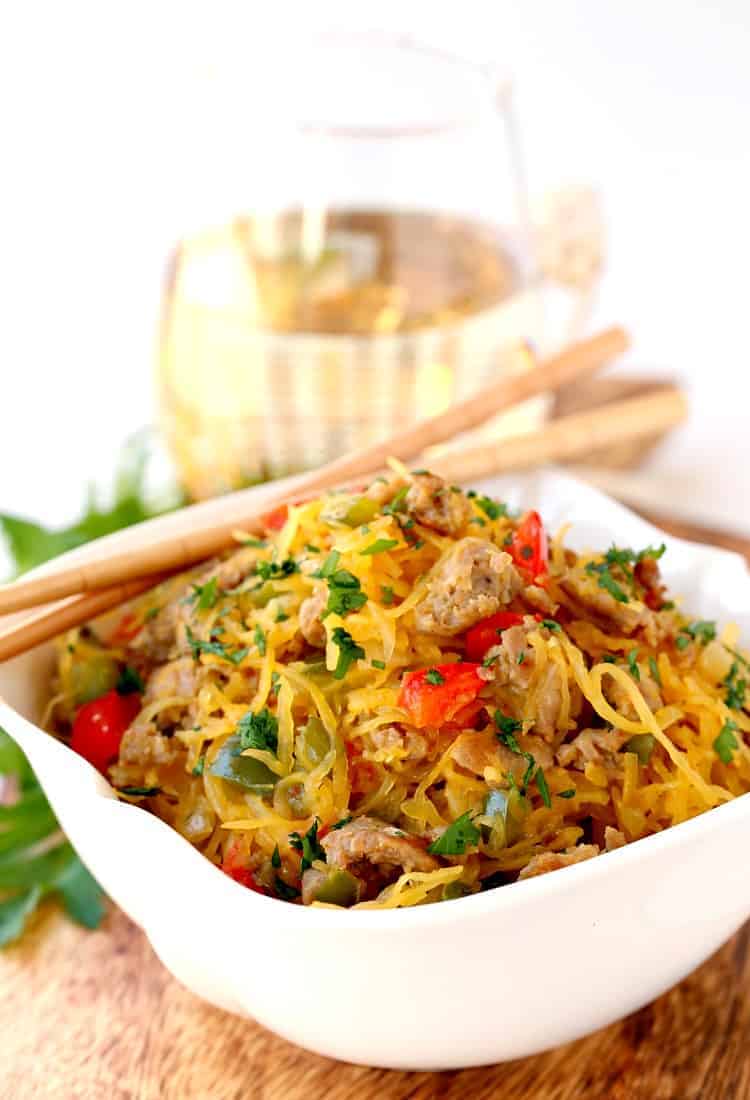 We first got the idea for this recipe on Fox and Briar, but switched up the flavors for a different twist – what other flavor combinations do you guys think would be good?
Print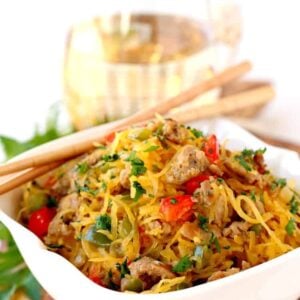 Sausage and Pepper Spaghetti Squash Stir Fry
Author:

Yield:

6
---
Ingredients
1 large spaghetti squash
3 tablespoons olive oil, divided
salt and pepper to taste
1 lb. Italian sausage
1 1/2 cups diced green peppers
1 1/2 cups diced red peppers
1 cup diced onion
4 garlic cloves
1/2 cup chicken broth
2 tablespoons garlic chili sauce
2 tablespoons soy sauce
1 teaspoon rice vinegar
1 teaspoon ginger
pinch red pepper flakes, optional
---
Instructions
Pre heat the oven to 400 degrees.
Cut the squash in half and scoop out the seeds.
Season with salt, pepper and 1 tablespoon of olive oil per half, then place face down on a baking sheet.
Cook the squash for 30-35 minutes until the flesh is tender but not overcooked. You can test it by taking a fork and scraping the flesh into "noodles" to see if it's ready.
Let the squash cool and use a fork to scrape the flesh. Add the squash to a large bowl and set aside.
In a wok or a large skillet, brown the sausage in the remaining tablespoon of olive oil.
Once the sausage is mostly cooked through, add the peppers, onions and garlic. Stir to combine with the sausage and cook for 8-10 minutes on medium heat until the vegetables are softened.
Now add the chicken broth, soy sauce, vinegar, ginger, chili sauce and pepper flakes if using.
Stir and let simmer to reduce the broth for 5 minutes.
Add the spaghetti squash back to the pan, stir to combine and cook for another 5 minutes to combine the flavors.