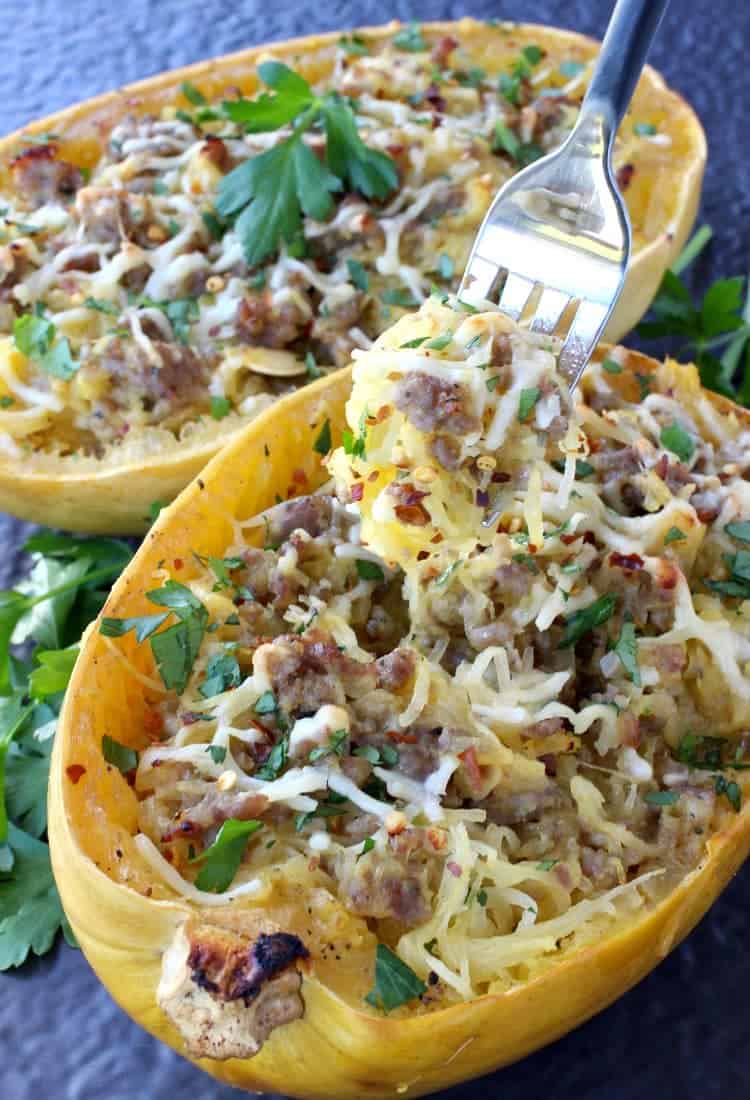 Sausage Spaghetti Squash with Apple Cider Glaze
Sausage Spaghetti Squash with Apple Cider Glaze is hitting the dinner table! Sausage, parmesan cheese and reduced apple cider makes this squash a meal!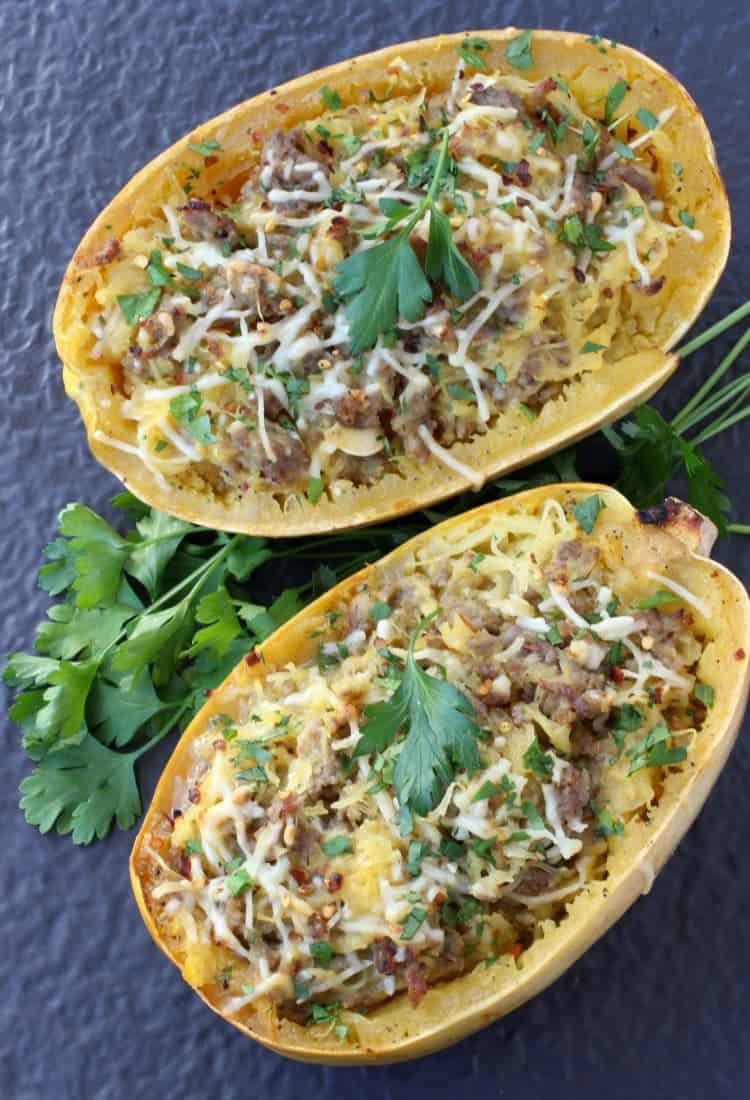 Here we go with another new food for me.
Spaghetti squash. Never had it, never really needed to try it…but now. I did. And once again, I loved it.
Christie went with a friend of hers to Napa a few weeks ago and the first night they were there they had dinner at a tapas restaurant. One of the dishes they ordered was spaghetti squash with goat cheese and reduced apple cider and apparently it was one of the best things they ever ate. Wish I was there to have some too but someone's got to hold down the fort here. Kids, sports, school…It's how we get it all done.
Divide and conquer.
So she told me all about this dinner and insisted that we make this squash. I did my usual and told her that we needed to add sausage – it's like the running joke with me, anything that is a meat-free dish I think would be better with sausage. You could even turn this spaghetti squash into pizza – it's the next recipe I'm going to try.
I definitely like turning boring vegetables into much tastier things like the Buttered Carrots, or this Roasted Broccoli.
She wasn't going to get me to do the goat cheese either, that one I drew the line at. Not a favorite cheese of mine so we swapped it out for parmesan. I think I did pretty good with my swap outs because this Sausage Spaghetti Squash with Apple Cider Glaze is probably one of the most amazing things I've ever tasted.
And this is how it all starts out – roast the squash that you've seasoned with salt and pepper and olive oil.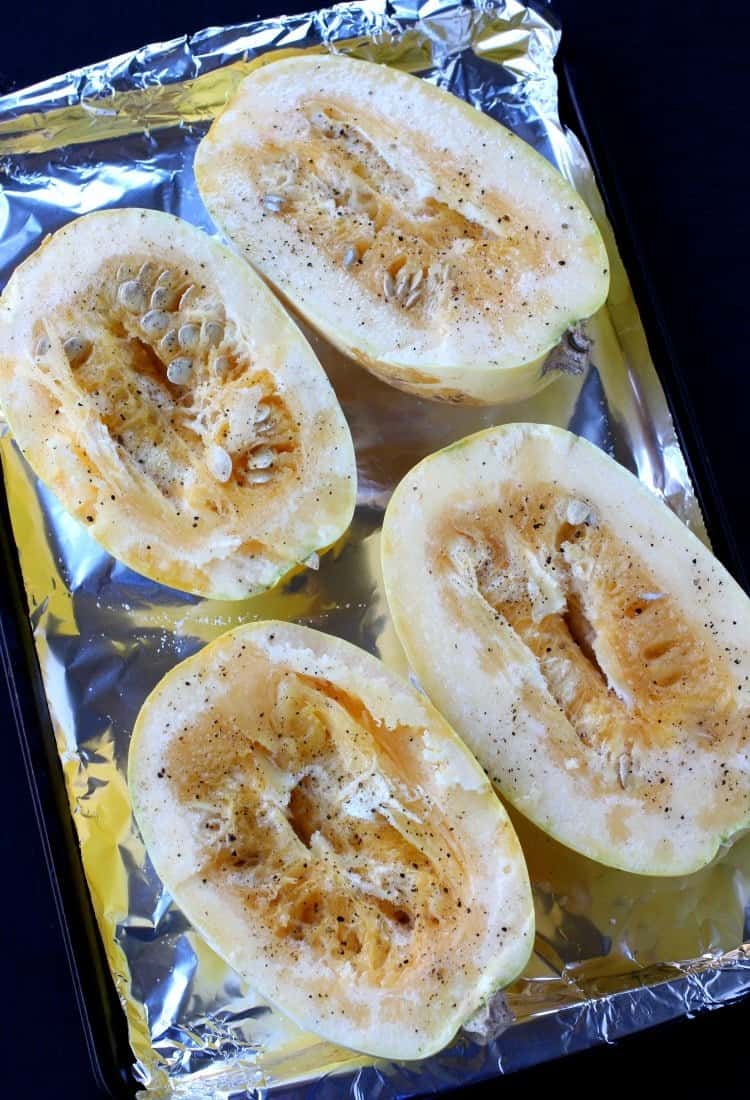 Scrape out the center with a fork and start mixing the filling.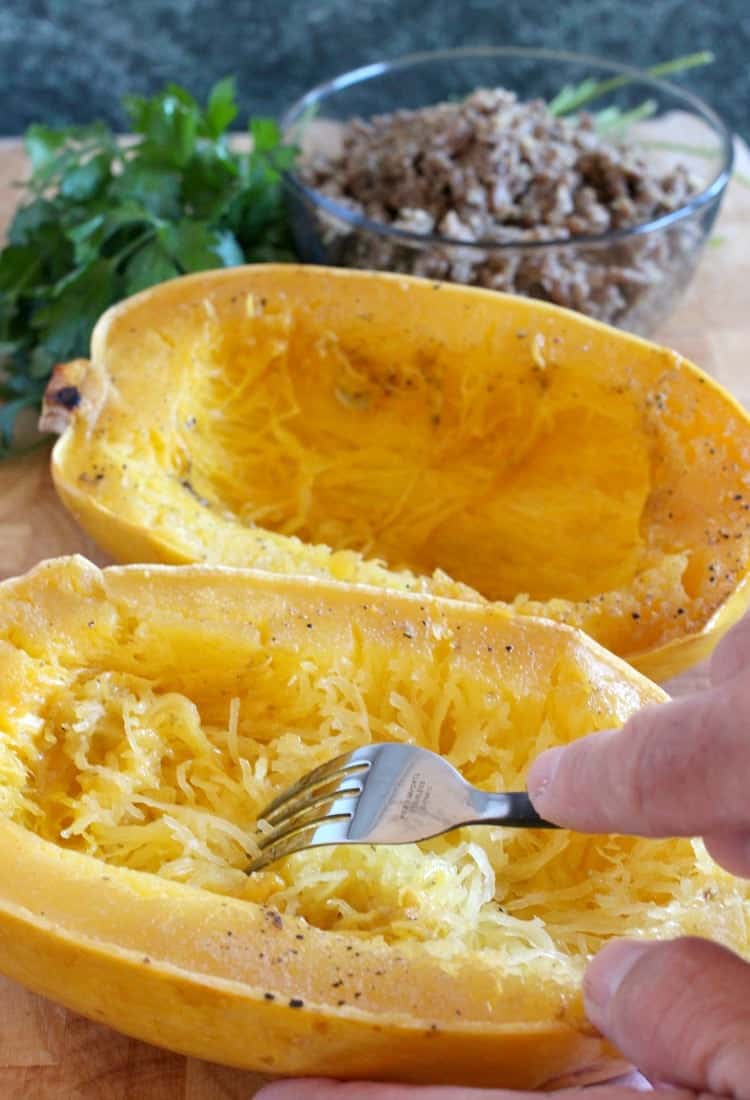 Toss it all together with apple cider that you've reduced down for 20 minutes until it's thick and syrupy…then stuff it back into the squash halves and bake once more for 10 minutes.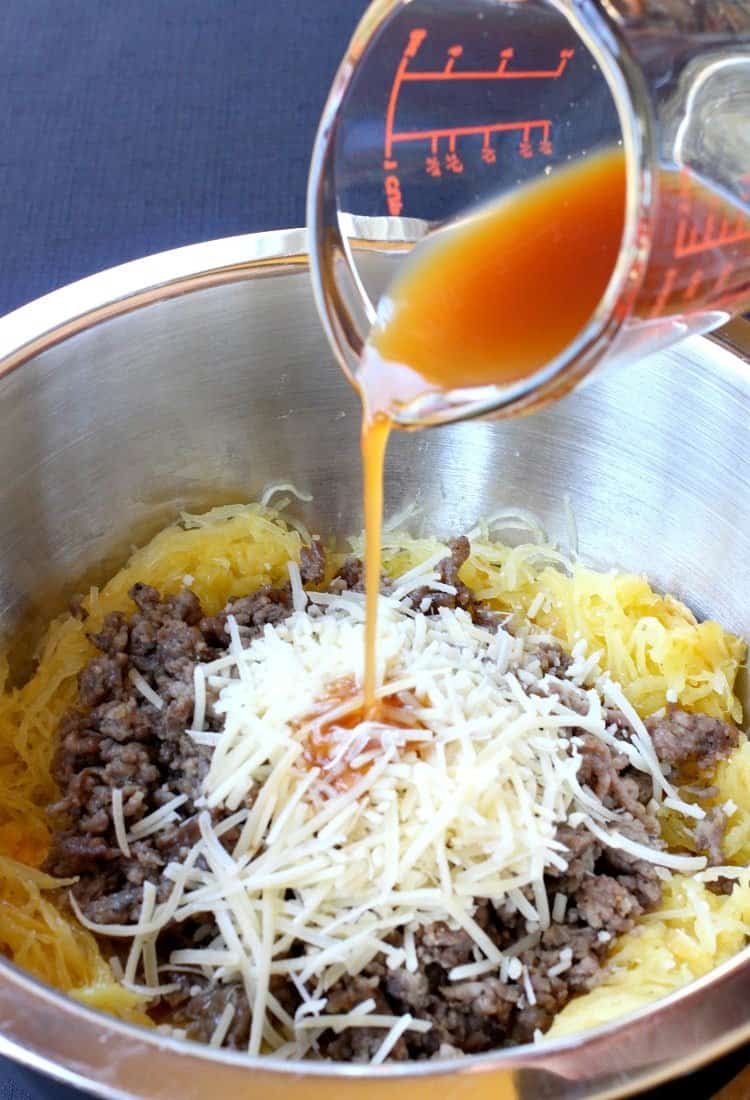 It's how all vegetables should be served, with meat and cheese.
This Sausage Spaghetti Squash with Apple Cider Glaze would be a perfect side dish to your Thanksgiving dinner, you could even leave out the sausage and make it a vegetarian option if that's what you're looking for. But this dish will definitely be a wow factor on any table, Thanksgiving or not.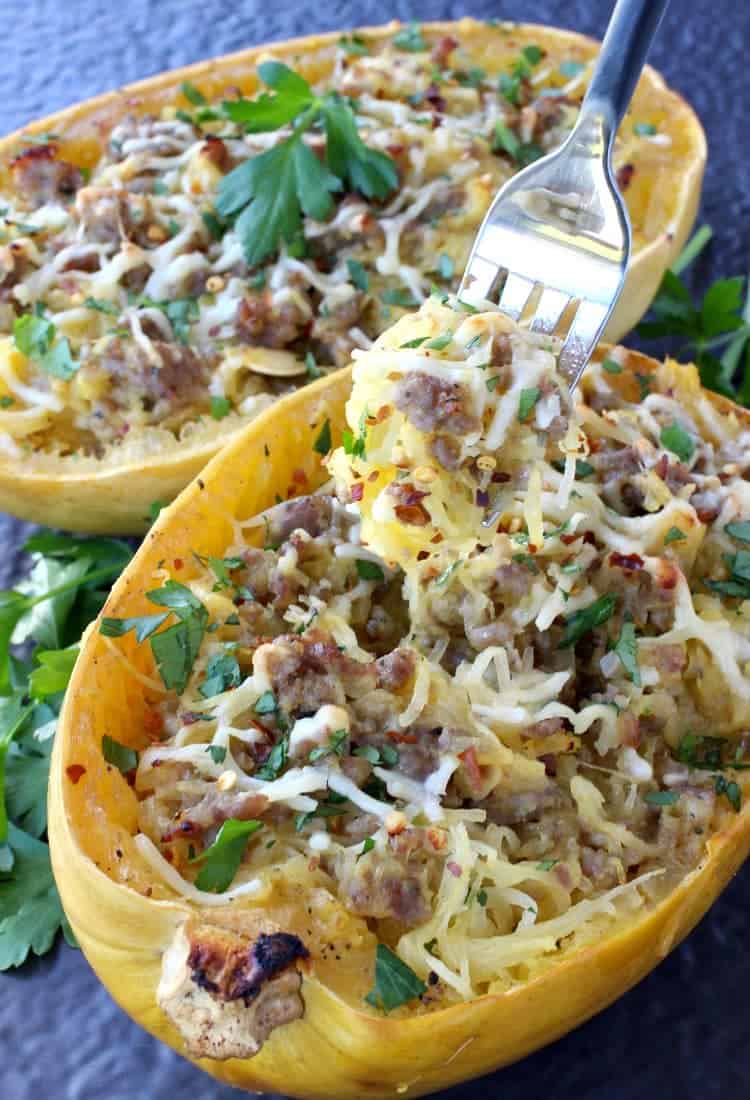 Print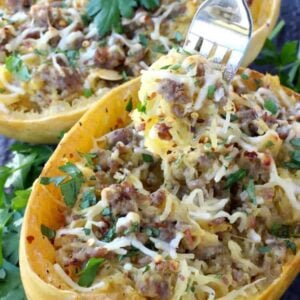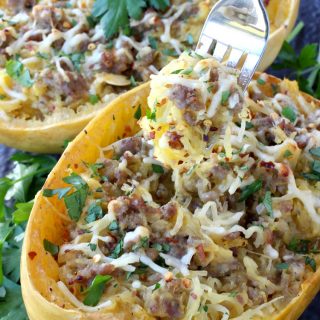 Sausage Spaghetti Squash with Apple Cider Glaze
Author:

Yield:

4

1

x
---
Ingredients
For Roasting the Squash
2

spaghetti squash, split in half lengthwise

4 tablespoon

s olive oil, divided

2 teaspoon

s salt, divided

2 teaspoon

s black pepper, divided
For the Filling
1

lb. Italian sausage

1 tablespoon

olive oil

1 cup

shredded parmesan cheese, plus and extra 1/2 cup for topping

1/2 cup

chopped parsley

2 teaspoon

s red pepper flakes (optional)
Salt and pepper to taste

2 cup

s cider
---
Instructions
Heat the oven to 400 degrees.
Place the 4 halves of the spaghetti squash onto a baking sheet lined with foil.
Season the spaghetti squash halves with the salt, pepper and olive oil.
Place cut sides down and roast for 50 minutes.
While the squash is roasting, brown the sausage in a large skillet with 1 tablespoon of olive oil.
Add the apple cider to a small pot and bring to a boil over medium heat. Turn the heat down to a simmer and reduce for 20 minutes, then remove from the heat.
When the squash is done, turn over so the cut side is up and scrape the seeds out until you get down to the squash. Shred the squash with a fork until all the strands are separated.
Place the squash in a large bowl, add the browned sausage, parmesan cheese and the reduced cider. Stir to combine and season with salt and pepper to taste.
Divide the filling into each of the 4 squash halves, top with the remaining 1/4 cup of parmesan cheese and place back in the oven for 10 minutes.
Remove the squash from the oven and top with chopped parsley and red pepper flakes if using.