Philly Cheesesteak Spaghetti Squash Casserole is a low carb dinner everyone will love! Beef, cheese and peppers baked in a cozy casserole!
For more spaghetti squash casserole ideas, check out this Chicken Pot Pie version and this Spaghetti Squash with Bacon and Gruyere which can be served as dinner or a side dish!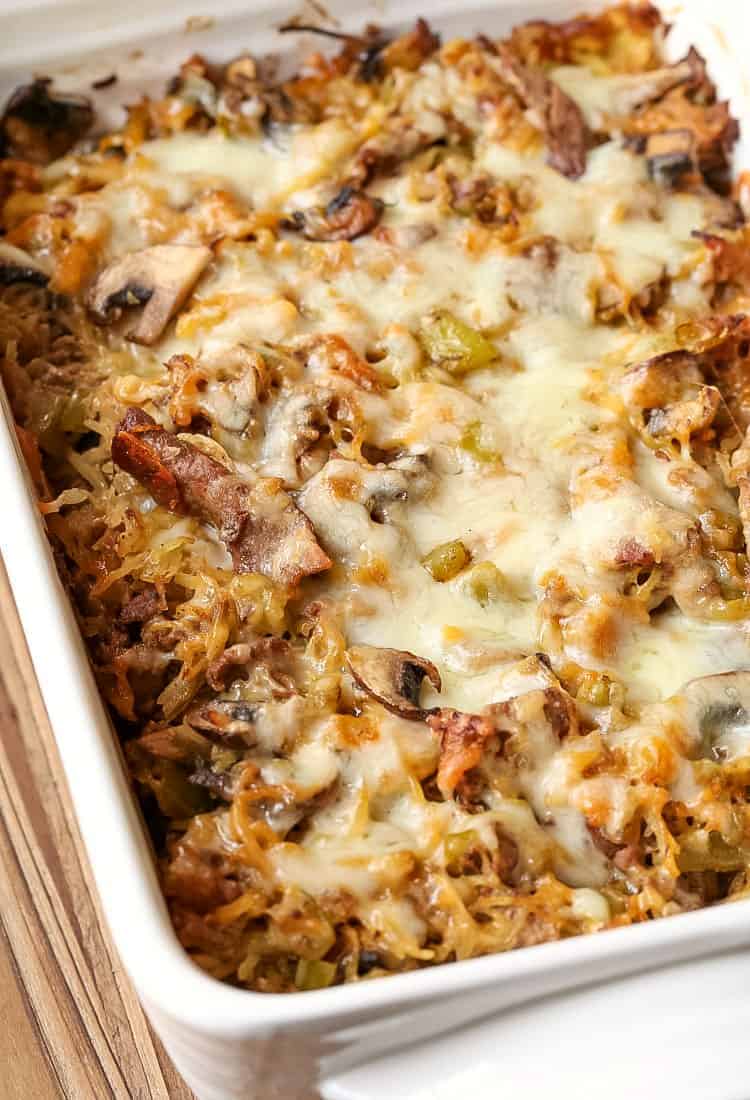 To put it in simple terms…the flavors in this beef casserole is going to blow your mind.
If there is ever a vegetable that doesn't taste like a vegetable (much like one of my Pinterest Boards) it's spaghetti squash. I'm sure spaghetti squash has all sorts of good vitamins and nutrients in it, but I'm eating it because it's damn tasty.
Especially when you mix it together in this dinner casserole with tender beef, peppers and cheese. Honestly, how can you go wrong with that?
We've made a few spaghetti squash recipes lately like this Sausage and Pepper Spaghetti Squash Stir Fry or one of my favorites is this Sausage Spaghetti Squash with Apple Cider Glaze.
Neither feel like you're following some sort of low carb diet because the flavors are unbelievably good.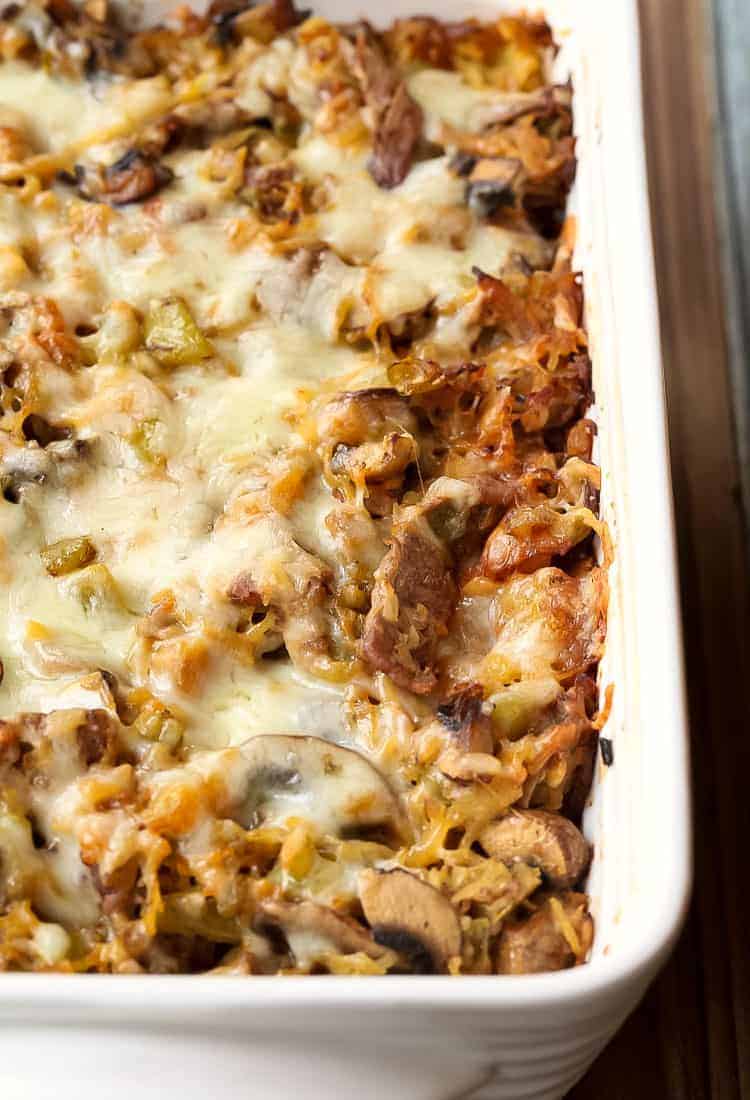 You can also make this spaghetti squash casserole with ground beef if you don't have thin sliced steak like I did here. I grab this shaved beef from Trader Joe's, or you can slice a whole steak really thin and use that.
This is a really easy dinner recipe here – so use what you have on hand!
How To Cut and Cook A Spaghetti Squash
I've got a really easy tip for cooking and cutting spaghetti squash, just check out this POST! Have you ever tried to cut these things in half? Not the easiest chore, especially if you want fairly even halves…so here's what you do.
Stab the squash with a fork or a paring knife several times and place the entire squash in the microwave for five minutes. Let it cool a minutes or two then it should slice a lot easier in half!
Now you can scoop out the seeds, season (olive oil, salt and pepper) and place each half cut side down on a baking sheet.
I see lots of recipes for different cooking times and temperatures but this is what I think works best. 400 degree oven for 30 minutes, then take the squash out of the oven and test the flesh side for tenderness. It should be fork tender and scrape into strands easily.
But here's the thing, if you're taking this spaghetti squash and cooking it further in a recipe like this Philly Cheesesteak Spaghetti Squash Casserole you're going to want to keep it on the firmer side because it will continue to cook in the casserole.
If you're roasting the squash and eating it as is or simply stirring more flavorings into it then you'll want to pop it back in the oven for a few more minutes until it's tender.
So there's no real cut and dry here for roasting spaghetti squash, it pretty much depends on what you're doing with it afterwards.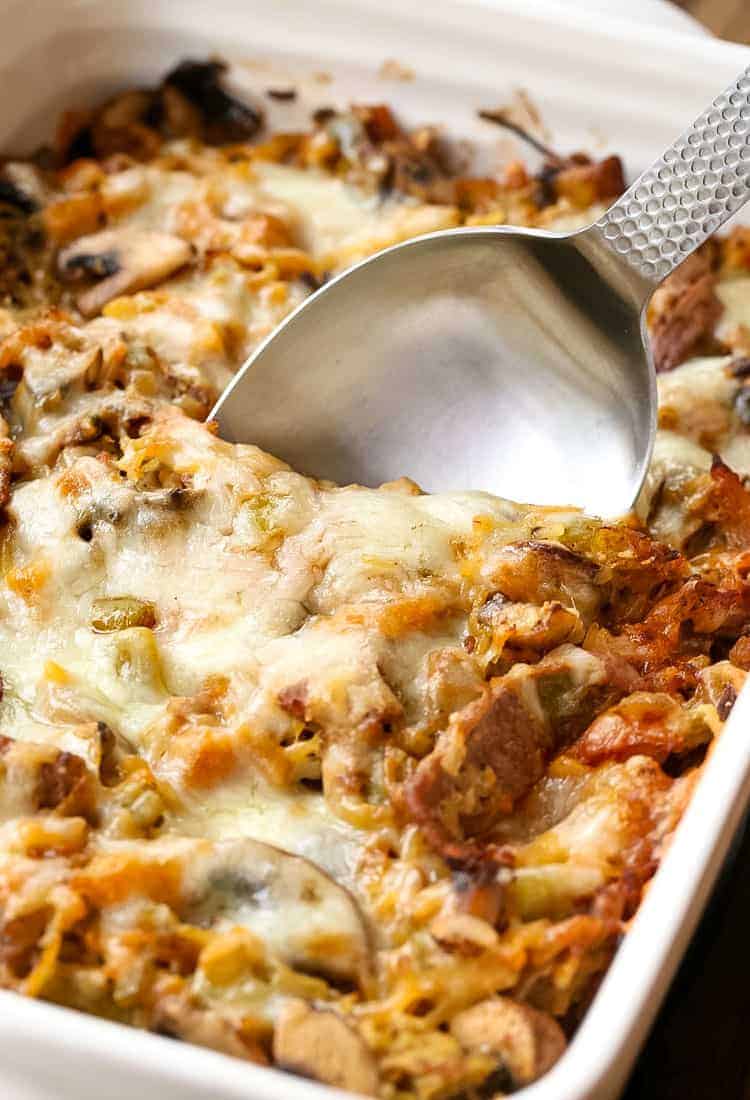 How To Make Philly Cheesesteak Spaghetti Squash Casserole
Add oil to a large skillet over medium heat, then add onions and peppers to cook down for 8-10 minutes. Next add the mushrooms and cook another 5 minutes.
Now add the beef and cook until it's no longer pink in the middle, then season with salt, pepper and cumin.
Stir in Worcestershire sauce and whipped cream cheese to make this beef and pepper filling creamy and delicious. I like using whipped cream cheese since it melts easily without having to remember to let the cream cheese come to room temperature, but if you do have regular cream cheese just remember to let it come to room temperature before you start.
Finally, it's time to get that spaghetti squash mixed into the filling. Just stir it enough to combine everything well, it doesn't need to cook in the skillet since we're getting this casserole into the oven.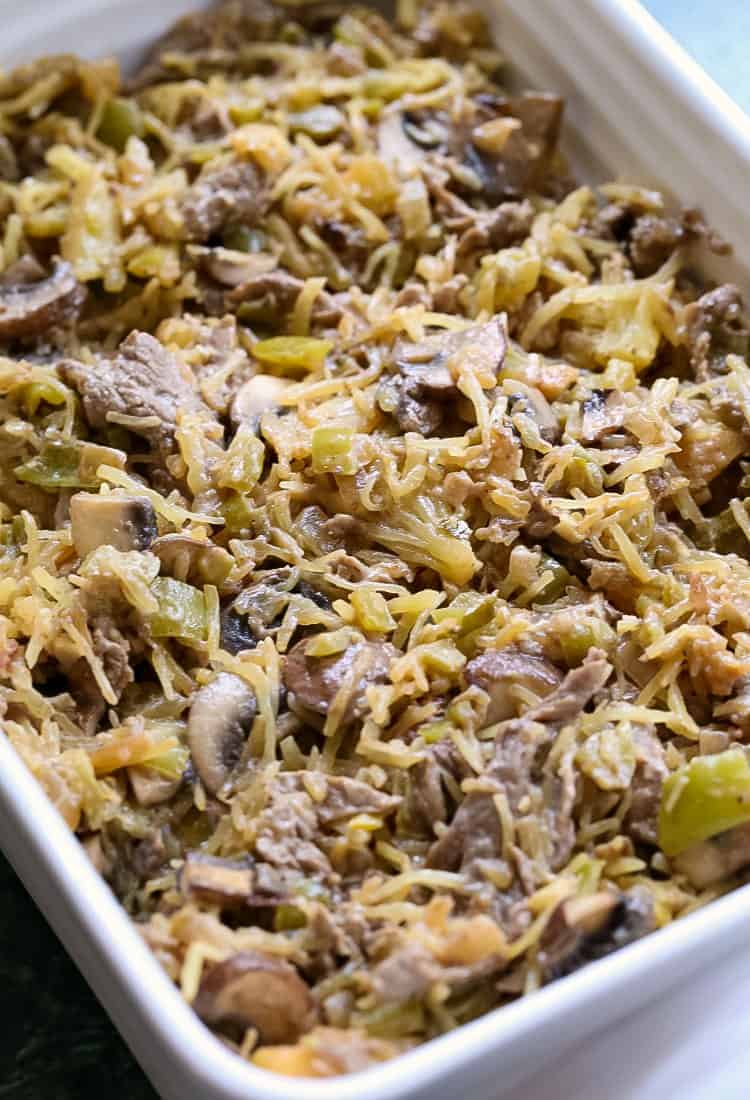 Grab a 9″ x 13″ baking dish and spray it with cooking spray, then pour the filling into the casserole and smooth it out to make an even layer.
Cover the filling with lots of mozzarella cheese and get it into the oven to bake. This Philly Cheesesteak Spaghetti Squash Casserole only takes about 25 minutes since everything is already cooked.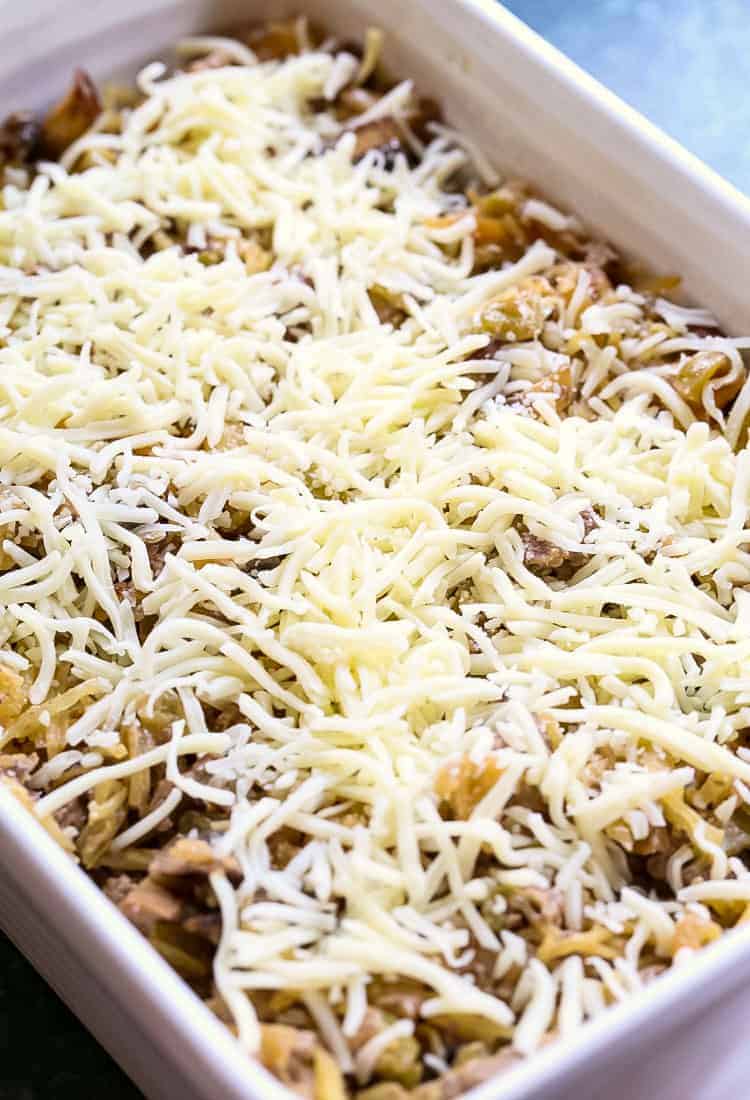 Your'e just warming it through and melting all that yummy cheese on top.
In case you're wondering, you can easily make this spaghetti squash casserole recipe ahead of time and keep it in your refrigerator until you're ready to bake it. Just add 10-15 minutes to the cooking time and make sure to cover the casserole with foil if it's getting too brown on top.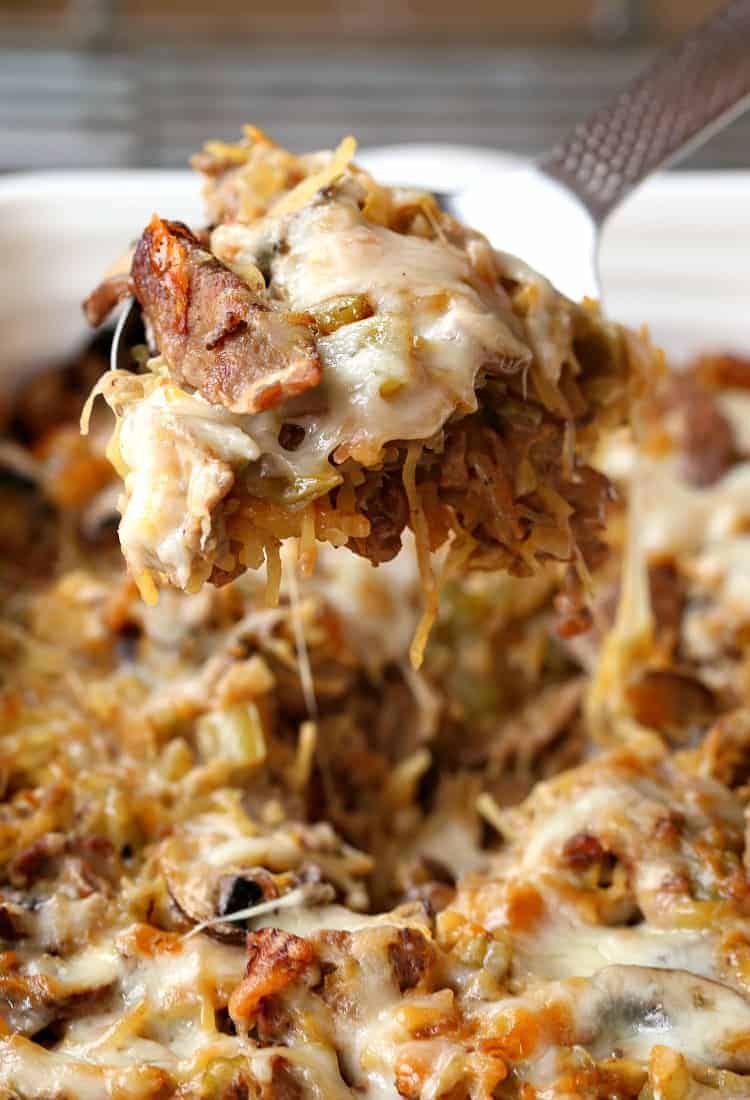 I also hope you see my ratio here of spaghetti squash to beef, peppers and cheese. Like 50/50. Although I do love spaghetti squash, I like the other stuff more.
Because really, it's the other ingredients that make this cheesy casserole taste so darn good.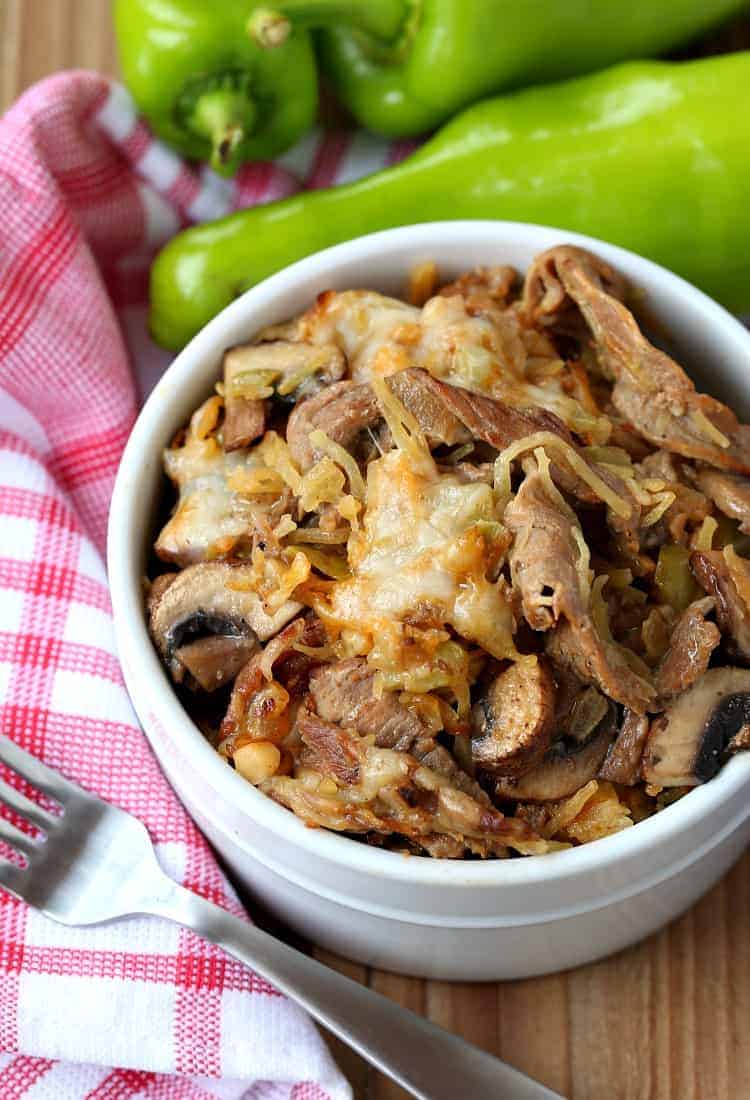 Like I said before, you can easily swap out the shaved beef for ground beef in this recipe, or even shredded chicken or ground chicken would work!
Low carb eating never tasted so good!
Looking For More Low Carb Recipes?
Print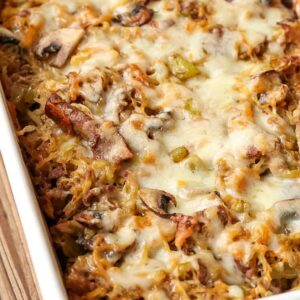 Philly Cheesesteak Spaghetti Squash Casserole
Author:

Prep Time:

20 minutes

Cook Time:

30

Total Time:

50 minutes

Yield:

8

1

x
This delicious, low carb spaghetti squash casserole is an easy dinner that everyone will love!
Scale
Ingredients
1 tablespoon

oil

1 1/2 cups

diced onions

2 cups

diced peppers (any color bell pepper would work)

10 ounces

mushrooms, sliced

1

lb. shaved beef (can substitute ground beef or chicken)

1 1/2 teaspoons

salt

1 teaspoon

black pepper

1/4 teaspoon

cumin

1/2 cup

whipped cream cheese

1 tablespoon

Worcestershire sauce

3 cups

cooked spaghetti squash

2 cups

shredded mozzarella cheese
Instructions
Preheat the oven to 375 degrees.
Add the oil to a large skillet over medium heat. Cook the onions and peppers for 8-10 minutes until softened. Add the mushrooms and cook for another 5-7 minutes.
Add the beef to the skillet, stirring into the onions, mushrooms and peppers and cooking until no pink remains. Season with the salt, pepper and cumin, then stir in the cream cheese and Worcestershire sauce.
Turn off the heat and fold in the spaghetti squash until combined well with the other ingredients.
Spray a 9″ x 13″ casserole dish with cooking spray then add the beef and spaghetti squash filling.
Top with mozzarella and bake for 30 minutes until the filling is warm and the cheese is melted on top.
Recipe Notes
You can make this casserole ahead of time and refrigerate until ready. Add to the oven covered with foil for 30 minutes then uncover and bake an additional 15 minutes until the cheese is melted.
Category:

Dinner

Method:

Oven

Cuisine:

American
Keywords: low carb, low carb dinner, low carb casserole, beef recipes, spaghetti squash recipe, baked casseroles, dinner recipe