This Meatball Sub Recipe is a dinner time favorite! We kicked up these cheesy subs with a layer of garlic butter that gets slathered onto the rolls and toasted before topping!
Hearty dinners at home like these sub sandwiches really don't need much on the side, but a Homemade Caesar Salad would be a nice addition!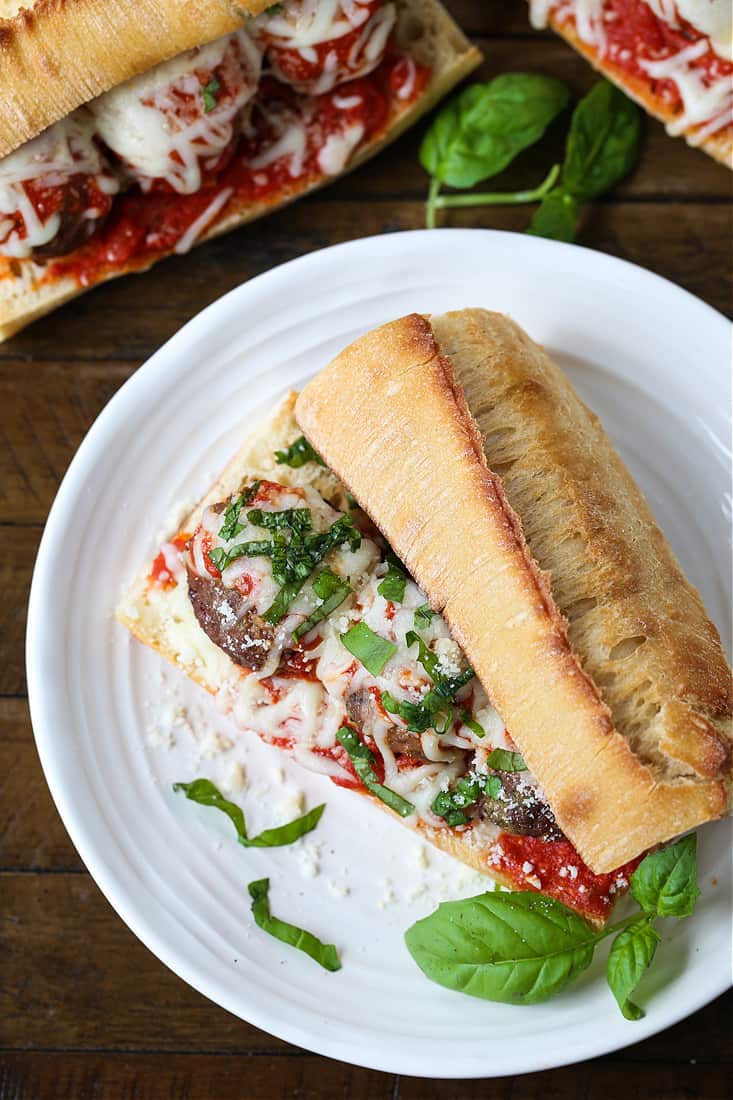 Meatball Parmesan Sub Recipe
Meatball Subs always seem like a meal that you order out, not make at home, am I right? I don't know why, but it just seems like an order out kind of dinner to me. Until now, my friends. Until now.
Because now that we've added a hearty slathering of garlic butter to these toasty sub rolls before assembling them, we don't want a meatball parmesan sub any other way.
One bite of our meatball sub recipe is all you need to know that ordering out isn't going to cut it anymore!
Do You Need To Make Homemade Meatballs For These Meatball Sub Sandwiches?
Yes, we do, and I'll tell you why. This meatball recipe is from our Slow Cooker Meatballs and Sauce, minus the slow cooking part, and I promise that from start to finish they only take about 20 minutes to make. Also, this meatball recipe is baked, not fried, and you're going to need your oven on anyway for making these subs.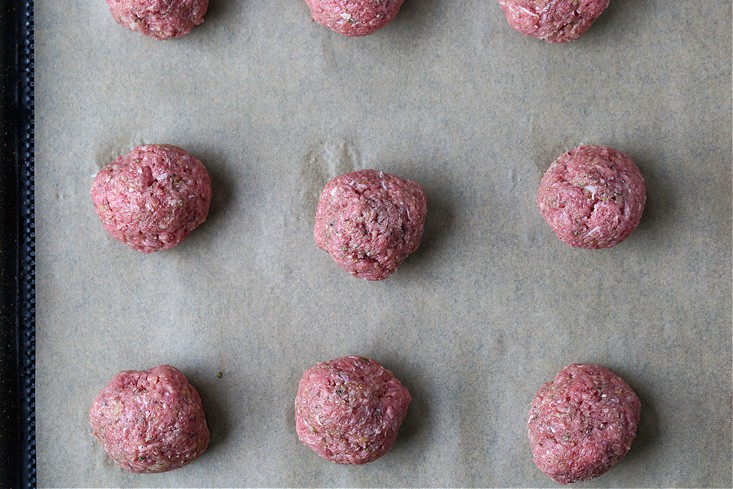 Of course, you can fry them if you like! No judgement here. We just like the ease of baking them in the oven instead of messing up the stove top with frying. But fried meatballs are super delicious, so you do you.
Ingredients For Meatball Sub Sandwiches
OK, so now that we have the meatballs done, grab a few ingredients and let's get to making these sub sandwiches!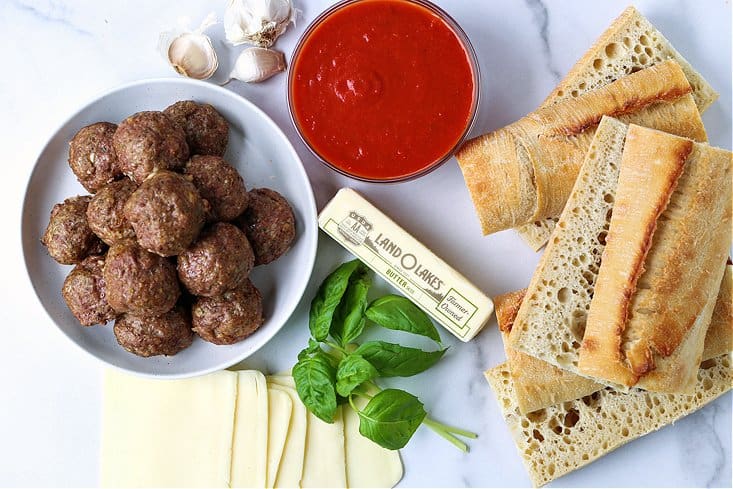 Homemade Meatballs: We prefer to make our own, but if you do have a store-bought brand that you like, feel free to go ahead and use those!
Marinara Sauce: You favorite jarred sauce will do just fine, or you can grab a homemade marinara sauce if you have that on hand.
Sub Rolls: Any long sub roll or large hot dog roll will work, but a crustier bread will be best. Or you can use a long baguette and cut it up into sections like we did here.
Sliced or Shredded Mozzarella Cheese: We wanted to show you both ways here because either will work. Sliced mozzarella will give you more cheese per bite, so if you're looking for an ultra cheesy meatball sub, sliced mozzarella is the way to go.
Grated Parmesan Cheese: Because we can't have meatball parmesan subs without a lot of good, nutty parmesan cheese!
Fresh Basil: Fresh basil gives these sub sandwiches a pop of fresh, herby flavor. Totally optional, but we love the addition.
Butter & Garlic: Melted butter and chopped fresh garlic go on the rolls first before toasting. It was our son's idea and let me tell you, he nailed it.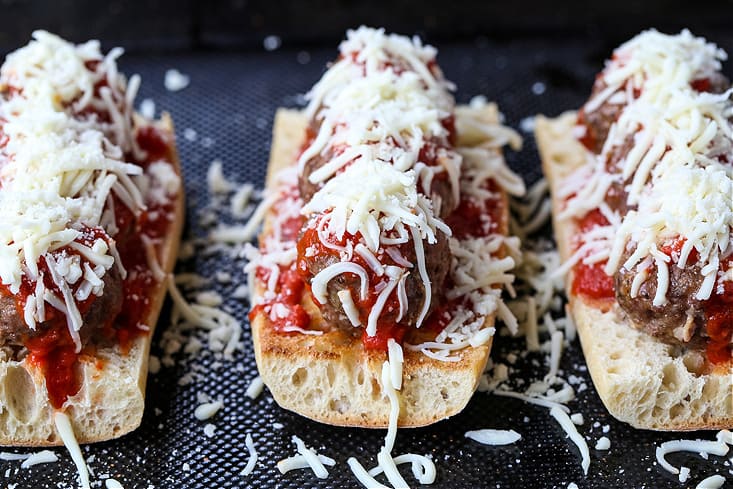 How Do You Make Meatball Subs?
Now that you have all the ingredients together and the meatballs made, you're in the home stretch. Assembling these meatball parm subs is the easy part!
Melt the butter in a small dish and then brush the rolls on each side. Add the chopped garlic to each sub roll (both tops and bottoms) and then place under the broiler for 2-3 minutes until the bread is just toasty. Keep and eye on this because broilers take things from slightly toasted to burnt pretty quickly.
Remove the toasted rolls from the oven and top with a layer of marinara sauce, just on the bottoms now, followed by 3 meatballs and the mozzarella and parmesan cheese.
Place the subs back under the broiler for 4-5 minutes until the cheese is melted and the subs are warmed through.
Add some fresh basil to each sub, if using, add the top bun and serve!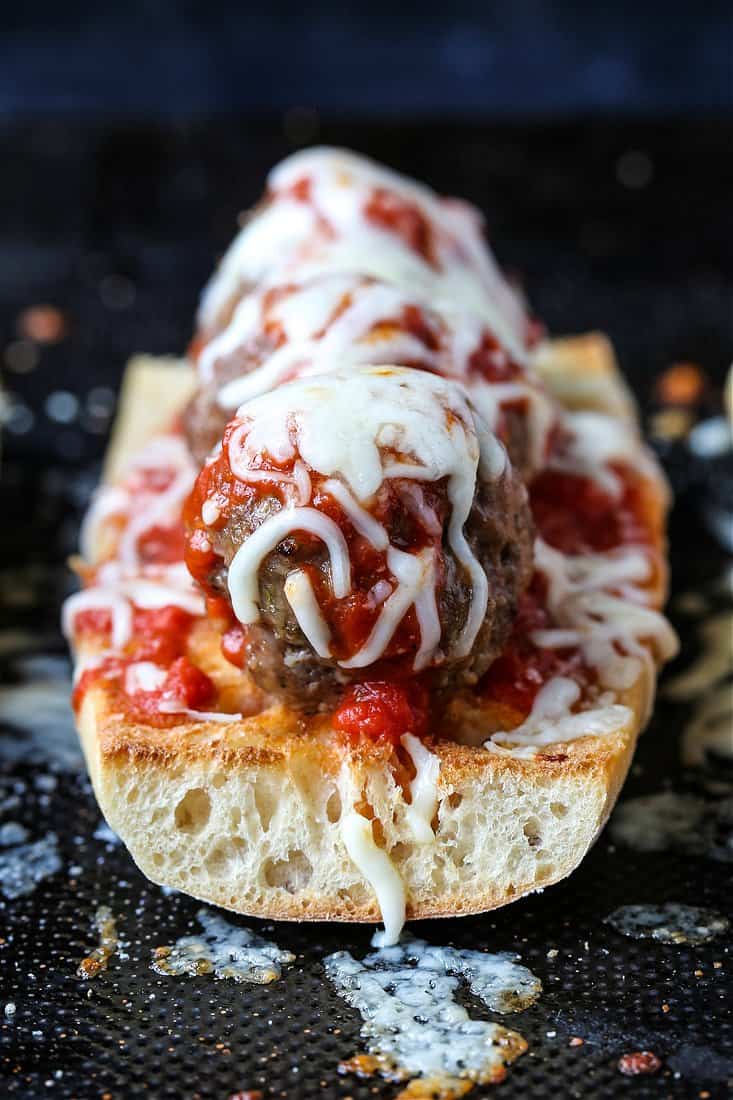 Can I Make These Meatballs Sub Sandwiches Ahead Of Time?
Partially, yes. Definitely make the meatballs ahead of time, even the day before. Then you can assemble the sub sandwiches right before serving, making these subs just about a 15 minutes meal!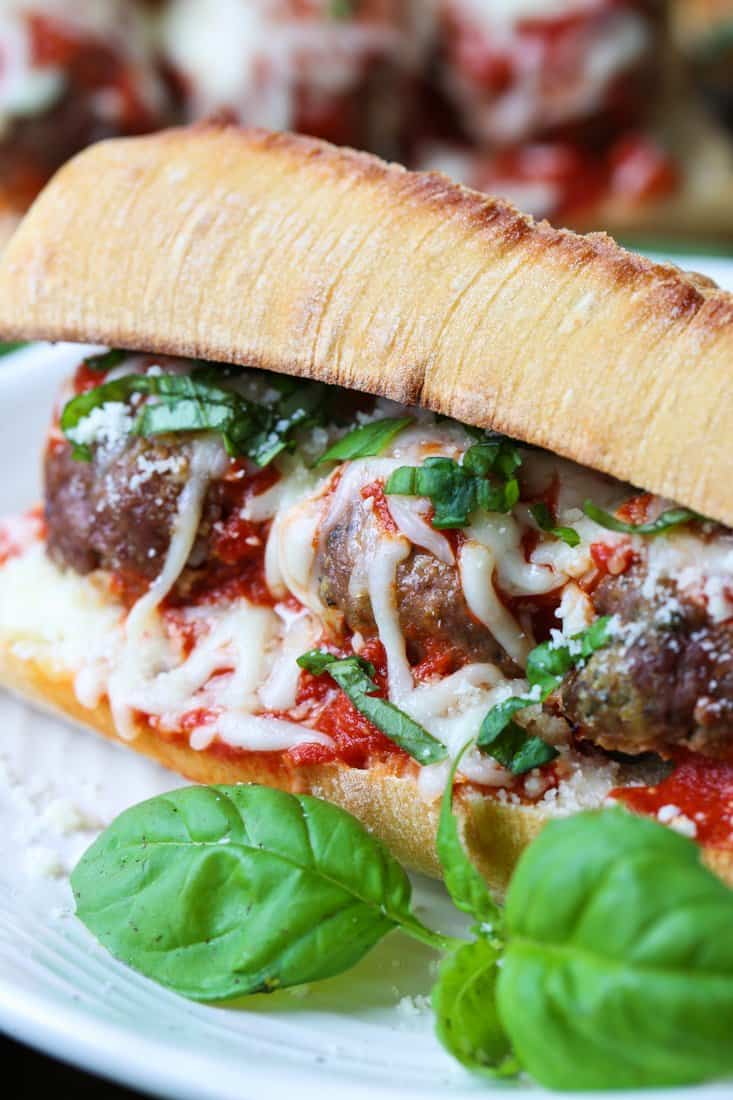 How Do You Store Leftover Meatball Sub Sandwiches?
Do try and only assemble the amount of subs that you know you'll need, but we know how it is; sometimes you end up with whole subs that no one has touched. This is another reason why we like using a super crusty baguette instead of a softer hot dog roll.
A crustier, firmer roll (or cut baguette) will hold up to some sitting in the fridge. You can wrap the leftovers subs in foil, refrigerate and then warm up the whole sandwich in the oven when you're ready to eat.
Place the meatball sub in the oven on a baking sheet at 400 degrees for 20-25 minutes. This will heat up the sub but also crisp the bread back up again. If you still need extra warming and crisping time, remove the foil, open up the sub and place it back into the oven for a few more minutes.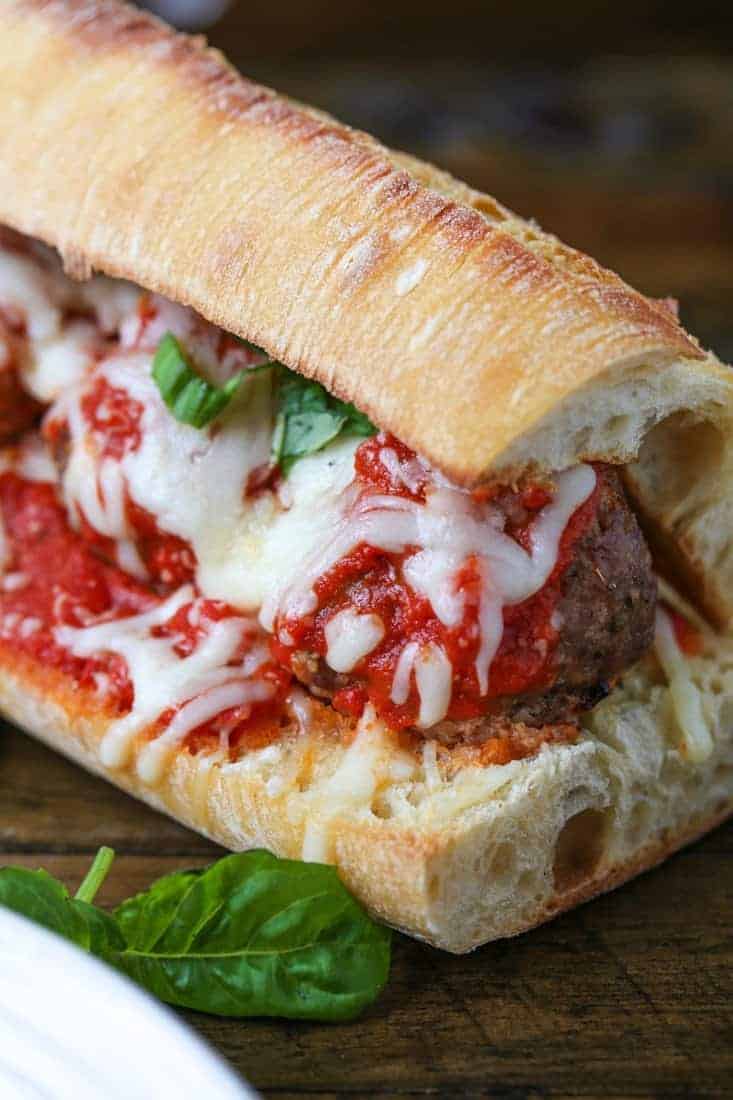 Can I Use Turkey Meatballs Instead?
Of course! Use your favorite turkey meatball recipe, or even these delicious Turkey Zucchini Meatballs for these subs! Another tasty option is our Baked Chicken Meatballs. We keep these on hand for snacking on and recipes like these sub sandwiches.
Or maybe you've made a big pot of Grandma's Meatballs and Sauce over the weekend and you have leftover meatballs? Go ahead and get those on these meatball subs, too.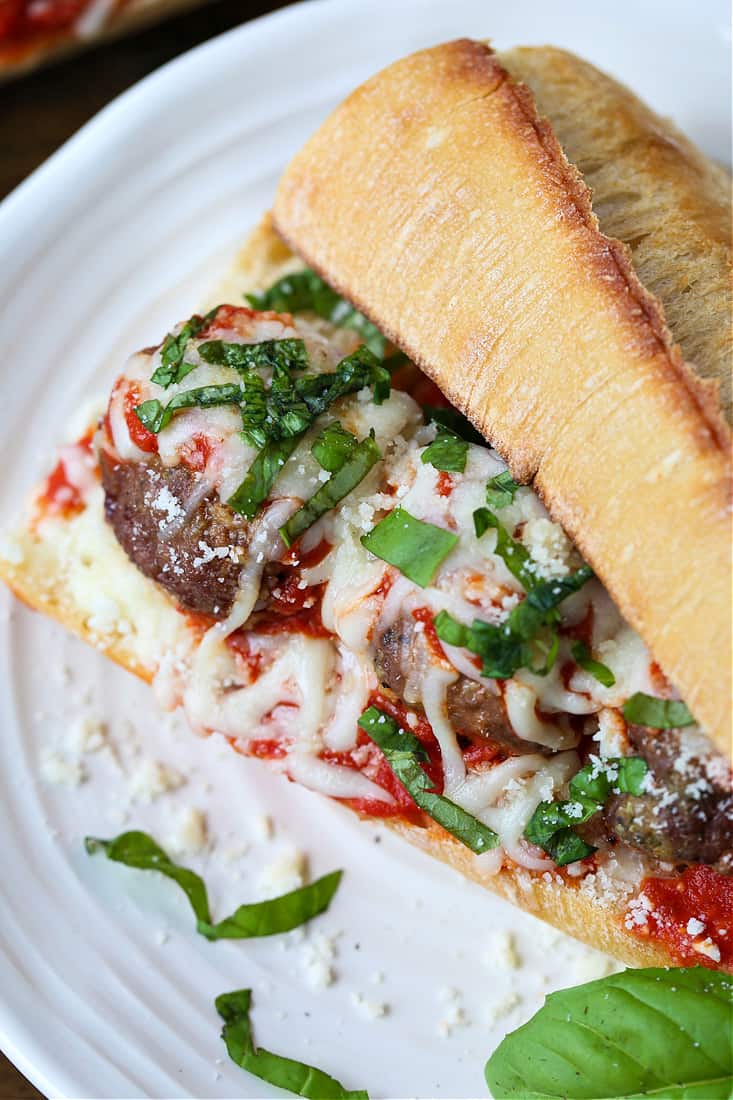 What Sides Go With Meatball Parmesan Subs?
Like we said, these meatball subs are a hearty meal on their own, but sometimes you need a side or two. Especially if you're making these subs for a party, here are some good options!
Print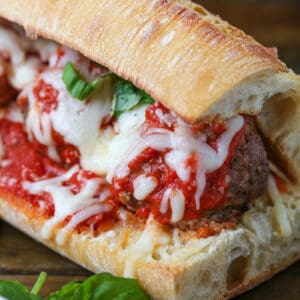 Meatball Sub Recipe
Author:

Prep Time:

20 minutes

Cook Time:

8 minutes

Total Time:

28 minutes

Yield:

5

servings

1

x
This is the BEST Meatball Sub recipe! We added garlic butter before toasting the sub rolls for an extra punch of flavor. Top with homemade meatballs, sauce and cheese for the best meatball parmesan sandwich ever!
Scale
Ingredients
For The Meatballs:
1 1/4

pounds ground beef

1 tablespoon

chopped garlic

1/4 cup

Panko breadcrumbs

1/4 cup

grated parmesan cheese

2

eggs, beaten

2 teaspoons

Italian seasoning

1 1/2 teaspoons

kosher salt
Fresh black pepper to taste
For The Sub Sandwiches:
5

sub rolls, large hot dog rolls or a large baguette or Italian bread cut into sections (see note*)

1

stick (8 tablespoons) butter, melted

2 tablespoons

chopped garlic

2 cups

marinara sauce

2 1/2 cups

shredded mozzarella cheese or 10 slices of mozzarella (

2

for each sandwich)

1/4 cup

grated parmesan cheese

1/4 cup

fresh basil, chopped (optional)
Instructions
Preheat the oven to 400 degrees. Add all the ingredients for the meatballs into a large bowl and mix the ingredients until combined, but don't over mix the meat. Form the meatballs into 15 slightly larger than golf ball shape meatballs, and place on a parchment lined baking sheet.
Bake the meatballs for 20 minutes, until the centers are no longer pink. Remove the meatballs from the oven, add to a bowl and cover with foil to keep warm.
Turn the oven to broil. Place the rolls, open faced, onto the same baking sheet. You can use a fresh sheet of parchment or just remove it for this step, but it will make for easier clean up. Brush the rolls with the melted butter and then add the chopped garlic, dividing between each roll.
Toast the rolls for 2-3 minutes under the broiler until lightly toasted, being careful to watch the rolls so they don't burn as this happens quickly!
Take the rolls out of the oven and now remove the tops of the rolls from the tray. Spread a layer of sauce on each bottom half of the roll (you might not use the entire 2 cups of sauce) and then top with 3 meatballs each. Divide the mozzarella and parmesan cheese between each sandwich and then place the sheet pan back under the broiler for 4-5 minutes until the cheese has melted.
Serve with the fresh basil, if using, and then add the top of the sub roll to each sandwich.
Recipe Notes
We like using a "crusty" roll or cut baguette for making these meatball subs. A softer roll like a hot dog bun won't hold up to this sub sandwich as well but can be used in a pinch.
Refer to the post for reheating instructions.
Category:

Dinner

Method:

Oven

Cuisine:

American
Keywords: mantitlement, meatball sub, meatball parmesan, meatball parm sub, meatball parm sandwich, party food, game day food